It's Official: U.S. Solar Industry Had Record-Shattering Year in 2013

What would Alexandre Edmond Becquerel be thinking now?
In 1839, at the age of just 19, Becquerel built the world's first photovoltaic panel, later inspiring the imaginations of millions of people worldwide, including legendary scientist Albert Einstein. Still, it took another 115 years before Bell Labs invented the first modern silicon solar cell. 
By comparison, it's no stretch to say that the solar timeline has rocketed forward at warp speed in recent years.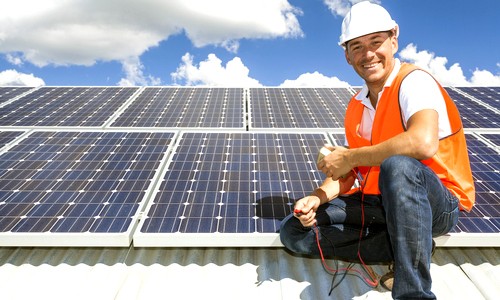 Photo courtesy of Shutterstock
Continuing its explosive growth, the U.S. solar industry had another record-shattering year in 2013. According to GTM Research and the Solar Energy Industries Association's (SEIA) Solar Market Insight Year in Review 2013, photovoltaic (PV) installations expanded rapidly last year, increasing 41 percent over 2012 to reach 4,751 megawatts (MW) of new capacity. In addition, 410 MW of concentrating solar power (CSP) came online in 2013. Consumers nationwide benefitted from this growth as the cost to install solar fell throughout the year, ending 15 percent below the record low set at the end of 2012.
When the final 2013 numbers were added up, there were 440,000 operating solar electric systems across the U.S., totaling more than 12,000 MW of PV and 918 MW of CSP.
What does this mean to you? Well today, solar is the fastest-growing source of renewable energy in America, generating enough clean, reliable and affordable electricity to power more than 2.2 million homes—and we're just beginning to scratch the surface of our industry's enormous potential. Last year alone, solar created tens of thousands of new American jobs and pumped tens of billions of dollars into the U.S. economy. In fact, more solar has been installed in the U.S. in the last 18 months than in the 30 previous years combined. That's a remarkable record of achievement.
California continues to lead the U.S. market and installed more than half of all new U.S. solar in 2013. In fact, the Golden State installed more solar last year than the entire United States did in 2011. North Carolina, Massachusetts and Georgia also had major growth years in 2013, installing 663 megawatts (MW)—more than doubling their combined total from the year before. On the whole, the top five states (California, Arizona, North Carolina, Massachusetts and New Jersey) accounted for 81 percent of all U.S. PV installations in 2013.
Here are some of the other highlights of the report:
The amount of PV installed last year in the U.S. was nearly 15 times greater than the amount installed in 2008.
Q4 2013 was by far the largest quarter ever for PV installations in the U.S. with 2,106 MW energized, up 60 percent over the next largest quarter (Q4 2012).
The market value of all PV installations completed in 2013 was $13.7 billion.
Solar accounted for 29 percent of all new electricity generation capacity in 2013, up from 10 percent in 2012. This made solar the second-largest source of new generating capacity behind natural gas.
Weighted average PV system prices fell 15 percent in 2013, reaching a new low of $2.59/W in the fourth quarter.
The new report forecasts 26 percent PV installation growth in 2014, with installations reaching nearly 6 GW. Growth will occur in all segments but will be most rapid in the residential market.
The U.S. installed 410 MW of concentrating solar (CSP) in 2013, increasing total CSP capacity in the U.S. more than 80 percent.
And finally, Brightsource's massive Ivanpah project began operating this year and SolarReserve's Crescent Dunes project began commissioning.
So while 2013 was a record-breaking year for the U.S. solar industry, 2014 promises to be even better with 30 percent growth being forecast. Part of this unprecedented expansion is due to the fact that the average price of a solar system has dropped by more than 50 percent since 2010, benefitting consumers, businesses, schools and government entities.
Today, 40 years after SEIA was first formed, there are nearly 143,000 Americans employed by the U.S. solar industry at more than 6,100 American companies—with SEIA leading the fight to expand markets, remove market barriers, strengthen the industry and educate Americans about the benefits of solar energy. These efforts have led to the adoption of a wide range of smart public policies, including the solar Investment Tax Credit (ITC) in Congress and Net Energy Metering (NEM) at the state level.
And to think it all started when a 19-year-old in the 19th century came up with the idea of turning sunlight into electrical energy.
Merci, Monsieur Becquerel.
Visit EcoWatch's RENEWABLES page for more related news on this topic.

Monsanto, the maker of the glyphosate-based herbicide Roundup, filed a motion June 16 in U.S. District Court, Northern District of California to reconsider the chemical's addition to California's Proposition 65 list of agents known to cause cancer.
The agrochemical giant made this move based on a June 14 Reuters investigation of Dr. Aaron Blair, a lead researcher on the World Health Organization's International Agency for Research on Cancer (IARC) committee, that classified glyphosate as a "2A probable human carcinogen" in March 2015.
Keep reading...
Show less
By Avery Friedman
Algae is often considered a nuisance, but for Sweden, the rapidly growing sea plant is now an asset.
As the Scandinavian country works to cut all of its greenhouse gas emissions by 2045, it's using algae to sop up the carbon emissions from cement.
Keep reading...
Show less
Jun. 24, 2017 01:35PM EST
By Itai Vardi
A recent intensification in protests against Williams Partners' planned Atlantic Sunrise pipeline in Pennsylvania prompted a state senator to propose legislation aimed at limiting demonstrations.
Last month, Pennsylvania Sen. Scott Martin (R-Norman) announced his intention to introduce legislation that would pass the costs of law enforcement responding to protests onto the demonstrators. Martin also helped introduce a different bill that would criminalize protests at natural gas facilities.
Keep reading...
Show less
Jun. 24, 2017 01:29PM EST
Black Shogun / iStock
The Federal Energy Regulatory Commission (FERC) released its Final Environmental Impact Statement Friday for the Mountain Valley Pipeline, a controversial 303-mile pipeline that would carry two billion cubic feet of fracked gas per day from West Virginia through Virginia.
Keep reading...
Show less
Jun. 24, 2017 01:46PM EST
Falcon PEV
The so-called "first and last mile" problem is one of the biggest hurdles with public transportation. How do you encourage more people to take Earth-friendlier commutes when their homes are miles away from the train or bus station?
One solution, as this Estonian electric scooter company proposes, is to simply take your commute with you—literally. Tallinn-based Stigo has developed a compact e-scooter that folds to the size of a rolling suitcase in about two seconds.
Keep reading...
Show less
Jun. 24, 2017 05:12PM EST
Connect4Climate
[Editor's note: I'm still in shock after hearing the news that Lucia Grenna passed away in her sleep last week. When we first met in April of 2014 at a Copenhagen hotel, I was immediately taken by here powerful presence. We spent the next couple days participating in a Sustainia climate change event where Lucia presented her audacious plans to connect people to the climate issue. I had the chance to partner with Lucia on several other projects throughout the years and work with her incredible Connect4Climate team. I was always in awe of her ability to "make the impossible possible." Her spirit will live on forever. — Stefanie Spear]
It is with a heavy heart that Connect4Climate announces the passing of its founder and leading light, Lucia Grenna. Lucia passed peacefully in her sleep on June 15, well before her time. We remember her for her leadership and extraordinary ability to motivate people to take on some of the greatest challenges of our time, not least climate change.
Keep reading...
Show less
Jun. 23, 2017 07:29PM EST
Wikimedia Commons
By Stacy Malkan
Neil deGrasse Tyson has inspired millions of people to care about science and imagine themselves as participants in the scientific process. What a hopeful sign it is to see young girls wearing t-shirts emblazoned with the words, "Forget princess, I want to be an astrophysicist."
Keep reading...
Show less
Jun. 23, 2017 01:57PM EST
www.youtube.com
By Andy Rowell
Any day now we will truly witness climate change in action. Within days at worst, maybe weeks at best, scientists predict that a huge section of the Larsen C ice shelf in Antarctica will break off into the ocean, in what is called a major "carving" event.
Keep reading...
Show less
Jun. 23, 2017 02:27PM EST
www.youtube.com
President Trump visited Cedar Rapids, Iowa on June 21 to speak to a large crowd in the U.S. Cellular Center at a political rally organized by his campaign.
As Trevor Noah noted during The Daily Show episode last night (starts at 2:25), the real reason Trump has these rallies is to "get back in front of his loyal crowds and feed of their energy." Noah believes that "Trump supporters are so on board with their dude he can say anything and they'll come along for the ride."
Keep reading...
Show less