This website uses cookies to ensure you get the best experience while browsing it. By clicking 'Got It' you're accepting these terms.
Guide to Buying Energy Efficient Light Bulbs as Daylight Savings Time Ends
Oct. 31, 2013 09:36AM EST
Business
An uptick in energy consumption is inevitable with the the end of Daylight Savings Time coming this Sunday.
The majority of the U.S. will gain an extra hour Nov. 3 when our digital clocks move back an hour at 2 a.m. As fall and winter carry on, the days will get shorter and require more lighting in our homes. Emphasizing the importance of efficiency, the Natural Resources Defense Council released a light buying guide this week to encourage U.S. residents to consider the most efficient options—and the savings that come with them—when they stock up on bulbs.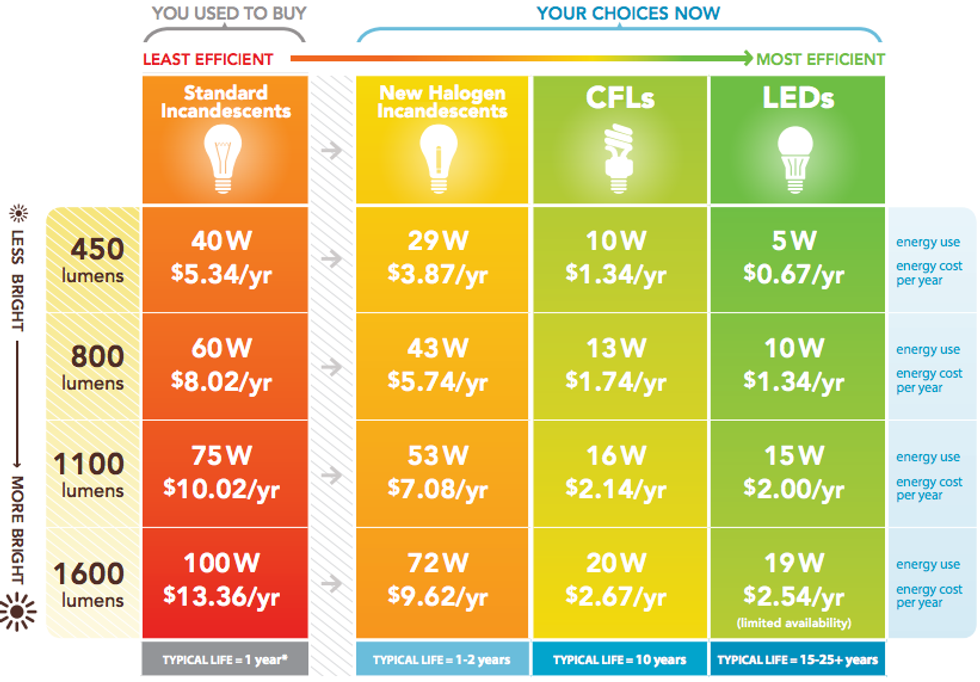 "This time of year offers an excellent opportunity to review our lighting and switch to the new and improved light bulbs that have recently entered the market," said Noah Horowitz, senior scientist and director of NRDC's Center for Energy Efficiency.
"Just because it's the end of Daylight Savings Time, it doesn't mean our electric bill savings also need to end. With more than 4 billion screw-based light bulb sockets in the United States, getting an efficient bulb into each socket also is really important for our environment because the energy savings would be massive."
The NRDC's goal is inspire more people to buy compact fluorescent lamp (CFL) or light-emitting diode (LED) lights. The agency estimates that consumers would save $13 billion on their electric bills if a CFL or LED is screwed into every socket. Altogether, the nation would annually avoid the equivalent of paying for the electricity of 30 large coal-burning power plants.

Light bulb packaging is required to help consumers make efficiency choices as a result of the six-year-old Energy Independence and Security Act, signed into law by then-President Bush. The law also required manufacturers to improve efficiency, even for standard incandescent bulbs that look the same as but operate more efficiently.
CFL and LED lights use 75 percent less energy and last 10 and 25 times longer, respectively, than incandescent bulbs, according to the NRDC.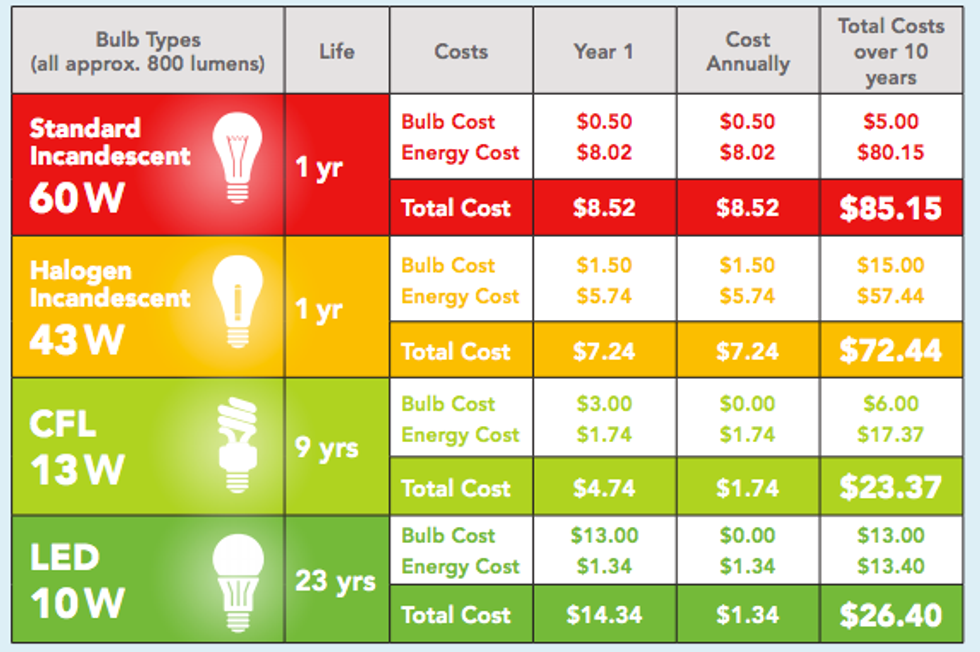 "As you're preparing to move the clock hands back an hour, consider that the end of Daylight Savings Time doesn't mean your savings have to end," the NRDC's Noah Horowitz
wrote in a blog
. "Today's lighting options offer numerous ways to save energy and money, too."

EcoWatch Daily Newsletter
A harbour seal on an ice floe in Glacier Bay, Alaska. A new study shows that the climate crisis has warmed waters, changing ecosystems and crippling sea ice growth. Janette Hill / robertharding / Getty Images Plus
Doctors report that only 1 in 4 children are getting the recommended 60 minutes of physical activity per day. Ronnie Kaufman / DigitalVision / Getty Images
By Dan Gray
Pediatricians are being urged to start writing "exercise prescriptions" for the children they see in their office.
A First Nations protester walks in front of a train blockade in Tyendinaga, near Belleville, Ontario, Canada on Feb. 21, 2020. LARS HAGBERG / AFP via Getty Images
An indigenous rail blockade that snarled train travel in Canada for more than two weeks came to an end Monday when police moved in to clear protesters acting in solidarity with another indigenous community in British Columbia (B.C.), which is fighting to keep a natural gas pipeline off its land.
A rainbow snake, a rare reptile spotted in a Florida county for the first time in more than 50 years, seen here on July 5, 2013.
Kevin Enge / FWC Fish and Wildlife Research Institute / Flickr
A Florida hiker recently stumbled across a slithering surprise — a rare snake that hadn't been spotted in the area for more than 50 years.
We need our government to do everything it can to stop PFAS contamination and exposure from wreaking havoc in communities across the country. LuAnn Hun /
Unsplash
By Genna Reed
The EPA announced last week that it is issuing a preliminary regulatory determination for public comment to set an enforceable drinking water standard to two of the most common and well-studied PFAS, PFOA and PFOS.
This decision is based on three criteria:
PFOA and PFOS have an adverse effect on public health
PFOA and PFOS occur in drinking water often enough and at levels of public health concern;
regulation of PFOA and PFOS is a meaningful opportunity for reducing the health risk to those served by public water systems.