GOP Candidates vs. the Clean Energy Revolution
Oct. 27, 2015 01:08PM EST
Climate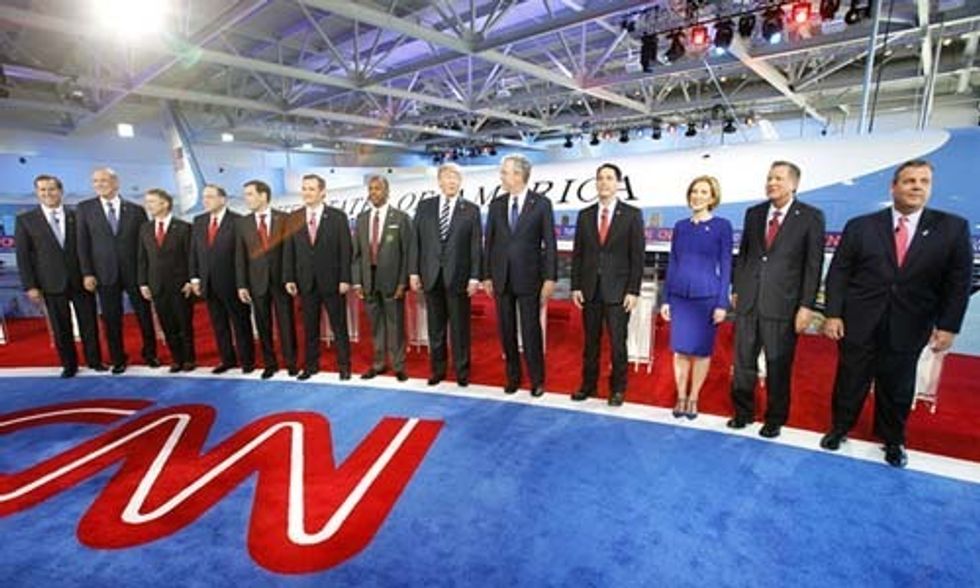 To date, three Republican presidential candidates—Gov. Jeb Bush, Gov. John Kasich and Sen. Marco Rubio—have released energy plans and policy priorities. Note that these three candidates are considered more in the "mainstream" and not on the fringe of their party, like, say, Sen. Ted Cruz. That said, their plans might have as well been written by Donald Trump's policy team—which I believe is himself.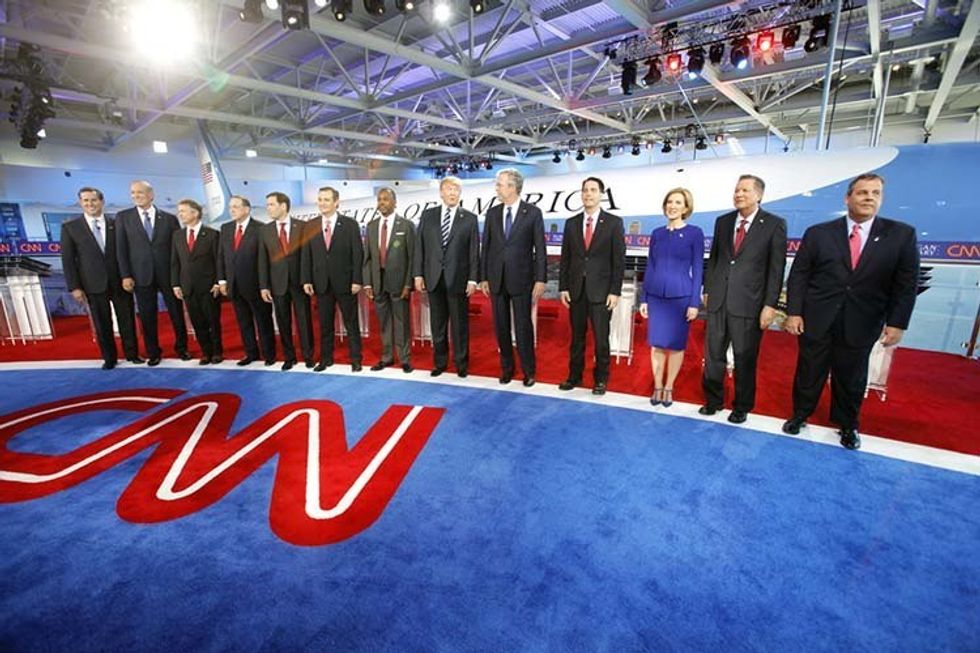 The candidates' plans also make little-to-no reference to the booming clean energy economy powered by solar and wind. Photo credit: Shutterstock
Every single one of these purportedly reasonable Republican candidates has released a plan which makes no reference to the climate crisis. That's aside, of course, from Marco Rubio's advocacy for killing an international climate agreement in Congress, as well as all the candidates' opposition to safeguards like the Clean Power Plan—which would finally work to start cutting carbon pollution at the national level. During the most recent Republican debate, Rubio made his opposition to any form of climate action even clearer by eloquently asserting that we can't have any impact because "America is not a planet."
The candidates' plans also make little-to-no reference to the booming clean energy economy powered by solar and wind. In fact, the plans look largely identical. They seem to be copied from the same pages of every fossil fuel CEO's playbook, each giving dirty fuel conglomerates everything they've ever dreamed of. Oil, gas and coal executives can check off every item on their wish list with these candidates, including the Keystone XL pipeline, dangerous offshore drilling in the pristine Arctic and elsewhere, an end to the ban on exports of crude oil and a straightforward gutting of the vital protections which safeguard the air and water that all American families breathe and drink.
By ignoring both climate action and the clean energy revolution that's creating thousands of jobs, these plans demonstrate that when it comes to energy policy, there is a complete and total disconnect between the "mainstream" Republican presidential candidates and the reality unfolding across America and around the world. And that's without even getting into front-runner Donald Trump's absurd comments and conspiracy theories.
You wouldn't know it from a look at these Republican plans, but Iowa, the first state to weigh in during both the Republican and Democratic primaries, is a clean energy powerhouse where wind is rapidly emerging as "the new ethanol." In 2014, Iowa generated more than 28 percent of its electricity from wind power—first in the nation (remind you of anything?)—and within five years the state could meet 40 percent of its energy needs from wind power. Already, wind has brought more than 7,000 jobs to Iowa. And it's not just Iowa where clean energy is popular.
At the same time, both corporate America and Wall Street—the Republican Party's traditional patrons—have evolved on climate action. Three weeks ago, six of the America's largest banks, including Bank of America, Citi, JPMorgan Chase, Goldman Sachs, Morgan Stanley and Wells Fargo, signed a joint letter of support for "financing climate solutions." These business leaders also noted that their actions can only accomplish so much alone, saying, "We call for leadership and cooperation among governments for commitments leading to a strong global climate agreement."
On Oct. 19, momentum kept on rolling when 81 major corporations, including Best Buy, Target, Hershey's, AT&T, GE, Johnson & Johnson, General Motors, HP, Starbucks, Cargill, Xerox, Walmart, UPS, Sony, Siemens, Nike, McDonalds, Kelloggs, IBM, Nestle, Ikea, Intel, Apple, Coca Cola, Pepsi-Co, Procter & Gamble and scores of others announced that they have signed onto a major "Act on Climate" pledge calling for a strong global agreement at international negotiations in Paris later this year, while also offering their own carbon reduction and renewable energy commitments.
You don't need to look further than Pope Francis to see that the level of advocacy on behalf of our "shared home" and its climate is rapidly increasing in the religious community. During his visit to the U.S. last month, the Pope made a sustained, crystal-clear call for climate action and protecting the global environment during historic addresses at the White House, United Nations and in Congress. Earlier this year, the Pope was joined by other Christian leaders, including the heads of the Anglican and Eastern Orthodox churches, who co-authored an op-ed in The New York Times on "Climate Change and Moral Responsibility." Other religious leaders are also speaking out. In just the latest example, last week the Dalai Lama called for action on climate, saying, "This is not a political matter, not a religious matter, but ultimately [about] the survival of humanity."
Even among Republican voters, there is a clear understanding that the world's climate is changing and that mankind is playing a role in that change. Even more significant, a large majority of conservative Republicans agree that we should accelerate the growth of clean energy so that America can have cleaner, healthier air and less pollution at home, and agree that such acceleration would also create economic growth and jobs. While more than eight in 10 registered voters nationwide (84 percent) favor "taking action to accelerate the development and use of clean energy in the United States," that includes 72 percent of Republican voters and even 68 percent of self-identified conservative Republican voters.
Traditionally, Republican politicians have relied on the canard that the U.S. can't act alone while China—the world's biggest carbon emitter—keeps on polluting. But that argument is headed for the incinerator, now that China joined the U.S. in leading the way forward on climate with historic commitments to curb its carbon pollution and install unprecedented amounts of wind, solar and other renewable energy capacity. In fact, the clean energy capacity China plans to add is equivalent to that of the entire U.S. electric grid—and they aren't alone. More than 150 countries, including more than 100 developing countries, have submitted plans for cutting and limiting their carbon pollution while ramping up clean energy.
Overall, it couldn't be clearer that the Republican presidential candidates' mix of silence, befuddlement and discomfort on climate action increasingly resembles a flat-Earth society conspiracy convention that's staked out its fact-free, vehement opposition to the entire word. Everywhere you look, from New York's Wall Street to Iowa's Main Street, from China to the Vatican, from the corporate board room to world capitals, from Progressive Democrats to Conservative Republican voters, everyone is ready for real climate action and the clean energy revolution—except if you are a Republican running for president.
YOU MIGHT ALSO LIKE
Donald Trump Blames Intern for Tweet Insulting Monsanto, Ben Carson and Iowa Republicans
Why Donald Trump and Bernie Sanders Are Rock Stars Among the Working Class
Bernie Sanders Demands DOJ Go After Exxon for 'Covering Up' Climate Change
3 Reasons Why Republicans Won't Undermine Paris Climate Talks
EcoWatch Daily Newsletter
Related Articles from EcoWatch