This website uses cookies to ensure you get the best experience while browsing it. By clicking 'Got It' you're accepting these terms.
Environmental and Economic Justice Communities Target Bank of America
Jan. 09, 2012 10:00AM EST
Climate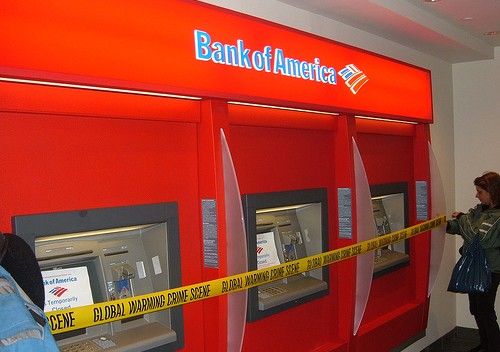 Rainforest Action Network (RAN) and The New Bottom Line teamed up Jan. 9 to launch a new Tumblr blog, called Bankrupting America. This hub on everything Bank of America (BoA) highlights the worst of the big bank's deeds, personal stories of those that have been hurt by the company and what everyday people are doing to fight back. The website features everything from posts lampooning the company, to on-the-ground organizing efforts, to the latest news and reports on Bank of America activities.
People everywhere are invited to submit content, including their own personal stories of how Bank of America has hurt them, their families and their communities.
Leading up to the anticipated Bank of America shareholder meeting in Charlotte, N.C. this spring, the groups provide a sampling of the widespread public outcry against BoA for the destructive environmental and economic impacts caused by company practices.
"Communities everywhere are fed up with Bank of America for putting profits before people and that's what this new blog is all about," said Amanda Starbuck, director of RAN's Energy and Finance program. "Whether it's the fact that the company bankrolls climate change through coal investments or forecloses on America's homeowners while paying top executives millions in bonuses, these are all symptoms of the bank's lack of morality."
"Bank of America is one of the prime movers behind the housing crisis and the economic collapse of this country. From being the biggest forecloser in the country to avoiding paying their fair share of taxes to financing payday lenders, they are draining the 99 percent to pad their own bottom line," said Tracy Van Slyke, co-director for The New Bottom Line. "It's time we have a new bottom line where Bank of America contributes to the economy, and stops bankrupting it."
In the final quarter of 2011, unprecedented consumer divestment in Bank of America rippled across the country and can be seen with more than 50,000 pledged account closures and industry analysis suggesting that 20 percent of the bank's customers are considering leaving. The dissatisfied customers represent only a tiny fraction of those committed to boycott the company until it reforms.
The historic coalition between the environmental and economic justice organizations link struggles against Bank of America to point out three major grievances that hurt both the planet and people. The company leads all others when it comes to foreclosing on America's homes and financing the U.S. coal industry. As of June 2010, BoA had $88 billion worth of foreclosed homes in its portfolio, and invested more than $4.3 billion in coal. The company has shed nearly 100,000 jobs over the past seven years. And while Bank of America's stock prices have plummeted in the last few months, executives are set to award themselves near-record bonuses for 2011.
Rainforest Action Network and The New Bottom Line are calling on Bank of America to:
Pay its fair share
. Stop draining government of revenue. Pay the statutorily required 35 percent corporate income tax instead of gaming the system through off-shore tax shelters, loopholes and scams.
Stabilize the housing market and revitalize the economy
. Bank of America must stop investing in payday loans and must start making affordable business and family credit available, especially into communities of color. They must also reduce principal for all underwater homeowners to current market value. This would end the foreclosure crisis, reset the housing market, pump billions of dollars back into the economy, and create jobs.
Fund the future—not dirty coal
. Stop financing for the coal industry and shift the balance of energy financing to support renewable power generation that is less threatening to our environment and health.
For more information, click here.
—————
The New Bottom Line (NBL) is a new and growing movement fueled by a coalition of community organizations, congregations, and individuals working together to challenge established big bank interests on behalf of struggling and middle-class communities. Together, we are working to restructure Wall Street to help American families build wealth, close the country's growing income gap, and advance a vision for how our economy can better serve the many rather than the few. Coalition members include PICO National Network, National People's Action (NPA), Alliance for a Just Society, and dozens of state and local organizations from around the country. 

Rainforest Action Network (RAN) runs hard-hitting campaigns to break North America's fossil fuels addiction, protect endangered forests and Indigenous rights, and stop destructive investments around the world through education, grassroots organizing, and non-violent direct action. For more information, please visit www.ran.org
Rainforest Action Network runs hard-hitting campaigns to break North America's fossil fuels addiction, protect endangered forests and Indigenous rights, and stop destructive investments around the world through education, grassroots organizing, and non-violent direct action. For more information, please visit www.ran.org
EcoWatch Daily Newsletter
A typical adult takes around 20,000 breaths per day. If you live in a megacity like Beijing, with many of those lungfuls you're likely to inhale a noxious mixture of chemicals and pollutants.
Fred Stone holds his brown swiss cow Lida Rose at his Arundel dairy farm on March 18 after a press conference where he spoke about PFAS chemical contamination in his fields. Gregory Rec / Portland Portland Press Herald via Getty Images
By Susan Cosier
First there was Fred Stone, the third-generation dairy farmer in Maine who discovered that the milk from his cows contained harmful chemicals. Then came Art Schaap, a second-generation dairy farmer in New Mexico, who had to dump 15,000 gallons of contaminated milk a day.
Protesters attend the 32nd Annual Fur-Free Friday demonstration on Nov. 23, 2018 in Beverly Hills, California. Ella DeGea / Getty Images
California Governor Gavin Newsom signed into law a bill that that bans the sale and manufacture of fur products in the state. The fur ban, which he signed into law on Saturday, prohibits Californians from selling or making clothing, shoes or handbags with fur starting in 2023, according to the AP.
By Simon Evans
During the three months of July, August and September, renewables generated an estimated total of 29.5 terawatt hours (TWh), compared with just 29.1TWh from fossil fuels, the analysis shows.
A demonstrator waves an Ecuadorian flag during protests against the end of subsidies to gasoline and diesel on Oct. 9 in Quito, Ecuador. Jorge Ivan Castaneira Jaramillo / Getty Images
Protesters block the road outside Mansion House in London during an XR climate change protest. Gareth Fuller / PA Images via Getty Images
Protestors marched outside the Prudential Center in Newark, New Jersey on Monday, August 26, during the MTV Video and Music Awards to bring attention to the water crisis currently gripping the city. Karla Ann Cote / NurPhoto / Getty Images
By Will Sarni
It is far too easy to view scarcity and poor quality of water as issues solely affecting emerging economies. While the images of women and children fetching water in Africa and a lack of access to water in India are deeply disturbing, this is not the complete picture.
Pexels
Mice exposed to nicotine-containing e-cigarette vapor developed lung cancer within a year.
More research is needed to know what this means for people who vape.
Other research has shown that vaping can cause damage to lung tissue.
A new study found that long-term exposure to nicotine-containing e-cigarette vapor increases the risk of cancer in mice.