Clean Energy News of the Week: Solar Roadways Video Going Viral

As the once far-fetched idea of "solar roadways" gains a huge convoy of supporters—from the U.S. Department of Transportation to Google to the Times of India to even Fox News—a new video aimed at the millennial generation is set to go viral again, according to clean energy advocates.
This just might be the inspiring, riveting and definitive roadmap for clean energy independence—Solar Freakin' Roadways:
Many of us learned about the visionary energy inventors Julie and Scott Brusaw and their Solar Roadways in 2010, thanks to the first viral video by filmmakers Ben and Julie Evans and Mark Dixon, who broke the story on the Brusaws in their award-winning film, YERT—Your Environmental Road Trip.
"We first discovered Solar Roadways on the YERT trip in 2007 when Scott and Julie were just getting started—in fact, Scott called us the 'guinea pigs' for his original powerpoint presentation about it—and the idea completely blew our minds," said Ben Evans, director of the film YERT.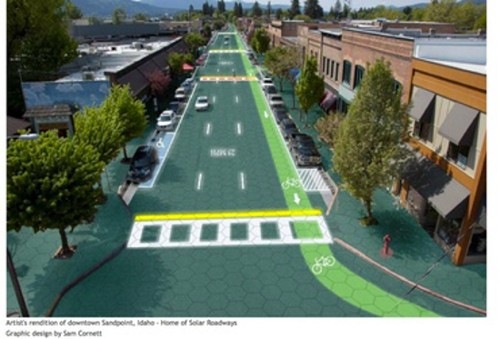 According to Evans:
What they were working to invent was so outside the box and seemingly impossible that Mark (Dixon, producer of YERT) and I thought Scott might just be some crazy dude living in the woods. Well he does live in the woods, but he's perfectly sane, really smart, and as nice and down-to-earth as you can imagine. We uploaded the first Solar Roadways video in late-2007 which got a little traction, and then an updated video about the first major prototype in mid-2010, an adapted version of which was included in our feature-length eco-docu-comedy which came out the following year. That second video really "broke the story" in a way—the idea completely captured people's imagination and the video went viral on YouTube. Boom! We'd never experienced anything quite like it—Mark and I started getting emails from people literally all over the world with ideas or suggestions or requests to have Solar Roadways in their city—and of course we'd forward all of those emails to Scott and Julie, since it's their baby. But it's been really cool to help get this idea out into the world and to be some part of enabling the Solar Roadways phenomenon.
Check out one of the original YERT interviews with the Brusaws:
Seven years after breaking the solar roadways story, the YERT team added:
Of all the incredible environmental solutions highlighted in our feature film, it's one of the ones that resonates the most with people. Now with their newly-installed working prototype and their Indiegogo campaign to seed the manufacturing process, Solar Roadways really has a chance to become a reality in the near future. That's just incredible—but it can't happen without the support of people who care. Scott and Julie are doing all they can to keep this "of, by, and for the people" by crowd-funding it as much as possible, so supporting their Indiegogo campaign is crucial. I think this hilarious new video by Michael Naphan really brings home for a new audience what Solar Roadways is and why we need it. I hope it helps the mission!
——–
YOU ALSO MIGHT LIKE
How Solar Panels Could Transform Parking Lots and Roadways Around the World
Which States Have the Most Solar Jobs?
Film Takes Climate Change Solutions Back Home
——–
Wikimedia Commons
By Stacy Malkan
Neil deGrasse Tyson has inspired millions of people to care about science and imagine themselves as participants in the scientific process. What a hopeful sign it is to see young girls wearing t-shirts emblazoned with the words, "Forget princess, I want to be an astrophysicist."
Keep reading...
Show less
www.youtube.com
By Andy Rowell
Any day now we will truly witness climate change in action. Within days at worst, maybe weeks at best, scientists predict that a huge section of the Larsen C ice shelf in Antarctica will break off into the ocean, in what is called a major "carving" event.
Keep reading...
Show less
www.youtube.com
President Trump visited Cedar Rapids, Iowa on June 21 to speak to a large crowd in the U.S. Cellular Center at a political rally organized by his campaign.
As Trevor Noah noted during The Daily Show episode last night (starts at 2:25), the real reason Trump has these rallies is to "get back in front of his loyal crowds and feed of their energy." Noah believes that "Trump supporters are so on board with their dude he can say anything and they'll come along for the ride."
Keep reading...
Show less
The Kamuthi solar plant in the southern Indian state of Tamil Nadu.
The rapid growth in renewable energy continues to put a dent in the demand for coal.
Coal India, the world's biggest coal mining company and producer of 82 percent of the country's coal, announced the closure of 37 mines that are financially "unviable."
Keep reading...
Show less
www.youtube.com
By Katie O'Reilly
Two years ago—long before coal became one of the most dominant and controversial symbols of the 2016 presidential election—Bloomberg Philanthropies approached production company RadicalMedia with the idea of creating a documentary exploring the U.S. coal mining industry. Last spring, they brought on Emmy-nominated director Michael Bonfiglio, tasked with forging a compelling story out of the multitudes of facts, statistics and narratives underlying the declining industry.
Keep reading...
Show less
Mayors for 100% Clean Energy
Keep reading...
Show less
www.youtube.com
Thanks to Newsy for their coverage on Thursday's news that the U.S. Fish and Wildlife Service removed grizzly bears in the Greater Yellowstone region from the Endangered Species List.
Watch above as Newsy explains that the decision comes despite serious concerns from the environmental and scientific community, and Tribal Nations about a declining, isolated grizzly bear population with diminishing food resources and record-high mortalities.
Keep reading...
Show less
www.facebook.com
By Francine Kershaw
Seismic airguns exploding in the ocean in search for oil and gas have devastating impacts on zooplankton, which are critical food sources for marine mammals, according to a new study in Nature. The blasting decimates one of the ocean's most vital groups of organisms over huge areas and may disrupt entire ecosystems.
And this devastating news comes on the heels of the National Marine Fisheries Service's proposal to authorize more than 90,000 miles of active seismic blasting. Based on the results of this study, the affected area would be approximately 135,000 square miles.
Keep reading...
Show less
By Jill Richardson
Is coconut oil:
good for you
bad for you
neither good nor bad
scientists don't know
The subject of this question is the source of a disagreement. Initially, the question was thought to be settled decades ago, when scientist Ancel Keys declared all saturated fats unhealthy. Coconut oil, which is solid at room temperature, is a saturated fat.
Keep reading...
Show less


Get EcoWatch in your inbox