This website uses cookies to ensure you get the best experience while browsing it. By clicking 'Got It' you're accepting these terms.
Christian Group Gives Coal-Loving Australian Prime Minister 'Clean Energy 4 Christmas'
Dec. 23, 2014 08:39AM EST
Climate
In the last year, Australia has earned a lamentable reputation as a country going rapidly backward on addressing climate change. After Tony Abbott was elected prime minister in 2013, his huge man crush on coal impacted the country in numerous ways, as it repealed its carbon tax, dumped its Renewable Energy Target and gave encouragement to big new environment-destroying, greenhouse gas-emitting coal projects. It dragged its feet on contributing to the Green Climate Fund, saying it wouldn't do so and then finally making a pledge during the recent climate summit in Peru.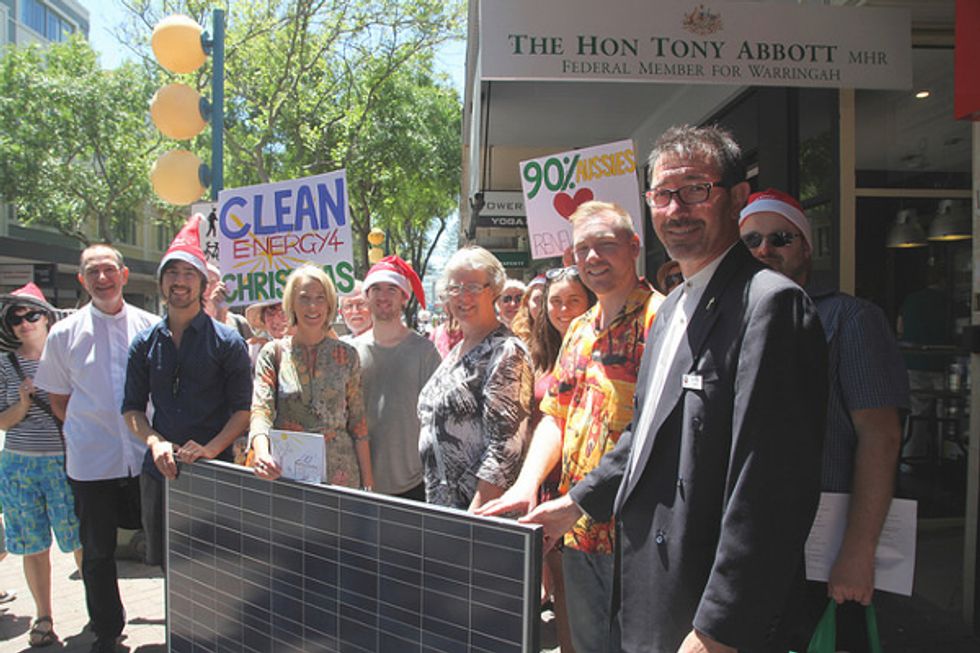 But some Australians aren't taking this lying down. A group called Common Grace, who describe themselves as "thousands of Christians from various denominations who are passionate about Jesus and justice," have been collecting donations to buy solar panels for Kirribilli House, Australia's equivalent of the White House. And they announced last week that they have met their goal of $6,000, crowdfunding the 12 panels in just four days.
"The solar panels are a gift for the nation, from the nation, to symbolize public support for a clean energy future," said Common Grace participant the Rev. Dr. Michael Frost. "We know that 89 percent of Australians support a strong Renewable Energy Target. By giving solar panels to Kirribilli House, Christians are adding their voice to a chorus of Aussies who want to see a vibrant renewables industry. Our message to the Prime Minister is: don't knock renewables until you've tried them."
A group of Christian leaders delivered the gift with a Christmas card to staff members who promised to pass it along to Abbott. And Solar Council, the association for Australia's solar industry, offered to install them for free.
"As we all know, solar panels need to be professionally installed," said Solar Council CEO John Grimes. "Therefore the Solar Council is adding to this gift. We will install the solar panels at Kirribilli House for free."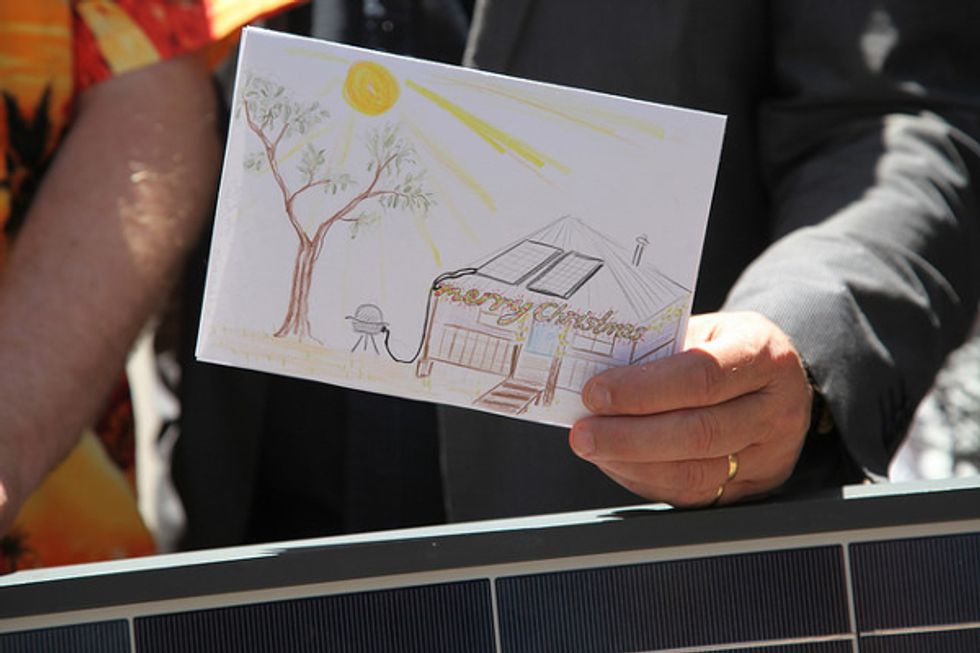 "We've just launched Common Grace and we're learning what it looks like to live out the beauty, generosity and justice we see in Jesus as the earth heats up at an unprecedented rate," said Common Grace's climate justice campaigner Jody Lightfoot. "We're learning what it means to love our neighbors who are at the front lines of climate change and how we can be stewards of the earth in the face of our ecological crisis," he said.
Jacqui Remond, director of Catholic Earthcare Australia and part of the delegation that delivered the gift, added, "As Christians, we recognize that the Earth is a gift and I want to pass on a clean energy future to our children and grandchildren climate change isn't just an environmental issue—it's a matter of justice. It's about people in poverty, particularly indigenous populations, who are being hit first and hardest for what they've contributed to least. It's also about Australians who are preparing to face more intense and frequent bushfires as we approach what could be the hottest summer on record."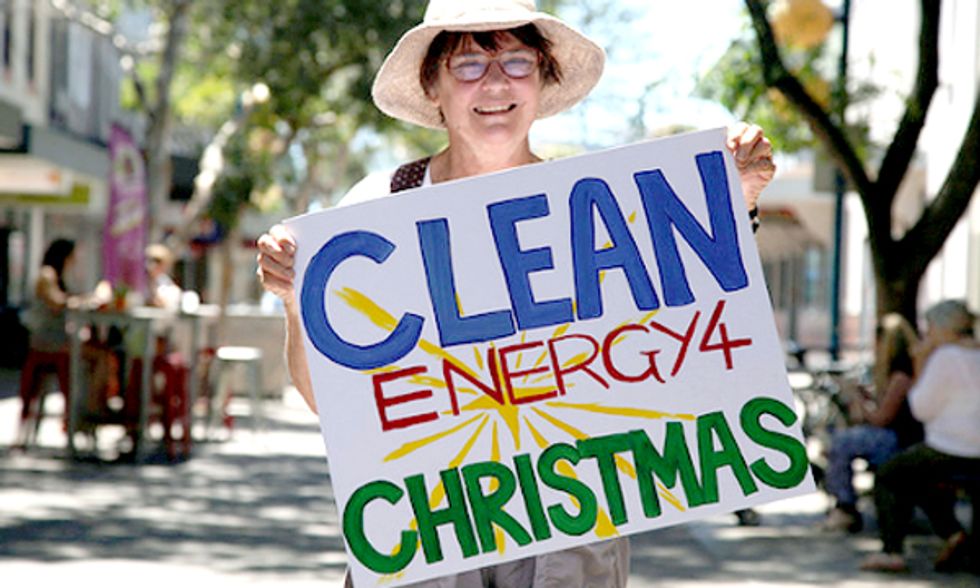 If the prime minister declines the panel, Common Grace said they'll be offered to the Davidson Brigade of the Rural Fire Service of which Prime Minister Abbott is a long time member.
"Fire fighters are on the front line of climate change fighting increasingly frequent and intense bushfires," the group said. "It'd be a small way we can say thank you for what they do."
YOU MIGHT ALSO LIKE
Australia Becomes First Nation to Repeal Carbon Tax
Man-Made Climate Change Guilty of Causing Australia's Hottest Year
Australian Prime Minister Attempts to Undermine Global Climate Action
EcoWatch Daily Newsletter
No longer will the options when we die be a choice between just burial or cremation. Soon it will be possible to compost your remains and leave your loved ones with rich soil, thanks to a new funeral service opening in Seattle in 2021 that will convert humans into soil in just 30 days, as The Independent reported.
You can reduce the footprint of a medium-sized live tree by donating it to elephants at a local zoo, like this African elephant pictured above. eans / iStock / Getty Images
The holiday season is supposed to be about giving and sharing, but often it is actually about throwing away. The U.S. generates 25 percent more garbage between Thanksgiving and New Year's than it does during the rest of the year. That's around one million extra tons per week, according to National Environmental Education Foundation (NEEF) figures reported by The Associated Press.
The Opera House is seen with smoke haze which enveloped Sydney Harbor on Dec. 10 in Sydney, Australia. Smoke haze hangs over the city as the New South Wales fire danger risk is raised from 'very high' to 'severe'. James D. Morgan / Getty Images
The brushfires raging through New South Wales have shrouded Australia's largest city in a blanket of smoke that pushed the air quality index 12 times worse than the hazardous threshold, according to the Australia Broadcast Corporation (ABC).
People walk across the bridge near Little Raven Court in downtown Denver. Younger Americans increasingly prefer to live in walkable neighborhoods. Helen H. Richardson / The Denver Post via Getty Images
By David B. Goldstein
Energy efficiency is the cornerstone of any country's plan to fight the climate crisis. It is the cheapest option available, and one that as often as not comes along with other benefits, such as job creation, comfort and compatibility with other key solutions such as renewable energy. This has been recognized by the International Energy Agency (IEA) for at least a decade.
Activists from Extinction Rebellion New York City engaged in nonviolent direct action to confront climate change outside City Hall on April 17, 2019. Erik McGregor / Pacific Press / LightRocket via Getty Images
By Andrea Germanos

Over 500 groups on Monday rolled out an an action plan for the next president's first days of office to address the climate emergency and set the nation on a transformative path towards zero emissions and a just transition in their first days in office.