World's First Solar-Hydrogen Residential Development Is 100% Self-Sustaining
We've seen individual homes that are completely off-grid, but there are very few residential developments that have this distinction. Thailand-based development company CNX Construction is set to debut the world's first 24-hour, solar-powered hydrogen storage multi-house complex.
The Phi Suea House in Chiang Mai, Thailand utilizes this innovative energy storage technology to power not just one, but four family homes as well as several support buildings with the clean, green energy of the sun.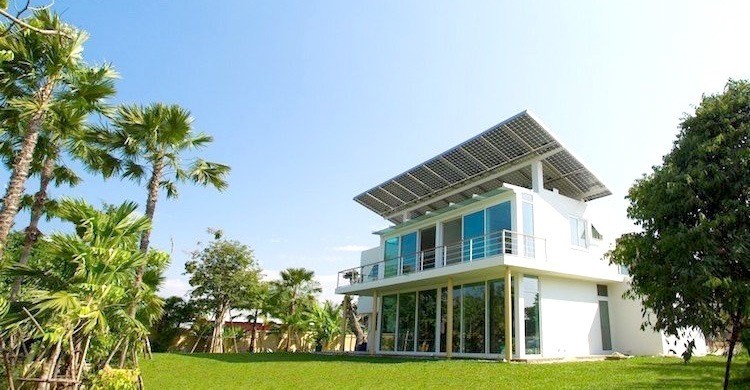 The genius of this project is that it solves problems inherent with solar panels—they only work when the sun is out and can generate more energy than needed. Although the nascent battery industry solves some of these problems, "they are not well suited for long term use," CNX Construction said.
"Power storage in batteries is also not ideal for huge amounts of energy," the company pointed out. "In general, batteries are expensive, heavy and made from dangerous materials with questionable recycling processes."
In September, EcoWatch wrote about a similar project: a solar-powered hydrogen fuel cell generator that has been set up in Honolulu, Hawaii's port. Hydrogen fuel cells are a hotly debated issue because most projects use natural gas as the power source and it's still seen as cost-prohibitive on a commercial scale. These respective solar-hydrogen projects, however, offer a clean energy storage alternative.
So how does it work? According to Cityife Chiang Mai, "during the day, solar panels on five of the structures capture energy from the sun and send it to the energy building. The energy building then distributes power to the buildings on the compound while also converting water into hydrogen gas."
CNX Construction explained:
The best way to store energy is to generate hydrogen gas via electrolyzers with solar energy and pure water during the day. Electrolyzers produce hydrogen gas by using an electric current to separate water into its composite gases: hydrogen and oxygen.
During night or when we need additional energy the hydrogen is used to produce power with a fuel cell.
Our energy storage is a hybrid battery-hydrogen system which maximizes the advantages of both the batteries and fuel cell. Batteries take the very fast and short loads, while the massive permanent energy load is supplied by the hydrogen/fuel cell.
The process is 100 percent clean as its only byproducts are oxygen gas and water, the company said. Learn more about the technology in the video below:
"It's a dream to have 24-hour access to the power of the sun. With our renewable power system and hydrogen energy storage, we have fulfilled this dream," Sebastian-Justus Schmidt, initiator of the Phi Suea House project, said in a press release.
While the energy storage system is what makes this project unique, many other design considerations make this house "the greenest of green," a CNX Construction representative told EcoWatch.
"A strong motivation in this project is to create a residence that is 100 percent self-reliable," the rep said. "That is done through the production of their own energy, but is also seen in the permaculture, fish pond and rain water-collection system."
The compound will also feature solar hot water panels to heat water, double-glazed windows, thick walls, natural ventilation, efficient fans to reduce air conditioning use and large windows and lower-power LED lamps to minimize the energy required for lighting, Gizmag reported.
Gizmag also noted that a partial excess of the electricity generated by the panels will be stored in two 2,000-Ah lead-acid battery banks.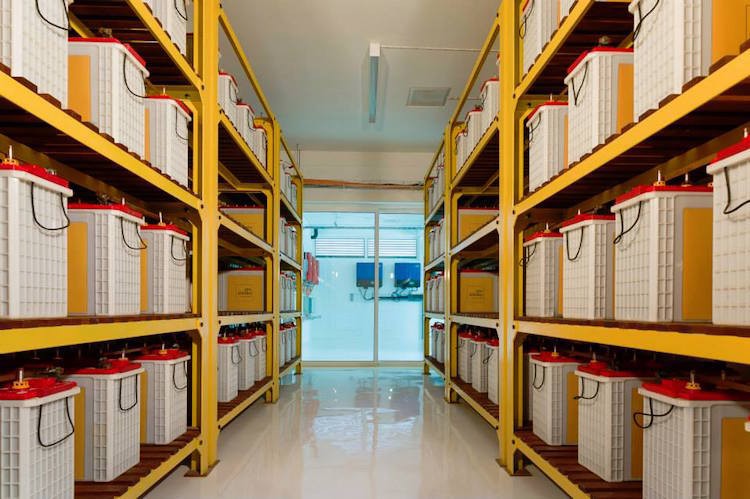 The project is set for completion by the end of this year. By that time, CNX Construction will have installed 114 kilowatt of photovoltaic panels. The company estimates that with the initial installation, an average of 247 kilowatt hour will be generated every month, or enough to power all four homes and all other equipment and infrastructure, including the water pumps.
The company has not released cost figures for the project, but said, "We have calculated a return on our investment (ROI) based on 5 to 6 Thai Baht/kilowatt hour. The time for a ROI will be around 15 years as of today."
"Due to its widening acceptance, the cost of similar systems will drop within the next 3 to 5 years and will generate a much faster ROI," the release added.
The official opening of the Phi Suea House is set for Jan. 29, 2016.
YOU MIGHT ALSO LIKE
World's First Off-Grid EcoCapsule Runs Entirely on Renewable Energy
Couple Builds Greenhouse Around Home to Grow Food and Keep Warm
Brad Pitt's Nonprofit Delivers LEED Platinum Homes to Fort Peck Reservation
4 Solar Powered Homes Designed by Students That Will Blow You Away
By Itai Vardi
A recent intensification in protests against Williams Partners' planned Atlantic Sunrise pipeline in Pennsylvania prompted a state senator to propose legislation aimed at limiting demonstrations.
Last month, Pennsylvania Sen. Scott Martin (R-Norman) announced his intention to introduce legislation that would pass the costs of law enforcement responding to protests onto the demonstrators. Martin also helped introduce a different bill that would criminalize protests at natural gas facilities.
Keep reading...
Show less
Black Shogun / iStock
The Federal Energy Regulatory Commission (FERC) released its Final Environmental Impact Statement Friday for the Mountain Valley Pipeline, a controversial 303-mile pipeline that would carry two billion cubic feet of fracked gas per day from West Virginia through Virginia.
Keep reading...
Show less
Falcon PEV
The so-called "first and last mile" problem is one of the biggest hurdles with public transportation. How do you encourage more people to take Earth-friendlier commutes when their homes are miles away from the train or bus station?
One solution, as this Estonian electric scooter company proposes, is to simply take your commute with you—literally. Tallinn-based Stigo has developed a compact e-scooter that folds to the size of a rolling suitcase in about two seconds.
Keep reading...
Show less
Connect4Climate
[Editor's note: I'm still in shock after hearing the news that Lucia Grenna passed away in her sleep last week. When we first met in April of 2014 at a Copenhagen hotel, I was immediately taken by here powerful presence. We spent the next couple days participating in a Sustainia climate change event where Lucia presented her audacious plans to connect people to the climate issue. I had the chance to partner with Lucia on several other projects throughout the years and work with her incredible Connect4Climate team. I was always in awe of her ability to "make the impossible possible." Her spirit will live on forever. — Stefanie Spear]
It is with a heavy heart that Connect4Climate announces the passing of its founder and leading light, Lucia Grenna. Lucia passed peacefully in her sleep on June 15, well before her time. We remember her for her leadership and extraordinary ability to motivate people to take on some of the greatest challenges of our time, not least climate change.
Keep reading...
Show less
Jun. 23, 2017 07:29PM EST
Wikimedia Commons
By Stacy Malkan
Neil deGrasse Tyson has inspired millions of people to care about science and imagine themselves as participants in the scientific process. What a hopeful sign it is to see young girls wearing t-shirts emblazoned with the words, "Forget princess, I want to be an astrophysicist."
Keep reading...
Show less
Jun. 23, 2017 01:57PM EST
www.youtube.com
By Andy Rowell
Any day now we will truly witness climate change in action. Within days at worst, maybe weeks at best, scientists predict that a huge section of the Larsen C ice shelf in Antarctica will break off into the ocean, in what is called a major "carving" event.
Keep reading...
Show less
Jun. 23, 2017 02:27PM EST
www.youtube.com
President Trump visited Cedar Rapids, Iowa on June 21 to speak to a large crowd in the U.S. Cellular Center at a political rally organized by his campaign.
As Trevor Noah noted during The Daily Show episode last night (starts at 2:25), the real reason Trump has these rallies is to "get back in front of his loyal crowds and feed of their energy." Noah believes that "Trump supporters are so on board with their dude he can say anything and they'll come along for the ride."
Keep reading...
Show less
Jun. 23, 2017 07:50PM EST
The Kamuthi solar plant in the southern Indian state of Tamil Nadu.
The rapid growth in renewable energy continues to put a dent in the demand for coal.
Coal India, the world's biggest coal mining company and producer of 82 percent of the country's coal, announced the closure of 37 mines that are financially "unviable."
Keep reading...
Show less
Jun. 23, 2017 06:42PM EST
www.youtube.com
By Katie O'Reilly
Two years ago—long before coal became one of the most dominant and controversial symbols of the 2016 presidential election—Bloomberg Philanthropies approached production company RadicalMedia with the idea of creating a documentary exploring the U.S. coal mining industry. Last spring, they brought on Emmy-nominated director Michael Bonfiglio, tasked with forging a compelling story out of the multitudes of facts, statistics and narratives underlying the declining industry.
Keep reading...
Show less