This website uses cookies to ensure you get the best experience while browsing it. By clicking 'Got It' you're accepting these terms.


The best of EcoWatch, right in your inbox. Sign up for our email newsletter!
World's First Solar-Hydrogen Residential Development Is 100% Self-Sustaining
Dec. 23, 2015 10:53AM EST
Business
We've seen individual homes that are completely off-grid, but there are very few residential developments that have this distinction. Thailand-based development company CNX Construction is set to debut the world's first 24-hour, solar-powered hydrogen storage multi-house complex.
The Phi Suea House in Chiang Mai, Thailand utilizes this innovative energy storage technology to power not just one, but four family homes as well as several support buildings with the clean, green energy of the sun.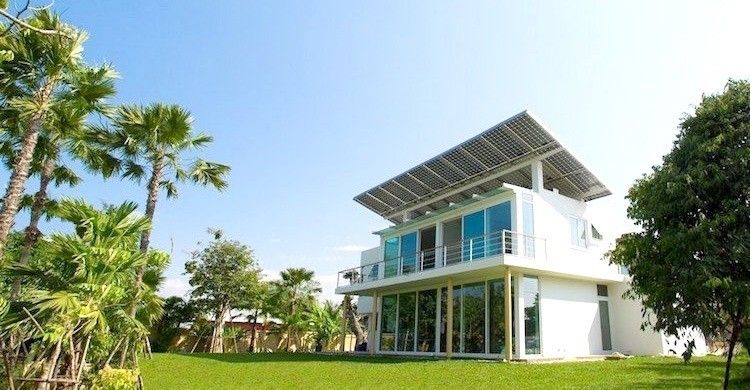 The genius of this project is that it solves problems inherent with solar panels—they only work when the sun is out and can generate more energy than needed. Although the nascent battery industry solves some of these problems, "they are not well suited for long term use," CNX Construction said.
"Power storage in batteries is also not ideal for huge amounts of energy," the company pointed out. "In general, batteries are expensive, heavy and made from dangerous materials with questionable recycling processes."
In September, EcoWatch wrote about a similar project: a solar-powered hydrogen fuel cell generator that has been set up in Honolulu, Hawaii's port. Hydrogen fuel cells are a hotly debated issue because most projects use natural gas as the power source and it's still seen as cost-prohibitive on a commercial scale. These respective solar-hydrogen projects, however, offer a clean energy storage alternative.
So how does it work? According to Cityife Chiang Mai, "during the day, solar panels on five of the structures capture energy from the sun and send it to the energy building. The energy building then distributes power to the buildings on the compound while also converting water into hydrogen gas."
CNX Construction explained:
The best way to store energy is to generate hydrogen gas via electrolyzers with solar energy and pure water during the day. Electrolyzers produce hydrogen gas by using an electric current to separate water into its composite gases: hydrogen and oxygen.
During night or when we need additional energy the hydrogen is used to produce power with a fuel cell.
Our energy storage is a hybrid battery-hydrogen system which maximizes the advantages of both the batteries and fuel cell. Batteries take the very fast and short loads, while the massive permanent energy load is supplied by the hydrogen/fuel cell.
The process is 100 percent clean as its only byproducts are oxygen gas and water, the company said. Learn more about the technology in the video below:
"It's a dream to have 24-hour access to the power of the sun. With our renewable power system and hydrogen energy storage, we have fulfilled this dream," Sebastian-Justus Schmidt, initiator of the Phi Suea House project, said in a press release.
While the energy storage system is what makes this project unique, many other design considerations make this house "the greenest of green," a CNX Construction representative told EcoWatch.
"A strong motivation in this project is to create a residence that is 100 percent self-reliable," the rep said. "That is done through the production of their own energy, but is also seen in the permaculture, fish pond and rain water-collection system."
The compound will also feature solar hot water panels to heat water, double-glazed windows, thick walls, natural ventilation, efficient fans to reduce air conditioning use and large windows and lower-power LED lamps to minimize the energy required for lighting, Gizmag reported.
Gizmag also noted that a partial excess of the electricity generated by the panels will be stored in two 2,000-Ah lead-acid battery banks.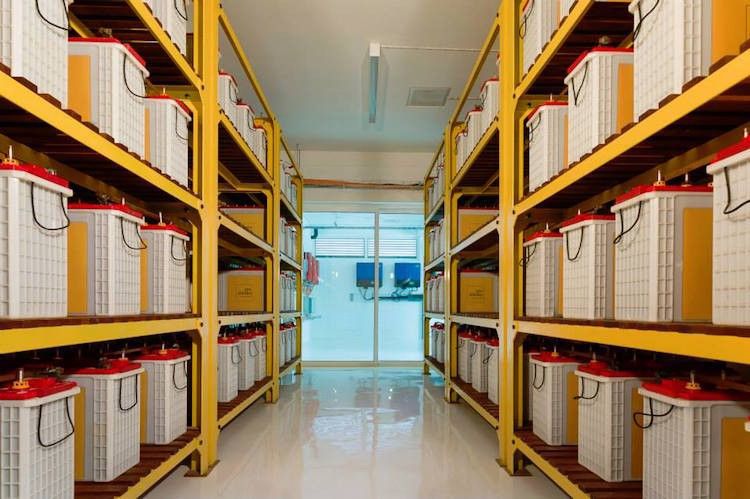 The project is set for completion by the end of this year. By that time, CNX Construction will have installed 114 kilowatt of photovoltaic panels. The company estimates that with the initial installation, an average of 247 kilowatt hour will be generated every month, or enough to power all four homes and all other equipment and infrastructure, including the water pumps.
The company has not released cost figures for the project, but said, "We have calculated a return on our investment (ROI) based on 5 to 6 Thai Baht/kilowatt hour. The time for a ROI will be around 15 years as of today."
"Due to its widening acceptance, the cost of similar systems will drop within the next 3 to 5 years and will generate a much faster ROI," the release added.
The official opening of the Phi Suea House is set for Jan. 29, 2016.
YOU MIGHT ALSO LIKE
World's First Off-Grid EcoCapsule Runs Entirely on Renewable Energy
Couple Builds Greenhouse Around Home to Grow Food and Keep Warm
Brad Pitt's Nonprofit Delivers LEED Platinum Homes to Fort Peck Reservation
4 Solar Powered Homes Designed by Students That Will Blow You Away
EcoWatch Daily Newsletter
Mark Wilson / Getty Images News
Ethics investigations have been opened into the conduct of senior Trump appointees at the nation's top environmental agencies.
The two investigations focus on Environmental Protection Agency (EPA) Administrator Andrew Wheeler and six high-ranking officials in the Department of Interior (DOI), The Hill reported Tuesday. Both of them involve the officials' former clients or employers.
"This is demonstrative of the failures at the very top of this administration to set an ethical tone," Campaign Legal Center Ethics Counsel Delaney Marsco told The Washington Post of the DOI investigation. "When people come to work for government, they're supposed to work on behalf of the public. It's a betrayal of the public trust when senior political appointees seem to give privileged access to their former employers or former clients."
Cigarette butt litter. Tavallai / CC BY-ND 2.0
By Dipika Kadaba
We've known for more than 50 years that smoking cigarettes comes with health hazards, but it turns out those discarded butts are harmful for the environment, too. Filtered cigarette butts, although small, contain dozens of chemicals, including arsenic and benzene. These toxins can leach into the ground or water, creating a potentially deadly situation for nearby birds, fish and other wildlife.
Thanasis Zovoilis / DigitalVision / Getty Images
Infants less than a year old should not be exposed to electronic screens, the World Health Organization (WHO) said on Wednesday.
Bill Pugliano / Getty Images
By Wenonah Hauter
Five years ago this week, an emergency manager appointed by then-Michigan Gov. Rick Snyder made the devastating decision to save money by switching Flint's water supply over from Detroit's water system to the Flint River. Seen as a temporary fix, the new water supply was not properly treated. High levels of lead leached from the old pipes, poisoning a generation of Flint's children, and bacteria responsible for an outbreak of Legionnaires' Disease killed more than a dozen residents.
Los Angeles-Long Beach, California is listed as the nation's smoggiest city. Pixabay
Kissing bug. Pavel Kirillov / Flickr / CC BY-SA 2.0
The Centers for Disease Control and Prevention (CDC) confirmed that the kissing bug, which can transmit a potentially deadly parasite, has spread to Delaware, ABC News reported Wednesday.
Did you know that more than a third of food is wasted or thrown away every year? And that only 25 percent of it would be enough to feed the 795 million undernourished people in the world? That's why today is Stop Food Waste Day, a chance to reflect on what you can do to waste less of the food you buy.
Stop Food Waste Day is an initiative of food service company Compass Group. It was launched first in the U.S, in 2017 and went global the year after, making today it's second worldwide celebration.