This website uses cookies to ensure you get the best experience while browsing it. By clicking 'Got It' you're accepting these terms.


The best of EcoWatch, right in your inbox. Sign up for our email newsletter!
World's First Solar-Hydrogen Residential Development Is 100% Self-Sustaining
Dec. 23, 2015 10:53AM EST
Business
We've seen individual homes that are completely off-grid, but there are very few residential developments that have this distinction. Thailand-based development company CNX Construction is set to debut the world's first 24-hour, solar-powered hydrogen storage multi-house complex.
The Phi Suea House in Chiang Mai, Thailand utilizes this innovative energy storage technology to power not just one, but four family homes as well as several support buildings with the clean, green energy of the sun.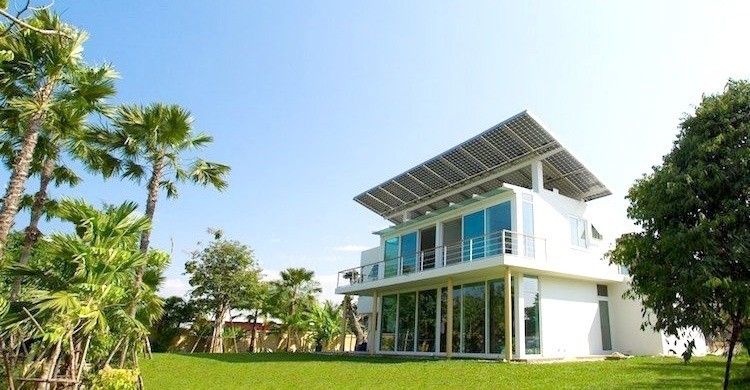 The genius of this project is that it solves problems inherent with solar panels—they only work when the sun is out and can generate more energy than needed. Although the nascent battery industry solves some of these problems, "they are not well suited for long term use," CNX Construction said.
"Power storage in batteries is also not ideal for huge amounts of energy," the company pointed out. "In general, batteries are expensive, heavy and made from dangerous materials with questionable recycling processes."
In September, EcoWatch wrote about a similar project: a solar-powered hydrogen fuel cell generator that has been set up in Honolulu, Hawaii's port. Hydrogen fuel cells are a hotly debated issue because most projects use natural gas as the power source and it's still seen as cost-prohibitive on a commercial scale. These respective solar-hydrogen projects, however, offer a clean energy storage alternative.
So how does it work? According to Cityife Chiang Mai, "during the day, solar panels on five of the structures capture energy from the sun and send it to the energy building. The energy building then distributes power to the buildings on the compound while also converting water into hydrogen gas."
CNX Construction explained:
The best way to store energy is to generate hydrogen gas via electrolyzers with solar energy and pure water during the day. Electrolyzers produce hydrogen gas by using an electric current to separate water into its composite gases: hydrogen and oxygen.
During night or when we need additional energy the hydrogen is used to produce power with a fuel cell.
Our energy storage is a hybrid battery-hydrogen system which maximizes the advantages of both the batteries and fuel cell. Batteries take the very fast and short loads, while the massive permanent energy load is supplied by the hydrogen/fuel cell.
The process is 100 percent clean as its only byproducts are oxygen gas and water, the company said. Learn more about the technology in the video below:
"It's a dream to have 24-hour access to the power of the sun. With our renewable power system and hydrogen energy storage, we have fulfilled this dream," Sebastian-Justus Schmidt, initiator of the Phi Suea House project, said in a press release.
While the energy storage system is what makes this project unique, many other design considerations make this house "the greenest of green," a CNX Construction representative told EcoWatch.
"A strong motivation in this project is to create a residence that is 100 percent self-reliable," the rep said. "That is done through the production of their own energy, but is also seen in the permaculture, fish pond and rain water-collection system."
The compound will also feature solar hot water panels to heat water, double-glazed windows, thick walls, natural ventilation, efficient fans to reduce air conditioning use and large windows and lower-power LED lamps to minimize the energy required for lighting, Gizmag reported.
Gizmag also noted that a partial excess of the electricity generated by the panels will be stored in two 2,000-Ah lead-acid battery banks.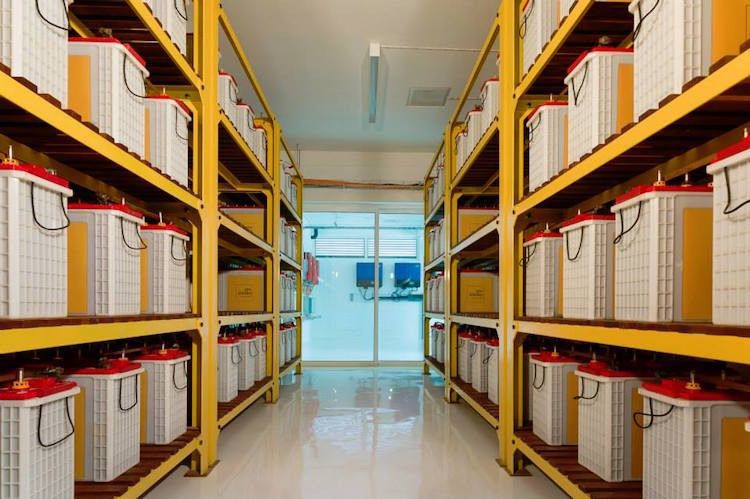 The project is set for completion by the end of this year. By that time, CNX Construction will have installed 114 kilowatt of photovoltaic panels. The company estimates that with the initial installation, an average of 247 kilowatt hour will be generated every month, or enough to power all four homes and all other equipment and infrastructure, including the water pumps.
The company has not released cost figures for the project, but said, "We have calculated a return on our investment (ROI) based on 5 to 6 Thai Baht/kilowatt hour. The time for a ROI will be around 15 years as of today."
"Due to its widening acceptance, the cost of similar systems will drop within the next 3 to 5 years and will generate a much faster ROI," the release added.
The official opening of the Phi Suea House is set for Jan. 29, 2016.
YOU MIGHT ALSO LIKE
World's First Off-Grid EcoCapsule Runs Entirely on Renewable Energy
Couple Builds Greenhouse Around Home to Grow Food and Keep Warm
Brad Pitt's Nonprofit Delivers LEED Platinum Homes to Fort Peck Reservation
4 Solar Powered Homes Designed by Students That Will Blow You Away
EcoWatch Daily Newsletter
arinahabich / Stock / Getty Images
By Sydney Swanson
With April hopping along and Easter just around the corner, it's time for dyeing eggs (and inadvertently, dyeing hands.) It's easy to grab an egg-dyeing kit at the local supermarket or drug store, but those dye ingredients are not pretty.
Aerial of farmland and mountains near Seaward Kaikoura Range in New Zealand. David Wall Photo / Lonely Planet Images / Getty Images Plus
By Jordan Davidson
New Zealand's pristine image as a haven of untouched forests and landscapes was tarnished this week by a brand new government report. The Environment Aotearoa 2019 painted a bleak image of the island nation's environment and its future prospects.
heshphoto / Image Source / Getty Images
Mike Taube / Getty Images
A new EPA rule on asbestos does not say anything about the asbestos currently in the environment. Bob Allen / Getty Images
A mountain woodland caribou bull in the Muskwa-Kechika Wilderness area in northern British Columbia, Canada. John E Marriott / All Canada Photos / Getty Images
It's heartening, in the midst of the human-caused sixth mass extinction, to find good wildlife recovery news. As plant and animal species disappear faster than they have for millions of years, Russia's Siberian, or Amur, tigers are making a comeback. After falling to a low of just a few dozen in the mid-20th century, the tigers now number around 500, with close to 100 cubs — thanks to conservation measures that include habitat restoration and an illegal hunting crackdown.