World's First Solar-Hydrogen Residential Development Is 100% Self-Sustaining
We've seen individual homes that are completely off-grid, but there are very few residential developments that have this distinction. Thailand-based development company CNX Construction is set to debut the world's first 24-hour, solar-powered hydrogen storage multi-house complex.
The Phi Suea House in Chiang Mai, Thailand utilizes this innovative energy storage technology to power not just one, but four family homes as well as several support buildings with the clean, green energy of the sun.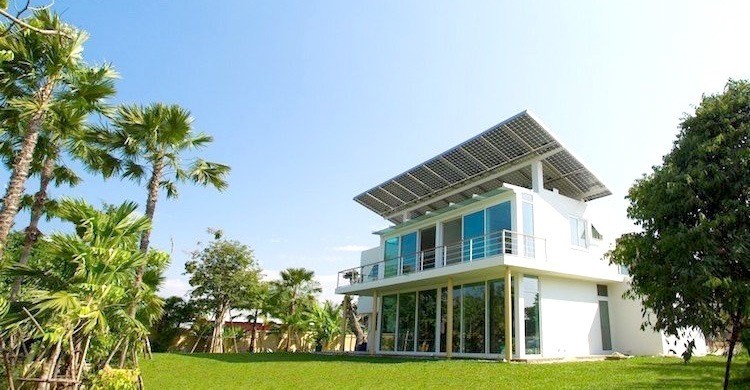 The genius of this project is that it solves problems inherent with solar panels—they only work when the sun is out and can generate more energy than needed. Although the nascent battery industry solves some of these problems, "they are not well suited for long term use," CNX Construction said.
"Power storage in batteries is also not ideal for huge amounts of energy," the company pointed out. "In general, batteries are expensive, heavy and made from dangerous materials with questionable recycling processes."
In September, EcoWatch wrote about a similar project: a solar-powered hydrogen fuel cell generator that has been set up in Honolulu, Hawaii's port. Hydrogen fuel cells are a hotly debated issue because most projects use natural gas as the power source and it's still seen as cost-prohibitive on a commercial scale. These respective solar-hydrogen projects, however, offer a clean energy storage alternative.
So how does it work? According to Cityife Chiang Mai, "during the day, solar panels on five of the structures capture energy from the sun and send it to the energy building. The energy building then distributes power to the buildings on the compound while also converting water into hydrogen gas."
CNX Construction explained:
The best way to store energy is to generate hydrogen gas via electrolyzers with solar energy and pure water during the day. Electrolyzers produce hydrogen gas by using an electric current to separate water into its composite gases: hydrogen and oxygen.
During night or when we need additional energy the hydrogen is used to produce power with a fuel cell.
Our energy storage is a hybrid battery-hydrogen system which maximizes the advantages of both the batteries and fuel cell. Batteries take the very fast and short loads, while the massive permanent energy load is supplied by the hydrogen/fuel cell.
The process is 100 percent clean as its only byproducts are oxygen gas and water, the company said. Learn more about the technology in the video below:
"It's a dream to have 24-hour access to the power of the sun. With our renewable power system and hydrogen energy storage, we have fulfilled this dream," Sebastian-Justus Schmidt, initiator of the Phi Suea House project, said in a press release.
While the energy storage system is what makes this project unique, many other design considerations make this house "the greenest of green," a CNX Construction representative told EcoWatch.
"A strong motivation in this project is to create a residence that is 100 percent self-reliable," the rep said. "That is done through the production of their own energy, but is also seen in the permaculture, fish pond and rain water-collection system."
The compound will also feature solar hot water panels to heat water, double-glazed windows, thick walls, natural ventilation, efficient fans to reduce air conditioning use and large windows and lower-power LED lamps to minimize the energy required for lighting, Gizmag reported.
Gizmag also noted that a partial excess of the electricity generated by the panels will be stored in two 2,000-Ah lead-acid battery banks.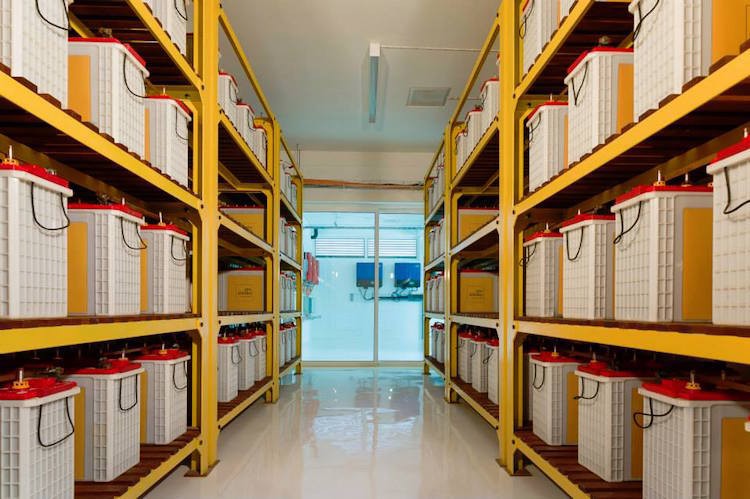 The project is set for completion by the end of this year. By that time, CNX Construction will have installed 114 kilowatt of photovoltaic panels. The company estimates that with the initial installation, an average of 247 kilowatt hour will be generated every month, or enough to power all four homes and all other equipment and infrastructure, including the water pumps.
The company has not released cost figures for the project, but said, "We have calculated a return on our investment (ROI) based on 5 to 6 Thai Baht/kilowatt hour. The time for a ROI will be around 15 years as of today."
"Due to its widening acceptance, the cost of similar systems will drop within the next 3 to 5 years and will generate a much faster ROI," the release added.
The official opening of the Phi Suea House is set for Jan. 29, 2016.
YOU MIGHT ALSO LIKE
World's First Off-Grid EcoCapsule Runs Entirely on Renewable Energy
Couple Builds Greenhouse Around Home to Grow Food and Keep Warm
Brad Pitt's Nonprofit Delivers LEED Platinum Homes to Fort Peck Reservation
4 Solar Powered Homes Designed by Students That Will Blow You Away
Disturbing footage of a snake in Goa, India vomiting an empty soft drink bottle highlights the world's mounting plastic pollution crisis.
Keep reading...
Show less
By Melissa Hellmann
When her eldest son was in elementary school in the Oakland Unified School District, Ruth Woodruff became alarmed by the meals he was being served at school. A lot of it was frozen, processed foods, packed with preservatives. At home, she was feeding her children locally sourced, organic foods.
Keep reading...
Show less
May. 28, 2017 01:33PM EST
Laurie Woolever
By James O'Hare
There are 20 million people in the world facing famine in South Sudan, Somalia, Nigeria and Yemen. In developed nations, too, people go hungry. Venezuela, for instance, is enduring food insecurity on a national level as a result of economic crisis and political corruption. In the U.S., the land of supposed excess, 12.7 percent of households were food insecure in 2015, meaning they didn't know where their next meal would come from.
Keep reading...
Show less
May. 28, 2017 01:22PM EST
Melwater, Greenland ice sheet. Diane Tuft
Artists are taking the climate crisis into frame and the results are emotional, beautiful and stirring.
So you've seen the best climate change cartoons and shared them with your friends. You've showed your family the infographics on climate change and health, infographics on how the grid works and infographics about clean, renewable energy. You've even forwarded these official National Oceanic and Atmospheric Administration graphs that explain the 10 clear indicators of climate change to your colleagues at the office.
Keep reading...
Show less
May. 27, 2017 01:11PM EST
As the Trump administration moves full speed ahead on boosting the oil and fossil fuel industry, opposition to increased pipeline construction is cropping up in different communities around the country.
Keep reading...
Show less
May. 27, 2017 01:02PM EST
Minke whale stranding near Havergate Island in Suffolk. MCGA.
By Simon Evans
Last Saturday, two dead whales washed up on the coast of Suffolk, in eastern England, and a third was spotted floating at sea.
What happened next illustrates how news can spread and evolve into misinformation, when reported by journalists rushing to publish before confirming basic facts or sourcing their own quotes.
Keep reading...
Show less
May. 27, 2017 01:22PM EST
By Monica Amarelo and Paul Pestano
Sun safety is a crucial part of any outdoor activity for kids, and sunscreen can help protect children's skin from harmful ultraviolet rays. Kids often get sunburned when they're outside unprotected for longer than expected. Parents need to plan ahead and keep sun protection handy in their cars or bags.
Keep reading...
Show less
May. 27, 2017 01:02PM EST
By Joe McCarthy
A lot of people take part in community clean-up efforts—spending a Saturday morning picking up litter in a park, mowing an overgrown field or painting a fence.
Keep reading...
Show less