World's First Solar-Hydrogen Residential Development Is 100% Self-Sustaining
We've seen individual homes that are completely off-grid, but there are very few residential developments that have this distinction. Thailand-based development company CNX Construction is set to debut the world's first 24-hour, solar-powered hydrogen storage multi-house complex.
The Phi Suea House in Chiang Mai, Thailand utilizes this innovative energy storage technology to power not just one, but four family homes as well as several support buildings with the clean, green energy of the sun.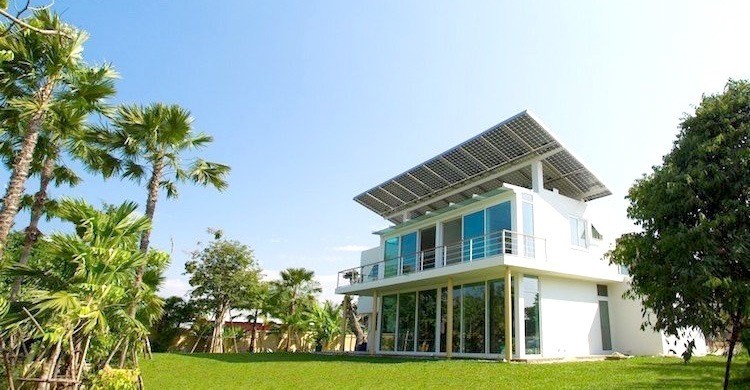 The genius of this project is that it solves problems inherent with solar panels—they only work when the sun is out and can generate more energy than needed. Although the nascent battery industry solves some of these problems, "they are not well suited for long term use," CNX Construction said.
"Power storage in batteries is also not ideal for huge amounts of energy," the company pointed out. "In general, batteries are expensive, heavy and made from dangerous materials with questionable recycling processes."
In September, EcoWatch wrote about a similar project: a solar-powered hydrogen fuel cell generator that has been set up in Honolulu, Hawaii's port. Hydrogen fuel cells are a hotly debated issue because most projects use natural gas as the power source and it's still seen as cost-prohibitive on a commercial scale. These respective solar-hydrogen projects, however, offer a clean energy storage alternative.
So how does it work? According to Cityife Chiang Mai, "during the day, solar panels on five of the structures capture energy from the sun and send it to the energy building. The energy building then distributes power to the buildings on the compound while also converting water into hydrogen gas."
CNX Construction explained:
The best way to store energy is to generate hydrogen gas via electrolyzers with solar energy and pure water during the day. Electrolyzers produce hydrogen gas by using an electric current to separate water into its composite gases: hydrogen and oxygen.
During night or when we need additional energy the hydrogen is used to produce power with a fuel cell.
Our energy storage is a hybrid battery-hydrogen system which maximizes the advantages of both the batteries and fuel cell. Batteries take the very fast and short loads, while the massive permanent energy load is supplied by the hydrogen/fuel cell.
The process is 100 percent clean as its only byproducts are oxygen gas and water, the company said. Learn more about the technology in the video below:
"It's a dream to have 24-hour access to the power of the sun. With our renewable power system and hydrogen energy storage, we have fulfilled this dream," Sebastian-Justus Schmidt, initiator of the Phi Suea House project, said in a press release.
While the energy storage system is what makes this project unique, many other design considerations make this house "the greenest of green," a CNX Construction representative told EcoWatch.
"A strong motivation in this project is to create a residence that is 100 percent self-reliable," the rep said. "That is done through the production of their own energy, but is also seen in the permaculture, fish pond and rain water-collection system."
The compound will also feature solar hot water panels to heat water, double-glazed windows, thick walls, natural ventilation, efficient fans to reduce air conditioning use and large windows and lower-power LED lamps to minimize the energy required for lighting, Gizmag reported.
Gizmag also noted that a partial excess of the electricity generated by the panels will be stored in two 2,000-Ah lead-acid battery banks.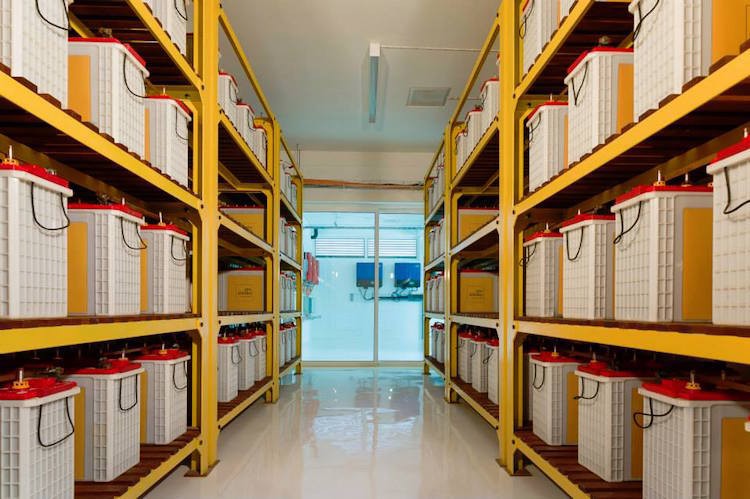 The project is set for completion by the end of this year. By that time, CNX Construction will have installed 114 kilowatt of photovoltaic panels. The company estimates that with the initial installation, an average of 247 kilowatt hour will be generated every month, or enough to power all four homes and all other equipment and infrastructure, including the water pumps.
The company has not released cost figures for the project, but said, "We have calculated a return on our investment (ROI) based on 5 to 6 Thai Baht/kilowatt hour. The time for a ROI will be around 15 years as of today."
"Due to its widening acceptance, the cost of similar systems will drop within the next 3 to 5 years and will generate a much faster ROI," the release added.
The official opening of the Phi Suea House is set for Jan. 29, 2016.
YOU MIGHT ALSO LIKE
World's First Off-Grid EcoCapsule Runs Entirely on Renewable Energy
Couple Builds Greenhouse Around Home to Grow Food and Keep Warm
Brad Pitt's Nonprofit Delivers LEED Platinum Homes to Fort Peck Reservation
4 Solar Powered Homes Designed by Students That Will Blow You Away
Werner Baumann (left), CEO of Bayer AG, and Hugh Grant, chairman and CEO of Monsanto. Bayer
The European Commission, the European Union's executive arm, announced Tuesday it has opened an in-depth investigation into Bayer's proposed $66 billion takeover of Monsanto over "concerns that the merger may reduce competition in areas such as pesticides, seeds and traits."

The controversial merger, if successful, will form the world's largest integrated seed and pesticide company.
Keep reading...
Show less
www.youtube.com
U.S. Environmental Protection Agency (EPA) administrator Scott Pruitt appears in a video sponsored by the beef industry calling on farmers and ranchers to file official comments on a proposal to withdraw and rewrite the Obama-era "Waters of the United States" rule (or WOTUS) before the Aug. 28 deadline.
The National Cattlemen's Beef Association (NCBA) video was produced by the beef lobbying organization's policy division, Beltway Beef and was released last week. Notably, NCBA spent $117,375 in lobbying last year.
Keep reading...
Show less
Two years ago, Stanford University professor Mark Jacobson and his collaborators published a widely circulated study that detailed how the U.S. can eliminate nuclear, biofuels and fossil fuels and transition to 100 percent renewable energy by 2050.
Now, in a paper published Wednesday in the new scientific journal Joule, Jacobson and 26 co-authors created clean energy roadmaps not just for the 50 United States, but for 139 individual countries.

Keep reading...
Show less
Subtitle removed and sidebar altered on federal health website. EDGI
The effects of climate change is inextricably linked to human health. The burning of fossil fuels releases carbon dioxide and other greenhouse gases that traps heat in the atmosphere, causing global temperatures to spike, air quality to worsen, all while fueling droughts, floods and storms that impact food and water security.
Climate change is making us sick in many ways, but it appears that the Trump administration trying to downplay this fact.
Keep reading...
Show less
Pax Ahimsa Gethen / Wikimedia Commons
By Steve Horn
Energy Transfer Partners, owner of the Dakota Access pipeline, has filed a $300 million Racketeer Influenced and Corrupt Organizations (RICO) lawsuit against Greenpeace and other environmental groups for their activism against the long-contested North Dakota-to-Illinois project.
In its 187-page complaint, Energy Transfer alleges that "putative not-for-profits and rogue eco-terrorist groups who employ patterns of criminal activity and campaigns of misinformation to target legitimate companies and industries with fabricated environmental claims and other purported misconduct" caused the company to lose "billions of dollars."
Keep reading...
Show less
ExxonMobil misled the public on what it knew about climate change and its link to fossil fuels, according to a groundbreaking new analysis of the company's internal and external communications.
In a study published Tuesday in the journal Environmental Research Letters, Harvard postdoctoral fellow Geoffrey Supran and professor Naomi Oreskes reviewed nearly 200 communications on climate change from the oil giant, including scientific research, internal company memos and paid editorial features in the New York Times.
Keep reading...
Show less
Energy
Aug. 22, 2017 12:55PM EST
Tallahassee Democrat / Twitter
The U.S. District Court of Appeals ruled 2-1 Tuesday saying that the Federal Environmental Energy Regulatory Commission (FERC) failed to adequately review the environmental impacts of the greenhouse gas (GHG) emissions of the fracked gas Sabal Trail pipeline, which runs more than 500 miles through Alabama, Georgia and Florida.
Keep reading...
Show less
Offshore Staghorn coral nursery. Rescue-A-Reef, UM Rosenstiel School of Marine and Atmospheric Science
As ocean waters warm and acidify, corals across the globe are disappearing. Desperate to prevent the demise of these vital ecosystems, researchers have developed ways to "garden" corals, buying the oceans some much-needed time. University of Miami Rosenstiel School marine biologist Diego Lirman sat down with Josh Chamot of Nexus Media to describe the process and explain what's at stake. This interview has been edited for length and clarity.
Keep reading...
Show less


Get EcoWatch in your inbox