For the next 30 days, I'm going to be wearing every single piece of trash that I create. At first that might sound crazy, but anybody who knows me, knows that I am indeed crazy ... crazy in a good way. My biggest goal in life is to inspire people to think about how our little daily actions affect the world around us both near and far.
Most Americans realize that we create an unfathomable amount of trash. You've all probably seen the horrific images of landfills bursting at the seams, bodies of water littered in trash, and animals killed or badly injured from plastics.
Car Engine Cover, Fishing Net and #Plastic Bucket Found in Stomachs of Dead Sperm #Whales https://t.co/UUbrAkwWxN @EcoWatch

— Plastic Pollutes (@Plastic Pollutes)1459713307.0
Many of us have wrapped our heads around the massive global issues we've created with our trash, but I think we fail to put more emphasis on the role we play in this tragic situation. How are we as individuals contributing to these problems and what positive changes can we make today to live out a life that is in harmony with our beliefs? We need to put our actions front and center, and inspire positive change.
The average American creates 4.5 pounds of trash per day, a statistic that's hard to visualize especially as it adds up. So for 30 days I am going to live just like the average American. I'll eat, shop and consume just like millions of us are accustomed to doing every day. By the end of 30 days, I'll be wearing upwards of 135 pounds of garbage. To make this possible, I had a special suit designed to support the weight and make it visible by Nancy Judd of Recycle Runway. Everywhere I go I'll be a walking billboard of American consumerism.
Rob Greenfield in New York City's subway wearing all the trash he's generated.YouTube video
Rob Greenfield on day eight.Gary Bencheghib
Living on One, a non-profit production and impact studio that uses immersive storytelling to create films that inspire action around pressing global issues, and filmmaker Gary Bencheghib are helping me to create an unforgettable and shocking visual of the amount of trash that most of us create each day. Throughout the month we will be producing videos that put trash front and center, and go behind the scenes to show why this issue matters and how we can be part of the solution.
If you are on the streets of New York City, keep a look out for the guy covered in trash and come take a selfie with me using the #TrashMe, or follow along on my website, Facebook page and/or YouTube channel.
EcoWatch Daily Newsletter
Five years ago I decided I had to turn my life around and take some drastic measures.
There was no moment of clarity or a profound realization. There was no near death experience or loss of a family member. I was actually beyond happy with who I was and what I was doing with my life. My business was a success. I was traveling the world. I was healthy and I had just moved out to San Diego, California from my homeland of Wisconsin.
So what happened? Well, the reality of the 21st century struck. I started to watch a lot of documentaries and read a lot of books and quickly learned that many of my daily actions were causing serious environmental and social destruction. The food I ate, the water I drank, the gas I pumped into my car, the trash I was creating and the electricity I was using all had much greater stories behind them then I had ever cared to look into. Just by living what could be considered a fairly normal American life I was responsible for so much pollution, destruction and inequality. The documentaries and books really hit home.
I could have thought that the task ahead would be too huge to take on. I could have decided that I didn't have to change because the people around me were doing the same thing. I could have felt overwhelmed or unempowered by everything I learned. But instead I was actually really excited. Excited to uncover the truth and live the truth. Excited to take my life back from the corporations and misleading advertisements. Excited to feel proud about my life rather than have a pit of anxiety in my stomach.
I knew it was going to be a long task ahead of me so I took it one step, one week at a time. I hung up a list of changes that I wanted to make in my kitchen and each week I had the goal of checking off one thing. It ranged from small things like ditching plastic bags and removing any disposable items from my life to big things like selling my car and going pedal powered. There were hundreds of small and large changes that I set out to make and with each checkmark I felt more empowered to tackle the next one. Each change also had a multiplying effect on other goals I had. For example one of my goals was to start shopping locally and ditch the big box marts like Wal-Mart. I sold my car to stop using gas and to stop wasting money but not having a car also prevented me from going the distance to Wal-Mart and not having the trunk to fill up made me stop buying more stuff than I could fit on my bike. It all went hand in hand.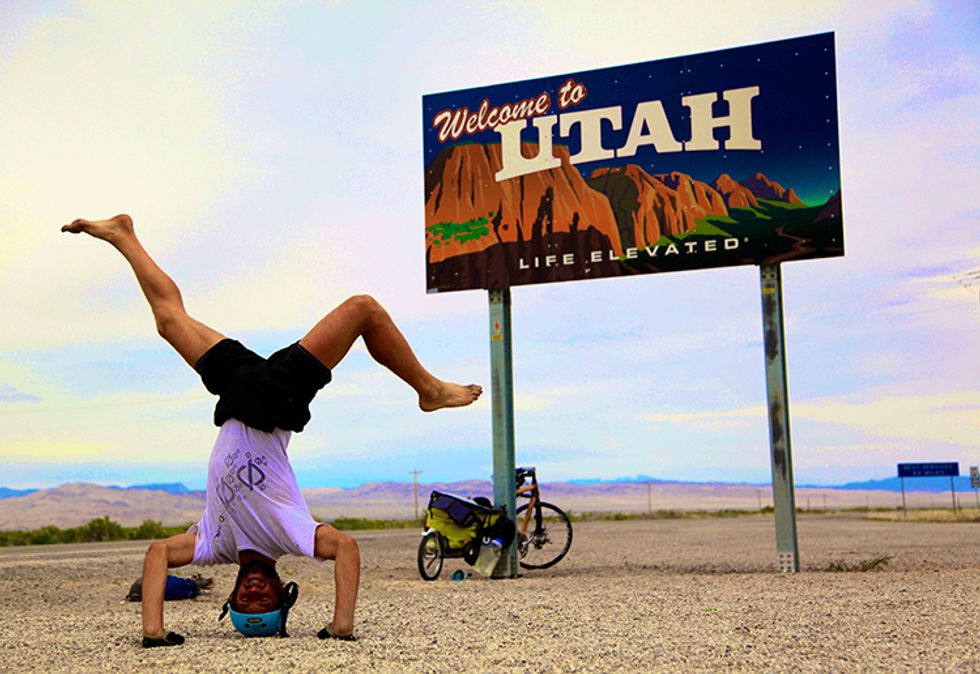 I decided that changing my life wasn't going to be a burden. Instead it was going to be fun and an adventure. To really engrain these changes into my life I decided to go on a wild ride. I set out to cycle across the USA, putting everything I had learned into practice and leave as little of an impact as I could for the entire journey. What that meant was eating 100 percent local, organic, unpackaged food or wasted food, drinking water only from natural sources (or wasted sources), creating no trash and carrying every piece I created to the finish line, towing solar panels to create my own electricity and pedaling the entire way without using any fossil fuels.
In 4,700 miles of cycling across America I used just 160 gallons of water, burned less than one gallon of gas, never turned on a light switch, created only 2 pounds of trash and ate nearly 300 pounds of food from grocery store dumpsters! That is 80 times less water, 200 times less trash, 600 times less fossil fuels and 1,000 times less electricity than the average American uses. It was a very extreme adventure but I've come to find that the average American life is also quite extreme and I was just living out the opposite end of the spectrum both to see if it was possible and to prove a point.
I did some wacky things like live off a leaky fire hydrant in Brooklyn for five days, pedal through a record setting heat wave surviving on dripping faucets, ride 700 miles with no bike seat to "stand up for sustainability" and eat out of hundreds of dumpsters across America. I also immersed myself in sustainability by visiting farms, grassroots environmental non-profits and staying in the homes of fellow Americans all along the way.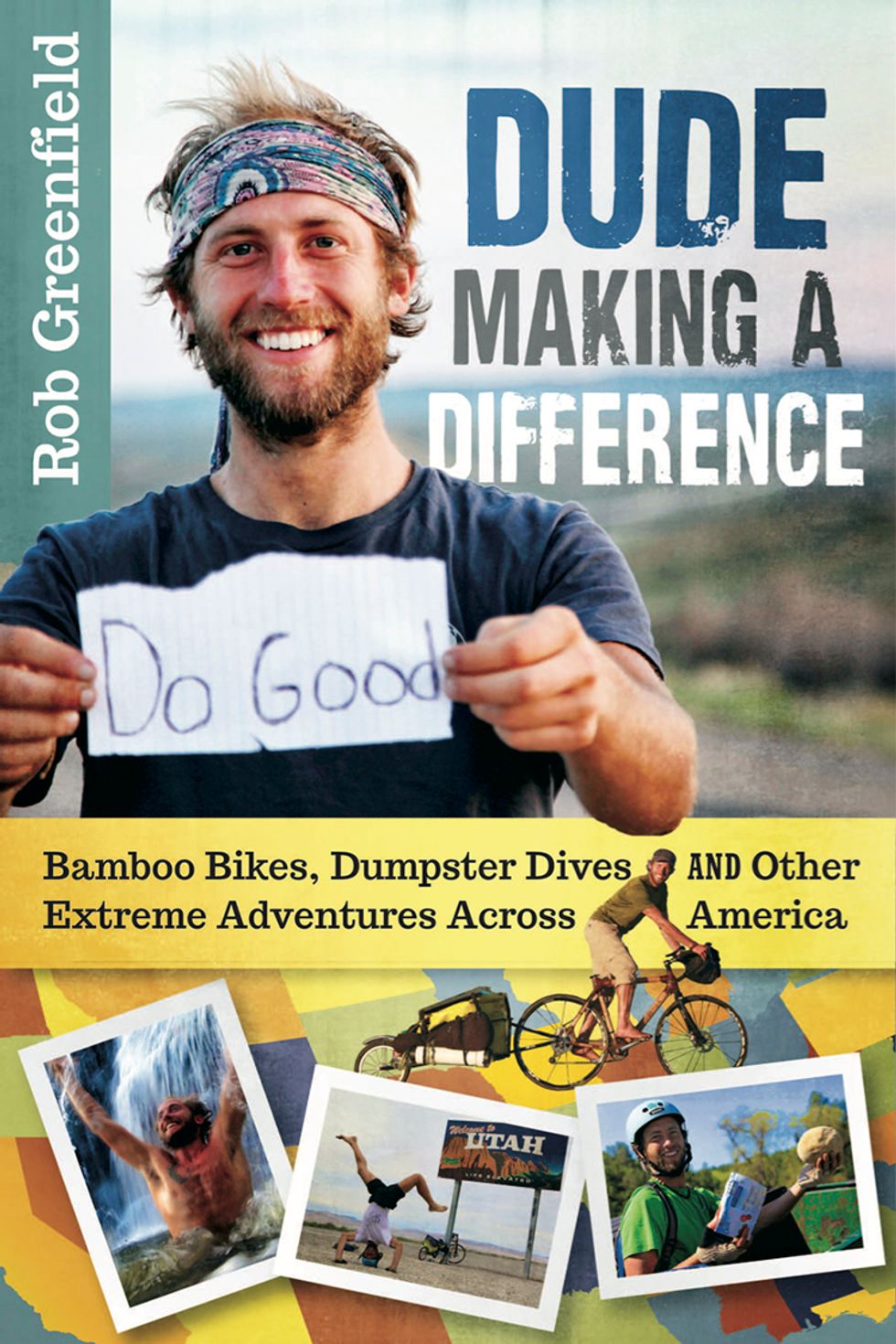 There were definitely people who thought I wouldn't live to tell the story but I indeed did. I wrote my book, Dude making a Difference, about this journey in hopes that it would inspire people to reexamine their relationship with the Earth's resources. The great news is that you don't have to do the crazy things I did in this adventure to transform your life. It comes down to simple changes in your life that can be done right at home, in your community and with your friends and family. It can be an incredibly rewarding and exciting journey, and I hope that my book will inspire you to take that leap of faith.
One hundred percent of the proceeds from this book are donated to environmental grassroots nonprofits. Get a copy here.
zstockphotos / iStock / Getty Images
With well over one million solar installations throughout the state, California has long been a leader in the U.S. solar industry. Recent legislation mandating that all new homes in the state must be built with solar panels likely leaves residents wondering about the cost of solar panels in California.
With ample sunshine, unnaturally high energy costs, ambitious climate goals and progressive leadership, California is ripe with solar potential. The preexisting availability of local solar providers in California allows solar customers the valuable opportunity to gather a large number of competing quotes, sometimes generating several thousand dollars worth of savings in the process.
You can start getting free, no-obligation quotes from top solar companies in your area by filling out the form below.
How Much Do Solar Panels Cost in California?
As of 2021, our market research and data from top brands shows the average cost of solar panels in California is around $2.73 per watt. This means a 5-kW system would cost around $10,101 after the federal solar tax credit is applied.
Here's how that price looks when applied to other system sizes:
| Size of Solar Panel System | California Solar Panel Cost | Cost After Federal Tax Credit |
| --- | --- | --- |
| 5kW | $13,650 | $10,101 |
| 6kW | $16,380 | $12,121 |
| 7kW | $19,110 | $14,141 |
| 8kW | $21,840 | $16,162 |
| 9kW | $24,570 | $18,182 |
| 10kW | $27,300 | $20,202 |
It may surprise some readers that the cost of solar in California isn't as low as in many other states, but keep in mind that the real value of solar comes relative to the price of energy in the state (and California's is the highest in the country). All in all, solar energy provides excellent value to California residents.
Knowing the average solar panel cost in California is $2.73 per watt, a savvy solar customer can compare quotes against this figure to ensure they receive the best value possible. You may find that popular national brands don't have the lowest prices.
What Determines Solar Panel Prices?
The cost of solar panel installations in California largely depends on a homeowner's location and energy needs. In most cases, areas with higher local electricity rates offer more value from solar panels. Here are other factors that influence installation costs.
Solar Equipment Costs
Similar to most modern technology, solar products and system costs vary greatly based on their quality, scale and included features. Some customers may be satisfied with a modest array of affordable solar panels and inverters, while others may prefer a system with premium panels, full-home backup power and an electric vehicle charger.
Solar Financing
The overall cost of solar depends significantly on whether a customer chooses to finance or purchase their system in cash. Paying upfront provides the best return on investment and fastest solar panel payback period, as there are no fees or interest charges associated with it.
The two most common solar financing options include taking out a loan and leasing solar panels. If paying with a solar loan, be careful of high interest rates and early repayment penalties and other fees. Homeowners who lease their panels or sign power purchase agreements (PPAs) enjoy little to no upfront costs, but solar leases provide the least amount of overall value.
Solar Installation Costs
With nearly 2,500 solar companies throughout California, prices can range significantly based on the installer. Larger solar providers like Sunrun offer the advantage of solar leases and quick installations. Local providers looking to get a leg up on their competition may offer lower prices to undercut the biggest names in the industry.
Solar Panel Cost After Incentives, Rebates and Tax Credits
California's progressive leadership has done good work in spurring investment in renewable energy. All homeowners are eligible for the federal solar tax credit, and the state offers several incentive programs and solar rebates aimed at further increasing access to reliable, affordable solar panels. However, given the state's ambitious climate targets and the energy burden on most of its population, it could probably do more.
Let's take a closer look at the solar incentives available to California residents.
Federal Solar Tax Credit
All California residents are eligible for the federal solar investment tax credit, or ITC, for installing PV solar panels and any other eligible solar equipment. Any reputable solar installer will assist in the process of claiming the ITC on your federal tax returns. Claiming the ITC deducts 26% of the total cost of your solar installation from the taxes you owe.
To be eligible for the solar tax credit, homeowners must own the solar energy system, either having paid for it in cash or by taking out a solar loan. Homeowners who lease solar panels are not eligible to claim the ITC.
California Net Metering Programs
Net energy metering (NEM), or net metering, allows customers to feed the surplus energy generated by their solar panels back to their local power grid in exchange for energy credits from their utility company. As most solar energy systems generate more energy than can be used during the day, this incentive provides homeowners additional savings on their electricity bills and lowers the demand for grid-supplied electricity in the region.
California currently offers a statewide net metering incentive for residents generating electricity with solar panels. Exact credit values will vary based on your utility company.
California Solar Tax Incentives and Rebate Programs
There are also a handful of California solar incentives to help lower the cost of solar for residents. Some of these include rebates, loans and property tax exemptions. Though any quality solar company will be knowledgeable about the local incentives in your area, it's always worth doing some independent research. We recommend using the DSIRE solar incentive database to find money-saving opportunities in your area.
FAQ: Average Cost of Solar Panels in California
Is it worth going solar in California?
One of the sunniest climates in the country makes California one of the best states in the U.S. for generating energy with solar power. The ample sunshine, generous net metering policies and pre-existing availability of solar installers provide a great deal of value for solar customers in California.
How much does it cost to install solar panels in California?
As of 2021, the average cost of solar panels in California is $2.73 per watt. This means a 5-kW system would cost around $10,100 after the solar tax credit. Heavy investment in renewable energy has lowered the cost of solar in the state significantly, and this cost offers great value relative to high local energy prices. The best way to assess how much solar would cost you is to consult local providers near you for free estimates.
Do solar panels increase home value in California?
Solar panels increase home value everywhere, but mostly in areas with generous net metering policies and solar rebates. As such, the areas in California where solar panels increase home value the most correspond with the areas that have the most solar-friendly policies. It's worth noting that even if your home's value increases, California has laws in place to ensure your property taxes don't rise as the result of a solar installation.
How much do solar panels cost for a 2,500-square-foot house?
Though knowing the size of a house is helpful in determining how many solar panels could fit on its roof, the energy use of the house is a more important factor in determining solar panel cost in California. The higher the energy costs in your home, the greater your cost of solar will be.
Karsten Neumeister is a writer and renewable energy specialist with a background in writing and the humanities. Before joining EcoWatch, Karsten worked in the energy sector of New Orleans, focusing on renewable energy policy and technology. A lover of music and the outdoors, Karsten might be found rock climbing, canoeing or writing songs when away from the workplace.