These 5 Countries Account for 60% of Plastic Pollution in Oceans
Oct. 15, 2015 12:22PM EST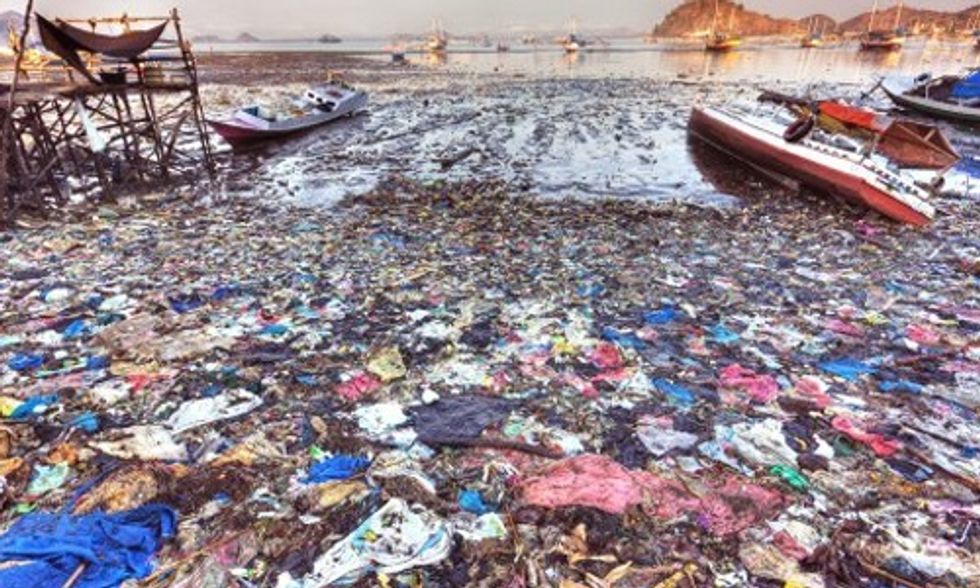 Roughly 8 million tons of plastic is dumped into the world's oceans every year, and according to a new study, the majority of this waste comes from just five countries: China, Indonesia, the Philippines, Thailand and Vietnam.
Why are these parts of Asia leaking so much plastic? Well, as the study suggests, these emerging countries are experiencing rapid economic growth, reduced poverty and improved quality of life. This development is, of course, fantastic. However, as these economies grow, so does the consumer use of plastic and plastic-intensive goods.
The caveat of this increased plastic demand is that these countries do not yet have waste-management infrastructures that can tackle the accompanying excess waste.
It makes sense then, as Fast Company observed from the study, that global ocean plastic clean-up efforts should initially be concentrated in these areas.
"Specifically, interventions in these five countries could reduce global plastic-waste leakage by approximately 45 percent over the next ten years," the report says.
The study's authors came up with the five best approaches (out of 21) to address plastic waste, customized for each country: collection services, closing leakage points in collection facilities, gasification (converting waste into fuel) and MRF-recylcing (diverting plastic from the waste stream).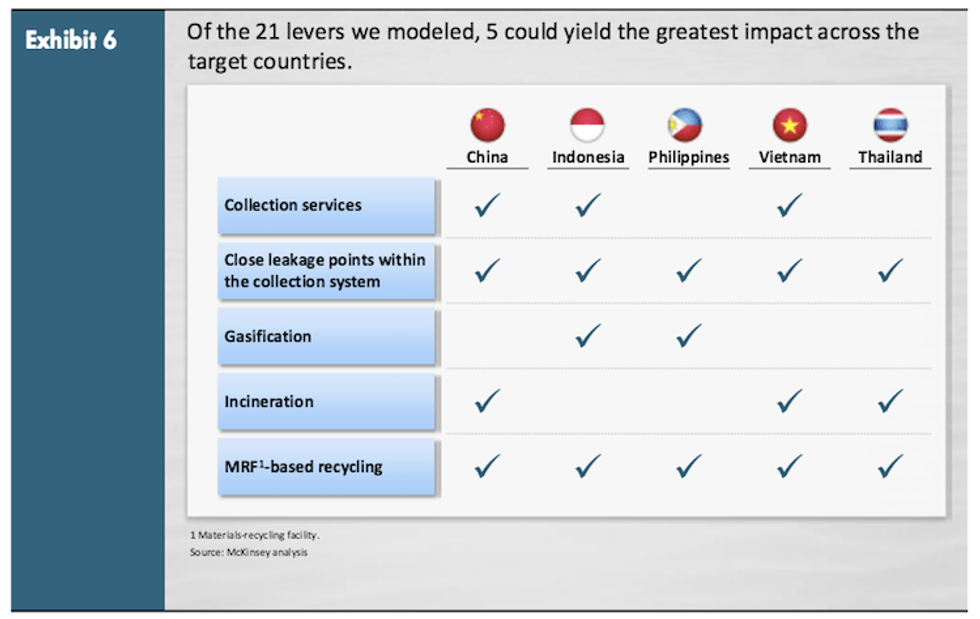 "This study outlines a path that can generate considerable benefits to communities, preserve the bio-productivity of the ocean, and reduce risks for industry," the report says. "Concerted action in the form of a $5 billion annual ramp-up in waste-management spending could create a vibrant secondary resource market, trigger investment in packaging and recovery systems, and let the ocean thrive."
"Of course, extending these interventions to other countries could have even more impact on this global issue," the report points out.
Plastic waste in the Philippines, for instance, is having "drastic consequences on the livelihoods and health of the people of Dagupan," said city mayor Belen Fernandez in a press release for the study.
New Ocean Conservancy Report Finds Plastics in Ocean at Crisis Level http://t.co/SDXAJFN3wZ via @fortunemagazine

— Defenders of Wildlife (@Defenders of Wildlife)1444849456.0
"Our town has had a dump site on our beach for over 50 years," he continued about the coastal Philippine city. "We're working hard to close the dump, and increase the capacity of waste management in Dagupan. Addressing the problem of ocean plastic will have real benefits for not just the environment, but for our citizens—by improving their quality of life. I hope our city and our work will become a model for what's possible around the world."
Andreas Merkl, CEO of Ocean Conservancy, said in a statement that the study is the first to outline a specific path forward for the reduction and ultimate elimination of plastic waste in the oceans.
"The report's findings confirm what many have long thought—that ocean plastic solutions actually begin on land. It will take a coordinated effort of industry, NGOs and government to solve this growing economic and environmental problem," he said.
Check out some of the Ocean Conservancy's infographics on the issue below: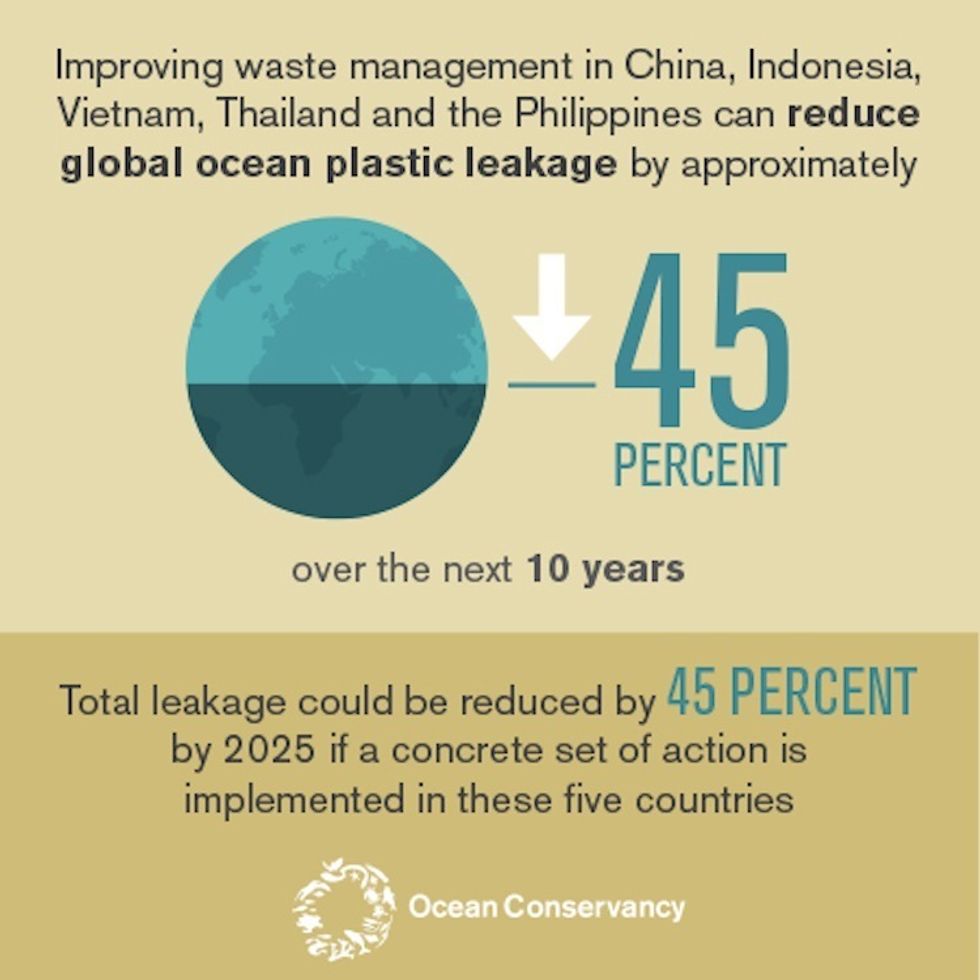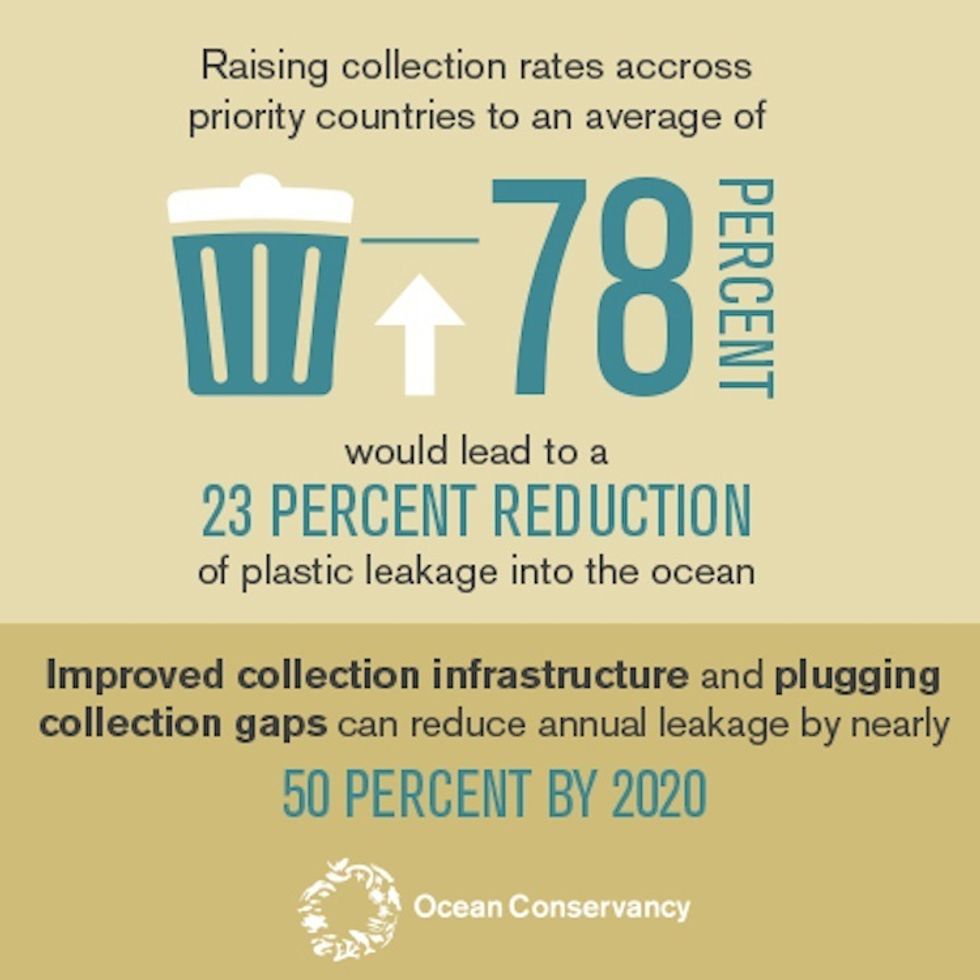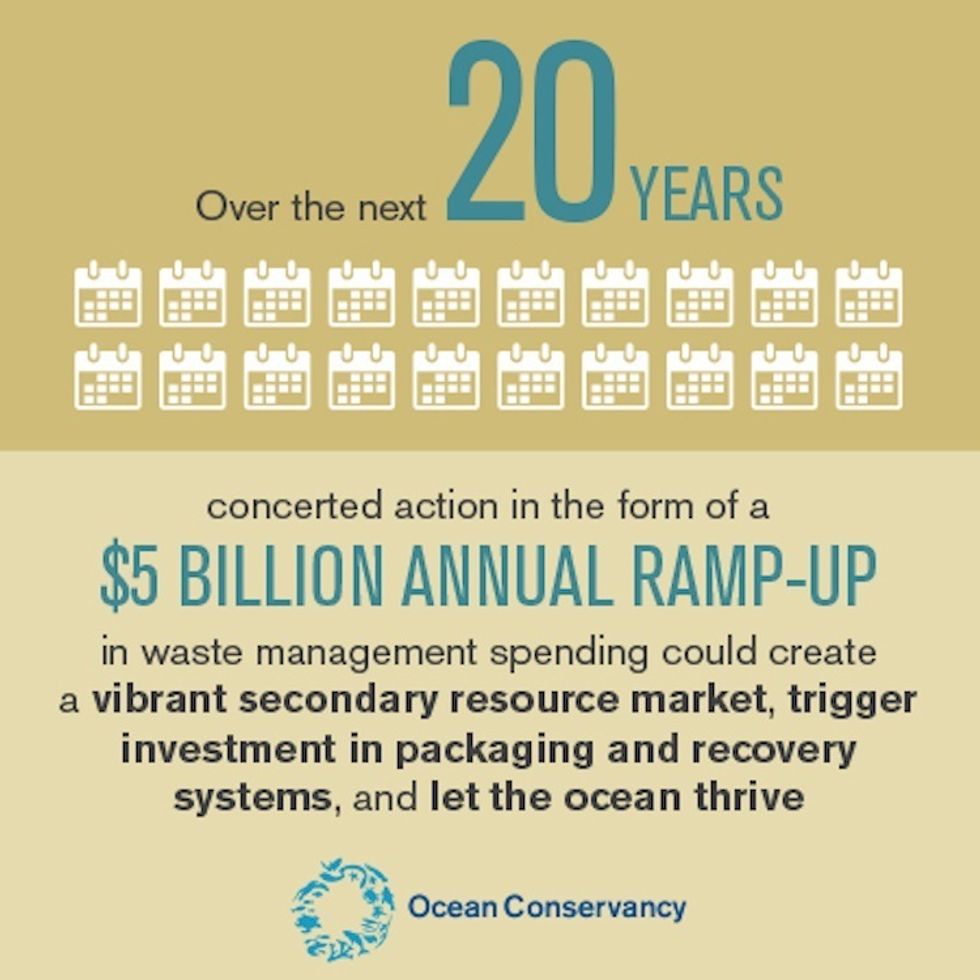 EcoWatch Daily Newsletter
Related Articles from EcoWatch
Recent Stories from EcoWatch