This website uses cookies to ensure you get the best experience while browsing it. By clicking 'Got It' you're accepting these terms.
These 5 Countries Account for 60% of Plastic Pollution in Oceans
Oct. 15, 2015 11:22AM EST
Roughly 8 million tons of plastic is dumped into the world's oceans every year, and according to a new study, the majority of this waste comes from just five countries: China, Indonesia, the Philippines, Thailand and Vietnam.
Why are these parts of Asia leaking so much plastic? Well, as the study suggests, these emerging countries are experiencing rapid economic growth, reduced poverty and improved quality of life. This development is, of course, fantastic. However, as these economies grow, so does the consumer use of plastic and plastic-intensive goods.
The caveat of this increased plastic demand is that these countries do not yet have waste-management infrastructures that can tackle the accompanying excess waste.
It makes sense then, as Fast Company observed from the study, that global ocean plastic clean-up efforts should initially be concentrated in these areas.
"Specifically, interventions in these five countries could reduce global plastic-waste leakage by approximately 45 percent over the next ten years," the report says.
The study's authors came up with the five best approaches (out of 21) to address plastic waste, customized for each country: collection services, closing leakage points in collection facilities, gasification (converting waste into fuel) and MRF-recylcing (diverting plastic from the waste stream).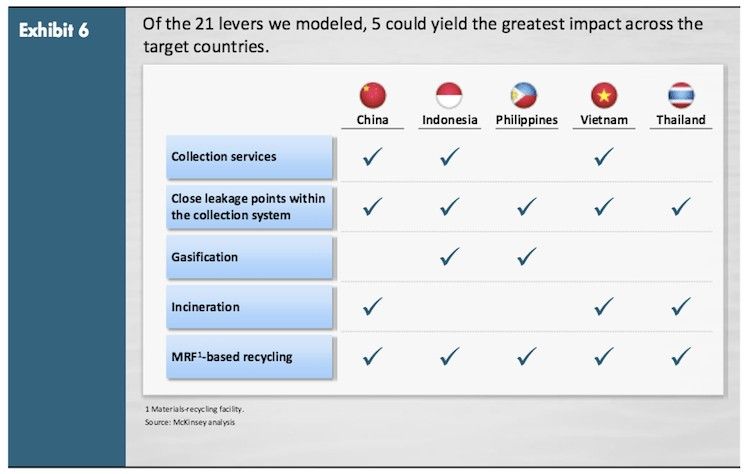 "This study outlines a path that can generate considerable benefits to communities, preserve the bio-productivity of the ocean, and reduce risks for industry," the report says. "Concerted action in the form of a $5 billion annual ramp-up in waste-management spending could create a vibrant secondary resource market, trigger investment in packaging and recovery systems, and let the ocean thrive."
"Of course, extending these interventions to other countries could have even more impact on this global issue," the report points out.
Plastic waste in the Philippines, for instance, is having "drastic consequences on the livelihoods and health of the people of Dagupan," said city mayor Belen Fernandez in a press release for the study.
"Our town has had a dump site on our beach for over 50 years," he continued about the coastal Philippine city. "We're working hard to close the dump, and increase the capacity of waste management in Dagupan. Addressing the problem of ocean plastic will have real benefits for not just the environment, but for our citizens—by improving their quality of life. I hope our city and our work will become a model for what's possible around the world."
Andreas Merkl, CEO of Ocean Conservancy, said in a statement that the study is the first to outline a specific path forward for the reduction and ultimate elimination of plastic waste in the oceans.
"The report's findings confirm what many have long thought—that ocean plastic solutions actually begin on land. It will take a coordinated effort of industry, NGOs and government to solve this growing economic and environmental problem," he said.
Check out some of the Ocean Conservancy's infographics on the issue below: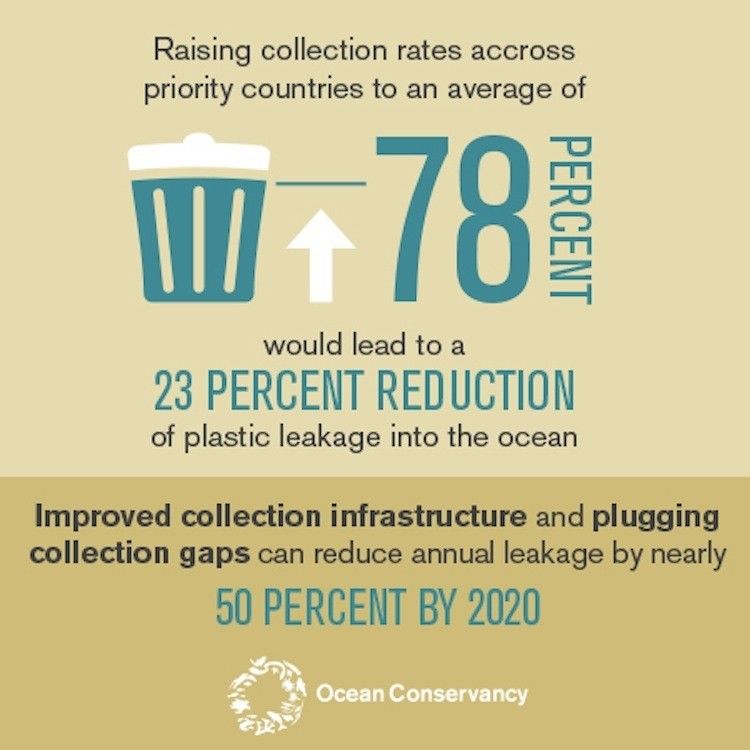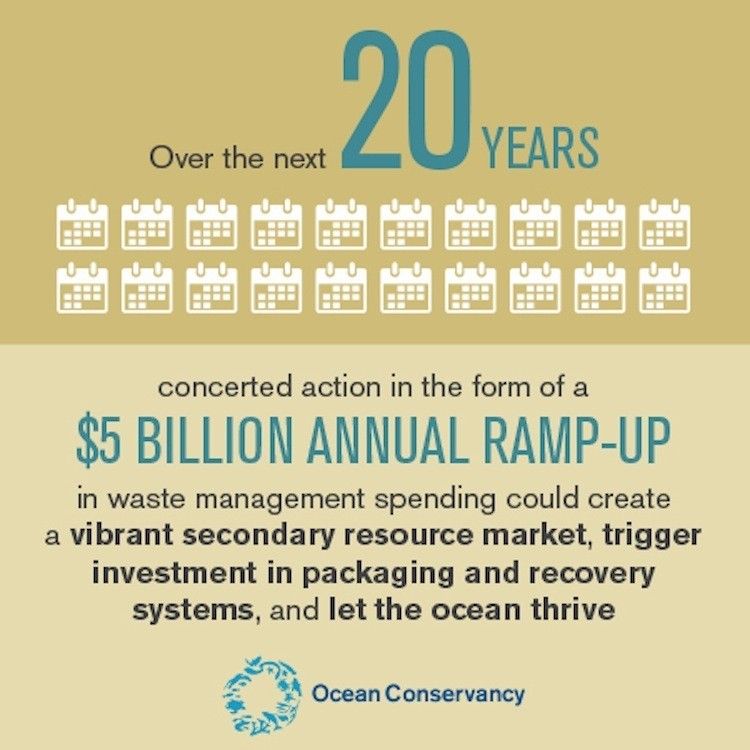 EcoWatch Daily Newsletter
Bird watching in the U.S. may be a lot harder than it once was, since bird populations are dropping off in droves, according to a new study.
Amazon CEO Jeff Bezos announces the co-founding of The Climate Pledge at the National Press Club on Sept. 19 in Washington, DC. Paul Morigi / Getty Images for Amazon
The day before over 1,500 Amazon.com employees planned a walkout to participate in today's global climate strike, CEO Jeff Bezos unveiled a sweeping plan for the retail and media giant to be carbon neutral by 2040, 10 years ahead of the Paris agreement schedule.
For the past seven years, the Anishinaabe people have been facing the largest tar sands pipeline project in North America. We still are. In these dying moments of the fossil fuel industry, Water Protectors stand, prepared for yet another battle for the water, wild rice and future of all. We face Enbridge, the largest pipeline company in North America, and the third largest corporation in Canada. We face it unafraid and eyes wide open, for indeed we see the future.
The climate crisis often intensifies systems of oppression. Rieko Honma / Stone / Getty Images Plus
By Mara Dolan
We see the effects of the climate crisis all around us in hurricanes, droughts, wildfires, and rising sea levels, but our proximity to these things, and how deeply our lives are changed by them, are not the same for everyone. Frontline groups have been leading the fight for environmental and climate justice for centuries and understand the critical connections between the climate crisis and racial justice, economic justice, migrant justice, and gender justice. Our personal experiences with climate change are shaped by our experiences with race, gender, and class, as the climate crisis often intensifies these systems of oppression.

Lana Del Rey: "call her Doris Doomsday." Darren Gerrish / BFC / Getty Images Entertainment
By Emer McHugh
Popular music has, and always will be, informed by the political and social contexts from which it emerges.
It was early in the morning last Thursday, and Jonathan Butler was standing on the Fred Hartman Bridge, helping 11 fellow Greenpeace activists rappel down and suspend themselves over the Houston Ship Channel. The protesters dangled in the air most of the day, shutting down a part of one of the country's largest ports for oil.
By C.J. Polychroniou
Climate change is by far the most serious crisis facing the world today. At stake is the future of civilization as we know it. Yet, both public awareness and government action lag way behind what's needed to avert a climate change catastrophe. In the interview below, Noam Chomsky and Robert Pollin discuss the challenges ahead and what needs to be done.
Food manufacturer General Mills issued a voluntary recall of more than 600,000 pounds, or about 120,000 bags, of Gold Medal Unbleached All Purpose Flour this week after a sample tested positive for a bacteria strain known to cause illness.