This website uses cookies to ensure you get the best experience while browsing it. By clicking 'Got It' you're accepting these terms.
By Andrew Reinmann and Pamela Templer
Climate change often conjures up images of heat, drought and hurricanes. But according to the latest U.S. National Climate Assessment, released on Nov. 23, 2018, winters have warmed three times faster than summers in the Northeast in recent years. These changes are also producing significant effects.

Historically, more than 50 percent of the northern hemisphere has had snow cover in winter. Now warmer temperatures are reducing the depth and duration of winter snow cover. Many people assume that winter is a dormant time for organisms in cold climates, but decades of research now shows that winter climate conditions—particularly snowpack—are important regulators of the health of forest ecosystems and organisms that live in them.
Seal #108, left, and a small pup named "Premie" swim up to the edge of their pool for their 3 p.m. feeding at the Marine Mammals of Maine rehabilitation center on Aug. 14. Brianna Soukup / Portland Press Herald via Getty Images
EcoWatch Daily Newsletter
New Castle Causeway. PREP Community / Facebook
Dartmouth College campus / Wikimedia Commons
The town of Hanover, New Hampshire voted Tuesday night to establish a goal of transitioning to 100 percent clean and renewable energy by 2050. The article approved at Tuesday's town meeting sets a community-wide goal of transitioning to 100 percent renewable electricity by 2030 and a 2050 goal of transitioning heating and transportation to run on clean, renewable sources of energy.
Back in 2012, when he got trounced by Elizabeth Warren in the U.S. Senate race in Massachusetts, losing the seat he won in a special election in 2010, Republican candidate Scott Brown was clear where he stood on climate change.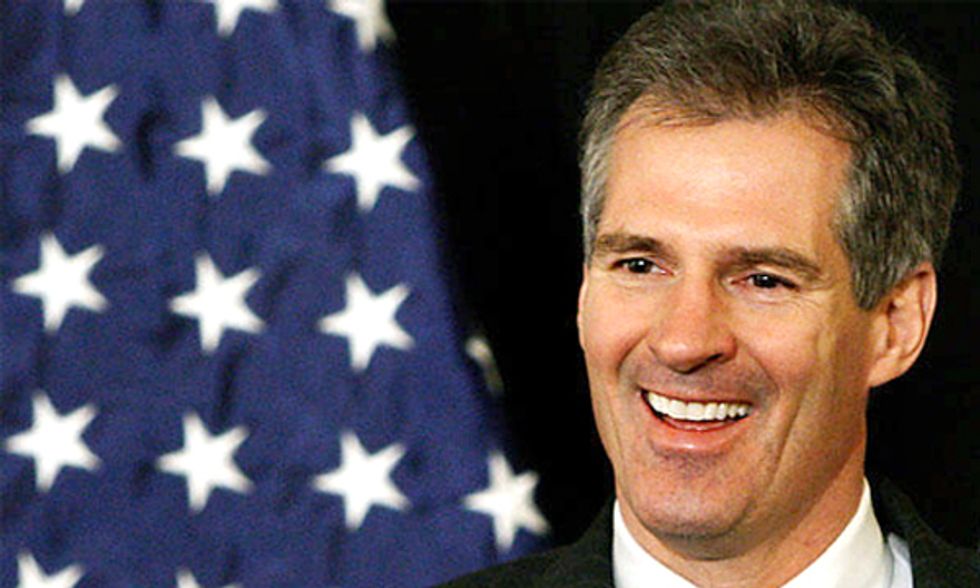 "I absolutely believe that climate change is real, and I believe there's a combination between man-made and natural," he said in a debate during that campaign. "We need to work together, finding that balance to not only address our climate change problems but also to allow people to work and create jobs."
Now he's crossed state lines to New Hampshire where he's running against Democratic incumbent Senator Jeanne Shaheen. And when he was asked in a recent debate "Do you believe that the theory of man-made climate change has been scientifically proven?," he responded "No." Watch the video:
Billionaire environmentalist Tom Steyer's group NextGen Climate has started running ads in New Hampshire, calling Brown out for his attempts to duck and weave on climate change. It's one of many areas where the slippery Brown is apparently trying to tailor his position to his audience.
NextGen's New Hampshire director Pete Kavanaugh said:
"New Hampshire voters see Scott Brown for what he is: someone more interested in his own political career than in the issues that matter to Granite State voters. From healthcare reform to immigration to a woman's right to choose and now to climate change, Scott Brown can't make up his mind about what he believes. If he couldn't make up his mind, that would be bad enough. The truth is that whatever Brown actually believes about global warming, he doesn't care enough about it to treat it as a serious subject. For him and his campaign consultants, it's just one more fuzzy bullet point to be 'adjusted' depending on the audience."
Although Brown's two years in the U.S. Senate gave him only a limited voting record, he did have the opportunity, which he took, to vote to approve the Keystone XL Pipeline. The League of Conservation voters gave him a score of 38 percent. That group's Victory Fund is also running ads in New Hampshire, highlighting Brown's heavy support from oil billionaires David and Charles Koch.
YOU ALSO MIGHT LIKE
Activist Tom Steyer Announces Big-Spending Election Plan to Take Down Climate-Denying Candidates
Koch Brothers Decline Tom Steyer's Climate Change Debate Invitation
Dark Money Documentary Exposes Koch Brothers' Spending Secrets
It's become obvious that opinions regarding humans' impact on the climate often differ depending on one's political party. While some conservatives have openly decided to leave climate denial behind, the gap between Republicans and Democrats on this issue is huge—larger than some of the most historically divisive debates.
New research from Lawrence Hamilton of the Carsey Institute at the University of New Hampshire shows that there is a larger gap between liberals and conservatives on climate change than abortion, gun control, the death penalty and evolution.
[blackoutgallery id="335590"] 
"I didn't realize it would be at the level of division that it was," Hamilton told Mother Jones.
While the polled Democrats and Republicans both largely say they trust scientists as a source of environmental information—83 and 63 percent, respectively—just 48 percent of Republicans say they believe humans are contributing to climate change. The percentage among polled Democrats remained the same on both questions.
Just 28 percent of Tea Party members said they trust scientists on the environment, and even fewer—23 percent—say humans are contributing to global warming.
Hamilton didn't venture far from his university to conduct the poll. It included nearly 600 New Hampshire residents. While he concedes that conservatives elsewhere might have different opinions, he would't expect a large contrast if his team had polled people in the other 49 states.
"In general, New Hampshire is not drastically unrepresentative," he said. "[I] would expect similar gaps to show up [around the nation]."
——–
YOU ALSO MIGHT LIKE
Activist Tom Steyer Announces Big-Spending Election Plan to Take Down Climate-Denying Candidates
11 Responses to Pat Sajak's Bizarre Climate Change Tweet
How Much Greenhouse Gas Does Your State Emit?
——–
There's no dark money in Tom Steyer's green coffers.
Alongside his political action committee, NextGen Climate, the billionaire environmentalist and Democrat on Wednesday announced plans to spend big on seven election races this November, with hopes to elect senators and governors around the country who are dedicated to combating climate change. He will spend at least $50 million supporting such candidates, while also fundraising another $50 million from other donors.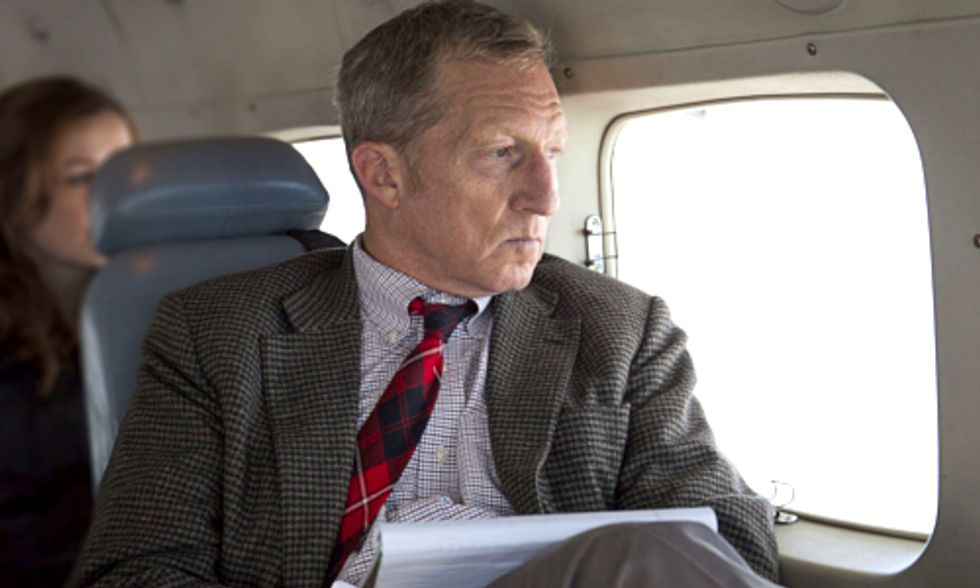 "The debate on climate change is settled: It is here, it is human-caused and it is already having a devastating impact on our communities, but we need to accelerate the level of political support to address this critical issue before it's too late," said Steyer, who founded NextGen in 2013. "This means making politicians feel the heat—in their campaign coffers and at the polls."
Here are the races Steyer is targeting and why, as described by NextGen:
Colorado U.S. Senate Race: Fossil fuel development and its adverse health impacts affect Colorado's most vulnerable communities, yet Senate candidate Cory Gardner—a science denier—has taken hundreds of thousands in donations from fossil fuel companies while voting for their interests.
Florida Gubernatorial Race: While communities across Florida are threatened by sea-level rise, saltwater intrusion and rising flood insurance costs, Gov. Rick Scott is a climate denier and has decimated efforts to "preserve environmentally sensitive land."
Iowa U.S. Senate Race: Iowa's farms and rural communities are feeling the pain in their wallets and on their land due to record floods coming on the heels of a record drought, while State Sen. Joni Ernst has "not seen proven proof " that climate change "is entirely man-made" and former energy CEO Mark Jacobs is "not convinced that man-made causes are causing" climate change.
Maine Gubernatorial Race: The forestry industry in Maine is at risk and fishermen are already experiencing the negative effects of higher ocean temperatures, yet Gov. LePage denies that climate change is a threat, rather saying it offers Maine "a lot of opportunities."
Michigan U.S. Senate Race: Air pollution is affecting kids' education across Michigan, with over half of Hispanic and African American children attending school in the most polluted areas, yet Senate candidate Terri Lynn Land has the support of the Koch Brothers who are spending millions on her race and have threatened the state's water and air quality with their dirty energy stockpiles.
New Hampshire U.S. Senate Race: New Hampshire's tourism industry—which supports more than 60,000 jobs—stands to be devastated by the effects of climate change; meanwhile Senate candidate Scott Brown looks out for the Koch Brothers and his Big Oil buddies, taking their campaign dollars and voting to protect $24 billion in oil subsidies.
Pennsylvania Gubernatorial Race: Low-income communities in Pennsylvania are disproportionately affected by asthma and often live in the shadow of the state's biggest polluters; meanwhile Gov. Corbett favors powerful corporate energy executives over Pennsylvania families.
NextGen says it will use climate change as a "wedge issue" to inspire voter turnout while exposing why climate deniers would make poor leaders and legislators.
"This is the year, in our view, where we are able to demonstrate you can use climate—if you do it well and in a smart way—as a wedge issue to win in political races," Chris Lehane, a Democratic strategist known as Steyer's right-hand man, told a group of reporters on Wednesday, according to The Hill. "The side that does a better job of changing or expanding the voter pool is the side that has the competitive advantage."
Lehane said NextGen's strategy will be heavy on data and localizing issues, while NextGen's statement says an "all-star political team" will be on deck to drive home the message. For instance, if flood insurance rates have gone up in an area impacted by climate change, potential voters will hear about it. The same goes for health issues brought on by fracking and drilling.
While Steyer spent about $8 million on last year's Virginia  gubernatorial race to successfully land Terry McAuliffe in office, NextGen realizes climate denying candidates and their funders will be tough to take down.
"We are never going to have as much money, but all we need is enough for David's slingshot is to fire through," Lehane said, "and to fire fast and to fire quick to be able to reach the big oil Goliath."
——–
YOU ALSO MIGHT LIKE
Koch Brothers Decline Tom Steyer's Climate Change Debate Invitation
Dark Money Documentary Exposes Koch Brothers' Spending Secrets
Billionaire Climate Activist's Open Letter to President Obama
——–
Today's decision by a federal appeals court upholds the contention by environmental groups that the Bush Administration's smog standards do not assure protection of forests and vegetation from ozone damage as the law requires. The court's judgment found that in 2008 the U.S. Environmental Protection Agency (EPA) violated the Clean Air Act when it refused to set protective standards and ignored the unanimous recommendation of its independent science advisors. However, the decision also upholds a health standard that these same scientific advisors had found failed to protect public health.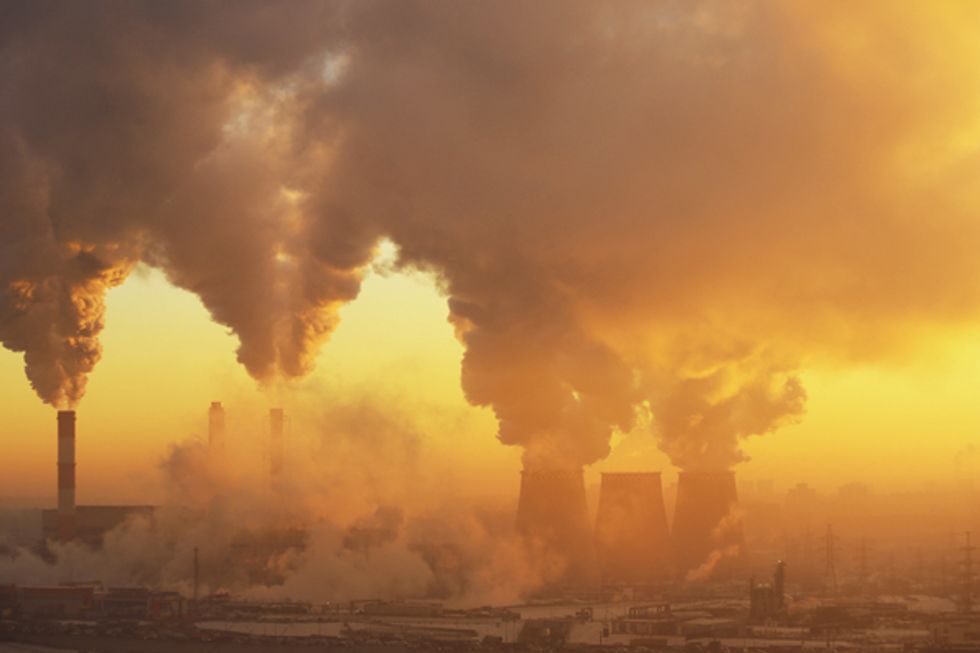 Photo courtesy of Shutterstock
The decision is the result of a suit brought by Earthjustice on behalf of the American Lung Association, Environmental Defense Fund (EDF), Natural Resources Defense Council, National Parks Conservation Association, and Appalachian Mountain Club. Also challenging the standards as too weak were the states of  New York, California, Connecticut, Delaware, Illinois, Maine, Maryland, Massachusetts, New Hampshire, New Mexico, Oregon, Rhode Island, as well as Washington D.C. and New York City.
Health and environmental groups initially filed suit against the Bush Administration following the final EPA decision in May 2008.  Shortly after taking office, the Obama Administration asked the court to put the case on hold while EPA reconsidered the evidence that the standards were too weak to protect public health and welfare. The two-year reconsideration included three public hearings showing overwhelming public comment urging stronger protections, as well as a restatement by the EPA's independent science advisors of their support for a tighter standard.
Then-EPA Administrator Lisa Jackson had concluded that the Bush-era ozone standards were not sufficiently or lawfully protective of public health. In an abrupt about-face, however, President Obama in September 2011, ordered EPA to leave the 2008 standards in place while continuing its ozone review slated for completion in 2013. EPA has now missed the statutory deadline for completing its ozone review and has not proposed any rulemaking yet.
These organizations resumed the legal battle following the Obama Administration's decision to continue to ignore the overwhelming scientific research and the opinion of experts that much stronger standards were needed.  
 
Sometimes called smog, ozone is a highly irritating gas found to shorten lives and worsen asthma and other lung diseases. It also is highly damaging to trees and plants, posing a major threat to the nation's forests. EPA's science advisers and the National Park Service told EPA a separate ozone standard was warranted to prevent these harms. Although EPA was poised to set such a standard, President Bush at the last minute ordered the agency not to include the secondary standards meant to protect our forests and national parks from smog.
 
"The Bush Administration violated the law in refusing to protect our forests from this dangerous pollutant," said Earthjustice Attorney David Baron. "EPA must now take strong action to repair the damage."
 
"Forested landscapes are important ecological resources that are highly valued for providing clean air and water as well as recreational opportunities that support local tourism economies. Protecting them from air pollution has always been a goal of the Clean Air Act, and this ruling underscores the importance of EPA acting on the science to do so effectively," said Georgia Murray, Appalachian Mountain Club staff scientist.
 
"Smog sickens and even kills some plants and trees, even in America's national parks, which are supposed to have the cleanest air in the country" said Mark Wenzler, vice president of Climate and Air Quality Programs at the National Parks Conservation Association. "The Obama administration now has an opportunity to follow the science, and not play politics with protecting our national parks and forests from air pollution damage."
 
The Court rejected challenges by health and environmental groups and states to EPA's 2008 health standard for ozone.  Although acknowledging that those standards were weaker than recommended unanimously by EPA's science advisors, the Court found that the agency had not acted arbitrarily in setting the weaker standards.
 
"There is no question that ozone makes people sick and can kill at levels well below the standard EPA set in 2008. Given that overwhelming evidence and the requirement to set the standard where it will protect public health, we are disappointed that the Court upheld this inadequate standard," explained Janice Nolen, American Lung Association Assistant vice president of national policy. "The evidence continues to grow that we need a stronger standard. The American Lung Association expects that the Obama Administration to follow the science and the law in the current review."
 
"The scientific evidence for a more protective standard has only become stronger since 2008," said Elena Craft, Health Scientist for EDF. "Notwithstanding today's decision, EPA must move forward with stronger standards to protect Americans' health with an adequate margin of safety in its legally-required review of the 2008 standard, which is now underway."
 
Not only had the EPA's science advisors found the health standard inadequate, major health and medical groups, in addition to the American Lung Association, had also supported a much stronger health standard, including the American Academy of Pediatrics, American Thoracic Society and the American Medical Association.
 
"The practical effects of today's ruling on the health standard should be minimal, because there is on ongoing standard-setting process in which EPA's science advisers and the nation's major medical societies have all said we need much stronger smog standards," said John Walke, clean air director for the Natural Resources Defense Council. "EPA needs to heed that advice, and protect our children and seniors who are especially at risk from smog."
 
The Court also rejected all challenges to the ozone standards by industry and the state of Mississippi.
Visit EcoWatch's AIR page for more related news on this topic.
——–

[Editor's note: These are the prepared remarks for the commencement keynote on June 22 by John Armstrong from Frack Action to the New Roots Charter School in Ithaca, NY.]
What an honor and a privilege to be here with you all. I am blown away by the magnificent idea of New Roots to combine rigorous academics with the vision of empowering young people to create just, democratic and equitable communities powered by green, sustainable economies.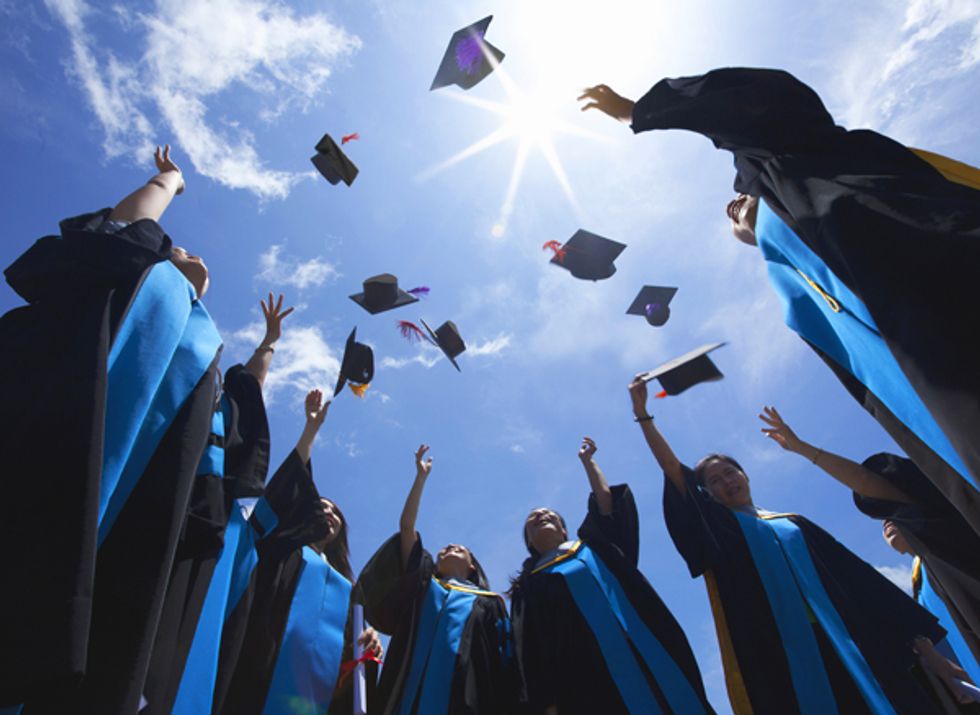 Photo courtesy of Shutterstock
Yours is no ordinary graduation. Today's rightful celebration marks the deployment of a force for good into a world that desperately needs your vision, energy and your convictions. Your class might not be the largest to graduate on this day, but mark my words, you could change the world.  
And you must. Right now the course of our future is being set by the fossil fuel industry, the most powerful corporations in the history of the world, and they're steering us off a cliff into a raging inferno. They fight each day to blow up more mountains for coal, demolish more land and oceans for oil and shatter more of the ground beneath our feet by fracking for oil and gas with a cocktail of the most toxic chemicals known to humankind. With each passing day that these interests set our course, with every additional ton of greenhouse gases emitted like a poison in our atmosphere, the drier the ink becomes on the bleak future written by the fossil fuel industry.
That future is one where oceans drown our coastal homes and cities, where biodiversity is diminished. It's a future where droughts will parch our agricultural fields and allow wildfires to run rampant. It's a future where clean, freshwater will be among the world's scarcest resources, and where smog and pollution suffocate our lungs and the planet's.
Given the fossil fuel industry's seemingly unlimited money and political influence, changing their course and taking control of our future is a tall order. But again, we must. And all of you, yes at your young ages, can make the choices that lead you to seize that control.
I turned 24 last month, and I can tell you how significant a difference each of us can make, how important the choices we make can be and the power we have as youth in this country.
I've made some of those choices. I studied ecology at Cornell, following my love of scientific research. After my undergraduate, I planned to pursue a doctorate and launch a career in research. I was particularly interested in studying high-elevation, mountainous ecosystems and how climate change would affect them. One example I worked on stands out. There's a bird in New York's Catskill Mountains called the Bicknell's Thrush, a threatened species that only lives in ecosystems unique to the highest 600 feet of the tallest mountains.
To cut to the chase of a lot of data, detailed spreadsheets and a great deal of literature, climate change is bad news for the Bicknell's Thrush. As the climate warms, ecosystems and other species' ranges will shift and those 600 feet of habitat will become 400, 200 and eventually none. The appropriate conditions for the Bicknell's Thrush will be above the top of the highest mountains. In other words, no more Bicknell's Thrushes in the Catskills.
My research was essentially projecting the effects of climate change over time, which are mostly negative, often disastrous, and in this case meant projecting the demise of the Bicknell's Thrush in the Catskills over the next 50 years or so. It hit me that I would ultimately be judging my success by how well I had predicted the demise of a species and an ecosystem I cherished.
How's that for a career and your life's work?
Around the same time, a professor pointed me to an opportunity to work for a year in environmental advocacy after graduating. I didn't really know what that was, but as I looked into it more and more, I realized it was a chance to directly affect our future, to campaign for laws that reduce greenhouse gas emissions, safeguard important environmental protections and build a movement to stop the worst impacts of climate change and environmental destruction. On this path, in 50 years I could judge my success not by how well I predicted the demise of species and ecosystems, but by how well they are doing.
I guess you know what choice I made. In that year, I was part of a successful campaign to save our nation's best climate laws in California from a couple of Texas oil companies; I worked in Maine to protect the Clean Air Act from extreme special interests; and I worked on Power Shift in our nation's capital to build the youth climate movement.
After Washington DC, I had another job lined up in New Hampshire. But I'd been learning more and more about fracking. I saw the disaster that was taking place in Pennsylvania, the research showing that fracking is one of the worst things we could do for the climate, and that widespread fracking was on the verge of being allowed in New York State. Worse yet, I saw that fracking was pushing out renewable energy, falsely being sold as a clean transition fuel, and was on track to expand exponentially across the country and the world.
I knew that the oil and gas industry had set a course for a future dominated by fracked oil and gas. If we were going to stop them, we would have to make a stand in New York.
With that conviction, I chose not to take the job in New Hampshire and instead committed myself 100 percent to stopping fracking. I moved back to New York and joined up with a couple of young women who had recently started an organization called Frack Action with the mission to stop fracking outright.
We believed that if we could stop it in New York, that would send shockwaves across the country and the world and we could also stop it elsewhere. It's a lofty goal, but one we must reach to prevent the worst impacts of climate change and to create a renewable energy future.
Given the political landscape, we saw an urgent need to better coordinate the growing grassroots movement and leverage its power across the state, in Albany and in the media. As it stood, the grassroots weren't being heard in our capital, where an army of gas industry lobbyists and a sophisticated propaganda campaign were drowning out our voices and the science.
At that point, Frack Action had a terrible website, a few hundred likes on Facebook and Twitter, and no funding. But the group of us all had some good political experience and an abundance of determination. We worked tirelessly off savings, loans and some small contributions. Frack Action organized the first major rally for a ban in Albany with a record breaking 500 people. With many allies, we went on to build out the movement, educating businesses, farmers, elected officials and combating the gas industry's lies with science and facts. Countless rallies and press conferences got the truth out and helped build the movement across the state.
And the movement was growing like wildfire, with each grassroots group inspiring another and each local action igniting the next.
Our work with the media began to change the discussion from when and how fracking would take place to whether it would take place. And today, the call for a full statewide ban is the prevailing demand. Our voices would go on to carry across the state, nation and even the world in thousands of news stories, informing the public and the national debate while also pressuring our elected officials.   
Ultimately, our vision of a coordinated movement that could effectively leverage its influence turned into what is now the mighty New Yorkers Against Fracking coalition of over 200 organizations.
This past Monday, two years and a month after that first rally for a ban in Albany, over 3,000 people descended on Governor Cuomo's doorstep to demand a frack free future powered by renewable energy. We made the case, and we made it loudly and forcefully, for a better future. Our voices resonated throughout the capitol and across the state and the nation in well over a hundred news outlets. The same morning, a poll showed statewide opposition to fracking significantly ahead of support.
By keeping fracking out this long, we've all done what many political insiders, elected officials and mainstream environmental organizations promised us was impossible. But this isn't a fight for what seems possible—it's a fight for what's necessary. We haven't won yet, but we've certainly changed the playing field. And our growth is exponential, not linear.
Meanwhile, the world is watching us in New York and similar coalitions and actions are popping up everywhere. We've helped empower a serious national and international movement against fracking.
In leaked documents, the gas industry notes how effective we are and the danger we pose. In other words, they're worried that we are changing the course they've set for a future dominated by fracked oil and gas.
We must.
Our movement is broad and diverse. But that's a result of the choices a relatively small number of individuals have made to dedicate ourselves to this cause, with the belief that we can change the course of our future. If not for those choices, we would have had fracking years ago and that future would loom darker. What I've come to know, and I know this for certain, is the incredible difference regular, individual people can make if they choose to.
They always have. An hour north of here in the town of Seneca Falls in 1848, one such individual named Elizabeth Cady Stanton led a group of 68 women and 32 men in signing the Declaration of Sentiments. Modeled after the Declaration of Independence, it asserted the equality and rights of women. A small group of women's vision, choices and action thus marked the beginning of the women's rights movement in the United States. From Seneca Falls they went forward with stalwart determination, and today we all benefit greatly from their resolve and their action.
Those women weren't so different than you and I.
One of the men who signed the Declaration of Sentiments was Frederick Douglass, who escaped slavery and became a leader of the abolitionist movement. He had the courage to fight the establishment for what was right in the face extraordinary odds and very personal attacks. Yet his words and his convictions inspired a movement and broad support ranging from everyday people to President Abraham Lincoln. He knew that you have to fight for the change you want to see in the world.
In his words, "If there is no struggle there is no progress. Power concedes nothing without a demand. It never did and it never will."
These powerful words ring true in the environmental movement as well. In 1962, marine biologist and author Rachel Carson challenged the powerful chemical and pesticides industry with her book Silent Spring. Industry fiercely opposed her work, but Caron's powerful voice carried the science and rang true, leading to a reversal of national pesticide policy and a ban on DDT. As pollution ran rampant, her uncompromising voice also inspired a grassroots environmental movement.
In 1970, Wisconsin Senator Gaylord Nelson created Earth Day, which marked a pivotal turning point away from a future of unchecked pollution and toxic chemicals. Twenty-six year old Dennis Hayes coordinated the event nationally with a team of 85 people, turning out a shocking 20 million Americans demanding environmental reform. Later that year, as a result of the public outcry, Congress created the U.S. Environmental Protection Agency and enacted the Clean Air Act. The Clean Water Act would follow in 1972.
Isn't that amazing?
Today we face climate change, perhaps the greatest challenge humankind has ever faced.
Yet as hard as it will be to meet, this is a moment of hope, not despair. If history is any guide, don't doubt the power of individuals and small groups of people to change the course of our future.
We are those people.
Can you imagine if 20 million people took to the streets tomorrow to demand action on climate change?
We have the science showing we have to take serious action. We have the technology to makes the changes. We need the political will.
That's up to us. As youth, our voices can carry far. Both the Democratic and Republican parties recognize that youth played a major role in the last two presidential elections. Corporations know that the purchasing habits we make now last for life, and as a result listen to us intently. But most importantly, we have a vision for a better world, and we can make that vision a reality with the right determination and action. It's our future, and it's time we take ownership of it.
Recall the words of Frederick Douglass, "Power concedes nothing without a demand."
Uncompromising, let's make that demand. Let's give science the force of 20 million people pushing it forward. With love and resolve, let's take control of our future.
In closing, I implore you all: give your convictions the power of action. Wherever you go from here, make the choices to make a difference.
Visit EcoWatch's FRACKING and CLIMATE CHANGE pages for more related news on this topic.
——–
Sign the petition today, telling President Obama to enact an immediate fracking moratorium: