d3sign / Moment / Getty Images
By Amanda Fong
Food Tank is highlighting 26 books that help show young people that food can be a universal language. These stories illuminate the ways that food is used to show love, bring together communities, pass on traditions, and teach lessons. And their authors show that no matter a person's background and culture, nutritious food shared with loved ones can help bring anyone together.
These 26 children's books celebrate food, diversity, the love of cooking, and community from seed to fork:
1. A Day with Yayah by Nicola Campbell, illustrated by Julie Flett
Set in the Nicola Valley in British Columbia, this book follows Yayah, a First Nations grandmother, passing down her knowledge of plant life to her grandchildren. As Nikki, Jamesie, and Lenny forage for wild potatoes, rhubarb, celery, and lightning mushrooms, Yayah teaches them words in Nlaka'pamux, the endangered language of the Indigenous people of the Nicola Valley. Readers can learn alongside the characters with a pronunciation guide and glossary.
2. AGRIman AGventures by WHYFARM and Alpha Sennon
AGRIman is the world's first food security and nutrition superhero. In this educational comic, AGRIman is joined by PhotosyntheSista to inspire future feeders and build capacity and knowledge in agriculture. The superhero was developed by Alpha Sennon, the founder of We Help You-th FARM (WHYFARM), a non-profit from Trinidad and Tobago fighting food insecurity. Readers can access the comic the United States as an ebook or watch it as a motion comic.
3. Amy Wu and the Perfect Bao by Kat Zhang illustrated by Charlene Chua
Little, fearless Amy Wu is learning to make traditional Chinese bao with her family. Making bao takes skill to fill the dough and pinch it together, but Amy's bao keep coming out all wrong! Follow Amy as she learns to use creativity to problem solve while cooking. Kat Zhang even includes Amy's perfect bao recipe at the end!
4. Berry Magic by Betty Huffmon, illustrated by Teri Sloat
Yup'ik Eskimo elder, Betty Huffmon, brings this folktale about the origin of berries – traditionally told aloud to Yup'ik children – to life with author and illustrator, Teri Sloat. Berry Magic follows Anana as she uses magic songs to grow juicy blueberries, cranberries, salmonberries, and raspberries for the Fall Festival and to make agutak (Eskimo cream). The book features illustrations depicting Indigenous culture, like dance fans made of reindeer hair and snowy owl feathers, and an agutak recipe at the end.
5. Bilal Cooks Daal by Aisha Saeed, illustrated by Anoosha Syed
In this award-winning book, six-year-old Bilal wants to share his favorite dish, daal, with his friends. They have never tried daal before, and Bilal helps his dad cook while worrying if they will like it. Author Aisha Saeed showcases the value of patience, teamwork, community, and sharing in this picture book featuring the South Asian, slow-cooked lentil dish.
6. Cora Cooks Pancit by By Dorina Lazo Gilmore, illustrated by Kristi Valiant
In Cora Cooks Pancit, Dorina Lazo Gilmore celebrates the classic, Filipino noodle dish, pancit. Cora's favorite dish is pancit and gets her chance to be Mama's sous chef for the first time. Readers can follow along as Cora helps shred the chicken, soak the noodles, and stir the pot while sneaking some nibbles to taste test. This book highlights the love for a traditional family dish and the warmth between a mother and daughter cooking it.
7. Dear Tomato: An International Crop of Food and Agriculture Poems by Carol-Ann Hoyte
Carol-Ann Hoyte brings together an anthology of poems by thirty-four different authors from seven different countries, telling the stories of food through haikus, free verse, and more. The fifty-one poem collection introduces children to a fresh view of where their food comes from on all parts of the "field to fork" journey.
8. Dim Sum for Everyone! by Grace Lin
In this book, Dim Sum for Everyone! celebrates the cultural custom of eating dim sum, which translates to "little hearts" in English. The story follows a young girl and her family as they visit a bustling dim sum restaurant. As they pick their favorite little dishes from the steaming trolleys filled with dumplings, cakes, buns, and tarts, the family makes sure to share each dish so everyone gets a little bite of everything in classic dim sum tradition.
9. Dumpling Soup by Jama Kim Rattigan, illustrated by Lillian Hsu-Flanders
Seven-year-old Marisa, an Asian American girl, learns to make dumplings for her family's New Year's celebration with her grandmother. Jama Kim Rattigan based this book on her experiences growing up celebrating New Year's Day in Hawai'i, which she realized was much different from celebrations on the mainland. In Hawai'i, Rattigan shows that New Year's is a family-oriented holiday, a time for enjoying large quantities of food and basking in cultural tradition.
10. From Asparagus to Zucchini Cookbook by Madison Area and the Community Supported Agriculture Coalition
This guide is a nationally renowned resource for families who want to cook farm-fresh, seasonal produce. Filled with 420 recipes and information on more than 50 vegetables and herbs, this Community Supported Agriculture (CSA) designed resource promotes the consumption of fresh, local and sustainable foods.
11. Food Fight! A Mouthwatering History of Who Ate What and Why Through the Ages by Tanya Steel
In Food Fight, Tanya Steel uses food to explore history in a fun and engaging way. Readers can learn the origin story of M&Ms, the delicacies found at feasts in the Middle Ages, and much more. The book also includes 30 recipes tested and approved by young eaters.
12. Harvesting Friends / Cosechando Amigos by Kathleen Contreras
This bilingual book shows how a community garden can bring a community together and grow more than just fruits and vegetables. After making a deal, Lupe and Antonio tend a garden together, and bond over tomatoes, watermelon, squash, beans and corn. Over time, more and more neighbors become interested in gardening too. The book also includes easy recipes for young readers to try.
13. How Did That Get in My Lunchbox? by Chris Butterworth, illustrated by Lucia Gaggiotti
In Chris Butterworth's book, children can learn about the journey of different lunchbox items as they go from farm to fork. From planting wheat to mixing dough, climbing trees to machine-squeezing fruit, picking cocoa pods to stirring a vat of melted bliss, this book provides an accessible look into food production. It also includes health tips and a peek at basic food groups.
14. How to Feed Your Parents by Ryan Miller, illustrated by Hatem Aly
In this funny twist, the tables are turned and the parents are the picky eaters in this bi-racial family. Adventurous Matilda Macaroni loves trying new foods, like her grandma's jambalaya and friend's sushi. But her parents will only eat pepperoni pizza, hamburgers, and takeout noodles. Matilda sets out to secretly learn to cook with new flavors and open her parents' minds to trying new foods.
15. In the Garden with Dr. Carver by Susan Grigsby, illustrated by Nicole Tadsgell
Susan Grigsby shares Dr. George Washington Carver's story by following a young school girl who meets and learns from him. Set in rural Alabama in the early 1900s, Sally and her community are struggling to grow food in soil depleted by cotton production. Dr. Carver, an African American agricultural scientist, arrives to teach them how to restore the soil and respect the balance of nature. He also prepares a delicious lunch made of plants to celebrate the food they can grow..
16. It's Disgusting and We Ate It by James Solheim, illustrated by Eric Brace
This book is a funny collection of true facts of food dishes from around the world and throughout history. Solheim shares historical culinary creations, like roasted spiders and Garbage Stew, that were once eaten around the world or continue to be eaten today in a light-hearted and fascinating way. What is gross to one person may be a delicious treat to another, and this book teaches children to keep an open mind about different communities' dishes in this world food tour.
17. Let's Cook with Fruits & Vegetables / Vamos a Cocinar con Frutas y Verduras by Gayle Schachne and Northeast Valley Health Corporation WIC Program
This cookbook was created with families using the Special Supplemental Nutrition Program for Women, Infants, and Children (WIC) ingredients in mind. Many recipes are designed to encompass WIC ingredients, and all of the recipes are meant to be affordable, simple, and delicious. The first half of the book is in English, and the second half is in Spanish. Recipes were also written and tested by WIC participants and WIC dietitians.
18. Maddi's Fridge by Lois Brandt, illustrated by Vin Vogel
In this award-winning story, Lois Brandt shines a light on childhood hunger and food insecurity in an inspiring, child-friendly approach. Maddi and Sofia live in the same neighborhood and are best friends. But Sofia discovers that while her fridge is full of milk and vegetables, Maddi's only has one, small container of milk. Maddi explains that her fridge is always like this, and even though Sofia promises not to tell, she sets out to figure out a way to help her friend. This is a great resource to introduce younger readers to a serious issue, and also show children that they can do something about it.
19. Red Beans & Rice by Jeanette Weiland, illustrated by Roberta Van Zandt Loflin
Red Beans & Rice follows Magnolia Rose and her friends as they visit Grandma Bee and Grandpa Pepper's farm in rural Louisiana. Here, the children discover their outdoor playgrounds are the source of the flavorful ingredients used to make their favorite Louisiana dishes: Red Beans & Rice, Strawberry Shortcake, Seafood Po-Boys, Pecan Pralines, and more. Weiland weaves in New Orleans's food culture in this farm to table story.
20. Seedfolks by Paul Fleischman
In this critically acclaimed novella, Paul Fleischman uses thirteen narrators to tell the story of the founding and first year of a community garden in an immigrant neighborhood of Cleveland, Ohio. The characters come from a variety of ethnic groups and ages. From their point of view, each narrator shows how the empty lot becomes a vibrant community garden and shares the transformations they are each going through in life. Seedfolks has inspired countless school and community gardens and can also be performed as a play using Fleischman's school-friendly adaption.
21. Thank You, Omu! by Oge Mora
Oge Mora was inspired by the strong women role models in her life for her story about a grandmother's love and community. Omu, the Igbo word for queen, has made a stew that smells so good the entire neighborhood comes knocking on her door to try some. She gives all of it away by dinnertime, but the community shows their gratitude in this story of using food as a means of sharing, diversity, and inclusion.
22. The Bagel King by Andrew Larsen, illustrated by Sandy Nichols
In this book, Andrew Larsen features a special bond between a grandfather and his grandson, and their weekly tradition of eating bagels on Sunday. When his grandfather cannot bring bagels one weekend, Eli sets out to find a way to still share their favorite treat. The Bagel King highlights how a young child can take responsibility and, with a little initiative, help someone in need.
23. The Lunch Thief by Anne C. Bromley, illustrated by Robert Casilla
When a new classmate steals Rafael's lunch, he initially feels angry. But inspired by his mother's advice, he decides to try to understand why it happened. Later, Rafael sees his classmate carrying a bundle of laundry into a motel room, and his mom explains that his family might be one of the families who lost their homes in the recent wildfires. The next day, Rafael invites his classmate to share his lunch in this lesson of empathy and understanding.
24. Up in the Garden and Down in the Dirt by Kate Messner
In this book, Kate Messner vividly paints two different worlds in the garden. Up in the garden, there is an abundance of green in leaves, sprouts, vegetables, and fruit. But down in the dirt exists a busy world filled with all the animals that make a garden their home. This story will teach children about the different parts of an ecosystem, even the ones they might not be able to see.
25. We Are Water Protectors by Carole Lindstrom, illustrated by Michaela Goade
Inspired by Standing Rock and all Indigenous Peoples fighting for clean water, Carole Lindstrom, who is Ojibwe, issues an urgent rallying cry to safeguard the Earth's water from harm and corruption. In this book, a young girl stands to defend Earth's most precious resource from a black snake. Water connects everyone, and her courage teaches children that anyone can be a water protector.
26. Yoko by Rosemary Wells
Rosemary Wells shares a heartwarming story of open-mindedness when trying new foods from different cultures. Yoko the kitten is teased by her classmates when her mom packs her sushi for lunch. They think the fish and seaweed are "yucky." But Yoko's teacher has an idea. On "International Food Day" at school, Yoko brings sushi again and makes a friend who is willing to try it.In this funny twist, the tables are turned and the parents are the picky eaters in this bi-racial family. Adventurous Matilda Macaroni loves trying new foods, like her grandma's jambalaya and friend's sushi. But her parents will only eat pepperoni pizza, hamburgers, and takeout noodles. Matilda sets out to secretly learn to cook with new flavors and open her parents' minds to trying new foods.
Amanda is passionate about helping organizations drive social impact and health equity on local and international levels. After earning a Bachelor's degree in Biology from Willamette University, she taught English in Thailand at a primary school and saw up close how food moved from farms to local markets to plates. With a background working in multicultural settings in the U.S. and abroad, Amanda hopes to bring a global lens to her writing. She plans to pursue a Master's in Public Health with an emphasis in global health and sustainability to bring change directly to communities.
Reposted with permission from Food Tank.
EcoWatch Daily Newsletter
It's been shocking to watch news of the Brexit vote in Britain, Donald Trump's promise to build a wall between Mexico and the U.S. and the ongoing threats and violence against ethnic minorities in many parts of the world. I'm not a political or social scientist, but my training as a biologist gives me some insight.
When I began my career as a scientist, geneticists were starting to analyze the molecular properties of single genes within a species. When we started looking at highly evolved species such as fruit flies, we thought we would find that their genes had been honed through selection over time, so they would be relatively homogeneous within single species. Examining one kind of protein controlled by a specific gene, we expected to find them all pretty much the same. Instead, we learned there was a great deal of heterogeneity or diversity. A gene specifying a protein could exist in a number of different states.

This is now called "genetic polymorphism" and is considered to be the very measure of a species' health. Inbreeding or reduction of a species to a small number reduces genetic polymorphism and exposes harmful genes, thereby rendering the species more susceptible to sudden change. In other words, genetic polymorphism confers resilience by providing greater possibilities as conditions shift.
Within ecosystems, species diversity provides greater flexibility to adjust to disturbances. Around the planet, ecosystem diversity has enabled life to flourish under different conditions. Like nested Russian dolls, life seems to have been built on diversity within diversity of genes, species and ecosystems.
Over time, conditions on the planet have not remained static. In response to change, life has had to adapt or disappear. The sun is 30 percent warmer today than it was when life arose four billion years ago. The atmosphere changed from oxygen-free to oxygen-rich after plants evolved. Continents have moved, collided and pulled apart. Oceans have filled and emptied. Mountains have risen up and worn down. Life spread from the oceans to land and into the air. Ice ages have punctuated warm periods. And all the while, life fluctuated and flourished because of the resilience conferred by diversity.
Human beings have added another level of diversity: culture. Cultural diversity has enabled our species to survive and flourish in regions as different as deserts and Arctic tundra, wetlands and steaming tropics, prairies and mountains.
Monoculture—the spreading of a single gene, species, ecosystem or idea—runs counter to the biological principle that diversity confers resilience. It creates vulnerability to change, especially sudden change. As a biologist, I believe we should encourage, spread, maintain and celebrate diversity. The drive to restrict immigration of people with different beliefs and the hostility to people of different ethnic, religious or cultural background are extremely dangerous.
In Canada, the apparently well-meant exhortation for Indigenous people to abandon their remote communities reflects the failure to see the enormous value offered by a sense of connection to place and accumulated cultural knowledge. As newcomers to these lands over the past five centuries, many of us lack the deep ties to place that are critical in a time of vast ecological change and degradation.
The U.S. is built on colonization and destruction of the diverse cultures that existed on this continent before European contact. That nation has evolved on the assumption that it's a "melting pot," where newcomers shed their identity of origin and blend with the dominant culture as Americans.
Similarly, Canada developed with a policy of growth while maintaining immigration dominated by a British majority. Under Pierre Trudeau's government, Canada deliberately embraced the notion of the "cultural mosaic," valuing diversity within society. I believe this is an exciting experiment in nation-building based on fundamental scientific truths. The challenge is to ensure that we can celebrate our diversity while recognizing our place as a country without elevating some groups above others.
From the microscopic level of genes to large-scale biological systems and from natural ecosystems to human communities, diversity brings strength and resilience in the face of ever-changing conditions. In today's world, that's more important than ever. We must resist attempts to reduce diversity in all its forms.
waterlust.com / @tulasendlesssummer_sierra .
Each product featured here has been independently selected by the writer. If you make a purchase using the links included, we may earn commission.
The bright patterns and recognizable designs of Waterlust's activewear aren't just for show. In fact, they're meant to promote the conversation around sustainability and give back to the ocean science and conservation community.
Each design is paired with a research lab, nonprofit, or education organization that has high intellectual merit and the potential to move the needle in its respective field. For each product sold, Waterlust donates 10% of profits to these conservation partners.
Eye-Catching Designs Made from Recycled Plastic Bottles
waterlust.com / @abamabam
The company sells a range of eco-friendly items like leggings, rash guards, and board shorts that are made using recycled post-consumer plastic bottles. There are currently 16 causes represented by distinct marine-life patterns, from whale shark research and invasive lionfish removal to sockeye salmon monitoring and abalone restoration.

One such organization is Get Inspired, a nonprofit that specializes in ocean restoration and environmental education. Get Inspired founder, marine biologist Nancy Caruso, says supporting on-the-ground efforts is one thing that sets Waterlust apart, like their apparel line that supports Get Inspired abalone restoration programs.
"All of us [conservation partners] are doing something," Caruso said. "We're not putting up exhibits and talking about it — although that is important — we're in the field."
Waterlust not only helps its conservation partners financially so they can continue their important work. It also helps them get the word out about what they're doing, whether that's through social media spotlights, photo and video projects, or the informative note card that comes with each piece of apparel.
"They're doing their part for sure, pushing the information out across all of their channels, and I think that's what makes them so interesting," Caruso said.
And then there are the clothes, which speak for themselves.
Advocate Apparel to Start Conversations About Conservation
waterlust.com / @oceanraysphotography
Waterlust's concept of "advocate apparel" encourages people to see getting dressed every day as an opportunity to not only express their individuality and style, but also to advance the conversation around marine science. By infusing science into clothing, people can visually represent species and ecosystems in need of advocacy — something that, more often than not, leads to a teaching moment.

"When people wear Waterlust gear, it's just a matter of time before somebody asks them about the bright, funky designs," said Waterlust's CEO, Patrick Rynne. "That moment is incredibly special, because it creates an intimate opportunity for the wearer to share what they've learned with another."
The idea for the company came to Rynne when he was a Ph.D. student in marine science.
"I was surrounded by incredible people that were discovering fascinating things but noticed that often their work wasn't reaching the general public in creative and engaging ways," he said. "That seemed like a missed opportunity with big implications."
Waterlust initially focused on conventional media, like film and photography, to promote ocean science, but the team quickly realized engagement on social media didn't translate to action or even knowledge sharing offscreen.
Rynne also saw the "in one ear, out the other" issue in the classroom — if students didn't repeatedly engage with the topics they learned, they'd quickly forget them.
"We decided that if we truly wanted to achieve our goal of bringing science into people's lives and have it stick, it would need to be through a process that is frequently repeated, fun, and functional," Rynne said. "That's when we thought about clothing."
Support Marine Research and Sustainability in Style
To date, Waterlust has sold tens of thousands of pieces of apparel in over 100 countries, and the interactions its products have sparked have had clear implications for furthering science communication.
For Caruso alone, it's led to opportunities to share her abalone restoration methods with communities far and wide.
"It moves my small little world of what I'm doing here in Orange County, California, across the entire globe," she said. "That's one of the beautiful things about our partnership."
Check out all of the different eco-conscious apparel options available from Waterlust to help promote ocean conservation.
Melissa Smith is an avid writer, scuba diver, backpacker, and all-around outdoor enthusiast. She graduated from the University of Florida with degrees in journalism and sustainable studies. Before joining EcoWatch, Melissa worked as the managing editor of Scuba Diving magazine and the communications manager of The Ocean Agency, a non-profit that's featured in the Emmy award-winning documentary Chasing Coral.
By Rex Weyler
We know what is killing the bees. Worldwide Bee Colony Collapse is not as big a mystery as the chemical companies claim. The systemic nature of the problem makes it complex, but not impenetrable. Scientists know that bees are dying from a variety of factors—pesticides, drought, habitat destruction, nutrition deficit, air pollution, global warming and so forth. The causes of collapse merge and synergize, but we know that humanity is the perpetrator, and that the two most prominent causes appear to be pesticides and habitat loss.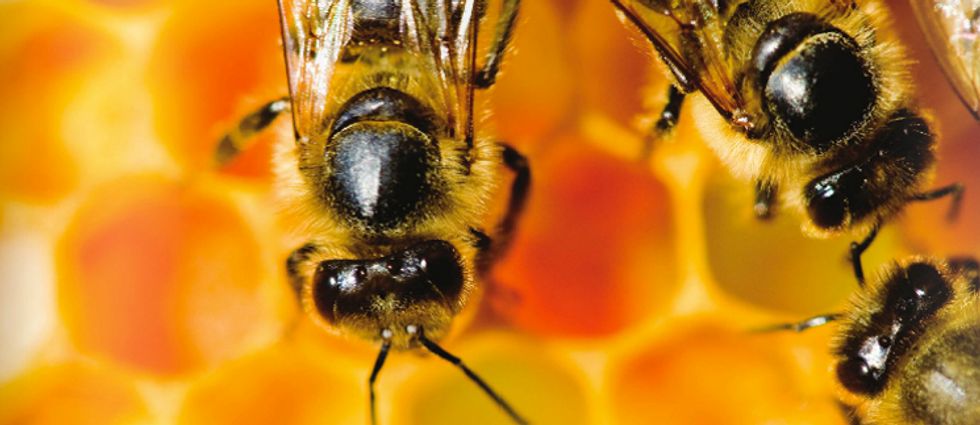 Biologists have found over 150 different chemical residues in bee pollen, a deadly "pesticide cocktail" according to University of California apiculturist Eric Mussen. The chemical companies Bayer, Syngenta, BASF, Dow, DuPont and Monsanto shrug their shoulders at the systemic complexity, as if the mystery were too complicated. They advocate no change in pesticide policy. After all, selling poisons to the world's farmers is profitable.
Furthermore, wild bee habitat shrinks every year as industrial agribusiness converts grasslands and forest into monoculture farms, which are then contaminated with pesticides. To reverse the world bees decline, we need to fix our dysfunctional and destructive agricultural system.
Bee Collapse
Apis mellifera—the honey bee, native to Europe, Africa and Western Asia—is disappearing around the world. Signs of decline also appear now in the eastern honey bee, Apis cerana.
This is no marginal species loss. Honey bees—wild and domestic—perform about 80 percent of all pollination worldwide. A single bee colony can pollinate 300 million flowers each day. Grains are primarily pollinated by the wind, but the best and healthiest food—fruits, nuts and vegetables—are pollinated by bees. Seventy out of the top 100 human food crops, which supply about 90 percent of the world's nutrition, are pollinated by bees.
Tonio Borg, European Commissioner for Health and Consumer Policy, calculates that bees "contribute more than €22 billion ($30 billion U.S. dollars) annually to European agriculture." Worldwide, bees pollinate human food valued at more than €265 billion ($350 billion). The bee collapse is a challenge to human enterprise on the scale of global warming, ocean acidification and nuclear war. Humans could not likely survive a total bee collapse.
Worker bees (females) live several months. Colonies produce new worker bees continuously during the spring and summer, and then reproduction slows during the winter. Typically, a bee hive or colony will decline by five to 10 percent over the winter and replace those lost bees in the spring. In a bad year, a bee colony might lose 15-20 percent of its bees.
In the U.S., where bee collapse first appeared, winter losses commonly reached 30-50 percent and in some cases more. In 2006, David Hackenberg, a bee keeper for 42 years, reported a 90 percent die-off among his 3,000 hives. U.S. National Agriculture Statistics show a honey bee decline from about 6 million hives in 1947 to 2.4 million hives in 2008, a 60 percent reduction.
The number of working bee colonies per hectare provides a critical metric of crop health. In the U.S., among crops that require bee pollination, the number of bee colonies per hectare has declined by 90 percent since 1962. The bees cannot keep pace with the winter die-off rates and habitat loss.
Europe Responds, U.S. Dithers
In Europe, Asia and South America, the annual die-off lags behind the U.S. decline, but the trend is clear, and the response is more appropriate. In Europe, Rabobank reported that the annual European die-offs have reached 30-35 percent and that the colonies-per-hectare count is down 25 percent. In the 1980s, in Sichuan, China, pear orchard pesticides obliterated local bees, and farmers must now pollinate crops by hand with feather dusters.
A European Food Safety Authority scientific report determined that three widely used pesticides—nicotine-based clothianidin, imidacloprid and thiametoxam—pose "high acute risks" for bees. These neonicotinoid pesticides—used in soils, on foliage and embedded in seeds—persist at the core of the toxic pesticide cocktail found in bee hives.
A Greenpeace scientific report identifies seven priority bee-killer pesticides—including the three nicotine culprits—plus clorpyriphos, cypermethrin, deltamethrin and fipronil. The three neonicotinoids act on insect nervous systems. They accumulate in individual bees and within entire colonies, including the honey that bees feed to infant larvae. Bees that do not die outright, experience sub-lethal systemic effects, development defects, weakness and loss of orientation. The die-off leaves fewer bees and weaker bees, who must work harder to produce honey in depleted wild habitats. These conditions create the nightmare formula for bee colony collapse.
Bayer makes and markets imidacloprid and clothianidin; Syngenta produces thiamethoxam. In 2009, the world market for these three toxins reached over $2 billion. Syngenta, Bayer, Dow, Monsanto and DuPont control nearly 100 percent of the world market for genetically engineered (GE) pesticides, plants and seeds.
In 2012, a German court criminally charged Syngenta with perjury for concealing its own report showing that its genetically modified corn had killed livestock. In the U.S., the company paid out $105 million to settle a class-action lawsuit for contaminating the drinking water for more than 50 million citizens with its "gender-bending" herbicide Atrazine. Now, these corporate polluters are waging multi-million-euro campaigns to deny responsibility for bee colony collapse.
In May, the European Commission responded, adopting a two-year ban on the three neonicotinoid pesticides. Scientists will use the two years to assess the recovery rate of the bees and a longer-term ban on these and other pesticides.
Meanwhile, the U.S. dithers and supports the corporations that produce and market the deadly pesticides. In May, as European nations took action, the U.S. Environmental Protection Agency (EPA) approved the neonicotinoid pesticides, in spite of a U.S. Department of Agriculture report warning about the dangers of the bee colony collapse.
Also in May, President Obama, signed the now infamous "Monsanto Protection Act"—written by Monsanto lobbyists—that gives biotech companies immunity in federal U.S. courts from damages to people and the environment caused by their commercial compounds.
Solutions Exist
Common sense actions could restore and protect the world's bees. Experienced bee keepers, apiculturists, farmers, the European Commission and the Greenpeace report, Bees in Decline have outlined these solutions:
Ban the seven most dangerous pesticides
Protect pollinator health by preserving wild habitat
Restore ecological agriculture
Ecological farming is the over-arching new policy trend that will stabilize human food production, preserve wild habitats and protect the bees. The nation of Bhutan has led the world in adopting a 100 percent organic farming policy. Mexico has banned GE corn to protect its native corn varieties. In January, eight European countries banned GE crops, and Hungary has burned over a 1,000 acres of corn contaminated with GE varieties. In India, scientist Vandana Shiva and a network of small farmers have built an organic farming resistance to industrial agriculture over two decades.
Ecological or organic farming, of course, is nothing new. It is the way most farming has been done throughout human history. Ecological farming resists insect damage by avoiding large monocultures and preserving ecosystem diversity. Ecological farming restores soil nutrients with natural composting systems, avoids soil loss from wind and water erosion, and avoids pesticides and chemical fertilizers.
By restoring bee populations and healthier bees, ecological agriculture improves pollination, which in turn improves crop yields. Ecological farming takes advantage of the natural ecosystem services, water filtration, pollination, oxygen production and disease and pest control.
Organic farmers have advocated better research and funding by industry, government, farmers and the public to develop organic farming techniques, improve food production and maintain ecological health. The revolution in farming would promote equitable diets around the world and support crops primarily for human consumption, avoiding crops for animal food and biofuels.
Ecosystems
The plight of the bees serves as a warning that we still may not quite understand ecology. Ecological farming is part of a larger paradigm shift in human awareness. The corporate denialists appear just like the Pope's shrouded inquisitors in 1615, who refused to look through Galileo's telescope to see the moons of Jupiter. Today's denialists refuse to recognize that Earth's systems operate within real limits. However, the state religion in this case is money, and the state religion won't allow it. The denialists cling to the presumed right to consume, hoard, and obliterate Earth's great bounty for private profits. But hoards of money won't reverse extinction, restore lost soils or heal the world's bee colonies.
A great reckoning awaits humanity if we fail to awaken from our delusions. Earth's delicately balanced systems can reach tipping points and collapse. Bees, for example, work within a limited range of marginal returns on the energy they exert to collect nutrition for their colonies. When winter bee deaths grow from 10 percent to 50 percent, the remaining bees are weakened by toxins, and the wild habitats shrink that thin, ecological margin of energy return can be squeezed to zero. Surviving bees expend more energy than they return in honey. More bees die, fewer reach maturity and entire colonies collapse. This crisis is a lesson in fundamental ecology.
Rachel Carson warned of these systemic constraints 50 years ago. Ecologists and environmentalists have warned of limits ever since. Bee colony collapse now joins global warming, forest destruction and species extinctions among our most urgent ecological emergencies. Saving the world's bees appears as one more necessary link in restoring Earth to ecological balance.
Visit EcoWatch's BIODIVERSITY page for more related news on this topic.