The Arctic Fuji Apple. Okanagan Specialty Fruits
The first commercial harvest of Arctic apples—genetically modified (GMO) apples that don't brown when exposed to air—will arrive in 400 Midwestern grocery stores this month, Bloomberg reported.
The product will be sold as 10-ounce bags of sliced Golden Delicious apples. The bags will not have a clear label saying it is a GMO product. Rather, a customer will only know that the fruit is genetically modified by scanning the bag's QR code with a smartphone, a feature that opponents have shunned.
"Not everyone has a smartphone, and even if you have one, are you going to check every item with it?" Bill Freese, a science-policy analyst at the Center for Food Safety, told Nature.
Americans are generally wary of GMOs and recent polls show that the vast majority (89 percent) favor mandatory labels on GMO foods or products containing such ingredients.
The biotech apple, owned by British Columbia-based Okanagan Specialty Fruits, first stirred up controversy back in February 2015 when the U.S. Department of Agriculture deemed both the Arctic Golden Delicious and Arctic Granny varieties safe for human consumption. It was the first time the federal agency approved an aesthetically-improved genetically engineered food.
To prevent the crop from browning, the company silenced an enzyme called polyphenol oxidase (PPO) that drives oxidation in apples. The benefit of these apples, the company says, is that it cuts down food waste—about 40 percent of apples are currently wasted, with much of that waste from superficial bruising and browning.
"The purpose of Arctic apples is definitely to promote healthy eating, boost apple consumption and reduce food waste, no matter what your age, income or any other factor," Okanagan president Neal Carter told Bloomberg.
Other small biotech firms are eagerly watching consumer reaction to Arctic apples, Nature reported.
"If the apple sells, it will pave the way for others," explained Yinong Yang, a Pennsylvania State University plant pathologist who created a mushroom that resists browning by using the genome-editing tool CRISPR-Cas9. He wants to license his mushroom to commercial growers.
Carter told Nature that he is optimistic that people will buy his apples.
"We rarely get e-mails saying we are Satan anymore," he said. "Now we have people asking where they can buy the apples."

EcoWatch Daily Newsletter
The first genetically modified (GMO) apples, which are engineered to resist browning when sliced, will arrive in select midwestern U.S. stores next month. The fruit, produced by Okanagan Specialty Fruits and sold under the brand name Arctic Apples, will be packaged as "grab-and-go" slices, according to Capital Press.
2017 is here, and we're so on trend https://t.co/ye72xnSULj https://t.co/7jx98Dpm5J

— Arctic Apples (@Arctic Apples)1484704209.0
A customer will only know that the fruit is genetically modified by scanning the packaging with a smartphone. The company is adhering to the new GMO food labeling act which allows businesses to use a QR code instead of clear wording that informs consumers if a product contains GMO ingredients.

"We are selling it under the Arctic brand and we've had a lot of press and attention, so I assume most people will know what it is," Okanagan's founder and president Neal Carter told Capital Press.
The company's product can be identified with its logo of a snowflake inside an apple outline.

Obama Signs Industry-Backed GMO Label Bill Into Law - EcoWatch https://t.co/kEMS092CUY @gmo917 @GMWatch

— EcoWatch (@EcoWatch)1470003011.0
The apples first stirred up controversy in February 2015 when the U.S. Department of Agriculture (USDA) approved an aesthetically-improved genetically engineered food for the first time.

In order to prevent apples from browning, the company "silenced" an enzyme called polyphenol oxidase (PPO) that drives oxidation in apples. The benefit of these apples, as the company said, is that it cuts down food waste—about 40 percent of apples are currently wasted, with much of that waste from superficial bruising and browning.
Like the industry norm, Arctic Apples do not fully oxidize for three weeks after being cut into but without the flavor-altering, chemical additives used by the traditional sliced apple business.

The cost savings "can be huge," Carter told NPR. "Right now, to make fresh-cut apple slices and put them in the bag, 35 or 40 percent of the cost is the antioxident treatment. So you could make a fresh-cut apple slice 30 percent cheaper."
DYK: #ArcticApples have benefits for dried slices too? https://t.co/K0SvhjBVWV https://t.co/N28iO7SqUL

— Arctic Apples (@Arctic Apples)1484607919.0
Okanagan touts that its Arctic Goldens, the variety that will hit shelves next month, "offer the same nutritional value as the conventional Golden Delicious apple you know and love, but do so even better, especially as ready to eat, preservative free slices!"
The company will also be selling GMO Granny Smith and Fuji in the future after gaining USDA approval. The USDA deregulated the GMO Fuji apple in September despite receiving more than 620 comments from individuals and consumer groups who were opposed to the variety, GMO food in general, as well as concerns over a lack of clear GMO labeling.
"It's not only an unnecessary product, but the risks have not been fully examined," said Wenonah Hauter, executive director of Food & Water Watch.

Hauter added that there could be unintentional consequences of the fruit.
"Regulators have glossed over the possible unintentional effects of this technology, including the potential economic impacts on farmers, the potential of contamination for non-GMO and organic apple crops and the potential impact of the non-browning gene silencing, which could also weaken plant defenses and plant health," she said.
3 Companies Say 'No' to GMO Arctic Apples https://t.co/W9EbUca67d @food_democracy @NonGMOProject

— EcoWatch (@EcoWatch)1445463646.0
Carter told Capital Press that Midwestern retailers were chosen for the first sales this winter because they seemed like a good fit demographically.

When the publication asked if Midwest consumers may be more accepting of GMO apples compared to the East or West coasts, Carter said consumer research did not indicate that and that it was not a consideration.
"We don't want to skew our test marketing results by choosing stores that may be more friendly to genetic engineering," he said.
Five hundred, 40-pound boxes of Arctic Goldens will be sold at 10 unnamed stores in the Midwest in February and March. Okanagan is aiming to produce more than 6,000 more boxes of the fruit for the region after the fall 2017 crop.
waterlust.com / @tulasendlesssummer_sierra .
Each product featured here has been independently selected by the writer. If you make a purchase using the links included, we may earn commission.
The bright patterns and recognizable designs of Waterlust's activewear aren't just for show. In fact, they're meant to promote the conversation around sustainability and give back to the ocean science and conservation community.
Each design is paired with a research lab, nonprofit, or education organization that has high intellectual merit and the potential to move the needle in its respective field. For each product sold, Waterlust donates 10% of profits to these conservation partners.
Eye-Catching Designs Made from Recycled Plastic Bottles
waterlust.com / @abamabam
The company sells a range of eco-friendly items like leggings, rash guards, and board shorts that are made using recycled post-consumer plastic bottles. There are currently 16 causes represented by distinct marine-life patterns, from whale shark research and invasive lionfish removal to sockeye salmon monitoring and abalone restoration.

One such organization is Get Inspired, a nonprofit that specializes in ocean restoration and environmental education. Get Inspired founder, marine biologist Nancy Caruso, says supporting on-the-ground efforts is one thing that sets Waterlust apart, like their apparel line that supports Get Inspired abalone restoration programs.
"All of us [conservation partners] are doing something," Caruso said. "We're not putting up exhibits and talking about it — although that is important — we're in the field."
Waterlust not only helps its conservation partners financially so they can continue their important work. It also helps them get the word out about what they're doing, whether that's through social media spotlights, photo and video projects, or the informative note card that comes with each piece of apparel.
"They're doing their part for sure, pushing the information out across all of their channels, and I think that's what makes them so interesting," Caruso said.
And then there are the clothes, which speak for themselves.
Advocate Apparel to Start Conversations About Conservation
waterlust.com / @oceanraysphotography
Waterlust's concept of "advocate apparel" encourages people to see getting dressed every day as an opportunity to not only express their individuality and style, but also to advance the conversation around marine science. By infusing science into clothing, people can visually represent species and ecosystems in need of advocacy — something that, more often than not, leads to a teaching moment.

"When people wear Waterlust gear, it's just a matter of time before somebody asks them about the bright, funky designs," said Waterlust's CEO, Patrick Rynne. "That moment is incredibly special, because it creates an intimate opportunity for the wearer to share what they've learned with another."
The idea for the company came to Rynne when he was a Ph.D. student in marine science.
"I was surrounded by incredible people that were discovering fascinating things but noticed that often their work wasn't reaching the general public in creative and engaging ways," he said. "That seemed like a missed opportunity with big implications."
Waterlust initially focused on conventional media, like film and photography, to promote ocean science, but the team quickly realized engagement on social media didn't translate to action or even knowledge sharing offscreen.
Rynne also saw the "in one ear, out the other" issue in the classroom — if students didn't repeatedly engage with the topics they learned, they'd quickly forget them.
"We decided that if we truly wanted to achieve our goal of bringing science into people's lives and have it stick, it would need to be through a process that is frequently repeated, fun, and functional," Rynne said. "That's when we thought about clothing."
Support Marine Research and Sustainability in Style
To date, Waterlust has sold tens of thousands of pieces of apparel in over 100 countries, and the interactions its products have sparked have had clear implications for furthering science communication.
For Caruso alone, it's led to opportunities to share her abalone restoration methods with communities far and wide.
"It moves my small little world of what I'm doing here in Orange County, California, across the entire globe," she said. "That's one of the beautiful things about our partnership."
Check out all of the different eco-conscious apparel options available from Waterlust to help promote ocean conservation.
Melissa Smith is an avid writer, scuba diver, backpacker, and all-around outdoor enthusiast. She graduated from the University of Florida with degrees in journalism and sustainable studies. Before joining EcoWatch, Melissa worked as the managing editor of Scuba Diving magazine and the communications manager of The Ocean Agency, a non-profit that's featured in the Emmy award-winning documentary Chasing Coral.
The deadline is looming for the public to comment on an application pending before the U.S. Department of Agriculture (USDA) for the first genetically modified apple engineered not to brown when sliced.
The comment period for the genetically modified organism (GMO), called the Arctic apple, is open until Dec. 9. The public can submit comments online, as well as see the Federal Register notice with links to the supporting documents.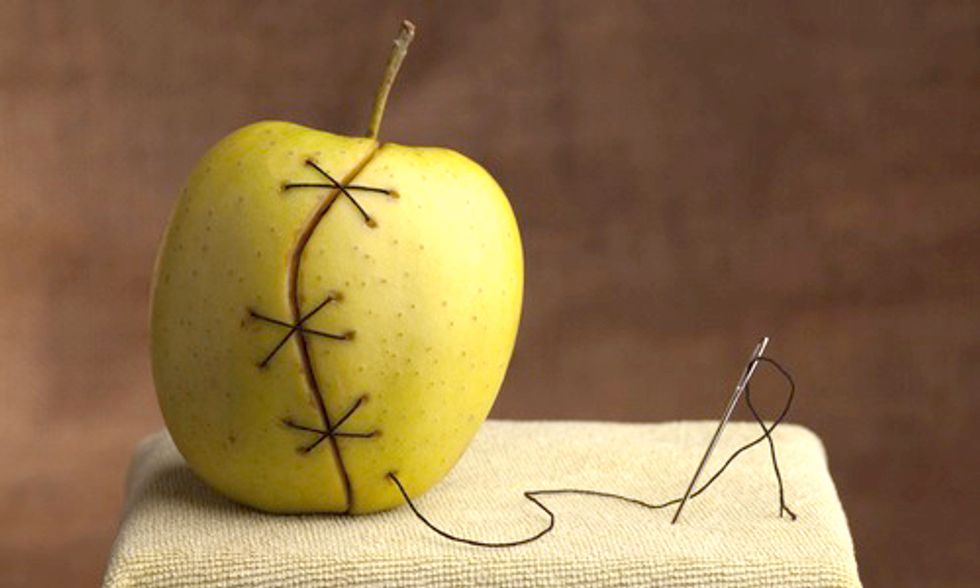 Shutterstock
Until now, most GMOs have been engineered to withstand pesticides or insects. Some organic proponents are questioning why the genetic modification is necessary, as it only serves a cosmetic need and could mask overripe or bruised apples.
Fast-food giant McDonald's and leading baby food manufacturer Gerber already have confirmed they do not plan to sell or use the Arctic apple.
These food companies join major apple growing associations, including the U.S. Apple Association, the Northwest Horticultural Council (which represents Washington apple growers, producers of more than 60 percent of the apples in the U.S.), British Columbia Fruit Growers Association and other grower groups. They disapprove of the Arctic apple because of the negative impact the fruit could have on farmers growing organic and non-GMO apples and the apple industry as a whole.
The growers fear the GMO apples will contaminate their farms and, as a result, cause them to lose their organic certification, putting them in financial peril and decreasing the amount of organic apples in the marketplace.
The USDA recently posted its Environmental Assessment and Plant Pest Risk Assessment, which did not acknowledge the threat the Arctic apples represents to organic apple farmers. These assessments also do not examine the long-term effects of the GMO apples on the environment and population, although the developers of the apples claim they have 10 years of field studies that show no negative effects.
A second comment period is now open for people to discuss these Assessment Reports. The first comment period closed on Sept. 11 and received 1,975 comments, mostly negative, according to California Certified Organic Farmers (CCOF). Few of the comments were from growers or people with more specific knowledge of the biology of an apple orchard.
CCOF and other organizations such as the Organic Consumers Association are urging people who are concerned about GMOs to submit comments to the USDA. CCOF offers these bullet points to use in comments:
Ten years of study is not enough time to evaluate a perennial crop like an apple tree.
All the data used in the conclusions of the reports is from the petitioner for the Arctic apples. There appears to be no independent, third-party exploration of such subjects as the potential effects on non-target organisms or the threat of pollen transfer into organic orchards.
No specific data is given in the reports about what happens to bees and other pollinators who ingest genetically engineered pollen over time.
The Environmental Assessment states: "Organic farmers will not be substantially affected by a determination of non-regulated status of GD743 and GS784 apple" (page 37, section 4.2.3). The reason given is that there is no threshold for genetically engineered presence in organic regulations. This explanation ignores the potential effects on pollinators and organic markets if contamination is picked up in testing and places the full burden on organic growers for borders and pollination control strategies.
Some groups representing apple growers, such as the California Apple Commission, do not support the Arctic apple because it will bring negative publicity to apples in general and damage the apple markets.
Section 2.6 (page 11) of the Environmental Assessment recommends no isolation distances or geographic restrictions because there is no plant pest risk from these apples and so the USDA Animal and Plant Health Inspection Service (APHIS) has no authority to set one. This is an important point to bring to the USDA because this type of GMO is out of the realm of APHIS authority but still needs to be regulated by the USDA. While there may be no pest impacts, there likely will be impacts on pollinators, wildlife that feed on apples and nearby organic growers.
The purpose of the non-browning trait is so the apple does not decay as quickly. Not only can this be used to disguise otherwise inferior fruit quality, but it may have secondary long-term side effects similar to other preservatives and these have not been studied.
In animal studies, other GMOs have been linked to numerous negative health problems, such as immune damage, tumors and lowered nutrition absorption.
The Arctic apple is among many new genetically engineered foods in the pipeline for approval, including salmon, a potato and commodity crops (corn and soy) engineered to withstand more powerful pesticides. Dozens of genetically engineered fish and other animals including pigs, cows and chickens are also in development stages.
"New unlabeled, risky GMOs could enter the produce aisles and meat counters at our grocery stores in the near future," said Lisa Archer, director of the Food & Technology Program at Friends of the Earth. "That's why it's so important to win labeling now and put in place rigorous health and safety standards for genetically engineered foods."
Visit EcoWatch's GMO page for more related news on this topic.