This website uses cookies to ensure you get the best experience while browsing it. By clicking 'Got It' you're accepting these terms.
Researchers Find Energy Efficient Way to Convert Plastic Bags Into Diesel Fuel
Feb. 17, 2014 01:12PM EST
Energy
Plastic shopping bags, an abundant source of litter on land and at sea, can be converted into diesel, natural gas and other useful petroleum products, researchers report.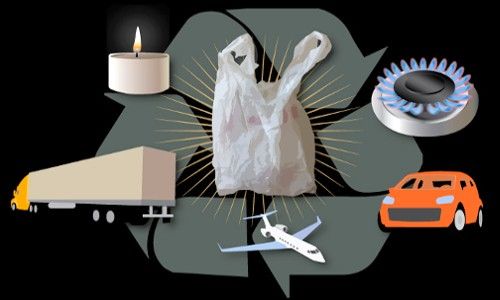 The conversion produces significantly more energy than it requires and results in transportation fuels—diesel, for example—that can be blended with existing ultra-low-sulfur diesels and biodiesels. Other products, such as natural gas, naphtha (a solvent), gasoline, waxes and lubricating oils such as engine oil and hydraulic oil also can be obtained from shopping bags.
A report of the new study appears in the journal Fuel Processing Technology.
There are other advantages to the approach, which involves heating the bags in an oxygen-free chamber, a process called pyrolysis, said Brajendra Kumar Sharma, a senior research scientist at the Illinois Sustainable Technology Center (ISTC) who led the research. The ISTC is a division of the Prairie Research Institute at the University of Illinois. 
"You can get only 50 to 55 percent fuel from the distillation of petroleum crude oil," Sharma said. "But since this plastic is made from petroleum in the first place, we can recover almost 80 percent fuel from it through distillation."
Americans throw away about 100 billion plastic shopping bags each year, according to the Worldwatch Institute. The U.S. Environmental Protection Agency (EPA) reports that only about 13 percent are recycled. The rest of the bags end up in landfills or escape to the wild, blowing across the landscape and entering waterways.
Plastic bags make up a sizeable portion of the plastic debris in giant ocean garbage patches that are killing wildlife and littering beaches. Plastic bags "have been detected as far north and south as the poles," the researchers wrote.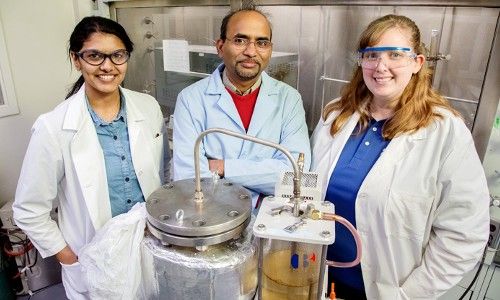 "Over a period of time, this material starts breaking into tiny pieces, and is ingested along with plankton by aquatic animals," Sharma said. Fish, birds, ocean mammals and other creatures have been found with a lot of plastic particles in their guts.
"Turtles, for example, think that the plastic grocery bags are jellyfish and they try to eat them," Sharma said. Other creatures can become entangled in the bags.
Previous studies have used pyrolysis to convert plastic bags into crude oil. Sharma's team took the research further, however, by fractionating the crude oil into different petroleum products and testing the diesel fractions to see if they complied with national standards for ultra-low-sulfur diesel and biodiesel fuels.
"A mixture of two distillate fractions, providing an equivalent of U.S. diesel #2, met all of the specifications" required of other diesel fuels in use today—after addition of an antioxidant, Sharma said.
"This diesel mixture had an equivalent energy content, a higher cetane number (a measure of the combustion quality of diesel requiring compression ignition) and better lubricity than ultra-low-sulfur diesel," he said.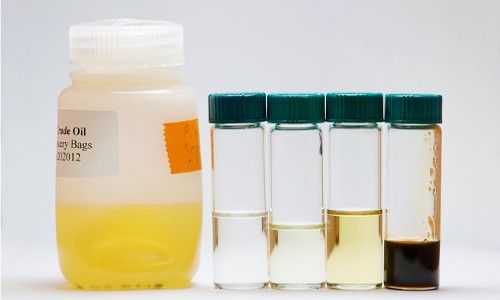 The researchers were able to blend up to 30 percent of their plastic-derived diesel into regular diesel, "and found no compatibility problems with biodiesel," Sharma said.
"It's perfect," he said. "We can just use it as a drop-in fuel in the ultra-low-sulfur diesel without the need for any changes."
The research team also included Bryan Moser, Karl Vermillion and Kenneth Doll, of the USDA National Center for Agricultural Utilization Research, in Peoria, IL, and Nandakishore Rajagopalan, of the ISTC at the University of Illinois. 
The Illinois Hazardous Waste Research Fund and the Environmental Research and Education Foundation supported this study.
Visit EcoWatch's ENERGY and BIODIVERSITY pages for more related news on this topic.

EcoWatch Daily Newsletter

hadynyah / E+ / Getty Images
By Johnny Wood
The Ganges is a lifeline for the people of India, spiritually and economically. On its journey from the Himalayas to the Bay of Bengal, it supports fishermen, farmers and an abundance of wildlife.
The river and its tributaries touch the lives of roughly 500 million people. But having flowed for millennia, today it is reaching its capacity for human and industrial waste, while simultaneously being drained for agriculture and municipal use.
Here are some of the challenges the river faces.
Protesters gathered outside US Bank and Wells Fargo locations around the U.S. to protest investment in the Dakota Access Pipeline on Dec. 1, 2016. This photo is from a protest outside US Bank in south Minneapolis, Minnesota.
Fibonacci Blue / CC BY 2.0
By Jake Johnson
As a growing number of states move to pass laws that would criminalize pipeline protests and hit demonstrators with years in prison, an audio recording obtained by The Intercept showed a representative of a powerful oil and gas lobbying group bragging about the industry's success in crafting anti-protest legislation behind closed doors.
Reposted with permission from our media associate Common Dreams.

DESIREE MARTIN / AFP / Getty Images
Wildfires raging on Gran Canaria, the second most populous of Spain's Canary Islands, have forced around 9,000 people to evacuate.
Aerial view of lava flows from the eruption of volcano Kilauea on Hawaii, May 2018. Frizi / iStock / Getty Images
Hawaii's Kilauea volcano could be gearing up for an eruption after a pond of water was discovered inside its summit crater for the first time in recorded history, according to the AP.
Wolves in Mount Rainier, Washington. Ron Reznick / VW Pics / Universal Images Group via Getty Images
The last four members of an embattled wolf pack were killed in Washington State Friday, hours before the court order that could have saved them.
Plateau Creek near De Beque, Colorado, where land has been leased for oil and gas production. Helen H. Richardson / The Denver Post / Getty Images
By Randi Spivak
Slashing two national monuments in Utah may have received the most attention, but Trump's Interior Department and U.S. Forest Service have been quietly, systematically ceding control of America's public lands to fossil fuel, mining, timber and livestock interests since the day he took office.
Global SO2 Emission Hotspot Database / Greenpeace
A new report by Greenpeace International pinpointed the world's worst sources of sulfur dioxide pollution, an irritant gas that harms human health. India has seized the top spot from Russia and China, contributing nearly 15 percent of global sulfur dioxide emissions.
The huge surge this year in Amazon deforestation is leading some European countries to think twice about donations to the Amazon Fund. LeoFFreitas / Moment / Getty Images
By Sue Branford and Thais Borges
Ola Elvestrun, Norway's environment minister, announced Thursday that it is freezing its contributions to the Amazon Fund, and will no longer be transferring €300 million ($33.2 million) to Brazil. In a press release, the Norwegian embassy in Brazil stated: