This website uses cookies to ensure you get the best experience while browsing it. By clicking 'Got It' you're accepting these terms.
Plastic Pollution in Great Lakes Most Concentrated in the World
Nov. 01, 2012 09:50AM EST
By James Dau
[Editor's note: I received this statement from Stiv J. Wilson from The 5 Gyres Institute who wanted to clarify data in this article. Though our research in the Great Lakes shows that by count there are many individual pieces of plastic, these are of a different kind than what is typically found in the ocean. They appear to be intact, non-photodegraded plastic beads probably used in facial cleansers or for abrasives in ship sandblasting that have entered the watershed by runoff or sewage outfall. By count, our data shows three times as many pieces of plastic as a typical oceanic gyre sample, but they are extremely small—.5 millimeters and below, not the typical 5 millimeter fragments found in the ocean. By weight, the plastic concentration in the Great Lakes is very low as compared to oceanic pollution. To say that the Great Lakes has the densest concentration of plastic pollution is a false characterization of the problem and undermines the true issue facing the lakes. It's also incorrect to say that we know for certain that there is toxic chemical transfer from ingested plastics to fish tissue. We suspect this is the case, but as of yet, the science is ongoing in this area and it's irresponsible to make this claim from a scientific or advocacy vantage as of yet.]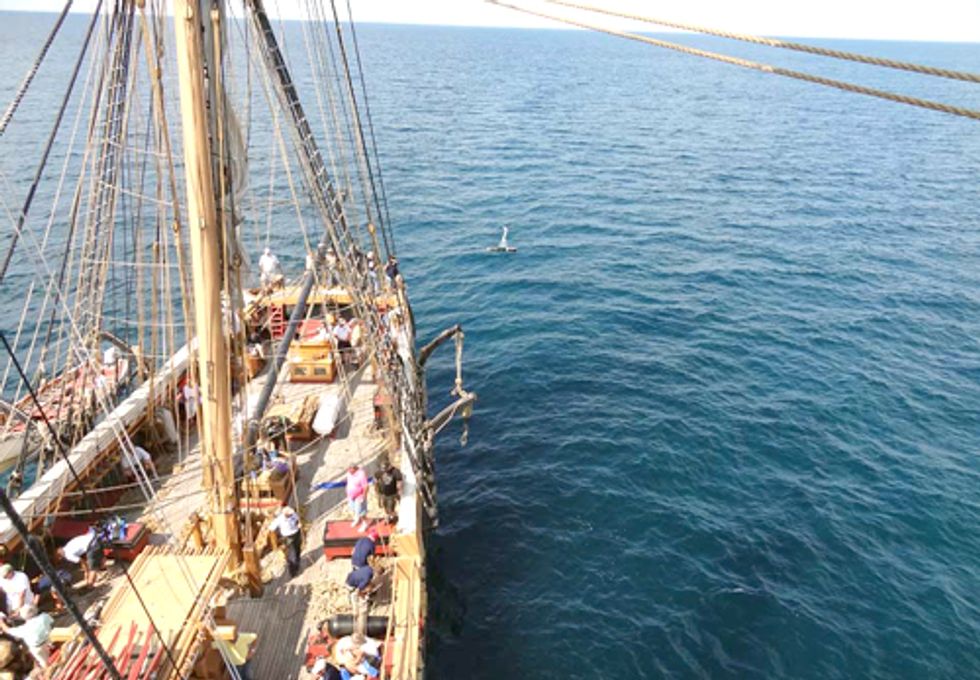 Plastic pollutants circulate in pockets of the Great Lakes at concentrations higher than any other body of water on Earth, according to a recent State University of New York study.
The study is the first to look at plastic pollutants in the Great Lakes. It is part of a larger global endeavor to understand the origin and prevalence of plastic pollution in water and was conducted with the Los Angeles-based 5 Gyres Institute.
"We had two samples in Lake Erie that we just kept going back and rechecking the data, because the count, the number of plastic particles in the sample, was three times greater than any sample collected anywhere in the entire world," SUNY chemistry professor and project lead Sherri Mason said.
Mason's team of 20 students embarked this summer aboard the U.S. Brig Niagara, the rebuilt flagship that won the Battle of Lake Erie during the War of 1812. Beginning in Lake Superior, for three weeks in July the team sailed south through Lake Huron and into Lake Erie, collecting water samples as they traveled.
Twenty-one samples were collected with a net trailing from the vessel. The net's mesh was a mere 333 micrometres, or 0.013 inch, wide.
They found the least plastic in Lake Superior, with the concentrations increasing as they sailed south. That's because water flows south from Lake Superior through Lake Huron and into lakes Erie and Ontario. The water carries plastics from one lake to the next, compounding the concentration each time, Mason said.
That her team found plastic pollution was unsurprising to Mason or anyone involved with the project. But they were surprised by the volume of plastic, and even more by the kind of plastic they found.
"The reigning kind of thinking is that plastic moves from the land to the ocean through rivers and lakes, and that it gets smaller as it goes through erosion," Mason said, "We thought we would find bigger pieces in the lakes than in the ocean, but we didn't really. The vast majority of what we found was really, really small."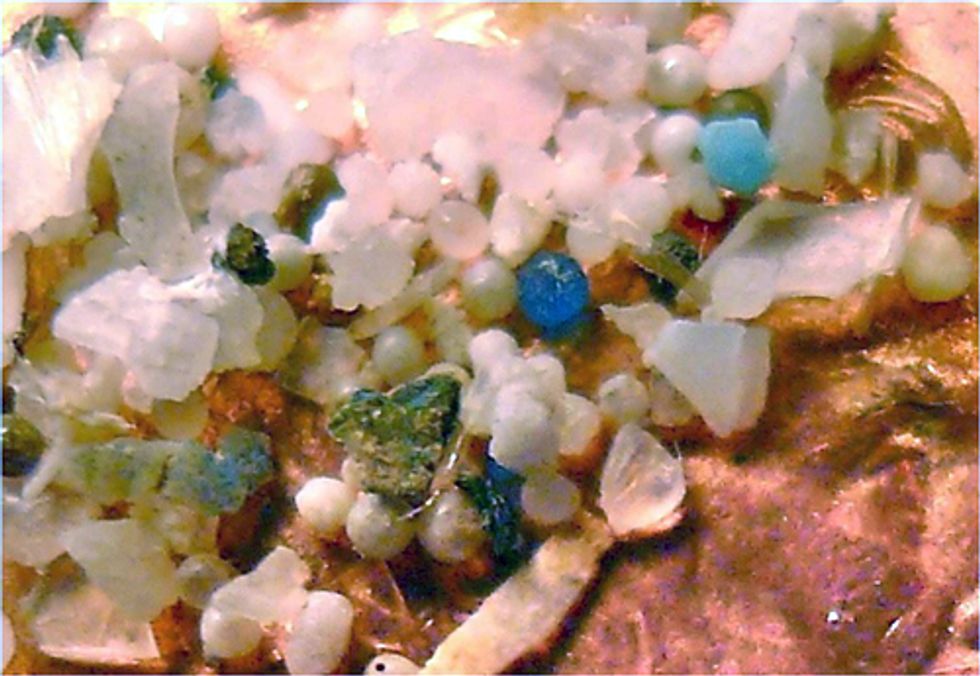 Most of what the team found was what Mason refers to as microplastics, pieces less than 5 millimeters wide. Such fragments are much smaller than those Mason's team expected to recover.
Why larger pieces were not more common baffles researchers.
"You don't find microplastic in the ocean like we did in the lakes," Mason said. "Somewhere in between there it disappears, and we want to know where it's going."
Mason and her colleagues think that the microplastics could be washing up on beaches, or that it may be entering the food chain if consumed by microorganisms or fish. "There's this uncertainty right now, so one of the next things we have to do is get out on a boat and look at the food chain to see if the plastic shows up," Mason said.
If plastic gets into the food chain, it presents a serious human health threat, Mason said. According to her research and those of her colleagues, many non-plastic pollutants, known as persistent organic pollutants or POPs, latch onto plastics in the water, which could then be consumed by aquatic life with a variety of consequences.
"All those chemicals leach from the plastic into the fat of the fish," Mason said. "This has both direct ways of harming the fish, such as lining their intestines and interfering with their ability to absorb nutrients from food, and indirect ones.
"The fish may not immediately die, but they could remain toxic, and that's really scary. If the plastics and chemicals are moving into the food chain, they're moving into us."
The dangers of plastic in the aquatic ecosystem is recognized by both scientists and the plastics industry. According to the American Chemistry Council, a national trade association representing a multitude of chemistry firms, including plastic manufacturers, any human debris is potentially destructive to the lakes.
"Discarded or littered items, of any material, whether plastic, paper, steel or aluminum, doesn't belong in the marine ecosystem," said Allyson Wilson, a council spokesperson. "Litter can absolutely pose a threat to marine life when animals get entangled, trapped or mistake plastics for food."
Wilson added, however, that microplastics like those found by Mason could be less harmful than many fear. "This is an emerging area of research, and we're all committed to better understanding microplastic's effects on the marine environment," she said. Some research indicates that persistent organic pollutants may bond so tightly to the plastic that they cannot be separated and digested by the fish.
Wilson noted that the Food and Drug Administration requires health and safety inspections of commercial fish catches, and that the Environmental Protection Agency regulates drinking water and requires water treatment facilities to filter particles from the water.
Much further study of plastic in the Great Lakes is necessary before concerns over it can be dismissed, Mason said. Her study plays into the larger goals of the 5 Gyres Institute, an environmental group that studies the causes and impacts of plastic pollution in the oceans, specifically in the five subtropical gyres. A gyre is a large area of rotating ocean currents in which plastics accumulate.
Having studied each of the five gyres, the institute is now turning its attention inland toward the source of the pollution.
"Most plastics that end up in the ocean start out on land," said Marcus Eriksen, co-founder of 5 Gyres. "This project is us going upstream from the oceans and trying to trace them back to their origins."
Great Lakes pollution has global consequences, Eriksen said.
"The gyres we study account for about 25 percent of the planet's surface, and they draw pollution from all over the world, including the Great Lakes. They're covered in a thin layer of plastic soup," he said.
It would be a waste of time and money to try to clean up all the plastic in the gyres, he said. Identifying and reducing that pollution at its sources upstream is the only way to reduce it.
That's why Mason and her team conducted the study this summer. Next summer, they aim to continue their work by sailing Lake Michigan.
"No amount of plastic in the lakes is acceptable," Mason said. "The best cure is to find ways to reduce plastic use. We're all part of the problem, and that means we're all part of the solution. If we change our consumer habits, we change what's in the water."
Visit EcoWatch's WATER page for more related news on this topic.
EcoWatch Daily Newsletter
By Sabrina Kessler
Far-reaching allegations about how a climate-sinning American multinational could shamelessly lie to the public about its wrongdoing mobilized a small group of New York students on a cold November morning. They stood in front of New York's Supreme Court last week to follow the unprecedented lawsuit against ExxonMobil.
By Alex Robinson
Leah Garcés used to hate poultry farmers.
The animal rights activist, who opposes factory farming, had an adversarial relationship with chicken farmers until around five years ago, when she sat down to listen to one. She met a poultry farmer called Craig Watts in rural North Carolina and learned that the problems stemming from factory farming extended beyond animal cruelty.
People navigate snow-covered sidewalks in the Humboldt Park neighborhood on Nov. 11 in Chicago. Scott Olson / Getty Images
Temperatures plunged rapidly across the U.S. this week and around 70 percent of the population is expected to experience temperatures around freezing Wednesday.
A general view of the flooded St. Mark's Square after an exceptional overnight "Alta Acqua" high tide water level, on Nov. 13 in Venice. MARCO BERTORELLO / AFP / Getty Images
President Donald Trump doesn't like wind turbines.
In April, he claimed they caused cancer, and he sued to stop an offshore wind farm that was scheduled to go up near land he had purchased for a golf course in Aberdeenshire in Scotland. He lost that fight, and now the Trump Organization has agreed to pay the Scottish government $290,000 to cover its legal fees, The Washington Post reported Tuesday.
A verdant and productive urban garden in Havana. Susanne Bollinger / Wikimedia Commons
By Paul Brown
When countries run short of food, they need to find solutions fast, and one answer can be urban farming.
Trevor Noah appears on set during a taping of "The Daily Show with Trevor Noah" in New York on Nov. 26, 2018.
The Daily Show With Trevor Noah / YouTube screenshot