This website uses cookies to ensure you get the best experience while browsing it. By clicking 'Got It' you're accepting these terms.
Paying With Plastic: Recycling Earns Public Transit Fares in China
Aug. 05, 2013 03:54PM EST
By Chad W. Lutz
Remember in the opening scenes of Back To The Future: Part II when Doc Brown frantically rummages through a couple of garbage cans for fuel? When the film was released in 1989, the idea of using biodegradable materials as fuel for vehicles was entertaining but wildly science fiction. And while scientists still haven't made available the means to convert everyday garbage into a reusable fuel source, steps have been taken in the fight to reduce carbon footprints and environmental impacts in societies around the world.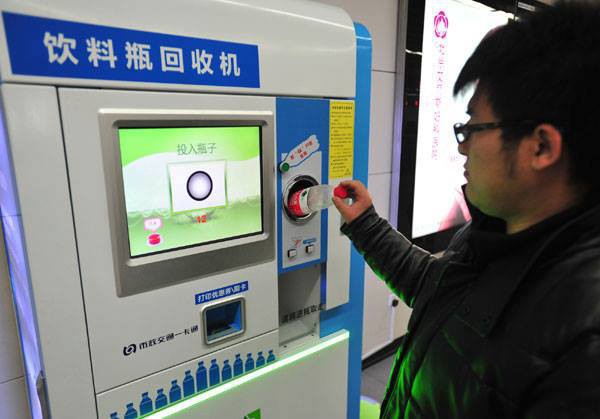 Photo credit: Xinhua.
For instance, China—which has experienced widespread legacy pollution—recently debuted recycling-for-payment programs in busy subway stations in Beijing. The initiative saw the installation of recycling machines which accept plastic bottles as payment. Passengers receive credit ranging from 5 to 15 cents per bottle, which are then applied toward rechargeable subway cards. The first of the machines officially opened for use in Shaoyaoju station, Beijing in December 2012.
According to a report from The Guardian, more than 100 machines will be put in place in the coming years. Incom, a state-owned resources recovery company, is responsible for the implementation of the machines. Incom currently undertakes processing tens of thousands of plastic bottles every year and hopes the new machines will help reduce the amount of refuse discarded on streets and in public areas.
According to GreenGeeks, one recycled plastic bottle produces enough energy to power a 60-watt light bulb for several hours. However, dissenters of the program still wonder if the machines themselves won't increase environmental degradation with the amount of energy necessary to operate them citing that the process to melt down and reconstitute plastics requires energy and may degrade the quality of the recycled product.
Rather than having to implement and organize costly task forces to retrieve discarded garbage, China hopes to limit federal spending on resources recovery by collecting plastic bottles directly from citizens with the use of the subway recycling machines. To lend perspective, a figure shown by Clean Air Council states that California spends roughly $25 million transporting plastic bags to dumps and an additional $8.5 million collecting these plastic bags from the streets annually.
Eventually, Incom would like to see the recycling-for-payment machines installed along every subway line as well as bus stops and other public means of transportation, such as parking spots in commercial and residential areas.
Visit EcoWatch's ENERGY page for more related news on this topic.
——–

KarinaKnyspel / iStock / Getty Images
2018 saw a number of studies pointing to the outsized climate impact of meat consumption. Beef has long been singled out as particularly unsustainable: Cows both release the greenhouse gas methane into the atmosphere because of their digestive processes and require a lot of land area to raise. But for those unwilling to give up the taste and texture of a steak or burger, could lab-grown meat be a climate-friendly alternative? In a first-of-its-kind study, researchers from the Oxford Martin School set out to answer that question.
Three scissor-tailed flycatcher fledglings in a mesquite tree in Texas. Texas Eagle / CC BY-NC 2.0
By Gary Paul Nabhan
President Trump has declared a national emergency to fund a wall along our nation's southern border. The border wall issue has bitterly divided people across the U.S., becoming a vivid symbol of political deadlock.
PeopleImages / E+ / Getty Images
By Daniel Ross
Hurricane Florence, which battered the U.S. East Coast last September, left a trail of ruin and destruction estimated to cost between $17 billion and $22 billion. Some of the damage was all too visible—smashed homes and livelihoods. But other damage was less so, like the long-term environmental impacts in North Carolina from hog waste that spilled out over large open-air lagoons saturated in the rains.
Hog waste can contain potentially dangerous pathogens, pharmaceuticals and chemicals. According to the state's Department of Environmental Quality, as of early October nearly 100 such lagoons were damaged, breached or were very close to being so, the effluent from which can seep into waterways and drinking water supplies.
This picture taken on May 21, 2018 shows discarded climbing equipment and rubbish scattered around Camp 4 of Mount Everest. Decades of commercial mountaineering have turned Mount Everest into the world's highest rubbish dump as an increasing number of big-spending climbers pay little attention to the ugly footprint they leave behind. DOMA SHERPA / AFP / Getty Images
China has closed its Everest base camp to tourists because of a buildup of trash on the world's tallest mountain.