This website uses cookies to ensure you get the best experience while browsing it. By clicking 'Got It' you're accepting these terms.
Impacts of Plastic Pollution on Marine Life
Aug. 01, 2014 08:33AM EST

The revolution of plastic in the fishing industry has fed billions, but left a paucity of life in the oceans and more suffering than we understand. A lost nylon fishing net or tangled mass of hook and line does not stop fishing, the results are horrifying and solutions hard won.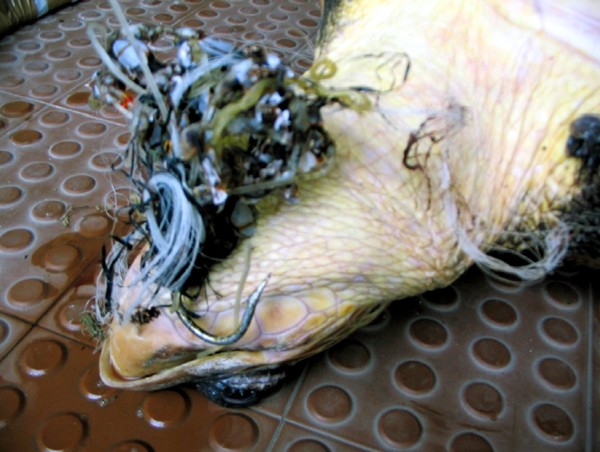 The big things living in the ocean usually sink when they die, which is why any estimate of ecological impacts, from propeller scars to entanglement in fishing nets, are nearly impossible. They always underestimate the numbers of true deaths and dismemberment. The ones that are still alive near the surface are the messengers. A recent report from scientists studying loggerhead sea turtles (Caretta caretta) near the Azores, report gruesome amputations from entanglement and intestinal lesions and bleeding from hooks making their way through their bodies.  
So what can fix this?
Lost fishing gear, called ghost nets, are more costly than you might think. Scientist studying the economics of subsidizing recovery of lost nets in Puget Sound reported that the fish and crabs that are caught and die in lost traps and nets was worth more than 12 times the cost of recovery programs. Incentivizing recovery works, but who will pay for it? In Chesapeake Bay researchers have had success with a program to equip crabbers with side-scanning sonar and a grapple hook to snare the hundreds of lost traps that litter the bay. The program works, thanks to taxpayer funds through the National Ocean and Atmospheric Administration.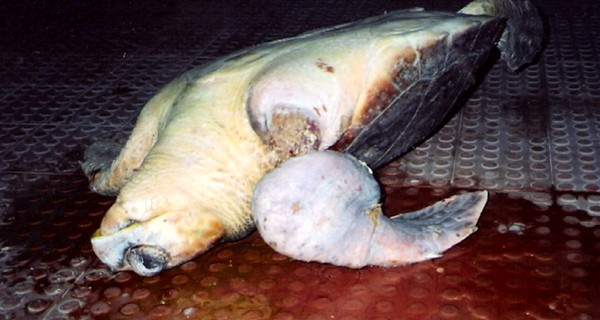 But in the ocean, where marine mammals and reptiles interact with thousands of tons of plastic waste in international waters, the economic incentives are not there. Voluntary programs for fishermen to bring garbage back from the sea, or report lost gear, are not impactful on a large scale. What is needed are economic incentives, which will largely need to be subsidized by the industries producing the gear in the first place, to create a reward for the return of derelict gear.
A model similar to the plastic bottle redemption program in California would work, where a price-per-pound incentive is responsible for a 72 percent recovery rate for soda bottles. A dollar a pound for lost gear would give fishermen, who are the most likely people to see derelict fishing gear, the incentive to bring it back to land. This kind of Extended Producer Responsibility (EPR) is working for other products in other industries across the globe. 
With EPR we will see successful removal of ghost nets and traps. Without EPR, we can expect to see more suffering and dwindling numbers of megafauna in our oceans.
You Might Also Like
5 Gyres Institute Finds Plastic in Every Ocean Sample From Bermuda to Iceland
How Does Your State Rank For Beach Water Quality?
Plus, learn if there's one that's best for your health.
Catherine Falls Commercial / Moment / Getty Images
An invasive Amynthas worm, also known as a crazy snake worm, Asian jumping worm and Alabama jumper Tom Potterfield / Flickr
By Jason Bittel
My wife and I built a house two years ago on a few acres of woodland outside of Pittsburgh. The backyard is full of maples, poplars, briars and common spicebush. Two-lined salamanders and grumpy-looking crayfish wade among the rocks in the small stream that runs down the edge of the property. Deer, raccoon and opossum tracks appear regularly in the snow and mud. Sometimes, my trail-cam even catches a pair of gray foxes as they slink through the night.
AleksandarNakic / Getty Images
By Kate Murphy
No matter the time of year, there's always a point in each season when my skin decides to cause me issues. While these skin issues can vary, I find the most common issues to be dryness, acne and redness.

David Woodfall / The Image Bank / Getty Images
By Sam Nickerson
The U.S. Environmental Protection Agency (EPA) in April 2018 proposed relaxing standards related to how it assesses the effects of exposure to low levels of toxic chemicals on public health.
Now, correspondence obtained by the LA Times revealed just how deeply involved industry lobbyists and a controversial, industry-funded toxicologist were in drafting the federal agency's proposal to scrap its current, protective approach to regulating toxin exposure.
Steve Irwin poses with a three foot long alligator at the San Francisco Zoo on June 26, 2002. Justin Sullivan / Getty Images
February 22 is the birthday of conservationist and beloved TV personality "Crocodile Hunter" Steve Irwin, who would have been 57 years old today.
Irwin's life was tragically cut short when the barb from a stingray went through his chest while he was filming in 2006, but his legacy of loving and protecting wildlife lives on, most recently in a Google Doodle today honoring his birthday.