This website uses cookies to ensure you get the best experience while browsing it. By clicking 'Got It' you're accepting these terms.

The revolution of plastic in the fishing industry has fed billions, but left a paucity of life in the oceans and more suffering than we understand. A lost nylon fishing net or tangled mass of hook and line does not stop fishing, the results are horrifying and solutions hard won.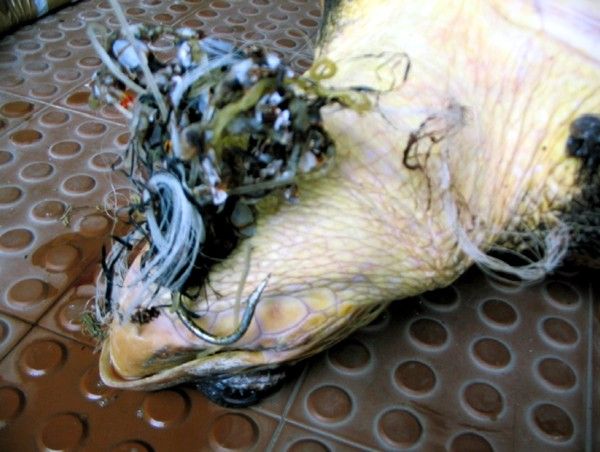 The big things living in the ocean usually sink when they die, which is why any estimate of ecological impacts, from propeller scars to entanglement in fishing nets, are nearly impossible. They always underestimate the numbers of true deaths and dismemberment. The ones that are still alive near the surface are the messengers. A recent report from scientists studying loggerhead sea turtles (Caretta caretta) near the Azores, report gruesome amputations from entanglement and intestinal lesions and bleeding from hooks making their way through their bodies.  
So what can fix this?
Lost fishing gear, called ghost nets, are more costly than you might think. Scientist studying the economics of subsidizing recovery of lost nets in Puget Sound reported that the fish and crabs that are caught and die in lost traps and nets was worth more than 12 times the cost of recovery programs. Incentivizing recovery works, but who will pay for it? In Chesapeake Bay researchers have had success with a program to equip crabbers with side-scanning sonar and a grapple hook to snare the hundreds of lost traps that litter the bay. The program works, thanks to taxpayer funds through the National Ocean and Atmospheric Administration.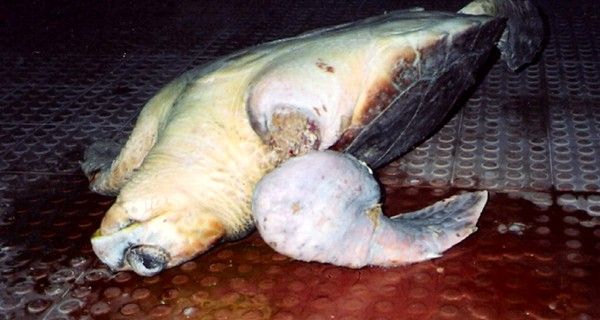 But in the ocean, where marine mammals and reptiles interact with thousands of tons of plastic waste in international waters, the economic incentives are not there. Voluntary programs for fishermen to bring garbage back from the sea, or report lost gear, are not impactful on a large scale. What is needed are economic incentives, which will largely need to be subsidized by the industries producing the gear in the first place, to create a reward for the return of derelict gear.
A model similar to the plastic bottle redemption program in California would work, where a price-per-pound incentive is responsible for a 72 percent recovery rate for soda bottles. A dollar a pound for lost gear would give fishermen, who are the most likely people to see derelict fishing gear, the incentive to bring it back to land. This kind of Extended Producer Responsibility (EPR) is working for other products in other industries across the globe. 
With EPR we will see successful removal of ghost nets and traps. Without EPR, we can expect to see more suffering and dwindling numbers of megafauna in our oceans.
You Might Also Like
5 Gyres Institute Finds Plastic in Every Ocean Sample From Bermuda to Iceland
How Does Your State Rank For Beach Water Quality?
EcoWatch Daily Newsletter
Did you know that more than a third of food is wasted or thrown away every year? And that only 25 percent of it would be enough to feed the 795 million undernourished people in the world? That's why today is Stop Food Waste Day, a chance to reflect on what you can do to waste less of the food you buy.
Stop Food Waste Day is an initiative of food service company Compass Group. It was launched first in the U.S, in 2017 and went global the year after, making today it's second worldwide celebration.
Flames and smoke are seen billowing from the roof at Notre-Dame Cathedral on April 15 in Paris, France. Veronique de Viguerie / Getty Images
When Paris's Notre Dame caught fire on April 15, the flames threatened more than eight centuries of culture and history. The fire evoked shock, horror and grief worldwide. While the cathedral burned, French President Emmanuel Macron expressed determination to rebuild what the French regard as a sacred site.
An artist's impression of NASA's InSight lander on Mars. NASA / JPL-CALTECH
Scientists have likely detected a so-called marsquake — an earthquake on Mars — for the first time, The National Aeronautics and Space Administration (NASA) announced on Tuesday.
Hero Images / Getty Images
Across the political aisle, a majority of American parents support teaching climate change in schools even though most teachers currently do not.
By Andrea Germanos
Lawyer and visionary thinker Polly Higgins, who campaigned for ecocide to be internationally recognized as a crime on par with genocide and war crimes, died Sunday at the age of 50.
She had been diagnosed with an aggressive cancer last month and given just weeks to live.
The Anopheles stephensi mosquito, which carries malaria. CDC / Jim Gathany
The world's first malaria vaccine was launched in Malawi on Tuesday, NPR reported. It's an important day in health history. Not only is it the first malaria vaccine, it's the first vaccine to target any human parasite.