This website uses cookies to ensure you get the best experience while browsing it. By clicking 'Got It' you're accepting these terms.


The best of EcoWatch, right in your inbox. Sign up for our email newsletter!

The revolution of plastic in the fishing industry has fed billions, but left a paucity of life in the oceans and more suffering than we understand. A lost nylon fishing net or tangled mass of hook and line does not stop fishing, the results are horrifying and solutions hard won.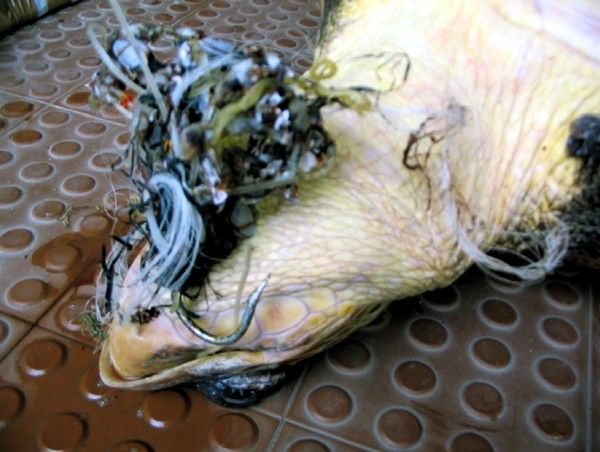 The big things living in the ocean usually sink when they die, which is why any estimate of ecological impacts, from propeller scars to entanglement in fishing nets, are nearly impossible. They always underestimate the numbers of true deaths and dismemberment. The ones that are still alive near the surface are the messengers. A recent report from scientists studying loggerhead sea turtles (Caretta caretta) near the Azores, report gruesome amputations from entanglement and intestinal lesions and bleeding from hooks making their way through their bodies.  
So what can fix this?
Lost fishing gear, called ghost nets, are more costly than you might think. Scientist studying the economics of subsidizing recovery of lost nets in Puget Sound reported that the fish and crabs that are caught and die in lost traps and nets was worth more than 12 times the cost of recovery programs. Incentivizing recovery works, but who will pay for it? In Chesapeake Bay researchers have had success with a program to equip crabbers with side-scanning sonar and a grapple hook to snare the hundreds of lost traps that litter the bay. The program works, thanks to taxpayer funds through the National Ocean and Atmospheric Administration.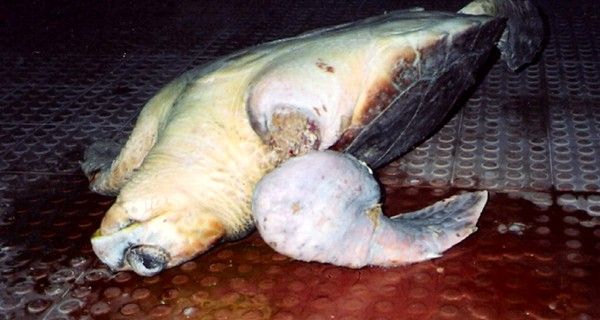 But in the ocean, where marine mammals and reptiles interact with thousands of tons of plastic waste in international waters, the economic incentives are not there. Voluntary programs for fishermen to bring garbage back from the sea, or report lost gear, are not impactful on a large scale. What is needed are economic incentives, which will largely need to be subsidized by the industries producing the gear in the first place, to create a reward for the return of derelict gear.
A model similar to the plastic bottle redemption program in California would work, where a price-per-pound incentive is responsible for a 72 percent recovery rate for soda bottles. A dollar a pound for lost gear would give fishermen, who are the most likely people to see derelict fishing gear, the incentive to bring it back to land. This kind of Extended Producer Responsibility (EPR) is working for other products in other industries across the globe. 
With EPR we will see successful removal of ghost nets and traps. Without EPR, we can expect to see more suffering and dwindling numbers of megafauna in our oceans.
You Might Also Like
5 Gyres Institute Finds Plastic in Every Ocean Sample From Bermuda to Iceland
How Does Your State Rank For Beach Water Quality?
EcoWatch Daily Newsletter
Denali national park. Domen Jakus / Flickr / CC BY-NC 2.0
By Stephanie Gagnon
Happy National Parks Week! This year, between April 20 and 28, escape to the beautiful national parks — either in person or in your imagination — and celebrate the amazing wildlife that calls these spaces home.
fstop123 / iStock / Getty Images Plus
At EcoWatch, our team knows that changing personal habits and taking actions that contribute to a better planet is an ongoing journey. Earth Day, happening on April 22, is a great reminder for all of us to learn more about the environmental costs of our behaviors like food waste or fast fashion.
To offer readers some inspiration this Earth Day, our team rounded up their top picks for films to watch. So, sit back and take in one of these documentary films this Earth Day. Maybe it will spark a small change you can make in your own life.
Sesame, three months old, at Seal Rescue Irleand.
Screenshot / Seal Rescue Ireland Instagram
On Friday, Seal Rescue Ireland released Sesame the seal into the ocean after five months of rehabilitation at the Seal Rescue Ireland facility. Watch the release on EcoWatch's Facebook.

Beer packs of Guinness will now come in a cardboard box. Diageo

By Jordan Davidson
Guinness is joining the fight against single use plastic. The brewer has seen enough hapless turtles and marine life suffering from the scourge of plastic.
Maskot / Getty Images
People of all ages are spending more of their day looking at their phones, computers and television screens, but parents now have another reason for limiting how much screen time their children get — it could lead to behavioral problems.
Rapper and comedian Lil Dicky released a 7-minute climate change awareness song and video today, ahead of Earth Day on Monday, with proceeds going to the Leonardo DiCaprio Foundation.
Pexels
By Eoin Higgins
The New York City Council passed the world's "largest single carbon reduction effort that any city, anywhere, has ever put forward" on Thursday afternoon, marking a major milestone in the fight against the climate crisis.