Exclusive Interview: Researchers Remove Plastic Fork Lodged in Sea Turtle's Nose
Plastic in our oceans—a problem much worse than we thought—is a major threat to marine life. Earlier this summer, turtle researcher Nathan Robinson helped remove a 4-inch plastic straw from a male olive ridley turtle's nose. Not only did the disturbing footage go viral, it probably convinced a lot of people to reconsider using these single-use, non-biodegradable items.
Still, the pervasiveness of plastic trash and its harm to aquatic life isn't going away anytime soon, with roughly 8 million tons of plastic dumped into the world's oceans every year. Case in point: On Dec. 6, only a few months later after saving the first turtle, Robinson was on a beach in Costa Rica and came across yet another olive ridley with plastic lodged deeply in its nostril—this time a 5-inch plastic fork. Thankfully, Robinson and biologists Brett Butler and Collin Hertz were able to relieve the turtle and she swam back safely to the ocean shortly after. Footage of the save has been posted onto YouTube, and this video is looking likely to go viral too.
"This fork, like the straw, was probably eaten by the turtle. When she tried to regurgitate it, the fork did not pass out of her mouth but went out her nose," Robinson, who works with the The Leatherback Trust (TLT), wrote on a Facebook post.
Robinson added that while he was able to remove the fork, countless other animals are suffering from plastic debris in our oceans. "Your efforts to reduce, reuse and recycle will make a difference," he wrote.
Dr. George Shillinger, the executive director of the Monterey, California-based conservation nonprofit where Robinson works spoke to EcoWatch about the incredible video as well as the increasing threat of plastic pollution on turtles and other ocean life.
Theoretically, Shillinger said, if Robinson and the team hadn't been there to relieve the turtle, the plastic fork would eventually cause an infection, impact its breathing or swallowing, or the turtle's body would probably form scar-tissue around the fork.
"It's just painful in general to have that thing in there," he said. "The plastic is certainly not going to go away and until it breaks out, the turtle would probably be stuck with it until it died."
TLT researchers are encountering more and more turtles that have been impacted by plastic recently, and one of the reasons is down to increasing rates of pollution, Shillinger said.
"In many parts of Latin America it's a big problem because sewer systems often aren't as upgraded as you'd find here in the states," he said. "Plastic waste works its way from backyards, waste dumps and car windows into watersheds and eventually everything flows downhill to the sea."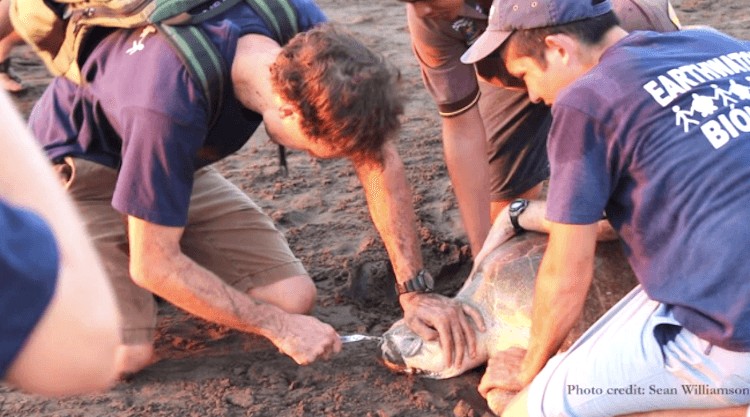 While it's actually uncommon to see straws or forks stuck in turtles' noses, plastic's devastating impact is mostly unseen. Plastic is often ingested by turtles that mistake it for food. It fills their stomach and causes chronic health problems, disease, infection and impedes turtles' normal behaviors and physiology, Shillinger said.
"We've known for a long time that marine organisms consume plastics. Turtles in particular are vulnerable," Shillinger said. Some turtle species, such as Leatherbacks, are particularly prone to consuming things like plastic bags because they mistake it for jellyfish.
Plastic waste, of course, is a problem on a global scale. "It's just the tip of the iceberg," Shillinger said. "This was an isolated incident involving a single turtle in a small area off a nesting beach in Costa Rica. Just imagine globally what's happening."
Besides turtles, plastic litter harms the entire ocean chain, from whales, to fish and even plankton as larger pieces of plastic break down into microscopic pieces.
"This leads to long-term systematic population health problems," Shillinger said.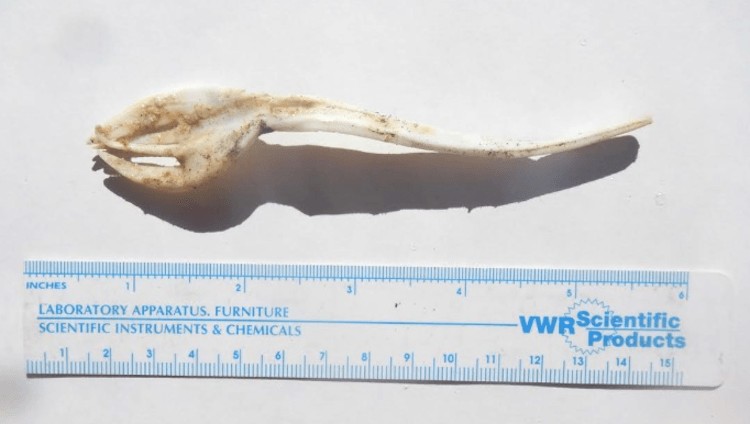 Earlier this year, researchers from the Commonwealth Scientific and Industrial Research Organization in Australia and Imperial College London released a report with the startling finding that 90 percent of seabirds today have eaten plastic, and if humans don't stop dumping plastic into the ocean, it's predicted that 99 percent of seabirds will swallow plastic by 2050.
When asked if this trend is also happening with turtles, Shillinger replied without hesitation: "Totally. Turtles are occupying the same habitats ... Without a doubt these animals are consuming plastics in areas where they'd otherwise go to consume prey."
"It's something we have to monitor across populations and across the life history of different species," he added.
That said, if you ever come across a turtle impacted by plastic, Shillinger advised that you should quickly find the nearest rehab center or veterinarian to help. But if you happen you be on a beach in the middle of nowhere with no expert nearby, you should remove the object yourself in order to save the animal.
"Act with alacrity and without hesitation," he said.
As for what can be done about reducing our own plastic footprint, Shillinger said that it all starts with consumer awareness. "We'd love for people to do what they can, to think about what they wear, what they eat, and think about their environmental impact and everyday choices," he said.
Robinson wrote on a TLT blog post: "As long as we keep using single-use plastic, these instances are going to become increasingly more common. We are all going to have to make an effort to reduce plastic pollution if we don't want to see more events like this."
To learn more about TLT's work, check out their website at leatherback.org.
YOU MIGHT ALSO LIKE
Hiker Snaps Terrifying Selfie From 'Edge of the World'
4 Nigerian Famers Cleared to Sue Shell Over Oil Spills in Landmark Court Ruling
Starbucks, Wake Up and Smell the Coffee: Palm Oil Is Destroying Our Planet
Europe's Dirty Little Secret: Moroccan Slaves and a 'Sea of Plastic'
Laurie Woolever
By James O'Hare
There are 20 million people in the world facing famine in South Sudan, Somalia, Nigeria and Yemen. In developed nations, too, people go hungry. Venezuela, for instance, is enduring food insecurity on a national level as a result of economic crisis and political corruption. In the U.S., the land of supposed excess, 12.7 percent of households were food insecure in 2015, meaning they didn't know where their next meal would come from.
Keep reading...
Show less
Melwater, Greenland ice sheet. Diane Tuft
Artists are taking the climate crisis into frame and the results are emotional, beautiful and stirring.
So you've seen the best climate change cartoons and shared them with your friends. You've showed your family the infographics on climate change and health, infographics on how the grid works and infographics about clean, renewable energy. You've even forwarded these official National Oceanic and Atmospheric Administration graphs that explain the 10 clear indicators of climate change to your colleagues at the office.
Keep reading...
Show less
May. 27, 2017 01:11PM EST
As the Trump administration moves full speed ahead on boosting the oil and fossil fuel industry, opposition to increased pipeline construction is cropping up in different communities around the country.
Keep reading...
Show less
May. 27, 2017 01:02PM EST
Minke whale stranding near Havergate Island in Suffolk. MCGA.
By Simon Evans
Last Saturday, two dead whales washed up on the coast of Suffolk, in eastern England, and a third was spotted floating at sea.
What happened next illustrates how news can spread and evolve into misinformation, when reported by journalists rushing to publish before confirming basic facts or sourcing their own quotes.
Keep reading...
Show less
May. 27, 2017 01:22PM EST
By Monica Amarelo and Paul Pestano
Sun safety is a crucial part of any outdoor activity for kids, and sunscreen can help protect children's skin from harmful ultraviolet rays. Kids often get sunburned when they're outside unprotected for longer than expected. Parents need to plan ahead and keep sun protection handy in their cars or bags.
Keep reading...
Show less
May. 27, 2017 01:02PM EST
By Joe McCarthy
A lot of people take part in community clean-up efforts—spending a Saturday morning picking up litter in a park, mowing an overgrown field or painting a fence.
Keep reading...
Show less
May. 26, 2017 03:22PM EST
Rink Glacier in western Greenland, with a meltwater lake visible center. NASA/OIB
Scientists have had their eyes on Greenland as its iconic glaciers have begun disappearing due to a warming climate. But, what they didn't expect to see was a whole new type of melting.
Keep reading...
Show less
May. 26, 2017 03:40PM EST
A coalition of conservation groups and others announced Thursday that a historic number of comments and petitions of support have been submitted to the U.S. Department of the Interior in support of Bears Ears National Monument. Despite the entirely inadequate 15-day comment period ending on May 26, more than 685,000 comments in support of Bears Ears National Monument have been collected.
Keep reading...
Show less


Get EcoWatch in your inbox