This website uses cookies to ensure you get the best experience while browsing it. By clicking 'Got It' you're accepting these terms.
Exclusive Interview: Researchers Remove Plastic Fork Lodged in Sea Turtle's Nose
Dec. 19, 2015 10:44AM EST
Plastic in our oceans—a problem much worse than we thought—is a major threat to marine life. Earlier this summer, turtle researcher Nathan Robinson helped remove a 4-inch plastic straw from a male olive ridley turtle's nose. Not only did the disturbing footage go viral, it probably convinced a lot of people to reconsider using these single-use, non-biodegradable items.
Still, the pervasiveness of plastic trash and its harm to aquatic life isn't going away anytime soon, with roughly 8 million tons of plastic dumped into the world's oceans every year. Case in point: On Dec. 6, only a few months later after saving the first turtle, Robinson was on a beach in Costa Rica and came across yet another olive ridley with plastic lodged deeply in its nostril—this time a 5-inch plastic fork. Thankfully, Robinson and biologists Brett Butler and Collin Hertz were able to relieve the turtle and she swam back safely to the ocean shortly after. Footage of the save has been posted onto YouTube, and this video is looking likely to go viral too.
"This fork, like the straw, was probably eaten by the turtle. When she tried to regurgitate it, the fork did not pass out of her mouth but went out her nose," Robinson, who works with the The Leatherback Trust (TLT), wrote on a Facebook post.
Robinson added that while he was able to remove the fork, countless other animals are suffering from plastic debris in our oceans. "Your efforts to reduce, reuse and recycle will make a difference," he wrote.
Dr. George Shillinger, the executive director of the Monterey, California-based conservation nonprofit where Robinson works spoke to EcoWatch about the incredible video as well as the increasing threat of plastic pollution on turtles and other ocean life.
Theoretically, Shillinger said, if Robinson and the team hadn't been there to relieve the turtle, the plastic fork would eventually cause an infection, impact its breathing or swallowing, or the turtle's body would probably form scar-tissue around the fork.
"It's just painful in general to have that thing in there," he said. "The plastic is certainly not going to go away and until it breaks out, the turtle would probably be stuck with it until it died."
TLT researchers are encountering more and more turtles that have been impacted by plastic recently, and one of the reasons is down to increasing rates of pollution, Shillinger said.
"In many parts of Latin America it's a big problem because sewer systems often aren't as upgraded as you'd find here in the states," he said. "Plastic waste works its way from backyards, waste dumps and car windows into watersheds and eventually everything flows downhill to the sea."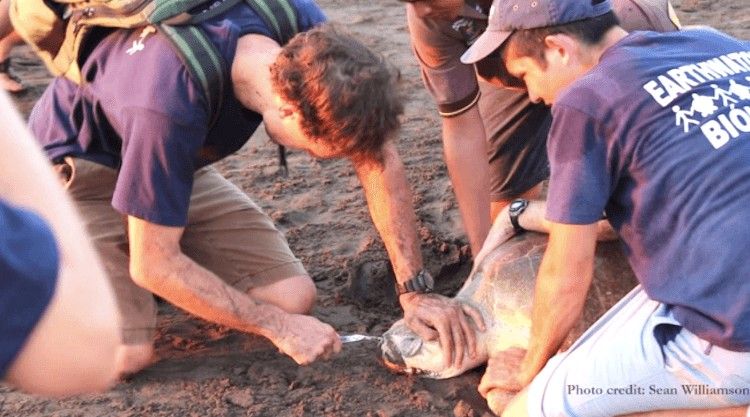 While it's actually uncommon to see straws or forks stuck in turtles' noses, plastic's devastating impact is mostly unseen. Plastic is often ingested by turtles that mistake it for food. It fills their stomach and causes chronic health problems, disease, infection and impedes turtles' normal behaviors and physiology, Shillinger said.
"We've known for a long time that marine organisms consume plastics. Turtles in particular are vulnerable," Shillinger said. Some turtle species, such as Leatherbacks, are particularly prone to consuming things like plastic bags because they mistake it for jellyfish.
Plastic waste, of course, is a problem on a global scale. "It's just the tip of the iceberg," Shillinger said. "This was an isolated incident involving a single turtle in a small area off a nesting beach in Costa Rica. Just imagine globally what's happening."
Besides turtles, plastic litter harms the entire ocean chain, from whales, to fish and even plankton as larger pieces of plastic break down into microscopic pieces.
"This leads to long-term systematic population health problems," Shillinger said.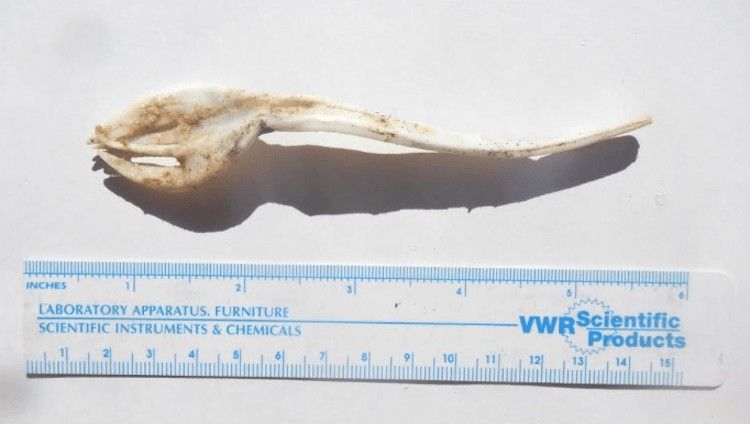 Earlier this year, researchers from the Commonwealth Scientific and Industrial Research Organization in Australia and Imperial College London released a report with the startling finding that 90 percent of seabirds today have eaten plastic, and if humans don't stop dumping plastic into the ocean, it's predicted that 99 percent of seabirds will swallow plastic by 2050.
When asked if this trend is also happening with turtles, Shillinger replied without hesitation: "Totally. Turtles are occupying the same habitats ... Without a doubt these animals are consuming plastics in areas where they'd otherwise go to consume prey."
"It's something we have to monitor across populations and across the life history of different species," he added.
That said, if you ever come across a turtle impacted by plastic, Shillinger advised that you should quickly find the nearest rehab center or veterinarian to help. But if you happen you be on a beach in the middle of nowhere with no expert nearby, you should remove the object yourself in order to save the animal.
"Act with alacrity and without hesitation," he said.
As for what can be done about reducing our own plastic footprint, Shillinger said that it all starts with consumer awareness. "We'd love for people to do what they can, to think about what they wear, what they eat, and think about their environmental impact and everyday choices," he said.
Robinson wrote on a TLT blog post: "As long as we keep using single-use plastic, these instances are going to become increasingly more common. We are all going to have to make an effort to reduce plastic pollution if we don't want to see more events like this."
To learn more about TLT's work, check out their website at leatherback.org.
YOU MIGHT ALSO LIKE
Hiker Snaps Terrifying Selfie From 'Edge of the World'
4 Nigerian Famers Cleared to Sue Shell Over Oil Spills in Landmark Court Ruling
Starbucks, Wake Up and Smell the Coffee: Palm Oil Is Destroying Our Planet
Europe's Dirty Little Secret: Moroccan Slaves and a 'Sea of Plastic'
EcoWatch Daily Newsletter
Tuna auctions are a tourist spectacle in Tokyo. Outside the city's most famous fish market, long queues of visitors hoping for a glimpse of the action begin to form at 5 a.m. The attraction is so popular that last October the Tsukiji fish market, in operation since 1935, moved out from the city center to the district of Toyosu to cope with the crowds.

gmnicholas / E+ / Getty Images
Kristan Porter grew up in a fishing family in the fishing community of Cutler, Maine, where he says all roads lead to one career path: fishing. (Porter's father was the family's lone exception. He suffered from terrible seasickness, and so became a carpenter.) The 49-year-old, who has been working on boats since he was a kid and fishing on his own since 1991, says that the recent warming of Maine's cool coastal waters has yielded unprecedented lobster landings.
Aerial view of lava flows from the eruption of volcano Kilauea on Hawaii, May 2018. Frizi / iStock / Getty Images
Hawaii's Kilauea volcano could be gearing up for an eruption after a pond of water was discovered inside its summit crater for the first time in recorded history, according to the AP.
The Eqip Sermia Glacier is seen behind a moraine left exposed by the glacier's retreat during unseasonably warm weather on Aug. 1 at Eqip Sermia, Greenland. Sean Gallup / Getty Images
hadynyah / E+ / Getty Images
By Johnny Wood
The Ganges is a lifeline for the people of India, spiritually and economically. On its journey from the Himalayas to the Bay of Bengal, it supports fishermen, farmers and an abundance of wildlife.
The river and its tributaries touch the lives of roughly 500 million people. But having flowed for millennia, today it is reaching its capacity for human and industrial waste, while simultaneously being drained for agriculture and municipal use.
Here are some of the challenges the river faces.
By Jake Johnson
As a growing number of states move to pass laws that would criminalize pipeline protests and hit demonstrators with years in prison, an audio recording obtained by The Intercept showed a representative of a powerful oil and gas lobbying group bragging about the industry's success in crafting anti-protest legislation behind closed doors.
Reposted with permission from our media associate Common Dreams.

DESIREE MARTIN / AFP / Getty Images
Wildfires raging on Gran Canaria, the second most populous of Spain's Canary Islands, have forced around 9,000 people to evacuate.