EarthTouch: Green Shopping Made Easy
Recognition that we human beings are all on a spaceship rose to the consciousness of greater humanity over 45 years ago, by two events in 1969. In March that year, R. Buckminster Fuller published his book Operating Manual for Spaceship Earth, which was noticed by only a few people then. Dr. Bruce Hector was a student of Dr. R. Buckminster (Bucky) Fuller more than 40 years ago. By July of that year, most of the world saw the Earth as a small blue globe against the black background of space with the moon's surface in the foreground. As Fuller noted then: "We're Still on Spaceship Earth and Still Without a Dashboard." The image of the Earth starkly contrasted with the heretofore held belief of humans as isolated tribes, communities, states, nations leading us to realize we are all alone together in space have no where else to go.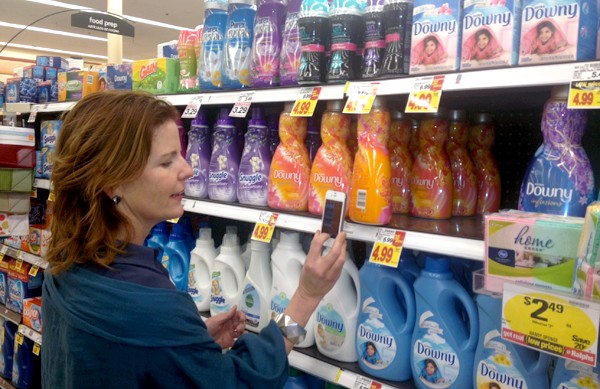 This was part of the stimulus to make us recognize the need to care for our spaceship leading to the Clean Air and Water Acts a few years later under Republican President Nixon. Recently Dr. Hector was rereading Dr. Fuller's small book of 120 pages and discovered that there are two dominant themes from it that directly apply to the world today. In Operating Manual Fuller notes that humans were provided a wonderful life support regenerative system unknown anywhere else in universe. However, the Creator provided no operating manual and left it to humans to learn the principles operative in the universe and use them to fulfill our material needs.
Fuller also noted that the human "nest" was equipped with millions of years of fossil fuel reserves to power our success until we are self-generating but that we have used a large portion of those fossil fuel reserves in a miniscule 150 years. These were the fuel reserves to serve ALL HUMANKIND for ALL TIME, not just a few generations. The book urged humans to mature on this planet, transfer to renewable energy sources identifying many of the numerous opportunities that have since been proven capable of meeting man's needs. Hence my (Woodrow Clark) book The Green Industrial Revolution documents the current concerns today and what the solutions are. Fuller was aware of the pollution created by fossil fuels though he is also famous for saying, "Pollution is nothing but the resources we are not harvesting," indicating this too is simply a design failure on human being's part.
A second important point "Bucky" Fuller makes is that while humankind has been extremely successful as a species growing from about 1.5 billion in 1900 to more than 7 billion now, and expected to reach 9-10 billion by mid-century, we still have not evolved an accounting system for monitoring the impact of our activities. He bemoaned our failure to measure scientifically or in many cases even recognize the impact of our industrial activities because these events often occur outside the narrow range of the electromagnetic spectrum our senses can perceive. Most of the activity of the universe is unseen by humans but well known to be questionable by corporations and governments. Ninety-seven percent of companies fail to provide data on key sustainability indicators
Earth Accounting is the effort of a dedicated but as yet small group to create this real world activity accounting system and present it to people in a form useful to consumers who are responsible for 70 percent of Gross Domestic Product (GDP). This presentation will allow consumers to use their purchasing power to promote sustainable industrial development. When refined it can also allow each consumer to monitor his "footprint," empowering him to reduce his environmental impact. Who knows, perhaps one day humanity may even recognize that it is more important to tax a person's planetary impact than his monetary income? Getting accurate and validated information on products, goods and services will help consumer awareness and then consumption. The result will be a dramatic result and change lowering greenhouse gases, carbon emissions and pollution.
For example, recently, in the December 2104 issue of Nutrition Action Letter, Executive Director Michael F. Jackson wrote a memo article titled "Good Luck" which noted five issues the FDA has authority to resolve but is unlikely to do so quickly: 1) setting regulations for food borne illness, 2) reducing antibiotic use in livestock; 3) banning partially hydrogenated oil; 4) setting standards for sodium intake; and 5) compelling food chains to note the calories of their menu items.
After each Jackson notes the lack of progress concluding that if consumers feel they will be protected—"Good Luck." The public overwhelmingly wants this information, but government appears to be impotent to compel industry to provide it to us. Or "influenced" by companies to "not care." With this history about something as important as the food we eat, one can imagine how long it will take for government to show appropriate concern about the impact of industrial processes on our Spaceship Earth!
Everyone should recognize these sad facts, which is another reason for the creation of the consumer-empowering app, EarthTouch being developed by Earth Accounting. We consumers must create the tools we need and history indicates neither industry nor government is likely to do so. We welcome your participation in this truly market driven approach to sustainability. For more information click here.
Greater Sage Grouse. Bureau of Land Management
The Center for Biological Diversity and the Sierra Club lodged formal comments with the federal government Monday opposing a massive gas fracking project that spans 220 square miles of public land in Wyoming south of Yellowstone National Park.
The Normally Pressured Lance gas field would destroy wildlife habitat and worsen ozone pollution, a major cause of childhood asthma, in areas already suffering from extreme air pollution.
Keep reading...
Show less
College of the Atlantic / Flickr
Sierra magazine, the national magazine of the Sierra Club, released on Tuesday its eleventh annual "Cool Schools" ranking of North America's greenest colleges and universities.
Sierra received complete surveys from a record-breaking 227 schools—in 36 states, the District of Columbia, and for the first time ever, Canada.
Keep reading...
Show less
Oil in the Niger Delta. Amnesty International Canada
By Andy Rowell
The decades-long struggle for social and environmental justice in the Niger Delta continues, largely unseen by the wider world.
On Aug. 11, hundreds of people from the Niger Delta stormed the Belema flow station gas plant owned by Shell in the Rivers State region of the Delta. The plant transports crude oil to the Bonny Light export terminal, from where it is shipped overseas.
Keep reading...
Show less
Rainforest Action Network / Flickr

The National Academy of Sciences, Engineering and Medicine said in a statement the Interior Department has directed it to cease its study on the potential health risks for people living near surface coal mines in Central Appalachia.
The Interior Department, which committed more than $1 million to the study last year, has begun an agency-wide review of grants over $100,000 because of the "Department's changing budget situation."
Keep reading...
Show less
California Energy Commission
California and North Carolina's electricity grids faced no disruptions during Monday's solar eclipse, which many saw as a test for the future when solar power will command a greater share of the energy mix.
"It bodes well for renewable energy on the grid during an event like this," said Eric Schmitt, a vice-president at California Independent System Operator that delivers most of the state's electricity.
Keep reading...
Show less
Bob Wick / Bureau of Land Management
Keep reading...
Show less
www.youtube.com
Are you ready to watch the Great American Eclipse of 2017? Will you be in the path of totality? Do you have your safety glasses ready?
Well, however you decide to watch the solar eclipse today, NASA TV will be showing the "Eclipse Across America" with live video of the celestial event. The feed is already live with lots of handy information about today's unprecedented eclipse. So be sure to watch above.
Enjoy!
Energy
Aug. 21, 2017 08:43AM EST
www.youtube.com
"One out of three Americans lives within 50 miles of high-level nuclear waste, some of which, like Plutonium, is lethally dangerous and will be around for an incredible longtime," John Oliver explained last night on Last Week Tonight.
According to the Nuclear Energy Institute, there is more than 71,000 tons of nuclear waste stranded at 104 reactors. "It was a problem we should have solved in the 1980s," Oliver said, "much like a Rubik's Cube."
Despite years of using nuclear energy, the country still doesn't have a permanent facility for its storage, the comedian said. Oliver proposed what the U.S. really needs is some kind of "nuclear toilet."
Watch above.