David Suzuki: We Have to Stop Killing Our Oceans With Plastic

Eight million tonnes. That's how much plastic we're tossing into the oceans every year! University of Georgia environmental engineer Jenna Jambeck says it's enough to line up five grocery bags of trash on every foot of coastline in the world.
A study published by Jambeck and colleagues in the journal Science on Feb. 12 examined how 192 coastal countries disposed of plastic waste in 2010. The report, Plastic waste inputs from land into the ocean, estimates that of 275 million tonnes of plastic generated, about eight million (based on a midpoint estimate of 4.8 million to 12.7 million tonnes) ends up in the seas—blown from garbage dumps into rivers and estuaries, discarded on beaches or along coastlines and carried to the oceans.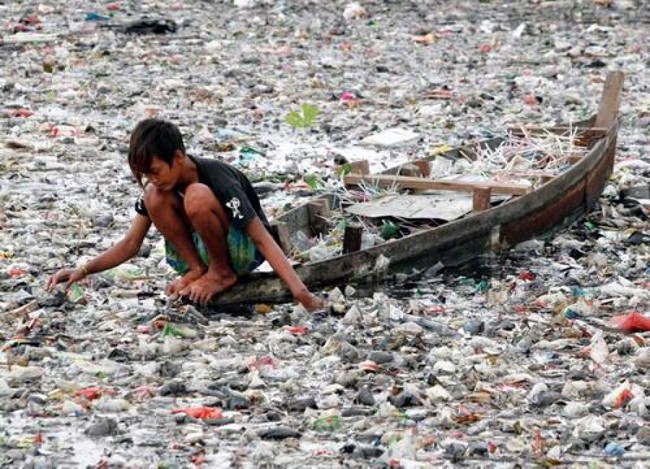 Plastic is everywhere in our seas. It accumulates on the sea floor and in sediments, washes up on coastlines and is taken up by fish and other sea creatures.
China tops the list of 20 countries responsible for 83 percent of "mismanaged plastic" in the oceans, sending between 1.32 and 3.53 million tonnes into the seas. The U.S., which has better waste-management systems, is number 20 on the list, responsible for 0.04 to 0.11 tonnes. Some countries in the top 20 don't even have formal waste-management systems. The fear is that, as human populations grow, the amount of plastic going into the oceans will increase dramatically if countries don't improve waste-management systems and practices—and reduce the amount of plastic they produce and use.
Scientists don't know where most plastic ends up or what overall effect it's having on marine life and food supplies. They do know that massive islands of plastic and other waste—some as large as Saskatchewan—swirl in five gyres in the north and south Pacific, north and south Atlantic and Indian oceans. But that's only a small amount of the total.
Plastic is everywhere in our seas. It accumulates on the sea floor and in sediments, washes up on coastlines and is taken up by fish and other sea creatures. It affects birds, fish, mammals and other marine life. It eventually breaks down into smaller bits, which can look like fish eggs and get eaten by marine animals, but it never biodegrades. Those particles, or microplastics, just keep building up. They also absorb and concentrate toxic chemicals, poisoning the animals that consume them. Studies show that 44 percent of all seabird species have plastic in and around their bodies, and fish, birds, turtles and whales often become fatally entangled in plastic waste.
Even the search for Malaysia Airlines Flight 370, which went down over the South China Sea in March 2014, was confounded when investigators looking for crash evidence kept finding plastic debris.
Humans depend on healthy oceans for food, water, air, recreation and transportation. Oceans contain more than 97 percent of the planet's water and produce more than half the oxygen we breathe. They also absorb carbon—important to reducing global warming. Half the world's people live in coastal zones, and ocean-based businesses contribute more than $500 billion a year to the global economy.
What we do to the oceans and the life therein, we do to ourselves. So what can we do to keep them—and us—healthy?
The report's authors say reducing "mismanaged" plastic waste, regulating the amount of plastics that enter the waste stream and improving waste-disposal methods in the top 20 offending countries are all essential. But, Jambeck notes, "It's not just about improving the infrastructure in other countries. There are things we can do in our daily lives to reduce the amount of waste plastic we all produce."
Canada's relatively good waste-disposal and recycling systems keep us off the 20 worst offenders list—but we can still do better. Reducing the amount of plastic we use is the first step. For consumers, that means avoiding overpackaged goods and unnecessary plastic items, such as bottled water, single-serve K-cup coffee pods and disposable products. We must also get better at reusing and recycling. According to a report by the U.S. non-profit As You Sow, plastic is the fastest-growing form of packaging, and only about 14 percent gets recycled.
Oceans and the life they support face numerous threats, from climate change to overfishing. Reducing the amount of plastic we dump into them is a challenge we can meet. Let's get on it.
YOU MIGHT ALSO LIKE
8 Million Metric Tons of Plastic Dumped Into World's Oceans Each Year
Undersea Superheroes Save Imperiled Marine Life
Disturbing footage of a snake in Goa, India vomiting an empty soft drink bottle highlights the world's mounting plastic pollution crisis.
Keep reading...
Show less
By Melissa Hellmann
When her eldest son was in elementary school in the Oakland Unified School District, Ruth Woodruff became alarmed by the meals he was being served at school. A lot of it was frozen, processed foods, packed with preservatives. At home, she was feeding her children locally sourced, organic foods.
Keep reading...
Show less
May. 28, 2017 01:33PM EST
Laurie Woolever
By James O'Hare
There are 20 million people in the world facing famine in South Sudan, Somalia, Nigeria and Yemen. In developed nations, too, people go hungry. Venezuela, for instance, is enduring food insecurity on a national level as a result of economic crisis and political corruption. In the U.S., the land of supposed excess, 12.7 percent of households were food insecure in 2015, meaning they didn't know where their next meal would come from.
Keep reading...
Show less
May. 28, 2017 01:22PM EST
Melwater, Greenland ice sheet. Diane Tuft
Artists are taking the climate crisis into frame and the results are emotional, beautiful and stirring.
So you've seen the best climate change cartoons and shared them with your friends. You've showed your family the infographics on climate change and health, infographics on how the grid works and infographics about clean, renewable energy. You've even forwarded these official National Oceanic and Atmospheric Administration graphs that explain the 10 clear indicators of climate change to your colleagues at the office.
Keep reading...
Show less
May. 27, 2017 01:11PM EST
As the Trump administration moves full speed ahead on boosting the oil and fossil fuel industry, opposition to increased pipeline construction is cropping up in different communities around the country.
Keep reading...
Show less
May. 27, 2017 01:02PM EST
Minke whale stranding near Havergate Island in Suffolk. MCGA.
By Simon Evans
Last Saturday, two dead whales washed up on the coast of Suffolk, in eastern England, and a third was spotted floating at sea.
What happened next illustrates how news can spread and evolve into misinformation, when reported by journalists rushing to publish before confirming basic facts or sourcing their own quotes.
Keep reading...
Show less
May. 27, 2017 01:22PM EST
By Monica Amarelo and Paul Pestano
Sun safety is a crucial part of any outdoor activity for kids, and sunscreen can help protect children's skin from harmful ultraviolet rays. Kids often get sunburned when they're outside unprotected for longer than expected. Parents need to plan ahead and keep sun protection handy in their cars or bags.
Keep reading...
Show less
May. 27, 2017 01:02PM EST
By Joe McCarthy
A lot of people take part in community clean-up efforts—spending a Saturday morning picking up litter in a park, mowing an overgrown field or painting a fence.
Keep reading...
Show less