This website uses cookies to ensure you get the best experience while browsing it. By clicking 'Got It' you're accepting these terms.
David Suzuki: We Have to Stop Killing Our Oceans With Plastic
Feb. 25, 2015 08:27AM EST

Eight million tonnes. That's how much plastic we're tossing into the oceans every year! University of Georgia environmental engineer Jenna Jambeck says it's enough to line up five grocery bags of trash on every foot of coastline in the world.
A study published by Jambeck and colleagues in the journal Science on Feb. 12 examined how 192 coastal countries disposed of plastic waste in 2010. The report, Plastic waste inputs from land into the ocean, estimates that of 275 million tonnes of plastic generated, about eight million (based on a midpoint estimate of 4.8 million to 12.7 million tonnes) ends up in the seas—blown from garbage dumps into rivers and estuaries, discarded on beaches or along coastlines and carried to the oceans.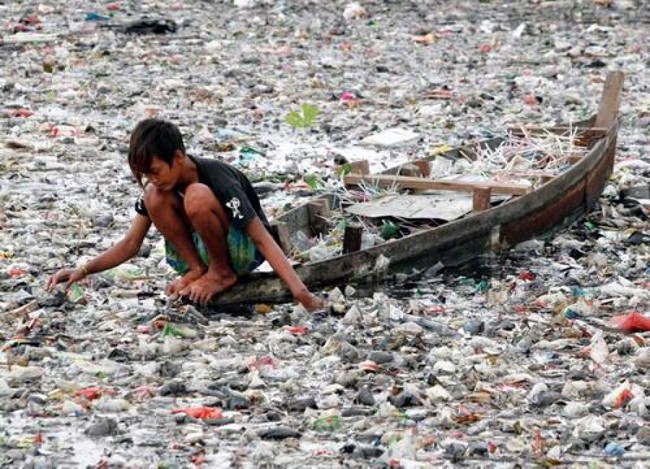 Plastic is everywhere in our seas. It accumulates on the sea floor and in sediments, washes up on coastlines and is taken up by fish and other sea creatures.
China tops the list of 20 countries responsible for 83 percent of "mismanaged plastic" in the oceans, sending between 1.32 and 3.53 million tonnes into the seas. The U.S., which has better waste-management systems, is number 20 on the list, responsible for 0.04 to 0.11 tonnes. Some countries in the top 20 don't even have formal waste-management systems. The fear is that, as human populations grow, the amount of plastic going into the oceans will increase dramatically if countries don't improve waste-management systems and practices—and reduce the amount of plastic they produce and use.
Scientists don't know where most plastic ends up or what overall effect it's having on marine life and food supplies. They do know that massive islands of plastic and other waste—some as large as Saskatchewan—swirl in five gyres in the north and south Pacific, north and south Atlantic and Indian oceans. But that's only a small amount of the total.
Plastic is everywhere in our seas. It accumulates on the sea floor and in sediments, washes up on coastlines and is taken up by fish and other sea creatures. It affects birds, fish, mammals and other marine life. It eventually breaks down into smaller bits, which can look like fish eggs and get eaten by marine animals, but it never biodegrades. Those particles, or microplastics, just keep building up. They also absorb and concentrate toxic chemicals, poisoning the animals that consume them. Studies show that 44 percent of all seabird species have plastic in and around their bodies, and fish, birds, turtles and whales often become fatally entangled in plastic waste.
Even the search for Malaysia Airlines Flight 370, which went down over the South China Sea in March 2014, was confounded when investigators looking for crash evidence kept finding plastic debris.
Humans depend on healthy oceans for food, water, air, recreation and transportation. Oceans contain more than 97 percent of the planet's water and produce more than half the oxygen we breathe. They also absorb carbon—important to reducing global warming. Half the world's people live in coastal zones, and ocean-based businesses contribute more than $500 billion a year to the global economy.
What we do to the oceans and the life therein, we do to ourselves. So what can we do to keep them—and us—healthy?
The report's authors say reducing "mismanaged" plastic waste, regulating the amount of plastics that enter the waste stream and improving waste-disposal methods in the top 20 offending countries are all essential. But, Jambeck notes, "It's not just about improving the infrastructure in other countries. There are things we can do in our daily lives to reduce the amount of waste plastic we all produce."
Canada's relatively good waste-disposal and recycling systems keep us off the 20 worst offenders list—but we can still do better. Reducing the amount of plastic we use is the first step. For consumers, that means avoiding overpackaged goods and unnecessary plastic items, such as bottled water, single-serve K-cup coffee pods and disposable products. We must also get better at reusing and recycling. According to a report by the U.S. non-profit As You Sow, plastic is the fastest-growing form of packaging, and only about 14 percent gets recycled.
Oceans and the life they support face numerous threats, from climate change to overfishing. Reducing the amount of plastic we dump into them is a challenge we can meet. Let's get on it.
YOU MIGHT ALSO LIKE
8 Million Metric Tons of Plastic Dumped Into World's Oceans Each Year
Undersea Superheroes Save Imperiled Marine Life
EcoWatch Daily Newsletter
Bernie Sanders holds his first presidential campaign rally at Brooklyn College on March 02 in Brooklyn, New York. Kena Betancur / VIEWpress / Corbis. Getty Images
Bernie Sanders has become the first contender in the crowded 2020 Democratic presidential primary field to pledge to offset all of the greenhouse gas emissions released by campaign travel, The Huffington Post reported Thursday.
An aerial view of the flooding at the Camp Ashland, Nebraska on March 17. Nebraska National Guard / Staff Sgt. Herschel Talley / Flickr / CC BY 2.0
The record flooding in the Midwest that has now been blamed for four deaths could also have lasting consequences for the region's many farmers.
In tea, food, or just on your windowsill, embrace the fragrance and fantastic healing potential of herbs.
By Ana Santos Rutschman
The world of food and drug regulation was rocked earlier this month by the news of a change in leadership at the Food and Drug Administration. Commissioner Scott Gottlieb resigned and will step down in early April. His temporary replacement is Dr. Ned Sharpless, director of the National Cancer Institute.
MartinPrescott / iStock / Getty Images
On Wednesday the U.S. Environmental Protection Agency (EPA) announced the first 20 chemicals it plans to prioritize as "high priority" for assessment under the Toxic Substances Control Act. Given the EPA's record of malfeasance on chemicals policy over the past two years, it is clear that these are chemicals that EPA is prioritizing to ensure that they are not properly evaluated or regulated.
Strawberries top the Environmental Working Group's "Dirty Dozen" list of U.S. produce most contaminated with pesticides. DANIEL LEAL-OLIVAS / AFP / Getty Images
Which conventionally-grown fruits and vegetables in the U.S. are most contaminated with pesticides? That's the question that the Environmental Working Group answers every year with its "Dirty Dozen" list of produce with the highest concentration of pesticides after being washed or peeled.
A drilling rig in a Wyoming natural gas field. William Campbell / Corbis via Getty Images
A U.S. federal judge temporarily blocked oil and gas drilling on 300,000 acres of federal leases in Wyoming Tuesday, arguing that the Bureau of Land Management (BLM) "did not sufficiently consider climate change" when auctioning off the land, The Washington Post reported.
Mizina / iStock / Getty Images
Oats are widely regarded as one of the healthiest grains you can eat, as they're packed with many important vitamins, minerals, and fiber.