David Suzuki: We Have to Stop Killing Our Oceans With Plastic

Eight million tonnes. That's how much plastic we're tossing into the oceans every year! University of Georgia environmental engineer Jenna Jambeck says it's enough to line up five grocery bags of trash on every foot of coastline in the world.
A study published by Jambeck and colleagues in the journal Science on Feb. 12 examined how 192 coastal countries disposed of plastic waste in 2010. The report, Plastic waste inputs from land into the ocean, estimates that of 275 million tonnes of plastic generated, about eight million (based on a midpoint estimate of 4.8 million to 12.7 million tonnes) ends up in the seas—blown from garbage dumps into rivers and estuaries, discarded on beaches or along coastlines and carried to the oceans.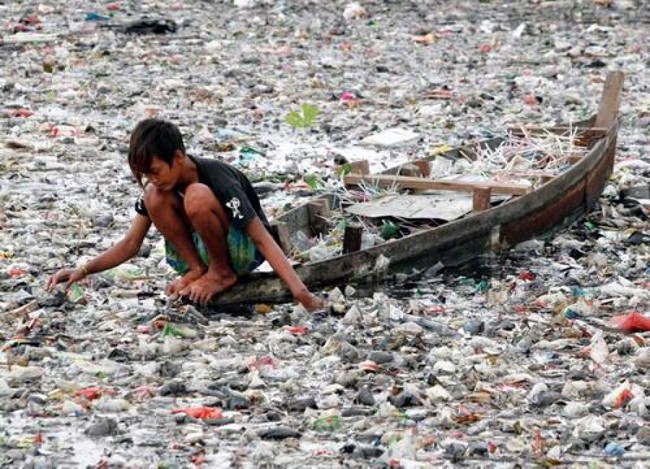 Plastic is everywhere in our seas. It accumulates on the sea floor and in sediments, washes up on coastlines and is taken up by fish and other sea creatures.
China tops the list of 20 countries responsible for 83 percent of "mismanaged plastic" in the oceans, sending between 1.32 and 3.53 million tonnes into the seas. The U.S., which has better waste-management systems, is number 20 on the list, responsible for 0.04 to 0.11 tonnes. Some countries in the top 20 don't even have formal waste-management systems. The fear is that, as human populations grow, the amount of plastic going into the oceans will increase dramatically if countries don't improve waste-management systems and practices—and reduce the amount of plastic they produce and use.
Scientists don't know where most plastic ends up or what overall effect it's having on marine life and food supplies. They do know that massive islands of plastic and other waste—some as large as Saskatchewan—swirl in five gyres in the north and south Pacific, north and south Atlantic and Indian oceans. But that's only a small amount of the total.
Plastic is everywhere in our seas. It accumulates on the sea floor and in sediments, washes up on coastlines and is taken up by fish and other sea creatures. It affects birds, fish, mammals and other marine life. It eventually breaks down into smaller bits, which can look like fish eggs and get eaten by marine animals, but it never biodegrades. Those particles, or microplastics, just keep building up. They also absorb and concentrate toxic chemicals, poisoning the animals that consume them. Studies show that 44 percent of all seabird species have plastic in and around their bodies, and fish, birds, turtles and whales often become fatally entangled in plastic waste.
Even the search for Malaysia Airlines Flight 370, which went down over the South China Sea in March 2014, was confounded when investigators looking for crash evidence kept finding plastic debris.
Humans depend on healthy oceans for food, water, air, recreation and transportation. Oceans contain more than 97 percent of the planet's water and produce more than half the oxygen we breathe. They also absorb carbon—important to reducing global warming. Half the world's people live in coastal zones, and ocean-based businesses contribute more than $500 billion a year to the global economy.
What we do to the oceans and the life therein, we do to ourselves. So what can we do to keep them—and us—healthy?
The report's authors say reducing "mismanaged" plastic waste, regulating the amount of plastics that enter the waste stream and improving waste-disposal methods in the top 20 offending countries are all essential. But, Jambeck notes, "It's not just about improving the infrastructure in other countries. There are things we can do in our daily lives to reduce the amount of waste plastic we all produce."
Canada's relatively good waste-disposal and recycling systems keep us off the 20 worst offenders list—but we can still do better. Reducing the amount of plastic we use is the first step. For consumers, that means avoiding overpackaged goods and unnecessary plastic items, such as bottled water, single-serve K-cup coffee pods and disposable products. We must also get better at reusing and recycling. According to a report by the U.S. non-profit As You Sow, plastic is the fastest-growing form of packaging, and only about 14 percent gets recycled.
Oceans and the life they support face numerous threats, from climate change to overfishing. Reducing the amount of plastic we dump into them is a challenge we can meet. Let's get on it.
YOU MIGHT ALSO LIKE
8 Million Metric Tons of Plastic Dumped Into World's Oceans Each Year
Undersea Superheroes Save Imperiled Marine Life
Glyphosate, the main ingredient in Monsanto's widely used herbicide Roundup, will be added July 7 to California's list of chemicals known to the state to cause cancer, according to a Reuters report Tuesday. This news comes after the company's unsuccessful attempt to block the listing in trial court and requests for stay were denied by a state appellate court and California's Supreme Court.
California's Office of Environmental Health Hazard Assessment (OEHHA) announced the designation on Monday under the Safe Drinking Water and Toxic Enforcement Act of 1986, or Proposition 65.
Keep reading...
Show less
www.facebook.com
Keep reading...
Show less
Researchers from the Marine Animal Response Society examine one of the dead right whales. Marine Animal Response Society
Canadian government officials and marine biologists are investigating the mysterious deaths of six North American right whales. The endangered animals all turned up dead between June 6 and June 23 in the Gulf of St. Lawrence, off Canada's southeastern coast.
North Atlantic right whales are the rarest of all large whale species and among the rarest of all marine mammal species, with only about 450 right whales in the North Atlantic.
Keep reading...
Show less
Scott Pruitt testifies during his Senate confirmation hearing for EPA administrator, January 2017.
The U.S. Environmental Protection Agency's (EPA) chief of staff pressured the leader of its Board of Scientific Counselors to change her congressional testimony to downplay the impact of the agency's mass dismissal of scientists from the board, the New York Times reports.
Keep reading...
Show less
By Jason Mark
Sequoiadendron giganteum. That's the scientific name for the giant sequoia: the mammoth trees found in California's Sierra Nevada that are the largest organisms on Earth, and among the longest-lived. Biologists estimate that about half of all sequoias live in Giant Sequoia National Monument, a 328,000-acre preserve in the Southern Sierra Nevada established by President Clinton in 2000.
Now that national monument is in jeopardy.
Keep reading...
Show less
By Andy Rowell
Donald Trump this week is launching an "energy week," pushing the argument that the U.S. will become a net exporter of oil and gas.
The president and his cronies are talking about a new era of "U.S. energy dominance," which could stretch for decades to come. However, no one believes the president anymore.
Keep reading...
Show less
UN
By Colleen Curry
The United Nations has designated 23 new sites around the world to its World Network of Biosphere reserves—stunning natural landscapes that balance environmental and human concerns and strive for sustainability.
The forests, beaches and waterways were added to the list this year at the International Coordinating Council of the Man and the Biosphere Programme meeting in Paris earlier this month.
Keep reading...
Show less
Jun. 26, 2017 01:48PM EST
www.elysee.fr
By Andy Rowell
There is a growing feeling within European capitals that a quiet, but deeply positive, revolution is happening under Emmanuel Macron in France.
Macron's opinion poll rating is high, especially boosted in how the young French president has reacted to Donald Trump on the international stage.
Keep reading...
Show less
Jun. 26, 2017 12:32PM EST
www.facebook.com
Keep reading...
Show less