This website uses cookies to ensure you get the best experience while browsing it. By clicking 'Got It' you're accepting these terms.
8 Million Metric Tons of Plastic Dumped Into World's Oceans Each Year
Feb. 16, 2015 04:20PM EST
We've been hearing for years about all the plastic that is going into our oceans, creating enormous gyres, washing up on beaches, threatening marine life and marine ecosystems in ways we don't even know yet. A study last year called Valuing Plastic by the Plastic Disclosure Project and Trucost, estimated plastic caused about $13 billion in damages to marine ecosystems each year—and noted that that estimate was probably low, given what we don't know yet.
Tracking all of that plastic, which ranges from plastic bags and bottles to tiny microbeads of plastic broken down from larger sources, has been an ongoing challenge for scientists. With each new study, we get a little closer to figuring out just how much there might be out there—and it's worse than we thought.
A new study, Plastic waste inputs from land into the ocean, published in the journal Science last week, estimated that plastic debris washing into the ocean from 192 coastal countries reached somewhere between 4.8 and 12.7 million metric tons in 2010. That's enough to cover every foot of coastline in the world.
Based on the inputs it used—solid waste data, population density and economic status—it calculated that these countries produced a total of 275 metric tons of plastic waste and then figured out how much of that ends up in the ocean. Previous studies had suggested the amount could be around a quarter million tons but this study found that it was likely many times more.
"Population size and the quality of waste management systems largely determine which countries contribute the greatest mass of uncaptured waste available to become plastic marine debris," said the researchers. "Without waste management infrastructure improvements, the cumulative quantity of plastic waste available to enter the ocean from land is predicted to increase by an order of magnitude by 2025."
They're projecting that by 2025 the amount of plastic could reach 155 metric tons annually unless waste management techniques improve.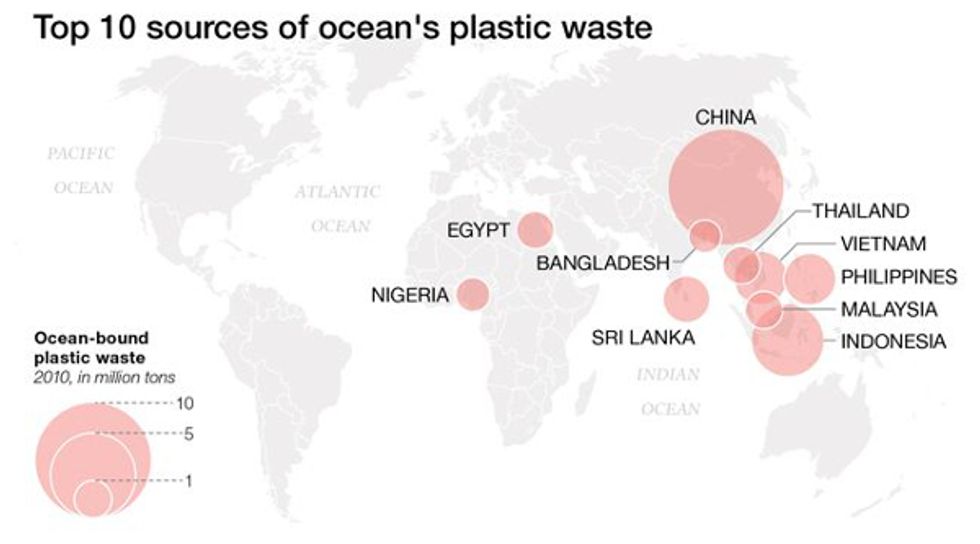 The biggest contributor to that mass of ocean plastic is China, followed by countries like Indonesia, the Philippines and Vietnam. The U.S. only ranks 20th as a source of ocean plastic, in large part due to its advanced garbage collection system. But its dense coastal population and high consumption rates pushed it up in the rankings.
"What we have done is look at the other side of the equation—what's coming out of the faucet, rather than what's already in the bathtub," report co-author Kara Lavender Law, an oceanographer at the Sea Education Association, told National Geographic. "The size of the discrepancy is huge—20 to 2,000 times more than the range of estimates of floating debris. That is pretty shocking, especially when you consider that the amount going into the ocean in a single year and what we're counting in the oceans has been going in for 50 years."
But this report only expands the mystery of where all that trash has gone. Previous studies only looked at what they found floating; most of that plastic is missing. A study—The deep sea is a major sink for microplastic debris—published in December in Royal Society Open Science suggested one possibility. It said, "There appears to be a considerable proportion of the manufactured plastic that is unaccounted for in surveys tracking the fate of environmental plastics. Here, we show that deep-sea sediments are a likely sink for microplastics."
"I don't think we can conceive of the worst-case scenario, quite frankly," Law told Science last year. "We really don't know what this plastic is doing."
NPR's Christopher Joyce on All Things Considered interviewed Jenna Jambeck, co-author of the report. Jambeck shared that "In 2010 there were 8 million metric tons of plastic entering the ocean globally."
Joyce also interviewed Nick Mallos, who runs the Ocean Conservancy's Trash Free Seas program, who said that plastic affects more than 600 species of marine animals.
EcoWatch Daily Newsletter
Pro-environment demonstrators on the streets of Washington, DC during the Jan. 20, 2017 Trump inauguration.
Mobilus In Mobili
/ Flickr /
CC BY-SA 2.0
By Dr. Brian R. Shmaefsky
One year after the Flint Water Crisis I was invited to participate in a water rights session at a conference hosted by the US Human Rights Network in Austin, Texas in 2015. The reason I was at the conference was to promote efforts by the American Association for the Advancement of Science (AAAS) to encourage scientists to shine a light on how science intersects with human rights, in the U.S. as well as in the context of international development. My plan was to sit at an information booth and share my stories about water quality projects I spearheaded in communities in Bangladesh, Colombia, and the Philippines. I did not expect to be thrown into conversations that made me reexamine how scientists use their knowledge as a public good.
Mt. Rainier and Reflection Lake on Sept. 10, 2015. Crystal Geyser planned to open a bottling plant near Mt. Rainier, emails show.
louelke - on and off / Flickr
Bottled water manufacturers looking to capture cool, mountain water from Washington's Cascade Mountains may have to look elsewhere after the state senate passed a bill banning new water permits, as The Guardian reported.
Large storage tank of Ammonia at a fertilizer plant in Cubatão, Sao Paulo State, Brazil. Luis Veiga / The Image Bank / Getty Images
The shipping industry is coming to grips with its egregious carbon footprint, as it has an outsized contribution to greenhouse gas emissions and to the dumping of chemicals into open seas. Already, the global shipping industry contributes about 2 percent of global carbon emissions, about the same as Germany, as the BBC reported.
At high tide, people are forced off parts of the pathway surrounding DC's Tidal Basin. Andrew Bossi /
Wikimedia
The Jefferson Memorial in Washington, DC overlooks the Tidal Basin, a man-made body of water surrounded by cherry trees. Visitors can stroll along the water's edge, gazing up at the stately monument.
But at high tide, people are forced off parts of the path. Twice a day, the Tidal Basin floods and water spills onto the walkway.
Lioness displays teeth during light rainstorm in Kruger National Park, South Africa. johan63 / iStock / Getty Images
Ahead of government negotiations scheduled for next week on a global plan to address the biodiversity crisis, 23 former foreign ministers from various countries released a statement on Tuesday urging world leaders to act "boldly" to protect nature.