8 Million Metric Tons of Plastic Dumped Into World's Oceans Each Year
We've been hearing for years about all the plastic that is going into our oceans, creating enormous gyres, washing up on beaches, threatening marine life and marine ecosystems in ways we don't even know yet. A study last year called Valuing Plastic by the Plastic Disclosure Project and Trucost, estimated plastic caused about $13 billion in damages to marine ecosystems each year—and noted that that estimate was probably low, given what we don't know yet.
Tracking all of that plastic, which ranges from plastic bags and bottles to tiny microbeads of plastic broken down from larger sources, has been an ongoing challenge for scientists. With each new study, we get a little closer to figuring out just how much there might be out there—and it's worse than we thought.
A new study, Plastic waste inputs from land into the ocean, published in the journal Science last week, estimated that plastic debris washing into the ocean from 192 coastal countries reached somewhere between 4.8 and 12.7 million metric tons in 2010. That's enough to cover every foot of coastline in the world.
Based on the inputs it used—solid waste data, population density and economic status—it calculated that these countries produced a total of 275 metric tons of plastic waste and then figured out how much of that ends up in the ocean. Previous studies had suggested the amount could be around a quarter million tons but this study found that it was likely many times more.
"Population size and the quality of waste management systems largely determine which countries contribute the greatest mass of uncaptured waste available to become plastic marine debris," said the researchers. "Without waste management infrastructure improvements, the cumulative quantity of plastic waste available to enter the ocean from land is predicted to increase by an order of magnitude by 2025."
They're projecting that by 2025 the amount of plastic could reach 155 metric tons annually unless waste management techniques improve.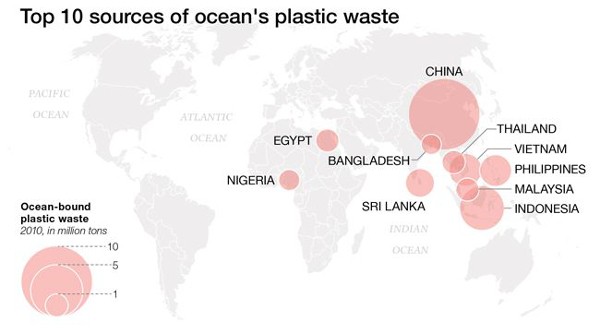 The biggest contributor to that mass of ocean plastic is China, followed by countries like Indonesia, the Philippines and Vietnam. The U.S. only ranks 20th as a source of ocean plastic, in large part due to its advanced garbage collection system. But its dense coastal population and high consumption rates pushed it up in the rankings.
"What we have done is look at the other side of the equation—what's coming out of the faucet, rather than what's already in the bathtub," report co-author Kara Lavender Law, an oceanographer at the Sea Education Association, told National Geographic. "The size of the discrepancy is huge—20 to 2,000 times more than the range of estimates of floating debris. That is pretty shocking, especially when you consider that the amount going into the ocean in a single year and what we're counting in the oceans has been going in for 50 years."
But this report only expands the mystery of where all that trash has gone. Previous studies only looked at what they found floating; most of that plastic is missing. A study—The deep sea is a major sink for microplastic debris—published in December in Royal Society Open Science suggested one possibility. It said, "There appears to be a considerable proportion of the manufactured plastic that is unaccounted for in surveys tracking the fate of environmental plastics. Here, we show that deep-sea sediments are a likely sink for microplastics."
"I don't think we can conceive of the worst-case scenario, quite frankly," Law told Science last year. "We really don't know what this plastic is doing."
NPR's Christopher Joyce on All Things Considered interviewed Jenna Jambeck, co-author of the report. Jambeck shared that "In 2010 there were 8 million metric tons of plastic entering the ocean globally."
Joyce also interviewed Nick Mallos, who runs the Ocean Conservancy's Trash Free Seas program, who said that plastic affects more than 600 species of marine animals.
www.elysee.fr
By Andy Rowell
There is a growing feeling within European capitals that a quiet, but deeply positive, revolution is happening under Emmanuel Macron in France.
Macron's opinion poll rating is high, especially boosted in how the young French president has reacted to Donald Trump on the international stage.
Keep reading...
Show less
www.facebook.com
Keep reading...
Show less
Keep reading...
Show less
www.youtube.com
According to Bloomberg, "SeaWorld Entertainment Inc. received a subpoena earlier this month from regulators investigating disclosures and public statements by executives, including comments about the Blackfish documentary that caused a public backlash against the confinement of orcas.
Keep reading...
Show less
By Mary Mazzoni
In 2013, shoppers were reacquainted with the tragic story of their clothing when a massive factory collapse claimed the lives of more than 1,100 Bangladeshi garment workers.
The nonprofit Fashion Revolution, formed in response to that disaster, continues to track the apparel industry's progress on environmental stewardship and human rights. But four years later, big brands are still not doing enough to disclose their efforts to customers, the organization concluded in a recent report.
Keep reading...
Show less
Hawaii Renewable Energy Alliance
The latest issue of the U.S. Energy Information's "Electric Power Monthly" (with data through April 30) reveals that—for the first time since the beginning of the nuclear era—renewable energy sources (i.e., biomass, geothermal, hydropower, solar—inc. small-scale PV, wind) are now providing a greater share of the nation's electrical generation than nuclear power.
Keep reading...
Show less
www.youtube.com
Check out this great 360° virtual reality video by NowThis on the world's largest indoor vertical farm, AeroFarms. Located in Newark, New Jersey, AeroFarms grows more than 2 million pounds of greens a year without sunlight, soil or pesticides.
As reported by EcoWatch in July 2105, the $30 million, 70,000-square-foot AeroFarms headquarters dwarfs Japan's (already impressive) 25,000-square-foot vertical indoor farm, which had been the world's largest until now.
www.facebook.com
"There's no such thing as clean coal," according to this ATTN: video.
Watch above as ATTN: explains the many hazards of coal beyond carbon emissions, that no matter what there's no reviving the coal industry and how investment in renewable energy is the best way forward.
Share this video if you think America needs real energy solutions.
Wikipedia
By Franziska Spritzler, RD, CDE
Boosting your metabolic rate can help you lose body fat. However, most "fat-burning" supplements on the market are either unsafe, ineffective or both.
Fortunately, several natural foods and beverages have been shown to increase your metabolism and promote fat loss.
Keep reading...
Show less


Get EcoWatch in your inbox