This website uses cookies to ensure you get the best experience while browsing it. By clicking 'Got It' you're accepting these terms.
8 Million Metric Tons of Plastic Dumped Into World's Oceans Each Year
Feb. 16, 2015 04:20PM EST
We've been hearing for years about all the plastic that is going into our oceans, creating enormous gyres, washing up on beaches, threatening marine life and marine ecosystems in ways we don't even know yet. A study last year called Valuing Plastic by the Plastic Disclosure Project and Trucost, estimated plastic caused about $13 billion in damages to marine ecosystems each year—and noted that that estimate was probably low, given what we don't know yet.
Tracking all of that plastic, which ranges from plastic bags and bottles to tiny microbeads of plastic broken down from larger sources, has been an ongoing challenge for scientists. With each new study, we get a little closer to figuring out just how much there might be out there—and it's worse than we thought.
A new study, Plastic waste inputs from land into the ocean, published in the journal Science last week, estimated that plastic debris washing into the ocean from 192 coastal countries reached somewhere between 4.8 and 12.7 million metric tons in 2010. That's enough to cover every foot of coastline in the world.
Based on the inputs it used—solid waste data, population density and economic status—it calculated that these countries produced a total of 275 metric tons of plastic waste and then figured out how much of that ends up in the ocean. Previous studies had suggested the amount could be around a quarter million tons but this study found that it was likely many times more.
"Population size and the quality of waste management systems largely determine which countries contribute the greatest mass of uncaptured waste available to become plastic marine debris," said the researchers. "Without waste management infrastructure improvements, the cumulative quantity of plastic waste available to enter the ocean from land is predicted to increase by an order of magnitude by 2025."
They're projecting that by 2025 the amount of plastic could reach 155 metric tons annually unless waste management techniques improve.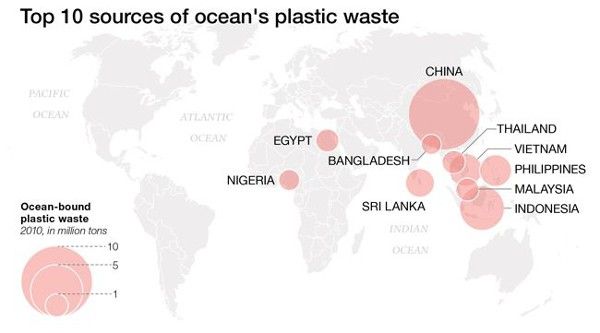 The biggest contributor to that mass of ocean plastic is China, followed by countries like Indonesia, the Philippines and Vietnam. The U.S. only ranks 20th as a source of ocean plastic, in large part due to its advanced garbage collection system. But its dense coastal population and high consumption rates pushed it up in the rankings.
"What we have done is look at the other side of the equation—what's coming out of the faucet, rather than what's already in the bathtub," report co-author Kara Lavender Law, an oceanographer at the Sea Education Association, told National Geographic. "The size of the discrepancy is huge—20 to 2,000 times more than the range of estimates of floating debris. That is pretty shocking, especially when you consider that the amount going into the ocean in a single year and what we're counting in the oceans has been going in for 50 years."
But this report only expands the mystery of where all that trash has gone. Previous studies only looked at what they found floating; most of that plastic is missing. A study—The deep sea is a major sink for microplastic debris—published in December in Royal Society Open Science suggested one possibility. It said, "There appears to be a considerable proportion of the manufactured plastic that is unaccounted for in surveys tracking the fate of environmental plastics. Here, we show that deep-sea sediments are a likely sink for microplastics."
"I don't think we can conceive of the worst-case scenario, quite frankly," Law told Science last year. "We really don't know what this plastic is doing."
NPR's Christopher Joyce on All Things Considered interviewed Jenna Jambeck, co-author of the report. Jambeck shared that "In 2010 there were 8 million metric tons of plastic entering the ocean globally."
Joyce also interviewed Nick Mallos, who runs the Ocean Conservancy's Trash Free Seas program, who said that plastic affects more than 600 species of marine animals.
EcoWatch Daily Newsletter

georgeclerk / E+ / Getty Images
By Jennifer Molidor
One million species are at risk of extinction from human activity, warns a recent study by scientists with the United Nations. We need to cut greenhouse gas pollution across all sectors to avoid catastrophic climate change — and we need to do it fast, said the Intergovernmental Panel on Climate Change.
This research should serve as a rallying cry for polluting industries to make major changes now. Yet the agriculture industry continues to lag behind.
Edwin Remsburg / VW Pics / Getty Images
Botswana, home to one third of Africa's elephants, announced Wednesday that it was lifting its ban on the hunting of the large mammals.
"The Ministry of Environment, Natural Resources Conservation and Tourism wishes to inform the public that following extensive consultations with all stakeholders, the Government of Botswana has taken a decision to lift the hunting suspension," the government announced in a press release shared on social media.
Pxhere
By Richard Denison
Readers of this blog know how concerned EDF is over the Trump EPA's approval of many dozens of new chemicals based on its mere "expectation" that workers across supply chains will always employ personal protective equipment (PPE) just because it is recommended in the manufacturer's non-binding safety data sheet (SDS).
By Grant Smith
From 2009 to 2012, Gregory Jaczko was chairman of the Nuclear Regulatory Commission, which approves nuclear power plant designs and sets safety standards for plants. But he now says that nuclear power is too dangerous and expensive — and not part of the answer to the climate crisis.
A lake in Rocky Mountain National Park. Brett Walton / Circle of Blue
By Brett Walton
When Greg Wetherbee sat in front of the microscope recently, he was looking for fragments of metals or coal, particles that might indicate the source of airborne nitrogen pollution in Rocky Mountain National Park. What caught his eye, though, were the plastics.
Gabriele Holtermann Gorden / Pacific Press / LightRocket / Getty Images
In a big victory for animals, Prada has announced that it's ending its use of fur! It joins Coach, Jean Paul Gaultier, Giorgio Armani, Versace, Ralph Lauren, Vivienne Westwood, Michael Kors, Donna Karan and many others PETA has pushed toward a ban.
This is a victory more than a decade in the making. PETA and our international affiliates have crashed Prada's catwalks with anti-fur signs, held eye-catching demonstrations all around the world, and sent the company loads of information about the fur industry. In 2018, actor and animal rights advocate Pamela Anderson sent a letter on PETA's behalf urging Miuccia Prada to commit to leaving fur out of all future collections, and the iconic designer has finally listened.
Amer Ghazzal / Barcroft Media / Getty Images
If people in three European countries want to fight the climate crisis, they need to chill out more.
That's the conclusion of a new study from think tank Autonomy, which found that Germany, the UK and Sweden all needed to drastically reduce their workweeks to fight climate change.
Amazon Employees for Climate Justice held a press conference after the annual shareholder meeting on May 22. Amazon Employees for Climate Justice