This website uses cookies to ensure you get the best experience while browsing it. By clicking 'Got It' you're accepting these terms.
8 Million Metric Tons of Plastic Dumped Into World's Oceans Each Year
Feb. 16, 2015 04:20PM EST
We've been hearing for years about all the plastic that is going into our oceans, creating enormous gyres, washing up on beaches, threatening marine life and marine ecosystems in ways we don't even know yet. A study last year called Valuing Plastic by the Plastic Disclosure Project and Trucost, estimated plastic caused about $13 billion in damages to marine ecosystems each year—and noted that that estimate was probably low, given what we don't know yet.
Tracking all of that plastic, which ranges from plastic bags and bottles to tiny microbeads of plastic broken down from larger sources, has been an ongoing challenge for scientists. With each new study, we get a little closer to figuring out just how much there might be out there—and it's worse than we thought.
A new study, Plastic waste inputs from land into the ocean, published in the journal Science last week, estimated that plastic debris washing into the ocean from 192 coastal countries reached somewhere between 4.8 and 12.7 million metric tons in 2010. That's enough to cover every foot of coastline in the world.
Based on the inputs it used—solid waste data, population density and economic status—it calculated that these countries produced a total of 275 metric tons of plastic waste and then figured out how much of that ends up in the ocean. Previous studies had suggested the amount could be around a quarter million tons but this study found that it was likely many times more.
"Population size and the quality of waste management systems largely determine which countries contribute the greatest mass of uncaptured waste available to become plastic marine debris," said the researchers. "Without waste management infrastructure improvements, the cumulative quantity of plastic waste available to enter the ocean from land is predicted to increase by an order of magnitude by 2025."
They're projecting that by 2025 the amount of plastic could reach 155 metric tons annually unless waste management techniques improve.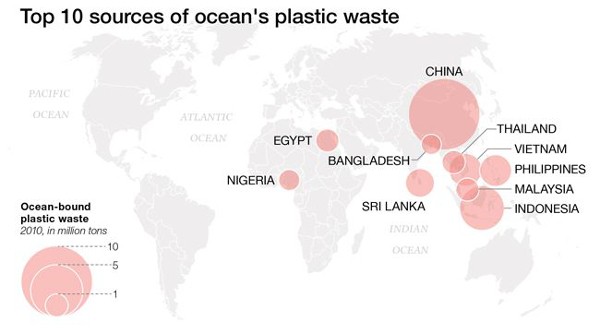 The biggest contributor to that mass of ocean plastic is China, followed by countries like Indonesia, the Philippines and Vietnam. The U.S. only ranks 20th as a source of ocean plastic, in large part due to its advanced garbage collection system. But its dense coastal population and high consumption rates pushed it up in the rankings.
"What we have done is look at the other side of the equation—what's coming out of the faucet, rather than what's already in the bathtub," report co-author Kara Lavender Law, an oceanographer at the Sea Education Association, told National Geographic. "The size of the discrepancy is huge—20 to 2,000 times more than the range of estimates of floating debris. That is pretty shocking, especially when you consider that the amount going into the ocean in a single year and what we're counting in the oceans has been going in for 50 years."
But this report only expands the mystery of where all that trash has gone. Previous studies only looked at what they found floating; most of that plastic is missing. A study—The deep sea is a major sink for microplastic debris—published in December in Royal Society Open Science suggested one possibility. It said, "There appears to be a considerable proportion of the manufactured plastic that is unaccounted for in surveys tracking the fate of environmental plastics. Here, we show that deep-sea sediments are a likely sink for microplastics."
"I don't think we can conceive of the worst-case scenario, quite frankly," Law told Science last year. "We really don't know what this plastic is doing."
NPR's Christopher Joyce on All Things Considered interviewed Jenna Jambeck, co-author of the report. Jambeck shared that "In 2010 there were 8 million metric tons of plastic entering the ocean globally."
Joyce also interviewed Nick Mallos, who runs the Ocean Conservancy's Trash Free Seas program, who said that plastic affects more than 600 species of marine animals.
EcoWatch Daily Newsletter
A drilling rig in a Wyoming natural gas field. William Campbell / Corbis via Getty Images
A U.S. federal judge temporarily blocked oil and gas drilling on 300,000 acres of federal leases in Wyoming Tuesday, arguing that the Bureau of Land Management (BLM) "did not sufficiently consider climate change" when auctioning off the land, The Washington Post reported.
Mizina / iStock / Getty Images
Oats are widely regarded as one of the healthiest grains you can eat, as they're packed with many important vitamins, minerals, and fiber.
JPMorgan Chase building in New York City. Ben Sutherland / CC BY 2.0
By Sharon Kelly
A report published Wednesday names the banks that have played the biggest recent role in funding fossil fuel projects, finding that since 2016, immediately following the Paris agreement's adoption, 33 global banks have poured $1.9 trillion into financing climate-changing projects worldwide.
Sriram Madhusoodanan of Corporate Accountability speaking on conflict of interest demand of the People's Demands at a defining action launching the Demands at COP24. Corporate Accountability
By Patti Lynn
2018 was a groundbreaking year in the public conversation about climate change. Last February, The New York Times reported that a record percentage of Americans now believe that climate change is caused by humans, and there was a 20 percentage point rise in "the number of Americans who say they worry 'a great deal' about climate change."
The head of England's Environment Agency has urged people to stop watering their lawns as a climate-induced water shortage looms. Pexels
England faces an "existential threat" if it does not change how it manages its water, the head of the country's Environment Agency warned Tuesday.
Pexels
By Jessica Corbett
A new analysis revealed Tuesday that over the past two decades heat records across the U.S. have been broken twice as often as cold ones—underscoring experts' warnings about the increasingly dangerous consequences of failing to dramatically curb planet-warming emissions.
A flock of parrots in Telegraph Hill, San Francisco.
~dgies / Flickr
By Madison Dapcevich
Ask any resident of San Francisco about the waterfront parrots, and they will surely tell you a story of red-faced conures squawking or dive-bombing between building peaks. Ask a team of researchers from the University of Georgia, however, and they will tell you of a mysterious string of neurological poisonings impacting the naturalized flock for decades.
Fire burns in the North Santiam State Recreational Area on March 19. Oregon Department of Forestry
An early-season wildfire near Lyons, Oregon burned 60 acres and forced dozens of homes to evacuate Tuesday evening, the Oregon Department of Forestry (ODF) said, as KTVZ reported.
The initial cause of the fire was not yet known, but it has been driven by the strong wind and jumped the North Santiam River, The Salem Statesman Journal reported. As of Tuesday night, it threatened around 35 homes and 30 buildings, and was 20 percent contained.