World's First Solar Powered Airport Has Arrived
Aug. 20, 2015 10:42AM EST
Business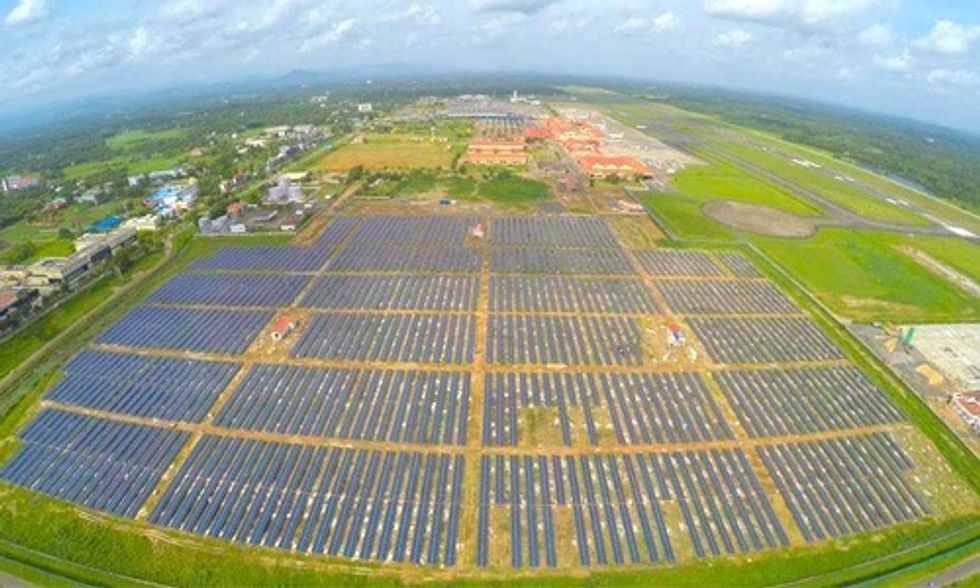 If you've been tracking Solar Impulse 2, the solar airplane circumnavigating the globe, then you will be excited to hear this news: the Cochin International Airport in the southern state of Kerala, India is officially the world's first airport thats runs exclusively on solar power. The entire facility is "absolutely power neutral"—meaning it creates just as much energy as it consumes, according to a statement from the airport.
India's Cochin International world's first completely solar-powered airport http://t.co/ioaGqIhN8e pic.twitter.com/l9cjFeTc9x

— CECHR (@CECHR_UoD) August 20, 2015
The airport just launched a 12 megawatt solar power plant earlier this week made up of more than 46,000 solar panels laid across 45 acres. This capacity should allow the airport to generate 50,000 to 60,000 thousand units of electricity per day, which is just over what the airport consumes in a typical day. That is no small feat for India's fourth largest international airport in terms of passenger traffic. It's terminal space—1.5 million square feet—is about the same size as Denver International Airport.
But they didn't go 100 percent solar overnight. The project began in 2013 with a small solar panel array on the rooftops of its terminals. Over the next couple years, the airport relied on a mixture of solar and power from the grid. However, the airport is still connected to the grid, should the normally sun-soaked area experience an extended period of overcast days. As for its impact, the airport claims the array will cut an estimated 300,000 tons of carbon emissions over the next 25 years, the equivalent to planting 3 million trees.
The news comes on the heels of a report from the International Energy Agency which found that renewables are now the world's second largest source of electricity. The evidence of that transition is everywhere. Another airport in India, Kolkata's Netaji Subhas Chandra Bose International Airport, has laid out plans to go solar too. The Times of India reports that solar projects are popular at airports in the U.S., Canada and Germany. The Indian government plans to invest $100 billion in solar power in the next seven years to boost its capacity from the existing four gigawatt to 100 gigawatt by 2022.
Many high profile companies in the U.S. have invested heavily in renewable energy in recent months as well. Last month, Facebook announced it would power a new data center in Texas with 100 percent wind energy. Amazon announced earlier this summer that it will build an 80 megawatt solar farm in Accomack County on the eastern shore of Virginia. And in a real coup de grâce for dirty energy, Google announced it plans to build a data center powered by 100 percent renewables at a soon-to-be closed coal-fired plant in Alabama.
YOU MIGHT ALSO LIKE
World's Second Largest Source of Electricity Is Now Renewables
America's First Hemp House Pulls CO2 From the Air
Wondering If Solar Is Right for You? Just Ask Google's 'Project Sunroof'
EcoWatch Daily Newsletter
Related Articles from EcoWatch