India is steeped in a synthesized controversy created by Monsanto on the first GMO crop supposedly approved for commercialization. Engaged in litigation on many fronts, Monsanto is trying to subvert India's patent laws: Protection of Plant Variety and Farmers Right Act, Essential Commodities Act and Competition Act. It is behaving as if there is no Parliament, no democracy, no sovereign laws in India to which it is subject. Or it simply doesn't have any regard for them.
Light Brigading / Flickr
In another theatre, Monsanto and Bayer are merging. They were one as MoBay (MonsantoBayer), part of the poison cartel of I.G. Farben. The controlling stakes of both corporations lie with the same private equity firms. The expertise of these firms is in war. I.G. Farben, Adolf Hitler's economic powerhouse and pre-war Germany's highest foreign exchange earner, was also a foreign intelligence operation. Hermann Schmitz was president of I.G. Farben, Schmitz's nephew Max Ilgner was a director of I.G. Farben, while Max's brother Rudolph Ilgner ran the New York arm as vice-president of Chemnyco.
Paul Warburg, brother of Max Warburg (board of directors, Farben Aufsichtsrat), founded the U.S. Federal Reserve System. Max Warburg and Hermann Schmitz played a central role in the Farben empire. Other "guiding hands" of Farben Vorstand included Carl Bosch, Fritz ter Meer, Kurt Oppenheim and George von Schnitzler. Each of them was adjudged a "war criminal" after World War II, except Paul Warburg.
Monsanto and Bayer have a long history. They made explosives and lethally poisonous gases using shared technologies and sold them to both sides in the two world wars. The same war chemicals were bought by the Allied and Axis powers, from the same manufacturers, with money borrowed from the same bank.
MoBay supplied ingredients for Agent Orange in the Vietnam War. Around 20 million gallons of MoBay defoliants and herbicides were sprayed over South Vietnam. Children are still being born with birth defects, adults have chronic illnesses and cancers, due to their exposure to MoBay's chemicals. Monsanto and Bayer's cross-licensed Agent Orange resistance has also been cross-developed for decades. Wars were fought, lives lost, nations carved into holy lands — with artificial boundaries that suit colonization and resource grab — while Bayer and Monsanto sold chemicals as bombs and poisons and their brothers provided the loans to buy those bombs.
More recently, Bayer CropScience AG and Monsanto are believed to have entered into a long-term business relationship. This gives Monsanto and Bayer free access to each other's herbicide and paired herbicide resistance technology. Through cross-licensing agreements, mergers and acquisitions, the biotech industry has become the I.G. Farben of today, with Monsanto in the cockpit.
The global chemical and GMO industry—Bayer, Dow Agro, DuPont Pioneer, Mahyco, Monsanto and Syngenta—have come together to form the Federation of Seed Industry of India (FSII) to try and become bigger bullies in this assault on India's farmers, environment and democratically-framed laws that protect the public and the national interest. This is in addition to Association of Biotechnology-Led Enterprises (ABLE), which tried to challenge India's seed price control order issued under the Essential Commodities Act in the Karnataka high court. The case was dismissed.
The new group is not "seed industry;" they produce no seeds. They try to stretch patents on chemicals to claim ownership on seeds, even in countries where patents on seeds and plants are not allowed. This is the case in India, Argentina, Brazil, Mexico and many other countries.
All Monsanto cases in India are related to Monsanto un-scientifically, illegally and illegitimately claiming patents on seed, in contempt of India's laws, and trying to collect royalties from the Indian seed industry and farmers. The FSII is an "I.G. Farben 100-Year Family Reunion," a coming together of independent and autonomous entities.
The Farben family chemical cartel was responsible for exterminating people in concentration camps. It embodies a century of ecocide and genocide, carried out in the name of scientific experimentation and innovation. Today, the poison cartel is wearing G-Engineering clothes and citing the mantra of "innovation" ad nauseam. Hitler's concentration camps were an "innovation" in killing; and almost a century later, the Farben family is carrying out the same extermination—silently, globally and efficiently.
Monsanto's "innovation" of collecting illegal royalties and pushing Indian farmers to suicide is also an innovation in killing without liability, indirectly. Just because there is a new way to kill doesn't make killing right. "Innovation," like every human activity, has limits—set by ethics, justice, democracy, the rights of people and of nature.
[email protected]

: There Is No Reason Why India Should Face Hunger & #Farmers Commit #Suicide http://t.co/nXJDEugLaP http://t.co/Jef9K9TkAt

— EcoWatch (@EcoWatch)1439574016.0
I.G. Farben was tried in Nuremberg. We have national laws to protect people, their right to life and public health, and the environment. India's biosafety and patent laws and the Plant Variety Act are designed to regulate greedy owners of corporations with a history of crimes against nature and humanity.

Industry is getting ready to push its next "gene," the GMO mustard (DMH-11). The GMO mustard, being promoted as a public sector "innovation," is based on barnase/barstar/gene system to create male-sterile plants and a bar gene for glufosinate resistance. In 2002, Pro-Agro's (Bayer) application for approval of commercial planting of GM mustard based on the same system was turned down.
Although banned in India, Bayer finds ways to sell glufosinate illegally to Assam's tea gardens and the apple orchards of Himachal Pradesh. Sales agents show the sale of glufosinate under the "others" category to avoid regulation. These chemicals are finding their way into the bodies of our children without government approval. Essentially, all key patents related to the bar gene are held by Bayer Crop Science, which acquired Aventis Cropscience, which itself was created out of the genetic engineering divisions of Schering, Rhone Poulenc and Hoechst. Then Bayer acquired Plant Genetic Systems and entered into cooperation agreement with Evogene, which has patents on genome mapping.
Before any approval is granted to genetically-engineered mustard, the issue of limits to patentability needs to be resolved on the basis of Indian laws and patents on plants and seeds and methods of agriculture must not be allowed. Deepak Pental, a retired professor and GMO-Operative, will not commercialize GMO mustard seed. His officers at Bayer/Monsanto/MoBay will.
Given our experience with GMO cotton, The Ministry of Environment & Forests is considering the option of putting in place guidelines for socio-economic assessment to judge proposed GMO varieties on the basis of factors such as the economy, health, environment, society and culture.
At the core of socio-economic assessment is the issue of monopolies and cartels, and their impact on small farmers. Even though patents on seeds are not allowed, for more than a decade and a half, Monsanto has extracted illegal royalties from Indian farmers, trapping them in debt and triggering an epidemic of farmers' suicides. Monsanto's war on India's foot soldiers—farmers—is a war being waged by the Farben family, on our Earth family.
Related Articles Around the Web
EcoWatch Daily Newsletter
The contents of our mattresses are often an afterthought. That's a mistake, as research shows that the quality of your sleeping surface can significantly impact your health.
As consumers gain awareness about the health effects of sleeping on potentially toxic compounds, mattress companies are responding with new beds made from better materials. Today, you can choose from a broad range of mattresses made from all-natural components, including organic wool, cotton, and latex. Here's a summary of the best non-toxic, eco-friendly mattresses available today and how to decide between them.
Why You Should Choose an Organic Mattress
Traditionally, mattresses contain trace amounts of chemicals known as volatile organic compounds (VOCs) that act as flame retardants and coatings on plastic components. While the popular view is that these VOCs are found in too low of concentrations to be concerning, a 2019 study published in Environmental Science and Technology indicates that body heat may transform them into toxic vapors that you breathe in through the night.
That's a reason for concern, as according to the US Environmental Protection Agency, the potential health effects of VOC exposure include headaches and eye, nose, and throat irritation. In extreme cases, they may trigger cancer cell development or organ damage.
8 Top-Rated Organic and Natural Mattress Brands
Each product featured below has been selected by the writer. You can learn more about our
review methodology here
. If you make a purchase using the included links, we may earn a commission.
How We Chose These Products
When comparing the best natural mattress options, we looked at several specific factors to determine which ones stand out. Here are some of the distinguishing features.
Organic Materials
The best non-toxic mattress brands today exclusively use certified organic textiles like cotton and wool.
Certifications
Is it certified GOLS (Global Organic Latex Standard) or GOTS (Global Organic Textile Standard)? As the leading natural certifications for textiles and latex materials, GOLS and GOTS-certified products meet stringent requirements for responsible social and environmental practices.
Delivery
The best nontoxic mattresses are compressed into boxes for shipping and then expand to full size once you unpack them. Environmentally speaking, smaller packages mean less fuel wasted on transportation. Others are sent in pieces or in full form and require a delivery team for installation.
Give Back Programs
The best eco-friendly mattress brands also support nonprofit programs that benefit the environment. We like brands where a percentage of your purchase may go towards a worthwhile cause.
Manufacturing
Many of the best organic mattresses are handcrafted in the United States, which shrinks their environmental footprint by keeping production and transportation within a smaller area.
Return Policy
Standard practice in the mattress industry is to offer sleep trial testing periods. These range from three months to a year or longer.
Direct to Consumer
Direct-to-consumer mattress companies are increasing in popularity. They tend to be less wasteful than traditional retailers because the brand isn't putting resources towards maintaining showrooms.
9 Best Natural and Organic Mattresses of 2021
avocadogreenmattress.com
Materials – 100% GOTS certified cotton and wool, 100% natural latex, steel support coils
Manufacturing – Handmade in USA
Delivery – Mattress arrives compressed in a box
Certifications – GREENGUARD Gold, Rainforest Alliance, eco-INSTITUT®, and Formaldehyde-Free certified, OEKO-TEX® Standard 100 certified wool, GOTS and GOLS certified materials
Sleep Trial/Warranty – 100-night sleep trial, 25-year warranty
This mattress-in-a-box brand doesn't compromise its eco-friendly principles for low cost or convenience. The Avocado Green mattress boasts a gentle latex support system for balanced firmness that's ideal for larger people and those who sleep on their back or side.
Why buy: Avocado is a leading brand for affordable mattresses made from natural materials. The Green mattress makes this list for its affordable price point and five-zone support system with up to 1,400 pocketed steel support coils. Equally impressive, Avocado maintains control over its whole supply chain and employs strict social and environmental standards for every product.
ghostbednatural.com
Materials – Natural wool, GOLS certified Dunlop & Talalay latex, USDA organic and GOTS certified cotton
Manufacturing – Manufactured in the USA
Delivery – Mattress arrives vacuum sealed in a box
Certifications – USDA organic, Control Union certified, OEKO-TEX® certified, GOLS and GOTS certified materials
Sleep Trial/Warranty – 101 night sleep trial, 25-year warranty
The GhostBed Natural mattress offers five layers of natural comfort materials. Each mattress is made from natural wool, genuine Dunlop and Talalay latex, and organic cotton for solid support and air-flow cooling. This is an eco-friendly mattress made for comfort, cooling, and support.
Why buy: The GhostBed Natural mattress is a great option if you tend to get hot when you sleep, as it includes both a naturally cooling latex core and cooling airflow coil technology to help you sleep better. We also love that it is made in the United States with organic and natural materials like sustainably-sourced latex and USDA organic cotton.
plushbeds.com
Materials – GOLS certified latex, GOTS certified cotton and wool
Manufacturing – Handcrafted in California
Delivery – Delivered in two boxes, the customer must assemble
Certifications – GOLS certified latex, GOTS certified cotton and wool, GreenGuard Gold Certified, OEKO-TEX® Standard 100 Certified, eco-INSTITUT® certified, Control Union Certified, Forest Stewardship Council Certified
Sleep Trial/Warranty – 100-night sleep trial, 25-year warranty
Plushbeds mattresses are handcrafted in the US from certified organic materials. Orthopedic specialists recommend them for their buoyant support and pressure point relief, along with an organic latex core you can customize.
Why buy: With Plushbeds' Botanical Bliss mattress, you get a non-toxic, hypoallergenic sleeping surface that keeps you cool through the night. This bed is dust mite resistant to eliminate most home's primary allergy problems and includes an organic cotton cover for comfort.
saatva.com
Materials – Certified organic cotton, all-natural Talalay latex, 100% organic New Zealand wool
Manufacturing – Made in USA within 19 independent factories
Delivery – Purchase comes with free white glove delivery and setup, including old mattress removal
Certifications – OEKO-TEX® Standard 100, eco-INSTITUT®, Rainforest Alliance, and Cradle to Cradle certified
Sleep Trial/ Warranty – 180-day sleep trial, 20-year warranty
The Saatva Zenhaven mattress is naturally hypoallergenic and made using environmentally responsible practices. The manufacturing process is entirely water-based and produces minimal byproducts. Even the certified organic cotton cover is protected by a proprietary nontoxic botanical antimicrobial treatment. Rather than using traditional flame retardants, the mattress contains a protective layer of organic New Zealand wool.
Why buy: As Saatva's premium mattress, the Zenhaven is made for low back support and a cooling, comfortable night's sleep. This 100% Talalay latex mattress contains durable materials for supported rest and boasts a flippable design for two firmness levels. This is the best option for a luxurious yet eco-friendly mattress.
mygreenmattress.com
Materials – GOTS certified cotton, GOLS certified Dunlop latex
Manufacturing – Handcrafted in a certified organic factory in Illinois
Delivery – White glove delivery service available for $199 for setup and old mattress removal.
Certifications – GreenGuard Gold Certified, GOTS Certified cotton, GOLS certified Dunlop latex
Sleep Trial/Warranty – 120-night sleep trial, 20-year warranty
The Natural Escape mattress boasts a responsive zoned pocketed coil spring system covered with GOLS certified Dunlop latex for breathability. With an adaptive support system that conforms to the contours of your spine, the company recommends it for couples with opposite body types or who prefer different sleeping positions from each other. The mattress itself is button tufted to pull the layers together without the use of any potentially toxic adhesives or VOCs.
Why buy: The Natural Escape mattress from My Green Mattress delivers stellar lumbar support and proper spinal alignment—all underneath a comfortable organic cotton cover. It also provides limited motion transfer thanks to an upgraded innerspring system, making it a great option for couples as you won't disturb your partner when you move.
happsy.com
Materials – Organic cotton filling, organic wool, certified latex
Manufacturing – Handmade in USA
Delivery – Ships compressed in a single box
Certifications – GOTS-certified cotton, Certified Made Safe, GOLS-certified latex, Forest Stewardship Council Certified, Rainforest Alliance Certified, GreenGuard Gold Certified, Underwriters Laboratories verified formaldehyde-free, Green America Certified Business
Sleep Trial/Warranty – 120-night sleep trial, 20-year warranty
Happsy's mattresses combine comfort, the latest technology in certified organic mattress design, and premium earth-friendly materials for a bed you can feel good about from every angle. In fact, the included zipper lets you peek inside to see what you're really sleeping on. The mattress utilizes a breathable coil system designed to wick moisture away to keep you cooler at night than sleeping on heat-trapping synthetic foams.
Why buy: Happsy is a small mattress brand focused on making mattresses with a conscience — meaning that all materials are chosen for being easy on the environment. The company forgoes all glues and adhesives in favor of its own pocketed spring design that keeps the mattress supportive, but never "bouncy."
birchliving.com
Materials – Organic cotton, wool, birch wool, natural latex, steel coils
Manufacturing – Handmade in USA
Delivery – Ships compressed in a box
Certifications – GreenGuard Gold Certified, GOTS Certified, OEKO-TEX®Standard 100, Eco INSTITUT® Tested Product, Wool Integrity NZ, Fair Trade Certified Factory
Sleep Trial/Warranty – 100-night sleep trial, 25-year warranty
Birch by Helix makes a range of natural bedding options constructed in ways that support the environment. Each mattress is made from premium materials that together work to relieve your body's pressure points, no matter how you prefer to sleep. The company claims this premium product has natural flexibility that allows it to retain its shape to provide enough softness for coziness while still offering full-body support.
Why buy: We love that all Birch mattress wool comes from New Zealand sheep farms that meet Wool Integrity NZ standards, which ensures the animals are treated ethically at every stage of production. Plus, the cotton within each mattress is Fair Trade certified, making this a responsible sleep option.
ecoterrabeds.com
Materials – 100% natural latex foam rubber, organic wool, organic cotton
Manufacturing – Designed and handcrafted in Los Angeles, CA
Delivery – Free standard delivery across the US, White Glove delivery available for an extra cost
Certifications – OEKO-TEX® Standard 100 certified, GOTS Organic wool, GOTS organic certified cotton
Sleep Trial/Warranty – 90-day sleep trial, 15-year warranty
Eco Terra offers a budget-friendly latex hybrid mattress that includes natural materials, unobtrusive pocket support coils, and a 90-day sleep trial. Eco Terra's latex mattress is available in both a medium and medium-firm firmness level to support a wide range of sleepers. The bed is free of synthetic foams and VOCs, favoring a three-inch-thick layer of Talalay latex instead.
Why buy: Eco Terra offers a more budget-friendly option than other latex hybrid brands, making this mattress an excellent choice for comfortable sleep without compromising on natural materials. One thing to note is that this latex isn't GOLS-certified, though the other materials are GOTS certified.
awarasleep.com
Materials – Dunlap latex, organic New Zealand wool, organic cotton, steel coils
Manufacturing – Made in China
Delivery – Arrives compressed in a box
Certifications – Rainforest Alliance certified latex, certified organic wool, certified organic cotton
Sleep Trial/Warranty – 365-night sleep trial, Forever Warranty (lifetime guarantee against sagging and manufacturing defects)
Awara features premium Sri Lanka latex and wrapped coil springs to provide contour and a touch of bounce for supportive sleep throughout the night. At the core of this mattress are nine-inch pocketed coils that are thicker than standard. This gives the bed a firmer, more responsive feel that minimizes the sense of sinking when you reach the outer edge, so it's suitable for back, side, and stomach sleepers alike.
Why buy: Awara's natural latex mattress stands out for being slightly firmer than some other options. The mattress itself is made from quality materials with GOLS, GOTS, and Rainforest Alliance certification. Awara also partners with Trees for the Future to support forest systems throughout Africa. Every purchase funds the planting of ten trees throughout Kenya, Senegal, Uganda, or Tanzania.
Takeaway

The best night's sleep takes place on a mattress that won't make you or the environment sick. Today, there are more options than ever for finding the best organic and nontoxic mattress for your family. Seek out brands that use certified organic materials and that guarantee each bed is free from VOCs to rest easy every night.
Lydia Noyes is a freelance writer specializing in health and wellness, food and farming, and environmental topics. When not working against a writing deadline, you can find Lydia outdoors where she attempts to bring order to her 33-acre hobby farm filled with fruit trees, heritage breed pigs, too many chickens to count, and an organic garden that somehow gets bigger every year.
May 22 has been declared International Biodiversity Day by the United Nations. It gives us an opportunity to become aware of the rich biodiversity that has been evolved by our farmers as co-creators with nature. It also provides an opportunity to acknowledge the threats to our biodiversity and our rights from IPR monopolies and monocultures.
Just as our Vedas and Upanishads have no individual authors, our rich biodiversity, including seeds, have been evolved cumulatively. They are a common heritage of present and future farm communities who have evolved them collectively. I recently joined tribals in Central India who have evolved thousands of rice varieties for their festival of "Akti." Akti is a celebration of the relationship of the seed and the soil and the sharing of the seed as a sacred duty to the Earth and the community.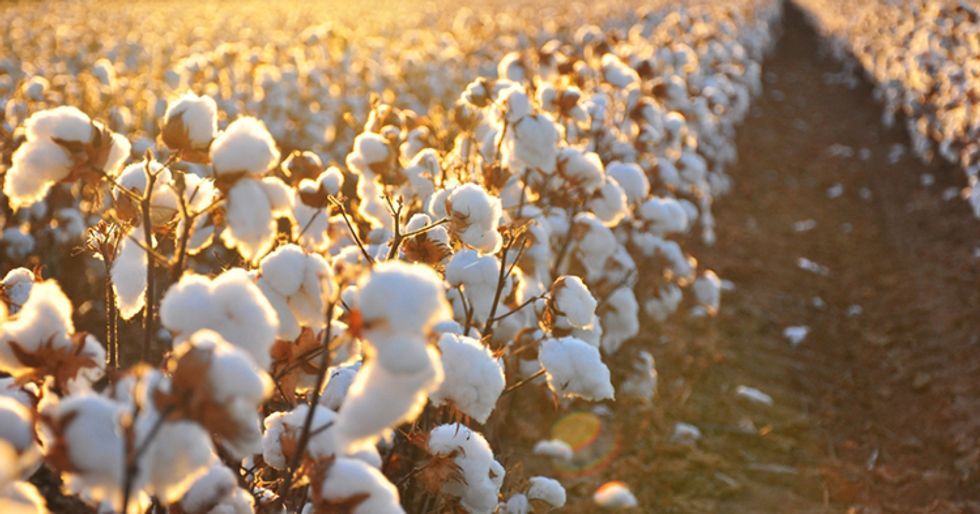 In addition to learning about seeds from women and peasants, I had the honor to participate and contribute to international and national laws on biodiversity. I worked closely with our government in the run-up to the 1992 Rio Earth Summit, when the UN Convention on Biodiversity (CBD) was adopted by the international community. Three key commitments in the CBD are protection of the sovereign rights of countries to their biodiversity, the traditional knowledge of communities and biosafety in the context of genetically-modified foods.
The UN appointed me on the expert panel for the framework for the biosafety protocol, now adopted as the Cartagena protocol on biosafety. I was appointed a member of the expert group to draft the National Biodiversity Act, as well as the Plant Variety and Farmers Rights Act. We ensured that farmers rights are recognized in our laws. "A farmer shall be deemed to be entitled to save, use, sow, resow, exchange, share or sell his farm produce, including seed of a variety protected under this act, in the same manner as he was entitled before the coming into force of this act", it says.
We have worked for the past three decades to protect the diversity and integrity of our seeds, the rights of farmers and resist and challenge the illegitimate IPR monopolies of companies like Monsanto which do genetic engineering to claim patents and royalties.
Patents on seeds are unjust and unjustified. A patent or any intellectual property right is a monopoly granted by society in exchange for benefits. But society has no benefit in toxic, non-renewable seeds. We are losing biodiversity and cultural diversity, we are losing nutrition, taste and quality of our food. Above all, we are losing our fundamental freedom to decide what seeds we will sow, how we will grow our food and what we will eat.
Seed as a common good has become a commodity of private seed companies. Unless protected and put back in the hands of our farmers, it is at risk of being lost forever.
Across the world, communities are saving and exchanging seeds in diverse ways, appropriate to their context. They are creating and recreating freedom—for the seed, for seed keepers and for all life and all people. When we save the seed, we also reclaim and rejuvenate knowledge—the knowledge of breeding and conservation, the knowledge of food and farming. Uniformity as a pseudo-scientific measure has been used to establish unjust IPR monopolies on seed. Once a company has patents on seeds, it pushes its patented crops on farmers in order to collect royalties.
Humanity has been eating thousands and thousands (8,500) of plant species. Today we are being condemned to eat GM corn and soya in various forms. Four primary crops—corn, soya, canola and cotton—have all been grown at the cost of other crops because they generate a royalty for every acre planted. For example, India had 1,500 different kinds of cotton, now 95 percent of the cotton planted is GMO Bt Cotton for which Monsanto collects royalties. More than 11 million hectares of land are used to cultivate cotton, of which 9.5 million hectares is used to grow Monsanto's Bt variety.
A common question is: Why do farmers adopt Bt cotton which harms them? But farmers do not choose Bt cotton. They have to buy Bt cotton as all other choices are destroyed. Monsanto establishes its seed monopoly through three mechanisms:
1. Make farmers give up old seed, called "seed replacement" in industry jargon.
2. Influence public institutions to stop breeding. According to information received through RTI, the Central Cotton Research Institute did not release cotton varieties for Vidharba after Monsanto entered with its Bt cotton seeds.
3. Lock Indian companies into licensing agreements.
These coercive, corrupt mechanisms are now falling apart. Navdanya created community seed banks and farmers have access to open pollinated, native organic seeds. The CCIR, under the leadership of Dr. Keshav Kranti, is developing native cotton varieties. Finally, the government also intervened to regulate Monsanto's monopoly. On March 8, it passed a seed price control order regulating the price of seed under the Essential Commodities Act.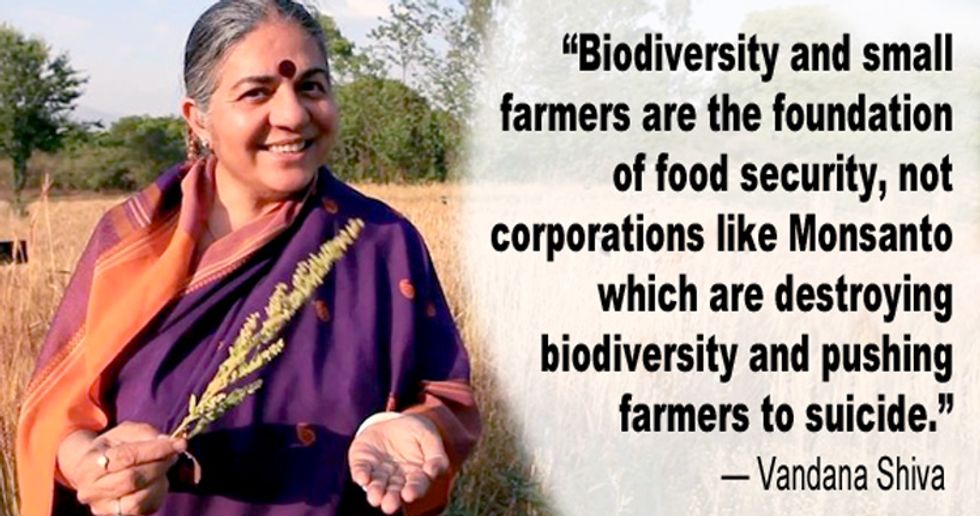 Monsanto and the biotechnology industry challenged the government order. We were impleaded in the Karnataka high court. On May 3, Justice Bopanna gave an order reaffirming that the government has a duty to regulate seed prices and Monsanto does not have a right to seed monopoly. Biodiversity and small farmers are the foundation of food security, not corporations like Monsanto which are destroying biodiversity and pushing farmers to suicide. These crimes against humanity must stop. That is why on Oct. 16, International Food Day, we will organize a Monsanto Tribunal at The Hague to "try" Monsanto for its various crimes.
YOU MIGHT ALSO LIKE
India Records Highest Temperature Ever: 123.8 Degrees Fahrenheit
How Carbon Farming Can Reverse Climate Change
17 Farmers Doing Much More Than Putting Food on Your Plate
Did Your State Make the Top 10 List for Its Commitment to Local Food?
Monsanto is in the news again. The Competition Commission of India, the country's antitrust regulator, said last week that it suspects a Monsanto joint venture abused its dominant position as a supplier of genetically modified (GMO) cotton seeds in India and has issued an order citing prima facie violation of Sections 3(4) and 4 of the Competition Act, to be investigated by Competition Commission of India's director-general.
Monsanto also faces cases brought by state governments and domestic seed manufacturers, for the astronomical royalty it charges. In previous cases, Monsanto defended itself by saying that it was "trait fees" (for using its technology in cotton hybrids) and not royalty.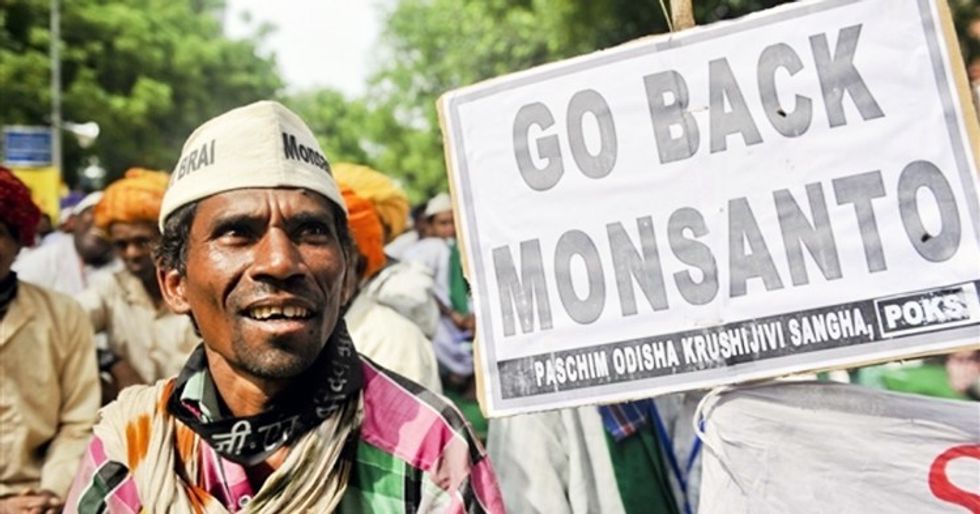 Fact is that Monsanto has viewed the laws of our land as mere hurdles in its way to swindle India and our farmers. On March 10, 1995, Mahyco (Monsanto-Mahyco) brought 100 grams of cotton seeds, containing the MON531-Bt gene, into India without the approval of the Genetic Engineering Appraisal Committee (GEAC).
Eager to establish a monopoly in India based on the smuggled MON531 gene, Monsanto-Mahyco started large scale, multi-centric, open field trials of Bt cotton in 40 locations spread across nine states, again without GEAC approval.
Article (7) of the Environment Protection Act, 1986, states: "No person shall import, export, transport, manufacture, process, use or sell any hazardous microorganisms or genetically engineered organisms/substances or cells except with the approval of the GEAC." GMO traits, once released into the environment, cannot be contained or recalled.
Genetically engineered cotton from the trials was sold in open markets. In some states, the trial fields were replanted the very next season with wheat, turmeric and groundnut, violating Para-9 of the Biosafety Guidelines (1994) on "post-harvest handling of the transgenic plants" according to which the fields on which GMO trials were conducted should have been left fallow for at least one year.
In face of these blatant violations of Indian laws and the risks of genetic pollution India faced, the Research Foundation for Science, Technology and Ecology filed a petition in the Supreme Court of India against Monsanto and Mahyco in 1999, for their violations of the 1989 rules for the use of GMOs under the Environmental Protection Act.
India's laws, rightly, do not permit patents on seeds and in agriculture. This has always been a problem for Monsanto and, through the U.S. administration, it has attempted to pressure India into changing her robust intellectual property regime since the World Trade Organization came into existence and continues to do so today.
Monsanto-Mahyco Biotech (MMB) Ltd collected royalties for Bt cotton by going outside the law and charging "technology fees" and "trait fee" to the tune of $900 million from marginal Indian farmers, crushing them with debt.
In 2006, out of the Rs 1,600 per 450 gram package of Bt cotton seed (Rs 3,555.55/kg), almost 80 percent (Rs 1,250) was charged by MMB as "trait fee." In stark contrast, before Monsanto destroyed alternative sources of seed (including local hybrid seed supply) through unfair business practices, local seeds used to cost farmers Rs 5-9/kg.
In response to the unfair pricing, the government of Andhra Pradesh filed a complaint with the Monopolies and Restrictive Trade Practices Commission against MMB, pointing out that Monsanto was charging Andhra Pradesh farmers nine times what it was charging U.S. farmers for the same seeds. MMB said the royalty it charged reflected its research and development costs for Bt cotton, admitting that they were charging royalty to Indian farmers.
Monsanto's ruthlessness is central to the crisis Indian farmers are facing. Farmers leveraged their land holdings to buy Bt cotton seeds and the chemicals it demanded, but the golden promise of higher yield and reduced pesticide use failed to deliver.
Of the 300,000 farmer suicides in India since Monsanto smuggled the Bt gene into India in 1995, 84 percent, almost 252,000, are directly attributed to Monsanto's Bt cotton.
While the government of India is suing Monsanto, the government of Maharashtra has signed an MoU with Monsanto to set up the biggest seed hub in the country in Buldana, announced at "Make in India Week." How can a corporation breaking India, taking the lives of Indian farmers, destroying our agriculture and food security and violating our laws be rewarded with the "Make in India" label?
For arrogantly breaking Indian laws and corrupting our regulatory systems, Monsanto must be held accountable. For the failure of Bt cotton, Monsanto must be made to pay damages to the farmers and seed companies that have had to pay "technology fees" for a failed technology.
The land that our farmers have lost to the agents selling Monsanto seeds and chemicals must be returned to the farmers' families. All the illegal royalty collected from our farmers and India's seed companies must be returned to India.
With its flagship product failing across the country year after year and the dimming prospects of the super-profits the company has become used to, why would Monsanto make a large investment in Vidarbha unless it is sure of continued monopoly?
The technical expert committee has recommended that Herbicide Tolerance (Ht) and GMO varieties of crops for which India is the center of diversity, not be allowed in India. Is Monsanto counting on the GEAC approving Bayer's herbicide-tolerant terminator mustard in contempt of the recommendations of the Technical Expert Committee? Allowing Bayer's Ht terminator mustard will open the floodgates for herbicide tolerant crops, worsening India's agrarian crisis and debilitating India's food security.
Herbicide tolerance, which goes hand in hand with Monsanto's glyphosate based RoundUp herbicide, has failed across the world at controlling weeds, creating super weeds. Glyphosate, classified by the World Health Organization as a carcinogen, is already being used across India and we are seeing an explosion of cancers in villages where glyphosate is used. If we allow another failed technology and its associated poisons to further destroy India's rural economy and allow extraction of profits from Indian farmers, we will fail our nation and India's future generations.
YOU MIGHT ALSO LIKE
This $16 Water Filter Could Save 100,000 Lives a Year
Organic Panty Liners Pulled From Shelves After Traces of Glyphosate Found
Johnson & Johnson to Pay $72 Million in Lawsuit Linking Talcum Powder to Ovarian Cancer
In 2008, before the climate summit in Copenhagen, I wrote the book Soil Not Oil. It was a time when the intimate connections between climate and agriculture, air and soil were not being recognized in any forum, neither in the negotiations on climate change nor in the climate movement. As we head into the Conference of the Parties (COP21) in Paris, agri-corporations are attempting to hijack climate talks once again.
Today we are faced with two crises on a planetary scale—climate change and species extinction. Our current modes of production and consumption are contributing to what climate change scientists term anthropogenic emissions—originating from human activity. If no action is taken to reduce greenhouse gases, we could experience a catastrophic 4C increase in temperature by the end of the century.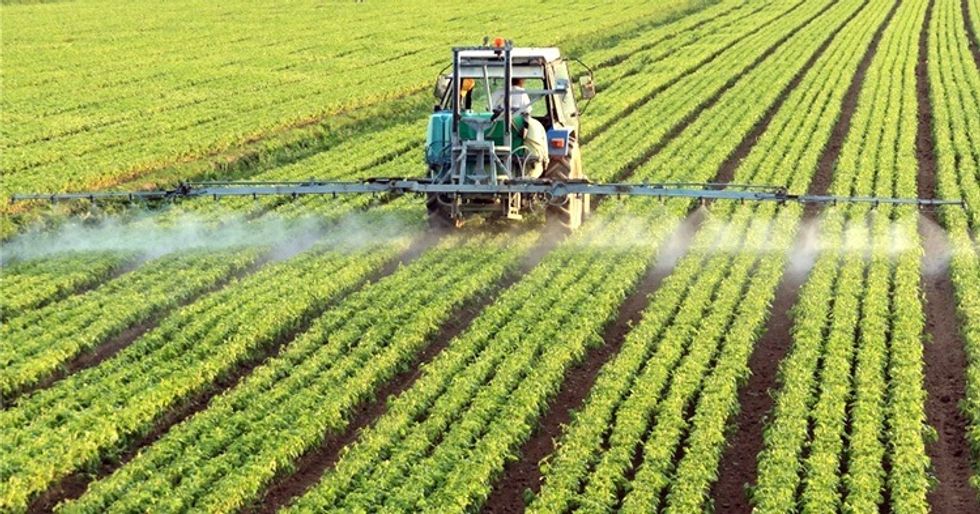 Our current modes of production and consumption are contributing to what climate change scientists term anthropogenic emissions—originating from human activity. Photo credit: The Corvallis Advocate
In addition to global warming, climate change is leading to the intensification of droughts, floods, cyclones and other extreme weather events that are costing lives. What can we do to mitigate this? Like the problem, the solution must be anthropogenic.
Three years after Rio (1992), the United Nations Leipzig Conference on Plant Genetic Resources assessed that 75 percent of the world's biodiversity had disappeared in agriculture because of the Green Revolution and industrial farming. The Food and Agriculture Organization (FAO) of the United Nations estimates that 70-90 percent of global deforestation is due to industrial agriculture pushing its monocultures further and further into forests to grow commodities for export—not for food.
As I wrote in Soil Not Oil, chemical agriculture and a globalized food system are responsible for 40 percent of all greenhouse gas emissions. A grain.org report concluded that "the current global food system, propelled by an increasingly powerful transnational food industry, is responsible for about half of all human produced greenhouse gas emissions: anywhere between a low of 44 percent to a high of 57 percent."
This is also where the Gates Foundation, along with the other biotech evangelists of our times, has it completely wrong. Climate-smart agriculture and "One Agriculture," packaged in a PR bubble, will starve the world and worsen the refugee crisis. The Gates Foundation, pretending to feed the world, is propagating the very source of half the climate problem.
"One Agriculture," for the profit of one company, is hardly a mitigation strategy. The Gates Foundation is pushing industrial agriculture, instead of agroecology which is already helping check climate change by converting fossilized carbon to green carbon. The accurate word for Bill Gates' faux philanthropy would be "fail anthropy."
As country after country bans the use of genetically modified organisms (GMOs), India has turned into the last battleground for GMO patent profits. Bt technology, the star of Monsanto's multi-million dollar R&D (fully paid for by Indian cotton farmers), has been known to be a failure in terms of yield and pest control since its beginning in India, illegally, in 1999. In addition to the historic failure of Bt cotton at raising farmers' incomes or producing more yield, the ancillary chemicals required by GMO varieties are also, quite clearly, failing. Bayer CropSciences' oberon, a pesticide that supposedly targets whitefly, has failed at its one purpose, causing a 60 percent crop failure in Punjab's cotton crop this year. The chemicals have failed the GMO. The GMO has failed in itself. Our government has failed our farmers by backing failed technologies that have only been successful in driving India's farmers to suicide.
Biodiverse systems are more resilient to climate change and are more productive in terms of nutrition per acre. Feeding the world is more about providing nourishment than about harvesting commodities to be traded and shipped globally, adding to emissions. Decentralized, diverse systems have more flexibility to respond to uncertainty as well.
Science and democracy are the forces that will protect the planet and our lives. Since 1992, the big polluters—the fossil fuel industry and the agrochemical industry (now also the biotechnology industry)—have done everything to subvert the legally binding, science-based, international environmental treaties on climate change and biodiversity.
What needs to be done is clear. In the case of climate change, the key strategy should be reduction of emissions and strategies for adaptation. We must move away from industrial, chemical-intensive agriculture, away from a centralized, global commodity-based food system that exacerbates emissions. Biodiversity conservation will be central to adaptation. In place of the biodiversity-destroying industrial monocultures, including those based on GMO seeds, we need a shift to agroecological practices that conserve biodiversity and ensure biosafety.
This transition will address both, the climate and biodiversity crisis simultaneously, as well as the food crisis. Even though industrial agriculture is a major contributor to climate change and more vulnerable to it, there is an attempt by the biotechnology industry to use the climate crisis as an opportunity to further push GMOs and to deepen their monopoly on global seed supply through biopiracy-based patents on climate resilient seeds, that were bred by farmers over generations. Climate resilient traits will become increasingly important in times of climate instability and, in the current system, will allow corporations to exploit farmers and consumers by owning the rights to these plants.
As Einstein said, "We cannot solve our problems with the same thinking we used when we created them." Centralized, monoculture-based, fossil fuel intensive systems, including GMO agriculture, are not flexible. They cannot adapt and evolve. We need flexibility, resilience and the ability to adapt to a changed reality. This resilience comes from diversity. This diversity of knowledge, economics and politics is what I call earth democracy.
As we head into the COP21 negotiations, not only do we have to beat our fossil fuel addiction, but also our addiction to failure. Failure is no longer an option. We cannot fail the Earth or each other.
YOU MIGHT ALSO LIKE
Monsanto Slammed With Yet Another PCB Contamination Lawsuit as Company Profits Slump
4 Ways to Stop the 'Biggest Environmental Crime of the 21st Century'
Monsanto Handed 'Double Whammy' by Mexican Courts Over Planting GMOs
TPP Text Reveals Broad New Powers for Corporations to Attack Food Labeling Laws
1. Myth of the Green Revolution
I wrote a book for the United Nations University, "The Violence of the Green Revolution," which has been republished by many publishers globally, including the Kentucky University Press. Extracts from the book are available on Google.
Nothing green in #GreenRevolution—No reason why #India should face #hunger & #FarmersSuicides http://t.co/mLzyoHtJhQ pic.twitter.com/U5MhkGV7zl
— Seed Freedom (@occupytheseed) August 15, 2015

My study was reinforced by the study done by Dr. Jatindar Bajaj, with whom I did MSc Hons in Physics from Punjab University in 1973. His study comparing pre and post Green Revolution performance showed that the rate of growth of aggregate crop production was higher in the years before the Green Revolution was introduced (1967-68) than after it.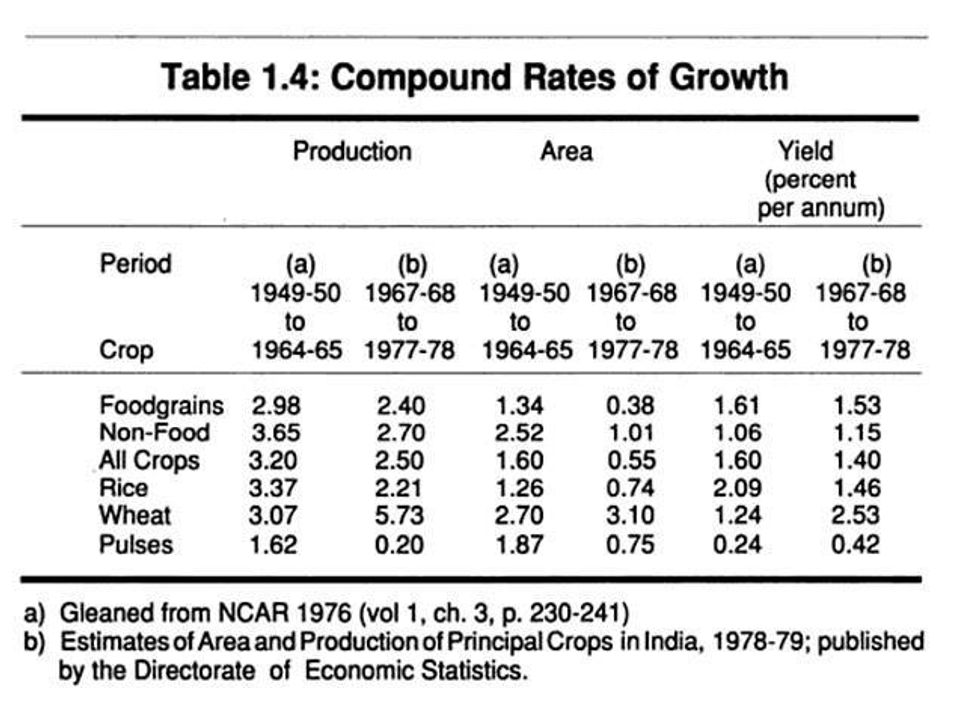 The Green Revolution did not save India from famine, as the proponents of Industrial Agriculture and GMO technology would argue, in fact the Green Revolution reduced India's production. For more information about the Green Revolution read, Nothing Green in the Green Revolution in India Today.
2. Myth of GMO Golden Rice as a Solution to Malnutrition
Here is our analysis establishing that our indigenous biodiversity and knowledge is far superior than Golden Rice to address malnutrition. Syngenta owns Golden Rice. It's promotion as the fruits of public sector research are a blatant lie and an attempt to mislead people across the world.
Further, the Golden Rice paper had to be retracted, any fabricated claims made based on the paper do not stand.
3. Myth that Obesity is the Only Disease Related to Food
The epidemic of cancer has affected the farmers of Punjab because of pesticides. It has affected farmers of West UP. In a single village, our recent field survey revealed that there were 100 cancer victims. The farmers are getting into debt and committing suicide buying the pesticides and the citizens are dying of cancer because of the same poisons.
This is why we started the Anna Swaraj Abhiyan 2020 from Meerut, the sacred land of our first movement of independence.
Our book Health Per Acre shows we can feed two India's with nourishing, poison free food through organic.
Our book Wealth Per Acre, for which the Forward was written by the Hon Agriculture Minister, Shri Radha Mohan Singh, shows how the negative externalities of farming with poisons are costing the country $1.26 trillion annually.
4. Myth of Safety
While the literature on biosafety is vast and I was appointed as a member of the expert group on biosafety by UNEP to create the framework for the International Law on Biosafety, two recent publications show that the assumption of safety and "substantial equivalence" is false.
One study is from the Norwegian Government, another by an Indian scientist from MIT who invented email.
New research is showing that there is no evidence of GMO safety.
Research is also showing the falseness of the assumption of substantial equivalence.
5. Myth of the GMOs Story as One of Science
The GMO story is not one of science, but of an unscientific and illegal takeover of our seeds and food.
YOU MIGHT ALSO LIKE
Vandana Shiva: There Is No Reason Why India Should Face Hunger and Farmers Should Commit Suicide
Scotland Bans the Growing of Genetically Modified Crops
Vandana Shiva: 'We Must End Monsanto's Colonization, Its Enslavement of Farmers'
There is no reason why India should face hunger and malnutrition and why our farmers should commit suicide. India is blessed with the most fertile soils in the world. Our climate is so generous we can, in places, grow four crops in a year—compared to the industrialized west where sometimes only one crop is possible per year. We have the richest biodiversity of the world, both because of our diverse climates and because of the brilliance of our farmers as breeders. Our farmers are among the most hardworking, productive people in the world. Yet India faces an emergency, in our food and agricultural system. This emergency is man-made.
Firstly, the poor and vulnerable are dying for lack of food. According to the Deccan Herald, Lalita S. Rangari, 36, a Dalit widow and mother of two children of the Gondiya tribal belt, allegedly died due to starvation. Justice Bhushan Gavai and Justice Indu Jain of the Nagpur Bench of the Bombay High Court have served notice to the government of Maharashtra seeking its reply to the starvation death of a Dalit widow.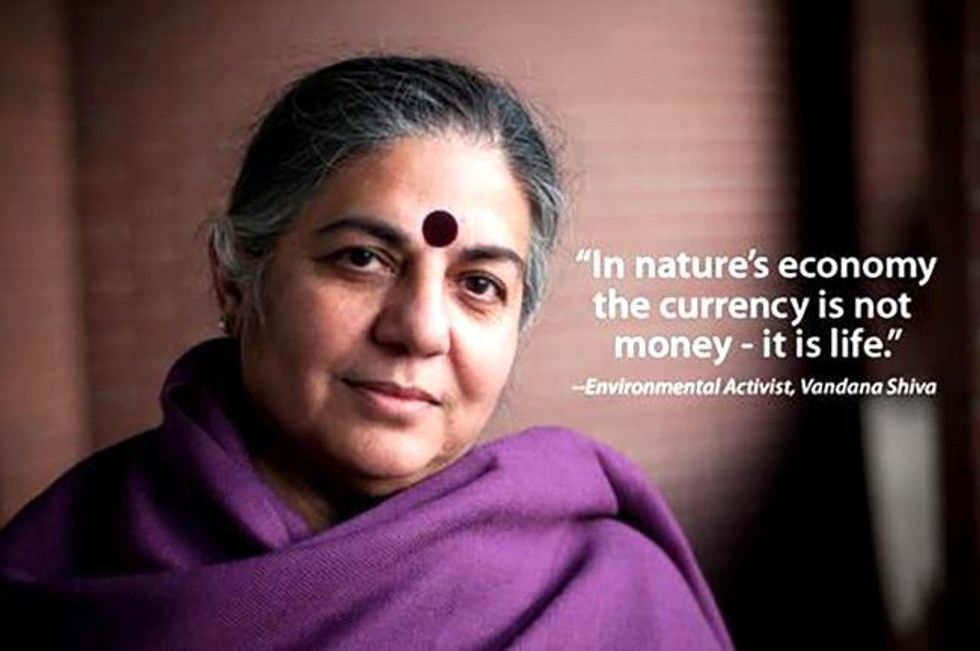 Photo credit: Nourishing Revolution
Even as India gets richer, we have emerged as the capital of hunger and malnutrition. According to the National Family Health Survey (NFHS), 42.5 percent of children under five years old were underweight. This is more than double the African average of 21 percent, which until recently was the face of hunger.
The second tragedy is that our food producers, the small farmers who have provided food to more than a billion Indians and hold the potential to provide healthy food for all, are themselves dying because of agriculture and trade policies which put corporate profits above the rights and well being of our small farmers. More than 300,000 farmers have committed suicide in India since 1995, when the rules for the globalization of agriculture of the World Trade Organization (WTO) were implemented, transforming food into a commodity, agriculture into corporate business and shifting control over seeds and food from farmers to a handful of giant multinational corporations.
The third tragedy is that even those who get food are being denied their right to healthy and nourishing food. The explosion of junk food, of pesticides and toxics in our food, have created a disease epidemic that is a human tragedy and an economic burden. There is an epidemic of diseases related to our lifestyle and food, such as diabetes, cancer, hypertension, infertility and cardiovascular diseases.
The recent Maggi noodle scandal highlights the rapid invasion of junk food in the Indian diet. We are what we eat. When we eat food full of toxic chemicals, we pay the price with our health. India has emerged as the epicenter of diabetes.
In 2004, 8.2 lac Indians were diagnosed with diabetes and 2.6 lac succumbed to the disease. In 2012, the diabetes numbers jumped to 180 lac diagnosed and 7 lac dead. In 2010 alone, India spent 32 billion dollars on diabetes care. Cancer has also seen an increase by 30 percent in the last 5 years, with 180 million people affected in India. At 10 lac treatment per cancer victim this multiplies to 300 billion dollars, or 18 lac crores in rupees.
In extensive studies reported in "Poisons In Our Food" by Navdanya, elevated levels of PCBs, DDE and DDT have been found in the blood of women suffering from breast cancer. Studies show that 51 percent of all food commodities are contaminated by pesticides.
India Today I#ndependence Day special on #Hunger and the #GreenRevolution. Nothing Green in the Green Revolution http://t.co/BJeqqyzqFw
— Dr. Vandana Shiva (@drvandanashiva) August 14, 2015

My research over the past three decades on food and agriculture systems in India and across the world, informs me that the three tragedies are not separate, they are related and are, in fact, different dimensions of the food and agriculture crisis linked to promotion of an ecologically, economically and socially non sustainable model of food production and distribution referred to by various names, such as the Green Revolution, Industrial Agriculture, Chemical Farming. Solutions to all 3 dimensions of the crisis lie in shifting from the focus on an unhealthy, nutritionally empty, toxic, high cost food system to a healthy, nutritious, low cost and sustainable system which improves the health and well being of the earth, of the farmers and all citizens.
The industrial model relies on intensive consumption of energy, water, chemicals, capital and fossil fuel, inflating costs of production to much higher levels than the price farmers get for their harvested crops. This high cost system, which neither the farmers nor the nation can afford, is artificially kept afloat with a huge subsidy burden which only benefits the agrichemical corporations selling toxic chemicals. Financially, it is a negative economy, vulnerable to a chaotic climate in times of climate change and a manipulated commodity market. The debt and suicides of farmers are related to this feature of economic non-sustainability.
In 2014-15, the government procured 51 million tons of wheat and paddy, which is 30 percent lower than the previous year. With farmers now selling their food grains in the open market, wholesale prices of paddy and wheat crashed by 16 percent and 6 percent, respectively. In several parts of Bundelkhand and Western U.P., farmers sold wheat at a much lower rate than Minimum Support Price. In Punjab and Haryana, farmers were dumping stocks in front of government procurement centers. The farmers crisis is related to exploitation and injustice. Ecologically too industrial, chemical agriculture is a negative economy, using ten units of energy as input for every one unit produced as food.
The same system that drives farmers into a debt trap also creates malnutrition. Chemical monocultures and commodity production displace biodiversity which is a source of nutrition. The Green Revolution, which only works as monocultures, has destroyed our pulses and oilseeds—which were always grown as a mixture along with cereals. Today, in the land of urad and moong, tuar and chana, gahat and naurangi, we are importing "yellow pea dal," having removed them from our fields to grow Green Revolution monocultures. In the land of til and sarson, alsi and coconut, we are importing GMO soya oil and palm oil. If we avoid growing nutritious biodiverse crops, malnutrition is a predictable outcome. If we grow or food with toxic chemicals then diseases related to these poisons are bound to increase. A recent field survey by Navdanya revealed that in a single village, Gangnauli (Bagphat), there are 100 patients suffering from various types of cancer.
Chemical monocultures are pushing our farmers to debt and suicide, they are depriving our children of the nourishment that our fertile soils and hard working farmers could be growing and they are spreading an epidemic of cancer. To address the triple crisis of farmers suicides, hunger and malnutrition and disease epidemics, Navdanya is starting a five year campaign—Anna Swaraj (Food Sovereignty) 2020—to make the growing and availability of healthy, nourishing food the foundation of a resurgent India where no child goes hungry and no farmer commits suicide.
Our work over the past 3 decades has shown that when measured in nutrition per acre, biodiverse, organic, natural farming produces more food (health per acre). And food is supposed to provide nourishment and nutrition. We can grow enough nutrition for two India's, if we cultivate biodiversity without chemicals. Our farmers are small and ecological agriculture is better suited for them. Ecological farming also gets rid of toxics from our food crops and thus reduces the risks of diseases linked to those toxics (poisons in our food). Since hunger and poverty go hand in hand, we need to promote an agriculture that does not create poverty by haemorrhaging the scarce resources of the agrarian economy (to multinational corporations) for purchase of costly seeds and toxic chemicals.
Our research in Wealth per Acre has assessed that farmers who have their own seed, practice chemical free, ecological agriculture and shape fair trade markets are earning 10 times more than their counterparts who dependent on costly corporate seeds, chemicals from the same companies and forced dependence on exploitative commodity markets. If wheat farmers shifted from monocultures to growing diversity their net incomes would increase two to three fold. The crisis of pulses is a result of the Green Revolution monocultures of wheat and can be overcome through growing mixtures. And we would not need to import low quality dals. Pulses grown with cereals provide free nitrogen to the soil and healthy protein to us.
The Anna Swaraj agenda for a food and agriculture revolution and food democracy with the participation of citizens and all levels of government, from the local, to the state, to the national level:
We must stop treating food as a commodity, to be wasted, contaminated and profited from. Article 21, of India's constitution, guarantees the Right to Life of all citizens. Food is the basis of life, the right to food is a basic human right. The National Food Security Act is a step in this direction and needs to be implemented with full commitment. Our culture teaches us "Annam Brahman"—food is divinity. Commodification of food is a violation of food as sustenance.
We need to promote chemical free organic farming, not as a luxury, but as an imperative for the well being of our land, our farmers and our health. Chemical free ecological agriculture reduces costs of cultivation, reducing the debt burden for farmers as well as the malnutrition and disease burden for all citizens .
We need to move away from centralized, chemical and fossil fuel intensive monocultures accompanied by long distance transport (including dependence on imports) towards promotion of local Anna Swaraj food circles for direct consumer—producer links, bypassing the exploitative 'middlemen', like giant corporations which exploit, both, farmers and consumers. These circles will promote biodiversity on our farms and biodiversity on our plates, which is vital for nutrition. Thereby, also promoting economic diversity, creating employment and cultivating food democracy.
We need to shift the use of public tax money from subsidising toxic, nutritionally deficient commodities as food for the vulnerable—who do not have adequate purchasing power to buy healthy, safe, diverse, nutritious food—by removing subsidies offered to multinational chemical corporations that only add toxicity to our food system. There is no justification for using crores of tax money to subsidise bad food when that money could promote a healthy and sustainable food system for Mid Day Meal schemes, PDS and ICDS through people's participation, specially that of women who would like to bring nutritious food to their children.
We need to grow more food and nutrition everywhere, in villages and in cities—in communities, in schools, in backyards, on roof tops and terraces. These Gardens of Nutrition and Gardens of Hope can contribute to creating a malnutrition and hunger free India. Gandhi Ji had started a Grow more Food campaign and Lal Bahadur Shastri encouraged turning lawns into edible gardens. That spirit needs to be cultivated again to free India from the clutches of global agrichemical corporations.
From Meerut, the sacred land of our first freedom movement of 1857, a new freedom movement for Food Freedom—Anna Swaraj—was launched on August 2 by Navdanya.
Food freedom is based on the liberation of the earth from ecological destruction and toxic pollution, the liberation of the farmers from suicides due to debt created by dependence on the purchase of costly chemicals and seeds and the liberation of the citizens from malnutrition and disease caused by those toxic pesticides, insecticides and herbicides.
The Anna Swaraj Abhiyan was launched with a campaign on Food Smart Citizens for Food Smart Cities—connecting producers to consumers and the village with the town in direct links through safe, fresh, local and fair food.
Navdanya has started to create Food Smart Cities to address the food and nutrition emergency we face. Food Smart Cities connect citizens directly to the farmers in their foodshed area, allowing direct access to healthy, local, fresh, fair food for the cities and access to a fair market to the farmers. If we join in the mission of Anna Awaraj 2020, India can become a land of good food for all. The Taitreya Upanishad has said the growing and giving of good food is the highest Dharma—Annam Bahu Kurvitha—let us all be reminded of this duty on this, our Independence Day.
YOU MIGHT ALSO LIKE
Scotland Bans the Growing of Genetically Modified Crops
7 Products Big Food Wants You to Think Are Healthy
Vandana Shiva: 'We Must End Monsanto's Colonization, Its Enslavement of Farmers'
Citizens of the U.S. are being denied the right to know what they are feeding their families. Despite the fact that 90 percent of American citizens want GMO labeling on their food, big business is doing everything it can to prevent people from accessing their rights. Representative Pompeo's bill, popularly known as the DARK Act (Denying Americans the Right to Know), has been written almost entirely by the biotech industry lobby. While American citizens are advocating for their rights to knowledge and healthy, affordable food, Monsanto's legal team is busy on every legislative level trying to prevent this from happening.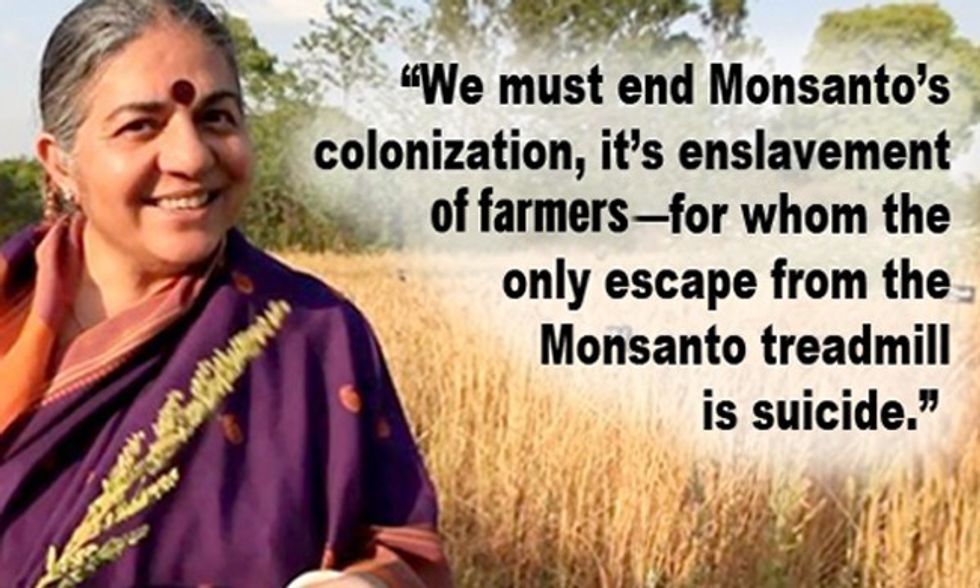 Monsanto's subversion of democratic legal processes is not new. In fact, it is their modus operandi, be it the subversion of LA's decision to be GMO free by amending the California Seed Law—equating corporations with persons and making seed libraries and exchange of seed beyond 3 miles illegal—or suing Maui County for passing a law banning GMOs.
Decades before there was a "debate" over GMOs and Monsanto's PR and law firms became the busiest of bees, India was introduced to this corrupting, corporate giant that had no respect for the laws of the land. When this massive company did speak of laws, these laws had been framed, essentially, by their own lawyers.
Today, Indian cotton farmers are facing a genocide that has resulted in the death of at least 300,000 of their brothers and sisters between 1995 and 2013, averaging 14,462 per year (1995-2000) and 16,743 per year (2001-2011). This epidemic began in the cotton belt, in Maharashtra, where 53,818 farmers have taken their lives. Monsanto, on it's own website, admits that pink bollworm "resistance [to Bt] is natural and expected" and that the resistance to Bt "posed a significant threat to the nearly 5 million farmers who were planting the product in India." Eighty four percent of the farmer suicides have been attributed to Monsanto's Bt Cotton, placing the corporation's greed and lawlessness at the heart of India's agrarian crisis.
There are three outright illegalities to Monsanto's existence in India.
First, Monsanto undemocratically imposed the false idea of "manufacturing" and "inventing" a seed, undermining robust Indian laws—that do not allow patents on life—and by taking patents on life through international trade law. Since 1999, Monsanto has had the U.S. government do its dirty work, blocking the mandatory review of the Monsanto Law in TRIPS (the Trade Related Intellectual Property Rights Agreement implemented through the WTO).
Second, since they do not have a patent for Bt-Cotton, Monsanto's collection of royalties as "trait value" or as a "fee for technology traits" (IPR category that does not exist in any legal framework and was concocted by Monsanto lawyers to work outside of the laws of the land) is illegal. These illegal royalty collections have been collected from the most marginal farmers, pushing them to take their own lives.
Third, the smuggling of a controlled substance without approvals (and thus Monsanto's very entry into India) is a violation and subversion of India's Biosafety Regulations. This includes the illegal introduction of GMOs into the food system in India, which poses grave risks to the health of ordinary Indian citizens.
Illegal entry of Bt Cotton into India
The Genetic Engineering Appraisal Committee (GEAC), the apex body constituted in the Ministry of Environment and Forests, is solely entrusted with the responsibility of approving field trials of any genetically modified organisms (GMOs). India's biosafety framework—one of the strongest in the world—is governed by The Rules for the Manufacture, Use, Import, Export and Storage of Hazardous Micro Organisms, Genetically Engineered Organisms or Cells (notified under the Environment Protection Act, 1986).
ARTICLE (7) OF THE RULES STIPULATES:
APPROVAL AND PROHIBITIONS ETC.
(1) NO PERSON SHALL IMPORT, EXPORT, TRANSPORT, MANUFACTURE, PROCESS, USE OR SELL ANY HAZARDOUS MICROORGANISMS OF GENETICALLY ENGINEERED ORGANISMS/SUBSTANCES OR CELLS EXCEPT WITH THE APPROVAL OF THE GENETIC ENGINEERING APPROVAL COMMITTEE.
On 10 March 1995, MAHYCO (which became Monsanto-Mahyco in 1998) imported 100 grams of cottonseed that contained the MON531-Bt Gene into India without approval from the GEAC. MAHYCO, under undisclosed circumstances, had obtained permission from the RCGM (Review Committee of Genetic Manipulation under the Department of Biotechnology (DBT)), which does not have the authority to approve such an import. Without the approval of the governing body responsible for the approval of the import (GEAC) Monsanto had smuggled a controlled substance into India.
ARTICLE (4) OF THE RULES STIPULATES:
(4) GENETIC ENGINEERING APPROVAL COMMITTEE (GEAC)
THIS COMMITTEE SHALL FUNCTION AS A BODY UNDER THE DEPARTMENT OF ENVIRONMENT FORESTS AND WILDLIFE FOR APPROVAL OF ACTIVITIES INVOLVING LARGE SCALE USE OF HAZARDOUS MICROORGANISMS AND RECOMBINANTS IN RESEARCH AND INDUSTRIAL PRODUCTION FROM THE ENVIRONMENTAL ANGLE. THE COMMITTEE SHALL ALSO BE RESPONSIBLE FOR APPROVAL OF PROPOSALS RELATING TO RELEASE OF GENETICALLY ENGINEERED ORGANISMS AND PRODUCTS INTO THE ENVIRONMENT.
Open field trials are a deliberate release of GMOs into the environment and, under the above Indian law, require approval by the GEAC. Eager to get to market and establish a monopoly in the cotton sector of India in 1998, Monsanto-Mahyco, without the approval of the sole agency allowed to grant permission for open field trials—the GEAC—started large scale, multi-centric, open field trials of Bt Cotton in 40 locations spread across nine states of India.
The eventual clearance, long after the commencement of these field trials, came once again from the Review Committee of Genetic Manipulation (RCGM), which is not authorized to grant clearance for field trials. RCGM's mandate is restricted to guidelines for lab research. Without approval from the GEAC, Monsanto's open field trials of Bt Cotton in 1998 were blatantly illegal and an act of biological warfare against India through genetic pollution.
Furthermore, no post harvest management and safety was ensured in these trials by Monsanto-Mahyco. Monsanto was not concerned with the findings of the trials at all; they just wanted GM seeds to be introduced into Indian soil and they did so without due process. GMO traits, once released into the environment, cannot be contained or recalled. In fact, genetically engineered cotton was sold in open markets. In some states, the trial fields were replanted the very next season with crops including wheat, turmeric, and groundnut, violating Para-9 on "Post harvest handling of the transgenic plants" of the Biosafety Guidelines (1994), according to which,the fields on which GMO trials were conducted should be left fallow for at least one year.
It was in the face of these violations of Indian laws and the risks of genetic pollution India faced, that the Research Foundation for Science, Technology and Ecology (RFSTE) filed a petition in the Supreme Court of India in 1999 against Monsanto and MAHYCO. Clearly, Monsanto and MAHYCO had violated the 1989 rules for the use of GMOs under the Environmental Protection Act (1986). The government had allowed Monsanto to carry out field trials without the mandatory scientific biosafety tests.
Without waiting for the outcome of the petition pending in the Supreme Court—around President Bill Clinton's visit to India—in March 2000 the Department of Biotechnology gave biosafety clearance to Monsanto's Bt Cotton and in July 2000 the GEAC cleared large-scale field trials of Bt Cotton despite the pending Supreme Court case. This was two years after Monsanto first started illegal trials. CD Mayee, Co-Chairman of the GEAC, also became the first Indian board member of ISAAA, a biotech evangelist group, in 2006. He is the chairman of the sub-committee on Bt Cotton of the GEAC and interestingly, also sits of on the Agriculture Ministry's Committee on Endosulfan, an insecticide with acute neurotoxin properties developed by Bayer CropScience, which is a major funder—along with Monsanto—of ISAAA.
Monsanto Bt Cotton seeds had not yet been cleared for commercial release. While the RFSTE case against Monsanto was still in the Supreme Court of India, Monsanto reported to the GEAC, in 2001, that Navbharat Seeds Pvt. Ltd., a company in Gujarat, was selling Navbharat 151 seeds, which had the MON531 Bt gene. This was not a cowboy company selling on the black market. This was a company with enough Bt Cotton seeds for the 10,000 Hectares of Navbharat 151 planted at the time. On Monsanto's complaint, the GEAC started an investigation, carried out by the two-member team of CD Mayee and T.V. Ramanaiah (from the Department of Biotechnology (DBT)), who found Bt traits in the cotton. A case was filed in Gujarat against Navbharat Seeds Pvt. Ltd.
Post investigation, the GEAC ordered all standing crops of Navbharat 151 to be uprooted and destroyed along with seed production plots due to the major risks posed by Bt. In a submission to the court, the GEAC stated:
"12 (I) THE CROP WHICH IS STANDING MAY PASS TO THE SOIL THAT MODIFIED GENES WHICH IT CONTAINS. THE EFFECT ON SOIL MICROORGANISMS CAN NOT BE ESTIMATED AND MAY CAUSE AN IRREVERSIBLE CHANGE IN THE ENVIRONMENT STRUCTURE OF THE SOIL. IT IS A STANDARD PRACTICE TO UPROOT CROPS WHICH POSE SUCH A THREAT. THE DESTRUCTION BY BURNING IS TO ENSURE SAFETY TO ENVIRONMENT AND HUMAN HEALTH AND TO OBVIATE ANY POSSIBILITY OF CROSS-POLLINATION.
(II) THE DESTRUCTION OF THE COTTON PRODUCE AS WELL AS SEEDS HARVESTED FROM THIS PLANT IS ALSO EQUALLY NECESSARY. THE COTTON WHICH HAS BEEN PRODUCED IS GENETICALLY MODIFIED COTTON, THE EFFECT OF WHICH I.E. ALLERGENICITY AND OTHER FACTORS ON MAMMALS ARE NOT TESTED. THE PRECAUTIONARY PRINCIPLES WOULD REQUIRE THAT NO PRODUCT, THE EFFECT OF WHICH IS UNKNOWN BE PUT INTO THE MARKET STREAM. THIS COTTON WHICH IN APPEARANCE IS NO DIFFERENT FROM ANY OTHER COTTON WILL INTERMINGLE WITH ORDINARY COTTON AND IT WILL BECOME IMPOSSIBLE TO CONTAIN ITS ADVERSE AFFECT. THE ONLY REMEDY IS TO DESTROY THE COTTON AS WELL AS THE SEEDS PRODUCED AND HARVESTED IN THIS MANNER.
(III) SINCE THE FARMERS ARE BEING PUT TO A LOSS, THE FURTHER PROCESS TO DETERMINE THE COMPENSATION PAYABLE TO FARMERS, WHO HAVE UNWITTINGLY USED THIS PRODUCT HAS TO BE DETERMINED AND UNDERTAKEN.
13. I WOULD RESPECTFULLY SUBMIT THAT EVERY DAY OF DELAY IN THIS MATTER POSES A THREAT TO THE ENVIRONMENT."
Having just concluded that Bt was dangerous and all of it had to be uprooted and burned, a few weeks later the GEAC approved the commercial release of Monsanto-Mahyco Biotech (MMB) Bt Cotton.
The national farmers unions made a joint petition to the GEAC and asked for an inquiry committee to be set up and liability and compensation fixed on the basis of the "polluter pays" principle. Since Monsanto-Mahyco is admittedly the source of the GM pollution, they, along with Navbharat Seeds Pvt. Ltd, which has further spread the pollution, are jointly liable for the pollution caused.
Monsanto's Bt Cotton has also found its way into edible vegetable oils in India.
In a government document, the Department of Biotechnology states:
COTTON SEEDS CAN BE TOXIC IF INGESTED IN EXCESSIVE QUANTITIES BECAUSE OF THE PRESENCE OF ANTI-NUTRITIONAL AND TOXIC FACTORS INCLUDING GOSSYPOL AND CYCLOPROPENOID FATTY ACIDS.
but then goes on to say in the next sentence:
THE OIL AND LINTERS ARE USED AS PREMIUM VEGETABLE OILS AND AS CELLULOSE DIETARY ADDITIVES FOR HUMAN CONSUMPTION, RESPECTIVELY. TRADITIONALLY, WHOLE COTTON SEED IS USED AS CATTLE FEED IN INDIA. HOWEVER, THE INCREASE IN DEMAND OF EDIBLE OILS HAS NECESSITATED PROCESSING OF COTTON SEED FOR ITS OIL. THEREFORE, COTTON SEED OILCAKE/MEAL AFTER EXTRACTION IS NOW USED AS CATTLE FEED.
Monsanto's Bt Cotton, without the support of necessary precautions and scientific studies, has illegally found its way into the Indian food chain, endangering the health of 1.26 billion Indians. The health effects of Bt Cotton seed oil in "premium vegetable oil" (as the DBT calls it) must be investigated and the damage to people's health must be compensated by Monsanto.
Monsanto's illegal collection of super-profits as royalties
India's laws do not permit patents on seeds and in agriculture. But that hasn't stopped Monsanto from collecting close to USD 900 million from small farmers in India, pushing them into crushing debt. This is roughly the same amount of money Monsanto spent buying The Climate Corporation—a weather big data company—in a bid to control climate data access in the future.
Monsanto-Mahyco Biotech Ltd collected royalties for Bt Cotton by going outside the law and charging "technology fees" and "trait value". These are just clever names for royalty collection. In 2006, out of the INR 1600 (per 450 grams) price tag, INR 1250—almost 80 percent—was charged by MMB as the trait value. Compared to Bt Cotton, local seeds used to cost INR 5-9 per kg before Monsanto destroyed alternatives, including local hybrid seed supply, through licensing arrangements and acquisitions.
In January 2006, the Andhra Pradesh Government filed a complaint with the Monopolies and Restrictive Trade Practices Commission (MRTPC) against Monsato-Mahyco Biotech (MMB), accusing MMB of overpricing genetically modified Bt Cotton seeds. The Research Foundation for Science Technology and Ecology had to intervene in the MRTPC case. In its submission, the Andhra Pradesh Government pointed out that Monsanto charged only about INR 400 for the same packet of seeds in China and only about INR 200 in the U.S.—9 times less than the amount they were forcing Andhra Pradesh farmers to pay. MMB said the royalty it charged reflected its research and development costs for Bt Cotton, admitting that they were charging Indian farmers royalty and that for some reason, Indian farmers owed them more for their research and development than farmers in the U.S..
On May 10, 2006, the MRTPC ruled in favor of the Andhra Pradesh government and directed MMB to reduce the trait value it was unfairly charging the farmers of Andhra Pradesh. Following this, on May 29, 2006, the Andhra Pradesh Agricultural Commissioner fixed the price of Bt Cotton seeds at INR 750 for a 450-gram packet and directed MMB and its sub-licensees to comply with its order. Monsanto challenged the Andhra Pradesh Government and the MRTPC's decision in the Supreme Court, saying that the government's move was illegal and arbitrary. The Supreme Court did not stay the MRTPC's order, but while the appeal was pending before it, five states— Karnataka, Tamil Nadu, Gujarat, West Bengal, and Madhya Pradesh (now Maharashtra as well)—followed Andhra Pradesh's lead and ordered that Bt Cotton should be sold at a reduced price, dealing a blow to the inflated profits Monsanto was taking from Indian peasants and repatriating to their headquarters in St. Louis.
To side-step price control measures and avoid any regulation that had been applied to Bt Cotton, which was marketed in India as Bollgard, Monsanto introduced Bollgard II, its apparently 'upgraded' version with two Bt proteins. Monsanto's intentional scientific ignorance (despite the availability of scientific studies at the time) is obvious. GMOs which release the Bt toxin in high doses in every cell of every plant are highly toxic to pollinators and friendly insects and are a recipe for creating super pests through the emergence of resistance. The pink bollworm underwent what every intelligent being does—it evolved—it became resistant to Bt. On it's website, Monsanto admits, "Measures to delay resistance are critically important" and "application of insecticide sprays during the crop season and proper management of crop residue and unopened bolls after harvest will help limit insects in cotton fields". What are farmers being made to pay for if normal bollworm control measures are still required, they are still expected to buy and spray insecticides and 80 percent of the cost of the seed goes for failed R&D?

Monsanto admitted that the pink bollworm was resistant to Bollgard and claimed Bollgard II, with it's two Bt proteins would control the bollworm epidemic. This allowed Monsanto to continue looting marginalised small farmers. By claiming Bollgard II was better technology than the first version, Monsanto was able to mislead farmers and charge even higher prices. (Oblivious to it's earlier Bt failures, Monsanto is currently working on a 3-protein Bt variety to continue it's looting)
And Monsanto still claims Bt Cotton is resistant to Bollworm and have all their hired mouthpieces claim that there is reduced pesticide usage due to this inherent trait. In reality, requirements of pesticide increase every year with Bt Cotton. Clearly misrepresenting their lacklustre product, the only reason for the existence of Bt Cotton is royalties. Monsanto itself is on record at the 52nd Meeting of the GEAC (held on 4 March 2005) saying that Bt is not resistant to Bollworm.
"TO A QUERY ON WHETHER THE BT VARIETY IS RESISTANT TO BOLLWORM COMPLEX OR ONLY EFFECTIVE AGAINST AMERICAN BOLLWORM IT WAS CLARIFIED THAT BT COTTON IS TOLERANT TO BOLLWORM AND NOT RESISTANT."
SOURCE: MINUTES OF THE 52ND MEETING OF THE GEAC
This ruthlessness is central to the crisis Indian farmers are facing. Farmers leveraged their land holdings to buy Bt Cotton seeds and the chemicals it demanded, but the golden promise of higher yield and lower input costs failed to deliver. They were left with no option but to take their own lives. (Incidentally, CD Mayee was the chair of the GEAC subcommittee on Bt Cotton, which still monitors the performance of Bt Cotton and his reports on the performance of Bt Cotton were and still are, very different from the real experiences of the farmers driven to suicide by failed harvests and inferior quality cotton yield.)
In 2007 Andhra Pradesh was forced to introduce the Andhra Pradesh Cotton Seeds Act to control the price of cottonseed, since Bollgard II prices were still astronomically high due to a majority royalty component.
The following Act of the Andhra Pradesh Legislature received the assent of the Governor in August 2007:
ACT NO.29 OF 2007
SHORT TITLE AND COMMENCEMENT
DEFINITIONS
AN ACT TO REGULATE THE SUPPLY, DISTRIBUTION, SALE AND FIXATION OF SALE PRICE OF COTTON SEEDS AND FOR THE MATTERS CONNECTED THEREWITH OR INCIDENTAL THERETO.
WHEREAS, COTTON SEEDS OF CERTAIN VARIETIES ARE NOT NOTIFIED UNDER SECTION 5 AND CONSEQUENTLY NO SALE OF SUCH SEEDS ARE REGULATED UNDER SECTION 7 OF THE SEEDS ACT, 1966;
AND WHEREAS, COTTON SEED IS NOT AN ESSENTIAL COMMODITY WITHIN THE MEANING OF THE ESSENTIAL COMMODITIES ACT, 1955 AS AMENDED BY THE ESSENTIAL COMMODITIES (AMENDMENT) ACT, 2006;
AND WHEREAS, THE PROVISIONS OF THE SEEDS (CONTROL) ORDER, 1983 ISSUED UNDER SECTION 3 OF THE ESSENTIAL COMMODITIES ACT, 1955 ARE NOT APPLICABLE IN SO FAR AS THEY RELATE TO THE COTTON SEEDS W.E.F. 12.2.2007;
AND WHEREAS, THERE IS NO PROVISION IN THE ENVIRONMENTAL PROTECTION ACT, 1986 TO REGULATE THE SUPPLY, DISTRIBUTION AND SALE OF TRANSGENIC AND GENETICALLY MODIFIED COTTON SEED AND TO CONTROL THE SALE PRICE OF SUCH COTTON SEED IN THE STATE;
AND WHEREAS, THE TRADERS IN COTTON SEED INCLUDING TRANSGENIC COTTON SEED ARE EXPLOITING POOR FARMERS BY COLLECTING EXORBITANT PRICES;
AND WHEREAS, THERE IS NO PROVISION TO REGULATE THE SUPPLY, DISTRIBUTION, SALE OF COTTON SEEDS AND TO CONTROL THE SALE PRICES OF SUCH COTTON SEEDS IN THE STATE;
AND WHEREAS, IT HAS BECOME IMPERATIVE ON THE PART OF THE STATE TO REGULATE THE SUPPLY, DISTRIBUTION AND SALE OF COTTON SEEDS BY FIXING THE SALE PRICE IN THE INTERESTS OF THE FARMERS IN THE STATE;
BE IT ENACTED BY THE LEGISLATURE OF THE STATE OF ANDHRA PRADESH IN THE FIFTY-EIGHTH YEAR OF THE REPUBLIC OF INDIA AS FOLLOWS :- 1. (1) THIS ACT MAY BE CALLED THE ANDHRA PRADESH COTTON SEEDS
(REGULATION OF SUPPLY, DISTRIBUTION, SALE AND FIXATION OF SALE PRICE) ACT, 2007.
(2) IT SHALL BE DEEMED TO HAVE COME INTO FORCE ON AND FROM THE 28TH JUNE, 2007.
This restriction on their profits did not sit well with Monsanto, which then challenged the Andhra Pradesh Cotton Seeds Act. The Research Foundation for Science Technology and Ecology had to intervene in the case once more, which is still before the Andhra Pradesh High Court.
While Monsanto does not have a patent on Bt cotton in India, it goes outside the law to collect royalties as "technology fees". Most of the 300,000 farmers suicides in India since 1995 (when the WTO came into force) are concentrated in the cotton belt. And 95 percent of the cotton in India is controlled by Monsanto.
Out of India's 29 states, those with Bt Cotton have the highest suicide rates.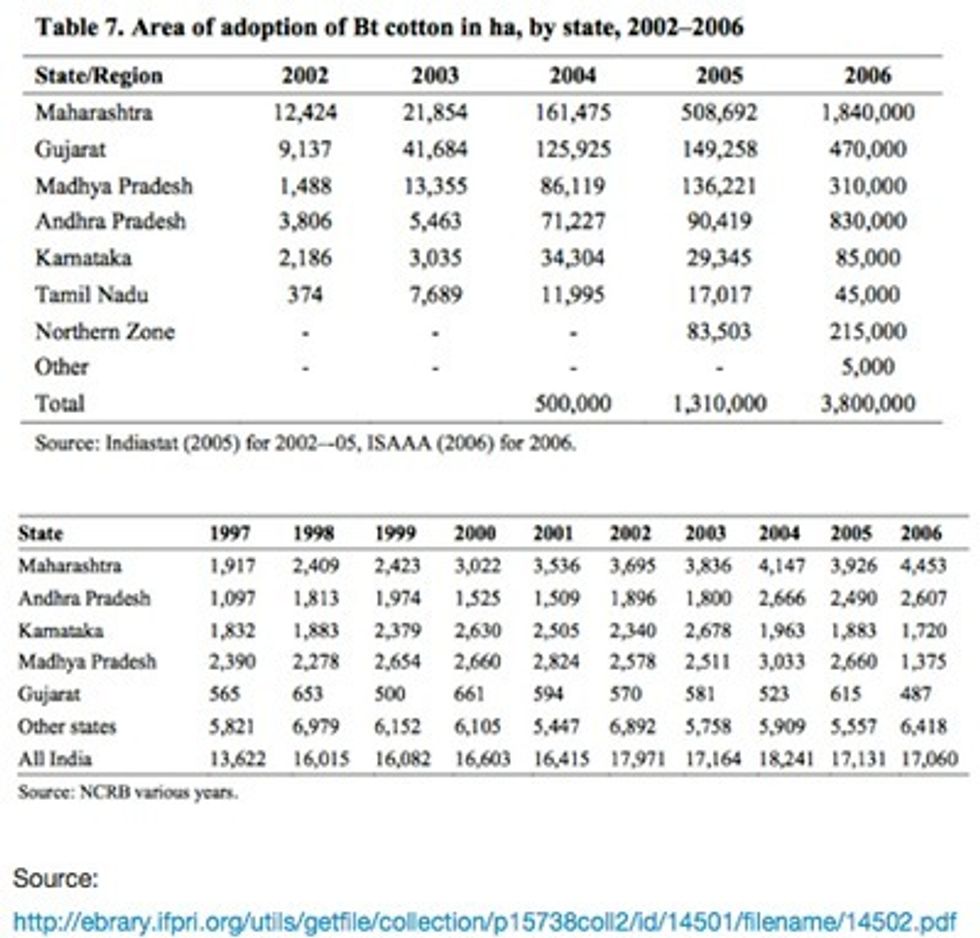 Correlation is the first step to understanding causation. Monsanto does not see the above correlation because the next logical step would be to plead guilty for the deaths of all the farmers whose lives have been reduced to numbers on a table, or a bank account in St Louis.
Additionally, Monsanto knows that Bt Cotton is dependent on irrigation. Despite this knowledge, Monsanto has pushed its Bt Cotton into regions that depend solely on rainfall, as opposed to irrigation. These include Vidarbha in Maharashtra, where most cotton farms are less than 1 hectare and are dependent solely on rainfall. The costs of Bt cottonseed and insecticide increase the risk of farmer bankruptcy in low-yield rainfed cotton. The criminal negligence of knowingly setting up marginal farmers—who can't afford to irrigate and whose options for obtaining seeds have been acquired by Monsanto—for dire failure, cannot be ignored.
A recent research paper published by Environmental Sciences Europe concluded:
"[THE] INABILITY TO USE SAVED SEED AND INADEQUATE AGRONOMIC INFORMATION TRAP COTTON FARMERS ON BIOTECHNOLOGY AND INSECTICIDE TREADMILLS. ANNUAL SUICIDE RATES IN RAINFED AREAS ARE INVERSELY RELATED TO FARM SIZE AND YIELD, AND DIRECTLY RELATED TO INCREASES IN BT COTTON ADOPTION (I.E., COSTS). HIGH-DENSITY SHORT-SEASON COTTONS COULD INCREASE YIELDS AND REDUCE INPUT COSTS IN IRRIGATED AND RAINFED COTTON. POLICY MAKERS NEED HOLISTIC ANALYSIS BEFORE NEW TECHNOLOGIES ARE IMPLEMENTED IN AGRICULTURAL DEVELOPMENT."
"Fourteen years after U.S. multinational Monsanto brought the genetically modified (GM) Bt Cotton (Bollgard) to India, there is no clarity on the discovery having ever been patented in the country," states a recent Times of India article. India does not recognize patents on life, including seeds. The royalties Monsanto has collected over the last 14 years are based on a patent that does not exist and is therefore, quite simply, theft. Monsanto is robbing the people who have the least, of the very last thing they can give—their lives.
Illegal patents on life through Monsanto's laws in the WTO
In 1980 the U.S. Supreme Court heard a case that is now famous for being the point in world history where life forms were first allowed to be patented—not only in the US, but through the WTO, in many other parts of the world. Ananda Mohan Chakrabarty, a General Electric employee, had applied for a patent for a process of producing a bacterium capable of eating crude oil spills and on the bacteria itself. The claim was rejected by the U.S. Patent office, but on appeal, was granted by a 5-4 majority in the Supreme Court.
"The decision of the Supreme Court in Diamond v. Chakrabarty, 447 U.S. 303, 206 USPQ 193 (1980), held that microorganisms produced by genetic engineering are not excluded from patent protection by 35 U.S.C. 101"
4. "This is not to suggest that § 101 has no limits or that it embraces every discovery. The laws of nature, physical phenomena, and abstract ideas have been held not patentable."
5. "Thus, a new mineral discovered in the earth or a new plant found in the wild is not patentable subject matter. Likewise, Einstein could not patent his celebrated law that E=mc2; nor could Newton have patented the law of gravity."
Source: http://www.uspto.gov/web/offices/pac/mpep/s2105.html
Genetic engineering has not been able to deliver on its promises—it is just a tool of ownership. Bt Cotton is not resistant to Bollworm, RoundUp Resistant varieties have only given rise to super weeds and the new promises being made by biotech corporations of bio-fortification are laughable. There is no benefit to things like Golden Rice. By adding one new gene to the cell of a plant, corporations claimed they had invented and created the seed, the plant, and all future seeds, which were now their property. Monsanto does not care if your cotton field has Bollworm infestations, just so long as the crop can be identified as theirs and royalty payments keep flowing in. This is why the failure of Bt Cotton as a reflection of bad science does not bother them—the cash is still coming into St Louis. At its core, genetic modification is about ownership.
In 1981, shortly after the precedence of life forms being patented had been set in the U.S., Monsanto, which was a chemical company at the time, decided—as it lays out on it's own website—that biotechnology would be its strategic research focus in the future. Selling chemicals requires raw materials that eat into profit. Intellectual Property, on the other hand, just pays. In the decade and a half since 1981, with this new "strategic research focus" and all the R&D dollars you can imagine, Monsanto has only been able to produce failures—failures that pay royalties from all across the world.
Monsanto saw that by claiming ownership of life forms, especially seed—the first step in the food chain—and destroying alternatives or making them illegal, would allow them to charge royalties for the source of food, fibre and fuel. It was easy money and a lot of it. The limited achievements of Monsanto's research focus have not given us better cotton, corn, canola or soya—they've merely made it all theirs.
Monsanto required new forms of property rights, inspired by the U.S. Supreme Court, to be able to claim as an invention that which is not invented by them—seed and life forms. This was achieved through the World Trade Organization (WTO), working closely with the U.S. Government and with the Trade-Related Intellectual Property Rights (TRIPS) agreement.
Patents are granted for inventions and give the patent holder the right to exclude everyone from the use or marketing of a patented product or process. Over the last two decades, patent laws have taken a different direction under the influence of corporations like Monsanto, from protecting the interests of genuine inventions and ideas to ownership of life and control over survival essentials like seed and medicine.
JAMES ENYART OF MONSANTO IS ON RECORD ILLUSTRATING JUST HOW DEEPLY THE TRIPS AGREEMENT IS ALIGNED TO CORPORATE INTEREST AND AGAINST THE INTERESTS OF NATIONS AND THEIR CITIZENS:
"INDUSTRY HAS IDENTIFIED A MAJOR PROBLEM FOR INTERNATIONAL TRADE. IT CRAFTED A SOLUTION, REDUCED IT TO A CONCRETE PROPOSAL AND SOLD IT TO OUR OWN AND OTHER GOVERNMENTS… THE INDUSTRIES AND TRADERS OF WORLD COMMERCE HAVE PLAYED SIMULTANEOUSLY THE ROLE OF PATIENTS, THE DIAGNOSTICIANS AND THE PRESCRIBING PHYSICIANS."
Corporations defined a problem—farmers saving seed—so that they could forcefully open the market. In turn, they offered a solution and the solution was the introduction of patents and intellectual property rights on seed, making it illegal for farmers to save their seed. This is how the Trade Related Intellectual Property Rights (TRIPs) Agreement of the WTO was born. For the U.S. Government, with an economy where the manufacturing industry was slowing, the idea of royalties coming in to fuel the economy was perfect.
ARTICLE 27.3 OF THE TRIPS AGREEMENT STATES:
3. MEMBERS MAY ALSO EXCLUDE FROM PATENTABILITY:
(A) DIAGNOSTIC, THERAPEUTIC AND SURGICAL METHODS FOR THE TREATMENT OF HUMANS OR ANIMALS;
(B) PLANTS AND ANIMALS OTHER THAN MICRO-ORGANISMS, AND ESSENTIALLY BIOLOGICAL PROCESSES FOR THE PRODUCTION OF PLANTS OR ANIMALS OTHER THAN NON-BIOLOGICAL AND MICROBIOLOGICAL PROCESSES. HOWEVER, MEMBERS SHALL PROVIDE FOR THE PROTECTION OF PLANT VARIETIES EITHER BY PATENTS OR BY AN EFFECTIVE SUI GENERIS SYSTEM OR BY ANY COMBINATION THEREOF. THE PROVISIONS OF THIS SUBPARAGRAPH SHALL BE REVIEWED FOUR YEARS AFTER THE DATE OF ENTRY INTO FORCE OF THE WTO AGREEMENT.
This is the Monsanto Law of the TRIPS Agreement. Drafted by Monsanto lawyers and riding on the U.S. taxpayer's dollar, it bulldozes the world leaving behind nothing but royalty liabilities.
Section 3(b) of Article 27 is what is cleverly designed to be a trojan horse and to prohibit the free exchange of seeds between farmers, threatening their subsistence and their ability to save and exchange seeds. Shooting a gene into an organism through a gene gun is not a biological process. A seed growing into a plant that gives seed is a biological process. But the non-biological process of the insertion of a gene is patentable according to Article 27.3(b). Genetic engineering has been defined as "non-biological" and/or "microbiological" by the same lawyers that put the Monsanto Law into the TRIPS agreement, allowing the patentability of seeds and other life forms through genetic manipulation.
Objections to the Monsanto Law were raised owing to the basic idea that life cannot be patented.
India, in its submission, stated:
Clearly, there is a case for re-examining the need to grant patents on lifeforms anywhere in the world. Until such systems are in place, it may be advisable to:- (a) exclude patents on all lifeforms
The African group stated:
The African Group maintains its reservations about patenting any life forms as explained on previous occasions by the Group and several other delegations. In this regard, the Group proposes that Article 27.3(b) be revised to prohibit patents on plants, animals, micro-organisms, essentially biological processes for the production of plants or animals, and non-biological and microbiological processes for the production of plants or animals. For plant varieties to be protected under the TRIPS Agreement, the protection must clearly and not just implicitly or by way of exception, strike a good balance with the interests of the community as a whole and protect farmers' rights and traditional knowledge and ensure the preservation of biological diversity.
Due to the strong objections raised at the WTO it was decided that the Monsanto Law (TRIPs clause on patents on life) would be due for a mandatory review within the first 4 years of the WTO—by 1999. The review of the clause on patents on life has been blocked and subverted for the last 16 years by Monsanto and the Monsanto-friendly government of the United States, to protect the royalties that are moving money from impoverished farmers world over to the United States of America.
This is not for the benefit of the U.S. as a nation. The illegal royalties collected do not benefit citizens of the U.S.. In fact, the liberties and basic human rights of the citizens of the U.S. are being restricted by this royalty-hungry monster, just like those of the Indian cotton farmer. There is an attempt, in the U.S., by Monsanto and the aiding U.S. Government, to deem all non-patented seed illegal—even the tomato you have in your garden. And all this is being done in the name of "protecting and maintaining the food sources of America."
Since 1991, when the draft text of the WTO agreements was leaked, the National Working Group on Indian Patent Law worked with Parliament and the government to ensure that public interest was protected in any amendment made in India's patent laws in order to make India's IPR regime TRIPS-compliant. Methods of agriculture and plants were excluded from patentability in the Indian Patent Act to ensure that seed, the first link in the food chain, was held as a common property resource in the public domain and farmers' inalienable right to save, exchange and improve seed was not violated. And only process patents (patents on processes) were allowed in medicine.
When India amended her Patent Act, safeguards consistent with TRIPS were introduced based on a scientific definition of "invention".
ARTICLE 3 DEFINES WHAT IS NOT PATENTABLE SUBJECT MATTER.
ARTICLE 3(D) EXCLUDES AS INVENTIONS "THE MERE DISCOVERY OF ANY NEW PROPERTY OR NEW USE FOR A KNOWN SUBSTANCE".
This was the article under which Novartis's patent claim to a known cancer drug was rejected. This is the article that Novartis tried to challenge in the Supreme Court and lost.
ARTICLE 3(J) EXCLUDES FROM PATENTABILITY "PLANTS AND ANIMALS IN WHOLE OR IN ANY PART THEREOF OTHER THAN MICROORGANISMS; BUT INCLUDING SEEDS, VARIETIES, AND SPECIES, AND ESSENTIALLY BIOLOGICAL PROCESSES FOR PRODUCTION OR PROPAGATION OF PLANTS AND ANIMALS".
This was the article used by the Indian Patent Office to reject a Monsanto patent on climate resilient seeds and is also why farmers in India are, at the very least, safe from Monsanto lawyers, unlike the thousands of farmers across the world like Bowman, Steve Marsh and Percy Schmeiser being sued by Monsanto for being farmers.
India's patent laws, based on good science and drafted by conscientious people, get in the way of Monsanto's royalty collections, if only on paper. The U.S. Government, under the influence of Monsanto, has been pressurizing countries like India to change their patent regimes to fit into Monsanto's plan, meanwhile subverting the review of the Monsanto Law, though it has legally been obligated to do since 1999.
In 1996 the U.S. Government brought a case in the WTO against India due to the "alleged absence of patent protection for pharmaceutical and agricultural chemical products in India." It was to ensure protection of Monsanto's royalties on seeds and its carcinogenic Glyphosate molecule. Monsanto was attempting to subvert the democratic laws of India using the U.S. Government to strong arm India, as it is doing even today. U.S. President Obama's recent trip to meet Indian Prime Minister Modi in India was, aside from a show of wardrobe, intended to pressurize India into changing its IPR regime to better suit American industry. The proposed changes are in no way designed to foster innovation within India, for which Indian laws are quite good.
India's sovereignty is under attack by Monsanto. American citizens' rights to garden in their backyards with seeds they freely exchange with one another are under attack by Monsanto. African farmers' livelihoods are under attack by Monsanto. The world's food system is under attack by Monsanto. Hundreds of thousands of Indian cotton farmers have died under attack from Monsanto. It is a war being waged to profit from every grain of corn and soya, rice or banana you eat. The citizens of the world are victims of this war, from the U.S. and Argentina to India, across the Pacific through the Trans Pacific Partnership (TPP) and across the Atlantic through the Transatlantic Trade and Investment Partnership (TTIP).
If a country other than the U.S. was blocking and subverting the review of the Monsanto Law, that country would have been bombed by drones a long time ago. It is time to tell the U.S. Government to stop being a Monsanto Government writing laws on behalf of Monsanto at home and imposing them worldwide. It is time for the U.S. government to stop being a rogue nation and stop blocking the mandatory review of TRIPS, the International Monsanto Law—even if it's 16 years late. It is time to tell the U.S. government to stop criminalizing farmers who save seeds or whose seeds are contaminated by Monsanto.
Monsanto should be tried for its smuggling of a controlled substance into India and allowing genetically modified cottonseed oil into the premium vegetable oils of India, a country where GM is not allowed in the food system.
Monsanto must compensate farmers for royalties collected on the basis of an imaginary patent and the reparations due for the hundreds of thousands of farmers it has killed by collecting illegitimate and illegal royalties. Life is priceless. Monsanto can never return the father or the husband it pushed to suicide. Corporations like Monsanto will never really understand the value of life unless we put a dollar figure to the debt the widows and the children of the dead are owed. Insurance statisticians have put the life of a "prime aged worker", in the U.S., at a median value of USD 7 million. Eighty-four percent of 300,000 suicides, 252,000, are directly attributed to Monsanto's Bt-Cotton. By this calculation, Monsanto, in addition to the illegal royalties collected, owes the families of 'prime aged' working farmers in India an amount of USD 1.764 Trillion. We must ensure reparations are made and Monsanto does not shrug it's responsibilities by changing it's name, buying Syngenta, or through any other corporate tax evasion/liability reducing tricks it's lawyers conjure up.
Internationally Monsanto must be tried for its crimes against nature, people, science and knowledge, freedom and democracy. Our governments need to start working for their citizens instead of Monsanto and the mandatory review of the Monsanto Law of the TRIPS agreement must be done if the U.S. values 'freedom'.
We need to have reverence for nature and ecological justice must be served. Reparations, for the genocide in India, in accordance with International Law, are due.
VII. VICTIMS' RIGHT TO REMEDIES
11. REMEDIES FOR GROSS VIOLATIONS OF INTERNATIONAL HUMAN RIGHTS LAW AND SERIOUS VIOLATIONS OF INTERNATIONAL HUMANITARIAN LAW INCLUDE THE VICTIM'S RIGHT TO THE FOLLOWING AS PROVIDED FOR UNDER INTERNATIONAL LAW:
(A) EQUAL AND EFFECTIVE ACCESS TO JUSTICE;
(B) ADEQUATE, EFFECTIVE AND PROMPT REPARATION FOR HARM SUFFERED;
(C) ACCESS TO RELEVANT INFORMATION CONCERNING VIOLATIONS AND REPARATION MECHANISMS.
We must end Monsanto's colonization, its enslavement of farmers—for whom the only escape from the Monsanto treadmill is suicide. We must not allow Monsanto to profit from the loss of innocent lives. Private enterprise cannot be allowed to profit from global public risk. Real lives are more valuable than fake patents.This illegal takeover of our food, our seeds and our democracies and the killing of farmers must be stopped.
Sign the Declaration on Seed Freedom
And you can sign the open letter to President Obama and PM Modi here.
YOU MIGHT ALSO LIKE
House Passes DARK Act, Banning States From Requiring GMO Labels on Food
Senate Bill Repeals Mandatory Country of Origin Labeling for Beef, Pork and Chicken
John Oliver's Beef With Chicken Giants May Have Impacted U.S. Policy
2015 is the year of soil. Bringing the soil to the center of our consciousness and our planning is vital for the life of the soil, but also for the future of our society. History provides ample evidence that civilizations which ignored the health and well-being of the soil, and exploited it without renewing its fertility, disappeared along with the soil.
Shutterstock
Indian civilization has sustained itself over thousands of years because it revered the soil as sacred and inviolable. It treated it as Mother Earth.
The Atharva Veda invokes the prayer to prithvi, the Earth:
"Let what I dig from thee, O Earth, rapidly spring and grow again.
O Purifier, let me not pierce through thy vitals or thy heart"
Today's dominant policies and laws seem to be saying the opposite to the Earth—"We will dig so deep and so violently, we will bulldoze so brutally, on such a large scale and at such a high speed, that we will tear through your vitals and your heart, ensuring that nothing can grow from you again."
Both ecological science and our ancient wisdom teaches us that all life depends on soil. But we are now unthinkingly adopting the illusion that human progress is based on how fast we can destroy, bury and consume the soil.
Uncontrolled urbanization, mega mines, superhighways and gigantic infrastructure projects are the burial grounds of fertile soil. We are forgetting that life grows from soil, not concrete and tarmac.
It is only our farmers who are practicing ecological agriculture, returning organic matter to the soil and growing soil fertility, and, through it, the foundation of our food and our future. In practicing organic farming, they also conserve water and absorb carbon dioxide from the atmosphere, thus addressing climate change. Money might grow from speculative real estate development, but not life. Multiple "clashes of civilization" are taking place in India today around soil and land.
There is a clash between what Aristotle called "chrematistics," the art of money-making, and "oikonomia," the art of living. The clash is between the soil and Earth centred agrarian economies of peasant societies and the money-centered speculative economies which are obsessed with the art of money making, with no respect for the democratic rights of people whose land is being grabbed, or for the soil that has sustained our civilization over millennia.
This intense clash is because the government wants to forcefully and undemocratically appropriate land from the farmers and hand it over to builders and speculators.
A war against land and people has been declared through the land acquisition ordinance which, by reversing the Right to Fair Compensation and Transparency in Land Acquisition, Rehabilitation and Resettlement Act, 2013, takes us back to the colonial law of 1894.
There is a clash between two views of history on the land question. There is a false, linear view of history that projects human progress as moving from agriculture to industry to service economies. A more realistic view recognises that history moves in cycles.
At the national level, history of land is not a linear history of dispossession, but a cyclical history of land grab and land reform.
The British created the zamindari system, which led to violence, injustice and famines. Peasants started movements like Tebhaga after the great Bengal famine, and movements for land reform and land rights based on "land to the tiller" philosophy. West Bengal had its Operation Barga, India introduced "land ceiling," a limit on the ownership of land, and land reform along with land distribution made Independent India a land of hard working, sovereign and proud small farmers.
The land grab ordinance is, in fact, a new zamindari, aimed at reversing all that Independent India put in place to protect—land, food security, the sovereignty of small farmers and the country. But it is more than a reversal because the context is different. In today's context, unjust laws passed undemocratically for land acquisition have far more impact because the activities are more destructive ecologically and socially. Removal of the clauses for consent in the land ordinance is an assault on democracy. Removal of the food security clauses is a reckless and irresponsible action forfeiting the future. Has the government been so blinded by corporate "chrematistics" that it cannot see the damage this will do to life of the soil, the "oikonomia," the vital food economy of the peasants? Has it been so deafened by the voice of those whose only objective is profits and money-making, that it cannot hear the screams of a dying soil and the people of the soil—the tribals and peasants?
A new Singapore-style capital is proposed for Andhra Pradesh at the cost of Rs 100,000 crore. About 100,000 acre of prime farmland on the banks of the Krishna river is being grabbed from small farmers who, with one acre land, earn more than Rs 30,000 per month. Former Indian Administrative Service officer Devasahayam reports how the government is describing the concrete jungle it is planning as being "full of life and economic activity," implying that farming that feeds people is a "lifeless activity!"
Globally, young people are moving back to the land, driven both by crisis of unemployment and by frustration with the urban corporate life which might bring money, but no satisfaction. Young people from banks and software companies are coming to Navdanya to learn how to be organic farmers and make a living from the land. After the banks and information technology (IT), it is soil and land that holds the future.
We already have a scarcity of land and fertile soil. To bury this scarce and precious resource on the basis of an outmoded view of history, progress and development is not enlightened policy-making. There is not enough land in the country for the limitless appetite for mining, urbanisation and industrialisation. While profiteering from land in a globalised economic system based on the false idea of limitless growth might inspire current policies, land and fertile soils set their own ecological limits. There are also social and political limits to how much dispossession, injustice, violence and destruction of democracy a society can bear. Protests against land grab and the land law are growing across the country. If they are violently crushed, as in the tribal areas, violent conflicts will intensify. In the worst case scenario, if the fabric of the soil and society are ruptured beyond repair, we will disintegrate as a civilization, as is happening to so many societies around us.
We can avert the collapse of our civilization if, in this year of soil, we collectively and democratically commit ourselves to protecting and rejuvenating the soil and, thus, our future.
YOU MIGHT ALSO LIKE
The Solution Under Our Feet: How Regenerative Organic Agriculture Can Save the Planet
Can Organic Agriculture Reverse Climate Change?
Food as Medicine: How One Hospital Is Using Organic Produce to Help Heal Patients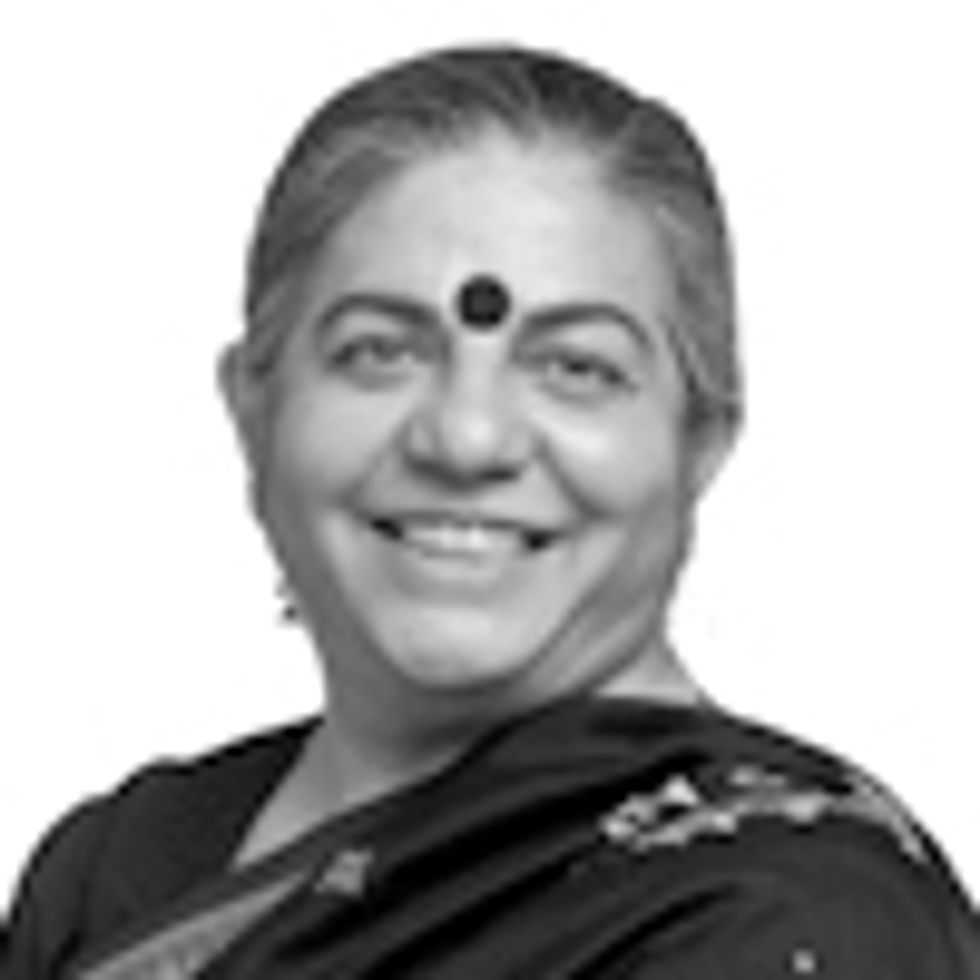 The conflict between "free trade" and food rights came to the fore again at the World Trade Organization (WTO) negotiations in September, when India did not back down from its stance that a permanent solution be found for food security issues before signing the Trade Facilitation Agreement (TFA).
The TFA is designed to push free trade further, with heavy losses to India's food security. The U.S. had challenged India at the WTO's Bali Ministerial in 2013, on the ground that the Food Security Act adopted by the United Progressive Alliance (UPA) regime would increase India's food subsidies beyond levels allowed by the WTO.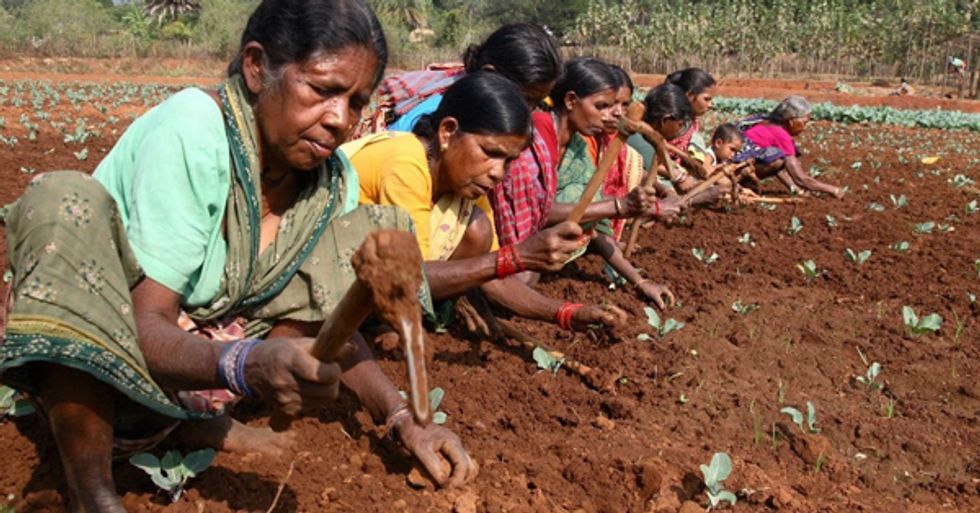 The rules allow subsidies at 10 percent of the value of agricultural produce. Oddly, the base year for India has been fixed at 1986-88. India, justifiably, is demanding that this date be changed to reflect the reality of food prices today. Double standards in the WTO rules are also exposed when one realizes that India's subsidies of $12 billion to its 500 million farmers are considered "trade distorting," while U.S. subsidies of $120 billion to its 2 million farmers are not. India's subsidies are $25 per farmer, while U.S. subsidies amounts to $60,000 per farmer—that's 2,40,000 percent more than Indian subsidies. Yet the U.S. is threatening India and demanding the removal of support to its small and marginal farmers.
These are not rules of trade, but rules of manipulation written during the Uruguay Round of Trade Negotiations, which led to the establishment of the WTO, by agribusiness corporations seeking to profit from India's large food and agriculture market. The WTO debate on food and agriculture subsidies is actually intended to force India to stop supporting its farmers through procurement at the minimum support price (MSP) so that 1.25 billion Indians, including the 810 million covered by the Food Security Act, become a market for multinational corporations.
The U.S. has claimed that India has doubled the MSP in the last 10 years. What is hidden from the public view is the fact that costs of production have gone up more than 10 times. In spite of MSP, farmers are not able to recover their production cost. In 2011-12, the cost of production of rice in Punjab was 1,700 rupees per quintal, while MSP was 1,285 rupees. In the same year, the cost of production of wheat was 1,500 rupees, while MSP was 1,110 rupees. In Haryana, the cost of production of rice was 1,613 rupees, while MSP was 1,350 rupees.
In the Northeast, the cost of production has risen by 53 percent between 2008-2009 and 2011-12, while MSP has risen by only 20 percent. A negative economy translates into debt and un-payable debt translates to suicides. Debt is due to dependence on MNCs who sell costly seeds and chemicals.
The WTO rules are, in fact, written by corporations for transforming public goods into globally traded commodities and capturing our economies for their profits. Monsanto, now the world's biggest seed giant, wrote the Trade Related Intellectual Property Rights (TRIPs) Agreement of WTO, which opened the floodgates for patenting seeds and life forms. It has blocked the mandatory review of Article 27.3 (b) since 1999 wherein governments, including India, have called for "no patents on life." Cargill, the world's grain giant, wrote the rules of the Agreement on Agriculture (AOA) and would be the biggest beneficiary if India stops procuring from its small farmers.
Read page 1
Food is a fundamental right, a basic need and the livelihood of a majority of Indians. The rules governing it should be rules of sustainability and justice, not rules for the profit of a handful of seed and food multinationals.
It is time to review both the TRIPs agreement and the agriculture agreement of the WTO because they are destroying the planet and the livelihoods of our farmers and denying the poor and the vulnerable the Right to Food. One just has to look at the evidence. Since trade liberalization was forced on us by the WTO in 1995, 3,00,000 farmers have committed suicide because of debt due to the purchase of costly seeds and chemicals. Every fourth Indian is hungry. And every second Indian child is stunted.
Average calorie intake in rural areas has declined from 2,221 kilocalories in 1983 to 2,020 kilocalories in 2009-10; protein intake has dropped from 62 grams to 55 grams per day in the same period. In urban areas, the calorie intake stood at 1,946 in 2009-10, a decline from 2,089 kilocalories in 1983. Protein intake declined to 53.5 grams from 57 grams in the same period. These are direct consequences of the rules of trade liberalization, which have transformed food from a right to a commodity for trade and profits.
Addressing the twin epidemics of farmers' suicides and hunger requires rewriting the rules of trade on the basis of sustainability and justice. India's refusal to dismantle its food security system to further benefit MNCs is an opportunity to start redefining global trade on the basis of people's rights rather than corporate profits.
Seed sovereignty is the foundation of food sovereignty. Farmers' suicides are linked to seed monopolies and high costs of seed. Seed must be put back in the farmers' hands through creation of village seed banks and capacity-building in participatory and evolutionary breeding to deal with climate change.
Internationally, seed sovereignty requires ensuring that the mandatory TRIPs' review of Article 27.3 (b) is completed. For food sovereignty, we need to ensure that farmers do not fall into debt and are able to earn a dignified and fair income. While we need to defend our right to support farmers through MSP, it is evident that MSP is no longer covering the costs of production. The government has, in fact, frozen MSP in 2013-2014. The alternative is to reduce costs of production by reducing dependence on chemicals and corporate seeds through ecological farming. This is why organic farming based on the principle of agroecology has become an imperative for food sovereignty.
YOU MIGHT ALSO LIKE
Seeds of Truth: A Response to Michael Specter's Article in The New Yorker
GMO Crops Accelerate Herbicide and Insecticide Use While Mainstream Media Gets It Wrong
Moby Says 'Save Our Bees' From Neonicotinoids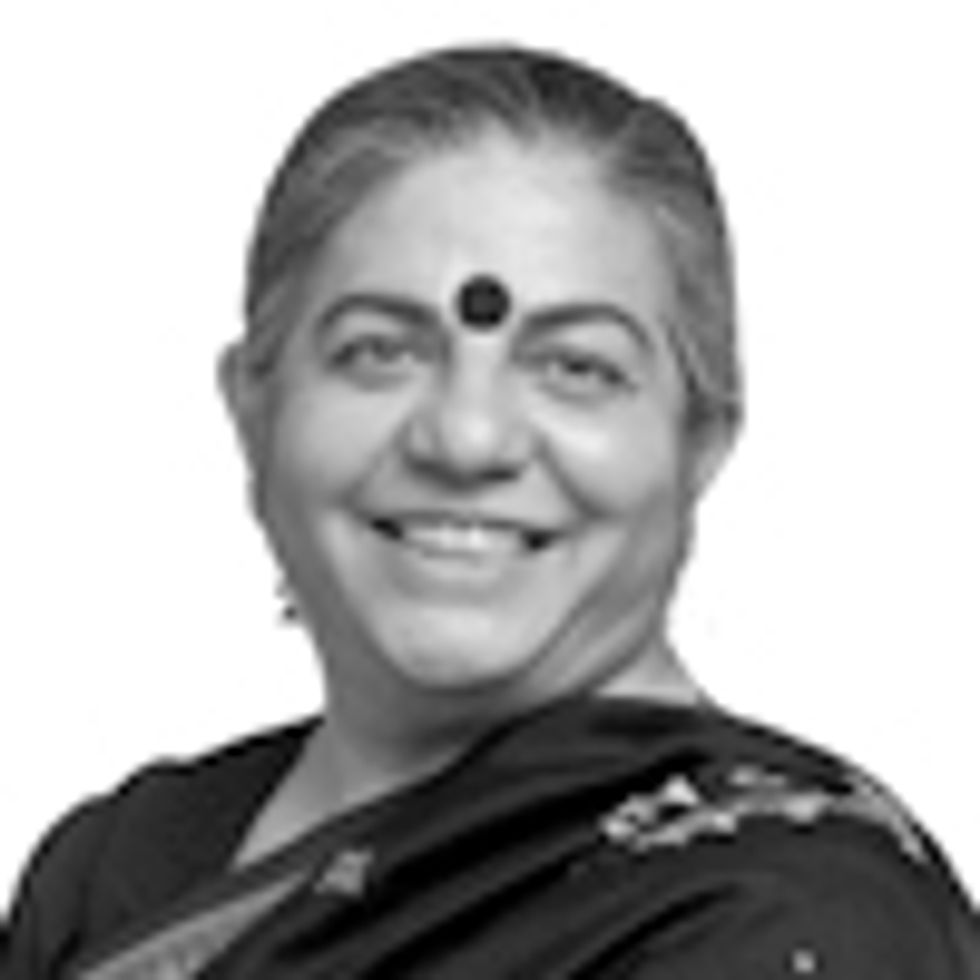 I am glad that the future of food is being discussed, and thought about, on farms, in homes, on TV, online and in magazines, especially of The New Yorker's caliber. The New Yorker has held its content and readership in high regard for so long. The challenge of feeding a growing population with the added obstacle of climate change is an important issue. Michael Specter's piece, however, is poor journalism. I wonder why a journalist who has been Bureau Chief in Moscow for The New York Times and Bureau Chief in New York for the Washington Post, and clearly is an experienced reporter, would submit such a misleading piece. Or why The New Yorker would allow it to be published as honest reporting, with so many fraudulent assertions and deliberate attempts to skew reality.
Seeds of Doubt contains many lies and inaccuracies that range from the mundane (we never met in a café but in the lobby of my hotel where I had just arrived from India to attend a High Level Round Table for the post 2015 SDGs of the UN) to grave fallacies that affect people's lives. The piece has now become fodder for the social media supporting the Biotech Industry. Could it be that rather than serious journalism, the article was intended as a means to strengthen the biotechnology industry's push to 'engage consumers'? Although creative license is part of the art of writing, Michael Specter cleverly takes it to another level, by assuming a very clear position without spelling it out.
Specter's piece starts with inaccurate information, by design.
"Early this spring, the Indian environmentalist Vandana Shiva led an unusual pilgrimage across southern Europe. Beginning in Greece, with the international Pan-Hellenic Exchange of Local Seed Varieties Festival, which celebrated the virtues of traditional agriculture, Shiva and an entourage of followers crossed the Adriatic and travelled by bus up the boot of Italy, to Florence, where she spoke at the Seed, Food and Earth Democracy Festival. After a short planning meeting in Genoa, the caravan rolled on to the South of France, ending in Le Mas d'Azil, just in time to celebrate International Days of the Seed."
On April 26, at the Deutsches Theater Berlin, one of Germany's most renowned state theatres. I gave a keynote speech for a conference on the relation of democracy and war in times of scarce resources and climate change. From Berlin I flew into Florence for a Seed Festival organized by the Government of the Region of Tuscany, Italy, The Botanical garden of Florence (the oldest in Europe), Banca Etica and Navdanya. I was joined by a caravan of seed savers, and we carried on to Le Mas d'Azil where we had a conference of all the European seed movements.
It would be convenient in the narrative that Specter attempts to weave, to make this exercise look like a joyride of "unscientific people on a 'pilgrimage.'" Writing about the European governments, universities and movements accurately would not suit Specter's intention because the strong resistance (including from governments) to GMOs in Europe is based on science.
My education doesn't suit his narrative either: a Ph.D. on the "Hidden Variables and Non-locality in Quantum Theory." Specter has reduced my M.Sc. Honors in Physics to a B.Sc. for convenience.  Mr. Specter and the Biotech Industry (and The New Yorker, by association) would like to identify the millions of people opposing GMOs as unscientific, romantic, outliers. My education is obviously a thorn in their side.
"When I asked if she had ever worked as a physicist, she suggested that I search for the answer on Google. I found nothing, and she doesn't list any such position in her biography."
Specter has twisted my words, to make it seem like I was avoiding his question. I had directed him to my official website since for the past few months I have repeatedly been asked about my education. The Wikipedia page about me has been altered to make it look like I have never studied science. The Biotech Industry would like to erase my academic credentials. I have failed to see how it makes me more or less capable of the work I do on evolving and ecological paradigm of science. I consciously made a decision to dedicate my life to protect the Earth, its ecosystems and communities. Quantum theory taught me the four principles that have guided my work: everything is interconnected, everything is potential, everything is indeterminate, and there is no excluded middle. Every intellectual breakthrough I have made over the last 40 years has been to move from a mechanistic paradigm to an ecological one. I had the choice to continue my studies in the foundations of Quantum Theory at the Tata Institute of Fundamental Research (TIFR) or to take up a research position in interdisciplinary studies on science policy at IIM, Bangalore. I chose the latter because I wanted a deeper understanding of the relationships between science and society.
This was my email response to Specter, copied to the editor of The New Yorker, David Remnick: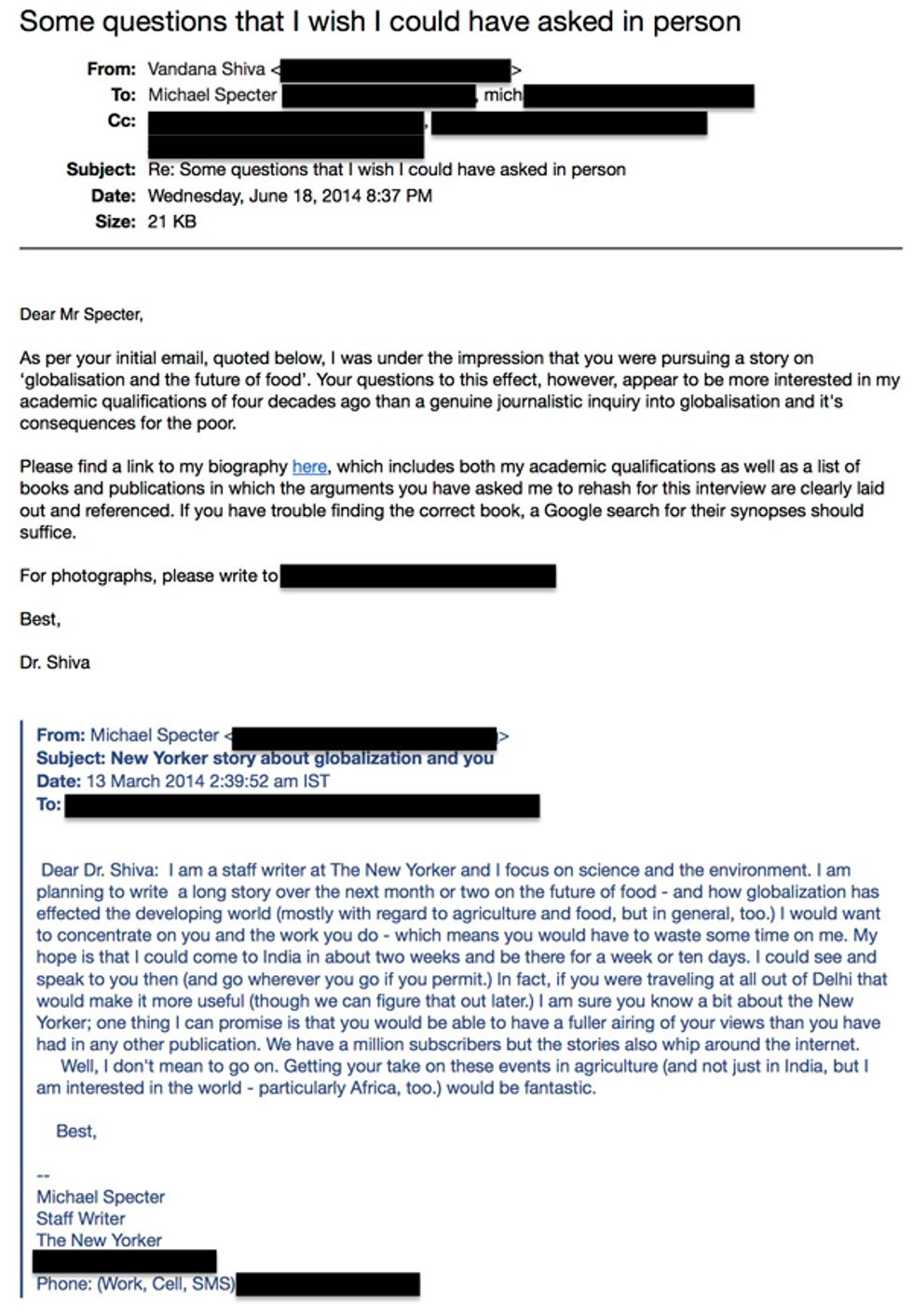 A tight schedule must have kept Specter from mentioning Africa in his piece, although he intended to, given that a considerable amount of the world's poor are also in Africa and must be fed. But Africa might not have needed addressing, probably because the Biotech Industry is happy with the progress they are making in deploying GMO cotton and banana in Africa. In the U.S., six-week human trials of these bio-fortified bananas are happening as I write this. And what are these bananas? They are bananas into which they have put a gene found in another variety of banana that has elevated levels of Beta-Carotene. They could have just used the banana with higher Beta-Carotene if the intent was to alleviate Vitamin A Deficiency, but there's no money in that.
Specter calls me a Brahmin, which is inaccurate and a deliberate castist aspersion, insinuating falsely, elitism. 'Shiva' is not a Brahmin caste name. My parents consciously adopted a caste-less name as part of their involvement in the Indian Independence Movement that included a fight against the caste system. But this is inconvenient to Specter's narrative.
Specter's gift for half-truths is evidenced when he says:
"Shiva said last year that Bt-cotton-seed costs had risen by eight thousand percent in India since 2002. In fact, the prices of modified seeds, which are regulated by the government, have fallen steadily."
"Bt-cotton-seed costs had risen by eight thousand per cent in India since 2002" is incorrect. I did not say that. The cost of cotton seed after the 2002 approval of Bt-cotton, when compared to the price of cotton seed before Monsanto entered the market in 1998, has increased exponentially. The percentage was used in reference to this increase. I was a little conservative when I said "8000%", since I didn't maximize the number for effect. I'm not predisposed to hyperbole. I am grateful to Specter for pointing this out. I'll redo the math now.
Monsanto entered the Indian market illegally in 1998, we sued them on 6th Jan in 1999. Before Monsanto's entry to the market, local seeds cost farmers between ₨5 and ₨10 per kg. After Bt Cotton was allowed into the market Monsanto started to strengthen its monopoly through (i) 'Seed Replacement', in which Monsanto would swap out farmers seeds with their own, claiming superiority of their 'product', and (ii) 'Licensing Agreements' with the 60 companies that were providing seeds in the Indian market at the time. Monsanto ensured a monopoly on cotton seeds in India and priced the seeds at ₨1,600 for a package of 450 gms (₨3555.55 per kg, out of which the royalty component was ₨1,200). ₨3555.55 is approximately 711 times ₨5, the pre-Bt price. The correct percentage increase would be 71,111 percent. It is this dramatic price increase that I always talk about.
The reduction of prices that Specter mentions was because the State of Andhra Pradesh and I took the issue to the Monopoly and Restrictive Trade Practices Commission (India's Anti-Trust Court) and Monsanto was ordered, by the MRTP Court and the Andhra Pradesh Government, to reduce the price of its seed. Monsanto did not willfully reduce its prices, nor was an "Invisible Hand" at work. He quotes the Farmers Rights Clause in Indian law from the Plant Variety Protection and Farmers Rights Act, deliberately misnaming a clause as an act, misleading anyone who might want to do some research of their own, as many readers of The New Yorker do.
"Shiva also says that Monsanto's patents prevent poor people from saving seeds. That is not the case in India. The Farmers' Rights Act of 2001 guarantees every person the right to 'save, use, sow, resow, exchange, share, or sell' his seeds. Most farmers, though, even those with tiny fields, choose to buy newly bred seeds each year, whether genetically engineered or not, because they insure better yields and bigger profits."
I do say Monsanto's patents prevent poor people from saving seeds. They prevent anyone who is not 'Monsanto' from saving or having seeds including researchers and breeders. This is true in most parts of the world. Specter makes it appear as though Indian farmers are protected and have always been, merely by mentioning "The Farmers' Rights Act of 2001." I happen to have been a member of the expert group appointed by our Agriculture Ministry to draft that very act. We have worked very hard to make this happen and I am very proud of the fact that India has built Farmers Rights into its laws. But the farmers are not completely protected since Monsanto has found clever ways around the laws, including collecting Royalties renamed as 'Technology Fees'. This issue has many pending cases in Indian courts.
This section in Specter's piece is designed to deliberately break the established connections between GMOs, Seed Patents and IPRs, and mislead his readers to echo Monsanto's attempt to hide the catastrophic implications of a seed monopoly and Bt-Cotton's failure in India as it tries to enter new markets in Africa proclaiming it's success in India. Indian farmers can't choose to buy genetically modified or hybrid varieties. Choosing would require choice, an alternative. Monsanto has systematically dismantled all alternatives for the cotton farmer. Monsanto's hold on corn, soya and canola is almost as strong as their monopoly on cotton. Approximately $10 billion is collected annually from U.S. farmers by Monsanto, as royalty payments. Monsanto has been sued for $ 2.2 billion by Brazilian farmers for collecting royalty on farm-saved seeds. The seed market is no longer governed by market forces. The element of choice is missing altogether. The farmer can only choose if he has an option.
In its evidence to the Parliamentary Standing Committee on Agriculture, the Monsanto representative admitted that half the price of Monsanto seeds is royalty. My work and the work of movements in India, has prevented Monsanto from having patents on living resources and biological processes. Article 3(J) of our patent clause was used by the Indian Patent Office to reject Monsanto's broad claim patent application on climate resilient seeds. In other countries that do not share our history, Monsanto uses such patents to sue farmers, such as Percy Schmeiser in Canada (for $200,000) as well as 1,500 other farmers in the U.S. In the case of Monsanto vs Bowman, Monsanto sued a farmer who had not even purchased seeds from them.
If Specter had really listened, he would have heard what I was actually saying about seed monopolies, even if it was inconvenient to his story. I'm sure that during his research over the last 8 months, he would have come across at least some of these examples of oppression.
"Although India bans genetically modified food crops, Bt cotton, modified to resist the bollworm, is planted widely. Since the nineteen-nineties, Shiva has focused the world's attention on Maharashtra by referring to the region as India's 'suicide belt,' and saying that Monsanto's introduction of genetically modified cotton there has caused a 'genocide.' There is no place where the battle over the value, safety, ecological impact, and economic implications of genetically engineered products has been fought more fiercely. Shiva says that two hundred and eighty-four thousand Indian farmers have killed themselves because they cannot afford to plant Bt cotton. Earlier this year, she said, 'Farmers are dying because Monsanto is making profits—by owning life that it never created but it pretends to create. That is why we need to reclaim the seed. That is why we need to get rid of the G.M.O.s. That is why we need to stop the patenting of life.'"
If Specter had actually travelled across the cotton belt in Maharashtra State (surely the Monsanto office could have easily directed him there), he would have heard from his trusted sources that there is a decline in Bt Cotton cultivation in favor of Soy Bean due to failed Bt crops. He would have heard of Datta Chauhan of Bhamb village who swallowed poison on Nov. 5, 2013, because his Bt cotton crop did not survive the heavy rains in July that year. He would have heard of Shankar Raut and Tatyaji Varlu, from Varud village, both who committed suicide due to the failure of their Bt Cotton. Tatyaji Varlu was unable to repay the Rs. 50,000 credit through which he received seeds. Specter could have met and spoken to the family of seven left behind by Ganesh, in Chikni village, following the repeated failure of his Bt Cotton crop. Ganesh had no option but to buy more Bt Cotton and try his luck multiple times because Bt Cotton was the only cotton seed in the market, brilliantly marketed under multiple brand names through Licensing Arrangements that Monsanto has with Indian companies. Multiple packages, multiple promises but the contents of each of those expensive packets is the same: it's all Bt. It's vulnerable to failure because of too much or too little water, reliant on fertilizer, and susceptible to pests without pesticide, all additional costs. The farmer, with a field too small to impress Specter, does not choose Bt Cotton of his free will. That choice is dictated by the system Specter attempts to hail.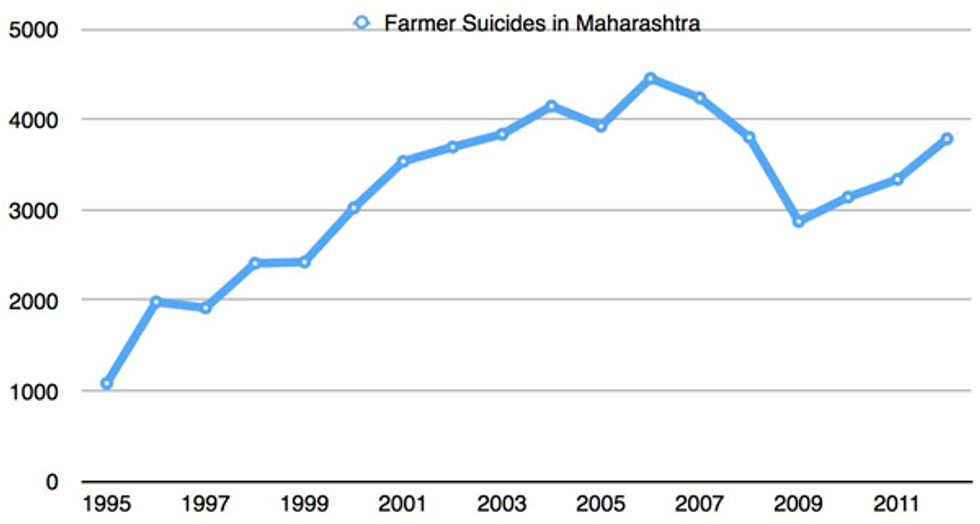 Specter and the BioTech twitter brigade have found resonance and are harping on my "confusing a correlation with causation". Allow me to explain the cause to these scientific and rational people and hopefully help them pull their heads out of the sand.
By destroying the alternative sources of seed, as I explained earlier, a monopoly was established. Promises were made of higher yield and a reduction of pesticide costs to initially woo farmers. With a monopoly, Monsanto increased the price of seeds since it didn't have to compete in the market. In India, the agents that sell Monsanto seeds also sell the pesticides and fertilizer, on credit. A Bt Cotton farmer starts the cultivation season with debt and completes the cycle with the sale of the crop after multiple applications of fertilizer and pesticide acquired on more credit. As the Bt-toxin was rendered useless, the crop was infested by new pests and yields of Bt Cotton started to decline, more fertilizer and pesticide were purchased and used by the farmers in the hope of a better yield next time around, destroying soil health. Degraded soil led to lower yields and further financial losses to the farmers. Many farmers would plant seed from another brand, not knowing it was the same exact Monsanto seed Bollguard, and that it would not fare any better and would require more fertilizer and pesticide than before, going deeper and deeper into debt. This cycle of high cost seeds and rising chemical requirements is the debt trap, from which the farmers see no escape, and which drives these farmers of the cotton belt to suicide. There is a cause for each and every farmer taking his own life, he is not driven to it by correlation. And the cause is a high cost monopoly system with no alternative. If it were any other product, Monsanto would be liable for false advertising, and a product liability claim due to intentional misrepresentation regarding Bt Cotton. Specter promotes a system of agriculture that fails to deliver on its promises of higher yield and lower costs and propagates exploitation.
Not only does Specter support a system which leaves no alternatives for farmers, he also promotes the force feeding of consumers, with GMOs, including victims of disasters.
In 1999, ten thousand people were killed and millions were left homeless when a cyclone hit India's eastern coastal state of Orissa. When the U.S. government dispatched grain and soy to help feed the desperate victims, Shiva held a news conference in New Delhi and said that the donation was proof that "the United States has been using the Orissa victims as guinea pigs" for genetically engineered products. She also wrote to the international relief agency Oxfam to say that she hoped it wasn't planning to send genetically modified foods to feed the starving survivors. When neither the U.S. nor Oxfam altered its plans, she condemned the Indian government for accepting the provisions.
Specter is ill informed about the cyclone in Orissa, or he copied this information from another inaccurate report accusing me of making the cyclone victims starve. The US aid was a blend of corn and soy, not grain. The agency distributing it was C.A.R.E. After the cyclone in 1999 that devastated the east coast of India, Navdanya was involved in the rehabilitation of the victims on the ground in Orissa and has been involved in such efforts each time there has been a calamity in that region. The shipment Specter mentions, under a humanitarian guise, was an attempt to circumvent India's ban on the import of GMOs. The farmers who received the tainted shipment called it inedible. A nondescript mixture of soy and corn is not food for rice eating peoples. We tested this mixture and found it to be genetically engineered corn and soya. The results were sent to the Health Ministry and the Government ordered an immediate stop to the illegal import of GMOs. The hybrid rice available in the market would not grow in the saline soil left behind by the cyclone. Navdanya provided the farmers with salt-tolerant varieties to allow them to rebuild their livelihoods and for them to have food. The Orissa farmers, later, shared their salt-tolerant seeds with the victims of the tsunami that hit Tamil Nadu in 2004. Monsanto, through its influence in USAID, has used every natural and climate disaster to push its GMO seeds on devastated communities, including Haiti after the earthquake, where farmers protested against this imposition. Monsanto has also taken thousands of patents on climate resilience in traditional seeds and has acquired climate research corporations to exploit the vulnerability of communities in the future. This is not humanitarian from any perspective.
Specter is also supporting the Biotech Industry attack on Governments passing GMO labelling laws in the U.S. Coincidentally, following The New Yorker piece, Michael Specter just wrote another piece questioning GMO labeling in America. The Biotech Industry is now suing the state of Vermont for its labeling laws. The grounds of Monsanto's suit is that labeling their product would infringe on Monsanto's first amendment right. Specter's two articles work very well together.  An obvious question is whether Specter set out to do a profile on me at all or whether this was a calculated attempt to attack the burgeoning anti-GMO movement within the US?Both articles were conveniently timed to mislead consumers in the US about legislation in their own country by using fallacies about the situation in India.
"Between 1996, when genetically engineered crops were first planted, and last year, the area they cover has increased a hundredfold—from 1.7 million hectares to a hundred and seventy million. Nearly half of the world's soybeans and a third of its corn are products of biotechnology. Cotton that has been engineered to repel the devastating bollworm dominates the Indian market, as it does almost everywhere it has been introduced."
Being the only seed in the market through monopoly would, of course, be domination. The Bt-cotton seed is not dominating markets because it is effective. Bt-cotton has led to the emergence of resistance to Bt in the Bollworm and the emergence of pests that never affected cotton earlier, forcing the increased use of pesticides accompanied by lower yields. Specter quotes acreage but fails to mention that in the US, Round-Up Ready corn and soya are plagued by super-weeds. The only new "technologies" being touted by the Biotech Industry are Bt and Ht (Herbicide Tolerant). Both these 'technologies' have failed to deliver on what they promised- the control of pests and weeds. This is because they got the science wrong, the ecological science that allows us to understand pests and weed control, and the evolution of resistance in pests and weeds.
Almost a century and a quarter after The Jungle Book, Specter is stuck in Kipling's India. He uses imagery of elephants and natives to subtly invoke a fetishized idea of eastern cultures that resonates with a western perspective, a truly romantic one.
"The majority of local farmers travel to the market by bullock cart. Some walk, and a few drive. A week earlier, a local agricultural inspector told me, he had seen a cotton farmer on an elephant and waved to him. The man did not respond, however, because he was too busy talking on his cell phone."
The third person account of a farmer on an elephant with a mobile phone makes for a lovely visual. What is Specter trying to achieve with this? There is an implication of contradictions here, an idea that milestones in "development," like the cell phone, symbols of modernity, have no place in the same frame as an elephant. If Specter looked around, listened and understood, he would have noticed that the cell phone is a necessity of life in the 21st century, even in India. In fact, India has more mobile phone subscribers than the US. We also have elephants and they do exist together. Elephants cost more than a midsize car, to buy and to keep, especially in a semi-arid area like Aurangabad.
Invoking imagery of a quaint India reveals an ethnographic prejudice that fits right into the strategy of seemingly 'helping' India while extracting, like colonizers, capital and natural resources from the colonies. In ways other than the obvious, Specter sounds like an Angrez Sahib (English Sahib) describing the 'natives' in 1943, when he notes
"skin the color of burnt molasses and the texture of a well- worn saddle"
One can only hope that he may overcome his disdain of non-white, non-industrial populations, Indian farmers, and farmers in general, because he seems to view them as inferior and incapable of feeding themselves and their growing population even though the Food and Agriculture Organization reports that 70 percent of global food comes from small farms. It shows the sort of narrow minded thinking that is paraded as reason in a bid to justify the imposition of GMOs to create new sources of royalties. A system of food production that accounts for only 30 percent of the food people eat cannot be presented as a solution to hunger.
Specter attempts to use the 100-degree heat and dusty roads to distract from the elephant in the room, which incidentally has a farmer riding it, no cell phone, just crippling debt. How are second-hand stories from one village, during a fleeting visit "a scientific study" about the situation across the 3,500,000 hectares of cotton cultivation in Maharashtra State. I have been going to Vidarbha in Maharashtra since 1982 when we launched Samvardhan, the national organic movement, from Gandhi's ashram in Seva Gram. I have seen, first-hand, a proud region of hard working, productive farmers, growing diverse and multiple crops, reduced to indebtedness and a complete desperation. And Navdanya has been working in this devastated region for the past two decades to create hope and alternatives for the farmers and the widows of those who were driven to suicide. The crisis we witness today is like the crisis created by colonialism. Specter mentions the Great Bengal Famine but only provides partial information.
"In 1943 alone, during the final years of the British Raj, more than two million people died in the Bengal Famine. "By the time we became free of colonial rule, the country was sucked dry," Suman Sahai told me recently.
The Bengal Famine was caused by the ongoing war as well as a tax in which the British took 50% of every farmer's crop. This sort of taxation, in today's India has taken the form of royalties, especially in cotton. Even before a seed has been planted, money has left the farm and made its way to St. Louis. It can't be difficult to see the similarity between seed monopolies and colonialism.
The real reason for the Bengal Famine was speculation–as evidenced by Amartya Sen's extensive work–that drove the prices of food so high that most people could not afford it. It was mostly a man-made famine. The same system of speculation that caused famines, like that of 1943, exists today. It's now more organized, more lethal and captained by Wall Street. Large Agri-business, armed with near-monopoly power, increase prices beyond market determined increases in costs.
Although, Specter writes about India becoming an exporting nation, he hides the fact that as a result of 'Free Trade' India has now become heavily dependent on imports of oil-seeds and pulses—staples for millions of Indians. In the nineties, because of the North American Free Trade Agreement (NAFTA), prices of tortillas in Mexico City rose sharply while the price of corn, sold by Mexican farmers, went down. Free trade does not imply free-market, and more often than not it means the poor go hungry while profits of corporations, especially in agriculture, increase.
International financial speculation has played a major role in food price increases since the summer of 2007. Specter quotes import and export data many times in his piece. Most of this trade is mandated by trade agreements written by these very corporations. Due to the financial collapse in America, speculators moved from financial products to land and food, which explains the increasing speculation on food and land-grab. This directly affects prices in domestic markets. Many countries are becoming increasingly dependent on food imports. Speculators bet on artificially created scarcity, even while production levels remain high.  Based on these predictions, Big Agriculture has been manipulating the markets. Traders keep stocks away from the market in order to stimulate price increases and generate huge profits afterwards.
In Indonesia, in the midst of the soya price hike in January 2008, the company PT Cargill Indonesia was still keeping 13,000 tons of soybeans in its warehouse in Surabaya, waiting for prices to reach record highs. This artificial inflation of prices is a result of profits to be made from financial speculation, and creates hunger when there is actually enough food to feed everyone on the planet. Frederick Kaufman, in his Harpers Magazine article, "How Wall Street starved millions and got away with it," writes that "imaginary wheat bought anywhere affects real wheat bought everywhere."
Specter would have served The New Yorker and himself well by doing a little more research before narrating the stories from his trip to India. His one-day trip speaking with one farmer and a nameless agricultural inspector is hardly part of scientific reasoning. Specter's piece is ripe with fabrication. He says he went and met cotton farmers near Aurangabad in:
"late spring, after most of the season's cotton had been picked."
For the record, in the Maharashtra state, cotton is a Kharif crop, sown in June or July depending on the monsoon and harvested between the months of November and February. It is unlikely that the farmers would have waited for Mr. Michael Specter to show up this May so that he could catch the tail end of the harvest.  As curiously, Specter chose not go to the Vidarbha region with the most Bt-Cotton related farmer suicides.
We work with the farmers and the widows in Vidarbha to rebuild their lives and give them hope. Farmers that have escaped the debt-trap created by Bt Cotton and it's ancillary requirements of chemical fertilizers and pesticides have done so through the use of seeds made available through organic farming and community seed banks set up by Navdanya. Through the availability of these seeds and not having to buy pesticides and fertilizers, the net income of these farmers has increased.
Nilesh, a Bt cotton farmer in Chikni village in Yavatmal District, for an acre in 2013-14, spent ₨1,860 for seeds, ₨1,000 for pesticides, ₨1,500 for fertilizer, ₨500 for irrigation. Without adding any other expenses he might have had his expenses amount to ₨4,860 per acre. His yield per acre of 1 quintal (100 kg) that sold for ₨4600 left him with a lossof ₨260 per acre. In contrast, Marotirao Deheka who farms organically in Pimpri village in Yavatmal District spent ₨400 on seeds, ₨750 on irrigation, ₨3,000 on all other costs to a lower total of ₨4,150 per acre. Yet, his yield of 3 quintals, which sold for ₨15000, earned him a net profit of ₨10,850.
The role of  "journalist-turned-activist," or more accurately "pundit," we now see across the pro-GMO lobby. Take the case of the British "activist," Mark Lynas, who touts himself as an anti-GMO turned pro-GMO activist. Following his conversion, he has subsequently written extensively in favor of GM crops. But no one in the UK's anti-GMO movement had ever heard of Mark Lynas—until his much publicized talk in Oxford. Like Specter, Lynas has become one of the strongest, most articulate voices for the GMO movement. The question remains—are these journalists "sponsored" by the GMO movement? Or are they simply writers who believe that GMO crops are good for the world (despite information to the contrary)?
Whatever is the case, it's undeniable that the pro-GMO lobby is adopting a more sophisticated approach to its propaganda machine. It has turned its story of debt, hunger and suicide into the articulate voices of storytellers, of communicators, of respectable media houses.
Has The New Yorker been influenced by loyalty to its benefactors? Marion Nestle, a dear friend, and Francis Lappe's (another dear friend) daughter, Anna Lappe, received invitations from Condé Nast to participate in an image clean up for Monsanto. They obviously refused. Please refer to the recent article (August 7, 2014): Read the Emails in the Hilarious Monsanto/Mo Rocca/Condé Nast Meltdown.
For the record, ever since I sued Monsanto in 1999 for its illegal Bt cotton trials in India, I have received death threats, my websites have been hacked and turned into porn sites, the chairman of a girls' college founded by my grandfather, has been harassed. Actions have been taken to impede Navdanya's work by attempting to bribe my colleagues to leave—and they have failed. None of these systemic attacks over the last two decades have deterred me from doing my research and activism with responsibility, integrity, and compassion. The concerted PR assault on me for the last two years from Lynas, Specter and an equally vocal Twitter group is a sign that the global outrage against the control over our seed and food, by Monsanto through GMOs, is making the biotech industry panic.
Character assassination has always been a tool used by those who cannot successfully defend their message. Although they think such slander will destroy my career, they don't understand that I consciously gave up a "career" in 1982 for a life of service. The spirit of service inspired by the truth, conscience and compassion cannot be stopped by threats or media attacks. For me, science has always been about service, not servitude.
My life of science is about creativity and seeing connections, not about mechanistic thought and manipulated facts.
"The intuitive mind is a sacred gift and the rational mind is a faithful servant. We have created a society that honors the servant and has forgotten the gift."  —Albert Einstein
YOU MIGHT ALSO LIKE
Häagen-Dazs Says No to 'Extreme' Genetic Engineering Techniques
New Study Shows Glaring Differences Between GMO and Non-GMO Foods
Consumer Reports Finds Eating Tuna Too Risky for Pregnant Women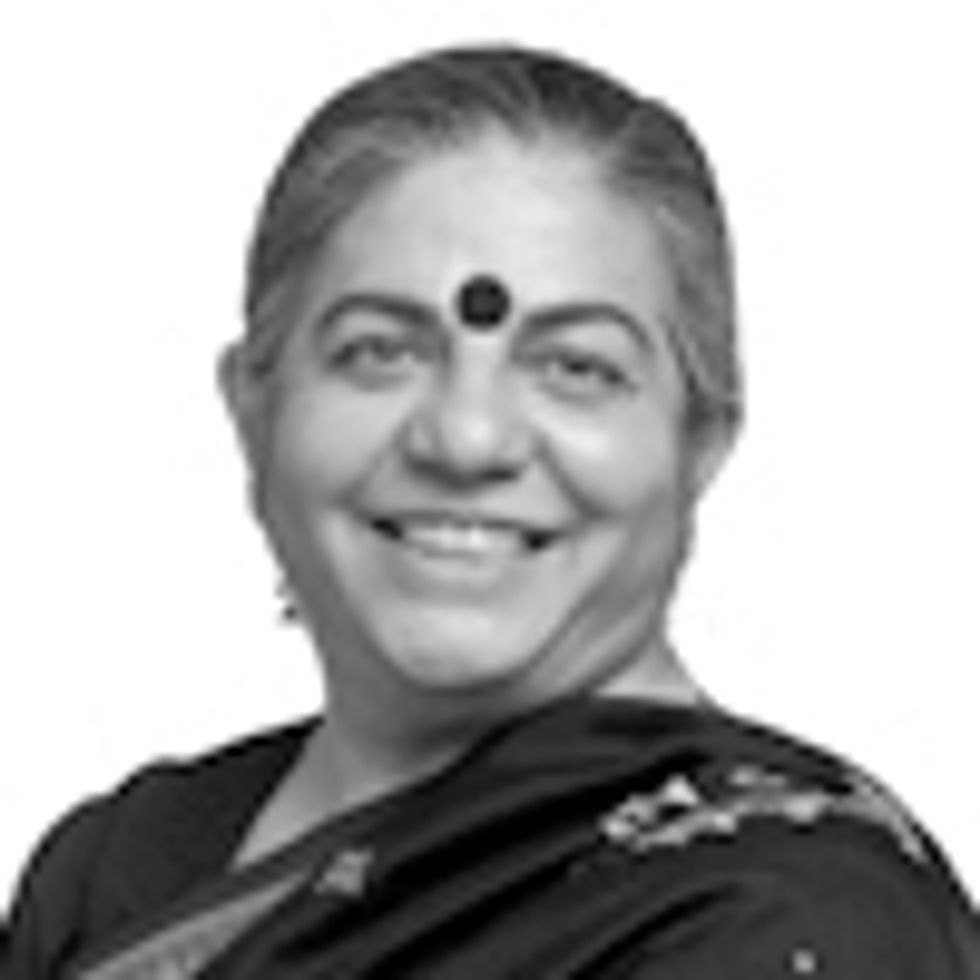 What happens to the seed affects the web of life. When seed is living, regenerative and diverse, it feeds pollinators, soil organisms and animals—including humans. When seed is non-renewable, bred for chemicals, or genetically engineered with toxic Bt or Roundup Ready genes, diversity disappears.
In recent years, beekeepers have been losing 25 percent of their hives each winter. According to a scientific study in 2008, bees and pollinators contribute more than €153 billion annually to agriculture. Chemically-farmed soils, sprayed with herbicides and pesticides kill the beneficial organisms that create soil fertility and protect plants.
Organic seeds and organic farming do not just protect human health; they protect the health and wellbeing of all.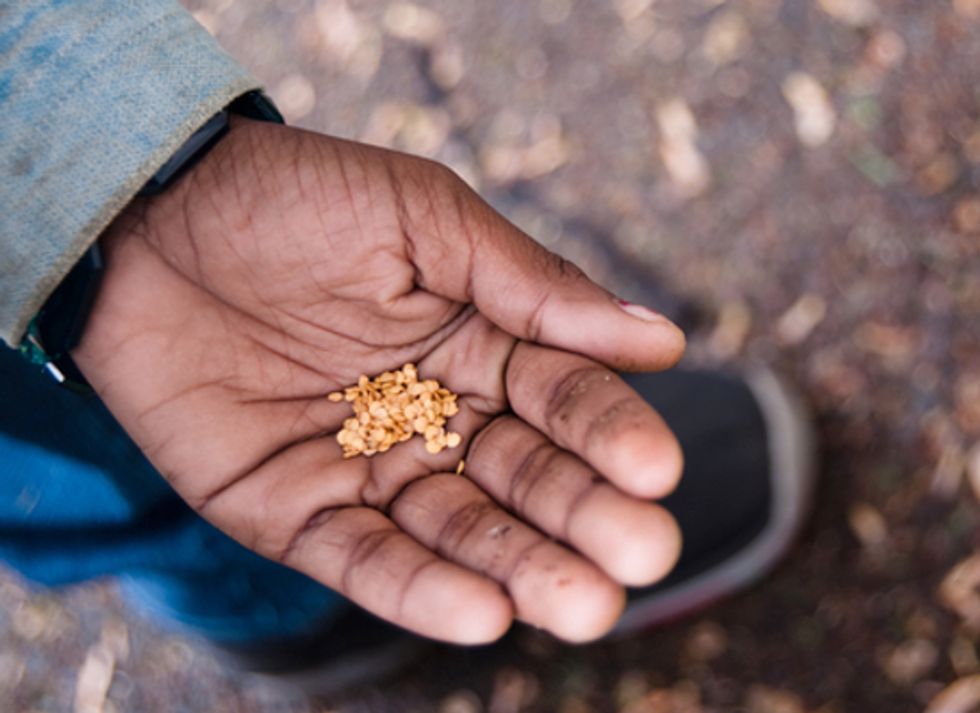 Photo courtesy of Shutterstock
The Rise of Monocultures
With industrial seeds and industrial agriculture, the diversity of plants and crops disappears. India had 200,000 rice varieties before the "green revolution" in the 1970s, which relied on pesticides and fertilizers to avert famine in India. This diversity was replaced by monocultures.
Today the fastest expanse in acreage is of genetically engineered corn and soya, because they are patented and corporations can collect royalties from farmers. When seed freedom disappears and farmers become dependent on genetically modified organism (GMO) seeds, they in effect become seed slaves.
According to the National Bureau of Crime Records, more than 284,000 Indian farmers have committed suicide since seed monopolies were established in India. Gandhi spun cotton for our freedom. Today GMO Bt cotton has enslaved our farmers in debt, and pushed them to suicide. And 95 percent cotton seed is controlled by one company: Monsanto.
When culture is eroded, biodiversity is eroded. And when control over seeds becomes big business, diversity disappears faster. Diversity is a product of care, connection and cultural pride.
Greed Versus Care
The tribals and peasants who gave us rice diversity wanted to evolve a rice for lactating mothers, a rice for babies, a rice for old people. They wanted to have rices that would survive droughts and floods and cyclones, so they evolved climate-resilient rices. In the Himalaya, different rices are needed for different altitudes and different slopes. The intimacy and care that go with belonging to a place and a community allows diversity to flourish.
Greed promotes carelessness and drives control, and control is facilitated by uniformity and monocultures. You cannot control diversity, you can only co-evolve and co-create with it.
A will to control becomes a will to destroy diversity, through what I have called the monoculture of the mind. And the expansion of corporate control over seed and plants is the main reason for the disappearance of diversity in our fields and in our food.
Undermining Health and Nutrition
Corporations first controlled agriculture through the chemical inputs for the green revolution. External chemical inputs demand uniformity and monocultures. In an ecological system, wheat and mustard and chana grow in a mixture, as an internal input self-organizing system is based on diversity and co-operation. When ecological inputs are replaced with external inputs, diversity becomes a problem, and monocultures become an imperative. Chemically-fertilized crops start competing with one another and different external inputs have to be applied to different crops.
This is how the green revolution destroyed our rich diversity of rice and wheat. Millets, which we at Navdanya call forgotten foods, were driven out of our farms and from our plates on totally unscientific criteria of being called inferior grains, even though in health and nutrition terms they are superior to green revolution and hybrid rice and wheat.
Indigenous rice and wheat varieties are superior in nutrition to the new varieties. Native rices have a low glycaemic index, while industrial rice has a high glycaemic index. When all that the poor get is industrial rice, they also get diabetes. India is now the capital of diabetes, which is intimately linked to the disappearance of diversity.
Not only does living, organic seed have more quality, nutrition and taste; farming systems that are based on biodiversity produce more nutrition and "health per acre", as the Navdanya study has shown. Seed freedom is the answer to hunger and malnutrition. One billion people today are hungry and two billion are obese because agriculture is out of balance with nature. Half of humanity is denied wellbeing through food.
Globalization and the Disappearance of Diversity
Globalization means an expanded and aggressive assault on the diversity of our crops and foods is taking place. There are three forces driving the disappearance of diversity, and all are connected to corporate control over seed and food.
The first is the entry of big business in the seed market, with uniform commercial, industrial hybrids and GMOs, and the consequent displacement of local diverse varieties evolved by farmers. Local farmers grew different water melon varieties, and water melons were seasonal fruits. Today you get only one oblong variety everywhere, all year round, because watermelon seeds are now commercial hybrids sold by corporations, which can only breed and sell uniformity.
The second factor in the disappearance of diversity is long-distance trade. Diversity goes hand in hand with local, decentralised food systems. Long-distance trade replaces freshness and softness with hardness, so fruits can travel. You may have noticed how soft jacket oranges have disappeared and been replaced with varieties that cannot be peeled. Corporations are advising the Indian government that bananas and mangoes need a makeover to travel longer, and stay longer on shelves.
The third factor is industrial processing. When McDonald's wants potatoes for French fries, only Russell Burbank will grow. Pepsi's Lay's chips cannot use indigenous potato diversity—such as the tomri that we grow in the mountains. Ketchup requires tomatoes with pulp, not juice. So the juicy, tasty tomatoes disappear, and hard and tasteless tomatoes replace them.
The Italians have continued to grow good, diverse tomatoes since and have managed to get the Mediterranean diet on the Unesco heritage list. Every cuisine in every part of India deserves to be recognized as a cultural heritage.
Navdanya has been making its contributions to protecting biodiversity and food heritage. But the issue is too important not to be taken up by every citizen in their daily lives. We are what we eat. When we are careless with food we are careless with ourselves. Will we only wake up when the last peasant and the last seed disappears?
Originally posted in The Guardian.
Visit EcoWatch's GE FOODS page for more related news on this topic.
——–