U.S. Army soldiers drive a woman to safety following flooding from Hurricane Harvey in Orange, Texas. Spc. Austin T. Boucher
By Michael T. Klare
Deployed to the Houston area to assist in Hurricane Harvey relief efforts, U.S. military forces hadn't even completed their assignments when they were hurriedly dispatched to Florida, Puerto Rico and the U.S. Virgin Islands to face Irma, the fiercest hurricane ever recorded in the Atlantic Ocean.
Florida Gov. Rick Scott, who had sent members of the state National Guard to devastated Houston, anxiously recalled them while putting in place emergency measures for his own state. A small flotilla of naval vessels, originally sent to waters off Texas, was similarly redirected to the Caribbean, while specialized combat units drawn from as far afield as Colorado, Illinois and Rhode Island were rushed to Puerto Rico and the Virgin Islands. Meanwhile, members of the California National Guard were being mobilized to fight wildfires raging across that state (as across much of the West) during its hottest summer on record.
Think of this as the new face of homeland security: containing the damage to America's seacoasts, forests and other vulnerable areas caused by extreme weather events made all the more frequent and destructive thanks to climate change. This is a "war" that won't have a name—not yet, not in the Trump era, but it will be no less real for that.
"The firepower of the federal government" was being trained on Harvey, as William Brock Long, administrator of the Federal Emergency Management Agency (FEMA), put it in a blunt expression of this warlike approach. But don't expect any of the military officials involved in such efforts to identify climate change as the source of their new strategic orientation, not while Commander in Chief Donald Trump sits in the Oval Office refusing to acknowledge the reality of global warming or its role in heightening the intensity of major storms; not while he continues to stock his administration, top to bottom, with climate-change deniers.
Until Trump moved into the White House, however, senior military officers in the Pentagon were speaking openly of the threats posed to American security by climate change and how that phenomenon might alter the very nature of their work. Though mum's the word today, since the early years of this century military officials have regularly focused on and discussed such matters, issuing striking warnings about an impending increase in extreme weather events—hurricanes, incessant rainfalls, protracted heat waves, and droughts—and ways in which that would mean an ever-expanding domestic role for the military in both disaster response and planning for an extreme future.
That future, of course, is now. Like other well-informed people, senior military officials are perfectly aware that it's difficult to attribute any given storm, Harvey and Irma included, to human-caused climate change with 100 percent confidence. But they also know that hurricanes draw their fierce energy from the heat of tropical waters, and that global warming is raising the temperatures of those waters. It's making storms like Harvey and Irma, when they do occur, ever more powerful and destructive.
"As greenhouse gas emissions increase, sea levels are rising, average global temperatures increasing, and severe weather patterns are accelerating," the Department of Defense (DoD) bluntly explained in the Quadrennial Defense Review, a 2014 synopsis of defense policy. This, it added, "may increase the frequency, scale, and complexity of future missions, including defense support to civil authorities"—just the sort of crisis we've been witnessing over these last weeks.
As this statement suggests, any increase in climate-related extreme events striking U.S. territory will inevitably lead to a commensurate rise in American military support for civilian agencies, diverting key assets—troops and equipment—from elsewhere. While the Pentagon can certainly devote substantial capabilities to a small number of short-term emergencies, the multiplication and prolongation of such events, now clearly beginning to occur, will require a substantial commitment of forces, which, in time, will mean a major reorientation of U.S. security policy for the climate change era. This may not be something the White House is prepared to do today, but it may soon find itself with little choice, especially since it seems so intent on crippling all civilian governmental efforts related to climate change.
Mobilizing for Harvey and Irma
When it came to emergency operations in Texas and Florida, the media understandably put its spotlight on moving tales of rescue efforts by ordinary folks. As a result, the military's role in these operations was easy to miss, but it took place on a massive scale. Every branch of the armed services—the Army, Navy, Air Force, Marine Corps and Coast Guard—deployed significant contingents to the Houston area, in some cases sending along the sort of specialized equipment normally used in major combat operations.
The combined response represented an extraordinary commitment of military assets to that desperate, massively flooded region: tens of thousands of National Guard and active-duty troops, thousands of Humvees and other military vehicles, hundreds of helicopters, dozens of cargo planes and an assortment of naval vessels. And just as operations in Texas began to wind down, the Pentagon commenced a similarly vast mobilization for Hurricane Irma.
The military's response to Harvey began with front-line troops: the National Guard, the U.S. Coast Guard and units of the U.S. Northern Command (USNORTHCOM), the joint-service force responsible for homeland defense. Texas Gov. Greg Abbott mobilized the entire Texas National Guard, about 10,000 strong, and guard contingents were deployed from other states as well. The Texas Guard came equipped with its own complement of helicopters, Humvees, and other all-terrain vehicles; the Coast Guard supplied 46 helicopters and dozens of shallow-water vessels, while USNORTHCOM provided 87 helicopters, four C-130 Hercules cargo aircraft and 100 high-water vehicles.
Still more aircraft were provided by the Air Force, including seven C-17 cargo planes and, in a highly unusual move, an E-3A Sentry airborne warning and control system, or AWACS. This super-sophisticated aircraft was originally designed to oversee air combat operations in Europe in the event of an all-out war with the Soviet Union. Instead, this particular AWACS conducted air traffic control and surveillance around Houston, gathering data on flooded areas, and providing "situational awareness" to military units involved in the relief operation.
For its part, the Navy deployed two major surface vessels, the USS Kearsarge, an amphibious assault ship, and the USS Oak Hill, a dock landing ship. "These ships," the Navy reported, "are capable of providing medical support, maritime civil affairs, maritime security, expeditionary logistic support, [and] medium and heavy lift air support." Accompanying them were several hundred Marines from the 26th Marine Expeditionary Unit based at Camp Lejeune, North Carolina, along with their amphibious assault vehicles and a dozen or so helicopters and MV-22 Osprey tilt-rotor aircraft.
When Irma struck, the Pentagon ordered a similar mobilization of troops and equipment. The Kearsarge and the Oak Hill, with their embarked Marines and helicopters, were redirected from Houston to to waters off Puerto Rico and the Virgin Islands. At the same time, the Navy dispatched a much larger flotilla, including the USS Abraham Lincoln (the aircraft carrier on which President George W. Bush had his infamous "mission accomplished" moment), the missile destroyer USS Farragut, the amphibious assault ship USS Iwo Jima, and the amphibious transport dock USS New York. Instead of its usual complement of fighter jets, the Abraham Lincoln set sail from its base in Norfolk, Virginia, with heavy-lift helicopters; the Iwo Jima and New York also carried a range of helicopters for relief operations. Another amphibious vessel, the USS Wasp, was already off the Virgin Islands, providing supplies and evacuating those in need of emergency medical care.
This represents the sort of mobilization you would expect for a small war and is characteristic of how, in the past, the U.S. military has responded to major domestic disasters like hurricanes Katrina (2003) and Sandy (2012). Such events were once rarities and so weren't viewed as major impediments to the carrying out of the military's "normal" function: fighting the nation's foreign wars. However, thanks to the way climate change is intensifying the weather, disasters of this magnitude are starting to occur more frequently and on an ever-larger scale. As a result, the previously peripheral mission of disaster relief is threatening to become a primary one for an already overstretched Pentagon and, as top military officials are aware, the future only holds promise of far more of the same. Think of this as the new face of "war," American-style.
Redefining Homeland Security
Even if no one else in Donald Trump's Washington is ready or willing to deal with climate change, the U.S. military will be. It's already long been preparing in its own fashion to take a pivotal role in responding to a world of recurring natural disasters. This, in turn, will mean that in the coming years climate change will increasingly dominate the domestic national security agenda (whether the Trump administration and those that follow like it, or even admit it) and such domestic emergencies will undoubtedly be militarized. In the process, the very concept of "homeland security" is destined to change.
When the Department of Homeland Security (DHS) was established in November 2002 in the wake of the 9/11 terror attacks, its principal missions included preventing further terrorist assaults on the country as well as dealing with drug smuggling, illegal immigration and other similar issues. Climate change never entered the equation. Even though FEMA and the Coast Guard, major components of the DHS, have found themselves dealing with its increasingly disastrous effects, the department's focus on immigration and terrorism has only intensified in the Trump era.
The president has ensured that this myopic outlook would reign supreme by, among other things, calling for a sharp increase in the number of Border Patrol agents (and greater infusions of funding for border control issues), while working to slash the Coast Guard's budget.
He has also, of course, ensured that all parts of the government other than the military that might in any way deal with climate change were staffed and run by climate-change deniers. Only at the Department of Defense do senior officials still describe climate change in a more realistic fashion, as an observable reality that will pose new dangers to America's security and create new operational nightmares.

"Speaking as a soldier," said former Army Chief of Staff General Gordon Sullivan back in 2007, "we never have 100 percent certainty. If you wait until you have 100 percent certainty, something bad is going to happen on the battlefield." The same, he continued, was true regarding climate change. "If we keep on with business as usual, we will reach a point where some of the worst effects are inevitable."
General Gordon's comments were incorporated into a highly influential report that year on "National Security and the Threat of Climate Change," released by the CNA Corporation (formerly the Center for Naval Analyses), a federally-funded research center that aids the Navy and Marine Corps. That report focused with particular concern on the risk of an increase in overseas conflicts from the impact of climate change, particularly if prolonged droughts and growing food scarcity inflame existing ethnic and religious schisms in a range of poor countries (mainly in Africa and the Greater Middle East). "The U.S. may be drawn more frequently into these situations, either alone or with allies, to help provide stability before conditions worsen and are exploited by extremists," the report warned.
The same climate effects that could trigger a more embattled world would also, military analysts came to believe, produce increased risk for the U.S. itself and so generate a greater need for Pentagon involvement at home. "Extreme weather events and natural disasters, as the U.S. experienced with Hurricane Katrina, may lead to increased missions for a number of U.S. agencies, including state and local governments, the Department of Homeland Security, and our already stretched military," that CNA report noted a decade ago. In a prescient comment, it also warned that this could lead to clashing strategic priorities. "If the frequency of natural disasters increases with climate change, future military and political leaders may face hard choices about where and when to engage."
With this in mind, a group of officers—active duty as well as retired—endeavored to persuade top officials to make climate change a central focus of strategic planning. (Their collective efforts can be sampled at the website maintained by the Center for Climate and Security, an advocacy group former officers established to promote awareness of the issue.) These efforts achieved a major breakthrough in 2014, when the Pentagon released a Climate Change Adaptation Roadmap, a blueprint for Pentagon-wide remedial action in a warming world.
Such an effort was needed, Sec. of Defense Chuck Hagel explained in his foreword, because climate change was sure to generate more conflict abroad and more emergencies at home: "The military could be called upon more often to support civil authorities, and provide humanitarian assistance and disaster relief in the face of more frequent and more intense natural disasters." As a consequence, the DoD and its component organizations must begin "integrating climate change considerations into our plans, operations, and training."
For a time, the armed forces embraced Hagel's instructions, taking steps to reduce their carbon emissions and better prepare for just such a future. The various regional combatant commands like NORTHCOM and the U.S. Southern Command (SOUTHCOM), which covers Latin America and the Caribbean, responded with increased training and other preparations for extreme storm events and for sea-level rise in their areas of responsibility, a change reflected in a 2015 DoD report to Congress, "National Security Implications of Climate-Related Risks and a Changing Climate." In the past, such efforts, only beginning, were never allowed to distract the services from their main presumed function: contesting America's foreign adversaries.
Now, as with Harvey and Irma, the military's domestic responsibilities are on the rise just as the president is assigning them yet more (or more intensified) missions in the never-ending war on terror, including a stepped-up presence in Afghanistan as well as in Iraq and Syria, more intense air campaigns across the Greater Middle East, and a heightened pace of military maneuvers near North Korea. As shown by a series of deadly collisions involving Navy vessels in the Pacific, this higher tempo of operations has already stretched the military to or even beyond its limits in various conflicts it has proven incapable either of winning or ending. The result: overworked crews and overstretched resources. With the massive response to Harvey and Irma, it is being pushed yet further.
In short, as the planet continues to heat up, the armed forces and the nation at large face an existential crisis. On the one hand, President Trump and his generals, including Sec. of Defense Mattis, are once again fully focused on the increased use of military force (and the threat of more of the same) abroad. This includes not only the wars against the Taliban, ISIS, al-Qaeda and their numerous spin-offs, but also preparations for possible military strikes on North Korea and perhaps even, at some future date, on Chinese installations in the South China Sea.
As global warming intensifies, instability and chaos, including massive flows of refugees, will only grow, undoubtedly inviting yet more military interventions abroad. Meanwhile, climate change will increase chaos and devastation at home and there, too, it seems that Washington will often see the military as America's sole reliable response mechanism. As a result, decisions will have to be made about ending American conflicts abroad and refocusing domestically or that overstretched military will simply swallow even more of the government's dollars and gain yet more power in Washington. And yet, whatever else the armed forces might (or might not) be capable of, they are not capable of defeating climate change, which, at its essence, is anything but a military problem. While there are potential solutions to it, those, too, are in no way military.
Despite their reluctance to speak publicly about such environmental matters right now, top officials in the Pentagon are painfully aware of the problem at hand. They know that global warming, as it progresses, will generate new challenges at home and abroad, potentially stretching their capabilities to the breaking point and leaving this country ever more exposed to the ravages of climate change without offering any solutions to the problem.
As a result, the generals face a fundamental choice. They can continue to self-censor their sophisticated analysis of climate change and its likely effects, and so remain complicit with the administration's headlong rush into national catastrophe, or they can speak out forcefully on its threat to homeland security, and the resulting need for a new, largely non-military strategic posture that puts climate action at the top of the nation's priorities.
Michael T. Klare, is a professor of peace and world security studies at Hampshire College and the author of 14 books, including The Race for What's Left.
Reposted with permission from TomDispatch.
EcoWatch Daily Newsletter
Who says President Trump doesn't have a coherent foreign policy? Pundits and critics across the political spectrum have chided him for failing to articulate and implement a clear international agenda. Look closely at his overseas endeavors, though, and one all-too-consistent pattern emerges: Donald Trump will do whatever it takes to prolong the reign of fossil fuels by sabotaging efforts to curb carbon emissions and promoting the global consumption of U.S. oil, coal and natural gas. Whenever he meets with foreign leaders, it seems, his first impulse is to ply them with American fossil fuels.
His decision to withdraw from the Paris climate agreement, which obliged this country to reduce its coal consumption and take other steps to curb its carbon emissions, was widely covered by the American mainstream news media. On the other hand, the president's efforts to promote greater fossil fuel consumption abroad—just as significant in terms of potential harm to the planet—have received remarkably little attention.
Bear in mind that while Trump's drive to sabotage international efforts to curb carbon emissions will undoubtedly slow progress in that area, it will hardly stop it. At the recent G-20 summit in Hamburg, Germany, 19 of the leaders of the world's 20 largest economies reaffirmed their commitment to the Paris accord and pledged to "mitigate greenhouse gas emissions through, among other [initiatives], increased innovation on sustainable and clean energies." This means that whatever Trump does, continuing innovation in the energy field will indeed help reduce global greenhouse gas emissions and so slow the advance of climate change. Unfortunately, Trump's relentless drive to promote fossil-fuel consumption abroad could ensure that carbon emissions continue to rise anyway, neutralizing whatever progress might be made elsewhere and dooming humanity to a climate-ravaged future.
How the two sides of the ledger—green energy progress versus Trump's drive to boost carbon exports—will balance out in the years ahead cannot be foreseen. Every boost in carbon emissions, however, pushes us closer to the moment when global temperatures will exceed the two degrees Celsius rise from pre-industrial levels that scientists say is the maximum the planet can absorb without suffering catastrophic consequences. Those would include rising sea levels that could drown New York, Miami, Shanghai, London and many other coastal cities, as well as a sharp drop in global food production that could devastate entire populations.
Spreading the Cult of Carbon
President Trump's pursuit of increased global carbon consumption is proving to be a two-front campaign. He's working in every way imaginable to increase the production of fossil fuels domestically, even as he engages in a diplomatic blitzkreig to open doors to American fossil-fuel exports abroad.
At home, he's already reversed numerous Obama-era restrictions on fossil fuel extraction, including curbs on mountaintop removal—an environmentally hazardous form of coal mining—and on oil and gas drilling in Arctic waters off Alaska. He's also ordered the administrator of the U.S. Environmental Protection Agency (EPA), Scott Pruitt—a notorious enemy of environmental regulations opposed by the energy industry—to dismantle the Clean Power Plan, President Obama's program to sharply reduce the use of coal in domestic electricity generation.
These and similar initiatives have gotten a fair amount of media attention already, but it's no less important to focus on another key aspect of Trump's pro-carbon global initiative which has gone largely unnoticed. While, under the Paris climate accord, the other industrial powers are still obliged to help developing countries install carbon-free energy technologies, Trump has freed himself to sell American fossil fuels everywhere to his heart's content. At that G-20 meeting, for example, he forced his peers to insert a clause in their final communiqué stating, "The United States of America states it will endeavor to work closely with other countries to help them access and use fossil fuels more cleanly and efficiently." (The "more cleanly and efficiently" was undoubtedly his modest concession to the other 19 leaders).
To spread the mantra of fossil fuels, Trump has become the nation's carbon-pusher in chief. He's already personally engaged in energy diplomacy, while demanding that various cabinet officials make oil, gas and coal exports a priority. On June 29, for instance, he publicly ordered the Treasury Department to do away with "barriers to the financing of highly efficient overseas coal energy plants." In the same speech, he spoke of his desire to supply American coal to Ukraine, currently cut off from Russian natural gas thanks to its ongoing conflict with that country. "Ukraine already tells us they need millions and millions of metric tons [of coal] right now," Trump said, pointing out that there are many other countries in a similar state, "and we want to sell it to them, and to everyone else all over the globe who needs it."
He added, "We are a top producer of petroleum and the number-one producer of natural gas. We have so much more than we ever thought possible, and we're going to be an exporter... We will export American energy all over the world, all around the globe."
In his urge to preserve the reign of fossil fuels, President Trump has already taken on a unique personal role, meeting with foreign officials and promoting cooperation with key American energy firms. Take the June 26 White House visit of Indian Prime Minister Narendra Modi. While the media reported on how the two of them took up the subject of future arms sales to India, it made no mention of energy deals. Yet Secretary of Energy Rick Perry revealed that this topic was crucial to their encounter. At a Trump-hosted dinner for Modi at the White House, Perry reported, "we talked about the three areas of which there will be great back-and-forth cooperation—deal-making, if you will. One of those is in LNG [liquefied natural gas]. The other side of that is in clean coal. Thirdly is on the nuclear side. So there is great opportunity for India and the U.S. to become even stronger allies, stronger partners—energy being the glue that will hold that partnership together for a long, long time."
To put this in context, making deals to sell coal to India is like selling OxyContin to an opioid addict. After all, in 2015, that country overtook the U.S. to become the world's second-biggest consumer of coal (after China). To keep up the pace of its rapid economic growth, India had plans to increase its reliance on coal yet more, which would mean a steady increase in carbon emissions. India now trails only China and the U.S. as an emitter of carbon dioxide and its share is expected to grow. However, it is also likely to suffer disproportionately from climate change, which its emissions will only accelerate. Given that future extreme heat events are expected to periodically destroy crops on which a large part of its population depends, Modi's government has recently begun seeking ways to reduce the country's long-term reliance on fossil fuels, in part by becoming a solar superpower. In other words, in pitching coal to India—a true case of bringing coals to Newcastle (or at least Mumbai)—Trump is functionally working to sabotage India's struggle to free itself from the scourge of carbon addiction.
He similarly pushed fossil-fuel exports in his first encounter with newly elected South Korean President Moon Jae-in. Not surprisingly, press coverage of the event highlighted their discussions about the nuclear threat posed by North Korea. Some reports also noted that trade issues came up, but none mentioned energy matters. Yet, shortly before his state dinner with Moon, Trump announced that a U.S. company, Sempra Energy, had just that day signed an agreement to sell more American natural gas to South Korea. "And, as you know," he added, "the leaders of South Korea are coming to the White House today, and we've got a lot of discussion to do, but we will also be talking about them buying energy from the United States of America, and I'm sure they'll like to do it." In other words, the president has made it eminently clear how foreign leaders in need of American support can please him.
His first overseas trips have also featured versions of such pitchmanship. During his visit to Saudi Arabia in May, he evidently sought to promote cooperation between U.S. and Saudi energy firms. Again, press coverage of his meeting with Saudi King Salman highlighted other topics, notably the war on terror, the regional divide between Sunnis and Shiites, and new Crown Prince Mohammed bin Salman's hard line on Iran. But the two of them did, in fact, issue a statement affirming "the importance of investment in energy by companies in both countries, and the importance of coordinating policies that ensure the stability of markets and an abundance of supplies." Where this might lead is anyone's guess, but presumably to a commitment to the continued dominance of petroleum in the world's future energy markets.
On the subject of his two meetings with Russian President Vladimir Putin at the G-20 summit (at the second of these without even an American translator), we obviously know far less. It is, however, reasonable to assume that his interest in improving ties with Russia is at least partially energy-focused. During the first of those conversations, Trump was accompanied only by a translator and Secretary of State Rex Tillerson who, as CEO of ExxonMobil, had inked energy deals with Rosneft, the Russian state-owned oil giant, and lobbied against the imposition of sanctions on Russia's energy sector. (Those deals are now being investigated by the Treasury Department as possible violations of government-mandated sanctions then in effect.) Five days later, while flying to Paris on Air Force One, Trump told reporters that he would like to meet again with Putin, once that became politically feasible, adding, "and, by the way, I only want to make great deals with Russia."
To further boost the export of U.S. fossil fuels abroad, Trump has also leaned on various government agencies to facilitate such efforts. In a talk he gave on June 29th to energy company officials at the Department of Energy, for example, the president hailed its approval of two long-term projects to promote U.S. energy abroad: the export of additional natural gas from a terminal in Lake Charles, Louisiana, and plans to construct a new oil pipeline to Mexico—about which, he assured listeners, "It will go right under the wall, right? ... You know, a little like this [gesticulating]. Right under the wall."
And keep in mind that we are undoubtedly catching no more than a glimpse of Trump's efforts to promote the sale of American oil, coal and natural gas abroad. From what little has been reported on the subject in his meetings with Prime Minister Modi, President Moon and King Salman, it's reasonable to assume that the topic has come up in most of his conversations with foreign leaders and represents a far more significant aspect of his international policymaking than generally realized.
American Energy Dominance
Don't imagine, however, that Trump's fossil-fueled salesmanship is primarily driven by a desire to enrich American energy firms (though he would undoubtedly consider that a plus). It's clearly motivated by a deeper, more visceral set of urges. Still trapped in his memories of his 1950s childhood when gas-guzzling American cars were a prominent symbol of national wealth and power, he has a deep belief in the capacity of fossil fuels to propel and sustain the country's global dominance. He often recalls that formative period in his musings, describing it as a golden age when America won all its wars and was dominant on the world stage. For him, oil equals vigor equals national ascendancy, and no other countries -- least of all an international community united behind the Paris climate accord—should be able to deprive the U.S. of its carbon fix.
All this was implicit in that Energy Department speech, which offered a genuine window into his thinking on the subject. Here's the crucial passage, delivered in his usual extemporaneous style:
"Our country is blessed with extraordinary energy abundance... We have nearly 100 years' worth of natural gas and more than 250 years' worth of clean, beautiful coal... We have so much more than we ever thought possible. We are really in the driving seat. And you know what? We don't want to let other countries take away our sovereignty and tell us what to do and how to do it. With these incredible resources, my administration will seek not only American energy independence that we've been looking for so long, but American energy dominance."
Trump's personal fascination with symbols of excess—think of those giant golden letters over his properties—is evident in that monologue. It's clear that he's been especially taken with breakthroughs in the enhancement of American energy abundance, especially the success of hydraulic fracturing or fracking. That process has liberated vast quantities of oil and natural gas from previously unusable shale formations. Prior to the introduction of fracking, oil and gas production in the U.S. had been in decline, but thanks to what's been termed the "shale revolution," production has soared. In July 2017, at 9.4 million barrels per day, U.S. crude oil output was up 68 percent over six years earlier, when production was running at just 5.6 million barrels per day. Natural gas has registered a similar leap. All this, in turn, generated—at least for a time—a feeling of euphoria in the oil and gas industry, with some pundits even dubbing this country "Saudi America" and portraying it as a new energy El Dorado.
As this sense of euphoria took hold, American energy analysts began viewing the explosion of domestic hydrocarbon output as a crucial source of geopolitical clout. The immense flood of cheap natural gas has "boosted U.S. economic competitiveness," said Robert Manning of the Atlantic Council typically enough, "and by extension, U.S. comprehensive national power, and U.S. capacity for global leadership." Think of it as Viagra for Washington policymakers.
Recently, however, some of this euphoria has dissipated as bargain-basement oil and gas prices, the inevitable consequence of overproduction, have been eating into corporate profits and forcing some over-exposed energy companies to declare bankruptcy. Trump's belief in the ability of petroleum to enhance America's global clout has, however, clearly been unshaken. "We've got underneath us more oil than anybody," he declared in a conversation with journalists aboard Air Force One on July 12. "And I want to use it."
Whatever the sources of his fascination with fossil fuels, six months into his presidency one thing is clear: He's determined to spread the cult of American carbon internationally and this urge has already become a defining theme of his foreign policy, even if the mainstream media, despite its deluge of Trump-centered coverage, has hardly noticed.
A New American Legacy
Previous American presidents have sought fame through the promotion of freedom, democracy and human rights abroad. In fact, virtually every formal presidential expression of foreign policy in the post-Cold War era has ritualistically identified those values as America's greatest exports (whatever values Washington was actually exporting). Not so for Donald Trump, however. What he seeks to export are habit-forming, climate-altering hydrocarbons.
It remains to be seen how successful his drive to spread the cult of carbon will be. As time goes on and the effects of climate change intensify in a warming world, more countries will undoubtedly begin to focus on easing or even ending their reliance on fossil fuels and promoting carbon-free alternatives. Market forces will play a crucial role in this process, since the price of renewable energy—especially solar—has been dropping quickly and is already, in certain circumstances, a cheaper way to go than using coal to generate electricity.
Even if Trump's fossil-fueled scheming doesn't succeed in the long run, he will undoubtedly ensure that more greenhouse gases enter the planet's atmosphere, meaning that temperatures will continue to climb and punishing droughts and heat waves will become ever more the new global norm.
It's time to give his snake-oil-style energy salesmanship and the future environmental destruction that will accompany it the attention they deserve. If humanity is to have any chance to survive the planetary warming to come in reasonable shape, all the American carbon Trump hopes to sell to foreigners has to stay in the ground.
Michael T. Klare, a TomDispatch regular, is a professor of peace and world security studies at Hampshire College and the author, most recently, of The Race for What's Left. Reposted with permission from our media associate TomDispatch
Howard Kingsnorth / iStock / Getty Images
When you think about solar energy, you probably tend to think about places in the Sun Belt — Southern California, Arizona, Texas, North Carolina and places in between. It might surprise you to learn that New Jersey actually gets ample sun exposure, making it one of the top states for solar installation. In fact, the Solar Energy Industries Association notes that New Jersey ranks No. 7 in the nation for total solar installations.
Of course, some parts of New Jersey rank higher than others for overall solar adoption. In this article, we'll take a closer look at the top cities for solar in New Jersey.
Top 10 Cities for Solar in New Jersey
To rank the top cities for solar in New Jersey, the EcoWatch team took into account reports furnished by the SEIA, the National Renewable Energy Laboratory's solar irradiance maps and GIS data from the New Jersey Department of Environmental Protection, among other data points.
Based on our research, we rank these as the top cities for solar in New Jersey:
Newark
Trenton
Middletown Township
Edison
Woodbridge
Long Branch
Lakewood
Cherry Hill
Paterson
Camden
Newark

Newark is one of New Jersey's most significant centers for the arts and culture. It's also a city with a growing reliance on solar energy, helping homeowners keep their utility expenses manageable. In fact, the latest Shining Cities report from Environment America shows Newark is one of the top 20 cities in the country for per-capita solar installation.
Trenton
New Jersey's capital city has made an admirable investment in solar energy. There are a number of top solar companies operating in the area that enable homeowners to easily make the jump to clean, renewable energy. This is helping the city become a leader in offsetting high electric costs.
Middletown Township
Middletown Township is a coastal area due south of Staten Island, New York. It's located in Monmouth County, which is one of three New Jersey counties that has over 300,000 kW of solar capacity installed.
Edison
Just an hour outside of Manhattan, Edison is a growing bedroom suburb of New York City. Because of its proximity to the Big Apple, Edison has a consistently high population. It also has a steady commitment to solar energy that's matched by many surrounding cities in Middlesex County.
Woodbridge
Another part of the broader NYC metropolitan area, Woodridge gets a decent amount of sunlight. Spend any amount of time in the town and you'll notice at least a few rooftops retrofitted with different types of solar panels. You'll probably also see a number of commercial buildings with solar arrays, as Middlesex County has the most non-residential solar installations of any county in New Jersey.
Long Branch
Long Branch, also in Monmouth County, has plenty of access to beaches and shorelines — and with it, ample exposure to the sun's natural rays. It's a great place to invest in solar power; according to NREL maps, Long Branch has one of the highest residential roof-mount potentials in the state and over 20,000 identified buildings that are suitable for solar.
Lakewood
A growing New York City bedroom community, Lakewood has many rooftops that are in prime position for solar power. It's located in Ocean County, which has New Jersey's highest percentage of residential solar installations according to the NJDEP.
Cherry Hill
Cherry Hill gets enough sunlight that solar energy is a very viable proposition for local home and business owners. NREL maps show Cherry Hill has an above-average number of buildings suitable for solar installation and good potential for energy generation, making it one of the top cities for solar in New Jersey.
Paterson
New Jersey's third most populous city has a growing solar scene, and a number of local installers who are eager to help homeowners capitalize on clean, renewable energy. Like Long Branch, Patterson has a very high residential roof-mount potential and over 20,000 buildings suitable for solar installations.
Camden
Located just across the Delaware River from Philadelphia, Camden offers homeowners enough access to sunlight to make it very viable for solar power. It rounds out our list of the top cities for solar in New Jersey thanks to its potential for annual solar power generation and number of buildings fit for solar, plus the capacity the city has already installed.
Where Solar Panels Work Best
In considering the top cities for solar in New Jersey, it's worth pointing out a couple of common denominators. For one, the best cities for solar tend to be places that get lots of sunlight throughout the year. This often makes beach towns especially prime solar locations, and the Garden State has a lot of coastline.
Average New Jersey Electricity Costs
Additionally, cities with higher utility costs tend to be advantageous places to invest in solar power. As a rule of thumb, if your electric costs are high, it means you'll see more benefits from investing in solar panels.
According to the Energy Information Administration, the average monthly energy consumption in New Jersey is 663 kWh, which is actually quite a bit more than in New York but less than in Pennsylvania. The average monthly electric cost is a little more than $105, which is comparable with surrounding states.
New Jersey Solar Tax Incentives
One reason New Jersey has exceptional solar installation rates (even though it's not in the Sun Belt) is that the state has some of the best solar incentives in the entire country. These greatly reduce the overall cost of solar panels for residents.
For example, take the net metering program. Through net metering, if your residential solar system generates more electricity than you actually need, you can funnel that surplus energy back into the eclectic grid and get credits from local utility providers. In other words, New Jersey creates an easy way to sell your excess solar power. To learn more about net metering opportunities, check with participating utility providers, including Jersey Central Power & Light (JCP&L) and Public Service Enterprise Group (PSEG).
New Jersey also offers a sales tax exemption on solar products; when you buy solar panels and other necessary equipment, you won't need to pay the state's 7% sales tax. This makes the initial solar investment considerably more affordable.
The state also offers property tax exemptions: Your residential solar system may increase the value of your property, but it won't make property taxes increase in kind.
Federal Solar Tax Credits
In addition to these state-level incentives, New Jersey homeowners can also take advantage of a federal tax credit, which is available to all Americans. The current credit will reduce the initial cost of your residential solar system by 26% if installed prior to 2022 and 22% if installed in 2023. It is scheduled to drop off for residential solar panel installations in 2024.
New Jersey Solar Regulations
The state's net metering programs and other incentives make solar more attractive, but there are some additional local regulations that New Jersey homeowners should know about as they prepare to make a solar energy investment. Some of the most essential examples include:
The Solar Act of 2012, which mandates that a little more than 4% of all New Jersey energy sales will come from solar by the year 2028. This was later amended to be a little more than 5%.
The Community Solar Energy Pilot Program Rule allows certain homeowners to "participate in a solar energy project that is remotely located from their property." The applications for this program are currently closed.
Final Thoughts: Top Cities for Solar in New Jersey
If your city didn't make our top list of the top cities for solar in New Jersey, there are a few ways to raise your area's solar profile. These include installing a solar panel system on your roof and contacting elected officials at both the local and state levels to push for ambitious solar energy goals. By doing these things, you can play a big part in New Jersey's pivot toward clean energy.
By Michael T. Klare
That Donald Trump is a grand disruptor when it comes to international affairs is now a commonplace observation in the establishment media. By snubbing NATO and withdrawing from the Paris climate agreement, we've been told, President Trump is dismantling the liberal world order created by Franklin D. Roosevelt at the end of World War II.
"Present at the Destruction" is the way Foreign Affairs magazine, the flagship publication of the Council on Foreign Relations, put it on its latest cover. Similar headlines can be found on the editorial pages of the New York Times and the Washington Post. But these prophecies of impending global disorder miss a crucial point: in his own quixotic way, Donald Trump is not only trying to obliterate the existing world order, but also attempting to lay the foundations for a new one, a world in which fossil-fuel powers will contend for supremacy with post-carbon, green-energy states.
This grand strategic design is evident in virtually everything Trump has done at home and abroad. Domestically, he's pulled out all the stops in attempting to cripple the rise of alternative energy and ensure the perpetuation of a carbon-dominated economy.
Paris Exit Was 'Victory Paid and Carried Out' by Republican Party for the Koch Brothers https://t.co/ENLbOqO62r (@ecowatch)

— Sierra Club (@Sierra Club)1496417827.0
Abroad, he is seeking the formation of an alliance of fossil-fuel states led by the U.S., Russia, and Saudi Arabia, while attempting to isolate emerging renewable energy powers like Germany and China. If his project of global realignment proceeds as imagined, the world will soon enough be divided into two camps, each competing for power, wealth and influence: the carbonites on one side and the post-carbon greens on the other.
As noted in Foreign Affairs, this is a very different perception of the international system than that of then Wilsonian internationalists, who still see a world divided between liberal democracies (led by the U.S. and its European allies) and illiberal autocracies (led today by Vladimir Putin's Russia). Surprisingly, it is no less distinct from the disjointed global system portrayed by disciples of the late Harvard political scientist Samuel Huntington, author of The Clash of Civilizations, who portrayed a world divided along "civilizational" lines principally distinguished by a clash between Islam and the Judeo-Christian West. Trump clearly has no patience with the first of these models and while he's certainly exploited anti-Islamic sentiment during the election campaign and in his first months in office, he does not appear wedded to the Huntington thesis either. His loyalty seems to be reserved solely for states that produce fossil fuels, while his disdain is largely directed at countries that favor green energy.

How you view the world—which of these visions you embrace—truly matters when it comes to shaping American foreign policy. If you favor a Wilsonian view (as do most American diplomats), your primary objective will be to bolster ties with Great Britain, France, Germany and other like-minded democracies while seeking to limit the influence of illiberal autocracies like Russia, Turkey and China. If you uphold a Huntingtonian outlook (as do many of Trump's followers, advisers and appointees), your goal will be to resist the spread of Islamist movements, whether they are backed by Shiite-majority Iran or Sunni-majority Saudi Arabia. But if, like Trump, your view of the world is largely governed by energy preferences, none of these other considerations matter; instead, you will lend your support to nations that embrace fossil fuels and punish those that favor the alternatives.
Laying the Groundwork for a New World Order
The vigor with which Trump is pursuing this grand scheme was on full display during his recent visit to the Middle East and Europe, as well as in his decision to withdraw from the Paris climate accord. In Saudi Arabia, he danced and dined with oil-drenched kings, emirs and princes; in Europe, he dismissed and disrespected NATO and the green-leaning European Union; at home, he promised to eliminate any impediment to the expanded exploitation of fossil fuels, the planet be damned. To critics, these all appeared as separate manifestations of Trump's destructive personality; but viewed another way, they can be seen as calculated steps aimed at bolstering the prospects of the carbonites in the forthcoming struggle for global mastery.
Step one in this process was to revitalize the historic U.S. alliance with Saudi Arabia, the world's leading oil producer. For decades, it was the cornerstone of American policy in the Middle East, aimed at preserving a conservative political order in the region and ensuring American access to Persian Gulf oil. President Obama had allowed the alliance to fray by raising the unwelcome issue of human rights and negotiating with Iran over its nuclear enrichment program. Trump journeyed to Riyadh in May to assure the Saudi royals that human rights concerns would no longer be an irritant in their relations and that Washington would join them in their drive to combat Iranian influence in the region.
"We are not here to lecture," Trump insisted. "We are not here to tell other people how to live, what to do, who to be or how to worship. Instead, we are here to offer partnership." As part of this "partnership," he signed a $110 billion arms sales agreement with the Saudis. Expected additional sales over the coming decade could bring the total to $350 billion. Many of these arms, once delivered, will be used by the Saudis in their brutal air campaign against rebel factions in Yemen. The Saudis claim the rebels (mostly Houthis from the country's barren north) are receiving weapons from Iran, thereby justifying their own attacks, but most observers agree that such Iranian aid is limited at best. In the meantime, the Saudi strikes are taking a heavy toll on civilians and helping to create a humanitarian crisis that has contributed to a severe outbreak of cholera and threatens famine on a massive scale.
While in Riyadh, Trump also discussed closer ties between American energy firms and the Saudi oil industry, largely controlled by that country's royal family. "The two leaders stressed the importance of investment in energy by companies in both countries, and the importance of coordinating policies that ensure the stability of markets and an abundance of supplies," Trump noted in a joint statement with Saudi King Salman.
Step two in this process was the enfeeblement of the NATO alliance and the European Union (EU)—most of whose members are strong supporters of the Paris climate agreement—and the improvement of U.S. relations with Russia, the world's number two oil producer. So far, President Trump has been unable to make much progress on the second of these goals, thanks to the ongoing uproar in Washington over allegations of Russian meddling in the 2016 presidential election, but he achieved spectacular success in the first during his May 25 visit to NATO headquarters in Brussels. He even crossed up his own advisers by switching speeches at the last moment and refusing to commit himself to NATO's mutual defense agreement. He refused to reassure its members of Washington's commitment to the "one-for-all, all-for-one" principle embedded in Article 5 of the NATO Treaty, obliging all member states to come to the aid of any member under attack (although he would later make an explicit commitment to that article during a White House press conference).
In addition, he hectored them about their failure to devote adequate resources to the common defense. Other American presidents have offered similar complaints, but never in such a disdainful and dismissive manner, guaranteed to alienate key allies. On top of this, he appeared to differ with senior NATO officials over the threat posed to the alliance's solidarity by Russian cyber attacks and political meddling, downplaying their significance.
Trump then proceeded to further alienate Europe's leaders at the final stop on his trip in Taormina, Sicily, for a meeting of the G-7 top economies. According to news reports, the Europeans, led by newly elected French President Emmanuel Macron and German Chancellor Angela Merkel, sought to convince him of the urgency of remaining in the Paris climate accord, stressing its importance to Euro-Atlantic solidarity. "If the world's largest economic power were to pull out, the field would be left to the Chinese," Merkel warned. But Trump proved unyielding, claiming job promotion at home outweighed environmental considerations. "Now China leads," said a dejected Macron, a comment that may prove prophetic.
Step three was President Trump's formal announcement of a U.S. withdrawal from the Paris agreement in a Rose Garden ceremony on his return to the White House. As it currently stands, that agreement would require significant reductions in U.S. emissions of carbon dioxide and other greenhouse gases (GHGs), principally through curbs on the combustion of fossil fuels. To fulfill such obligations, President Obama pledged to constrain GHG emissions from electrical power generation through his Clean Power Plan that, if fully implemented, would have severely diminished the domestic use of coal. He also mandated improvements in the efficiency of petroleum-fueled vehicles. In repudiating the pact, Trump hopes, against all odds, to breathe new life into the domestic coal industry (currently suffering from intensified competition from natural gas, wind, and solar power) and reverse the trend toward more fuel-efficient cars and trucks, thereby increasing the demand for oil.
In announcing his decision, the president claimed, however inaccurately, that the Paris accord would allow other countries, including China and India, to continue building coal plants while preventing the U.S. from exploiting its own fossil-fuel assets, and so would benefit their economies at America's expense. "We have among the most abundant energy reserves on the planet, sufficient to lift millions of America's poorest workers out of poverty," he declared. "Yet, under this agreement, we are effectively putting these reserves under lock and key, taking away the great wealth of our nation."
When speaking of the abundant energy reserves he seeks to develop, Trump was not, of course, referring to the nation's limitless wind and solar potential, but rather to its oil, coal, and natural gas supplies. He bragged about how coal mines were already "starting to open up" again and emphasized his plans to eliminate all restrictions on drilling for oil and natural gas on federal lands.

It will undoubtedly take years of rule-writing, judicial maneuvering and negotiations with Congress and the international community before the White House can fully achieve such pro-carbon objectives. Still, the steps already announced ensure that regulatory impediments to increased fossil fuel consumption will be lifted and incentives of all sorts for the installation of renewable energy obliterated.
The New Trilateral Axis
And keep in mind that these are only the first steps the president is considering. Ultimately, he seems to be aiming at the creation of a new world order governed largely by energy preferences. From this perspective, an alliance of Russia, Saudi Arabia and the U.S. makes perfect sense. As a start, authoritarian-minded leaders who detest liberal ideas and seek to perpetuate the Age of Carbon now run all three countries. They, in turn, exercise a commanding role in the global production of energy. As the world's three leading producers of petroleum, they account for about 38 percent of total global oil output. The U.S. and Russia are also the world's top two producers of natural gas. Along with Saudi Arabia, they jointly account for 41 percent of global gas output.
In addition, each of the three is closely linked to other major oil and gas producers: in the case of the U.S., Canada; for Saudi Arabia, the Persian Gulf sheikhdoms (including tiny Qatar with its giant natural gas fields which, at this very moment, the Saudi royals are trying in a draconian fashion to dominate and subjugate); and for Russia, the former Soviet republics of Central Asia. All of this only adds heft to the hydrocarbon dominance of this potential trilateral alliance. When oil and gas output from all of these countries, including Azerbaijan, Kazakhstan, Kuwait, Oman, Qatar, Turkmenistan and the United Arab Emirates, is added to that of the Big Three, the resulting combine controls approximately 57 percent of world oil output and 59 percent of its natural gas production. Given that petroleum is still the world's most valuable trade commodity and that oil and gas together account for 60 percent of the world's combined energy supply, this represents a stupendous concentration of economic and geopolitical power.
To the degree that Trump and his top aides have articulated a grand strategic vision, it is to bolster U.S. ties with these other petro-powers in the energy, diplomatic and military realm. This means strengthening links between American energy companies and those of the other potential alliance members, increasing diplomatic coordination and enhancing military ties. It also means aligning with them against their sworn enemies, as Trump has pledged to do in the case of Saudi Arabia's feud with Iran. (Trump had hoped to collaborate with Russia in a similar manner in the war against ISIS in Syria, but political circumstances in Washington have made that untenable for now.)
The U.S.-Saudi arm of this alliance is already strikingly in play. Trump had clearly expected to make equal progress on Russia on entering the White House, though his own missteps (and those of his close associates, including his son-in-law Jared Kushner) have impeded that effort. Soon after taking office, members of his staff instructed the State Department to begin exploring ways to lift economic sanctions on Russia (originally imposed after that country's annexation of Crimea) that have prevented greater cooperation between U.S. and Russian energy companies. "There was serious consideration by the White House to unilaterally rescind the sanctions," Dan Fried, chief American coordinator for sanctions policy until late February, told Yahoo News.
These efforts were stymied when it became known that Trump's newly appointed national security advisor, Michael Flynn, had spoken privately with Russia's U.S. ambassador, Sergey Kislyak, about sanctions relief during the campaign, and lied about it in conversations with Vice President Mike Pence and others. Nevertheless, Trump has made no secret of his belief that the furor over Russian links to his campaign organization is unwarranted and that the country's interests would be best served by significantly improved ties with Moscow.
And lest there be any question about the triangular nature of this incipient alliance, Russian President Vladimir Putin met with Defense Minister Mohammed bin Salman, the Saudi deputy crown prince, in Moscow just a few days after Prince Mohammed met with Trump in Riyadh. "Relations between Saudi Arabia and Russia are seeing one of their best stages at the moment," said the prince, reported Tass, Russia's state-run news agency. As with Trump's visit to Riyadh, energy cooperation was a key feature of the Russo-Saudi dialogue. "Agreements in the energy sphere are of high importance for our nations," Putin declared.
There are, of course, many obstacles to Trump's plan for a petroleum-based trilateral alliance. Although Russia and Saudi Arabia share many interests in common—particularly in the energy field where both seek to constrain production in order to boost prices —they also differ on many issues. For example, Russia supports the Bashar al-Assad regime in Syria, while the Saudis want to see him ousted; likewise, the Russians are major arms suppliers to Iran, a country the Saudis seek to isolate. Nevertheless, Putin's meeting with Prince Mohammed in the wake of Trump's visit to Riyadh suggests that these are impediments that might be overcome.
The Outlines of a Potential New Global Order
In his famed 1993 "Clash of Civilizations" essay, Samuel Huntington wrote that "the fault lines between civilizations will be the battle lines of the future," with the divide between Islam and the West the most conspicuous among them. Many of Donald Trump's supporters rabidly adhere to just this view, but not Trump himself (though he is obviously no friend to Muslims).
By building an alliance of fossil-fueled states, Islamic countries included, Trump hopes to bolster the strength of pro-carbon forces globally. Ironically, his antics aimed at weakening the power of any incipient future green alliance have so far had a boomerang effect, encouraging potential future green powers to bolster their collaborative linkages and forge ahead more forcefully in dominating the planet's alternative energy future. In this sense, he seems to be creating a self-fulfilling prophecy by pushing the green states closer together.
Recall Merkel's comment to Trump at the G-7 summit. If the U.S. were to pull out of the Paris accord, she said, "the field would be left to the Chinese." Trump did indeed pull out, and Merkel wasted no time in turning her sights on China. Five days later, she hosted the Chinese prime minister, Li Keqiang, for talks in Berlin. He then flew on to Brussels to confer with leaders of the EU. Mutual pledges to uphold the Paris climate accord were said to be a prominent feature of these discussions.
"Possibly we will see an important shift in the China-U.S.-E.U. triangular relations, with China and the E.U. moving closer while the U.S. and E.U. drift apart," commented Wang Dong, assistant professor at the School of International Studies at Peking University. "Premier Li and Chancellor Merkel will likely reaffirm their commitments to upholding the Paris agreements."
Keen to assume world leadership in the production of renewable energy, China has been making enormous strides in the development and installation of wind and solar power. As Keith Bradsher of the New York Times wrote in a recent report on China's progress in creating large-scale floating solar panels (a technology likely to prove widely adaptable by other countries seeking to increase their reliance on renewable energy), "The project reflects China's effort to reshape the world order in renewable energy as the U.S. retreats. Such technological expertise will form the infrastructure backbone needed for countries to meet their climate goals, making China the energy partner of choice for many nations."
India is also seeking to join the A-team of leading green powers. Once considered a stumbling block to any Paris agreement thanks to its partiality for coal-fired power plants, India is now making giant strides in the development of renewable energy. According to the respected environmental website Carbon Tracker, India is now expected to obtain 40 percent of its electricity from non-fossil fuel sources by 2022, eight years ahead of schedule. In the process, it is already canceling many of its plans for new coal-fired plants.
That India is moving rapidly to assert leadership in the development of green energy has also caught the attention of Germany's Angela Merkel, who invited Indian Prime Minister Narendra Modi to Berlin in late May for two days of talks on enhanced economic cooperation.
It is still early days, but the outlines of a potential new global order seem to be emerging, with the fossil-fuel states battling to preserve their dominance in an era in which an ever-increasing share of the world's population is clearly going to embrace green energy technology (and the massive job-creation machine that will go with it). The events of just the first few months of Donald Trump's presidency already give us ample food for thought on the emergence of a new bipolar energy planet, including a willful attempt to cripple NATO; a so-far-abortive effort to forge a U.S.-Russian alliance; Washington's embrace of Saudi regional hegemony and the emergence of a possible Chinese-German alliance. Keep your eyes open for further developments along these lines.
One thing is clear: everyone on the planet will be affected by the ways in which such reshuffled alliances and rivalries will play out. A world dominated by petro-powers will be one in which oil is plentiful, the skies hidden by smog, weather patterns unpredictable, coastlines receding, and drought a recurring peril. The possibility of warfare is only likely to increase on such a planet, as nations and peoples fight over ever-diminishing supplies of vital resources, especially food, water and arable land.
A world dominated by green powers, on the other hand, is likely to be less ravaged by war and the depredations of extreme climate change as renewable energy becomes more affordable and available to all. Those, like Trump, who prefer an oil-drenched planet will fight to achieve their hellish vision, while those committed to a green future will work to reach and even exceed the goals of the Paris agreement. Even within the U.S., an impressive lineup of cities, states and corporations (including Apple, Google, Tesla, Target, eBay, Adidas, Facebook and Nike) have banded together, in an effort dubbed "We Are Still In," to implement America's commitment to the climate accord independently of what Washington says or does. The choice is ours: allow the dystopian vision of Donald Trump to prevail or join with those seeking a decent future for this and future generations.
Michael T. Klare is a professor of peace and world security studies at Hampshire College and the author, most recently, of The Race for What's Left. Reposted with permission from our media associate TomDispatch.
Cowboys and Indians are at it again.
Americans who don't live in the West may think that the historic clash of Native Americans and pioneering settlers is long past because the Indians were, after all, defeated and now drive cars, watch television, and shop at Walmart. Not so.
That classic American narrative is back big time, only the Indians are now the good guys and the cowboys—well, their right-wing representatives, anyway—are on the warpath, trying to grab 640 million acres of public lands that they can plunder as if it were yesteryear.
Meanwhile, in the Dakotas, America's Manifest Destiny, that historic push across the Great Plains to the Pacific (murdering and pillaging along the way), seems to be making a return trip to Sioux country in a form that could have planetary consequences.
@mikewfritz / Twitter
Energy Transfer Partners is now building the Dakota Access Pipeline, a $3.7 billion oil slick of a project. It's slated to go from the Bakken gas and oil fracking fields in northern North Dakota across 1,100 miles of the rest of the Dakotas and Iowa to a pipeline hub in Illinois. From there, the oil will head for refineries on the Gulf Coast and ultimately, as the emissions from fossil fuels, into the atmosphere to help create future summers so hot no one will forget them. Keep in mind that, according to global warming's terrible new math, there's enough carbon in those Bakken fields to roast the planet—if, that is, the Sioux and tribes allied with them don't stop the pipeline.
This time, in other words, if the cavalry does ride to the rescue, the heroes on horseback will be speaking Lakota.
Last Stand at Standing Rock
If built as planned, the Dakota Access Pipeline will snake through the headwaters of the Missouri River, a life-giving source of fresh water for millions of people who live downstream, including Native Americans. It's supposed to pass under that river just a few miles from the Standing Rock Sioux Reservation that straddles North and South Dakota. Protestors point out that, eventually, the pipeline is likely to leak into that vital watershed and the contamination could prove catastrophic.
The U.S. Army Corps of Engineers, which green-lighted the project's design, and Energy Transfer Partners have continued to insist that there is no such risk—even though, suspiciously enough, they decided to change the pipeline's route to avoid the water supply of North Dakota's capital, Bismark. As ever, tribal leaders point out, they were ignored rather than consulted in the planning stages, even though the project was to pass directly through their lands.
We Stand in Solidarity with Sioux Nation to Stop Dakota Access Pipeline - EcoWatch https://t.co/ldsZh4Zzg4 @IdleNoMoreNews @NoTarSands

— EcoWatch (@EcoWatch)1472765114.0
When the Keystone XL pipeline, slated to bring especially carbon-heavy tar sands from Alberta, Canada, to the U.S. Gulf Coast, was killed thanks to years of fierce environmental protests, the stakes were raised for the Dakota Access Pipeline. Keystone was a disaster for the energy industry. In its wake, opponents claim, the new project was fast-tracked without the usual environmental reviews so that construction could be completed before a Keystone-style opposition formed. Fast as they were, it turns out that they weren't fast enough.
Keep in mind that such a project wasn't exactly a first for the native peoples of the region. In the wake of their defeat and confinement to reservations in the 19th century, they lived through a profound transformation of their landscape. Settlers let cattle loose on meadows cleared of wolves, cougars and bears. The rude stamp of progress followed: fences, roads, dams, mines, sawmills, railroads, power lines, towns, condos, resorts. And in the 21st century, vistas increasingly pockmarked with fracking's drill rigs and service roads.
In the Dakota prairies, hundreds of species of grass and flowers were replaced by monocultures of soy and corn, while millions of cattle were substituted for herds of free-roaming bison. As recently as the 1950s and 1960s, the neighboring Sioux and Cheyenne lost 200,000 more acres of valuable reservation farmland to dams built without their permission. Entire villages had to relocate. The Dakota Access Pipeline is just the latest of these assaults and yet, in every way, it's potentially more disastrous. As Lakota Chairman David Archambault puts it, "To poison water is to poison the substance of life."
Slaughter, internment and neglect were bad enough, say tribal leaders, but threatening the people's life-giving water was the last straw. As a result, thousands of Native Americans drawn from 280 tribes across the country and even around the world are now camping out at the construction site where the Dakota Access Pipeline nears the tip of the Standing Rock Sioux Reservation. Almost 2 million signatures have been gathered on a petition opposing the pipeline, dozens of environmental groups have signed on to the resistance and tribes nationwide have expressed their solidarity.
On Sept. 3, the private security guards hired by Energy Transfer Partners used pepper spray and dogs on those trying to block the pipeline. This eruption of violence halted work until U.S. District Judge James Boasberg could rule on the tribe's request for an injunction to block construction while its case was heard in court.
On Sept. 9, while conceding that "the United States' relationship with Indians has been contentious and tragic," he denied that request. Then, in a move described even by the Sioux as stunning, the Obama administration suddenly stepped between the protesters and the pipeline construction crews. The U.S. Environmental Protection Agency, the U.S. Department of the Interior and even the U.S. Army Corps of Engineers called for a halt to the process until the permitting procedure could be reviewed.
Although putting an oil pipeline under a major river should have triggered an environmental review, the Corps chose not to do one. Now, it will take a second look. The administration also committed itself to finding better ways to include Native Americans in future land-use decisions.
Where this goes next is anyone's guess. The construction halt could, of course, be lifted if the protesters were to disperse under a false sense of victory. The Sioux now plan to litigate vigorously against the pipeline. One prediction, however, is easy enough. The unity and purpose experienced by the people in that encampment will resonate powerfully for years to come. A movement has been born along the banks of the Missouri River.
Native Americans have played the crucial role in this campaign to "keep it in the ground," just as they were leaders in the successful struggle to block the Keystone XL pipeline, the proposed Northern Gateway pipeline that would have carried dirty crude across Canada to the Pacific, and the building of a massive coal export port on Canada's Pacific coast. As Native American leader Winona LaDuke puts it, "For people with nothing else but land and a river, I would not bet against them."

This Town Ain't Big Enough for the Both of Us
Meanwhile, back at the ranch, the cowboys have been engaged in a not-so-old-fashioned range war over who can best manage 640 million acres of public lands now owned collectively by the American people. Backed by the Koch Brothers and their American Legislative Exchange Council (ALEC) legislators across the American West—where most of the public lands are located—are calling on the federal government to cede control and management of them to counties and states. This would include some of our most beloved national parks.
In Utah where I live, the Republican-dominated legislature has put forward the Public Lands Initiative (PLI). It's the latest round in a 30-year feud pitting conservationists and businesses tied to tourism and recreation against ranchers and miners. At stake: whether to give the last publicly controlled wild places in the state formal wilderness status and federal protection or (though this isn't often directly said) let private interests exploit the hell out of them. Every few years the Utah legislature's "cowboy caucus" has pushed just such a "wilderness bill" filled with poison pills and potentially devastating loopholes that the local conservation community can't abide.
Billed this time as a potential grand bargain to settle who controls public lands and how they can be used, the PLI has proven no different. It was, in fact, generated by local fears that President Obama might use his wide-ranging powers under the Antiquities Act to create a new national monument in the state as he left the Oval Office. This was exactly what Bill Clinton did in 1996, establishing the Grand Staircase Escalante National Monument on 1.9 million acres of land in southern Utah's spectacular canyon country, already the home of five national parks.
That 1906 act, passed while Teddy Roosevelt was in the White House, gives the president wide-ranging authority to create national monuments from public lands in order to protect significant natural, cultural or scientific features. Since activities like drilling for oil and gas, mining, timber cutting and grazing are barred or tightly restricted on such protected lands, Western politicians tend to regard them as a tool wielded by conservationists to suppress economic development.
Grave Robbing for Fun and Profit
Sure enough, the nightmare of the cowboys is being realized. A coalition of five tribes, all either presently in Utah or claiming ancestral lands there, is now pushing a bold proposal for just such a national monument—a park co-managed by the five tribes and the U.S. National Park Service (which in itself would be a significant first for the Native American community). It would include 1.9 million acres of the ancestral grounds of the Navajo, Hopi, Zuni, Ute Mountain and Ute Indian tribes and would be known as the Bears Ears after the area's most famous landmark, twin buttes that are said to resemble a bear's ears.
Interior Secretary Sally Jewel recently toured the proposed monument and was amazed by what she saw, including spectacular cliff-house ruins, as well as paintings and rock carvings depicting clan signs, shamanic visions and ghostly herds of bighorn sheep and elk. Bears Ears would possess more than 100,000 archaeological sites, including many of the oldest and most spectacular ruins in the U.S. Members of the coalition of tribes regard them and the ground littered with their ancestors' artifacts and bones as sacred.
A grassroots group, Utah Dine Bikeyah, did extensive groundwork collecting data and interviews to create cultural maps of the region. The extraordinary archaeological and historical record they built effectively made their case that the ancestors of the coalition tribes have relied on that landscape for hunting, gathering and ceremonial activities for centuries. The Utah conservation community, which had mapped out its own plans for such a monument, stepped aside for the tribal proposal.
Protecting the Bears Ears is considered an urgent matter. A mere handful of rangers currently patrol thousands of square miles of rugged canyons where the looting of archaeological sites for fun and profit is a rural tradition. In remote outposts like Blanding, Utah, Indian grave robbing was considered an acceptable family pastime until agents from the FBI infiltrated the black market for artifacts and busted a prominent local family. Ute leader Regina Lopez-Whiteskunk expresses a motivating concern of the tribal leaders.
"Without swift action we fear that the archaeological and cultural riches of the Bears Ears will suffer shameful, disgraceful dissolution and obliteration," she said.
Federal Bill Seeks First Native American Land Grab in 100 Years https://t.co/qvNtJMjxDJ @Frack_Off @FrackAction @VanJones68 @shailenewoodley

— EcoWatch (@EcoWatch)1474392375.0
Her fear is well founded. In recent years, for instance, rural county commissioners have led illegal all-terrain-vehicle rallies on a route through Recapture Canyon that Bureau of Land Management (BLM) rangers shut to motorized traffic because it crosses several key archaeological sites.

State and county politicians were not content to challenge the BLM's closure of that canyon in court. Instead, they openly promoted such rides to defy the feds. The last of these protests in 2014 did, in fact, significantly damage unprotected archeological sites. The indigenous community saw it as a shocking show of disrespect, like driving directly over cemetery graves. The well-armed vigilantes who rode through Recapture Canyon were led by Ryan Bundy, son of Cliven Bundy and the famous hothead of the Bundy clan.
You may remember the colorful Bundy boys. After all, they became the stars of the "cowboy rebellion" against federal regulation on public lands. In 2014, BLM rangers were dispatched to Nevada to remove Cliven Bundy's cows from lands on which they had been grazing illegally for 20 years. The feds claimed that he owed the taxpayers a million bucks in unpaid grazing fees. He, on the other hand, insisted that such public lands belonged to the ranchers whose grandparents first grazed them.
The rangers sent to enforce the law were met by hundreds of armed cowboys, many of whom took up sniper positions around them. Faced with such overwhelming firepower and the prospect of bloodshed, they withdrew and a range war was on.
The Gang That Couldn't Shoot Straight
That retreat in Nevada undoubtedly emboldened the Bundy clan and their militia allies to seize Oregon's Malheur National Wildlife Refuge in January 2016. Well-armed, they occupied the visitor center at that bird refuge, leaning on every cowboy cliché in the book. They dressed the part with chaps, boots, buckles and Stetson hats, carried American flags, and regularly posed with their horses for news photographers.
In the end, despite the Marlboro Man look and the Clint Eastwood demeanor, the Bundyites came across as the gang that couldn't shoot straight. The "constitutional revolution" they wanted to spark by seizing Malheur fizzled amid a festival of cognitive dissonance and irony: men carrying assault rifles and threatening to use them proclaimed themselves "peaceful protesters" and, while declaring it off limits, attempted to "return" land to the American people—land that they already owned.
Federal agents eventually arrested all of the principal players in both the earlier Nevada standoff and the Malheur fiasco, except for one killed at a roadblock when he charged armed rangers and reached for his gun. Trials began on Sept. 7 and are slated to last for months.
Given the open hostility of state and local politicians to the protection of sacred sites, as well as their willingness to break the law and offer tacit support for vigilantes like the Bundys, tribal leaders decided to take their concerns about protecting their ancestral grounds to the top. A delegation traveled to Washington and met with President Obama, while a media campaign was begun to persuade others to endorse the plan.
A broader coalition of tribes and the conservation community rallied to the idea, especially because it was the first time that Native American tribes had proposed such a monument. The vision of a park to honor sacred indigenous lands, shaped and directed by Native Americans themselves, caught the public imagination. The New York Times and The Washington Post have both written editorials urging the president to create such a park and Utah polls show a solid majority of citizens in favor of it.
Peace Pipes, Not Oil Pipes
The genocidal policies that accompanied settlement across North America crested in Sioux country at the close of the 19th century. The survivors of the vanquished indigenous nations there were interned on reservations. Their children were taken from them and sent to boarding schools where their hair was cut and their language and ceremonies banished. This was—and was meant to be—a form of cultural genocide.
In the Bears Ears and Sioux country today, however, the culture of Native Americans endures. The descendants of those warriors who died defending their homeland and of those children taken from their families and their native cultures have proven remarkably resilient. They are once again defending their world and, as it happens, ours too, because even if you don't share the Missouri River watershed, you live on a planet that is being rapidly transformed by the sort of toxic cargo that will fill a future Dakota Access Pipeline.
In the Hollywood Westerns of my youth, Indians were often one-dimensional villains who committed atrocities on good white folks trying to bring civilization to the frontier. As with so many notions I inherited in my youth, reality has turned out to be another story.
Certainly, before the onslaught of colonialism, the way indigenous people across the planet viewed what we now call our environment has come to seem like sanity itself. The land, as the Sioux and other tribal peoples saw it, was a living being saturated with spirits that humans should both acknowledge and respect.
The Indians whom the cowboys and bluecoats fought didn't share European concepts of cash, property, profit, progress, and, most importantly, technology. Once upon a time, we had the guns and they had the bows and arrows, so we rolled over them. But here's the wondrous thing: a story that seemed to have ended long ago turns out to be anything but over. Times have changed, and in the process the previous cast of characters has, it seems, swapped roles.
An economy hooked on carbon is threatening life on Earth. The waters of seas and oceans are warming fast; the weather is becoming unpredictable and harsh. Perhaps it's time to finally listen to and learn from people who lived here sustainably for thousands of years.
Respecting Sioux sovereignty and protecting the sacred sites of tribes in their own co-managed national monument could write the next chapter in our American story, the one in which the Indians finally get to be heroes and heroines fighting to protect our way of life as well as their own.
Reposted with permission from our media associate TomDispatch.
[This essay is excerpted from Noam Chomsky's new book, Who Rules the World?]
In January 2015, the Bulletin of the Atomic Scientists advanced its famous Doomsday Clock to three minutes before midnight, a threat level that had not been reached for 30 years. The bulletin's statement explaining this advance toward catastrophe invoked the two major threats to survival: nuclear weapons and "unchecked climate change." The call condemned world leaders, who "have failed to act with the speed or on the scale required to protect citizens from potential catastrophe," endangering "every person on Earth [by] failing to perform their most important duty—ensuring and preserving the health and vitality of human civilization."
Since then, there has been good reason to consider moving the hands even closer to doomsday.
As 2015 ended, world leaders met in Paris to address the severe problem of "unchecked climate change." Hardly a day passes without new evidence of how severe the crisis is. To pick almost at random, shortly before the opening of the Paris conference, NASA's Jet Propulsion Lab released a study that both surprised and alarmed scientists who have been studying Arctic ice. The study showed that a huge Greenland glacier, Zachariae Isstrom, "broke loose from a glaciologically stable position in 2012 and entered a phase of accelerated retreat," an unexpected and ominous development. The glacier "holds enough water to raise global sea level by more than 18 inches (46 centimeters) if it were to melt completely. And now it's on a crash diet, losing 5 billion tons of mass every year. All that ice is crumbling into the North Atlantic Ocean."
Yet there was little expectation that world leaders in Paris would "act with the speed or on the scale required to protect citizens from potential catastrophe." And even if by some miracle they had, it would have been of limited value, for reasons that should be deeply disturbing.
When the agreement was approved in Paris, French Foreign Minister Laurent Fabius, who hosted the talks, announced that it is "legally binding." That may be the hope, but there are more than a few obstacles that are worthy of careful attention.
In all of the extensive media coverage of the Paris conference, perhaps the most important sentences were these, buried near the end of a long New York Times analysis: "Traditionally, negotiators have sought to forge a legally binding treaty that needed ratification by the governments of the participating countries to have force. There is no way to get that in this case, because of the United States. A treaty would be dead on arrival on Capitol Hill without the required two-thirds majority vote in the Republican-controlled Senate. So the voluntary plans are taking the place of mandatory, top-down targets." And voluntary plans are a guarantee of failure.
"Because of the United States." More precisely, because of the Republican Party, which by now is becoming a real danger to decent human survival.
The conclusions are underscored in another Times piece on the Paris agreement. At the end of a long story lauding the achievement, the article notes that the system created at the conference "depends heavily on the views of the future world leaders who will carry out those policies. In the U.S., every Republican candidate running for president in 2016 has publicly questioned or denied the science of climate change and has voiced opposition to Mr. Obama's climate change policies. In the Senate, Mitch McConnell, the Republican leader, who has led the charge against Mr. Obama's climate change agenda, said, 'Before his international partners pop the champagne, they should remember that this is an unattainable deal based on a domestic energy plan that is likely illegal, that half the states have sued to halt and that Congress has already voted to reject.'"
Both parties have moved to the right during the neoliberal period of the past generation. Mainstream Democrats are now pretty much what used to be called "moderate Republicans." Meanwhile, the Republican Party has largely drifted off the spectrum, becoming what respected conservative political analyst Thomas Mann and Norman Ornstein call a "radical insurgency" that has virtually abandoned normal parliamentary politics. With the rightward drift, the Republican Party's dedication to wealth and privilege has become so extreme that its actual policies could not attract voters, so it has had to seek a new popular base, mobilized on other grounds: evangelical Christians who await the Second Coming, nativists who fear that "they" are taking our country away from us, unreconstructed racists, people with real grievances who gravely mistake their causes and others like them who are easy prey to demagogues and can readily become a radical insurgency.
In recent years, the Republican establishment had managed to suppress the voices of the base that it has mobilized. But no longer. By the end of 2015 the establishment was expressing considerable dismay and desperation over its inability to do so, as the Republican base and its choices fell out of control.
Republican elected officials and contenders for the next presidential election expressed open contempt for the Paris deliberations, refusing to even attend the proceedings. The three candidates who led in the polls at the time—Donald Trump, Ted Cruz and Ben Carson—adopted the stand of the largely evangelical base: humans have no impact on global warming, if it is happening at all.
The other candidates reject government action to deal with the matter. Immediately after Obama spoke in Paris, pledging that the U.S. would be in the vanguard seeking global action, the Republican-dominated Congress voted to scuttle his recent Environmental Protection Agency rules to cut carbon emissions. As the press reported, this was "a provocative message to more than 100 [world] leaders that the American president does not have the full support of his government on climate policy"—a bit of an understatement. Meanwhile Lamar Smith, Republican head of the House's Committee on Science, Space and Technology, carried forward his jihad against government scientists who dare to report the facts.
The message is clear. American citizens face an enormous responsibility right at home.
A companion story in the New York Times reports that "two-thirds of Americans support the United States joining a binding international agreement to curb growth of greenhouse gas emissions." And by a five-to-three margin, Americans regard the climate as more important than the economy. But it doesn't matter. Public opinion is dismissed. That fact, once again, sends a strong message to Americans. It is their task to cure the dysfunctional political system, in which popular opinion is a marginal factor. The disparity between public opinion and policy, in this case, has significant implications for the fate of the world.
We should, of course, have no illusions about a past "golden age." Nevertheless, the developments just reviewed constitute significant changes. The undermining of functioning democracy is one of the contributions of the neoliberal assault on the world's population in the past generation. And this is not happening just in the U.S.; in Europe the impact may be even worse.
The Black Swan We Can Never See
Let us turn to the other (and traditional) concern of the atomic scientists who adjust the Doomsday Clock: nuclear weapons. The current threat of nuclear war amply justifies their January 2015 decision to advance the clock two minutes toward midnight. What has happened since reveals the growing threat even more clearly, a matter that elicits insufficient concern, in my opinion.
The last time the Doomsday Clock reached three minutes before midnight was in 1983, at the time of the Able Archer exercises of the Reagan administration; these exercises simulated attacks on the Soviet Union to test their defense systems. Recently released Russian archives reveal that the Russians were deeply concerned by the operations and were preparing to respond, which would have meant, simply: The End.
We have learned more about these rash and reckless exercises and about how close the world was to disaster, from U.S. military and intelligence analyst Melvin Goodman, who was CIA division chief and senior analyst at the Office of Soviet Affairs at the time. "In addition to the Able Archer mobilization exercise that alarmed the Kremlin," Goodman wrote, "the Reagan administration authorized unusually aggressive military exercises near the Soviet border that, in some cases, violated Soviet territorial sovereignty. The Pentagon's risky measures included sending U.S. strategic bombers over the North Pole to test Soviet radar and naval exercises in wartime approaches to the USSR where U.S. warships had previously not entered. Additional secret operations simulated surprise naval attacks on Soviet targets."
We now know that the world was saved from likely nuclear destruction in those frightening days by the decision of a Russian officer, Stanislav Petrov, not to transmit to higher authorities the report of automated detection systems that the USSR was under missile attack. Accordingly, Petrov takes his place alongside Russian submarine commander Vasili Arkhipov, who, at a dangerous moment of the 1962 Cuban Missile Crisis, refused to authorize the launching of nuclear torpedoes when the subs were under attack by U.S. destroyers enforcing a quarantine.
Other recently revealed examples enrich the already frightening record. Nuclear security expert Bruce Blair reports that "the closest the U.S. came to an inadvertent strategic launch decision by the President happened in 1979, when a NORAD early warning training tape depicting a full-scale Soviet strategic strike inadvertently coursed through the actual early warning network. National Security Adviser Zbigniew Brzezinski was called twice in the night and told the U.S. was under attack and he was just picking up the phone to persuade President Carter that a full-scale response needed to be authorized right away, when a third call told him it was a false alarm."
This newly revealed example brings to mind a critical incident of 1995, when the trajectory of a U.S.-Norwegian rocket carrying scientific equipment resembled the path of a nuclear missile. This elicited Russian concerns that quickly reached President Boris Yeltsin, who had to decide whether to launch a nuclear strike.
Blair adds other examples from his own experience. In one case, at the time of the 1967 Middle East war, "a carrier nuclear-aircraft crew was sent an actual attack order instead of an exercise/training nuclear order." A few years later, in the early 1970s, the Strategic Air Command in Omaha "retransmitted an exercise ... launch order as an actual real-world launch order." In both cases code checks had failed; human intervention prevented the launch. "But you get the drift here," Blair added. "It just wasn't that rare for these kinds of snafus to occur."
Blair made these comments in reaction to a report by airman John Bordne that has only recently been cleared by the U.S. Air Force. Bordne was serving on the U.S. military base in Okinawa in October 1962, at the time of the Cuban Missile Crisis and a moment of serious tensions in Asia as well. The U.S. nuclear alert system had been raised to DEFCON 2, one level below DEFCON 1, when nuclear missiles can be launched immediately. At the peak of the crisis, on October 28, a missile crew received authorization to launch its nuclear missiles, in error. They decided not to, averting likely nuclear war and joining Petrov and Arkhipov in the pantheon of men who decided to disobey protocol and thereby saved the world.
As Blair observed, such incidents are not uncommon. One recent expert study found dozens of false alarms every year during the period reviewed, 1977 to 1983; the study concluded that the range is 43 to 255 per year. The author of the study, Seth Baum, summarizes with appropriate words: "Nuclear war is the black swan we can never see, except in that brief moment when it is killing us. We delay eliminating the risk at our own peril. Now is the time to address the threat, because now we are still alive."
These reports, like those in Eric Schlosser's book Command and Control, keep mostly to U.S. systems. The Russian ones are doubtless much more error-prone. That is not to mention the extreme danger posed by the systems of others, notably Pakistan.
"A War Is No Longer Unthinkable"
Sometimes the threat has not been accident, but adventurism, as in the case of Able Archer. The most extreme case was the Cuban Missile Crisis in 1962, when the threat of disaster was all too real. The way it was handled is shocking; so is the manner in which it is commonly interpreted.
With this grim record in mind, it is useful to look at strategic debates and planning. One chilling case is the Clinton-era 1995 STRATCOM study "Essentials of Post-Cold War Deterrence." The study calls for retaining the right of first strike, even against nonnuclear states. It explains that nuclear weapons are constantly used, in the sense that they "cast a shadow over any crisis or conflict." It also urges a "national persona" of irrationality and vindictiveness to intimidate the world.
Current doctrine is explored in the lead article in the journal International Security, one of the most authoritative in the domain of strategic doctrine. The authors explain that the U.S. is committed to "strategic primacy"—that is, insulation from retaliatory strike. This is the logic behind Obama's "new triad" (strengthening submarine and land-based missiles and the bomber force), along with missile defense to counter a retaliatory strike. The concern raised by the authors is that the U.S. demand for strategic primacy might induce China to react by abandoning its "no first use" policy and by expanding its limited deterrent. The authors think that they will not, but the prospect remains uncertain. Clearly the doctrine enhances the dangers in a tense and conflicted region.
The same is true of NATO expansion to the east in violation of verbal promises made to Mikhail Gorbachev when the USSR was collapsing and he agreed to allow a unified Germany to become part of NATO—quite a remarkable concession when one thinks about the history of the century. Expansion to East Germany took place at once. In the following years, NATO expanded to Russia's borders; there are now substantial threats even to incorporate Ukraine, in Russia's geostrategic heartland. One can imagine how the U.S. would react if the Warsaw Pact were still alive, most of Latin America had joined and now Mexico and Canada were applying for membership.
Aside from that, Russia understands as well as China (and U.S. strategists, for that matter) that the U.S. missile defense systems near Russia's borders are, in effect, a first-strike weapon, aimed to establish strategic primacy—immunity from retaliation. Perhaps their mission is utterly unfeasible, as some specialists argue. But the targets can never be confident of that. And Russia's militant reactions are quite naturally interpreted by NATO as a threat to the West.
One prominent British Ukraine scholar poses what he calls a "fateful geographical paradox": that NATO "exists to manage the risks created by its existence."
The threats are very real right now. Fortunately, the shooting down of a Russian plane by a Turkish F-16 in November 2015 did not lead to an international incident, but it might have, particularly given the circumstances. The plane was on a bombing mission in Syria. It passed for a mere 17 seconds through a fringe of Turkish territory that protrudes into Syria and evidently was heading for Syria, where it crashed. Shooting it down appears to have been a needlessly reckless and provocative act and an act with consequences.
In reaction, Russia announced that its bombers will henceforth be accompanied by jet fighters and that it is deploying sophisticated anti-aircraft missile systems in Syria. Russia also ordered its missile cruiser Moskva, with its long-range air defense system, to move closer to shore, so that it may be "ready to destroy any aerial target posing a potential danger to our aircraft," Defense Minister Sergei Shoigu announced. All of this sets the stage for confrontations that could be lethal.
Tensions are also constant at NATO-Russian borders, including military maneuvers on both sides. Shortly after the Doomsday Clock was moved ominously close to midnight, the national press reported that "U.S. military combat vehicles paraded Wednesday through an Estonian city that juts into Russia, a symbolic act that highlighted the stakes for both sides amid the worst tensions between the West and Russia since the Cold War." Shortly before, a Russian warplane came within seconds of colliding with a Danish civilian airliner. Both sides are practicing rapid mobilization and redeployment of forces to the Russia-NATO border and "both believe a war is no longer unthinkable."
Prospects for Survival
If that is so, both sides are beyond insanity, since a war might well destroy everything. It has been recognized for decades that a first strike by a major power might destroy the attacker, even without retaliation, simply from the effects of nuclear winter.
But that is today's world. And not just today's—that is what we have been living with for 70 years. The reasoning throughout is remarkable. As we have seen, security for the population is typically not a leading concern of policymakers. That has been true from the earliest days of the nuclear age, when in the centers of policy formation there were no efforts—apparently not even expressed thoughts—to eliminate the one serious potential threat to the U.S., as might have been possible. And so matters continue to the present, in ways just briefly sampled.
That is the world we have been living in and live in today. Nuclear weapons pose a constant danger of instant destruction, but at least we know in principle how to alleviate the threat, even to eliminate it, an obligation undertaken (and disregarded) by the nuclear powers that have signed the Non-Proliferation Treaty. The threat of global warming is not instantaneous, though it is dire in the longer term and might escalate suddenly. That we have the capacity to deal with it is not entirely clear, but there can be no doubt that the longer the delay, the more extreme the calamity.
Prospects for decent long-term survival are not high unless there is a significant change of course. A large share of the responsibility is in our hands—the opportunities as well.
Noam Chomsky is institute professor emeritus in the Department of Linguistics and Philosophy at Massachusetts Institute of Technology. A TomDispatch regular, among his recent books are Hegemony or Survival andFailed States. This essay is from his new book, Who Rules the World? (Metropolitan Books, the American Empire Project). His website is www.chomsky.info.
Sunday, April 17 was the designated moment. The world's leading oil producers were expected to bring fresh discipline to the chaotic petroleum market and spark a return to high prices. Meeting in Doha, the glittering capital of petroleum-rich Qatar, the oil ministers of the Organization of the Petroleum Exporting Countries (OPEC), along with such key non-OPEC producers as Russia and Mexico, were scheduled to ratify a draft agreement obliging them to freeze their oil output at current levels. In anticipation of such a deal, oil prices had begun to creep inexorably upward, from $30 per barrel in mid-January to $43 on the eve of the gathering. But far from restoring the old oil order, the meeting ended in discord, driving prices down again and revealing deep cracks in the ranks of global energy producers.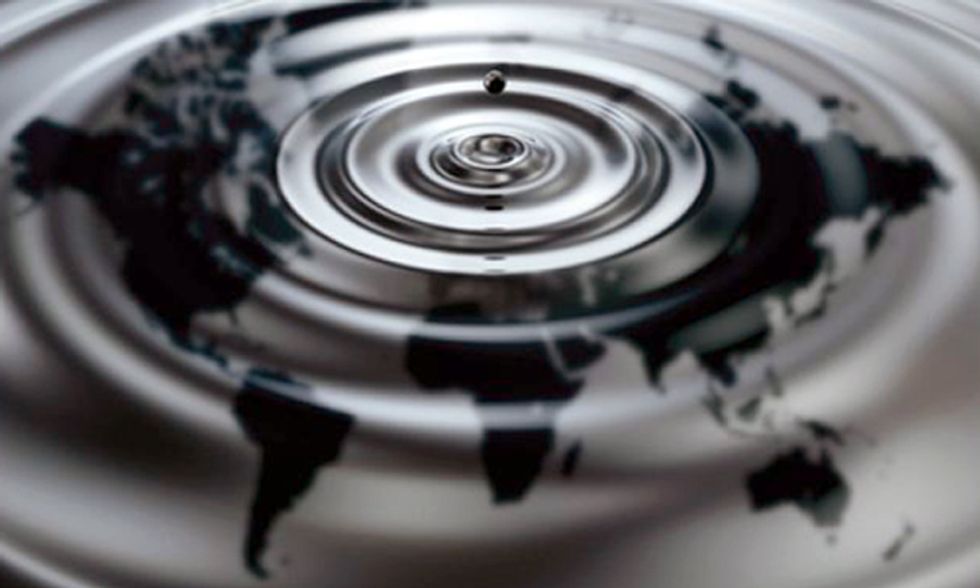 It is hard to overstate the significance of the Doha debacle. At the very least, it will perpetuate the low oil prices that have plagued the industry for the past two years, forcing smaller firms into bankruptcy and erasing hundreds of billions of dollars of investments in new production capacity. It may also have obliterated any future prospects for cooperation between OPEC and non-OPEC producers in regulating the market. Most of all, however, it demonstrated that the petroleum-fueled world we've known these last decades—with oil demand always thrusting ahead of supply, ensuring steady profits for all major producers—is no more. Replacing it is an anemic, possibly even declining, demand for oil that is likely to force suppliers to fight one another for ever-diminishing market shares
The Road to Doha
Before the Doha gathering, the leaders of the major producing countries expressed confidence that a production freeze would finally halt the devastating slump in oil prices that began in mid-2014. Most of them are heavily dependent on petroleum exports to finance their governments and keep restiveness among their populaces at bay. Both Russia and Venezuela, for instance, rely on energy exports for approximately 50 percent of government income, while for Nigeria it's more like 75 percent. So the plunge in prices had already cut deep into government spending around the world, causing civil unrest and even in some cases political turmoil.
No one expected the April 17 meeting to result in an immediate, dramatic price upturn, but everyone hoped that it would lay the foundation for a steady rise in the coming months. The leaders of these countries were well aware of one thing: to achieve such progress, unity was crucial. Otherwise they were not likely to overcome the various factors that had caused the price collapsein the first place. Some of these were structural and embedded deep in the way the industry had been organized; some were the product of their own feckless responses to the crisis.
On the structural side, global demand for energy had, in recent years, ceased to rise quickly enough to soak up all the crude oil pouring onto the market, thanks in part to new supplies from Iraq and especially from the expanding shale fields of the United States. This oversupply triggered the initial 2014 price drop when Brent crude—the international benchmark blend -- went from a high of $115 on June 19 to $77 on November 26, the day before a fateful OPEC meeting in Vienna. The next day, OPEC members, led by Saudi Arabia, failed to agree on either production cuts or a freeze, and the price of oil went into freefall.
The failure of that November meeting has been widely attributed to the Saudis' desire to kill off new output elsewhere—especially shale production in the U.S.—and to restore their historic dominance of the global oil market. Many analysts were also convinced that Riyadh was seeking to punish regional rivals Iran and Russia for their support of the Assad regime in Syria (which the Saudis seek to topple).
The rejection, in other words, was meant to fulfill two tasks at the same time: blunt or wipe out the challenge posed by North American shale producers and undermine two economically shaky energy powers that opposed Saudi goals in the Middle East by depriving them of much needed oil revenues. Because Saudi Arabia could produce oil so much more cheaply than other countries—for as little as $3 per barrel—and because it could draw upon hundreds of billions of dollars in sovereign wealth funds to meet any budget shortfalls of its own, its leaders believed it more capable of weathering any price downturn than its rivals. Today, however, that rosy prediction is looking grimmer as the Saudi royals begin to feel the pinch of low oil prices, and find themselves cutting back on the benefits they had been passing on to an ever-growing, potentially restive population while still financing a costly, inconclusive, and increasingly disastrous war in Yemen.
Many energy analysts became convinced that Doha would prove the decisive moment when Riyadh would finally be amenable to a production freeze. Just days before the conference, participants expressed growing confidence that such a plan would indeed be adopted. After all, preliminary negotiations between Russia, Venezuela, Qatar, and Saudi Arabia had produced a draft document that most participants assumed was essentially ready for signature. The only sticking point: the nature of Iran's participation.
The Iranians were, in fact, agreeable to such a freeze, but only after they were allowed to raise their relatively modest daily output to levels achieved in 2012 before the West imposed sanctions in an effort to force Tehran to agree to dismantle its nuclear enrichment program. Now that those sanctions were, in fact, being lifted as a result of the recently concluded nuclear deal, Tehran was determined to restore the status quo ante. On this, the Saudis balked, having no wish to see their arch-rival obtain added oil revenues. Still, most observers assumed that, in the end, Riyadh would agree to a formula allowing Iran some increase before a freeze. "There are positive indications an agreement will be reached during this meeting... an initial agreement on freezing production," said Nawal Al-Fuzaia, Kuwait's OPEC representative, echoing the views of other Doha participants.
But then something happened. According to people familiar with the sequence of events, Saudi Arabia's Deputy Crown Prince and key oil strategist, Mohammed bin Salman, called the Saudi delegation in Doha at 3:00 a.m. on April 17th and instructed them to spurn a deal that provided leeway of any sort for Iran. When the Iranians—who chose not to attend the meeting—signaled that they had no intention of freezing their output to satisfy their rivals, the Saudis rejected the draft agreement it had helped negotiate and the assembly ended in disarray.
Geopolitics to the Fore
Most analysts have since suggested that the Saudi royals simply considered punishing Iran more important than lowering oil prices. No matter the cost to them, in other words, they could not bring themselves to help Iran pursue its geopolitical objectives, including giving yet more support to Shiite forces in Iraq, Syria, Yemen, and Lebanon. Already feeling pressured by Tehran and ever less confident of Washington's support, they were ready to use any means available to weaken the Iranians, whatever the danger to themselves.
"The failure to reach an agreement in Doha is a reminder that Saudi Arabia is in no mood to do Iran any favors right now and that their ongoing geopolitical conflict cannot be discounted as an element of the current Saudi oil policy," said Jason Bordoff of the Center on Global Energy Policy at Columbia University.
Many analysts also pointed to the rising influence of Deputy Crown Prince Mohammed bin Salman, entrusted with near-total control of the economy and the military by his aging father, King Salman. As Minister of Defense, the prince has spearheaded the Saudi drive to counter the Iranians in a regional struggle for dominance. Most significantly, he is the main force behind Saudi Arabia's ongoing intervention in Yemen, aimed at defeating the Houthi rebels, a largely Shia group with loose ties to Iran, and restoring deposed former president Abd Rabbuh Mansur Hadi. After a year of relentless U.S.-backed airstrikes (including the use of cluster bombs), the Saudi intervention has, in fact, failed to achieve its intended objectives, though it has produced thousands of civilian casualties, provoking fierce condemnation from U.N. officials, and created space for the rise of al-Qaeda in the Arabian Peninsula. Nevertheless, the prince seems determined to keep the conflict going and to counter Iranian influence across the region.
For Prince Mohammed, the oil market has evidently become just another arena for this ongoing struggle. "Under his guidance," the Financial Timesnoted in April, "Saudi Arabia's oil policy appears to be less driven by the price of crude than global politics, particularly Riyadh's bitter rivalry with post-sanctions Tehran." This seems to have been the backstory for Riyadh's last-minute decision to scuttle the talks in Doha. On April 16, for instance, Prince Mohammed couldn't have been blunter to Bloomberg, even if he didn't mention the Iranians by name: "If all major producers don't freeze production, we will not freeze production."
With the proposed agreement in tatters, Saudi Arabia is now expected to boost its own output, ensuring that prices will remain bargain-basement low and so deprive Iran of any windfall from its expected increase in exports. The kingdom, Prince Mohammed told Bloomberg, was prepared to immediately raise production from its current 10.2 million barrels per day to 11.5 million barrels and could add another million barrels "if we wanted to" in the next six to nine months. With Iranian and Iraqi oil heading for market in larger quantities, that's the definition of oversupply. It would certainly ensure Saudi Arabia's continued dominance of the market, but it might also wound the kingdom in a major way, if not fatally.
A New Global Reality
No doubt geopolitics played a significant role in the Saudi decision, but that's hardly the whole story. Overshadowing discussions about a possible production freeze was a new fact of life for the oil industry: the past would be no predictor of the future when it came to global oil demand. Whatever the Saudis think of the Iranians or vice versa, their industry is being fundamentally transformed, altering relationships among the major producers and eroding their inclination to cooperate.
Until very recently, it was assumed that the demand for oil would continue to expand indefinitely, creating space for multiple producers to enter the market, and for ones already in it to increase their output. Even when supply outran demand and drove prices down, as has periodically occurred, producers could always take solace in the knowledge that, as in the past, demand would eventually rebound, jacking prices up again. Under such circumstances and at such a moment, it was just good sense for individual producers to cooperate in lowering output, knowing that everyone would benefit sooner or later from the inevitable price increase.
But what happens if confidence in the eventual resurgence of demand begins to wither? Then the incentives to cooperate begin to evaporate, too, and it's every producer for itself in a mad scramble to protect market share. This new reality—a world in which "peak oil demand," rather than "peak oil," will shape the consciousness of major players—s what the Doha catastrophe foreshadowed.
At the beginning of this century, many energy analysts were convinced that we were at the edge of the arrival of "peak oil"; a peak, that is, in the output of petroleum in which planetary reserves would be exhausted long before the demand for oil disappeared, triggering a global economic crisis. As a result of advances in drilling technology, however, the supply of oil has continued to grow, while demand has unexpectedly begun to stall. This can be traced both to slowing economic growth globally and to an accelerating "green revolution" in which the planet will be transitioning to non-carbon fuel sources. With most nations now committed to measures aimed at reducing emissions of greenhouse gases under the just-signed Paris climate accord, the demand for oil is likely to experience significant declines in the years ahead. In other words, global oil demand will peak long before supplies begin to run low, creating a monumental challenge for the oil-producing countries.
This is no theoretical construct. It's reality itself. Net consumption of oil in the advanced industrialized nations has already dropped from 50 million barrels per day in 2005 to 45 million barrels in 2014. Further declines are in store as strict fuel efficiency standards for the production of new vehicles and other climate-related measures take effect, the price of solar and wind power continues to fall, and other alternative energy sources come on line. While the demand for oil does continue to rise in the developing world, even there it's not climbing at rates previously taken for granted. With such countries also beginning to impose tougher constraints on carbon emissions, global consumption is expected to reach a peak and begin an inexorable decline.According to experts Thijs Van de Graaf and Aviel Verbruggen, overall world peak demand could be reached as early as 2020.
In such a world, high-cost oil producers will be driven out of the market and the advantage—such as it is—will lie with the lowest-cost ones. Countries that depend on petroleum exports for a large share of their revenues will come under increasing pressure to move away from excessive reliance on oil. This may have been another consideration in the Saudi decision at Doha. In the months leading up to the April meeting, senior Saudi officials dropped hints that they were beginning to plan for a post-petroleum era and that Deputy Crown Prince bin Salman would play a key role in overseeing the transition.
On April 1, the prince himself indicated that steps were underway to begin this process. As part of the effort, he announced, he was planning an initial public offering of shares in state-owned Saudi Aramco, the world's number one oil producer, and would transfer the proceeds, an estimated $2 trillion, to its Public Investment Fund (PIF). "IPOing Aramco and transferring its shares to PIF will technically make investments the source of Saudi government revenue, not oil," the prince pointed out. "What is left now is to diversify investments. So within 20 years, we will be an economy or state that doesn't depend mainly on oil."
For a country that more than any other has rested its claim to wealth and power on the production and sale of petroleum, this is a revolutionary statement. If Saudi Arabia says it is ready to begin a move away from reliance on petroleum, we are indeed entering a new world in which, among other things, the titans of oil production will no longer hold sway over our lives as they have in the past.
This, in fact, appears to be the outlook adopted by Prince Mohammed in the wake of the Doha debacle. In announcing the kingdom's new economic blueprint on April 25, he vowed to liberate the country from its "addiction" to oil." This will not, of course, be easy to achieve, given the kingdom's heavy reliance on oil revenues and lack of plausible alternatives. The 30-year-old prince could also face opposition from within the royal family to his audacious moves (as well as his blundering ones in Yemen and possibly elsewhere). Whatever the fate of the Saudi royals, however, if predictions of a future peak in world oil demand prove accurate, the debacle in Doha will be seen as marking the beginning of the end of the old oil order.
Michael T. Klare, a TomDispatch regular, is a professor of peace and world security studies at Hampshire College and the author, most recently, of The Race for What's Left. A documentary movie version of his book Blood and Oil is available from the Media Education Foundation. Follow him on Twitter at @mklare1.
YOU MIGHT ALSO LIKE
New Report Shows 'Natural Gas Increasingly Becoming an Unnecessary Bridge to Nowhere'
10 States Blocking the Power of the Sun
New Uncovered Corporate Documents Show #ExxonKnew Much Earlier Than Previously Reported
Viral Video of River Catching on Fire Prompts Call for Ban on Fracking
"I know if I was a parent up there, I would be beside myself if my kids' health could be at risk," President Obama said on a recent trip to Michigan. "Up there" was Flint, a rusting industrial city in the grip of a "water crisis" brought on by a government austerity scheme.
To save a couple of million dollars, that city switched its source of water from Lake Huron to the Flint River, a long-time industrial dumping ground for the toxic industries that had once made their home along its banks. Now, the city is enveloped in a public health emergency, with elevated levels of lead in its water supply and in the blood of its children.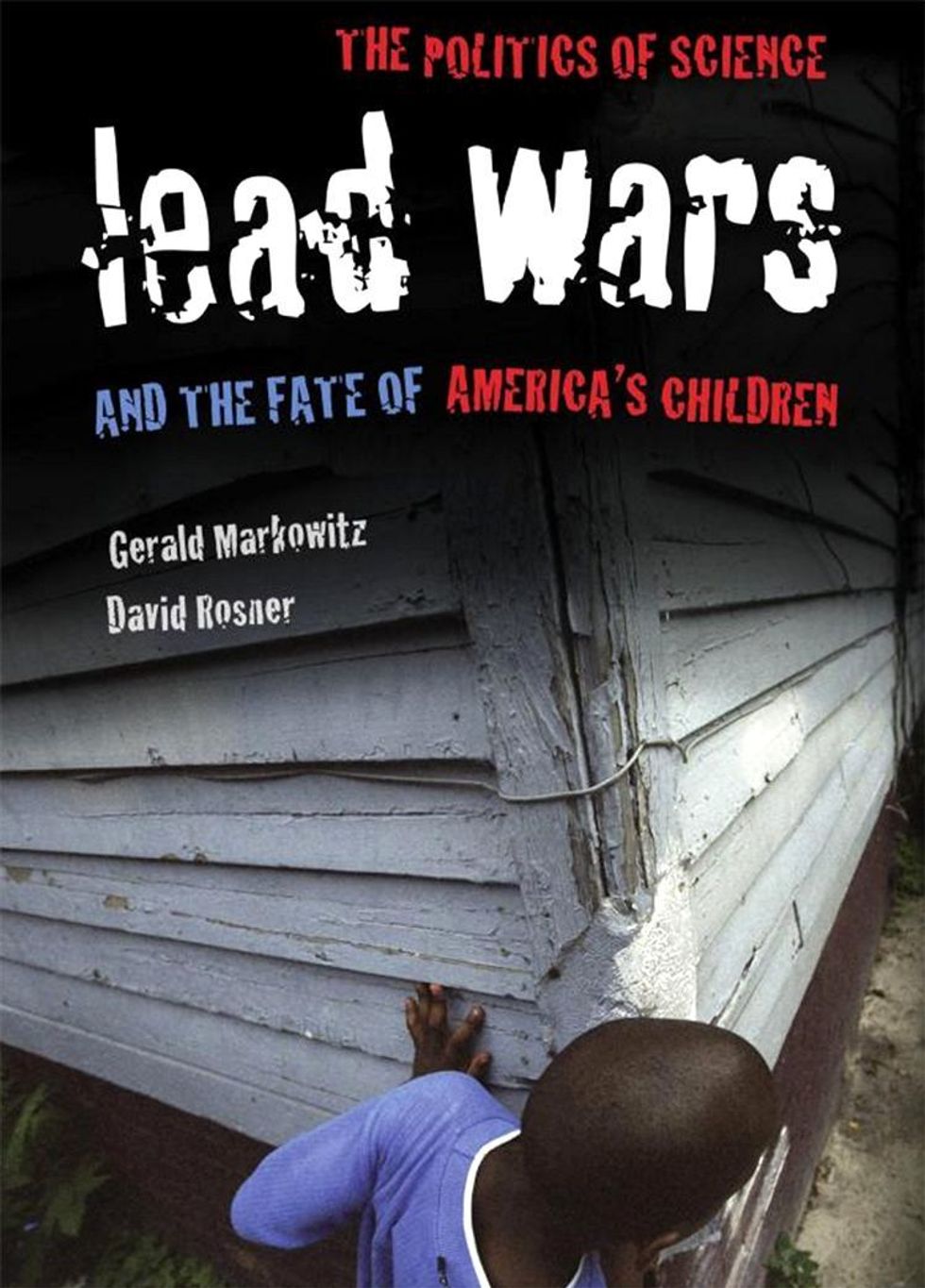 The price tag for replacing the lead pipes that contaminated its drinking water, thanks to the corrosive toxins found in the Flint River, is now estimated at up to $1.5 billion. No one knows where that money will come from or when it will arrive. In the meantime, the cost to the children of Flint has been and will be incalculable. As little as a few specks of lead in the water children drink or in flakes of paint that come off the walls of old houses and are ingested can change the course of a life. The amount of lead dust that covers a thumbnail is enough to send a child into a coma or into convulsions leading to death. It takes less than a tenth of that amount to cause IQ loss, hearing loss or behavioral problems like attention deficit hyperactivity disorder and dyslexia. The Centers for Disease Control (CDC), the government agency responsible for tracking and protecting the nation's health, says simply, "No safe blood lead level in children has been identified."
President Obama would have good reason to worry if his kids lived in Flint. But the city's children are hardly the only ones threatened by this public health crisis. There's a lead crisis for children in Baltimore; Herculaneum, Missouri; Sebring, Ohio; and even the nation's capital, Washington, DC and that's just to begin a list. State reports suggest, for instance, that "18 cities in Pennsylvania and 11 in New Jersey may have an even higher share of children with dangerously elevated levels of lead than does Flint."
Today, scientists agree that there is no safe level of lead for children and at least half of American children have some of this neurotoxin in their blood. The CDC is especially concerned about the more than 500,000 American children who have substantial amounts of lead in their bodies. Over the past century, an untold number have had their IQs reduced, their school performances limited, their behaviors altered and their neurological development undermined.
From coast to coast, from the Sun Belt to the Rust Belt, children have been and continue to be imperiled by a century of industrial production, commercial gluttony and abandonment by the local, state and federal governments that should have protected them. Unlike in Flint, the "crisis" seldom comes to public attention.
Two, Three ... Many Flints
In Flint, the origins of the current crisis lay in the history of auto giant General Motors (GM) and its rise in the middle decades of the twentieth century to the status of the world's largest corporation. GM's Buick plant alone once occupied "an area almost a mile and a half long and half a mile wide," according to the Chicago Tribune and several Chevrolet and other GM plants literally covered the waterfront of "this automotive city." Into the Flint River went the toxic wastes of factories large and small, which once supplied batteries, paints, solders, glass, fabrics, oils, lubricating fluids and a multitude of other materials that made up the modern car. In these plants strung out along the banks of the Flint and Saginaw rivers and their detritus lay the origins of the present public health emergency.
The crisis that attracted President Obama's attention is certainly horrifying, but the children of Flint have been poisoned in one way or another for at least 80 years. Three generations of those children living around Chevrolet Avenue in the old industrial heart of the city experienced an environment filled with heavy metal toxins that cause neurological conditions in them and cardiovascular problems in adults.
As Michael Moore documented in his film Roger and Me, GM abandoned Flint in a vain attempt to stave off financial disaster. Having sucked its people dry, the company ditched the city, leaving it to deal with a polluted hell without the means to do so. Like other industrial cities that have suffered this kind of abandonment, Flint's population is majority African American and Latino and has a disproportionate number of families living below the poverty line. Of its 100,000 residents, 65 percent are African American and Latino and 42 percent are mired in poverty.
The president should be worried about Flint's children and local, state and federal authorities need to fix the pipes, sewers and water supply of the city. Technically, this is a feasible, if expensive, proposition. It's already clear, however, that the political will is just not there even for this one community.
Read page 1
Gina McCarthy, the U.S. Environmental Protection Agency's administrator, has refused to provide Flint's residents with even a prospective timetable for replacing their pipes and making their water safe. There is, however, a far graver problem that is even less easy to fix: the mix of racism and corporate greed that have put lead and other pollutants into millions of homes in the U.S. The scores of endangered kids in Flint are just the tip of a vast, toxic iceberg. Even Baltimore, which first identified its lead poisoning epidemic in the 1930s, still faces a crisis, especially in largely African American communities, when it comes to the lead paint in its older housing stock.
Just this month, Maryland's secretary of housing, community and development, Kenneth C. Holt, dismissed the never-ending lead crisis in Baltimore by callously suggesting that it might all be a shuck. A mother, he said, might fake such poisoning by putting "a lead fishing weight in her child's mouth [and] then take the child in for testing." Such a tactic, he indicated, without any kind of proof, was aimed at making landlords "liable for providing the child with [better] housing." Unfortunately, the attitudes of Holt and Go. Rick Snyder of Michigan have proven all too typical of the ways in which America's civic and state leaders have tended to ignore, dismiss or simply deny the real suffering of children, especially those who are black and Latino, when it comes to lead and other toxic chemicals.
There is, in fact, a grim broader history of lead poisoning in America. It was probably the most widely dispersed environmental toxin that affected children in this country. In part, this was because, for decades during the middle of the twentieth century, it was marketed as an essential ingredient in industrial society, something without which none of us could get along comfortably. Those toxic pipes in Flint are hardly the only or even the primary, source of danger to children left over from that era.
In the 1920s, tetraethyl lead was introduced as an additive for gasoline. It was lauded at the time as a "gift of God" by a representative of the Ethyl Corporation, a creation of GM, Standard Oil and Dupont, the companies that invented, produced and marketed the stuff. Despite warnings that this industrial toxin might pollute the planet, which it did, almost three-quarters of a century would pass before it was removed from gasoline in the U.S. During that time, spewed out of the tailpipes of hundreds of millions of cars and trucks, it tainted the soil that children played in and was tracked onto floors that toddlers touched. Banned from use in the 1980s, it still lurks in the environment today.
Meanwhile, homes across the country were tainted by lead in quite a different way. Lead carbonate, a white powder, was mixed with linseed oil to create the paint that was used in the nation's homes, hospitals, schools and other buildings until 1978. Though its power to harm and even kill children who sucked on lead-painted windowsills, toys, cribs and woodwork had long been known, it was only in that year that the federal government banned its use in household paints.
Hundreds of tons of the lead in paint that covered the walls of houses, apartment buildings and workplaces across the U.S. remains in place almost four decades later, especially in poorer neighborhoods where millions of African American and Latino children currently live. Right now, most middle class white families feel relatively immune from the dangers of lead, although the gentrification of old neighborhoods and the renovation of old homes can still expose their children to dangerous levels of lead dust from the old paint on those walls.
However, economically and politically vulnerable black and Hispanic children, many of whom inhabit dilapidated older housing, still suffer disproportionately from the devastating effects of the toxin. This is the meaning of institutional racism in action today. As with the water flowing into homes from the pipes of Flint's water system, so the walls of its apartment complexes, not to mention those in poor neighborhoods of Detroit, Baltimore, Washington and virtually every other older urban center in the country, continue to poison children exposed to lead-polluted dust, chips, soil and air.
Over the course of the past century, tens of millions of children have been poisoned by lead and millions more remain in danger of it today. Add to this the risks these same children face from industrial toxins like mercury, asbestos and polychlorinated biphenyls (better known as PCBs) and you have an ongoing recipe for a Flint-like disaster but on a national scale.
In truth, the U.S. has scores of "Flints" awaiting their moments. Think of them as ticking toxic time bombs—just an austerity scheme or some official's poor decision away from a public health disaster. Given this, it's remarkable, even in the wake of Flint, how little attention or publicity such threats receive. Not surprisingly, then, there seems to be virtually no political will to ensure that future generations of children will not suffer the same fate as those in Flint.
The Future of America's Toxic Past
A series of decisions by state and local officials turned Flint's chronic post-industrial crisis into a total public health disaster. If clueless, corrupt or heartless government officials get all the blame for this (and blame they do deserve), the larger point will unfortunately be missed—that there are many post-industrial Flints, many other hidden tragedies affecting America's children that await their moments in the news. Treat Flint as an anomaly and you condemn families nationwide to bear the damage to their children alone, abandoned by a society unwilling to invest in cleaning up a century of industrial pollution or even to acknowledge the injustice involved.
Flint may be years away from a solution to its current crisis, but in a few cities elsewhere in the country there is at least a modicum of hope when it comes to developing ways to begin to address this country's poisonous past. In California, for example, 10 cities and counties, including San Francisco, San Diego, Los Angeles and Oakland, have successfully sued and won an initial judgment against three lead pigment manufacturers for $1.15 billion. That money will be invested in removing lead paint from the walls of homes in these cities. If this judgment is upheld on appeal, it would be an unprecedented and pathbreaking victory, since it would force a polluting industry to clean up the mess it created and from which it profited.
There have been other partial victories, too. In Herculaneum, Missouri, for instance, where half the children within a mile of the nation's largest lead smelter suffered lead poisoning, jurors returned a $320 million verdict against Fluor Corporation, one of the world's largest construction and engineering firms. That verdict is also on appeal, while the company has moved its smelter to Peru where whole new populations are undoubtedly being poisoned.
President Obama hit the nail on the head with his recent comments on Flint, but he also missed the larger point. There he was just a few dozen miles from that city's damaged water system when he spoke in Detroit, another symbol of corporate abandonment with its own grim toxic legacy. Thousands of homes in the Motor City, the former capital of the auto industry, are still lead paint disaster areas. Perhaps it's time to widen the canvas when it comes to the poisoning of America's children and face the terrible human toll caused by "the American century."
YOU MIGHT ALSO LIKE
Beyonce Joins Diddy, Mark Wahlberg and Big Sean to Aid Relief Efforts for Flint Water Crisis
Mark Ruffalo: We're Heading Toward a National Water Crisis
America's Lead Poisoning Problem Is Everywhere
Flint Water Crisis Keeps Getting Bigger and More Shocking Each Day