www.youtube.com
Transcript of the video:

Mike Papantonio: Monsanto is wreaking havoc once again with one of their herbicides, Dicamba. Hundreds of farmers in Arkansas have filed complaints about Dicamba, while states like Missouri were forced to temporarily ban its use, with Tennessee also banning it shortly thereafter. Joining me now is attorney Bev Randles.
Bev, what is Dicamba and why exactly was it being used in the first place? It almost sounds like the Ben Lake story to me when I think back on that disaster. I think it was DuPont was the manufacturer of that. But what is your take on this overall?

17 States Investigate #Dicamba Damage Complaints Spanning 2.5 Million Acres https://t.co/TuIAuAMSiD "Let's stop the… https://t.co/LElq59myIr

— GMWatch (@GMWatch)1501759946.0
Bev Randles: Well, Dicamba is a herbicide. It's been around, actually in use since about the last 1960s but it was used in very, very small amounts on not very much of the acreage nationally anyway, but Monsanto decided about ten years ago that they wanted to make their herbicide sort of the premier, this Dicamba herbicide. So they marketed. They produced and marketed what are called the Extend System. It's called the Extend System and what it is is a seed and then the corresponding herbicide to be used with it is Dicamba.

But the problem with Dicamba is that it's extremely volatile, which means it is very difficult for it to stay on target. So when farmers spray it on their crops, their Dicamba resistant crops, it then goes off target and harms other people's vegetation, everything from their crops to trees, ornamentals and everything. It's really wreaking havoc as you said.
Papantonio: What's your involvement with this situation? What kind of damages are farmers complaining about? Where do you see this damage going? I mean because obviously it's not just limited to Missouri and Arkansas and Tennessee. I think we're going to find a lot of these cases along the Gulf Coast. So what is your take on the damages here?
Randles: Well, we have filed two lawsuits. We were actually the first law firm to get involved in this litigation. We filed the first law suit last November on behalf of Bader Farms. Bader Farms is the largest peach producer in Missouri and they had been damaged by Dicamba drift and volatility in 2015 and 2016 and then also the farm is being damaged this year as well.
We also filed a class action lawsuit in January because we were being contacted by smaller operations, people who didn't have the sorts of damage that Bader Farms has experienced but still they were being damaged and they wanted to see redress. So we filed that lawsuit in January and at the time it was targeting ten states, just because those were the 10 affected states as we call them. We intend to make that though a national class action and others have since then, beginning in June of this year, others have filed lawsuits as well.
What we're hearing from farmers is that their soybeans, their produce, everything you can think of really is being damaged by this stuff if their product is not Dicamba resistant and very few crops, in fact, right now are Dicamba resistant. Mostly they're not.
Papantonio: Isn't the better approach here, I mean you know, the American public has every reason to be concerned about class actions. I mean there is a difference. Just so people understand. There is a difference between what we call a mass tort case and a class action case. When we look at Ben Lake, the better way to handle Ben Lake was case by case.
As a matter of fact, some friends of mine down in South Florida handled that project and it started off as a class. The class really never addressed kind of that small grower as you're talking about and it really took the small grower going to trial one by one by putting together a national group of lawyers who were able to do that across the country, I kind of, when I read this story about the class action on this I had the same concern, that I don't know that class action actually solves problems for the people who really need specific address to their specific problem. What is your take on that? I've been doing this 35 years and that's just my take after looking at the way this is developing.
Randles: Well, you know, I think we're going to have to see how it plays out. We obviously feel like a class is appropriate under this set of circumstances. Class looks at things, as you know, like numerosity and typicality and there are certain aspects of this that are just across the board no matter who you talk to, no matter what kind of crops, but yes, there are things that are going to have to be fleshed out, like for instance the process for determining what folks damages are. Because there are some people who maybe have 50 acres and they're being impacted.
There is another farmer that we, our lawyers spoke with recently, and that farmer is talking about tens of thousands of acres. So people have different options about how they want to proceed and there are going to be a lot of lawyers involved in this. I mean there already are and I do think that as it continues to play out, we're going to have to determine the best way to seek redress for each individual person because at the end of the day it's about the farmers that are being damaged, not the lawyers, not the companies. It's about the farmers.
Papantonio: After Arkansas initially banned Dicamba's use in it's state, Monsanto made a statement as if to, as if they wanted to comply. Is this a sign that they plan to go along with the demands of this state? We've seen this. Look, Monsanto is notorious about saying one thing or doing another. We've seen it with Roundup. We've seen it time and time again with GMO. It's just their MO to try to put everybody at ease. Gee whiz. We're going to solve the problems, just work with us. And then nothing is really solved. Don't you already see that happening in here I think the documents in this case are going to be overwhelming where the company has known about these problems for quite a while. What's your take?
Randles: I believe you are exactly right. The documents are going to be key and in fact, we just had a scheduling conference with the Court yesterday in the Bader case. So that case is, we've got a scheduling order for that now. We've got a trial date for that. That's going to be April 19 of 2019. So when discovery starts, we are going to start seeing I believe exactly what you just said. We're going to start seeing that they knew about this and in fact, we know that they knew the problems with the volatility and the drift of this product because there were university scientists studying it for years.
However, Monsanto wouldn't allow any university researchers to study their particular product. Why would that be the case? They have always allowed university researchers to ...
Papantonio: The same thing they've done with Roundup if you think about it.
Randles: Test these things.
Papantonio: I think the same thing is going to develop here with your case. But anyway, look, stay out there. Stay with the fight. This is a company that absolutely rarely plays by the rules. Thanks for joining me.
Randles: Thank you for having me, Mike.
Reposted with permission from our media associate The Ring of Fire.
EcoWatch Daily Newsletter
Cape Fear River in North Carolina. Blipperman / Wikimedia
By Josh Gay
In February, DuPont and its spinoff Chemours finally agreed to pay out the $670+ million settlement stemming from their toxic chemical Perfluorooctanoic acid (PFOA), commonly known as C8. The chemical was shown to cause kidney, pancreatic, liver and testicular cancer, high cholesterol (hypercholesterolemia), pregnancy issues, including preeclampsia, thyroid disease and ulcerative colitis in thousands of cases.
The carcinogenic chemical was used to manufacture Polytetrafluoroethylene (PTFE), known as Teflon. Teflon is most commonly used as a non-stick coating found in cookware. But by 2003, DuPont had dumped almost 2.5 million pounds of C8 from its Washington Works plant into the mid-Ohio River Valley area. To date, the chemical has been found in drinking water in 27 states. This all took place even 53 years after DuPont classified C8 as a toxin.
Now, it appears that the chemical that DuPont and Chemours have relied on to replace C8 in Teflon may be just as bad. Known as GenX, the new chemical has been known by the U.S. Environmental Protection Agency (EPA) to have negative health effects since at least 2006. Yet, the unregulated chemical has been continuously dumped into the Cape Fear River in North Carolina since 2009. Ring of Fire's Mike Papantonio addressed DuPont's deception with Ed Schultz on "News with Ed":
In response to the C8 lawsuits, companies like Chemours, Dow and 3M sought to develop chemicals with a similar composition to C8, but with a shorter molecule chain, in hopes it would be less harmful to humans. The smaller chain allows the body to pass the chemical quicker. However, it appears to still be quite dangerous. Even in its consent order, the EPA noted that GenX shows many of the same harmful properties as C8.
In a series The Teflon Toxin published by The Intercept, it was revealed that DuPont filed numerous reports confirming the risks of GenX. In experiments, rats were shown to develop cancer, kidney and liver disease, various tumors, as well as other negative health effects, all very similar to the effects of C8. Still, DuPont's researchers claim that "these tumor findings are not considered relevant for human risk assessment."
Detailing just how terrible GenX can be, The Columbus Dispatch reported in February that:
"From 2006 through 2013, DuPont filed reports with the U.S. Environmental Protection Agency on its testing of the substances that make up GenX. In 2006, DuPont reported that a 1963 study of those substances showed that adult rats given 7,500 milligrams died gasping, convulsive deaths within three hours. Those that received smaller doses survived with slightly enlarged livers. A 2013 report stated that rats given a much lower dose of GenX developed tumors in some organs. The report stated that "these tumor findings are not considered relevant for human risk assessment."
Though DuPont and Chemours had previously assured regulators that GenX would not enter the environment, researchers have found the chemical in large quantities in North Carolina's water supply. Wilmington's The StarNews has reported that "researchers had found GenX in the Cape Fear River on three separate occasions in recent years. In 2013-14, a team of researchers and scientists found a GenX average of 631 parts per trillion, or nine times the advisory level for C8, at [the Cape Fear Public Utility Authority's] water intake on the river."
Unfortunately, because of the diminutive size of the molecule chain and the fact that Chemours and DuPont kept the chemical composition of GenX secret for many years, there is no way for a utility company to effectively filter GenX out of a water supply, meaning as many as 250,000 residents along the Cape Fear River could be consuming the harmful chemical.
Meanwhile, Dutch officials are opening their own investigation into GenX, as the chemical has been found in the Merwede River, which provides drinking water to approximately 750,000 people. The Dutch public health institute, RIVM is currently conducting a study into the long-term effects of the chemical and hopes to present some of its findings at a conference in August.
While it may seem that a massive lawsuit, fines from the government, and evidence that people are dying from a product would discourage a company from continuing to produce harmful chemicals and release them into the waterways, it is evident that it just isn't enough. Even after spending more than $60 billion in the wake of the Gulf Oil Spill, BP is still taking major risks because they returned to profitability just six years after the Deepwater Horizon explosion.
Quite frankly, the fines and settlements just are not enough. Now that the Trump administration's insists on rolling back regulations, companies like DuPont and Chemours have zero reason to change their behavior. Papantonio said that tougher measures are needed:
"These corporate thugs can kill thousands of people and keep earning millions of dollars and never see the inside of a prison. They act like criminals and should be treated as such. I have fought DuPont before and I will keep fighting until they stop poisoning innocent people."
Reposted with permission from our media associate The Ring of Fire.
Installing solar panels is a great option for homeowners who want to reduce their power bills, and the payback period can be just a handful of years with favorable conditions. However, renters and apartment owners cannot use a typical solar power system due to the lack of space, and renters in particular must also negotiate with their landlords. A miniature solar system that is portable and easy to install can be a better option in these cases.
Rooftop solar systems can greatly reduce your electric bills, and you can add solar batteries to store solar energy for use at night. However, because most systems are tied to the power local grid, you must meet many technical requirements and get a permit to put solar on your property. The initial investment and paperwork are not a problem when installing solar panels in a home you own, but they're a limiting factor for renters.
If you don't own your home or apartment, you may have little incentive to invest in improving someone else's property. Even if your landlord gives you permission to install solar panels, the decision only makes sense financially if you plan to rent for a very long time — longer than the solar payback period. Also, consider the following factors:
When your lease ends, your landlord may not be willing to purchase the solar panels you installed.
Moving rooftop solar panels to another home is difficult, and you will need a professional installation and another permit for the new property.
There are many types of miniature solar systems that can be installed without the complex requirements and permitting procedures of more permanent structures. These systems are an excellent option for renters, since taking them to another property is as simple as relocating your TV.
Solar Benefits for Non-Homeowners
Solar panel systems offer a common benefit, regardless of their size: they generate electricity from sunlight, reducing the amount of electricity you must pay your utility company for each month. Solar power also lowers the environmental footprint of your home, especially if you live in a region where most of the grid electricity comes from fossil fuels.
Homeowners get a few extra benefits when they install a traditional solar system, including:
Their property becomes more valuable, and many states don't charge increased property taxes for the portion of home value that corresponds to solar panels.
Homeowners also qualify for the 26% federal solar tax credit as well as any additional incentives from state governments or utility companies.
There are permitting and grid connection requirements to meet, but once the solar PV system starts operating, it provides electricity for decades with minimal maintenance.
While mini solar panel systems may not be eligible for these perks, they have their benefits compared with rooftop systems. For example, they are much easier to install, with no permitting involved, and any maintenance is much simpler. Small-scale solar systems also have a lower price, and they are easily relocated.
The power bill savings achieved by a rooftop solar system are much higher, but that's because they're much larger. Many homeowners use solar PV systems that have capacities at or above 6 kW (6,000 W), while miniature systems often only generate up to 100 W. As you might expect, the corresponding cost of solar panels is very different: A 6 kW solar system can cost around $18,000 (before incentives) to install, while a miniature 100 W system might cost less than $300. However, each dollar invested is earned back multiple times over in both cases.
How to Utilize Solar Energy When You Rent
There are several options for renters who want to use solar power. These include:
Plug-in mini solar systems
Off-grid solar and battery systems
Portable solar panels
DIY solar setups
Appliance-specific solar panels
Plug-in mini solar systems work exactly like rooftop PV systems — they connect to your residence's wiring and synchronize with the voltage and frequency of your grid power — just at a smaller scale. The power generated by a plug-in mini system is usually enough to power several electronic devices and LED bulbs, but not high-power devices like air conditioners and washing machines.
Here are some things to consider when deciding whether a solar plug-in mini system is right for your rental property:
Plug-and-play solar panels are not subject to the permitting requirements and interconnection procedures of a traditional rooftop installation, and they can be simply connected to a suitable power outlet.
NOTE: When using plug-in solar panels, you must make sure that the power outlet used has a circuit with enough capacity to carry the current, as well as an adequate breaker. Otherwise, you can cause an electrical fault.
Because this type of panel connects to the electrical system of the property, you should ask your landlord for permission before investing in one. You should also ask an electrician to check the power outlet you plan on plugging the panels into to make sure it has adequate capacity.
Off-grid solar panels and solar battery systems are completely disconnected from the grid, which makes them a popular option for remote or rural sites with no electric service. In these types of systems, one or more solar panels are used to charge a battery or solar generator with USB charging sockets and power outlets for small appliances. These off-grid systems are also a viable option for renters, because they are entirely self-contained and don't connect to the utility grid.
Portable solar panels are popular for camping, but they can also be used by renters to power small devices. These are some of the smallest solar panels available, and they only have a few watts of capacity. Their main purpose is charging smartphones, tablets and other tiny USB devices, and many of them have built-in LED flashlights.
DIY solar panel setups are also an option. You can shop online for compatible solar panels, inverters, batteries and solar charge controllers, and then build a custom system according to your needs. However, keep in mind that you must have at least basic knowledge about electricity to safely and successfully install a homemade solar system.
Appliance-specific solar panels are also a viable option for renters. You can find many devices with built-in solar panels, which don't depend on a power outlet to operate. For example, you can install solar-powered outdoor lights for your backyard or balcony, or use a solar air conditioning unit or fan to provide extra ventilation during the hottest hours of the day.
Pros and Cons of Small Solar Units
Miniature solar systems have advantages and limitations like any device. They have a lower cost than traditional rooftop systems, plus they are easier to install and relocate. Just keep in mind that they can't power larger appliances, which means their power bill savings are small.
The following table summarizes the pros and cons of the most common types of miniature solar systems:
Renter-Friendly Solar System
Pros
Cons
Typical Price
Plug-in solar system
- Easy to install
- Can be plugged into a normal power outlet

- Can only operate when connected to the grid
- You need a dedicated circuit and breaker of adequate capacity

$1,500 for a 600 W solar system
Off-grid solar system
- Can charge batteries or generators to be used after sunset
- Fully independent from the grid

- Batteries increase the system cost significantly if you want a high energy storage capacity
$400 for a 100 W solar panel with a 24,000 mAh battery
Portable
- Easy to carry
- Can be used for camping and other trips

- Limited use: Charging smartphones and other small devices
$100 or less for a foldable 30 W panel
DIY Solar
- You can create a custom system that meets your needs
- Basic electrical knowledge is needed to set up a safe system
Variable, depending on the components used.
Appliance-specific
- Easy to install
- The solar panel is often included with the price of the device

- You can only use the solar panel to power one appliance or device
Variable, depending on the appliance
Miniature solar power systems are designed for small, low-power devices such as LED bulbs and electronic gadgets. If you're a renter and would like to increase your savings beyond what is possible with small solar kits, you can consider joining a community solar project near you.
These projects normally have two membership options: purchasing a share or paying a monthly subscription.
In both cases, you will be entitled to a portion of the kilowatt-hours produced by the system, and this portion will be subtracted from your bill.
Another advantage of community solar is that you can move freely to another apartment or home. Since the solar panels are not physically located where you live, you can usually re-assign the electricity savings to your new address.
Products to Help Renters Maximize Solar
There are many brands of miniature solar kits, but you should look for a reliable provider like Sunboxlabs. Since you're dealing with electricity, purchasing high-quality products is strongly advised to avoid accidents. Before purchasing any solar panel or a related component, make sure it has an electrical certification mark such as:
UL (Underwriters Laboratories)
ETL (Intertek)
CSA (Canadian Standards Association)
CE (Conformité Européenne)
You can look for a solar kit that includes all components, such as this WindyNation 100 Watt Solar Panel Kit. Alternatively, you can buy compatible parts separately, and build your own system. The following are some recommendations:
Keep in mind that you will also need wiring to connect all components together, and make sure you read all instructions carefully to ensure safety.
By Sydney Robinson
President Trump has no doubt been given a long list of extravagant, elaborate gifts in his lifetime, but the gift given to him today by Pope Francis may not make it on his most favorite list.
The two world leaders exchanged gifts today, which is customary in a meeting between the religious leader and the American president. Pope Francis took the opportunity to share his differing scientific and political views with the POTUS by gifting him his 2015 encyclical on the environment, Laudato Si or Praise Be to You.
Vatican Bishop Confident #Pope Will Change #Trump's View on #ClimateChange https://t.co/7LJf7oyOBY @climatehawk1 @ClimateReality @350 @nrdc

— EcoWatch (@EcoWatch)1495032778.0
Trump has been a repeated critic of climate science, once arguing that global warming was a hoax invented by the Chinese. Pope Francis has proved to be far more modern than his predecessors, including his strong belief in the science of climate change and the need for climate action.
The pope likely knows that among Trump's many attributes is his tendency to mold his opinion around that of whomever he has most recently spoken. Could the pope's climate essay have a lasting effect?
President Trump gave the pope a special edition box of books written by Martin Luther King Jr. The pope also gifted a small sculpture of an olive tree, telling Trump through an interpreter that it represents peace.
"It is my desire that you become an olive tree to construct peace," the pope said.
Thanks to the Los Angeles Times, here's a run down of key messages from the papal letter:
"Doomsday predictions can no longer be met with irony or disdain"
Consumption, waste and environmental change have so outpaced the planet's capacity that they can only lead to catastrophe, the pope said. "We may well be leaving to coming generations debris, desolation and filth."
Christians have misinterpreted the Scriptures
"We are not God. The earth was here before us and it has been given to us," he wrote. " We must forcefully reject the notion that our being created in God's image and given dominion over the earth justifies absolute domination over other creatures."
The human roots of the crisis
At the root of the problem, the pope wrote, are a "disordered desire to consume more than what is really necessary" and a "use and throw away culture." Although he praised efforts by scientists to find solutions to environmental problems, he said, "A sober look at our world shows that the degree of human intervention, often in the service of business interests and consumerism, is actually making our earth less rich and beautiful, ever more limited and grey."
A call to action
The pope argued that industrialized nations were mostly responsible for the crisis and bear a greater responsibility for providing a solution. Individuals, too, must act, he said. Among the steps he suggested were to reduce water consumption, cook only what can reasonably be consumed, use public transport or car-pool, plant trees, turn off unnecessary lights and show care for other living beings.
Concern for the protection of nature is incompatible with abortion
"How can we genuinely teach the importance of concern for other vulnerable beings, however troublesome or inconvenient they may be, if we fail to protect a human embryo?" he asked.
"All is not lost"
"Human beings, while capable of the worst, are also capable of rising above themselves," the pope wrote, "choosing again what is good, and making a new start, despite their mental and social conditioning."
By Josh Gay
Internet trolls, paid for by Monsanto, have been scouring the internet to hide the ugly truth about the herbicide Roundup and the dangers of glyphosate, while the chemical giant worked with government regulators to declare the product safe to use, even though it "probably" causes cancer.
According to court documents, Monsanto hired third parties to search out negative comments about their products and counter them with pseudo-scientific research commissioned by the company itself.
Mike Papantonio, of America's Lawyer, predicts that Monsanto will pay heavily in a jury trial and describes how the company even has trolled The Ring of Fire, while manipulating the U.S. Food and Drug Administration and the U.S. Environmental Protection Agency (EPA).
While Monsanto's despicable practices are nothing new, the latest round of accusations stem from new research confirming that chemicals in Roundup are carcinogenic.

In March of 2015, the International Agency for Research on Cancer (IARC), an arm of the World Health Organization (WHO), declared that glyphosate, the key ingredient in the popular weed killer, "probably" causes non-Hodgkin's lymphoma, a form of cancer. Monsanto quickly attempted to discredit the report, demanding that the WHO explain their findings.
In the wake of that report, Monsanto stepped up their efforts to keep the public in the dark about the dangerous product. Dr. William Moar, a Monsanto executive, said at a conference in 2015 that the company had "an entire department" with the sole purpose of "debunking" science that threatened their bottom line, like the IARC report.
In fact, as internal emails revealed, Monsanto had staffers ghost-write favorable studies about glyphosate. The company would then pay experts to "just edit & sign their names" to the "findings." The documents also show that this is not the first time Monsanto undertook such efforts: "Recall that is how we handled Williams Kroes & Munro, 2000." That quote is in referencing the April 2000 study on Roundup that declared "that there is no indication of any human health concern." Monsanto, predictably, denies that they took part in ghost-writing scientific studies, saying that the allegations stem from a "single comment in a single email out of context."
Kara Cook-Schultz, toxics director at the U.S. Public Interest Research Group blasted the company for the practice in a statement:
"Monsanto tells us that Roundup is safe because scientists say it is safe. But apparently scientists sign their names, while Monsanto signs the checks. This calls into question multiple studies written or possibly ghostwritten, by agricultural scientists."

Monsanto's deception does not stop with scientific studies—government agencies are also eating out of the chemical giant's palm. In a statement, a representative for Monsanto said that:
"[N]o regulatory agency in the world considers glyphosate a carcinogen."

Of course, that claim is not without its own controversy. In March, Bloomberg reported that an EPA official bragged to Monsanto that he interfered with an investigation by the U.S. Health and Human Service Department. "If I can kill this I should get a medal," Jess Rowland, a manager within the EPA's pesticide division, told an official at Monsanto.
Shortly after the Bloomberg piece was published, Representative Ted Lieu of California called for the Department of Justice to open an investigation into the EPA's collusion with Monsanto:
"Reports suggest that a senior official at the EPA worked to suppress a U.S. Department of Health and Human Services review of glyphosate, and may have leaked information to Monsanto. I believe that a Department of Justice investigation is warranted to look into any potential misconduct by employees of the EPA. I also believe a congressional hearing is immediately warranted."

Additionally, court documents also show that Monsanto created a program called "Let Nothing Go," which sought to respond to any and all negative social media comments and posts about Roundup and its other products. The documents say:
"[T]hrough a series of third parties, ["Let Nothing Go"] employs individuals who appear to have no connection to the industry, who in turn post positive comments on news articles and Facebook posts, defending Monsanto, its chemicals and GMOs."

The program has become so prevalent that concerned citizens on social media have had to purposefully misspell the company's name to thwart the online trolls. One of the top comments on a Reddit discussion thread highlights the practice: "Everyone should spell Monsant0 with a zero, it allows rational discussion without the Monsant0 shills showing up."
It is no surprise that Monsanto is working so fiercely to defend their deadly chemicals. In 2015, the company achieved nearly $4.76 billion in herbicide sales, with the global market for glyphosate set to approach $10 billion within 5 years.

As for the trolls, our own Mike Papantonio offers this advice:
"Next time you're scrolling through social media, YouTube or even this website's comment section, remember that the trolls attacking you for no apparent reason may in fact be receiving an annual salary."
By Sydney Robinson
Private space exploration company SpaceX has announced its most ambitious mission yet—a plan to orbit the moon in 2018.
The company headed by scientific and tech mind Elon Musk claims that their mission is on-target, including having recruited two astronauts that have elected—and paid a hefty chunk of change—to have the privilege of going into space.
If everything goes as planned, the two space tourists would launch in late 2018 in a Dragon 2 capsule launched by SpaceX's Falcon Heavy rocket. They would float past the moon before being pulled back in by gravity and returned to the Earth's surface.
WOW! 7 Earthlike Planets Found Orbiting Dwarf Star https://t.co/FZaWomp6Uv @NRDC @ClimateReality @climatehawk1 @greenpeaceusa

— EcoWatch (@EcoWatch)1487855627.0
If SpaceX is successful in their venture, the two volunteers will be the first of humanity to take the trip in more than 40 years. Since the successful trips around and on the moon more than 40 years ago, no man (or woman) has made it anywhere close to the big cheese in the sky—mostly due to the fact that scientists felt they had gathered enough information and could not justify another expensive and dangerous trip around the moon just for the sake of doing it.

Still, SpaceX clearly has something to prove and taking a trip around our small orbiting crater is an important next step. SpaceX has announced plans in the past to take humanity all the way to Mars in the next few years, so this trip will be considered a vital prerequisite for that ambitious project.
Meanwhile, some are skeptical that SpaceX is attempting too much too soon.
Mary Lynne Dittmar, executive director of the Coalition for Deep Space Exploration, said in the New York Times:
"It strikes me as risky. I find it extraordinary that these sorts of announcements are being made when SpaceX has yet to get crew from the ground to low-Earth orbit."

While the tourists would be trained, they would mostly be relying on automated systems during their trip, meaning that they would have nowhere near the survival training that the National Aeronautics and Space Administration astronauts experience. If something were to go wrong, they wouldn't be much help in saving themselves or their spacecraft.
This new venture of private companies tackling the space race is a test for the government and society. If SpaceX can prove its worth by safely transporting these tourists and returning them back home, safe and sound, it will go a long way in proving that the private tech and space company has what it takes to get us to Mars.
Reposted with permission from our media associate The Ring of Fire.
By Sydney Robinson
More than 1,700 residents of Flint, Michigan, are seeking legal compensation in a class-action lawsuit against the U.S. government for the handling of the lead water crisis in their city.
The litigation has been a long time coming for a community that has suffered well over two years with poisoned water and for most of that time, the state and federal government denied there was a problem at all.
Michael Moore: 10 Things They Won't Tell You About the Flint Water Tragedy, But I Will https://t.co/a3lvwIwPi8 @CleanWaterMI @NRDCWater

— EcoWatch (@EcoWatch)1454198104.0
The lawsuit was filed on Monday and it lists more than 1,700 damaged citizens who claim that the U.S. Environmental Protection Agency (EPA) failed at every level of the crisis. The lawsuit alleges that the EPA failed to notify residents soon enough and did little to force state or local officials to take action to mitigate damages.

According to the lawsuit:
"This case involves a major failure on all levels of government to protect the health and safety of the public. Local, state and federal agencies and employees, working individually and at times in concert with each other, mismanaged this environmental catastrophe."

Already, several local state-appointed emergency managers have been arrested and charged in connection with deliberate decisions to endanger residents' lives in exchange for cost-cutting procedures. These criminal cases will likely contribute to the lawsuit as well.
Despite the fact that poisoned water in Flint has been common knowledge for about a year, residents have been told that they will likely need to continue drinking bottled water until 2020. Even as lead levels fall below the national threshold, the infrastructure for the new, clean water system will take years to complete.
In the meantime, these residents are hoping to receive compensation for the life-altering effects of lead poisoning. Even if the water became crystal clear tomorrow, the effects of their families being poisoned for an extended period of time will never lessen. Lead poisoning is particularly harmful to children who can experience significant cognitive impairments and learning disabilities as a result.
In short, compensation from the federal government is the least these people are entitled to, especially because their lives and the lives of their children will never be the same.
Reposted with permission from our media associate The Ring of Fire.
By Sydney Robinson
Though Donald Trump's reign of terror includes the promise to revoke all progress made on the climate change front, certain elected officials are not willing to take his destructive refusal to accept basic scientific facts lying down.
California Gov. Jerry Brown responded to indications from the Trump campaign to end the National Aeronautics and Space Administration's climate change research with a declaration that California intends to continue carrying out climate research no matter what the POTUS orders.
Speaking to a room full of scientists on Wednesday, Brown appeared defiant of the PEOTUS and assured the assembled scientific minds that California would remain a strong ally to the cause.

"Whatever Washington thinks they are doing, California is the future. If Trump turns off the satellites, California will launch its own damn satellite. We're going to collect that data."

Brown's comments were met with loud applause, but what he is proposing is a steep goal of Trump truly does shut down climate research at the national level.
Scientists Frantically Copying #Climate Data as Energy Dept. Refuses to Release Names https://t.co/8a7HguR7Qv #StandUpForScience @350 @NRDC

— EcoWatch (@EcoWatch)1481730787.0
But of course, considering that our President-elect once claimed climate change was a hoax invented by "Jnya" (or "China" for the rest of us), we can't imagine that he will ever take a rational stance on the issue.
Even as recent as earlier this month, the PEOTUS took a softer stance, but still maintained that "no one knows" what is truly causing global warming. Scientists everywhere heaved a collective sigh, staring longingly at their life's work.
As is so often the case, we will have to put our hopes in the progressive California. As Brown promised, "We've got the scientists, we've got the lawyers and we're ready to fight."
Watch the video below:
Reposted with permission from our media associate The Ring of Fire.
[Editor's note: So you want to watch Trumpland? You can now watch it via iTunes, by clicking here.]
By Sydney Robinson

On Tuesday, we shared that filmmaker and social commentator Michael Moore had just released a surprise film, Michael Moore in Trumpland.
Coming on the tail of his exploration of U.S. foreign relations and our history of war, Moore released Where to Invade Next earlier this year. But apparently that wasn't enough to keep Moore busy, so he released this second film.
The New Yorker has posted its amazing review of Michael Moore in TrumpLand. I'm really at a loss 4 words https://t.co/BsMmTMB9CB #TrumpLand

— Michael Moore (@Michael Moore)1476975258.0
When we first reported on this story, we didn't have any details as to how a regular Joe Schmo in any place other than New York City could see the film. With less than three weeks until the election, time is clearly running out for Americans to see the film and allow it to shape their political views before they head to the ballot box.

But now, Moore has teased on his Twitter account Wednesday that the film will be accessible to everyone in the U.S. in 48 hours, meaning that by Friday, everyone should know the score.
Here it is! Opens today in NY & LA - but EVERYONE in the US will have access to it in the next 48 hrs. Stay tuned! https://t.co/fQoeOCL7C6

— Michael Moore (@Michael Moore)1476901084.0
Our guess is that Moore will release it onto one of the many popular streaming sites like Netflix, Amazon or even Hulu. He also might just post it publicly to YouTube or onto a website of his own. Either way, he had better prepare for some high volume users as everyone is dying to know what this secret film contains.

[Editor's note: At EcoWatch, where dying to know what Michael Moore's secret film contains. We are crossing our fingers it hits on climate change, since future generations lost again at last night's presidential debate.]
0-3: Future Generations Lose Again at Third #PresidentialDebate https://t.co/p6RBq071L2 @sierraclub @greenpeaceusa @AnnieMLeonard @bruneski

— EcoWatch (@EcoWatch)1476969376.0
Reposted with permission from our media associate The Ring of Fire.
By Sydney Robinson
Journalist-turned-activist Van Jones is the most recent prominent voice to join the Dakota Access Pipeline protest which is fighting to stop the development of a pipeline that would damage the Earth and encroach upon native lands.
Jones spoke before a group of Native Americans and allies over the weekend when he made a strong declaration:
"This is as simple as I can say it: water is life, oil is death. Water is life, oil is death. That's not hyperbole. What is oil? Oil is some stuff that's been dead for millions and millions of years. Oil has been dead for 60 million years. Coal has been dead for 150 million years."
Seem a bit obvious? Jones wasn't done there. He then launched into a poetic, spoken-word-esque speech about how the death of oil and coal have spread death across the world:
"Somebody's gotta brainstorm to go and dig up a bunch of dead stuff and then burn it. Burn it in their engines, burn it in their power plants. And then they're shocked. They're shocked that having pulled death out of the ground, we now have death in the lungs of our children in the form of asthma. And we now have death on our oceans in the form of oil spills. And we now have death in the skies in form of climate chaos. What did you think was gonna happen when you started digging up all this death? What did you think was gonna happen?"
Thousands rally nationwide demanding permanent end to Dakota Access Pipeline https://t.co/ggbnwf6G9Z via @EcoWatch #climate

— climatehawk1 (@climatehawk1)1473901264.0
Finally, Jones made a call to action for the world to turn toward vibrant, living sources of energy and leave the death in the Earth from where it sprung:

"So we stand for life. Let's power a new civilization based on a living sun, based on the living wind, based on the living imagination of our children and based on the cleanliness, and the purity, and the sacredness of our water."
Watch Jones's speech below.
Van Jones is right. We don't need more pipelines. We need clean energy. "Water is life. Oil is death." #NoDAPL https://t.co/Q5LwXWGlRj

— Our Revolution (@Our Revolution)1474224137.0
Baby powder is one of the most commonly-used household products in America—but could it be a major cause of ovarian cancer? Earlier this year, a jury in Missouri ordered Johnson and Johnson to fork over $72 million to the family of a woman who claimed to develop ovarian cancer after using its branded baby powder. Hundreds of other women are making the same claim.
Johnson & Johnson to Pay $72 Million in Lawsuit Linking Talcum Powder to Ovarian Cancer https://t.co/PFpyo2rSrm @AmericanCancer @SU2C

— EcoWatch (@EcoWatch)1456527026.0
Watch as Ring of Fire's Mike Papantonio and Sam Seder discuss this issue:

Transcript from the video:

Seder: Pap, this week there was a huge award ordered by a state jury in Missouri against Johnson & Johnson for the company's, I guess, knowledge that the talcum based baby powder in Shower to Shower that they were selling for years had the ability to cause cancer in some…
Papantonio: Yeah, Ovarian cancer. They said more than that, Sam. The attorney that handled this is a friend and he's a great lawyer. Jere Beasley. The reason we're involved in this case, the reason I'm handling this case also, is because I really want women to understand that why would you possibly take a risk of using this Shower to Shower or Johnson's Baby Powder when there's any risk of Ovarian cancer? The studies right now, actually as early as the 1980s, the studies started showing there's a connection between the minerals that are found in this powder. Because it's mined. It's mined from the ground. This talcum is mined from the ground, but there's minerals that cause inflammation in the organ systems. Anytime you have inflammation that sometimes leads to scar-based cancers and what's happening Sam, is that they're finding the minerals that they can trace back to the powder in the tumors that are found in these women.
The question then becomes … You had the International Journal of Gynecological Cancer come out just … They did a study and they said, "Look. A woman who uses this on a regular basis has a 30 to 60 percent increase of Ovarian cancer." It's not a … That's not a coincidence. Harvard did a study. They said … It was even more compelling. They said a women doesn't even have to use it regularly. She puts herself at risk every time she uses it, because once that talcum … Once the minerals from the talcum powder absorb into the body they then become an … They create an inflammatory process. The Journal of National Cancer Institute talked about the use of talc in Ovarian cancer in 2014. They weren't equivocal about their findings.
The interesting thing about this case is that this is information that Johnson & Johnson knew since the 1980s. The documents in this case are … They're awful when you start determining what did they know. That's what the jury reacted to. This wasn't just … The question, Sam, was not only were they negligent. They obviously were negligent. The question was also, "Did they show reckless disregard for human life?" and the jury came back and said, "Yeah, they did." Sometimes if … Sam, if this were a medicine, if this were something that maybe was a life-saving medicine you had to take it, there'd be some risk-benefit analysis. There is risk-benefit analysis here. This is just absolutely no benefit.
Seder: My understanding is that there was a sense within Johnson & Johnson that they knew that these … The reporting of these links was going to drive down their sales and so they re-oriented who they were going to try and sell this to. My understanding is too is that they had been basically aware they were going to have to pay the piper at one point and have been preparing for this litigation in some way for maybe decades.
Papantonio: Yeah, they have. Matter of fact what they is they went out and hired what I call "biostitutes." Those are … You find 'em at places like Yale and Princeton. They're these scientists or these professor types that will say anything for the right amount of money. What they did is they went out and they phonied up some epidemiology. The epidemiology they tried to show that it's impossible for this to cause Ovarian cancer even though you're finding … You're tracing the minerals right to the ovary. The problem is when you have a company like this that has this much head-start they get to change the epidemiology, because they secretly pay for the epidemiology to make it look like there's no connection. That's what they did here. That's why Jere did such a wonderful job in this case. Actually working his way through that and showing that that's a fraud. That you can go hire a "biostitute," which is nothing more than a scientific whore, for the right money and they're going to say whatever you want 'em to say. That's what Johnson & Johnson did here in this case.
Seder: Pap, just tell us, in a case like this there are a lot of potential plaintiffs out there, so what happens next? You've had this … You have this award. I assume Johnson & Johnson tries to appeal. What … Walk us through what happens next.
Papantonio: What's going to happen next is this. First of all you're going to have lawyers that have virtually zero experience thinking, "I can go handle these cases." They can't. A guy like Beasley does the same thing we do. We specialize in these cases. This is what we do ... (laughs). What ends up happening is very often you'll have some lawyer go grab a bunch of these cases for people that need to have good representation and they'll end up making bad law in jurisdictions. This is what my prediction is on this case. You're going to … It's going to be like the scene in Jaws where the characters in the little rowboats, "I'm going to go catch the big white shark," but what ends up happening is they do so much harm to the project itself.
What I always try to tell people is know who you're hiring on something like this, because it can go bad for a lot of women. A lot of women are suffering from Ovarian cancer directly related to this talc and so the question then becomes … You have to … Simply because somebody advertises and says, "I handle these cases," you need to find out who they are, because I say that not just for … I say that, because they can upset the entire process and a lot of people can be left out in the dark, because some lawyer who knew … Had no clue on what they were doing tried to handle this case against Johnson & Johnson, blew it and made bad law that affects women all over the country. That the first thing I always talk about.
The second thing is that this case will continue … We're going to continue … There's going to be documents that keep showing up. The documents that Jere Beasley put in front of the jury are really bad. They showed really reckless disregard, terrible conduct by Johnson & Johnson and that's why the jury came back like they did. My prediction is those documents will even get worse as this case goes forward.
Seder: Wow. Really just amazing. I have to say that in the 10, now gosh 12 years that I have known you and I hear these stories from you that you deal with on a day to day basis, when you find these documents in these corporations and I am … I still have the ability to be amazed at the callousness and just the sheer sense that these folks, because they're making a dollar, owe nothing to the general public or their customers. It is shocking to me. Pap, it's always a pleasure to talk to you. Thank you much.
Papantonio: Thank you, Sam.
Learn more about the relationship between Talcum Powder use and Ovarian Cancer.
By Sydney Robinson
Astrophysicist Stephen Hawking has often been consulted in matters unrelated to space and many consider him among the most intelligent individuals to have lived. Which is why during an interview on Tuesday, Hawking's assertion that there was something more dire facing America and the world than Donald Trump, people sat up and took notice.
Hawking's assertion that there was something more dire facing America and the world than Donald Trump, people sat up and took notice.
Hawking was asked if he could explain the rise of Trump, to which the man replied, "I can't. He is a demagogue, who seems to appeal to the lowest common denominator."
"A more immediate danger is runaway climate change," Hawking said.
"A rise in ocean temperature would melt the ice-caps and cause a release of large amounts of carbon dioxide from the ocean floor. Both effects could make our climate like that of Venus, with a temperature of 250 degrees."
In a ThinkProgress article about the interview, it was noted that most mainstream and corporate media ignored the second half of Hawking's statement. Nevertheless, just like Sen. Bernie Sanders' comments saying that climate change is more dangerous to the U.S. than ISIS, Hawking's comments show the true enemy is ourselves.
By Sydney Robinson

When one thinks of the well-known brand Johnson & Johnson, the image of a happy mother and child fresh from a no-tears bath and powdering may come to mind, but that image is no more as it has been discovered that products by Johnson & Johnson containing talc are causing cancer in women across the nation.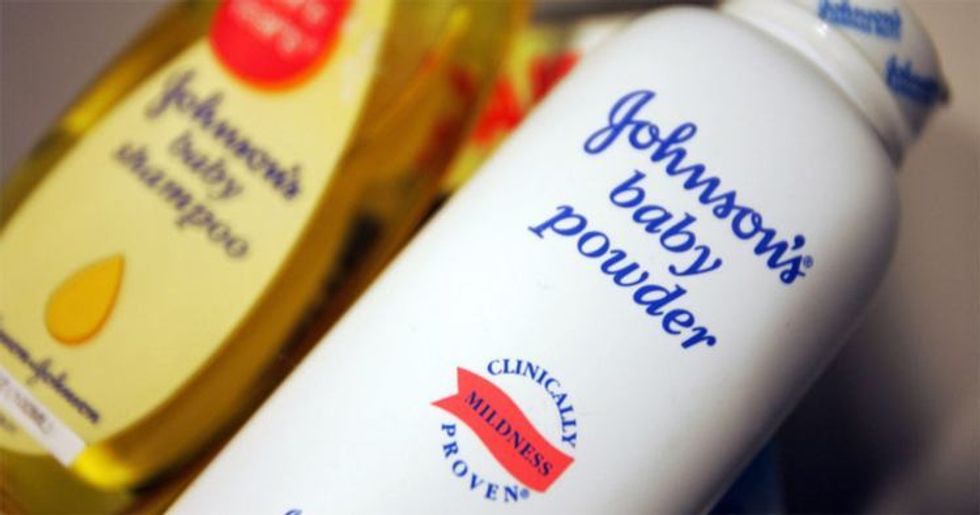 On Monday, Johnson & Johnson lost a case brought against them by a woman who claimed that her daily use of Johnson & Johnson products caused ovarian cancer. Jacqueline Fox, who lived in Birmingham, Alabama, said that she used the company's talc-based Baby Powder and Shower to Shower products for more than 35 years. Unfortunately, the Johnson & Johnson-caused cancer took Fox's life before the ruling on her case could be given.
Johnson & Johnson has been ordered by a Missouri state jury to pay a hefty $72 million fine for damages to the family of the woman, but is that enough for the company that knowingly exposed generations of Americans to a dangerous product?
Johnson & Johnson must pay $72 million for woman's cancer death linked to talcum powder: https://t.co/WJyTBSXvJ9 https://t.co/3HhIgucCB5

— Reuters Top News (@Reuters Top News)1456265893.0
Several studies have been conducted which link talc powder to ovarian cancer and talc is a common ingredient in many Johnson & Johnson products. In 23 case-controlled studies conducted by the International Journal of Gynecological Cancer in May of 2015 found that talc use increased the risk of ovarian cancer by 30-60 percent in "almost all well-designed studies." While studies had been previously unable to determine whether talc played a role in ovarian cancer, International Journal of Gynecological Cancer concluded that their results "suggest that talc use causes ovarian cancer." Several other recent studies, including one conducted by the Journal of the National Cancer Institute, confirmed those same results.
Ovarian cancer is the most lethal gynecological cancer there is and it is most often detected in the later stages of the illness when it is too late to do much to fight the cancer. Becuase of this, the best way to fight Ovarian cancer is preventing it, which is not what Johnson & Johnson were doing. The connection between talc powder and ovarian cancer was made stronger when scientists discovered talc minerals inside the cancerous tumors they were removing from women's bodies.
There is evidence that Johnson & Johnson was aware of the ill-effects of talc in the 1980s according to Jere Beasley, one of the lawyers representing the Fox family. "They knew as far back as the 1980s of the risk." And yet, they did not remove it from their products.
Attorney Mike Papantonio, of the Law Firm of Levin, Papantonio, Thomas, Mitchell, Rafferty and Proctor, is a specialist in handling complicated litigation cases like these. Papantonio praised Beasley's initiative in seeking out the case against Johnson & Johnson and battling the corporate giant:
"Jere Beasley, one of the finest trial lawyers in America, undertook this project that looked like it was facing impossible odds. With these results, they will save the lives of thousands of women throughout this country."
Papantonio has railed against Johnson & Johnson, asking why the corporation continued to put profit before the health of its customers. Rather than simply take the cancer-causing product off the market or changing the formulation to exclude the carcinogenic compound, Johnson & Johnson allowed women like Fox to be dedicated customers until their death. How many others will suffer the same fate and how long will it take until Johnson & Johnson faces the truth that they have covered up for so long?
YOU MIGHT ALSO LIKE
Wal-Mart, Kraft Sued Over Selling Parmesan Cheese With Wood Pulp Filler
11 Ways You Could Be Exposed to Lead in Your Everyday Life
Battle Lines Are Drawn as Congress Reforms the 40-Year-Old Toxic Substances Control Act
10 Misconceptions on the Link Between Environmental Factors and Cancer