EcoWatch Daily Newsletter
Steven Cohen is the executive director of Columbia University's Earth Institute and a professor in the Practice of Public Affairs at Columbia University's School of International and Public Affairs.
One of the best ways to meet the commitments laid out in the climate deal and reduce greenhouse gas emissions will be to gradually replace fossil fuels with other forms of energy that are renewable and do not damage the environment. To do this, we need to dramatically increase investment in basic and applied renewable energy research. The goal of this work is to make renewable energy commercially viable. We need breakthroughs in solar cell and energy storage technology that make renewable energy less expensive and more convenient than it is today. The batteries in electric cars need a range of 1,000 miles rather than a few hundred. Home energy storage systems and solar cells must become smaller and less expensive. The technology must be so attractive that it drives fossil fuels from the marketplace.
One of the most significant moments for clean energy in the past few weeks was announced even before the Paris talks began: Bill Gates, along with more than 20 other billionaires, established the Breakthrough Energy Coalition, a private sector group committed to investing in renewable energy technologies. Promising more than a billion dollars of investment, this is the largest clean energy fund ever created. According to Coalition investor and Facebook CEO Mark Zuckerberg, "progress towards a sustainable energy system is too slow and the current system doesn't encourage the kind of innovation that will get us there faster." I couldn't agree more.
Gates, Branson, Zuckerberg and more launch Breakthrough Energy Coalition https://t.co/8HN1Efyxzv via @SustainBrands https://t.co/JSd27lIXA2

— GCCA (@GCCA)1449558009.0
While the private sector has the resources and cash to invest in renewable energy technologies, it can't do it alone. Joining Gates' effort, twenty countries, including major carbon emitters like the U.S., India and China, pledged to double their investment in renewable energy technology by 2020. This public-private partnership "will be a critical step toward limiting global warming," the White House said.
Public-private partnerships have been around since the start of the U.S. and exist at all levels of government. Basic science and technology has historically been funded by the U.S. government and taken place in national and university laboratories. When the technologies matured, some were released for commercial use. Perhaps the best example is the personal computer, which has shrunk significantly in size since the 1970s and has dramatically increased in computing power. A product used by billions of people worldwide began as an investment by the U.S. federal government, in order to develop better missile guidance systems for the U.S. Department of Defense and smaller on-board computers for NASA's space program.
Local government interest in sourcing renewable energy in the U.S. is clear. Many cities, including New York City, have made pledges to increase their renewable energy use and this week San Diego became the largest American city to legally commit to 100 percent renewable energy.
According to the New York Times:
"With a unanimous City Council vote, San Diego, the country's eighth-largest city, became the largest American municipality to transition to using 100 percent renewable energy, including wind and solar power. In the wake of the Paris accord, environmental groups hailed the move as both substantive and symbolic. Other big cities, including New York and San Francisco, have said they intend to use more renewable energy, but San Diego is the first of them to make the pledge legally binding. Under the ordinance, it has committed to completing its transition and cutting its greenhouse gas emissions in half by 2035."
Eventually, every state in the U.S. will have to meet U.S. Environmental Protection Agency's clean power regulation requirements. This will be difficult to do with current energy technology. Government must fund the basic research and enough of the applied research to demonstrate potential profitability. One good piece of news is that it appears that in exchange for lifting restrictions on oil exports, the favorable tax treatment of renewable energy in the U.S. will not end in December of 2016. Ending that tax expenditure would have slowed down the growth of the solar and wind industry and have an immediate and dramatic impact on the production of greenhouse gases.
At some point, technology will take over. Fossil fuels will eventually be driven from the marketplace by something better and cheaper, but we first need the investment in basic and applied research to make that happen. The transition from an economy based on the one-time use of finite resources to one that relies on renewable resources requires a sophisticated, high-powered public-private partnership. The commitments made by Gates and the White House are a good start and there are many other signs that the transition from fossil fuels has begun. The speed of that transition, however, will depend on creativity, consensus and cash to be completed.
YOU MIGHT ALSO LIKE
Leonardo DiCaprio Is at It Again, Invests in Energy Technology Company Zuli
Fossil Fuel Stocks Tumble, Renewable Energy Stocks Soar
Elon Musk: We Can Power America by Covering Small Corner of Utah With Solar
San Diego Passes Strongest City-Wide 100% Clean Energy Law in America
Marc_Osborne / iStock / Getty Images

Making the switch to solar energy can help you lower or even eliminate your monthly electric bills while reducing your carbon footprint. However, before installing a clean energy system in your home, you must first answer an important question: "How many solar panels do I need?"
To accurately calculate the ideal number of solar panels for your home, you'll need a professional assessment. However, you can estimate the size and cost of the system based on your electricity bills, energy needs and available roof space. This article will tell you how.
If you make a purchase using the links included, we may earn commission.
Factors That Influence How Many Solar Panels You Need
To determine how many solar panels are needed to power a house, several factors must be considered. For example, if there are two identical homes powered by solar energy in California and New York, with exactly the same energy usage, the California home will need fewer solar panels because the state gets more sunshine.
The following are some of the most important factors to consider when figuring out many solar panels you need:
Size of Your Home and Available Roof Space
Larger homes tend to consume more electricity, and they generally need more solar panels. However, they also have the extra roof space necessary for larger solar panel installations. There may be exceptions to this rule — for example, a 2,000-square-foot home with new Energy Star appliances may consume less power than a 1,200-square-foot home with older, less-efficient devices.
When it comes to installation, solar panels can be placed on many types of surfaces. However, your roof conditions may limit the number of solar panels your home can handle.
For example, if you have a chimney, rooftop air conditioning unit or skylight, you'll have to place panels around these fixtures. Similarly, roof areas that are covered by shadows are not suitable for panels. Also, most top solar companies will not work on asbestos roofs due to the potential health risks for installers.
Amount of Direct Sunlight in Your Area
Where there is more sunlight available, there is more energy that can be converted into electricity. The yearly output of each solar panel is higher in states like Arizona or New Mexico, which get a larger amount of sunlight than less sunny regions like New England.
The World Bank has created solar radiation maps for over 200 countries and regions, including the U.S. The map below can give you an idea of the sunshine available in your location. Keep in mind that homes in sunnier regions will generally need fewer solar panels.
© 2020 The World Bank, Source: Global Solar Atlas 2.0, Solar resource data: Solargis.
Number of Residents and Amount of Energy You Use
Households with more members normally use a higher amount of electricity, and this also means they need more solar panels to increase energy production.
Electricity usage is a very important factor, as it determines how much power must be generated by your solar panel system. If your home uses 12,000 kilowatt-hours (kWh) per year and you want to go 100% solar, your system must be capable of generating that amount of power.
Type of Solar Panel and Efficiency Rating
High-efficiency panels can deliver more watts per square foot, which means you need to purchase fewer of them to reach your electricity generation target. There are three main types of solar panels: monocrystalline, polycrystalline and thin-film. In general, monocrystalline panels are the most efficient solar panels, followed closely by polycrystalline panels. Thin-film panels are the least efficient.
How to Estimate the Number of Solar Panels You Need
So, based on these factors, how many solar panels power a home? To roughly determine how many solar panels you need without a professional assessment, you'll need to figure out two basic things: how much energy you use and how much energy your panels will produce.
According to the latest data from the U.S. Energy Information Administration (EIA), the average American home uses 10,649 kWh of energy per year. However, this varies depending on the state. For example:
Louisiana homes have the highest average consumption, at 14,787 kWh per year.
Hawaii homes have the lowest average consumption, at 6,298 kWh per year.
To more closely estimate how much energy you use annually, add up the kWh reported on your last 12 power bills. These numbers will fluctuate based on factors like the size of your home, the number of residents, your electricity consumption habits and the energy efficiency rating of your home devices.
Solar Panel Specific Yield
After you determine how many kWh of electricity your home uses annually, you'll want to figure out how many kWh are produced by each of your solar panels during a year. This will depend on the specific type of solar panel, roof conditions and local peak sunlight hours.
In the solar power industry, a common metric used to estimate system capacity is "specific yield" or "specific production." This can be defined as the annual kWh of energy produced for each kilowatt of solar capacity installed. Specific yield has much to do with the amount of sunlight available in your location.
You can get a better idea of the specific yield that can be achieved in your location by checking reliable sources like the World Bank solar maps or the solar radiation database from the National Renewable Energy Laboratory.
To estimate how many kW are needed to run a house, you can divide your annual kWh consumption by the specific yield per kilowatt of solar capacity. For example, if your home needs 15,000 kWh of energy per year, and solar panels have a specific yield of 1,500 kW/kW in your location, you will need a system size of around 10 kilowatts.
Paradise Energy Solutions has also come up with a general formula to roughly ballpark the solar panel system size you need. You can simply divide your annual kWh by 1,200 and you will get the kilowatts of solar capacity needed. So, if the energy consumption reported on your last 12 power bills adds up to 24,000 kWh, you'll need a 20 kW system (24,000 / 1,200 = 20).
So, How Many Solar Panels Do I Need?
Once you know the system size you need, you can check your panel wattage to figure how many panels to purchase for your solar array. Multiply your system size by 1,000 to obtain watts, then divide this by the individual wattage of each solar panel.
Most of the best solar panels on the market have an output of around 330W to 360W each. The output of less efficient panels can be as low as 250W.
So, if you need a 10-kW solar installation and you're buying solar panels that have an output of 340W, you'll need 30 panels. Your formula will look like this: 10,000W / 340W = 29.4 panels.
If you use lower-efficiency 250-watt solar panels, you'll need 40 of them (10,000W / 250W = 40) panels.
Keep in mind that, although the cost of solar panels is lower if you choose a lower-efficiency model over a pricier high-efficiency one, the total amount you pay for your solar energy system may come out to be the same or higher because you'll have to buy more panels.
How Much Roof Space Do You Need for a Home Solar System?
After you estimate how many solar panels power a house, the next step is calculating the roof area needed for their installation. The exact dimensions may change slightly depending on the manufacturer, but a typical solar panel for residential use measures 65 inches by 39 inches, or 17.6 square feet. You will need 528 square feet of roof space to install 30 panels, and 704 square feet to install 40.
In addition to having the required space for solar panels, you'll also need a roof structure that supports their weight. A home solar panel weighs around 20 kilograms (44 pounds), which means that 30 of them will add around 600 kilograms (1,323 pounds) to your roof.
You will notice that some solar panels are described as residential, while others are described as commercial. Residential panels have 60 individual solar cells, while commercial panels have 72 cells, but both types will work in any building. Here are a few key differences:
Commercial solar panels produce around 20% more energy, thanks to their extra cells.
Commercial panels are also more expensive, as well as 20% larger and heavier.
Residential 60-cell solar panels are easier to handle in home installations, which saves on labor, and their smaller size helps when roof dimensions are limited.
Some of the latest solar panel designs have half-cells with a higher efficiency, which means they have 120 cells instead of 60 (or 144 instead of 72). However, this doesn't change the dimensions of the panels.
Conclusion: Are Solar Panels Worth it for Your Home?
Solar panels produce no carbon emissions while operating. However, the EIA estimates fossil fuels still produce around 60% of the electricity delivered by U.S. power grids.
Although the initial investment in solar panels is steep, renewable energy systems make sense financially for many homeowners. According to the Department of Energy, they have a typical payback period of about 10 years, while their rated service life is up to 30 years. After recovering your initial investment, you will have a source of clean and free electricity for about two decades.
Plus, even if you have a large home or find you need more solar panels than you initially thought you would, keep in mind that there are both federal and local tax credits, rebates and other incentives to help you save on your solar power system.
To get a free, no-obligation quote and see how much a solar panel system would cost for your home, fill out the 30-second form below.
The International Energy Agency (IEA) announced this month that 2014 carbon dioxide emissions from the energy sector leveled off—the first time in 40 years this has happened without being linked to an economic downturn.
According to the IEA:
"Global emissions of carbon dioxide stood at 32.3 billion tonnes in 2014, unchanged from the preceding year. The preliminary IEA data suggest that efforts to mitigate climate change may be having a more pronounced effect on emissions than had previously been thought.
The IEA attributes the halt in emissions growth to changing patterns of energy consumption in China and OECD countries. In China, 2014 saw greater generation of electricity from renewable sources, such as hydropower, solar and wind, and less burning of coal. In OECD economies, recent efforts to promote more sustainable growth—including greater energy efficiency and more renewable energy—are producing the desired effect of decoupling economic growth from greenhouse gas emissions."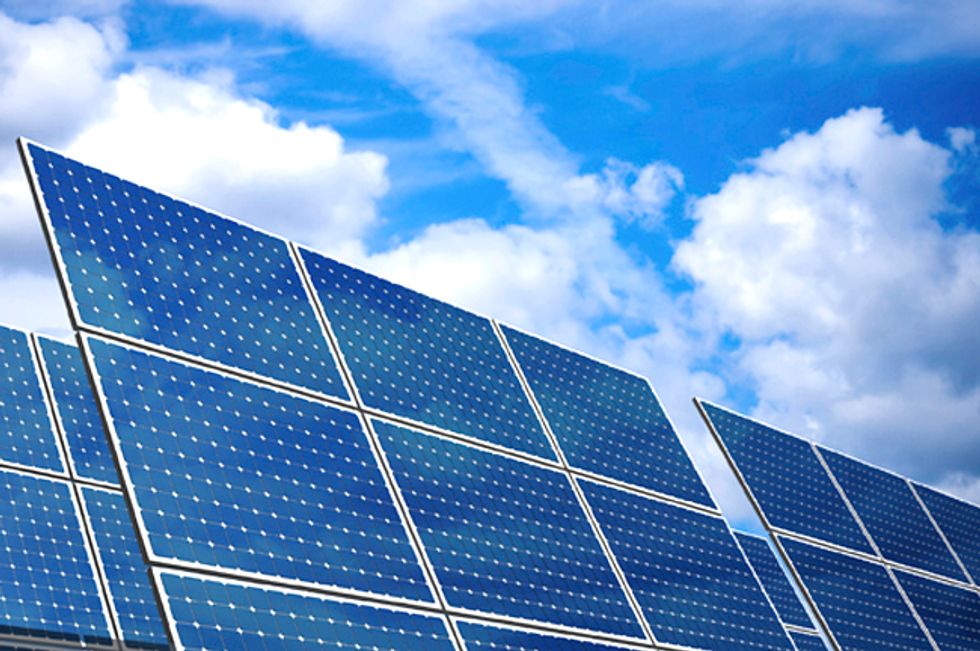 While this halt in global emissions may not survive this year's cut in oil prices, it's still a promising sign that the increased adoption of renewable energy technology, increased use of energy efficiency measures and the transition to a renewable economy, is well underway.
In Europe, three countries have already met their renewable energy targets five years ahead of schedule. According to United Press International, Bulgaria, Estonia, and Sweden have all surpassed the required goal of 20 percent renewable energy by 2020, mandated by the EU for each member country, with several other European countries, such as Italy, Romania and Lithuania, not far behind.
China's commitment to reducing air pollution has likely had a huge effect on the leveling off of global carbon emissions, as its dependence on coal dropped for the first time in a decade and its clean energy consumption increased. Bloomberg Business reported that:
"China led in renewables last year with investments of $89.5 billion, accounting for almost one out of every three dollars spent on clean energy in the world, according to BNEF figures released in January."
The U.S also reached new renewable energy milestones, with solar accounting for one-third of new generating capacity last year, more than any other energy source besides natural gas. The Washington Post also reported that electricity generated from renewable energy in 2014 outgrew that of fossil fuels, with wind power growing faster than all other sources and solar power more than doubling.
An important stimulus for the deployment of solar in the U.S. has been the Solar Investment Tax Credit, which has contributed to the over 1,600 percent annual growth in solar installation since 2006 and 86 percent increase in solar employment over the past four years. Unfortunately, this credit is set to expire at the end of 2016, threatening the thriving solar industry. The International Business Times reports a possible drop in solar installation of more than 85 percent in 2017 if the credit is not renewed. It would be a shame to see the momentum of solar interrupted with the expiration of the credit, much like the wind industry experienced with the on-again/off-again expirations and extensions of the Production Tax Credit. While a recent U.S. Department of Energy analysis on wind power finds that wind will be cheaper than natural gas within a decade even without a federal tax incentive, an inconsistent tax credit has made steady, long-term development of wind power difficult, according to Bloomberg Business.
While the shift to renewable energy is clearly underway in the U.S. and elsewhere in the world, government needs to do more to accelerate the use of renewable energy while decelerating the growth of fossil fuels. As Chris Mooney from the Washington Post puts it:
"Here's the bad news … Wind and solar are still only contributing a small fraction of the total electricity that we use, and far, far less than coal. They may be growing faster, but they're very far behind."
The U.S. federal government has a variety of tools it can deploy in order to influence the energy consumption of corporations, individuals, and even other nations. The most fundamental of these tools, and one which can be best done by government, is to fund the science needed to build the technological base for a sustainable economy.
We need to develop a way to get off of fossil fuels and more efficiently store energy. While there may be plenty of fossil fuel supplies left in the crust of the Earth, it is increasingly complicated to get it out of the ground, transport it and burn it. We need to focus our brainpower on developing cheaper, more reliable and more convenient forms of renewable energy, and direct policy toward developing and implementing new renewable energy and energy storage technologies. Government must fund the basic research, and enough of the applied research, to demonstrate possible profitability.
In my new book, Sustainability Policy: Hastening the Transition to a Sustainable Economy, written with my Columbia University colleagues William Eimicke and Alison Miller, we argue for increased government funding for the basic science needed for renewable energy and other sustainable technologies. We explain how government can help direct capital toward the commercialization of new technologies and can use its vast purchasing power to help speed the implementation of these new technologies. By exploring innovative sustainability initiatives being implemented by governments—at the state, local and federal levels—this book shows the importance of public-private partnerships in creating a sustainable economy.
While the private sector has a significant role to play in the transition to a sustainable economy, it cannot make the transition from a waste-based economy to a renewable one by itself. This transition can only happen if we create public-private partnerships, as the public and private sectors are equipped for different roles and there are specific tasks uniquely suited to government. Public-private partnerships have been behind some of the most transformative technologies in our history: the internet, the cell phone, GPS, jet planes and so on. We need to continue to invest in the technologies of the future.
In my view, the transition to a renewable economy has begun. Our demand for a clean economy and for breathable air, healthy food and drinkable water is stimulating the development of new technologies. Hastening the transition to a renewable energy economy is a difficult but feasible task, and one which can only be accomplished with increased government support.
YOU MIGHT ALSO LIKE
Fossil Fuel Industry Is Quietly Building Pipeline Network That 'Dwarfs Keystone' XL
Texas Town Says No to Fossil Fuels, Yes to 100% Renewables
Republicans Speak Out in Support of Renewable Energy and Against Fossil Fuel-Funded Climate Deniers
As greenhouse gas emissions are slowly reduced in Europe and the U.S., total global emissions are still rising, due in large part to the fast-growing economies of India and China. The U.S. Energy Information Agency reports that half of the world's increase in energy consumption by 2040 will be attributed to China and India, "as they use energy to fuel their economic growth."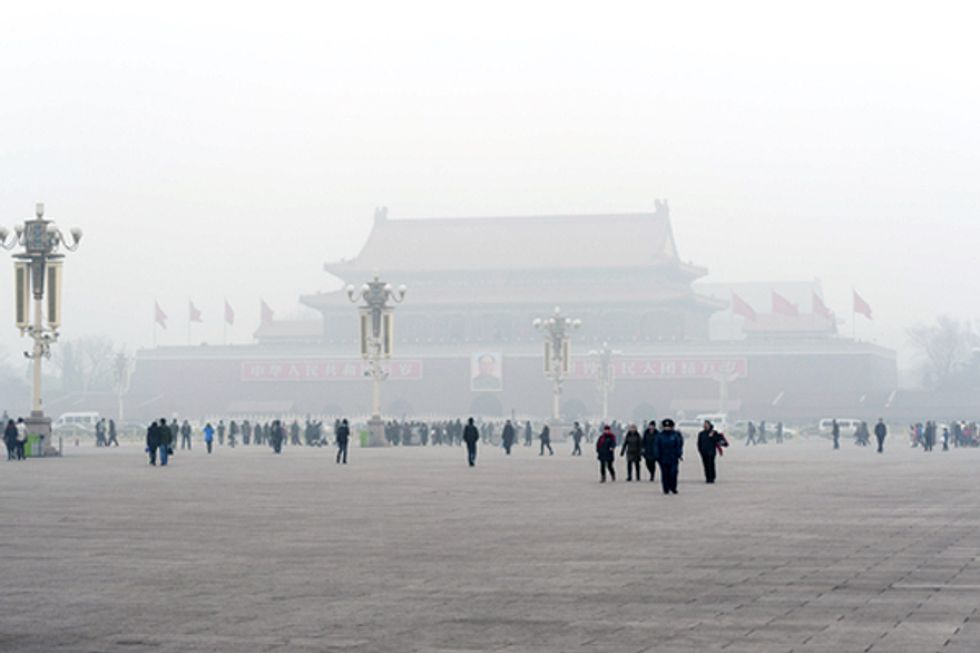 axz700
/
Shutterstock.com
While Chinese investment in solar power recently hit an all-time high, China is still relying heavily on coal and other fossil fuels to meet its increasing economic and energy demands. According to Justin Gillis of the New York Times:
"China is spending heavily on renewable and nuclear energy as it tries to slow the growth of coal, but despite those efforts it has become by far the largest emitter of greenhouse gases. Its emissions of 10 billion tons a year of carbon dioxide from the burning of fossil fuels and cement manufacturing are almost twice those of the United States, though emissions per person are still far higher in the United States."
Of course, climate change is not the only global sustainability problem, but it is an important and prominent one. Reducing emissions and promoting global environmental sustainability is a shared responsibility for all countries, but China's contribution is particularly important. China recognizes their key role. At the United Nations Climate Summit last month, the Chinese Vice Premier announced China's intention to reach peak carbon dioxide emissions as soon as possible, building on previously-announced commitments to set a cap on carbon. However, although the Chinese government has worked to establish a sustainable strategy for its development, the sheer pace of China's economic growth makes it a difficult task.
It is important for China and in fact all of the planet's economic development, that we incorporate a more holistic understanding of environmental sustainability—including, but not limited to, greenhouse gas emissions—as we make the transition to a sustainable, renewable economy. For this to happen, we need a rigorous, valid and standardized system to measure and manage sustainability. We need a generally accepted set of sustainability metrics if we are to seriously assess the progress we are making during the transition to a sustainable economy.
Next week, I'll be traveling to Beijing to formalize a partnership between Columbia University's Earth Institute and the China Center for International Economic Exchanges (CCIEE), a leading think tank focused on promoting international economic research and exchanges in various fields. One of our research groups at the Earth Institute, the Research Program on Sustainability Policy and Management, will be conducting joint research with the Center to design a sustainability measurement and metrics system based on China's unique economic development path.
The broader importance of this work lies in the need for a standardized methodology to organize the vastly increasing amount of sustainability performance measures—in a way that enhances organizational and local level management and improves sustainability performance. The partnership with CCIEE will produce applied research that can contribute to both U.S. and Chinese decision-making in sustainability policy. This, in turn, could facilitate the development of renewable resource-based economies in China, the U.S. and around the world.
While in Beijing, I'll also be visiting the Columbia Global Centers | East Asia, an important partner for the Earth Institute as we expand our research into China, where I'll be giving a talk on "Environmental Policy and the Business of Sustainability." I'll be discussing the importance of environmental policy in achieving a sustainable society and the need to manage short-term costs for long-term gains. I'll trace the environmental movement over the past century, exploring how the environment emerged as a public policy issue and how current environmental policy reflects our values as society. I'll also discuss how environmental regulation influences the economy and demonstrate how the path to a clean economy requires public policy that stimulates changes in the economic behaviors of businesses, governments and individuals.
As China advances their sustainability efforts and aims to achieve a growing economy along with a cleaner environment, it's important that they look at how other countries have overcome similar obstacles. I have worked on U.S. environmental issues since 1975, and have a keen appreciation of the mistakes we made here in the U.S. as we moved to decouple the growth of pollution from the growth of the gross domestic product (GDP). Before the U.S. Environmental Protection Agency (EPA) was created, U.S. pollution was growing at a rate similar to the rate of economic growth. By the time EPA was a decade old, the absolute levels of pollution had dropped, while the GDP continued to grow. With few exceptions, that trend has continued ever since. My hope is that some of what we learned here in the U.S. through trial and error I can share with my colleagues in China and help them avoid making some of the mistakes we made.
Ultimately, it will be important for the U.S. to increase its efforts on sustainability and decrease carbon emissions, but it's necessary for China to quickly step up their efforts as well. While China faces many challenges, I look forward to the Earth Institute playing a small part in efforts to advance China's sustainability strategy with the China Center for International Economic Exchanges.
YOU MIGHT ALSO LIKE
'All Hands on Deck' Declares Ban Ki-moon at UN Climate Summit
Capitalism vs. The Climate: Stephen Colbert Talks To Naomi Klein
People's Consumptive Demands Undermine Planet's Life-Support Systems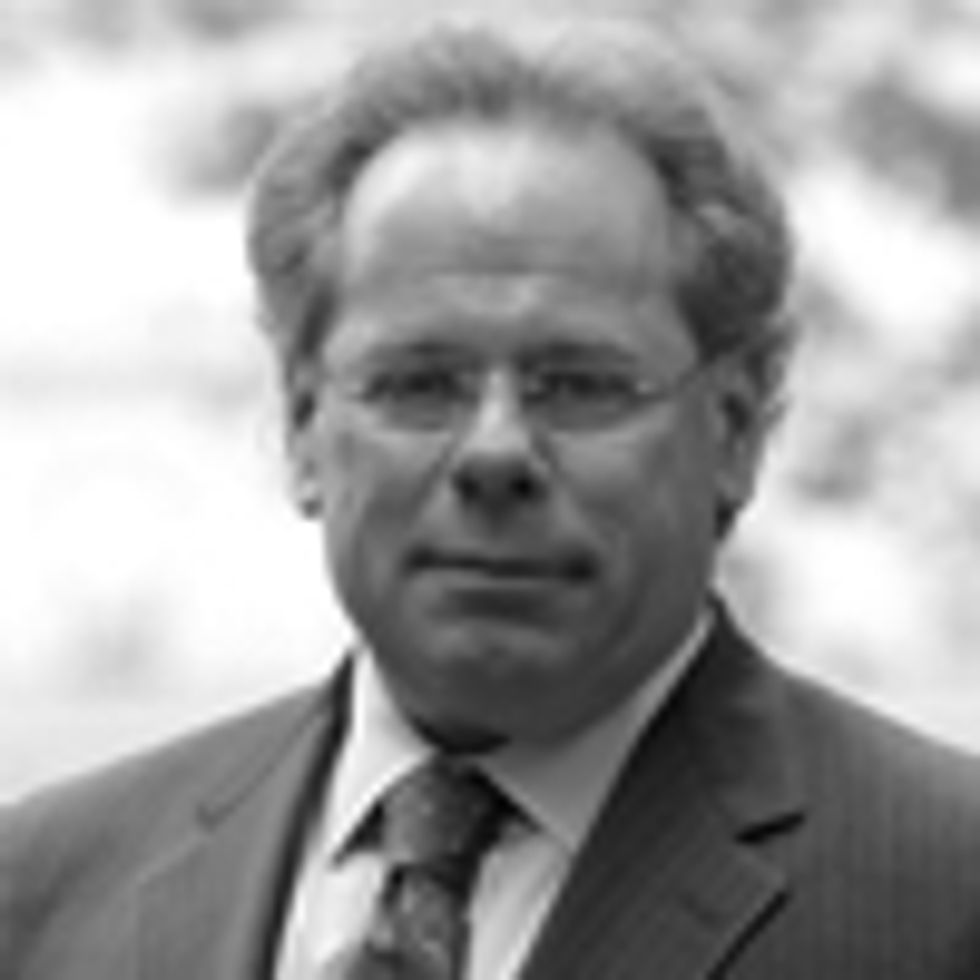 It is obvious that the U.S. federal government is struggling to perform basic governance functions and, as I wrote earlier this summer, it is incapable of leading the transition to a renewable economy. Nevertheless, one of the key elements of that transition, the adoption of solar power, is well underway in the U.S. According to a new report by John Rogers and Laura Wisland, published by the Union of Concerned Scientists:
Solar is undergoing widespread and rapid growth in the U.S. ... The amount of solar PV installed in the U.S. grew by 485 percent from 2010 to 2013 ... Solar accounted for an average of 16 percent of electricity capacity installed annually in the United States from 2011 to 2013, and almost 30 percent in 2013.
They note that the price of solar systems has dropped by more than 50 percent since 2007, and that as local government permitting processes become streamlined and as financing options grow, household solar installations are becoming more feasible.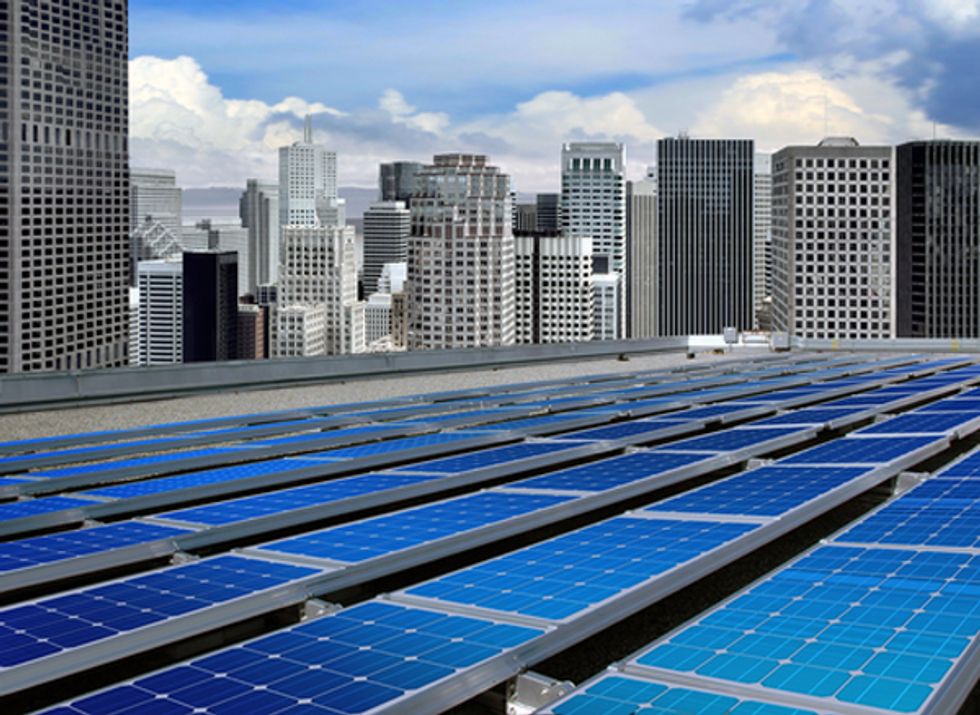 Photo credit: Shutterstock
There are a variety of obstacles to more rapid adoption of solar power. Federal, state and local tax treatment of solar varies by jurisdiction. Incentives are unpredictably phased in and phased out. The absence of smart grid technology and feed-in tariffs makes it difficult to integrate home excess solar power into the grid; utilities know how to send you energy, but they don't know how to take it back.
What is needed is a well thought through, comprehensive renewable energy program with national standards, serious funding for research and development, and clear, predictable incentives for adoption of solar power and other renewable energy technologies. This is far from realistic under the Obama White House and the Tea Party-influenced congress. The president is pursuing a meaningless "all-of-the-above" energy non-strategy and will not push renewables too hard, and the congress does not believe that government has a role to play in promoting renewable energy development and use.
One good piece of news about declining solar energy costs is that the time it will take to amortize a solar installation is coming down. If energy savings fund the cost of a solar array and the amount being saved is growing, the risk of investment is being reduced. Solar installations will pay off faster, even under current conditions. Fortunately, if you invest in today's technology and the payback period is ten years or so, you run little risk of wasting your money.
While the overall contribution of solar energy to national energy use is quite low, the potential of solar energy is quite high. For a few days this past summer, Germany generated more than 50 percent of its electricity from solar energy. In the U.S., it will take a long time for solar energy to reach Germany's levels. While our pace might be called "slow, but increasing rapidly," Europe and China are moving quickly to add solar energy to their power mix. In this country we see similar movement in California. These examples provide an indication of how rapidly renewable energy can be adopted when government policy provides the push that is needed.
The U.S. presents both enormous potential and persistent problems in pushing solar energy. The potential is in our research universities and creative, entrepreneurial culture. The computer and smart phone industry was built on a partnership between government-funded basic research and creative use of off-the-shelf technology by companies like Apple, IBM, Dell, HP and Microsoft. Research funded by the Defense Department, NOAA, NASA and the National Science Foundation has built enormous capacity in university-based research institutions. When coupled with our government's national laboratories and the applied research undertaken by the private sector, we have benefited from a nearly continuous stream of new technologies and new products generated by new industries. As I often argue, that same drive needs to be applied to renewable energy technology. If mobilized effectively, we have the potential to generate transformative technologies in renewable energy.
Unfortunately, we suffer from the persistent problem of our pay-to-play politics. The fossil fuel industry is not blind to the threat that renewable energy poses to their core business. At risk are billions of dollars invested in the technology and infrastructure of fossil fuel extraction, transport and use. At the very moment we need a determined national policy to promote renewable energy, the elected officials who might lead such an effort are in an endless competition for more and more campaign cash. Instead of investing in new solar technologies, fossil fuel companies are investing in politicians who will vote to inhibit the development of these technologies. So far they are succeeding. The "all-of-the-above" energy non-strategy is an example of the fossil fuel industry's success. It is not yet politically feasible for an American president to take a position to aggressively push for the replacement of fossil fuels. The best we could get is an argument to develop every form of energy possible. Apparently, the hope is that somehow, enough alternative energy will make it through the mix to enable renewables to take hold.
American leadership would surely speed the transition to a renewable economy. But America's absence will not prevent that transition. There will eventually be an Apple-Google-Microsoft-Amazon-like company selling us household solar energy technologies. Note that Apple, Amazon, Google and Microsoft are all American companies that went global in the world economy. The energy technology companies of the future may be home grown or they may come out of Europe, Latin America or Asia. The need for low-cost and reliable energy is only going to grow. The planet's need for a less destructive form of energy supply is urgent and is also growing. Engineers and businesspeople all over the world see the demand and are working to figure out a way to generate supply. In a global economy, the old line fossil fuel companies will not be able to prevent the diffusion of new technology once it is developed. Ask Kodak what happens to companies that do not change their strategies to reflect emerging technologies.
I should note that I am not in favor of taxing fossil fuels and having government raise the price of energy, but rather support increased funding in the research and development of alternative forms of energy. I also support using the tax and regulatory system to encourage the installation of available renewable energy technology. While of course the government could stop subsidizing fossil fuels, I consider that more of an artifact of a bygone age than a major impediment to the transition to renewable energy. The goal is to lower the price and convenience of renewables and make fossil fuels irrelevant.
In order of priority I think the U.S. Federal government should pursue an energy policy with these elements:
Massive funding for research on the basic science and applied engineering of solar cells and battery technology. Significant but lesser amounts of funding should be allocated to other safe forms of energy generation and storage.

Tax credits and regulations to require increased energy efficiency in buildings, appliances and transportation.

Tax credits and regulations to encourage the installation of solar, wind, geothermal and similar forms of energy. Higher credits should be provided when current levels of fossil fuel use are reduced.

A federal grant-in-aid program similar to the highway trust fund to help localities build smart grids, integrated into a national system. The funding for the program would come from a new federal tax on electricity. Feed-in tariffs would be required of state utility commissions in order to receive smart-grid grants.
I am certain there are other policies that can be pursued—these are just the ones I think would be most useful. As Rogers and Wisland found, solar power is on the rise in the U.S. even in the face of indifference from the federal government. Their piece reports overwhelming public support for solar energy and highlights the potential for increased adoption of current technology.
I agree that it is a good idea to push the technology we have, but strongly believe that what we have now is not good enough. The original cellphones were the size of a loaf of bread and look a little silly in retrospect. My hope is that the solar cells of the future will make rooftop arrays look quaint. We need to invest money and brainpower in the search for a transformative energy technology. I think the most rapid path to develop that technology requires the U.S. federal government--but it can be done without it. Even a slow boat can eventually reach the shore.
YOU ALSO MIGHT LIKE
Responding to Bill Gates and Jigar Shah on Powering World's Poorest Economies
'Irreversible' Damage to Planet From Climate Change Says Leaked IPCC Report
Leonardo DiCaprio Narrates Climate Change Films Urging Shift From Fossil Fuels to Renewables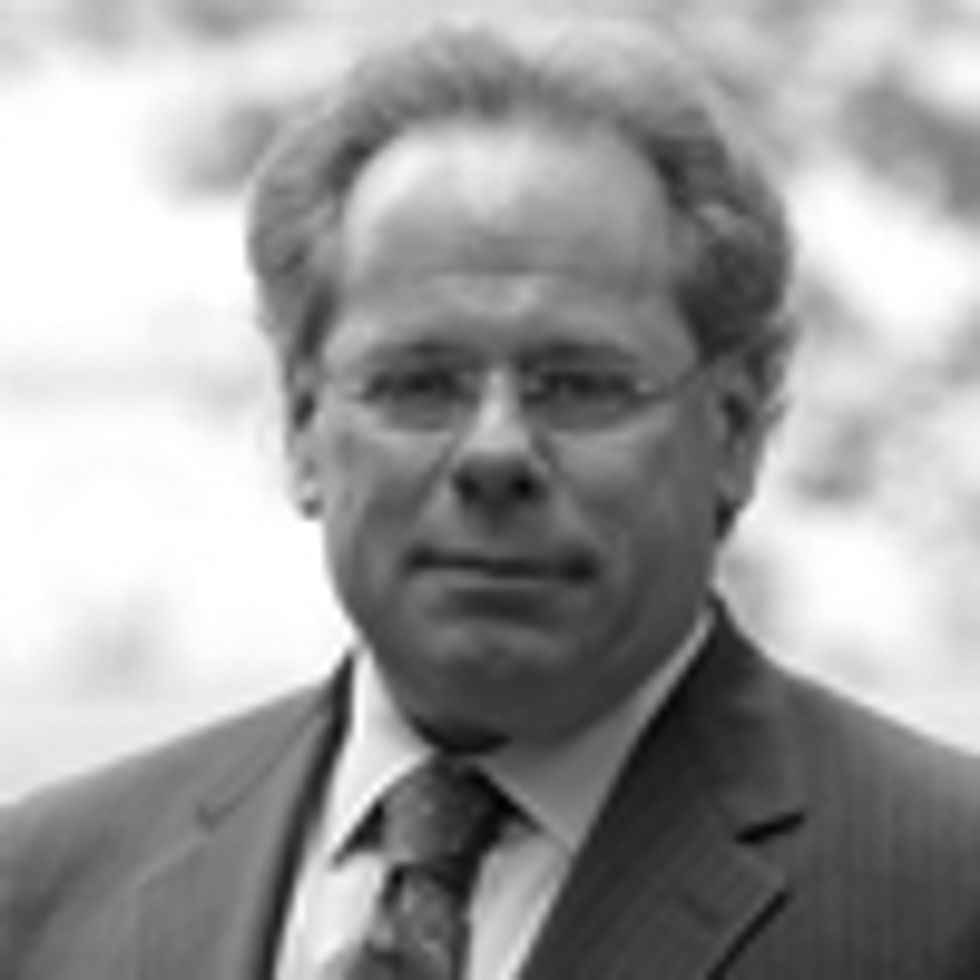 My Columbia University colleagues Bill Eimicke and Alison Miller recently joined me in authoring a new book entitled Sustainability Policy: Hastening the Transition to A Cleaner Economy. If all goes well, Jossey-Bass publishers will release the book in early 2015. Our work focuses on how American government at the federal, state and local levels can work with the private sector to speed up what I see as the inevitable transition to a renewable economy. While there is a lot of action at the state and local level to promote sustainability, the federal government remains inert and pathetic. At the federal level, we see an ossified executive branch that cannot build a website or manage health care for veterans, a legislative branch that has forgotten how to compromise and legislate, and a Supreme Court willing to equate money with political speech.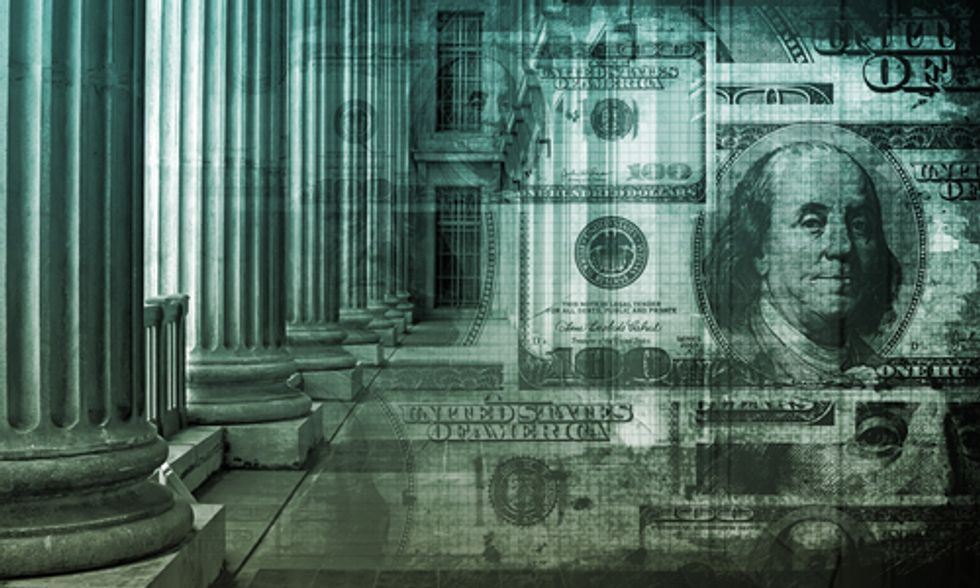 Photo courtesy of Shutterstock
There are several trends in American politics that lead away from democracy, moderate demands for change and inhibit building a federal government capable of working with the private sector to bring about a sustainable economy. These include unlimited money in politics, gerrymandered congressional districts and the replacement of fact-checked media with the fact-challenged media environment we now experience.
We are starting to see the long-term impact of the Supreme Court's decision to consider political cash donations a protected form of speech. This has magnified the impact of money in politics. In turn, this puts emerging high-tech, but capital-needy, companies at a disadvantage in the competition with old, capital-rich firms attempting to influence rules governing production, finance and taxation. The increased role of money in politics tilts the economy away from creative and sustainability-oriented companies toward old-line and extractive industries such as the fossil fuel business. While the old businesses will eventually give way to the new, the enhanced impact of money in politics will slow down the process.
The need for money also stimulates more moderate politicians on both the left and the right to move away from the political center—where deal making is possible—to the extremes. They need to do this to "activate the base" and win primary challenges. Money is only one of the issues here. National political groups gain media attention and attract money when they articulate extreme positions. And, as now former Rep. Eric Cantor can tell you, turnout in primaries is quite low and unpredictable, and so money is only one part of the equation. The other part is the fact-free media. Political communication has always had a strong dose of propaganda—it goes with the territory—but the weird, endless onslaught of misleading political ads and partisan commentary we see today is relentless and unavoidable. Character assassination, misrepresentation of positions and deception is now the norm as political consultants urge their candidates to "define the opposition before they define you." Normal, rational people are avoiding electoral politics as never before.
It is true that, overall, Democrats win more votes in congressional elections than Republicans, but that Republicans these days are winning more seats. Gerrymandering is part of the problem, but as Sean Trende wrote in his incisive analysis in Real Clear Politics:
One of the most striking aspects of the 2012 elections is that Republicans won their third-largest House majority since the late 1920s while losing the popular vote. Pundits have largely coalesced around a single explanation for this: GOP control of redistricting. There's no doubt that the party maximized its advantage by controlling redistricting in a majority of House districts, but that wasn't really the culprit. The Democrats' minority status has more to do with their "new coalition," which might be good for winning presidential elections but is ill-suited for controlling the House.
As Trende observed, the Democratic political coalition "has become geographically narrow in the past decade, heavily concentrated among urban liberals and minorities who live in densely populated cities or are placed into minority-majority districts under interpretations of the Voting Rights Act that many minority groups pressed for in the 1980s and 1990s." This concentration helps win some state-wide races and national electoral votes, but means that Democrats lose a lot of close races for the House. When Democrats do manage to win in the House, they often win by larger margins than Republicans do, which helps account for their national popular vote majority. Gerrymandering is part of the problem faced by the Democrats, but the other part is that, like the Republicans, they too are less inclined to appeal to those outside of their coalition. Democrats may not be as extreme as Republicans, but they are also less interested in compromise and consensus building than they used to be.
When we look at American politics we need to understand that our legislative branches represent places (districts and states) as well as people. The U.S. is a representative democracy yet by design is far from a pure democracy. Our constitution is designed to facilitate continuity and the translation of economic power to political power, but it is also designed to permit change when absolutely needed. In the past, dramatic change has taken place when the stability of the political system was threatened by the absence of change. These changes took place when the political center accepted them: the reforms of the progressive era, the economic policies of the New Deal, the changes brought about by LBJ's Great Society. Typically, agents of change convince moderates to accept some part of their view. The exception that proved the rule was our Civil War.
In the past, the geographic orientation of our political system has led to moderate politics. In the U.S. system, an extreme party receiving 20 percent of the votes in every congressional district would send no one to Congress. Therefore, the political dynamic pushed candidates to the center where they build the largest coalitions generating pluralities or majorities. The growing presence of moderate independent voters continues that trend in general elections. But the growing importance of low-turnout primary elections has driven candidates further to the extremes. It is hard to believe that Eric Cantor was too moderate for the Republican base—but he was. The Tea Party has less than 20 percent of the national vote, but they have managed to skillfully work the seams of the political and media system to dominate the Republican-controlled House of Representatives. If the Occupy movement had been less politically pure they might have done the same thing on the left.
In our new book, my co-authors and I provide examples of regulations, subsidies, tax policies and government programs that could modernize the economy and stimulate the private behaviors that will be needed if we are to move away from a throw-away economy. The climate problem and the need to decarbonize our energy system is the most visible problem we now face, but it is far from our only challenge. As the people boiling their water yesterday in Ohio could tell you, we need to detoxify the production and consumption of goods and services. We need to protect the web of life in the ecosystems that feeds us. We need to learn how to manage the economic production that enables our life styles without destroying the planet from which we derive all of our material resources.
This transition is well underway in Europe and has begun at the state and local level here in the U.S. At the federal level we have an executive branch that is pursuing a meaningless "all of the above energy strategy," and a legislative branch that does nothing. Perhaps it would be best if they acknowledge the reality of the situation and extend their August recess into the fall.
We need a federal government willing to invest in infrastructure like smart grids and mass transit, and provide predictable tax incentives for renewable energy. We need to modernize our environmental laws to deal with contemporary technology. There have been no major federal environmental laws enacted in the U.S. since 1990. We need to fund the basic science that will lead to the breakthrough technologies that can maintain economic growth without destroying our crowded planet.
To do all of this we need a functional federal government. We need a political process capable of rewarding rather than punishing compromise and moderation. The extremists on the right are happy with gridlock, because their goal is an inactive government. Extremists on both sides make their living off of demonizing people who do not share their views; it's just good for business. The vast and generally apolitical moderate center simply wants to nurture their family, friends, community and planet. They are poorly served by a shrill, dysfunctional national government that is incapable of enacting the policies and programs we need to make the transition to a sustainable, renewable economy.
You Might Also Like
LeBron James, Place and the Search for Sustainable Communities
City Doubles Bike Sharing Program As Urban Sustainability Initiatives Thrive
Realities of Shifting to a Sustainable Economy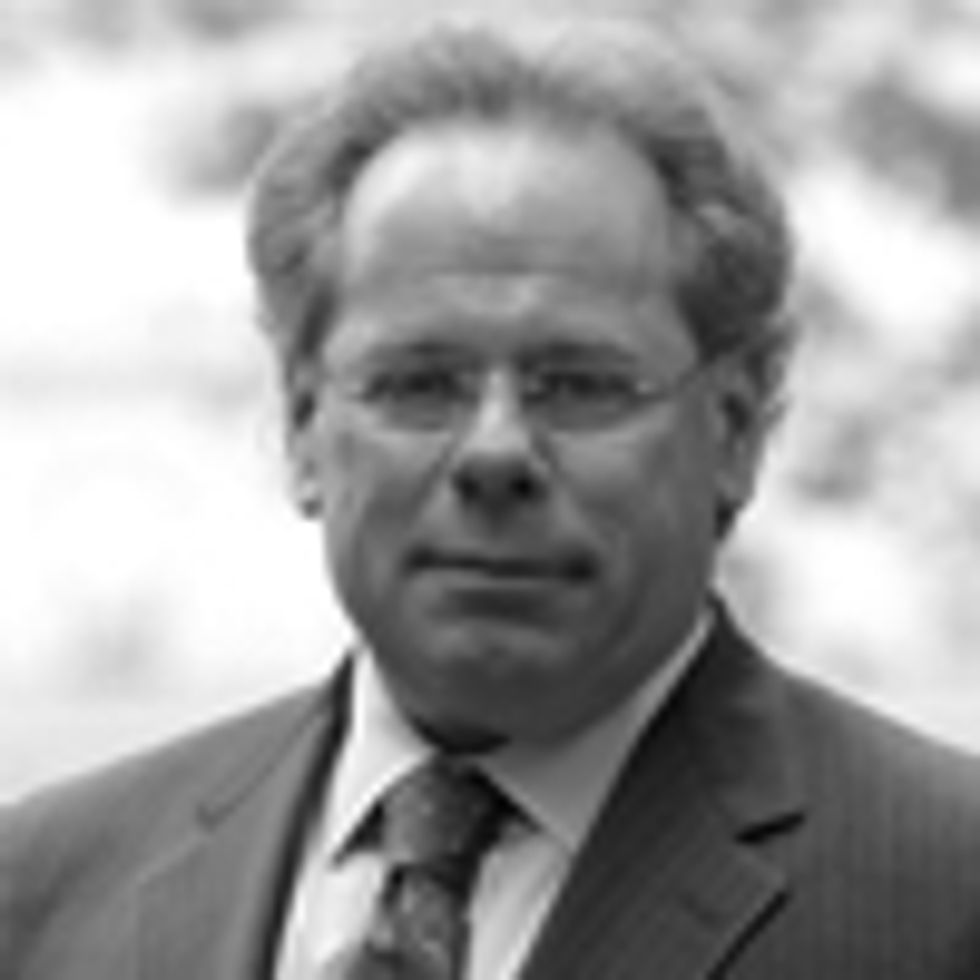 Bike sharing in New York City has had a promising yet problematic start, but there is little question that it is a program worth keeping and expanding. It is clear that the de Blasio administration agrees and, in one of their first efforts to expand former mayor Bloomberg's sustainability agenda, are about to double the size of the city's bike sharing program. Bloomberg's legacy complicates de Blasio's task. As Matt Flegenheimer observed in a NY Times piece on Citi Bike, "Mr. Bloomberg's successor, Bill de Blasio, has been confronted with a ... consequential choice: how aggressively to embrace—and reimagine—a program that remains inextricably linked to the last administration." His answer, fittingly enough, is to expand the program in the city's outer boroughs.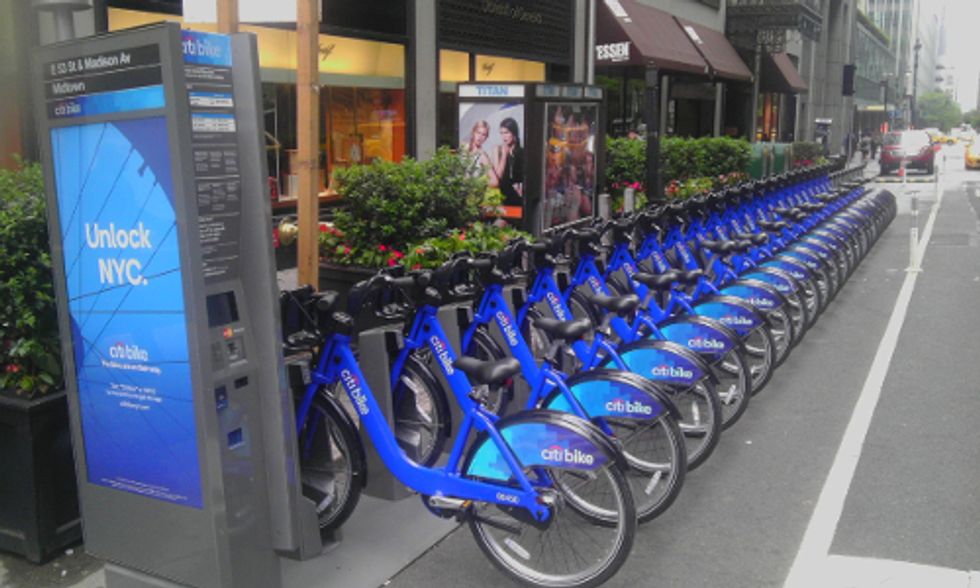 The great virtue of bike sharing programs is that they expand the mass transit system. Photo credit: Wikimedia
Last week, the Wall Street Journal's Andrew Tangel reported on a potential investment in New York's Citi Bike program by REQX Ventures, an affiliate of New York City and global real estate giant Related Companies, and Equinox Fitness. According to Tangel, REQX Ventures:
... is close to hammering out an agreement that could enlarge the footprint of Citi Bike to upper Manhattan, into Queens and further into Brooklyn over the next few years, these people said. The number of bikes would nearly double, from 6,200 to about 12,000. The pact would allow Citi Bike's operator, Alta Bicycle Share Inc., more flexibility in raising the price of the $95 annual memberships, which could increase to $140 or more, these people said. More than 100,000 annual memberships have been sold.

As part of the tentative agreement, REQX Ventures would secure a controlling stake in Alta, these people said, thrusting the Related affiliate to the forefront of a budding industry spreading across the U.S. Alta, based in Portland, Ore., runs bike-share and rental systems in cities from Boston to San Francisco.
As Tangel reports in his piece, New York City's bike sharing program is unique because it does not rely on a public subsidy, although a contract with the city governs the program and has provided access to public space for bike rental stations. The original contract made inaccurate assumptions about the mix of resident and tourist rentals and:
Alta's original contract was ambiguous about whether the company could raise Citi Bike rates without city approval. Because the city wouldn't let Alta raise prices without first lining up new capital, Citi Bike's operator has left potential revenue on the table as it awaits a new agreement, current members renew and new ones sign up. Alta has said its $95 annual memberships were money-losers because riders used the bikes twice as much as projected.
The potential for attracting additional private capital to New York City's bike sharing program is significant and has been a test for the de Blasio administration. If public-private partnership is to thrive around urban sustainability issues, government needs to understand how to work with private developers like Related. Under the Bloomberg administration, that knowledge was assumed to be in place—even if it wasn't always present. Corporate leaders knew that the final decision maker in the deal was someone who came from their world: Mike Bloomberg. They do not know that now; Bill de Blasio has spent his career in public service. However, these early efforts at public-private partnership have begun to set a positive tone for relations between our progressive mayor and New York City's private sector.
Actually, if the current administration can't work with Related, it will be hard to imagine success with other developers. Fortunately, there are clear signs that the new administration gets it. They have already demonstrated an ability to work with private developers on affordable housing. Bike sharing is providing a high-profile opportunity to work with industry on sustainability issues. The success of this deal could lead to other opportunities as well.
Related has long been a leader in green building, and has also understood the importance of public-private partnership in New York City real estate development. Land is a scarce commodity in New York City. For many years, the city's land development has required rules and planning. Related is a very sophisticated player in the political economy of New York City, and is expert at navigating the very complex, but necessary, regulatory process required to build large-scale developments in New York. In that respect, New York's mayors are fortunate. They do not need to deal with a right-wing, anti-regulatory private sector, but with sophisticated companies that understand the need for government to play a central role in developing this complicated city.
It is significant that this leading developer sees the importance and potential in bike sharing. While some of the company's motivation appears to be public service and corporate responsibility, I assume they see the potential for making money here as well. New York City's government and people have an interest in the survival and expansion of bike sharing. Since the city cannot afford to invest its own capital in the program, it needs to attract private capital if bike sharing is to grow and thrive. It is good news to see that the relationship with Related and Equinox is being cultivated by the mayor and his team.
The great virtue of bike sharing programs is that they expand the mass transit system. You can bike to work, but take the subway home. You can bike part of the way to work and take mass transit the rest of the way. While bike commuting is not for everyone, the popularity of the Citi Bike program is undeniable. The problem has been that the rates are too low, the software too buggy, and the system too small. Raising the rates may decrease utilization, but expanding the number of neighborhoods served will increase it.
Bike riding has many virtues as a sustainable means of transport. Its only use of energy is in making and shipping the bikes. It improves public health and enables people to make more efficient use of time by combining commuting with exercise. In a growing number of cities, bikes are becoming a key transportation resource, and an integral part of a city's transportation system. While New York City's use of bike transport is still relatively small, it is growing. According to the New York City Department of Transportation:
New York City doubled bicycle commuting between 2007 and 2011, and aims to triple it by 2017. In New York City, 10% of auto trips are under one-half mile, 22% are under 1 mile and 56% are under 3 miles—distances readily served by bicycle. DOT has completed the City's ambitious goal of building 200 bike-lane miles in all five boroughs in just three years, nearly doubling the citywide on-street bike network while reshaping the city's streets to make them safer for everyone who uses them.
Combined with bike sharing, a system of bike lanes provides the infrastructure needed to support increased use of cycling as a means of transportation. The de Blasio administration's emphasis on traffic safety for drivers and pedestrians holds the potential of increasing the safety of cycling as well. It is true that there are between 50 and 100 days per year when weather conditions make bike riding less attractive and possibly more dangerous; nevertheless, there is significant room for expansion in New York and in many other American cities. The demise of Citi Bike would have been a significant blow to this small but important element of a sustainable transportation system.
The deal to save Citi Bike is a clear and tangible indication of Mayor de Blasio's commitment to expand the sustainability agenda begun by his predecessor. This is good news because it demonstrates that local sustainability initiatives have become a popular and permanent part of the services expected by New Yorkers and ensured by their government.
You Might Also Like
LeBron James, Place and the Search for Sustainable Communities
Rooftop Farm in New York City Grows 50,000 Pounds of Organic Produce Per Year
Dozens of U.S. Cities Join the Bike-Sharing Bandwagon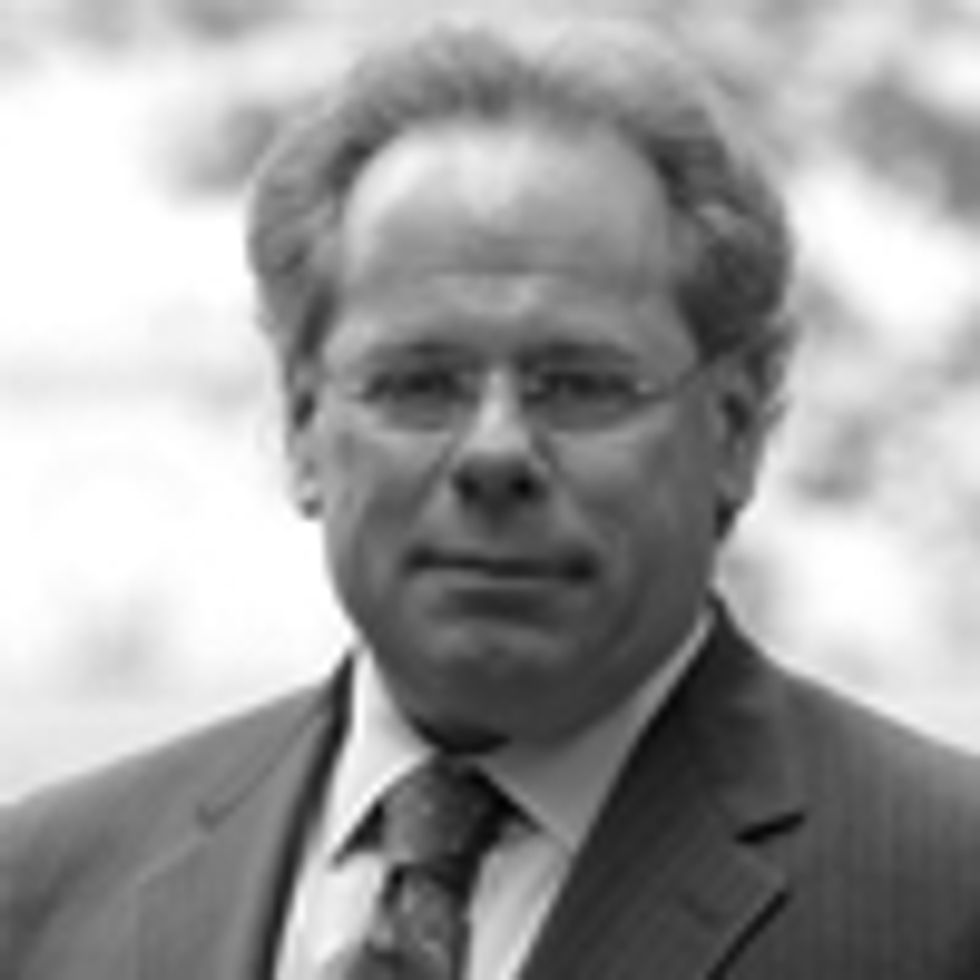 We've recently seen significant steps taken, both nationally and globally, toward the long-term goal of tackling the climate crisis and transitioning to a sustainable economy. This year in the U.S., the Supreme Court ruled in favor of U.S. Environmental Protection Agency's stricter rules on coal plant pollution, followed by President Obama announcing regulations requiring significant reductions in greenhouse gases produced by each American state. Taking the U.S.'s lead, though without specific numbers, China announced it would also seek to put a cap on its emissions. And, in addition to celebrating their recent World Cup championship, Germany can now celebrate a milestone of producing nearly one-third of their energy from renewables in the first half of the year.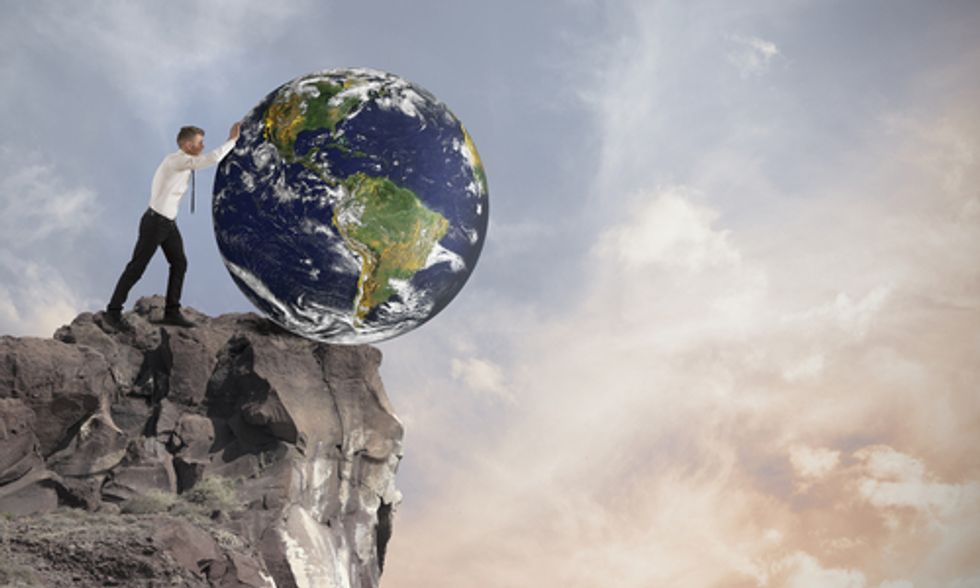 Photo courtesy of Shutterstock
While it's clear these governments, as well as many public and private organizations, are beginning to take climate change seriously, skeptics still exist. From extremists in our nation's congress to Rupert Murdoch's recent statements expressing doubt, they are brought out front and center in media reports, despite the clear and proven science of climate change. The Union of Concerned Scientists recently analyzed the climate science coverage of major U.S. news networks, finding that accuracy of information varied widely across networks, with the results less than surprising:
CNN, Fox News, and MSNBC are the most widely watched cable news networks in the U.S. Their coverage of climate change is an influential source of information for the public and policy makers alike…
Fox News was the least accurate; 72 percent of its 2013 climate science-related segments contained misleading statements. CNN was in the middle, with about a third of segments featuring misleading statements. MSNBC was the most accurate, with only eight percent of segments containing misleading statements.
The media, in attempting to offer "balanced stories" does a disservice to the public and policymakers by giving small handfuls of climate change contrarians significant attention despite the fact that nearly all climate scientists agree that climate change is underway and that it is human-caused. When they share equal airtime it sends the message that the science is more uncertain than it is. The questioning of science by the American right wing clearly does not accurately reflect the scientific consensus, and is detrimental to those interested in moving our economy down a sustainable path. Why then does the media still give skeptics equal amount of air time?
This question was recently asked by an independent body in Britain, the BBC Trust, calling on BBC to stop misleading viewers into thinking that the "debate" on climate change is equal. While critical opinion should not be ignored, they stated, a minority of unqualified skeptics should also not be portrayed as having the same weight as the majority of professional climate scientists. According to the Washington Post, BBC has recently taken steps to address this:
Since the review began in 2010, nearly 200 BBC senior staff were sent to workshops to learn what it means to cover science impartially. "The key point the workshops tried to impart is that impartiality in science coverage does not simply lie in reflecting a wide range of views, which may result in a 'false balance'…"
In response to the report, BBC News announced that its reporters will be directed to significantly reduce air time to climate deniers and broader anti-science viewpoints. This announcement reflects the culmination of the network's efforts to improve the accuracy and fairness of news coverage.
Providing an unbalanced view about the accurate science behind environmental issues is not only dishonest, but it's a serious danger to modernizing the environmental laws and regulations that are so fundamental to our health and well-being. It's time to stop giving climate change deniers and science skeptics so much media coverage, and focus on the important task of addressing the climate problem and the interconnected environmental problems of global economic sustainability.
Representation of climate change (and climate denial) in the media reflects a broader concern of mine: a willfully uninformed American public. We need to increase the level of science literacy in this nation if we want to get out of the global sustainability crisis we have created. The world's economy is based on technology that is growing more complex, and the impact of that technology on our fragile planet cannot be understood without basic scientific research. Detailed knowledge of our planet's systems is necessary if we are to learn how to properly manage production and consumption of our natural resources and ensure environmentally-sustainable economic growth.
The anti-science sentiment we see reflected in the media every day reflects individuals that come to a discussion with ideological biases that prevent reasoned debate and discussion. We need to realize that science is science—not a partisan issue—and understanding it is the first step in dislodging those biases. I'm not certain how to stimulate the public's scientific curiosity and interest. I do know, however, that the earth systems research and sustainability education that takes place at America's great research universities—including Columbia University's Earth Institute—is an important component of putting us on a path to a sustainable economy.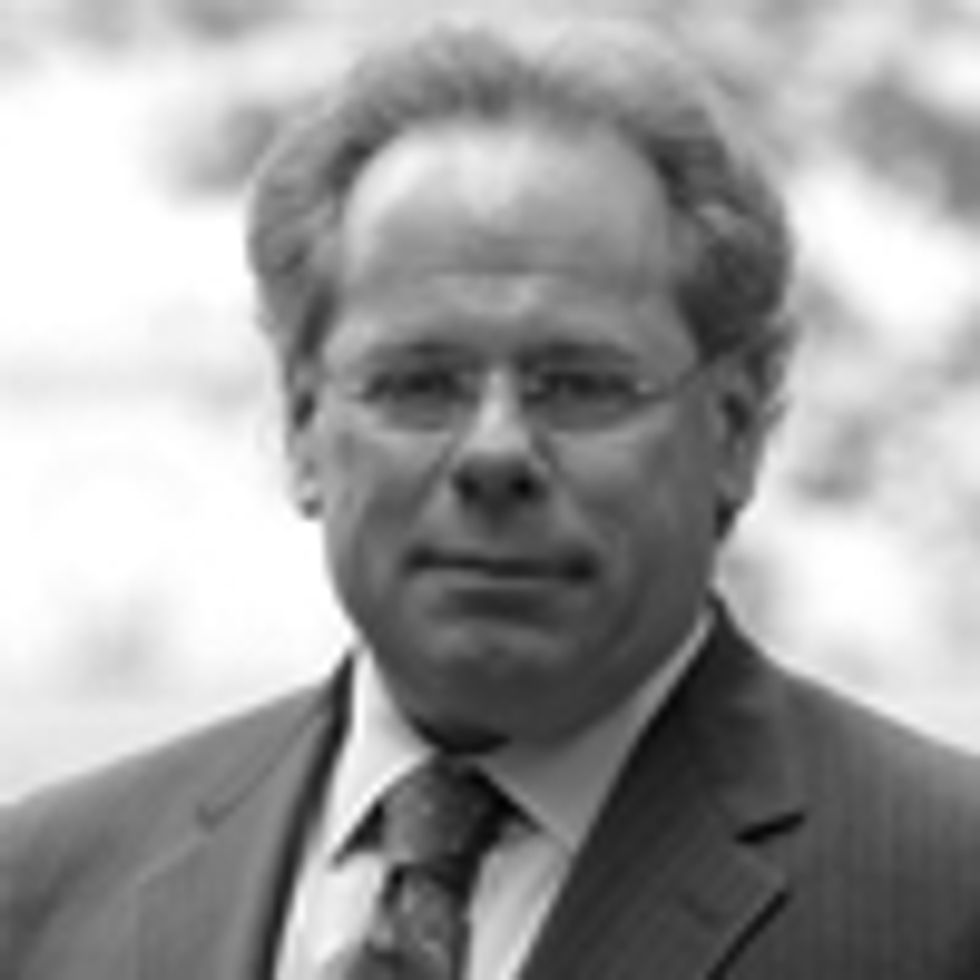 My Columbia colleague, Professor Mark Taylor, recently published a wonderful book about his home in western Massachusetts entitled, Recovering Place: Reflections on Stone Hill. It is a distinctive and remarkable volume on the importance of place, design, and meaning. The book is beautifully produced and includes many superb photographs of this very special place. Mark begins his volume with an observation that is key to understanding the human impact of the steamroller, global economy in which we live:
Place is disappearing. The accelerating intersection of globalization, virtualization, and cellularization is transforming the world and human life at an unprecedented rate. The fascination with speed for speeds sake is creating a culture of distraction in which thoughtful reflection and contemplation are all but impossible... As processes of globalization expand, localization contracts until place virtually disappears in a homogeneous space that is subject to constant surveillance and regulation (Taylor, 2).
The accepted wisdom of today's elite is that one should pursue personal financial gain first and worry about other values later. If you manage to get the order wrong and, like Bill or Hillary Clinton, seek public service or political power first, at some point you need to correct your "error" and cash in on a lucrative speaking tour or tell-all book to generate the moola needed to support a fabulous, material-laden lifestyle.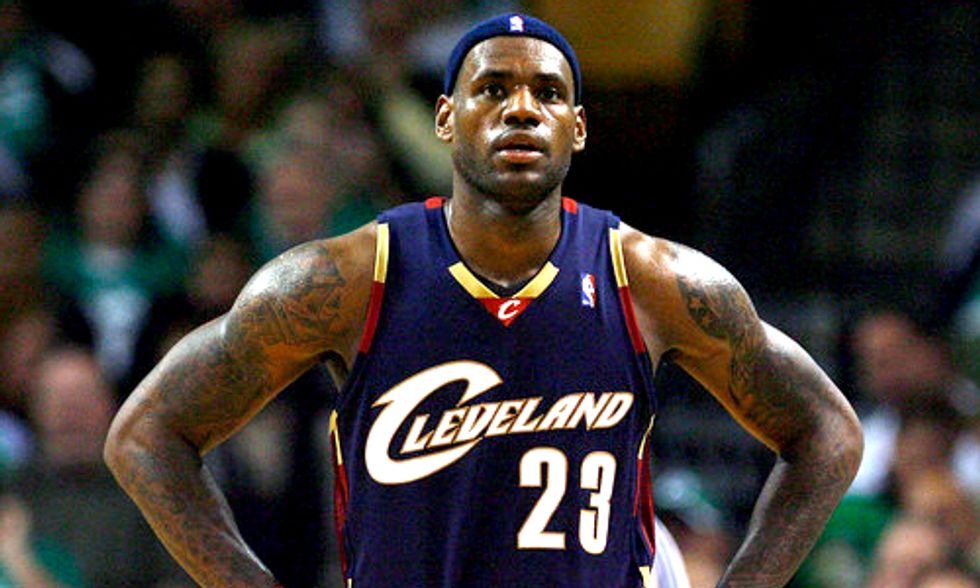 Personally, I'm not poor but I'm not rich either. And I've reluctantly come to understand the role that work and cash play in making the world safe for the people I love. My summer home is a 1,000-square-foot bungalow a block and a half from the ocean in Long Beach, NY. My year-round home is an apartment on Morningside Drive in Manhattan that is owned by my employer. My wife and I bought the Long Beach house in 1987—rebuilding its ground floor after Superstorm Sandy—and moved into our apartment on Morningside Drive in 1990. The point is, I have two homes and I have been fortunate to live in them for decades. Like my colleague Mark Taylor, place is important to me. I note the time passing by the size of the trees in Morningside Park, and the color and texture of the sky in Long Beach. The James Taylor song "The Secret of Life" is never far from my mind. As James correctly observes, "The secret of life is enjoying the passage of time." I try very hard to hit the pause button every once in a while. I worry about the threats to place and perspective that Mark Taylor has correctly identified as the deal we've made with modernity and the costs we incur for the lifestyles we enjoy.
And while commerce will always make its demands, humans have other needs and values. Last week, LeBron James clearly articulated some of those other needs and values in his Sports Illustrated statement about his return to Cleveland. According to James:
Before anyone ever cared where I would play basketball, I was a kid from Northeast Ohio. It's where I walked. It's where I ran. It's where I cried. It's where I bled. It holds a special place in my heart. People there have seen me grow up. I sometimes feel like I'm their son. Their passion can be overwhelming. But it drives me. I want to give them hope when I can. I want to inspire them when I can. My relationship with Northeast Ohio is bigger than basketball. I didn't realize that four years ago. I do now...
But this is not about the roster or the organization. I feel my calling here goes above basketball. I have a responsibility to lead, in more ways than one, and I take that very seriously. My presence can make a difference in Miami, but I think it can mean more where I'm from. I want kids in Northeast Ohio, like the hundreds of Akron third-graders I sponsor through my foundation, to realize that there's no better place to grow up. Maybe some of them will come home after college and start a family or open a business. That would make me smile. Our community, which has struggled so much, needs all the talent it can get. In Northeast Ohio, nothing is given. Everything is earned. You work for what you have. I'm ready to accept the challenge. I'm coming home.
One of the great paradoxes of a global economy and a global communication system is that everything is accessible to everyone. There are no secrets. Opportunity and inequality has gone global. Sometimes we find that when we strive to meet the very human need to fit in and be an accepted part of a group, the need to stand out and be unique must be sacrificed. LeBron James stood out and became a winner, but winning came at a price. It is obvious that a maturing LeBron James realized this. Place, community and home provide a counterweight to the homogenization of culture, ideas, image, food and speech. Escaping to a wealthier and glitzier neighborhood like South Beach bought LeBron championships, but cost him a piece of his sense of place. Last week he reclaimed that part of himself and managed to inspire us in the process.
That sense of place is not a material resource. It is in many ways the most sustainable and renewable resource we have. It is the power of love, loyalty, shared history and human bonding. It cannot be bought for any amount of money. No matter how smart you are or how great an athlete you might be, you still must earn loyalty every day by your acts and the care and feeding of relationships that are important to you.
Kenny Rogers and Dolly Parton catch the spirit of this sentiment with their recent duet "You Can't Make Old Friends." The song's lyrics are a simple and moving account of the importance and durability of friendship:
What will I do when you are gone?
Who's gonna tell me the truth?
Who's gonna finish the stories I start,
The way you always do?
When somebody knocks at the door,
Someone new walks in.
I will smile and shake their hands,
but you can't make old friends.
You can't make old friends
Can't make old friends
It was you and me, since way back when.
But you can't make old friends. 
In the video of the song, Kenny Rogers specifically discusses the need to step back from the pressures of the music business and reflect on friendships and important values. That is, of course, what LeBron James has done with his statement and his move home.
The communities of the Rust Belt have infrastructure, access to food and water, low-cost housing and room for growth. What is sometimes missing is the energy and sense of purpose that attracts people, business and new ideas. What remains present is what LeBron James is valuing: history, friendship, comfort and familiarity. The cynic searches for some hidden hustle here, but I sense LeBron's genuine growth and sense of admirable purpose. As we move our economic world from "all material consumption all the time," engaging in community life and engaging in social and intellectual discourse are ways that we can enrich ourselves without damaging the planet.
LeBron James is not rejecting the glitz and glamour that we shower on the world's greatest basketball player, but he is allowing another value to enter into the mix, something bigger than cash, championships and fame: the value of community and taking responsibility for leading that community. No matter what happens on the basketball court, he has really stepped up where it really matters. And that is very good news in a very challenging world.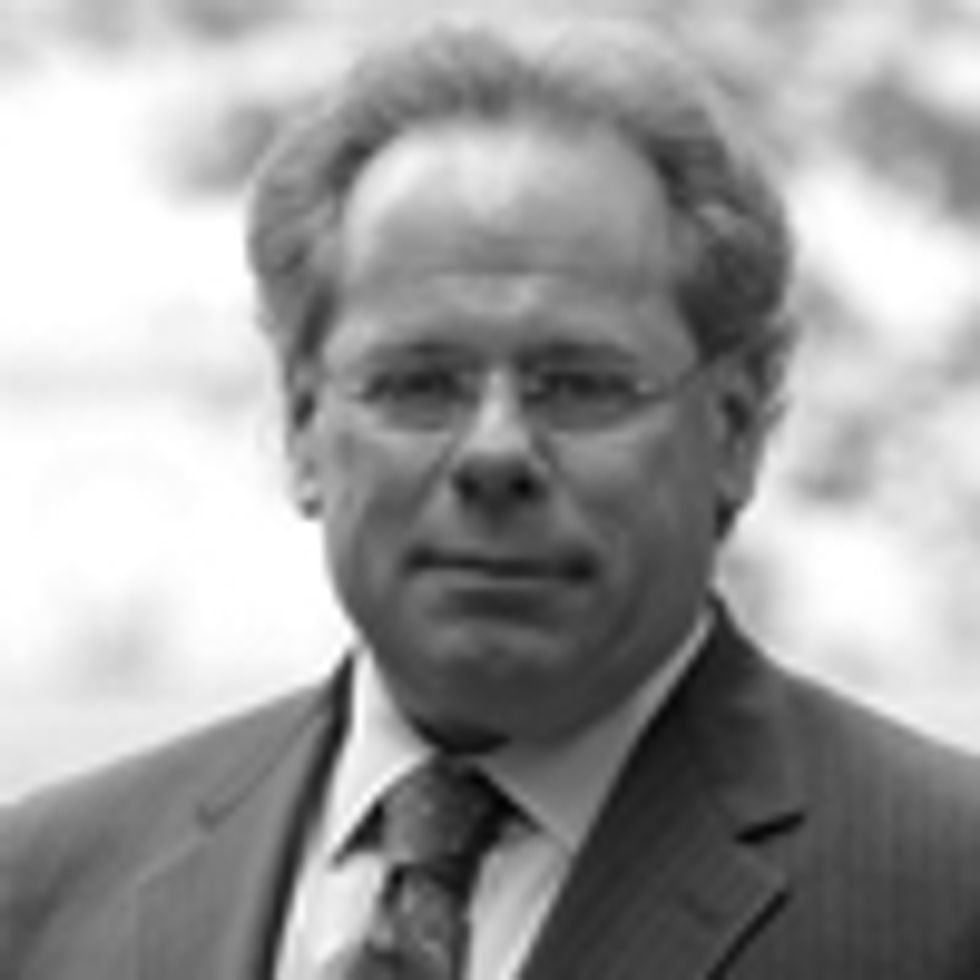 People like to breathe. Rich people, poor people, Tea Party Republicans, progressive Democrats, old people, young people, Americans, people from other countries—all are united in the biological necessities of being human. Water, food and air are all better when they are not filled with toxic substances. The political support for environmental protection is derived from this fundamental fact, along with the equally-fundamental awareness that all of these resources are at risk on a crowded and increasingly interconnected planet.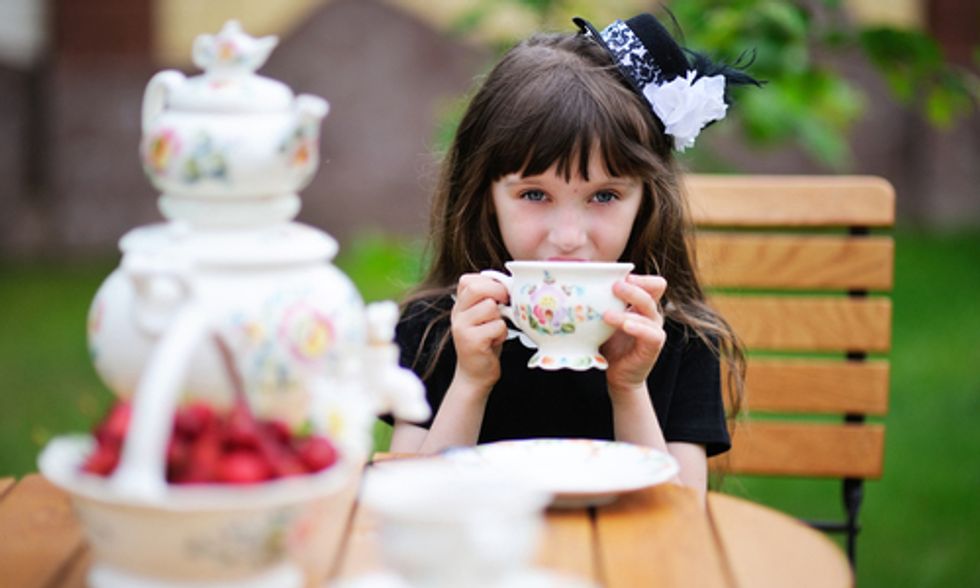 Photo credit: Shutterstock
In a piece analyzing Gallup's most recent polling on America's attitudes toward the environment, I observed that:
Those under 30 favor environmental protection over economic growth by 60 percent to 30 percent. In contrast, those over 65 years old favor economic growth over environmental protection by 50 percent to 39 percent. Since there is no evidence that someone ages out of environmentalism, it is likely that environmentalism will become a stronger force in American politics in the next several decades.
While there are aspects of Gallup's approach to measuring environmental attitudes that need improvement, they remain one of the best sources of longitudinal (comparing today to the past) data on American attitudes. With the exception of the Great Recession, Americans have consistently valued environmental protection over economic growth. Even during the Great Recession, young people continued to support environmental protection over economic growth.
Nevertheless, Gallup's data on youth environmentalism is countered by more in-depth academic research that indicates that growing materialism and faith in technology has resulted in declining environmentalism among young Americans. Laura Wray-Lake, Constance A. Flanagan and D. Wayne Osgood published a superb study in 2010 of the environmental attitudes of young people. The very careful and rigorous surveys that this article is based on were focused on measuring specific attitudes and behaviors over time, and indicate that young people do not act the way that scholars think environmentalists should behave. They don't conserve energy as much as they might or express pro-environmental views. I do not doubt the findings, or question Gallup's seemingly contradictory findings; a close look at the data indicates that the surveys are measuring different things. However, all of these data support my view that today's young people are more aware of sustainability than young people were fifty years ago and these issues help frame their view of how the world works. Their views of the environment may be inconsistent and difficult to explain, but young people are deeply aware of the issue. They have well-formulated views—that is how they differ from the kids I grew up with.
Americans born after 1970 have grown up in the "environmental era." They have been witnesses to an effort to protect the planet against the assaults of modern economic development. They've heard their parents and grandparents describe development of open spaces in their hometowns and in places they've visited. Congested roads, environmentally-induced illness and images of endangered nature are normal components of the world they understand. This has been part of their perception of the world since childhood. Our growing awareness of nutrition, health and exercise is part of a widespread understanding of the interconnection between the environment and individual wellness, and these perceptions have created a change in our culture.
Environmentalism is less a political perspective than a way of understanding how the world works. I frequently compare it to the changing views of gender, race, homosexuality and what we have come to term "parenting." When I was growing up, being a parent described a stage of your life cycle. Today it is a verb describing the actions involved in raising your children. While racism, sexism, xenophobia and homophobia remain strong forces in American society, they are less tolerated than they once were. Social and cultural changes during the last half-century have created a profound change in how we live and how we interact with each other. This, in turn, has had a deep impact on politics and public policy. The drive for a renewable economy housed on a sustainable and not-deteriorating planet is a key part of the cultural shift I am describing.
In my view, these social changes create a nearly irresistible force for political change. It may take decades to manifest itself, and the forces opposing these views can often remain in power through the use of economic and military power, but the current of history and social change are difficult to overcome. That is because these social trends are based on technological changes that have transformed our lives and are incredibly seductive.
The technology of transportation, information and communication has helped create a global, interconnected economy. The way many people in the developed world live today would have seemed dream-like to people a century ago. My grandparents lived through changes that resulted in a world they could barely imagine when they were chased out of Eastern Europe at the start of the twentieth century. Ideas, images, goods, services and everything humans can imagine are transmitted and shipped throughout the world. These technologies bring enormous benefits, but also carry significant costs. Traditional community life is endangered, as is a sense of place, replaced by a homogeneous world culture. And of course, the natural resource base of the world economy is also threatened by the wanton destruction of relentless, non-renewable material production.
While few people think about the transformation underway, it forms the backdrop for our worldview. For young Americans, the influence of these new facts is greater, since it is all they have ever known. All have been exposed to the view of a single fragile earth photographed from outer space. Most were not exposed to the casual, unthinking racial and social biases America began to confront in the second half of the twentieth century. Today everyone knows people from different places with different lifestyles. One needs to willfully go off the grid and disconnect the Internet to grow up isolated and parochial—although I recognize that the web also empowers fact-free, delusional discussion. Nevertheless, as I often say, our TV images of family have changed from Ozzie and Harriet to the Cosbys to Modern Family. This is happening at the same time when distinct identities and communities are struggling to survive and absorb the unifying, but sometimes empty, values created by the global economy.
These technological, social and economic changes influence politics and public policy. While there are many feedback loops and interactive effects, the basic chain of causality is this: technological change results in economic change that in turn causes social change. Social change forms the boundaries for political legitimacy and the political agenda and that creates the context for political change.
In the final analysis, people in the developed world like their lifestyles and do not want to lose them. The notion of progress and improvement is being replaced by the more conservative sentiment to retain or sustain what we have. If we achieve some success in transitioning to a renewable economy, we may see a return to the ideology of improvement. The politics of sustainability will have an ideological component—no different from other political dialogues. But the facts of global interconnectivity are increasingly hard-wired into our culture and values. The importance of environmental quality and sustainability is an inescapable part of our shared understanding of how the world works. The political manifestation of that understanding has begun, even though its specific trajectory is difficult to predict.
We do know that people like to breathe, drink water and eat. Preserving the resources needed to ensure sustenance is a requirement of all political processes and governing regimes. You can't have a Tea Party without clean water to brew tea.