This is an excerpt from Dick Russell's and my new book, Horsemen of the Apocalypse, an eye opening exposé of the people and corporations most responsible for today's climate crisis and their roles in President Trump's new administration.
Not long ago, the legendary economist Amory Lovins showed me two photos, taken 10 years apart, of the New York City Easter Parade. A 1903 shot looking north from midtown showed Fifth Avenue crowded with a hundred horse and buggies and a solitary automobile. The second, taken in 1913 from a similar vantage on the same street, depicted a traffic jam of automobiles and a single lonely horse and buggy.

That momentous shift occurred because, over a 13-year period, Henry Ford dropped the nominal price of the Model-T by 62 percent. While wealthy New Yorkers led the transition, the remainder of America quickly followed. Between 1918 and 1929, according to Stanford University lecturer Tony Seba, American car ownership rocketed from eight percent of Americans to eighty percent - because DuPont and General Motors devised a financial innovation called car loans, which soon accounted for three quarters of auto purchases. The buggy drivers never saw it coming.
Compare that platform for disruption to the economic fundamentals of today's solar industry. Over the past five years, photovoltaic module prices have dropped 80 percent, and analogous home solar financing innovations have spread like wildfire. Three-quarters of California's rooftop solar has been innovatively financed, with no money down, including the system I installed on my own home. NRG Solar leased me a rooftop solar array with zero cost to myself and a guaranteed sixty percent drop in my energy bills for twenty years. Who wouldn't take that deal? And solar costs continue to drop every day.
Dramatic drops have also plummeted the cost of utility-scale solar plants to around $1 billion a gigawatt. Compare this to the $3 to $5 billion per gigawatt cost of constructing a new coal or gas plant, and the $6 to 9 billion per gigawatt cost for a nuclear plant. We can make energy by burning prime rib if we choose to, but any rational utility seeking the cheapest, safest form of energy is going to choose wind or solar. That's why, according to the Federal Energy Regulatory Commission, in the first eleven months of 2016 renewables constituted more than 50 percent of newly installed electrical generation capacity—surpassing natural gas, nuclear power, coal and oil combined. Let's face facts. The carbon incumbents are looking at their own imminent apocalypse.
And the real savings for solar and wind comes at the back end—ZERO FUEL COSTS! Unlimited photons rain down on the earth every day for free. Transitioning to clean fuel only requires that we build the infrastructure to harvest and distribute the photons. That infrastructure will bless America with a magical promised era of "free fuel forever."
Internal combustion engines are racing toward the same kind of apocalyptic disruption as the horse and buggy. According to calculations by John Walker of the Rocky Mountain Institute, the current operating cost of an electric car is about one-tenth the cost of an internal combustion engine. The range and performance of EVs now exceeds those of traditional gasoline cars. That's why the world's 15 top auto companies all launched new EVs in 2015. If you believe in free markets, then the day of the internal combustion engine is over.
The markets have already seen the future. The top 50 coal companies are now either in Chapter 11 bankruptcy or on the brink. The three largest coal companies—Arch, Consol and Peabody—have lost 80 percent of their value over the last two years. Looking at these landscapes, Lovins remarked to me, "The meteor has hit. The dinosaurs are doomed. It's just that some of them are still walking around causing trouble."
With these rich indices of imminent change, America, prior to the 2016 election, was on the verge of leading the global transformation away from destructive reliance on the dirtiest, filthiest, poisonous, addictive, war-mongering fuels from hell, to a sunny new age of innovation and entrepreneurship, of abundant and dignified jobs, of a democratized energy system and widespread wealth creation, powered by the clean, green, healthy, wholesome and patriotic fuels from heaven.
Renewable energy like wind and solar create high paying jobs, promote small businesses, create wealth, democratize our energy sector, give us local, resilient power and reduce dependence on foreign carbon. They are therefore good for the economy, good for our national security and good for democracy and our country.
And every American will benefit from the cornucopia of economic and political bounties that accompany a decarbonized nation—no more poisoned air and water, but clean rivers and bountiful oceans, with fish that are safe to eat. No more exploded mountain ranges. No more crippling oil spills in the Gulf, in Alaska or Santa Barbara. No more worries about acid rain deforesting our purple mountains majesty and sterilizing our lakes. No more fretting about acidified oceans destroying our coral reefs, and collapsing global food chains and fisheries. No more ozone and particulate pollution sickening and killing millions of our citizens. No more damaged crops and corroding buildings. No more tyrannical petro-states subjugating their peoples and victimizing their neighbors. And no more oil wars.
While enticing to most Americans and consistent with the historical idealism of an exemplary nation, this portrait of the future represents a fearful nightmare for a certain segment of our population—a segment that is willing to mount all-out civil war to prevent it from happening, an apocalyptic war that threatens to sacrifice the planet.
And we are engaged, as Abraham Lincoln declared, "In a great Civil War." In the 1860s, it took a bloody Civil War for America to transition away from an archaic and immoral energy system—one dependent on free human labor. In 1865, the entrenched interests who profited from that system were willing to sacrifice our country and half a million lives to maintain their profits.
This time, instead of a slave-holding gentry, the entrenched defenders of the system are the carbon tycoons described by Dick Russell in Horsemen of the Apocalypse. These are the apocalyptic forces of ignorance and greed that are out to liquidate our planet for cash.
Russell shows that, to the extent they have a moral compass, it's pointed straight at hell. Like the Horsemen from the Book of Revelation, these actions are herding humanity toward a dystopian nightmare of their creation. The archetypal Horsemen are David and Charles Koch, whom you will meet in Chapter Eight. Koch Industries, you will learn, is not a benign corporation. It's the template of 'disaster capitalism,' the command center of an organized scheme to undermine democracy and impose a corporate kleptocracy that will allow greedy billionaires to cash in on mass extinction in our biosphere and the end of civilization. To the Koch brothers, the renewable revolution is their personal apocalypse that must be averted at all costs.
---
With their industry bereft of its economic rationale, the only way the carbon incumbents can maintain their economic dominance is by deploying their wealth and political power to subdue the market forces, to delay and derail cheap efficient renewables and to impose a continued dependence on expensive and inefficient oil and coal, through massive economic interventions managed by their political toadies. The Koch brothers have become the masterminds of this strategy. They sit at the apex of the richest industry in the history of the planet, and control the largest privately owned oil company on Earth. Their strategic advantage in the battle over the future of our energy system includes their enormous personal wealth and the wealth and power of the companies they control. Their carefully cultivated political connections and, above all, societal inertia, fortified by $23 trillion of carbon infrastructure, that impedes America's transition to a new energy economy. While owned by the industry, that infrastructure, ironically, was primarily paid for by taxpayers. These form the carbon cartel's principal arsenals in the great civil war.
As economic forecasts for the industry have grown increasingly dire over the past decade, the carbon cartel has moved frantically to build more infrastructure including LNG facilities, refineries, coal and oil export terminals and rail terminals, in order to bind up America in 16,000 miles of new pipeline that will further shackle our country, ironbound, to an archaic and destructive fossil fuel economy long after any economic rationale for coal, oil or gas have expired. The infrastructure strategy effectively recruits bankers, pension funds and Wall Street financial houses to the side of antiquated carbon, in this civil war. The only hope for those investors to recoup their investments is if oil flows continuously through those pipelines for the next 30 years.
Dick Russell largely completed this book a month before the 2016 presidential election. Four weeks later, to his great surprise, the Horsemen described in these pages assumed the pinnacle of power. With the central goal of preserving their fossil fuel profits, they guided an inexperienced president on a course that rapidly collapsed the foundations of America's moral authority and idealism, and fundamentally altered the relationship between America and the world—including our reputation as a global force for good. Their reigning foreign policy posture was an indifference to America's traditional concerns with justice, democracy and climate; to our historic skepticism toward tyrants; and to those traditional alliances that have promoted global stability since World War II. Domestically, Trump's advisors turned their attention to dismantling the science safety net and commoditizing and monetizing every aspect of human discourse—adopting policies that will amplify the wealth of billionaires, even as they sicken our citizens and destroy our planet. The Book of Revelation described the Four Horsemen as war, conquest, pestilence and death. Donald Trump's choice, to invite a group of conscienceless oil men to govern the country, has brought such chilling metaphors to the foreground, as more than an obscure biblical reference.
In the summer of 2016, it seemed that a convoy of clown cars was transporting Donald Trump, in what would become his unlikely blitzkrieg toward the GOP nomination. I was oddly relieved. Like other Americans, I believed that Donald Trump would be an easy candidate to stop in the November General Election. More importantly, Trump didn't seem as purposefully malicious toward the future of the planet as were his principal rivals, Ted Cruz, Marco Rubio, Scott Walker and Rick Perry. I had known Donald Trump for many years. I had successfully sued to block him from building two golf courses in the New York upstate reservoir watershed. I knew he was no friend of the environment, but neither did he appear to be ideologically hidebound to a pro-pollution world view. Indeed, he seemed less shackled to dogma, or obligated by encumbrances than any other Republican presidential candidate. He had no obvious fealty to the oil industry. Alone among the 17 rivals for the Republican nomination, Trump had never taken money from the oil and gas tycoons. Most comforting, there seemed to be a deep gulf of enmity between Trump and the billionaire Koch brothers, the undisputed leaders of Russell's Horsemen of the Apocalypse. Taken together, Charles and David Koch, with $48 billion apiece, are the richest men on Earth, according to Forbes' latest list. (Bill Gates has $86 billion). The siblings' father, Fred Koch, had made a fortune building refineries for Hitler and Stalin and used his money to co-found the racist John Birch Society. The boys, Charles and David, have deployed their oil-and-gas fortune to bankroll an array of think-tanks and politicians opposing clean energy and remedial action on climate change.
Teddy Roosevelt observed that American democracy could never be destroyed by a foreign foe. But he warned that our defining democratic institutions would be subverted from within by "malefactors of great wealth."
Because of their singular focus and limitless wealth, I considered David and Charles Koch, rather than this orange haired GOP candidate, the greatest threat to American democracy. Politics is driven by both money and political intensity. While they have plenty of money, the Koch brothers' policy agenda—tax breaks for the rich, unregulated pollution and permanent national reliance on dirty fuels—does not make an attractive vessel for populism. In order to recruit ground troops, the Koch brothers have made themselves wizards in the alchemy of demagoguery, wielding evangelical religion, dog-whistle race baiting, and patriotism as flypaper to their cause. They have built extensive organizations to engineer a hostile takeover of our democracy by polluting corporations.
In her book Dark Money, Jayne Mayer shows how the two oil men conceived and funded the Tea Party movement, which hijacked the Republican party and drove it to the far right. In order to consolidate power over the past two decades, they worked out and financed a methodical project to take over state legislatures. Their lucre and organizing machine have helped to give right wing Republicans control of 67 of 98 legislatures—the bodies that draw up election districts. With those levers in hand, their lackeys in the various state capitals use gerrymandering, voter fraud, voter ID laws and mass voter purges, to engineer permanent Republican majorities on the state and federal level. Their Tea Party movement took over the U.S. Congress—and blocked Obama's environmental agenda with the resilience fortified by their control of the statehouses. But the biggest electoral prize the Koch brothers had yet to achieve was to have their candidate take the White House, with the power to populate and dismantle the agencies, primarily Energy, Interior and EPA, that regulate—and bedevil—the Kochs' industries. They had many willing errand boys among the Republican presidential field, and, with one notable orange-topped exception, just about all of the GOP candidates had made the pilgrimage to Wichita to genuflect and kiss the rings at Koch headquarters.
The Koch brothers claim, in their rhetoric, to embrace a theology of free market capitalism. But if you look at their feet instead of listening to the seductive noises that issue from their mouths, or the glossy pronouncements of their phony think tanks, the truth is clear; these men despise free markets. Instead, they advocate for a system of cushy socialism for the rich, and a savage, merciless, dystopian capitalism for the poor. The real purpose of the 'think tanks' they created and fund—such as the Heritage Foundation and the Cato Institute—is not to promote free market capitalism, but to gin up the philosophical underpinnings for a scheme of unrestrained corporate profit taking, and a destructive national addiction to carbon based fuels upon which their fortunes rely.
As discussed earlier, new renewable technologies are now so efficient that wind and solar generation and electric cars are beating their carbon-based competitors, even in the rigged markets and on slanted playing fields. Carbon's economic model is looking at the same bleak future the horse and buggy industry faced in 1903. So what do you do when your profits rely on a fading economic model? If you are the unscrupulous Koch brothers, you deploy your money as campaign contributions – a legalized form of bribery—to get your hooks into a public official who will allow you to privatize the commons, dismantle the market-place and rig the rules to give you monopoly control. Renewable energy sources and free markets pose an existential threat to the Koch's business model. So the Kochs have deployed their front group, ALEC—the American Legislative Exchange Council—in every state, working with local legislators to create public subsidies for oil infrastructure, and to weaken support for wind and solar. The Koch brothers' purpose in purchasing our political system is to engineer monumental subsidies and market failure, which are their formulae for profit.
---
The Kochs' political ascendancy was facilitated by another oilman, George W. Bush. A decade ago, I wrote a best-selling book, Crimes Against Nature, detailing Bush's war against the environment. As is almost always the case, environmental catastrophe was preceded, in the Bush debacle, by the subversion of democracy. Bush landed in the White House after a stacked Supreme Court, dominated by his father's appointees, issued a partisan 4-3 decision freezing the 2000 election Florida vote count that would have shown Bush losing both the popular vote and the Electoral College. Bush thereby stole the presidency from Senator Al Gore, the greenest presidential candidate in our history.
That decision turned the White House over to two Texas oilmen, Bush and his vice president, Dick Cheney, who was the CEO of oil service company Halliburton and the owner of millions of dollars of Halliburton stock, which would appreciate enormously during Cheney's administration. Seventeen of the top twenty-one people in the new administration hailed from the oil patch or allied industries. Bush's Secretary of State, Condoleezza Rice, was on the board of Chevron, which named an oil tanker after her. His ascendancy to the Presidency was the beginning of a hostile takeover of our government by the oil industry, which would finally be completed by President Trump.
Transforming America into a petro-state was not just bad for the environment, it was a disaster for American democracy. Cheney immediately convened 90 days of secret meetings with carbon and nuclear industry CEOs, during which he invited the nation's worst polluters to rewrite environmental laws to make it easy to drill, to burn, to extract, to frack, to ship and to distribute, carbon fuel. It was an all-out victory for the carbon industry and an unconditional defeat for humanity. Even as they dismantled America's environmental laws, Bush and Cheney stocked the regulatory agencies with industry lackeys and profiteering cronies who weakened and auctioned off America's public lands and forests to their campaign contributors, at fire sale prices.
The oil and coal industries, are, by nature, authoritarian. A nation's political system generally reflects the economic organization of its principal industries. In a dynamic known as the 'resource curse,' nations dominated by carbon industries customarily tilt toward autocracy and away from democracy. When oil money merges with political power, the outcome is almost always the same: yawning gaps between rich and poor; the expansion of military, police and intelligence apparatus; the diminution of civil and human rights; the disappearance of transparency and public participation in government; the expanded popularity of torture, detention and eavesdropping; the use of nationalistic propaganda and deceit to win elections, and to justify unpopular politics; and an aggressive, bellicose and imperialistic foreign policy. Under George W. Bush, the carbon cronies quickly bent U.S. foreign and domestic policies to serve Big Oil's bottom line.
The White House lied America into an oil war that killed a million Iraqis and almost 4,500 US soldiers, and maimed tens of thousands more. Bush and Cheney cut taxes on the wealthy and charged their $4.3 trillion war on a credit card for our children to pay. Meanwhile, we lost eight critical years in the battle to avert the most catastrophic impacts of climate change. The oilmen who helped bring Bush to power profited like princes from his policies. As a gesture of gratitude to our country, the oil companies raised gasoline prices and watched company profits soar to historic highs. Patriotism is great—so long as it pays!
But perhaps the most grievous wound to American democracy from the mayhem of the Bush presidency was the Supreme Court decision in Citizens United v. Federal Election Commission. Bush appointed two right wing corporatist U.S. Supreme Court Justices—John G. Roberts in 2005 and Samuel Alito in 2006. These men were not traditional conservatives. The only consistent thread running through their judicial decisions was the consistent elevation of corporate power. The "Citizens United" decision was the most sweeping expansion of corporate power this century. That case effectively overruled a century of corporate campaign finance restrictions that limited a corporation's ability to purchase federal political candidates. Citizen's United unleashed a tsunami of corporate cash in the 2010 and 2012 election cycles, when an estimated $2 billion was spent in the race to capture the White House.
The nearly $760 million that the Koch brothers, alone, put into the national elections in 2016 is comparable to the total amount spent, historically, by either political party. Their campaign organization was nearly as formidable as the Republican party with 1,200 election operatives. Election data show that in 95% of federal elections, the candidate with the most money wins. So democracy is for sale and, predictably, the rich are buying themselves politicians, and then deploying them to reduce taxes on their class and to rid themselves of pesky regulations that protect public health and the common environment. Under this new rubric, the representatives and senators who dominate Congress can no longer be thought of as public servants. They are the indentured servants of the Koch brothers and their ilk, engaged in the mercenary enterprise of ransacking America and humanity on behalf of Big Oil. America has transitioned from the world's model democracy to a corporate kleptocracy.
So the Kochs' open disavowal of Donald Trump during the presidential campaign was a comfort to me. Charles Koch compared the Trump-Hillary race as a choice "between cancer and a heart attack." Trump, in turn, derided his Republican rivals as Koch "puppets." I was relieved by the wide and hostile rift between Trump and the Kochs. Perhaps, I thought, America was safe, for the moment, from the existential threat of having oil tycoons again control our government. So it was breathtaking how quickly president-elect Trump pivoted, against the populism that he rode to power, and into the welcoming arms of Wall Street robber barons, oil patch tycoons and flat earth oligarchs he had vilified along the way, including the despised Koch brothers. Even before inauguration day, he got busy turning our government over to the apocalyptical forces of ignorance and greed.
Consolidation of power by the oil and coal barons began immediately after the election; president-elect Trump's transition advisors emerged as an oil industry dream team. Despite the initial antipathy between Trump and the Koch brothers, once he secured the nomination, Donald Trump extended the olive branch to the flat earth oligarchs from Kansas. His choice of Indiana governor Mike Pence as running mate was the first ominous sign that the rift had healed. Governor Pence had financed his political career with a steady flow of Koch cash and had demonstrated his fealty to the Kochs by hiring Marc Short as his gubernatorial chief of staff. Short had previously been president of Freedom Partners, the Kochs' political arm. As governor, Pence made Indiana a proving ground for the radical right-wing experiment in corporate domination devised by Koch funded think-tanks.
---
Three days after the 2016 election, Pence displaced New Jersey Governor Chris Christie to become Trump's overseer of the various agency transition teams. By that time, the writing was on the wall, and the penmanship was that of David and Charles Koch. David Koch attended Trump's election night celebration. Trump soon appointed Marc Short as his Director of Legislative Affairs, and stocked his transition team with Koch organization veterans, like Tom Pyle, Darin Selnick, and Alan Cobb, and transition team executive committee members, Rebekah Mercer and Anthony Scaramucci. According to The Wall Street Journal, an astonishing 30 - 40 percent of Trump's advisors had Koch pedigrees. These were the men and women who would shape the new president's agenda.
Trump appointed a notorious Koch toady, Myron Ebell, to supervise his EPA transition. I've watched Ebell's antics for decades. He is a professional deceiver. Ebell served as director of the Center for Energy and Environment at the Competitive Enterprise Institute, a Washington think-tank formerly funded by ExxonMobil and the Kochs, and staffed primarily by "experts" and operatives lately employed by Koch Industries and the Koch's web of shadowy non-profit oil industry advocacy groups. Ebell, once a staunch global warming denier, has recently retrenched; "Yes, we are causing climate change," he now admits, "But it's a good thing!" Ebell preaches that the "mild global warming that has occurred since the end of the Little Ice Age in the mid-nineteenth century has been largely beneficial for humanity and the biosphere. Earth is greening, food production has soared, and human longevity has increased dramatically."
Ebell's seven-person team included David Schnare, a lawyer who spent 33 years at the EPA before matriculating to institutes funded by the Kochs. Schnare made his bones as a polluter's shill by filing legal actions demanding to inspect the email inboxes of EPA administrators and climate scientists. In Trump's new era of "alternative facts," there was no one better suited to purge the agency of credulous climate change believers.
Steve Groves led the State Department's "landing team." Groves, a policy wonk at the Koch and Exxon-funded Heritage Foundation, wrote a post-election article calling for the U.S. to pull out of the United Nations Framework Convention on Climate Change as a prelude to refuting the Paris agreement.
The Department of Interior transition fell under the leadership of Doug Domenech, director of the Fueling Freedom Project for the Koch-funded Texas Public Policy Foundation. That group's mission is to "explain the forgotten moral case for fossil fuels." Domenech knows how to make the system work for industry; during George W. Bush's presidency, he served as White House liaison and deputy chief of staff at the Interior Department, facilitating Bush's efforts to turn federal lands over to oil, gas and mining interests and to timber barons.
President Trump's transition overseer at the Department of Energy was Michael Catanzaro, a registered Koch Industries lobbyist. His successor is Thomas Pyle, former president of the Institute for Energy Research, a think-tank founded by Charles Koch. Before joining that chamber for charlatans, Pyle was Koch Industries' director of federal affairs. Pyle is also president of the American Energy Alliance, another fossil fuel front group that receives a pipeline of cash from Koch, ExxonMobil and Peabody Energy. (You'll learn much about the Peabody CEO in Chapter Seven of this book.)
Pyle mapped out "a big change" in an email to supporters in mid-November. He promised a "100-day plan" and a "200-day plan" to roll back America's clean water and climate change protections. America, he promised, will pull out of the Paris climate agreement, and EPA will jettison the dreaded "social cost of carbon" algorithm used to calculate the costs and benefits of climate change.
In December, 800 U.S. scientists and energy experts sent a letter to president-elect Trump, asking that he publicly identify global warming as a "human caused, urgent threat." They went on: "If not, you will become the only government leader in the world to deny climate science. Your position will be at odds with virtually all climate scientists, most economists, military experts, fossil fuel companies and other business leaders, and the two-thirds of Americans worried about this issue."
Trump answered this urgent plea by the world's most highly credentialed climate scientists during a Fox News interview in mid-December, assuring the audience that "nobody really knows" whether climate change is real. He said he was "studying" whether to pull America out of the Paris Climate Agreement, the hard-won treaty to reduce greenhouse gas emissions that has been signed by 196 countries. There is little doubt about who is providing him crib-notes.
The ominous direction toward global catastrophe crystallized as Trump announced his cabinet and other key positions.
---
Secretary of State: Rex Tillerson
"And I looked, and behold a pale horse; and his name that sat on him was Death, and Hell followed with him. And power was given unto them over the fourth part of the earth, to kill with sword, and with hunger, and with death, and with the beasts of the earth." — Revelation, 6:8
In a breathtaking act of supplication to Big Oil, the new president gave his first cabinet appointment to Russell's first Horseman, ExxonMobil CEO Rex Tillerson. Tillerson has never been mistaken for an American patriot. As Exxon CEO, he often adopted company policies that were contrary to USA interests, including a lucrative deal with Russia to drill in the Arctic. When a shareholder asked Tillerson's predecessor and mentor, Lee Raymond, whether the company should be improving US refinery capacity as a matter of national security, Raymond dismissed patriotism as an absurd distraction from profits. He famously declared, "Exxon is not a US company." Tillerson's world view is dictated by his forty years of service to the selfish ideologies of a corporation that is locked in a ruinous battle against humanity and American values.
Trump's critics wondered whether his peculiar choice to hand US foreign policy over to the world's most visible and notorious oil man was a favor to Russian dictator Vladimir Putin. As Exxon chief, Tillerson put aside scruples to align Exxon with the bloodthirsty tyrant, a choice that made Tillerson Putin's favorite American businessman. In 2013 Vladimir Putin personally presented Tillerson with Russia's ultimate honor to a foreigner, the Order of Friendship Award, after Tillerson signed controversial deals with the state-owned Russian oil company. In 2011, Tillerson flew to Russia to sign a $500-billion arrangement to jointly drill in the Arctic Shelf and the Black Sea, and to develop shale oil in Siberia. Tillerson's company allegedly lost around one billion dollars due to sanctions the Obama administration placed on Russia after Putin annexed the Crimean Peninsula.
Tillerson responded by directing ExxonMobil's PAC to donate $1.8 million to oil-friendly federal politicians during the 2016 election cycle, with more than 90 percent going to the Republicans, who had dutifully shielded Exxon from carbon taxes and pollution regulations. During the six election cycles when he was CEO, nine of ten dollars donated by his company's PAC went to GOP candidates.
Exxon's corporate culture is not an admirable template for American idealism. Exxon already is a petro-state, wealthier than most countries and with its own private armies and intelligence apparatus. Now the head of Exxon is running our foreign affairs, with access to the many intelligence services and the capacity to bully states who don't tow the oil line.
Waterkeeper Alliance is a clean water advocacy group which I serve as president. Waterkeeper, which works in 38 countries, has submitted a 54-page petition to the EPA, calling for the agency to enforce "bad corporate actor" rules and end all its federal contracts with ExxonMobil. The petition addresses Exxon's decades of deliberate lies; the company's campaign to deceive the public, politicians and regulators about the danger of climate change. Recently released documents prove that the sociopaths, including Tillerson, who ran Exxon knew for decades that its business activities would cause catastrophic climate change and mass death.
Putting profits before people, Exxon kept its climate change science secret, while funding professional liars and nurturing the growth of a generation of climate change deniers. Under Rex Tillerson's leadership, the company continued to push government policies that buck proven science, human welfare, national security and fundamental moral, ethical, and religious tenets. Last year, Exxon claimed as assets $330 billion in under-ground oil reserves, that include some of the dirtiest fuels on Earth. The Securities and Exchange Commission and several states attorneys' generals, led by New York's Eric Schneiderman, are currently investigating Exxon's failure to disclose to its stockholders the risks it has long known are posed to company value by the reality of global warming. According to Schneiderman, unless we are willing to write off planet earth, about two thirds of those reserves can never leave the ground. Exxon is therefore exaggerating its share value by hundreds of billions.
Tillerson has never expressed concern or even the slightest self-awareness that Exxon's business model threatens the future of humanity and life on Earth. America's largest oil company has accounted for more than three percent of global climate pollution, dating back to the mid-1800s. After years of putting Exxon's stock value ahead of humanity, will Tillerson now put America and the planet first? Tillerson's company would be severely impacted by the Paris climate accord to limit the burning of fossil fuels. His thoughts on climate change? "What good is it to save the planet as humanity [read Exxon] suffers."
In late January, Tillerson's State Department removed the three most recent annual reports about the Obama administration's Climate Action Plan from its website.
U.S. Environmental Protection Agency Administrator: Scott Pruitt
"These have power to shut heaven, that it rain not in the days of their prophecy: and have power over waters to turn them to blood, and to smite the earth with all plagues, as often as they will…And men were scorched with great heat….And every island fled away, and the mountains were not found." — Revelation, 11:6, 16:9,20
Trump's choice to run the EPA is an unctuous acolyte of Oklahoma's factory meat and big oil barons. Scott Pruitt built his career as a patsy for polluters: Prior to Pruitt's election in 2010, the Oklahoma Attorney General's office had built a model environmental enforcement division under Kelly Hunter Foster, who is now a staff attorney for my organization, Waterkeeper Alliance. Foster had filed a dozen lawsuits against the poultry and industrial pork industries, which were polluting Oklahoma's air and waterways, sickening its citizens with effluvia of factory meat production, and putting family farmers out of business. Pruitt was the chicken industry's handpicked attorney general. Oklahoma's corporate meat barons financed Pruitt's campaign to rid themselves of Foster's lawsuits.
Once in office, Pruitt dutifully terminated Hunter Foster's unit and shelved her docket. As attorney general he never filed another environmental action. Instead Pruitt turned his office's big guns against EPA, filing a battery of federal lawsuits against the agency to challenge the Obama administration's anti-pollution and climate safeguards. These included suing the EPA to block the Clean Power Plan and another suit aimed at gutting rules on methane emissions from the oil-and-gas sector.
---
"He let polluters off the hook and destroyed a decade of work," recalls Hunter Foster. "He has no environmental experience and no conservation instincts. His only qualification for his new job was his fierce hatred for EPA." Since his ascension to the administrator's post, Pruitt has frozen all new permits and scientific studies and put the agency in lockdown. He has promised to lay off 3,000 of the 15,000 EPA workers and cut the agency's already anemic budget by 31 percent, more than any other agency.
Calvin Coolidge famously remarked that, "The chief business of the America people is business." Trump has made it clear that business is to be EPA's business as well. Pruitt burnished his resume for the EPA post with a major push by his mentor, Carl Icahn, a billionaire Wall Street hedge fund titan and generous Trump campaign donor. Icahn's holding company does business with the Koch brothers and TransCanada's Keystone XL pipeline system. A noisome EPA had accused Icahn's Oklahoma-based oil company of violating environmental laws. Based on these qualifications, Trump appointed Icahn to vet the contenders for the top-level EPA jobs.
Pruitt also received a boost from another of the Horsemen featured in this book—Oklahoma billionaire Harold Hamm (see Chapter Six). Hamm chaired Pruitt's 2013 reelection campaign. During the 2016 presidential election, Hamm had served as candidate Trump's energy advisor, but declined the president-elect's offer to head the Department of Energy.
Pruitt also boasts a direct Koch connection; as Oklahoma attorney general, Pruitt was simultaneously a director of the nonprofit Rule of Law Defense Fund, which received $175,000 in 2014 from a dark money umbrella group called Freedom Partners, the Koch network's political arm.
President Trump evidently shares Pruitt's antipathy toward the environmental agency. Upon announcing Pruitt's appointment, Trump added, "For too long, the Environmental Protection Agency has spent taxpayer dollars on an out-of-control anti-energy agenda that has destroyed millions of jobs."
In mid-March, the president announced that he'd ordered Pruitt to revise one of President Obama's primary climate change policies—the EPA's strict standards on tailpipe pollution from motor vehicles. "As to climate change," Trump's director of the Office of Management and Budget said at a White House briefing. "I think the president was fairly straightforward; 'We're not spending money on that anymore.'"
On March 2, Pruitt told CNBC News with his characteristic "dumb as I wanna be" glee that humans were not responsible for global warming. Pruitt was proudly jockeying EPA into position as the flagship of the new administration's anti-science crusade. The Bush administration had regarded science as a vanity of the despised liberal elite. One anonymous White House official, speaking to investigative journalist Ron Suskind, famously disparaged the liberal obsession with science-based inconvenient truths like climate change as "fact based reality." But the Trump team has immediately achieved a new dimension of unhinged, by appointing a science hating flat-earther as head of the world's premier environmental agency.
Even Christie Todd Whitman, who presided over the gutting of the EPA under George W. Bush from 2001 to 2003, was sickened by Pruitt's appointment. "I don't recall ever having seen an appointment of someone who is so disdainful of the agency and the science behind what the agency does," he said.
Pruitt will have help from above as he plows under the rubble of his despised agency. In late December, Trump named Carl Icahn to a new administration position created by the president: "Special Adviser on Regulatory Reform." While the administration proceeded to freeze adopting other new regulations, Icahn quickly succeeded in obtaining a special IRS rule that gives a tax break to his oil refining company, CVR energy. Icahn is simultaneously pushing for a regulatory fix that would revamp an EPA rule (the Renewable Fuel Standard) that currently makes refiners responsible for ensuring corn-based ethanol is properly mixed into gasoline. Eliminating that requirement would have saved his company more than $200 million last year. Icahn, whose $16.6 billion is a fortune larger than all the other cabinet members combined, claims immunity from such conflict-of-interest problems because he's simply an "unpaid adviser" to the administration.
Secretary of the Interior: Ryan Zinke
"….and there followed hail and fire mingled with blood, and they were cast upon the earth: and the third part of trees was burnt up, and all green grass was burnt up….And the third part of the creatures which were in the sea, and had life, died….And the sun and the air were darkened by reason of the smoke of the pit." — Revelation, 8:7,8, 9:2.
My friend, Leonardo DiCaprio, a leading climate activist, gave a presentation to Trump soon after the election. He and the Leonardo DiCaprio Foundation president Terry Tamminen, the former Santa Monica BayKeeper and chief of California EPA under Governor Arnold Schwarzenegger, unveiled a plan for creating millions of jobs by encouraging the growth of clean, renewable energy. Looking at the plan approvingly, president-elect Trump told Leo that he wanted to be the 21st century Teddy Roosevelt. Leo gave him a copy of his new documentary Before the Flood describing the perils of climate change, and the president-elect promised to watch it. Afterward Leo learned that Trump's team had announced the appointment of Scott Pruitt, while they were still in the meeting. Trump had warned Leo, "There are going to be some you will consider bad appointments." But, he promised the actor, "You're really gonna like who we put in for Interior."
That environmental superhero turned out to be Ryan Zinke, a first-term Congressman from Montana who also describes himself as "a Teddy Roosevelt guy." But while Roosevelt dismantled Standard Oil, Zinke has spent his career suckling at the industry teat, gagging down $345,136 of oily money from petro interests. In the House, Zinke represented the Powder River Basin, a once edenic wilderness, transformed into a moonscape by federal coal leasing policies, championed by Zinke. In fact, in recognition of his enthusiasm as a cheerleader for coal extraction, the League of Conservation Voters awarded Zinke a three percent score. In 2008, Zinke said he believed in climate change, but has since dutifully recanted, in goose-step with the Republican Party leadership. It isn't "proven science," he now insists.
---
Secretary of Energy: Rick Perry
"….and lo, there was a great earthquake; and the sun became black as sackcloth of hair, and the moon became as blood." — Revelation, 6:12.
Modest support and research progress for wind and solar efficiency have long made the Department of Energy a bugaboo to the fossil fuel cartel. Four years ago, Rick Perry, the former Texas governor, promised to abolish the department that President Trump has now appointed him to lead. Oil and gas tycoons funded his two presidential campaigns. The CEO of Texas-based Energy Transfer Partners (ETP), Kelcy Warren, the owners of Dakota Access Pipeline, donated $5 million to a pro-Perry super-PAC during the 2016 race. When Perry's run for the White House fizzled, he accepted a sinecure as a paid board member of ETP (receiving $236,820 in 2015). Warren went on to contribute $103,000 to Trump's campaign. Perry sold his shares after the election to avoid "conflict of interest." President Trump also had a personal stake in that notorious pipeline. He invested nearly $1 million in Energy Transfer Partners in 2015 and last year between $250,000 and $500,000 in Phillips 66, which owns a 25 percent stake in the catastrophic boondoggle. Perry quickly proved himself a trustworthy manager of Trump's investment by presiding over the project's resurrection.
CIA Director: Mike Pompeo
"….four beasts full of eyes before and behind." — Revelation, 4:6.
Kansas Congressman Mike Pompeo, an errand boy, appointed by the Koch brothers to represent their Wichita hometown in Congress, is President Trump's CIA chief. He received more campaign donations from the Kochs than any other member of Congress. Pompeo is a Tea Party shill, so enthralled by the Warfare State and so out of touch with American values, that from his seat on the House Intelligence Committee, he paid sunny homage to the CIA's brutal detention and interrogation programs. Pompeo's chief of staff, Jim Richardson, was a former Koch lobbyist. When Pompeo entered the House in 2011, his first order of business was opposing the Obama administration's plan to create a public EPA registry of greenhouse gas polluters. Later, Pompeo introduced legislation to kill tax credits for wind power, saying it should "compete on its own," an idea aggressively promoted by the Koch brothers, whose oil and coal enterprises are heavily subsidized by billions of dollars in federal taxpayer lucre. (A recent report by the International Monetary Fund calculates global energy subsidies at over $5 trillion annually, with the U.S. providing $700 billion in subsidies to Big Oil, the richest industry in the history of the planet.)
Foreign policy experts warn that close historical ties between the CIA and the oil industry have led America into its most catastrophic foreign policy disasters. Instead of serving the American people and our national historic ideals, the Agency has, since the days of Allen Dulles, a former oil company lawyer, routinely deployed its awesome power to serve the mercantile interests of oil companies and US based multinationals. Our volatile relationship with Iran began, in 1953, when the CIA overthrew Mohammed Mossadegh, that region's first democratically elected leader in four thousand years, as a favor to U.S. and British oil corporations, which derailed Mossadegh's plan to allow his people to benefit from Iran's oil resources. Catastrophic blowback from that dark episode continues to reverberate across the Mid-East today.
The Iraq War—fueled in part by U.S. eagerness to grab control of Saddam Hussein's oil fields—not only killed nearly 4,500 Americans, but continues to destabilize the entire region. The Syrian civil war and refugee disaster are largely the result of the CIA taking sides in a pipeline dispute, between Sunni and Shia, a debacle that fueled the creation of ISIS. The unseemly ties between Big Oil and the intelligence service of this country have stained our reputation, eroded our moral authority, made us the target of terrorist attacks, and led us into costly blowbacks, with surcharges in American blood, treasure and prestige, beyond calculation. At a time in our history when we should be de-coupling our foreign policy from Big Oil, we've got the oil industry's most visible tycoon since John D. Rockefeller running the State Department and an oil-man's sock puppet running the CIA.
"And it was commanded them that they should not hurt the grass of the earth, neither any green thing, neither any tree…." — Revelation, 9:4.
During his first weeks in power, President Trump kept his promises to the carbon cartel. I watched thirty-three years of my work reduced to ruins, as the president mounted his assault on science and environmental protection. The new administration hit the ground running, announcing plans to eliminate funding for NASA's climate research programs. At EPA, president-elect Trump's transition team launched a Soviet style purge of climate change scientists, demanding a list of every employee or contractor who had attended meetings of the Interagency Working Group on the Social Cost of Carbon—and all materials that were distributed or generated afterward. Trump advisors demanded that Foggy Bottom diplomats disclose monies that the State Department provided to international environmental groups (for example, as part of the Paris climate agreement, the U.S. pledged three billion dollars to a Green Climate Fund designed to help poor countries develop renewable energy and adapt to climate change) – presumably to target them for erasure.
In response to these attacks, a newly created Climate Science Legal Defense Fund published a guide for government researchers targeted for attack and censure as its government scientists worked feverishly to preserve decades of critical research.
The new president quickly signed legislation abolishing rules that forbade coal companies from filling streams and buffer zones with mining waste, putting thousands of miles of rivers and streams at risk from this formerly outlawed practice. He issued an executive order to rescind a 2015 rule aimed at protecting small streams and wetlands, and a directive to abolish protracted environmental reviews.
He announced measures to stop the environmental impact statement required before the Dakota Access Pipeline could be constructed, and then instructed the Army corps of Engineers to give Energy Transfer Partners an easement to forge ahead with the tragic project across Sioux lands. Trump also set out to resurrect the Keystone XL oil pipeline stopped by the Obama administration after a massive public outcry. In late March, Tillerson's State Department approved moving forward with construction. The 1,700-mile-long pipeline will propel an estimated 35 million gallons of dirty oil every single day from Alberta, Canada's Tar Sands, across American aquifers to refineries on the Gulf Coast. The Koch brothers hold close to two million acres of those tar sands, more than the combined assets in the area of ExxonMobil, Chevron, and Conoco.
The new president instructed EPA to promulgate regulations to kill Obama's hard-won Clean Power Plant rule, the law that finally restricted carbon emissions from power plants. The new administration moved to open protected federal lands for drilling and mining, and to lift a moratorium on coal leases on federal lands.
In mid-March, Trump directed the EPA to get rid of another of Obama's signature achievements – stringent fuel economy standards passed to help meet America's international commitment to cut carbon emissions. This drastic policy reversal not only makes it impossible for the United States to comply with the Paris accord, but also jeopardizes America's booming lead in the electric vehicles industry.
The next day, Trump sent a proposed budget to Congress that would slash the EPA's funding by 31 percent and lay off about one fifth of its staff. The White House will cut the climate protection budget by nearly 70 percent to $29 million. Virtually eliminated are the environmental justice program, established in 1992, and the Chesapeake Bay Program, established in 1983 to clean up the largest estuary in North America. Also on the scrap heap is the Energy Star program that has saved consumers an estimated $430 billion on their utility bills and avoided 2.7 billion metric tons of greenhouse gas emissions. President Trump's so called "apocalypse budget" guts funding to the United Nations for its climate change efforts, cuts 17 percent of the National Oceanic and Atmospheric Administration's climate data program and eliminates the Sea Grant program that prepares coastal communities for storms and sea level rise. While slashing America's environmental protection, Trump moved to pump up military spending by another $54 billion.
Meantime, Scott Pruitt got busy distributing his top EPA jobs to America's most vehement climate science skeptics, including three former staffers of Oklahoma Senator James Inhofe, who called global warming, "The greatest hoax ever perpetrated on the American people." In his first speech to EPA employees, Pruitt scolded his new employees to improve the agency's relationship with private businesses. He omitted all mention of protecting public health or the environment. In a speech before a gathering of conservatives, Pruitt applauded the polluters who want to eliminate his agency altogether as "justified": he added, "People across the country look at the EPA the way they look at the IRS."
Pruitt, interviewed on CNBC on March 9, reassured the network that carbon emissions are not, after all, the "primary contributor" to climate change. That day, NOAA announced that the levels of CO2 in the atmosphere rose at a record pace for the second year in a row and President Trump announced his scheme to zero out NOAA's climate change research budget.
Trump and Pruitt have expressed intense hostility toward federal protection of the environment. They mean to return us to the era before Federal Environmental laws; the era before Earth Day when states were engaged in a wholesale race to the bottom to eliminate regulation to recruit filthy industries. The era when rivers caught fire and pollution killed tens of thousands of animals annually, DDT exterminated entire populations of birds and Lake Erie was declared dead. With no federal control, states will once again compete with each other to become pollution havens in exchange for a few years of pollution based prosperity.
This hijack of American democracy by oil tycoons is a suicide pact for our planet. We are already living in a science fiction nightmare when all credible scientists are saying that their former predictions on global warming were radically conservative. The cataclysms they warned would happen in a century or two are happening now. The Intergovernmental Panel on Climate Change cautions that if we conduct business as usual—our current course—our planet will experience a six-degree Celsius temperature rise by the turn of the next century. The last time that earth was six degrees warmer, crocodiles lived at the North Pole.
Today, there are over seven billion humans on the planet, few of whom will be able to adjust and survive the concomitant floods, storms, typhoons and hurricanes, intensified by climate change. Children, now alive, will suffer dystopian global upheavals beyond human experience, or the capacity of organized civilizations to endure. Our great coastal cities will be drowned by sea level rise; multitudes will starve when lands become arid and lifeless; homes and businesses will succumb to forest fires of increasing frequency; children will suffer or die from insect borne diseases such as microcephaly, spreading rapidly to formerly temperate regions of the Earth, as tropical insects multiply; millions will suffer from food shortages as crops fail due to changing climate conditions. These impacts emerge straight from The Book of Revelation, extreme weather on a biblical scale—destructive droughts, lethal superstorms, floods, fires, melting glaciers, rising seas, drowning cities, disappearing species.
Whether we recognize it or not, we are all locked in a life and death struggle with these corporations over control of both our landscapes and political sovereignty. The Kochs' corporate vision for our country would commodify not just the land, the air and the water, but also our people. Everything we value becomes expendable in their drive for corporate profits. "To greed," Seneca observed, "all nature is insufficient." That hunger will devour our people, our natural world and the other assets of our patrimony. Corporate efforts to privatize the commons are occurring in all parts of the world and it's no accident that environmental injury correlates almost perfectly with political tyranny; and those carbon tyrants would steal from us our air, our water, our wildlife, fisheries and public lands, the shared resources of our society - the commonwealth assets that provide the gravitas around which communities coalesce.
The battle against President Trump and his Horsemen is not just a battle to protect our waterways, our livelihoods, our property and our backyards. It's a struggle for our sovereignty, our values, our health and our lives. It's a battle for dignified, humane and wholesome communities. It's a defensive war against toxic and economic aggression by Big Oil and King Coal. It's a struggle to break free of the merciless tyranny of the carbon cartel and create an economic and energy system that is fair, and rooted in justice, economic independence and freedom.
If we're to leave behind a habitable world, the Horsemen need to be reined in, bridled and broken.
The earth mourns and withers,
The world pines and fades,
Both heaven and earth languish.
The land lies polluted,
Defiled by its inhabitants
Who have transgressed the laws,
Violated the ordinances,
And broken the covenant.
Therefore a curse consumes the land
And its people burn for their guilt.
— Isaiah 24:4-6
EcoWatch Daily Newsletter
California is the first U.S. state to require Monsanto to label its blockbuster weed killer, Roundup, as a possible carcinogen, according to a ruling issued Friday by a California judge.
Fresno County Superior Court Judge Kristi Kapetan previously issued a tentative ruling on Jan. 27 in Monsanto Company v. Office of Environmental Health Hazard Assessment, et al.
Judge Kapetan formalized her ruling Friday against Monsanto, which will allow California to proceed with the process of listing glyphosate, the active ingredient in Roundup, as a chemical "known to the state to cause cancer" in accordance with the Safe Drinking Water and Toxic Enforcement Act of 1986, better known as Proposition 65.
In January of 2016, Monsanto filed a lawsuit against the State of California Environmental Protection Agency's Office of Environmental Health Hazard Assessment (OEHHA) over the agency's notice of intent to list glyphosate as a Prop 65 chemical.
OEHHA issued the notice after the World Health Organization's International Agency for Research on Cancer (IARC) issued a report on glyphosate, which classified the chemical as a "probable human carcinogen." The IARC report compelled OEHHA to list glyphosate as a Prop 65 chemical and warn consumers about the possible danger associated with glyphosate exposure.
#Monsanto, California Battle Over Listing #Glyphosate as a Carcinogen https://t.co/LuFdeCpJa3 via @EcoWatch https://t.co/hsbJmitjly

— GMWatch (@GMWatch)1484757369.0
Why Did Monsanto Sue the State of California?
In 1986, California voters approved Proposition 65 to address concerns about exposure to toxic chemicals. Prop 65 requires California to publish a list of chemicals known to cause cancer, birth defects or other reproductive harm.
OEHHA is the administrator for the Proposition 65 program and determines in many cases whether chemicals or other substances meet the scientific and legal requirements to be placed on the Proposition 65 list. The agency uses a "Labor Code" listing mechanism, which directs the OEHHA to add chemicals or substances to the Prop 65 list of chemicals known to the state to cause cancer if they meet certain classifications by the IARC.
Monsanto's lawsuit against OEHHA argued that the statutory basis underlying the agency's action to list glyphosate as a Prop 65 chemical violates both the California and U.S. Constitutions. According to the complaint, listing glyphosate as chemical known to the state to cause cancer cedes regulatory authority to an "unelected, undemocratic, unaccountable, and foreign body" that isn't subject to oversight by California or the United States.
Though, according Judge Kapetan ruling:
"… the Labor Code listing mechanism does not constitute an unconstitutional delegation of authority to an outside agency, since the voters and the legislature have established the basic legislative scheme and made the fundamental policy decision with regard to listing possible carcinogens under Proposition 65, and then allowed the IARC to make the highly technical fact-finding decisions with regard to which specific chemicals would be added to the list.
"As Monsanto admits, the IARC's list is not created in response to the Labor Code listing mechanism or Proposition 65, and in fact IARC has stated that it disavows any policy or rulemaking role, and that it does not intend its determinations to carry the force of law."
In the months that followed, a number of interested nonparties joined the lawsuit as "intervenors," either on behalf of Monsanto or on behalf of the State of California. When a case has the potential to affect the rights of interested nonparties (individuals or organizations not named in the lawsuit), they can become intervenors, effectively joining the litigation either as a matter of right or at the court's discretion without the permission of the original litigants. Intervention simply gives nonparties that could be affected by a case's outcome a chance to be heard.
Below are the intervenors in Monsanto Company v. Office of Environmental Health Hazard Assessment, et al.
Monsanto Intervenors:
California Citrus Mutual
Western Agricultural Processors Association (WAPA)
California Cotton Ginners and Growers Associations
California Grain & Feed Association
Almond Alliance of California
Western Plant Health Association
OEHHA Intervenors:
Center for Food Safety
Sierra Club
United Steel, Paper and Forestry, Rubber, Manufacturing, Energy, Allied Industrial and Service Workers International Union (AFL-CIO, CLC)
Natural Resources Defense Council
Environmental Law Foundation
Canadian Labor Congress
Teri McCall is one of many California residents to cheer the ruling against Monsanto. Her husband, Jack, sprayed Roundup on the family's Cambia, California farm for nearly 30 years. In September 2015, Jack went to see a doctor to treat swollen lymph nodes in his neck. That day in the hospital, he learned that the swelling was caused by anaplastic large cell lymphoma (ALCL), a rare and aggressive version of non-Hodgkin lymphoma.
California Widow Sues Monsanto Alleging Roundup Caused Her Husband's Cancer | EcoWatch https://t.co/AVvfsrF37u https://t.co/iB7eKzyY2q

— IL Right to Know GMO (@IL Right to Know GMO)1457614299.0
Three months later, Jack suffered a severe stroke due to complications with his cancer treatment. He died on Dec. 26, 2015.
In the wake of her husband's death, Teri McCall filed a wrongful death lawsuit against Monsanto, alleging the company knew about the link between Roundup and cancer, but failed to warn the public about the risk.
"My husband Jack was very conscious of the dangers of chemicals and his misfortune was taking Monsanto's word that Roundup was safe," McCall said at a press conference held in January in Fresno, California, following Judge Kapetan's tentative ruling.
"I don't want to see any more unsuspecting people die from cancer because they didn't know of the danger to their health from exposure to Roundup. Glyphosate in Roundup needs to be on the list of Prop 65 chemicals that are dangerous to our health so that people can make informed decisions for themselves about the risks they are willing to take. I don't believe my husband would have been willing to take that risk," McCall said.
It's great to see democracy is alive and well in California where judges are still willing to stand up for science, even against the most powerful corporate polluters. This decision gives Californians the right to protect themselves and their families from chemical trespass.
I am representing Ms. McCall along with Baum, Hedlund, Aristei & Goldman. We are also representing 230 other plaintiffs (45 from California) who are suing Monsanto for non-Hodgkin lymphoma from exposure to Roundup, with more clients coming onboard every week.
PavloBaliukh / iStock / Getty Images
Through net metering programs, homeowners who have installed solar energy systems can get utility credits for any electricity their panels generate during the day that isn't used to power home systems. These credits can be "cashed in" to offset the cost of any grid electricity used at night.
Where net metering is available, solar panels have a shorter payback period and yield a higher return on investment. Without this benefit, you only save on power bills when using solar energy directly, and surplus generation is lost unless you store it in a solar battery. However, net metering gives you the option of selling any excess electricity that is not consumed within your home.
Generally, you will see more home solar systems in places with favorable net metering laws. With this benefit, going solar becomes an attractive investment even for properties with minimal daytime consumption. Homeowners can turn their roofs into miniature power plants during the day, and that generation is subtracted from their nighttime consumption.
What Is Net Metering?
Net metering is a billing arrangement in which surplus energy production from solar panels is tracked by your electricity provider and subtracted from your monthly utility bill. When your solar power system produces more kilowatt-hours of electricity than your home is consuming, the excess generation is fed back into the grid.
For homeowners with solar panels, the benefits of net metering include higher monthly savings and a shorter payback period. Utility companies also benefit, since the excess solar electricity can be supplied to other buildings on the same electric grid.
If a power grid relies on fossil fuels, net metering also increases the environmental benefits of solar power. Even if a building does not have an adequate area for rooftop solar panels, it can reduce its emissions by using the surplus clean energy from other properties.
How Net Metering Works
There are two general ways net metering programs work:
The surplus energy produced by your solar panels is measured by your utility company, and a credit is posted to your account that can be applied to future power bills.
The surplus energy produced by your solar panels is measured by your home's electricity meter. Modern power meters can measure electricity flow in both directions, so they tick up when you pull from the grid at night and count down when your solar panels are producing an excess amount of electricity.
In either scenario, at the end of the billing period, you will only pay for your net consumption — the difference between total consumption and generation. This is where the term "net metering" comes from.
How Does Net Metering Affect Your Utility Bill?

Net metering makes solar power systems more valuable for homeowners, as you can "sell" any extra energy production to your utility company. However, it's important to understand how charges and credits are managed:
You can earn credits for your surplus electricity, but utility companies will not cut you a check for the power you provide. Instead, they will subtract the credits from your power bills.
If your net metering credit during the billing period is higher than your consumption, the difference is rolled over to the next month.
Some power companies will roll over your credit indefinitely, but many have a yearly expiration date that resets your credit balance.
With all of this in mind, it is possible to reduce your annual electricity cost to zero. You can accumulate credit with surplus generation during the sunny summer months, and use it during winter when solar generation decreases.
You will achieve the best results when your solar power system has just the right capacity to cover your annual home consumption. Oversizing your solar array is not recommended, as you will simply accumulate a large unused credit each year. In other words, you cannot overproduce and charge your power company each month.
Some power companies will let you pick the expiration date of your annual net metering credits. If you have this option, it's wise to set the date after winter has ended. This way, you can use all the renewable energy credits you accumulated during the summer.
Is Net Metering Available Near You?
Net metering offers a valuable incentive for homeowners to switch to solar power, but these types of programs are not available everywhere. Net metering laws can change depending on where you live.
In the U.S., there are mandatory net metering laws in 38 states and Washington, D.C. Most states without a mandate have power companies that voluntarily offer the benefit in their service areas. South Dakota and Tennessee are the only two states with no version of net metering or similar programs.
If net metering is available in your area, you will be credited for your surplus energy in one of two ways:
Net metering at retail price: You get full credit for each kilowatt-hour sent to the grid. For example, if you're charged 16 cents per kWh consumed, you'll get a credit of 16 cents per kWh exported. This type of net metering is required by law in 29 states.
Net metering at a reduced feed-in tariff: Surplus electricity sent to the grid is credited at a lower rate. For example, you may be charged 16 cents per kWh for consumption but paid 10 cents per kWh exported. Feed-in tariffs and other alternative programs are used in 17 of the states where retail-rate net metering is not mandatory.
Note: This is just a simplified example — the exact kWh retail price and solar feed-in tariff will depend on your electricity plan.
The Database of State Incentives for Renewables & Efficiency (DSIRE) is an excellent resource if you want to learn more about net metering and other solar power incentives in your state. You can also look for information about solar incentives by visiting the official websites of your state government and utility company.
Other Financial Incentives for Going Solar

Net metering policies are one of the most effective incentives for solar power. However, there are other financial incentives that can be combined with net metering to improve your ROI:
The federal solar tax credit lets you claim 26% of your solar installation costs as a tax deduction. For example, if your solar installation had a cost of $10,000, you can claim $2,600 on your next tax declaration. This benefit is available everywhere in the U.S.
State tax credits may also be available depending on where you live, and they can be claimed in addition to the federal incentive.
Solar rebates are offered by some state governments and utility companies. These are upfront cash incentives subtracted directly from the cost of your solar PV system.
In addition to seeking out solar incentives available to you, you should compare quotes from multiple installers before signing a solar contract. This will ensure you're getting the best deal available and help you avoid overpriced offers and underpriced, low-quality installations. You can start getting quotes from top solar companies near you by filling out the 30-second form below.
Frequently Asked Questions: Solar Net Metering

Why is net metering bad?
When managed correctly, net metering is beneficial for electricity consumers and power companies. There have been cases in which power grids lack the capacity to handle large amounts of power coming from homes and businesses. However, this is an infrastructure issue, not a negative aspect of net metering itself.

In places with a high percentage of homes and businesses using solar panels, surplus generation on sunny days can saturate the grid. This can be managed by modernizing the grid to handle distributed solar power more effectively with load management and energy storage systems.

How does net metering work?
With net metering, any electricity your solar panels produce that isn't used to power your home is fed into your local power grid. Your utility company will pay you for this power production through credits that can be applied to your monthly energy bills.
Can you make money net metering?
You can reduce your power bills with net metering, using surplus solar generation to compensate for your consumption when you can't generate solar power at night and on cloudy days. However, most power companies will not pay you for surplus production once your power bill has dropped to $0. Normally, that credit will be rolled over, to be used in months where your solar panels are less productive.
On very rare occasions, you may be paid for the accumulated balance over a year. However, this benefit is offered by very few electric companies and is subject to limitations.
Undercover police raided an environmental activist's home. Cabinet ministers hacked and then released to the media emails and sensitive financial information from an environmental group. When the Supreme Court ruled that the cabinet ministers had violated the environmentalists' right to privacy, the ministers tried to jail the environmental group's lawyer and the judge who decided the case.
Are these assaults on civil and human rights and the rule of law taking place in some far-away, fragile, failed state, teetering on the brink of dictatorship? Unfortunately, this is happening less than 100 miles from Florida in the Bahamas, a long-standing democracy, American ally and member of the British Commonwealth.
Bahamian officials' alliance with a billionaire polluter, has created a constitutional crisis in their island nation—and cause for concern for their country's freedom-loving allies on both sides of the Atlantic Ocean.
Canadian Tycoon Clashes With Environmentalists in Bahamas http://t.co/qQJfVAu8sQ @ClimateLabBook @GreenpeaceUK @GreenpeaceAustP

— EcoWatch (@EcoWatch)1410039921.0
The target of abuse by the politicians and police is Save the Bays, the umbrella organization of Bahamian Waterkeepers. It's a feisty little advocacy group that safeguards Bahamian coral reefs, beaches and marine environments through education and legal action. These efforts sometimes put Save the Bays and its Waterkeeper affiliates at odds with the country's big polluters, foreign developers and their friends in the Bahamian parliament.
The nation-shaking drama began when Save the Bays' Clifton Bay Waterkeeper sued Canadian apparel manufacturer Peter Nygard for illegally taking public ("Crown") land by filling Clifton Bay and destroying its world famous marine area to expand buildings on his private Lyford Cay residence. Nygard is a well-connected billionaire who boasts of having donated millions of dollars to members of the current Bahamian government. His neighbor, philanthropist and co-founder of Save the Bays, Louis Bacon, subsequently was subjected to a bogus police raid on his home called-in by Nygard in retaliation. Bahamian undercover officers handcuffed and threatened Bacon's household staff, and in what was clearly intended as a menacing gesture, collected photos of Bacon's children. The commissioner of police later apologized to Bacon for the raid, blaming it on an officer cozy with Nygard, and the pictures were returned.
In March, a group of Bahamian cabinet ministers mysteriously procured Save the Bays' private emails and financial records and disclosed them in an open session of Parliament, under the guise of Parliamentary privilege. Save the Bays promptly challenged this unlawful conduct in court. In August, the Bahamian Supreme Court ruled against the ministers, holding that publishing their private communications violated constitutional rights to privacy.
Instead of backing down, the ministers doubled down. They appealed the ruling, which could eventually be heard by the Judicial Committee of the Privy Council in London—the court of final appeal for Commonwealth countries—arguing that Parliamentary privilege trumped personal rights to privacy, and that the Supreme Court lacked power to enforce the constitution against Parliament. Just for clarification, the ministers are challenging the seminal doctrines that an independent judiciary is the ultimate arbiter of constitutional interpretation. That separation of power underlies a millennium of western law.
"The right to privacy is the essence of liberty," said Frederick Smith, Save the Bays' legal director and Queens Counsel. "Were the minister's actions upheld as lawful, it would deal a crippling blow to personal freedom in the Bahamas and open the door to further extreme abuses of government power."
Furthermore, a decision to weaken privacy rights and bolster government power in the Bahamas could affect all British Commonwealth nations, which look to each other's judicial systems for legal precedents.
Even more troubling, the Bahamian government is now seeking retribution through unprecedented, punitive contempt proceedings. In a gross display of political intimidation, the ministers are actually seeking to jail Smith, who successfully argued the case against them, and have even threatened to jail Supreme Court Judge Indra Charles, who decided the case.
Resurrecting an archaic procedure from the feudal dawn of western legal history, the ministers have appointed a hand-picked Parliamentary committee that can investigate, judge, sentence and imprison Bahamian citizens—including Judge Charles—for actions that parliament considers insulting. This is a dangerous expansion of government power over civil society.
Unfortunately, the trampling of basic rights is becoming a pattern in the Bahamas. In early September, police detained Bahamian attorney Maria Daxon on charges of "criminal libel" for speaking out against the government.
This type of bullying overreach signifies a disturbing perversion of Bahamian democracy that could blowback on the economy, 15 percent of which is dependent on the financial services industry and the demand for confidentiality and privacy. Paul Moss, president of Dominion Management Services Ltd, a pre-eminent Bahamian-owned financial services firm, expressed alarm that parliamentarians or their minions had illegally hacked the emails of Save the Bays activists.
"This country has built an industry on privacy, and that is being grossly betrayed," Moss told the Bahamian Tribune. "When the international community sees there's no distinction between the Government and abuses of power, we're going to have a difficult time sustaining that [financial services] business when really it's already contracting."
If such privacy infringements are allowed to stand, it would set a legal precedent that could undermine banking privacy not just in the Bahamas, but in other Commonwealth banking centers such as the Cayman Islands and the British Virgin Islands.
Abandoning the rule of law, stomping on privacy rights, and publicly savaging and jailing sitting judges, lawyers and environmental and human rights NGOs clashes with the Bahamas' hard-won image as a financial and tourist haven. It's time for level-headed leaders in the Bahamas to step in and fix this fiasco before more lasting damage is done.
In 1966, my father held Senate hearings to investigate violent attacks by growers against pickers in the produce fields surrounding Delano, California. A young United Farmworkers organizer, Cesar Chavez, was orchestrating peaceful protests by Filipino and Chicano farmworkers against meager pay and brutal working conditions. My father only reluctantly attended the hearings. While he was sympathetic with the farmworkers' plight, he already had a full plate of issues ranging from the Vietnam War, rioting cities to starvation in the Delta and education on Indian reservations. He didn't think he had bandwidth for another cause.
"Why do I need to fly all the way to California," he complained to his aid, Peter Edelman, on the airplane out. But then something made him mad; A Kern county sheriff explained to the committee that he had imprisoned the peaceful protestors "for their own protection" to safeguard them from violent growers and their hired thugs.
The prospect of law enforcement officials deploying the states police power on behalf of lawbreaking corporations against law abiding citizens whose only crime was their poverty and powerlessness made him steam. My father despised bullies and believed in rule of law. He gaveled the morning session to a close. "May I suggest that during the luncheon period of time that the sheriff and the district attorney read the Constitution of the United States?" That afternoon, he joined the farmworkers on their picket line. Chavez became his closest political and moral ally.
On Sunday, the U.S. Army Corps issued a declaration to the Standing Rock Sioux Tribe that might have been penned by the Kern county sheriff. The Corps Colonel John Henderson told Standing Rock Chairman Dave Archambault II that the agency was evicting the Dakota Access Pipeline (DAPL) protesters from their camp for their own protection.
Army Corps Sends Eviction Notice to #StandingRock https://t.co/uOTYNHJLrb @joshfoxfilm @StandingRockST @IENearth @HonorTheEarth @Greenpeace

— EcoWatch (@EcoWatch)1480121005.0
The tribes and their supporters will be moved to a "free speech" zone a great distance from the pipeline. Henderson's threats would be troubling if addressed to any group of American citizens, but coming from the U.S. Army Corps to the Sioux Nation, it is positively chilling. One wonders whether Colonel Henderson is even peripherally aware of the Corp's central role in the Indian genocide, the most shameful stain on America's national experience, our high ideals and character.
Standing with my son Conor Kennedy and the water protectors.
Anthropologist Nancy Scheper-Hughes has observed that Genocide is a continuum that runs for years, decades or centuries. It begins with marginalization and dehumanization of an identifiable minority, the theft of their lands and property, their slaughter and decimation, and the gradual squeezing of remnant populations. The central organizing principle of the continuum is a narrative that turns "others into non-persons or monsters," that normalizes atrocities and rationalizes the "every day practice of violence."
Colonel Henderson's letter manages to be both, patronizing and menacing. In that sense, it captures perfectly the tone and content of a hundred letters received by Indians from U.S. Corp colonels and generals over four centuries, all of them repeating genocide's persistent refrain: "For your own good, move off the land, or else."
Similar letters to the Sioux preceded the evictions that reliably followed their various treaties with the American government in 1825, 1837, 1851 and 1868. Those missives were the milestones that officially declared, justified or ratified the long parade of treaty violations by the U.S. government, enforced by the Army Corps, each of them shrinking the Sioux's rightful treaty lands.
It's worth remembering that the lands and waterways now coveted by Dakota Access, a subsidiary of Energy Transfer Partners, are the same lands our government and the U.S. Army Corps deeded the Sioux in the treaties of 1825 and 1851. Those treaties and the Fort Laramie treaty of 1868 each promised the tribe that these deeded lands would remain the Sioux's "so long as the grass is green, the eagles fly and the rivers flow," or phrases of similar construction.
Eight years after we signed that last treaty, the Sioux received their most devastating removal letter from the Army Corps; Trespassing prospectors had discovered gold in the Black Hills, the sacred lands and critical hunting grounds where the Sioux wintered away from the frigid, barren plains that are uninhabitable during the cold months. Obviously white people would now need them back! In direct violation of the treaty, Colonel George Custer rode into the Black Hills to evict the justifiably angry Sioux to make way for the illegal mines. When the Sioux rose up to enforce the treaty, resisting Custer's military attack, Colonel Henderson's predecessors slaughtered their women and children at Wounded Knee.
Now, once again, illegal white mineral interests need the Sioux's land, and, once again, the Army Corps is insisting the Sioux move.
Colonel Henderson's threats are meant to protect DAPL's promoters, Energy Transfer Partners, an outlaw oil company. Construction of the 1,200 mile Dakota Access Pipeline project clearly violates the National Environmental Policy Act, which requires a full environmental impact review for any project that "might have significant environmental impacts" on an area larger than one-half acre. There is no question that the 1,200 mile pipeline meets both criteria.
The pipeline will create more carbon pollution than 27 coal burning power plants, and cross and disrupt 209 waterways, including Lake Oahe, the Sioux's only water source. The Sioux recognize this as the final eviction—without Lake Oahe, their remnant reservation is uninhabitable. The Corp considers a catastrophic water poisoning pipeline failure, so likely, that following protests by Bismarck residents, Henderson agreed to move the pipeline away from its more direct route across the Bismarck water supply and into Indian country.
Henderson's menacing letter on behalf of yet another law-breaking mineral interest has mobilized 300 American tribes who have assembled to protest the illegal construction, the largest gathering of tribes in a century. Indian Country regards DAPL as an existential threat; for the tribes the outlaw enterprise, forced upon them at gunpoint, represents the extension of their 500 year genocide into a new millennium. But Chief Archambault has consistently stated the Indians are not fighting only for Indian rights but for American democracy and for humanity's survival.
Alfred North Whitehead observed that "duty arises from one's capacity to influence events." By this rule, Washington state voters have a profound duty to support Initiative-732, our nation's first carbon tax.
By making Washington the premier American government to place a price on carbon, Evergreen voters will pioneer the trail away from our deadly carbon addiction and its murderous offspring: climate chaos.
September shattered the record for hottest month ever recorded and 2016 will be measured as human history's hottest year as was 2015, and 2014 before that. Humanity is already paying a high price for carbon—melting glaciers and barren, acidic oceans, biblical droughts, famines, floods, fires, plagues and great cities drowned by newly routine superstorms. Raging forest fires in Washington state obliterate property values and spawn epidemics of asthma and premature death. Weather related disasters have cost Americans more than $1 trillion dollars in the last 30 years.
While Americans suffer, big polluters are getting away with murder and getting rich in the process. Despite last year's losses, Shell, BP and Exxon reported a decade of record earnings that exceeded the greatest profits of any industry in human history. Our federal government has failed to address the crisis. A billion dollars in campaign contributions from the carbon tycoons has paralyzed congress. Big oil's indentured servants on Capitol Hill have blocked every effort to mitigate the climate apocalypse. Pricing carbon isn't even on the table.
And so, our nation looks to Washington state for leadership. On Nov. 8, just four days after the Paris climate agreement became international law, Washington state can step boldly into the leadership breach left by federal abdication.
For the 20 percent of undecided voters, here is how I-732 works. The proposed law puts a price on carbon pollution, starting at $15 per metric ton. For reference, a typical car emits about five metric tons of carbon dioxide per year. That price will steadily, and predictably increase over a few decades until it hits $100 per metric ton, adjusted for inflation.
The state will return all these payments to taxpayers in the form of a full percentage point decrease in the sales tax, plus up to $1,500 for a Working Families Tax Credit for low-income families. This makes the referendum "revenue neutral"—the government neither gains nor loses money. The scheme is one of simplest and most effective ways to reduce emissions immediately.
Some environmentalists oppose the Initiative arguing that revenues should go to green energy infrastructure. That, indeed, would be the best outcome. But we shouldn't make perfect the enemy of the good.
And a lot of good will come from this law. State sales taxes will drop. Rather than pay more to burn fossil fuels, polluters will switch to cleaner, more efficient energy and technology yielding cleaner air and water and better health for Washington's citizens.
Dirty fossil fuel polluters will finally pay the true costs that they are now imposing on America's citizens. Globally, taxpayers pay more than $5.3 trillion to subsidize the oil, gas and coal industries. By turning off this pipeline of massive socialist style subsidies, Initiative-732 will level the playing field for clean energy technologies. Wind, solar, electric vehicles and energy efficiency will finally compete head to head against filthy and expensive dinosaur fuels for which the economic rationale has expired. Those new energy sources produce abundant, high-paying sustainable jobs and democratize our energy markets.
By voting yes on I-732, Washingtonians will not just preserve the environment for children. They will pave the way for a national transition to the clean energy future.
I hope Washington voters will step up and show the federal government that the visionary, idealistic, can-do leadership is alive and well in America and it's living in Washington state.
An international team of scientists led by the U.S Geological Survey (USGS) released a comprehensive report last week showing widespread mercury contamination across western North America.
The report, based on decades of mercury data and research, found alarming levels of mercury and methylmercury in the forests, fishes, wildlife, plants and waterways of America's western landscapes. The USGS study provides the first integrated analysis of where mercury occurs in western North America, how it moves through the environment, and the processes that influence its movement and transfer to aquatic and ultimately, the human food chain.
Fish are indicators of methylmercury contamination because they are an important link in the food chain for both wildlife and humans.U.S. Forest Service
Among the many disturbing findings are shocking accumulations of mercury in densely forested areas such as those found along the Pacific mountain ranges of California and Oregon. The scientific team showed that these critical ecosystems collect dangerous mercury loads because they receive high amounts of precipitation. Rainfall washes mercury from the atmosphere onto wet forested regions where it binds to the vegetation and accumulates in the soils and surface waters. From these vectors it can bioaccumulate in fish, including salmon.
Vegetation patterns affect both soil moisture and the amount of sunlight that reaches the soil, two factors associated with mercury release from soils.U.S. Fish and Wildlife Service
The report confirms the findings of a January 2016 study that narrowly investigated mercury levels in rainfall. That study reported that the long-term trend of decreasing mercury levels in precipitation had leveled off and that some sites in the western U.S. were experiencing increases, which the investigators concluded were due to exploding mercury emissions from Asia.
An earlier study in 2002 reported that industrial emissions in Asia are a major source of mercury in rainwater falling along the California coast. The new USGS study describes the precise atmospheric transport mechanisms that carry massive mercury contamination from Asia and deposit the potent neurotoxin in the water, soils and biota across America's West Coast. According to the papers lead author, it is not just the mercury itself, but a cocktail of atmospheric pollutants that contribute to the deposition of mercury in rainfall. Elemental mercury behaves as a gas in the atmosphere and is not washed out in rain until it has been oxidized into a charged ionic form that can be captured by water droplets.
The USGS study sheds light on earlier research with frightening human health implications. A 2008 study reported children living in areas of high precipitation may be more likely to have autism. Those investigators looked at rainfall in California, Washington and Oregon. That team obtained autism prevalence rates for children born in those three states between 1987 and 1999 and calculated average annual precipitation by county from 1987 to 2001. The researchers also computed the autism rates in relation to the average annual precipitation in the counties when the children were younger than 3 years old.
Those scientists found that counties that received relatively large amounts of precipitation had a relatively high rate of autism. More specifically, counties in Oregon and Washington west of the Cascades receive four times as much precipitation as counties east of the Cascades, and had an autism rate that was twice as high. These are the same states that were identified in the USGS's comprehensive report demonstrating the relationship between mercury deposition and precipitation.
The team also looked at each county over time, taking into account the varying annual precipitation levels. The study authors performed this analysis to rule out the effect of other factors, such as differences in the quality of the health care systems from one county to another. The relationship between precipitation and autism held.
Several earlier studies have established a potential connection between mercury from industrial air pollution and autism. In 2006 researchers in Texas reported that on average, for each 1,000 pounds of environmentally released mercury, there was a 43 percent increase in the rate of special education services and a 61 percent increase in the rate of autism. An investigation in the state of California found an association between autism and metal concentrations (mercury, cadmium, nickel, trichloroethylene) and possibly solvents (vinyl chloride).
These studies, however, concentrated on a few individual states. The latest study included women across the whole country. According to the first national study to investigate the possible link, living in an area with high levels of air pollution and mercury increased a woman's chances of having a child with autism.
"Women who were exposed to the highest levels of diesel or mercury in the air were twice as likely to have a child with autism than women who lived in the cleanest parts of the sample," according to the study author Andrea Roberts, a research associate with the Harvard School of Public Health.
Some researchers who first reported the correlation between high precipitation and high rates of autism, hypothesized that the link might be the result of children spending more time indoors where they generated less vitamin D or had increased exposures to household toxins. These reports gave little consideration to increased mercury exposure as a potential causative factor.
Key findings from the report include:

Methylmercury contamination in fish and birds is common in many areas throughout the West, and climate and land cover are some important factors influencing mercury contamination and availability to animals.
Fish and birds in many areas were found to have mercury concentrations above levels that have been associated with toxic effects.
Patterns of methylmercury exposure in fish and wildlife across the West differed from patterns of inorganic mercury on the landscape.
Some ecosystems and species are more sensitive to mercury contamination, and local environmental conditions are important factors influencing the creation and transfer of methylmercury through the food web.
Forest soils typically contain more inorganic mercury than soils in semi-arid environments, yet the highest levels of methylmercury in fish and wildlife occurred in semi-arid areas.
Vegetation patterns strongly influence the amount of mercury emitted to the atmosphere from soils.
Forested areas retain mercury from the atmosphere, whereas less vegetated areas tend to release mercury to the atmosphere.
Land disturbances, such as urban development, agriculture, and wildfires, are important factors in releasing inorganic mercury from the landscape, potentially making it available for biological uptake
Land and water management activities can strongly influence how methylmercury is created and transferred to fish, wildlife, and humans.
A History of Democracy and Free-Flowing Rivers
Popular
Chilean environmentalists and global whitewater aficionados are celebrating the happy ending to the tumultuous 20-year battle to save Patagonia's Futaleufu River. On Aug. 30, Endesa Chile, subsidiary of Enersis and part of Italian-controlled energy consortium Enel, formally relinquished all claims to Chile's iconic whitewater mecca, and similar stakes in other Chilean rivers.

Endesa sought to build two dams on the Futaleufu that would capture its water for energy generation while inundating the river's spectacular landscapes—the 800-megawatt La Cuesta facility nine miles from the village of Puerto Ramirez and the 400-megawatt Los Coihues dam across Inferno Canyon at the gateway to the river's prime whitewater.
The picturesque farming communities above that dam would have drowned beneath 75 feet of water; mountainous rapids below the dam would survive only in the memories of those lucky enough to have experienced the unbridled river. The Spanish company hoped to sell the power from these installations to Argentina, or otherwise up north through Chile using a massive transmission line that was never built.
In a statement to the Chilean government, Endesa tabulated the factors behind its decision as:
"the high annual cost for the company to maintain water rights without using them"
the technical and economic difficulties facing the damming project
and, most notably, the lack of "sufficient support from local communities"
Fierce local opposition caused Endesa, two years ago, to suspend immediate plans to dam the Futaleufu, which has one dam near its headwaters in Argentina but flows free for 65 miles through Chile. Trapped between unyielding popular resistance and the escalating costs of its water rights, Endesa abandoned the project altogether. Endesa said its decision represents a $52-million haircut for its shareholders.
"This is an extraordinary triumph for Patagonia," said Patrick Lynch, staff attorney and international director at Futaleufu Riverkeeper. "The victory belongs to a half dozen activist groups composed of local farmers, river guides, fishermen and outfitters, and to the thousands of river lovers around the world and the international environmental groups who supported the community fighting the dam."
Reflecting on the long battle, Lynch told me, "It was always such an unlikely coalition. And yet this community won a bruising 20 year David and Goliath fist fight. We beat back an all-powerful international utility company that owned this river for more than 20 years. Now we need legal reforms to put an end to a corrupt system that still reward damming rivers for profit."
The Futaleufu played a symbolic role in Chile's struggles to restore her democracy, still reeling from two decades of dictatorship under General Augusto Pinochet. "Pinochet's regime was old school European corporatism," the Chilean environmental and human rights activist, Juan Pablo Orrego, explained to me in 1993 soon after Pinochet left power. "He followed Mussolini's scheme to merge state and corporate power and that meant handing Chile's publicly owned natural resources—including our rivers—over to private corporations."
Every tyranny includes efforts by powerful interests to privatize the public commons, but Pinochet's regime turned the ideology of privatization into a religion. In what is now regarded as a cataclysmically failed social experiment in voodoo economics, Pinochet turned Chile over to a group of right wing theoretical economists from the University of Chicago, entrusting them with authoritarian control over virtually every aspect of economic life in Chile.
These acolytes of "free market" guru Milton Friedman, the so called "Chicago Boys," used their unlimited power to impose a barbaric austerity on Chile's poor and middle classes. They slashed taxes on the rich and corporations, discarded vital subsidies for fuel, school milk and other food staples, eviscerated labor unions, cut education and healthcare, and repealed environmental, financial and trade regulations. In an orgy of privatization, they auctioned off Chile's public assets—including her roads, airports, airlines, telephone and electric utilities, her waterways and forests to multinational corporations at fire sale prices. "They literally liquidated our commonwealth for cash," Orrego observed. "They obliterated Chile's public spaces." Pinochet's henchmen gave away every Chilean river to private companies for damming.
These anti-democratic reforms were naturally unpopular with many Chileans, and Pinochet jailed, tortured and killed his program's critics, murdering 3,000 dissenters, imprisoning 20,000 and forcing another 200,000 into exile.
My family has had a long history of friendship with Chile. In the early 1960s, Chile's leftist democratic president, Eduardo Frei Montalva, became the closest Latin American ally of my uncle, President John Kennedy. Frei helped craft the blueprint for JFK's Alliance for Progress. Both men hoped the "Alianza" would break the strangle hold of Latin America's oligarchies who presided over feudal economies characterized by vast gulfs between rich and poor.
The oligarchs protected their wealth and privilege through seamless relationships with the military caudillos who ruled their nations with brutal dictatorship. That ruling coalition fortified itself in symbiotic relationships with all-powerful U.S. multinationals like Anaconda Copper, United Fruit, IT&T and Standard Oil, to whom the local oligarchs ceded their nations' natural resources in exchange for a share of the profits. These colonial style arrangements gave the oligarchs unimaginable wealth and power, kept their people in desperate poverty and gave rise to a new derisive sobriquet for these countries, the "Banana Republic."
Prior to JFK, U.S. foreign policy was to nurture these powerful oligarchies which unctuously served the mercantile interests of American corporations. But these policies, for JFK, represented a stark departure from American values—including our national anti-colonial heritage—and caused appalling injustice and poverty that was easily exploited by communist revolutionaries. Frei and Kennedy designed the alliance as a suite of reforms to rebuild Latin America as a collection of just, democratic, middle class societies. Chile, the continent's beacon of middle class stability, democracy and freedom would be the template.
My father's first public break with President Lyndon Johnson following JFK's assassination was over Johnson's subversion of the alliance. My father believed that the new U.S. president had abandoned the alliance's idealistic goals and returned U.S. policy to its historical role of supporting the oligarchs and fostering corporate colonialism.
In 1964, my father infuriated Johnson by visiting Chile and advising its intellectuals and government officials to nationalize the U.S. oil and mining interests that were robbing the nation's natural wealth. My father engaged in a heated debate with communist students at the University of Concepcion who showered him with spit, eggs and other missiles. He then made a harrowing trip headfirst into the depths of an Atacama copper mine on a tiny sled to meet with beleaguered miners. He returned to the surface to chastise the dismayed mine owner for mistreating his workers.
Just after dawn on the morning of June 29, 1973, I found myself with four others, including New York Times reporter Blake Fleetwood, on a remote Andean ridge near Chile's frontier with Argentina earnestly digging in the deep snow to escape a hail of gunfire from half a dozen carabineros crouched in the valley 100 meters below us. The squadron had pursued us from the nearby military base as we climbed on sealskins for a day of backcountry skiing. Believing we were trying to escape across the border, they soon captured and detained us. The nation was on high alert. Unbeknownst to us, a tank battalion, that morning, had launched a coup against the regime of Chile's socialist president, Salvador Allende.
I had traveled to Chile for the Atlantic Monthly to write about the Nixon administration's efforts to destroy Chile's economy—"Make the economy scream," he had ordered the CIA in 1970—and to overthrow Allende, the duly elected president of Latin America's oldest and most stable democracy. (Our nation would later learn that Nixon had accepted a hefty bribe from IT&T, which feared Allende's plans to naturalize their company).
Colonel Roberto Souper's so called "Tank Coup" quickly failed, but three months later, on Sept. 11, Salvador Allende died in a firefight as General Pinochet's troops invaded the presidential palace. The following year at a Senate Refugee Committee hearing chaired by my uncle, Senator Edward Kennedy, junta representatives warned me never to return to Chile. From the moment Allende died, Teddy had been scrambling to rescue Chilean descendants from Pinochet's murderous wrath. Chile's Foreign Minister Heraldo Muñoz, former United Nations ambassador, told me that he owes his life to Teddy's timely intervention. Teddy's 1974 bill, the so called "Kennedy Amendment," froze U.S. arm sales to the junta. When Teddy tried to visit Chile in 1986, Pinochet arranged violent riots to muzzle him and drive him from the country.
Working with Chile's democratic resistance, Teddy authored and passed legislation conditioning U.S. aid to Chile on a national referendum in which the Chilean people would be allowed to vote "si" or "no" on Pinochet's continued rule. Chile was desperate for that U.S. aid package; by then, the Chicago Boys' "reforms" had wrecked the Chilean economy and dismantled the finest health and education systems on the continent.
Chile's industrial base was in ruins; unemployment had risen tenfold. Chile was suffering from 375 percent inflation and a runaway national debt. Chile's resounding "No" vote in the plebiscite finally drove Pinochet from power. In 1990, Teddy returned to a hero's welcome in Chile to attend the inauguration of Pinochet's democratically elected successor, President Patricio Aylwin.

Environmentally-themed campaign poster urging a vote against Pinochet in the 1988 plebiscite forced upon the Chile's junta by Senator Ted Kennedy's legislation.
My entire family was beyond proud when in September 2008, Chile's first woman president, Michelle Bachelet came to our home in Hyannis Port to award Teddy Chile's highest civilian honor, the "Order of Merit" for his long support for democracy in Chile. Bachelet and her mother were among the Chileans Pinochet had tortured and jailed. Bachelet's father, an air force officer, was tortured to death in prison.
Even after he relinquished power, Pinochet's legal legacy continued causing mischief against the nation's people and their right to water. Pinochet had embedded the privatization of all Chile's water flows into key parts of the nation's Constitution and Water Code. To make sure that free-flowing rivers can never remain in public hands, the framework provides that ownership of Chile's water rights no longer belong to the public. Instead they belong to the first corporation to claim them. The law was finally revised in 2005 to punish corporate owners with escalating fees for not using the rights, but they can get the fees back once they propose and begin construction of a dam. These fees escalate over time, gradually topping millions of dollars per year for some rivers. The first battleground for challenging Pinochet's corporatist water regime was the fight to save the Biobio from dam builders in 1993.
The Biobio River was Chile's crown jewel. By the late 1980's it had already become Latin America's—and arguably, the World's—premier whitewater destination. Whitewater paddlers considered it the equivalent of the Colorado River, the world's gold standard of whitewater, for its breathtaking rapids and magical scenery. The Biobio plunged through a Grand Canyon scale gorge, but unlike the naked rock that frames the Colorado, the Biobio's lush climate had festooned its canyon walls with hanging gardens and watered them with five massive waterfalls that cascaded from the high plateau—all of this in the shadow of a smoking snow-capped volcano!
In 1993, following the collapse of the Pinochet Regime and the democratic election of Patricio Aylwin, I was among a small contingent of Natural Resources Defense Council attorneys who accompanied Mapuche Indian leaders and Chilean environmental activists on the largest expedition ever to run Chile's Biobio River. Juan Pablo Orrego, one of the founding fathers of the Chile's modern environmental movement, accompanied us as president of the grassroots Grupo de Accion por el Biobio.
Orrego observed to me, at that time, that while democracy had nominally returned to Chile, Pinochet had already given away virtually all the public assets that made democracy meaningful. The return of democracy, Orrego argued, was therefore illusory. Chile, he said, had reverted to a colonial model with its natural resources controlled by foreign corporations. Pinochet had given away Chile's entire commonwealth to private companies.
"We supposedly have democracy, but it is a democracy without teeth. A nation can't have a true democracy without sovereignty over its lands and infrastructures," Orrego told me.
The Biobio, once the diadem of Chile's patrimony, was now the wholly owned asset of private utility—Endesa. With the Chilean government's blessing and World Bank loans, Endesa planned a series of six dams on the river that would bury its stunning landscapes. Working with Orrego, the Mapuche-Pehuenches, NRDC and the Chilean Commission on Human Rights, our coalition launched an international campaign to save the Biobio. We attacked the critical flaws in Endesa's plans, including the fact that the dams were to be built in the middle of an earthquake fault at the base of two volcanoes. In meetings with World Bank officials, we pressured the institution to launch its own internal investigation. In the end, we managed to force Endesa to drop its proposals for all but a single dam—the Pangue. Many people saw this as a victory. I did not. The Pangue and its 1,250-acre reservoir in indigenous territory ruined the Biobio's viewshed and its best whitewater. Ten years later, Endesa succeeded in building one more dam on the Biobio, called Ralco, which displaced 97 Pehuenche families and even flooded a sacred graveyard. I have never been able to bring myself to return to that desecrated paradise.
In 1993, my friend Eric Hertz—a white-water outfitter, river conservationist and founder of Earth River Expeditions—told me he had found a river nearly the Biobio's equal. Hertz had spent a lifetime searching for the perfect river. He had finally discovered it 600 kilometers south of the Biobio, in Chilean Patagonia.
Robert F. Kennedy, Jr. (left) and Dr. Mark Hyman (right) with Eric Hertz and Roberto Currie from Earth River Expeditions, 2003
Situated between snow-capped glaciers and rugged saw-tooth mountains reminiscent of the Tetons, the Fu flows through narrow canyons and verdant valleys, where river runners find an irresistible mix of wilderness and charming pastoral landscapes. Chattering ibis, spoonbills and plovers flock over grazing sheep as Patagonian gauchos, sporting sheepskin chaps trimmed with heavy fur, ride their criollo ponies or drive yoked oxen pulling wooden wagons along the banks. Stunning granite cliffs and outcroppings at the valley fringes frame a fairytale landscape of rustic farms, broken forests, orchards and alpine meadows.
Crossing Class 6 (unrunnable) Zeta Rapid on via tyrolean, 1996. Photo credit: Cade Hertz
The alpine village of Futaleufu has become a fairy tale outfitters haven. Photo credit: Paulo Espindola, Futaleufu
Robert F. Kennedy, Jr. and oxen hauling gear and girls—6-year-old Kyra Kennedy (far right) and two friends, Kayla and GiGi Falk, 2001.

Intrepid kayakers who had ventured into southern Chile the previous year said that violent rapids made the Futaleufu River unrunnable by raft. But Hertz and his partner at Earth River, the Chilean white-water expert Roberto Currie, made an expeditionary first decent in 1993 and figured out how to safely navigate what today is the most intensive stretch of commercially rafted whitewater rapids in the world. Ever since then, I try to make an annual trip to the Fu with my family and friends each March. Kayakers and rafters and fishermen flocking to the river soon transformed the tiny Alpine village of Futaleufu into a bustling river outfitter's haven.
Several elements combine to make the Fu an incomparable outdoor adventure: the breathtaking scenery, the series of more than 30 tightly packed and formidable Class IV and V rapids, the hospitable climate, the cultural charms of its farm community of vaqueros and homestead pioneers, the incomparable campsites and hiking trails, the absence of biting insects and the shocking teal color of the river's gin clear waters—a feature that nearly always prompts a double-take at first sight; when actress Julia Louis- Dreyfus caught her first glimpse of the Fu's show stopping blue-green luminescent, during a 2003 expedition, she gave an astonished laugh, "Did they dye it," she asked me, "like at Disneyland?"
The Fu is also a world class fishing destination. During my annual pilgrimages to the Fu, I customarily fish from the bow of my raft as I take in the scenery between the rapids. The small bays and pockets of still water along the Fu's banks and below each rapid almost always yield trout or large salmon that dart, voracious and aggressive, from hiding places under the branches of willows and osiers, and from beneath the Fu's granite walls. For mile after river mile on virtually every cast, whether with fly or spinning rods, an angler can watch brown trout follow a lure through the clear cyan water.
The Fu has a pebbled bottom, clean water, rich vegetation and an alkaline pH, conditions that are ideal for trout. Besides brown trout, coho, Atlantic salmon, chinook and other North American imports also frequent the Fu, growing upward of 60 pounds. I've fished in most of the states, including Alaska, and in most of the provinces of Canada, and in Latin America from Costa Rica to Tierra del Fuego. But I've rarely seen a waterway with consistently large salmonoids in such abundance. A local friend, Adrei Gallardo, took a 39.9-pound brown trout from the Fu on a handline—the Latin American record. Gallardo told me that he subsequently refused to relinquish the mount to representatives of Munich's Hunting & Fishing museum, despite a $20,000 offer—the equivalent of a two-year salary.
Robert F. Kennedy, Jr. with Adrei Gallardo's 39.9-pound brown trout from the Futaleufu caught using a handline—the Latin American record, 1995
Julia Louis-Dreyfus stands among a parade of international celebrities who have visited the Futaleufu over the past two decades to run its rapids and fight the dams—Dan Ackroyd, Donna Dixon, John McEnroe, Patti Smith, Glenn Close, Brad Hall, David Chokachi and Richard Dean Anderson, to name a few. They came to support the valley's voiceless vaqueros, shepherds, fishermen, kayak paddle guides, whitewater companies and landowners. For all of those who participated in this battle, Aug. 30 was a time of celebration.
Baywatch star David Chokachi with Robert F. Kennedy, Jr. and chinook.
But Lynch cautions against complacency. "We can't celebrate with our paddles in the air just yet," warned Lynch. "In Chile they call the forces that want to privatize those rivers zombies. These are zombie dams. Every time you think you've killed a project, it comes back from the dead.
"The era of big dams in Patagonia is not over yet. Endesa still has rights over the Baker and Pascua Rivers. And other companies still have permits to build dams on other wild and scenic rivers like the Cuervo."
And Lynch still worries about the Fu. General Augusto Pinochet died in 2006 under house arrest, awaiting trial for corruption, torture and murder, but in a very real sense Pinochet continues to rule Chile from the grave. Because of the reactionary water regime devised by the Chicago Boys, the water rights that Endesa relinquished will not long remain in public hands. Under Chile's Water Code, any hydroelectric company that wants to seize the river for damming may step into the vacuum left by Endesa and claim the Fu for itself. Lynch has a wary eye on the Chinese with their bottomless appetite for Latin America's natural resources.
"China is the world's leading dam builder," he said. "They would be the most likely international suitor."
Looking forward, Lynch said, "Our job is to help show international water speculators—called piratas here—that it's a risky business to try to build a dam in Chile. We need to let them know that the people have had enough. If they come here, they are going to have a Donnybrook on their hands."
Lynch understands that river conservation is as difficult as democracy. There are no permanent victories. The only thing we ever really win is the opportunity to keep fighting.
Earlier this month, my 15-year-old son, Aidan, and I joined a group of environmental activists on a six day float down Utah's Green River. In rafts and kayaks, we paddled Desolation and Gray canyons almost to the Colorado River confluence.
The Green River.
It was my second trip down the Green. In April 1966, I ran the prime white water stretches of the Yampa and Green through western Colorado and eastern Utah near Dinosaur National Park with my father and mother, U.S. Interior Secretary Stuart Udall and five of my 11 siblings. My father's friend, mountaineer Jim Whitaker, had organized that trip. Whittaker also accompanied my family on a Colorado River trip in 1964, down the Middle Fork of the Salmon in the summer of 1965 and on a kayak run on the upper Hudson's wild white water during a blizzard in May 1965. My father's purpose for the latter trip was to block an industry proposal to dam the Hudson River Gorge.
On each of those western trips, my father took us to nearby Navajo, Hopi and Ute reservations where we visited schools and health clinics and saw the despair among America's first nations mired in poverty, racism, oppression and hopelessness. My father taught us the history of the early American explorers, John Wesley Powell, John Charles Freemont, and Lewis and Clarke.
Following his brother, John Kennedy's assassination in 1963, he increasingly found spiritual renewal in wilderness which he considered "the undiluted work of the Creator." He saw white water as a way to struggle with nature without subduing it and he hoped that all that climbing, paddling and privation would imbue his children with the kind of beef jerky toughness he associated with the American character.
American democracy, he told us, had its roots in wilderness. He felt that outdoor adventures would connect us with those values and with the generations of Americans who lived before Columbus. He told us that these wilderness rivers and the majestic western landscapes were part of our American heritage and that good Americans of every generation would need to fight to protect them from the greed of reckless developers and the rapacious extractive industrialists who wanted to liquidate our public commons for private profit.
In 1973, five years after my father's death, I ran the 46-mile Cataract Canyon along with my uncle, Sen. Ted Kennedy; the legendary white water guide, Dee Holladay; and Sen. Frank Moss. Moss, a close friend of my father, who had arranged for the canyon to be protected under the Wild and Scenic Rivers Act. Holladay was one of the iconic white water guides and, like his competitor and friend, the recently deceased George Wendt—and so many guides of that generation—he was an ardent river conservationist.
Holladay's granddaughter, Lauren Wood, now heads the Green River Action Project, a Colorado Riverkeeper Affiliate which is also a licensed member of Waterkeeper Alliance—the umbrella group for some 300 river, sound and bay keepers in 34 countries. I am the organization's president. Wood accompanied us down the Green River as a guide along with Colorado Riverkeeper (and white water guide) John Weisheit and Howard Dennis.
Robert F. Kennedy, Jr., Colorado Riverkeeper John Weisheit, Green Riverkeeper Lauren Wood, Howard Dennis and Waterkeeper Alliance trustees Geralyn Dreyfous and Deer Valley CEO Lessing Stern at Sand Wash put in.
Dennis, the chief of the Squash Clan and the Grey Flute Chief of Mishongnovi Village, gave us vivid interpretations of the thousand year old Fremont Petroglyphs we saw at campsites and canyon walls throughout the trip. On each panel, Dennis pointed out the great variety of Hopi religious and mythological figures all mixed up with more banal items that Howard analogized to contemporary newspaper obituaries and local news.
Fremont Petroglyphs
During its more recent history, the canyon was a hiding place and traverse for western outlaws, including Butch Cassidy, the Sundance Kid, Joe Walker, Elzy Lay and other members of The Hole in the Wall gang and Cassidy's Wild Bunch. Those bandits commonly traded exhausted horses for fresh mounts at the ranch of Mormon homesteader, Jim McPherson.
McPherson built his log cabins, barns, chicken houses soon after arriving in Gray Canyon in 1889. Those sturdy structures still stand at the Green's confluence with Rock Creek. At Schoolhouse rapids, a few miles downriver from the McPherson spread, a local posse ambushed and killed bank robber, flat nose George Curry in April 1900, leaving bullet holes that are still visible on the canyon walls. McPherson and the other ranchers were sympathetic with the outlaws; the railroads, coal companies and banks they robbed were often the bane to western working people, farmers and ranchers.
Robert F. Kennedy, Jr. with his son Aidan at McPherson Cabin 1890 Mormon Homesteader and crony of Butch Cassidy and the Sundance Kid.
Robert F. Kennedy, Jr. and his son Aidan with Ute leader Forest Cuch and Coleen Selepstewa at Flat Canyon mile 63.5.

We rapidly confirmed John Wesley Powell's observation that weather in the canyon can be extreme. Violent storms interrupted otherwise hot sunny days on the river dropping sheets of rain so dense we could hardly see the bow of our boat from the stern. I kidded Forest Cuch, a Ute Elder, for digging a ditch to anchor his tent with buried tree branches one cloudy afternoon. He laughed at me a few hours later when my tent blew away like a tumble weed with Aidan and me in it being flayed by our own tent pegs.
Green River warriors.
The Green cuts through the Colorado plateau in a mile deep canyon that is home to mule deer, beaver, otter, mountain goat, big horn, sheep, golden and bald eagle, peregrine falcons, all of which we saw as we floated through towering canyons of layered sedimentary rock.
On the third day, we found a dead falcon, otherwise healthy but recently drowned—probably after binding to a duck. Inquisitive big horn sheep raced down to the river banks in large herds—seemingly to greet us—as we drifted by only a few yards away. We forgot our fishing rod but Aidan and I fashioned a hook from a round metal keychain ring. Using dental floss for a line, a stone for a sinker and cheese for bait, we filled a bucket with enough feral catfish in one afternoon to feed most of the camp.
Dr. Mark Hyman preparing to paddle.
Every evening around the campfire, we heard lectures from reigning experts. Eleven time New York Times bestseller, Dr. Mark Hyman of the Cleveland Clinic, spoke brilliantly on food justice; John Weisheit told stories on the history and geology of the region; Howard Dennis spoke about the Hopi's heartbreaking century long battle against Peabody Coal, which has enriched company shareholders with hundreds of millions of dollars by stealing Hopi resources, sickening the people and poisoning their water; and Green Riverkeeper Lauren Wood and her advocacy partner, Will Munger, taught us about the growing scourge of dirty energy development in Utah.
Dr. Mark Hyman gives lecture on food fascism at Cow Swim Camp.
This Green River paradise is now threatened by a boondoggle meant to benefit a new generation of corporate villains. Utah's carbon titans are slicing up the plateau for tar sands oil and gas fracking. "Utah's wilderness is under siege and up for sale," said Munger, a charming and eloquent environmental leader and activist who accompanied us on the trip.
The Green River basin boasts reserves of oil shale and tar sands (OSTS reserves) that surpass Saudi Arabia's conventional oil deposits. On both banks of the Green River, the oil saturated ores are near enough to the surface to strip mine. In the thrall of these companies, the state of Utah is actively encouraging proliferation tar sands and oil shale development across the state. If the oil tycoons get away with their caper, the footprint will metastasize into Colorado and Wyoming with impacts to land, air, water and climate that could surpass the current tar sands mining operations in Alberta, Canada.
Inside the US Oil Sands tar sands test pit in Utah after shutting down mine operations during a protest.Canyon Country Rising Tide
The most advanced project is the PR Spring Mine, operated by a Canadian firm deceptively, named US Oil Sands (USOS). USOS holds leases to strip mine 32,005 acres on the Green River Basin's Tavaputs Plateau. Despite years of legal challenges and protests, USOS is promising its investors it will be commercially producing oil by 2016. The company is already in the early stages of mining: building roads, bulldozing the land and installing new processing machinery. Munger was arrested on site in June for replanting the strip mine—part of a series of mass protests by Canyon Country Rising Tide and others.
Thirty people walked onto the country's first tar sands mine in Utah and sowed seeds to regrow land destroyed by tar sands.Canyon Country Rising Tide
As usual, the industry will externalize its costs by destroying the global climate and privatizing America's water, air and democracy. USOS's billion dollar swindle is a windfall for the Canadian company and a suicide pact for the planet. Tar sands oil requires enormous energy inputs to extract, refine and transport, all while destroying complex, carbon-sequestering ecosystems. Even as it hastens the overheating of our climate, Green River Basin's oil developer will also destroy a waterway that is vital to the future survival of this thirsty region. The mines are located in the headwaters of the Green and Colorado Rivers, which supply more than 40 million people with drinking and irrigation water.
Tar sands mining requires 1.5-4 barrels of water for every barrel of oil produced. Oil companies mix this water with solvents to separate the bitumen and then discharge a witches' brew of toxic chemicals onto the soils without even a lined pit.
The extracted bitumen must then be further processed and refined. The likely venue for that filthy enterprise is Salt Lake City, where a string of refineries already process bitumen from the Canadian tar sands mines. Salt Lake City currently has the worst seasonal air quality in the world.
OSTS development produces over three times the greenhouse gas emissions of regular oil because it requires vast chemicals and energy inputs to create liquid oil. Reckless industry and political leaders hope to supply this extra energy from fracked gas, coal or nuclear power from the recently proposed Green River Power Plant. Thus, we have all four horsemen of the apocalypse—oil, gas, coal and nuke—converging in a kind of Armageddon offensive on the Colorado Plateau.
Last Rush for the Wild West: Tar Sands Mining in #Utah http://t.co/WsmEBXgopC @tarsandsRESIST http://t.co/4IlP6KSx5M

— EcoWatch (@EcoWatch)1438778607.0
These dinosaur industries require vast public subsidies to make a profit. In a classic example of socialism for the wealthy, Big Oil's fawning toadies in the Utah state legislature will dutifully rob public monies intended for environmental protection to fund a massive corporate welfare program for petroleum tycoons. Unctuous "Beehive State" politicians have already shanghaied funds intended for environmental mitigation and diverted them toward building the oil industry's stairway to heaven.
The Utah Community Impact Board was created to help communities remediate the destructive legacies of oil, gas and mining. This money was appropriated so that damaged regions could transition away from fossil fuels and remediate damage from pollution. Instead, shameless Utah politicians are using the funds to further entrench a dying industry by paying for haul roads, power lines and other infrastructure required solely for extreme energy extraction, including, believe it or not, export terminals for tar sands oil in Oakland, California.
Utah has pillaged the fund to pay $86.5 million of public money in order to upgrade Seep Ridge Road, the oil road to the PR Spring tar sands mine, into a paved highway, so that its toxic bitumen can roll into Salt Lake City in style. Now the oil giants are asking the taxpayers to fork over another $150 million of public money to connect that road to 1-70. The carbon titans consider this road their "Stairway to Heaven"—a publicly funded highway that will allow them to liquidate the incomparable Green River watershed for cash.
In contrast, local environmentalists, ranchers, hunters and the elected Grand County Council consider the project to be the region's "Highway to Hell." They have fought it successfully for more than two decades, but during that period, Utah's political leaders have increasingly become sockpuppets to the carbon cronies. Now oil's pet politicians are trying to override local consent in order to subsidize the extraction industry.
Munger told me that the extractive industry has near total control of the Utah legislature due to massive political payoffs and kneejerk support for virtually any dirty energy development among Mormon populations in the rural counties.
"The Mormon Church has a long history of good stewardship and a cooperative humane style of capitalism," laments Munger. "The Mormon holy books are chock filled with nostrums requiring that the faithful act as caretakers for the Earth's future generations."
He explains, however, that in recent years, "industry money propaganda has helped spread the proliferation of Dominion Theology," a perverse strain of Christianity that absolves individuals from caring for the Earth or taking any responsibility for future generations. As the bard taught, "Satan can cite scriptures for his own purposes."
In Utah, big oil and gas crooked politicians are not just stealing our purple mountain majesty, they are corrupting our democracy, our religion and stealing our future!
The entire clan that floating down the Green River.
Two days ago, I put my son Conor on an airplane to Europe. Conor has anaphylactic peanut allergies so, before he left, we purchased a new EpiPen for the trip. We both got sticker shock.
Ten years ago, I was paying a $12 co-pay for each EpiPen I purchased. In 2007, the wholesale price for an EpiPen in the U.S. was around $57 and our insurance company paid everything but the co-pay. This week, I learned that the wholesale price was now $600 for a two pack, which is the smallest quantity available for purchase. We paid the $600. EpiPens have saved Conor's life more than once.
A Senate committee has asked the pharmaceutical company Mylan to appear before Congress to explain the company's 400 percent price hike for this life-saving device. The company's CEO, Heather Bresch, the daughter of West Virginia Sen. Joe Manchin, will be on the hot seat. She is a greedy, malicious scoundrel and it's my hope that the senators who question her will not give her kid glove comity just because she is kin to a colleague.
Mylan raised its prices because it could get away with the scam. Its only U.S. competitor, Sanofi, abandoned the American market in 2015. In Canada, EpiPen's still cost around US$100. In Europe there are four manufacturers and the prices are still lower.
Children in anaphylactic shock often need two doses of epinephrine. Following the U.S. Food and Drug Administration's recommendations, my doctor suggested that we always keep two EpiPen's at home, two at school and two in our automobile. Each EpiPen expires after one year, so Mylan's price hike represents an $1,800 annual recurring cost for the families of the 15 million Americans with allergies.
According to the U.S. Centers for Disease Control, food allergies are responsible for more than 300,000 ambulatory-care visits a year in children under 18. About 200 children die. Bresch's greed is likely to cost the lives of many more.
"I regularly write notes to the families of children who have died from anaphylaxis after inadvertently eating peanuts," said Dr. James R. Baker, CEO of FARE: Food Allergy Research & Education. "One death is too many."
While making a documentary, Blue Centennial, with filmmaker Robert Nixon, National Geographic photographer Brian Skerry and world-renowned oceanographer Sylvia Earle, my son Finn Kennedy, 18, and his uncle Max impulsively dove from a speeding motorboat into a pod of wild bottle nose dolphins carousing in the bow wave.
Three Mammals: Finn Kennedy while swimming with two wild bottle nose dolphins near Buck Island.Bryce Groark, TrueBlueFilms
The dolphins turned and came back to play with them. They spent more than an hour circling and touching Finn as he free dove near Buck Island Reef National Monument in the U.S. Virgin Islands.
Skerry and Earl said that, during their decades of studying, photographing and swimming with marine mammals, neither of them had ever observed the kind of intimate, playful and curious behaviors by dolphins that they witnessed that day as the animals interacted with Finn.
Finn's great uncle John F. Kennedy designated Buck Island as the world's first marine park in 1961. JFK ordered a mural of Buck Island painted on the wall of the White House indoor pool where he exercised each day.
"I felt so lucky for that experience," Finn said. "There were six to eight of them. They would follow me down to about 35 feet and brush up against me repeatedly, then accompany me back to the surface swimming tight circles around me till we all breached together.
"They would stop in the water column 10 feet below the surface, stand on their tails to look me directly in the eye, face-to-face. They would imitate whatever posture I adopted under water. If I lay on my side or my back with my head and feet up they would do the same thing, elevating their tail flukes then dropping their tail or pectoral fins as I lowered my feet or hands.
"They were clearly communicating. They were using sign language but it was full of enthusiasm, humor and affection. It was like they were reaching out to distant cousins from across the millennium."
The New York Times reported last month that Congressional Republicans have clandestinely inserted a provision into the Toxic Substances Control Act (TSCA) reauthorization bill that will give Monsanto permanent immunity from liability for injuries caused by its toxic polychlorinated biphenyls (PCBs). The long awaited and grievously needed bill is now in the Conference Committee for reconciliation with a companion Senate bill. The so-called "Monsanto Rider" would shield the chemical colossus from thousands of lawsuits by cities, towns, school districts and individuals, who have been injured by exposure to PCBs.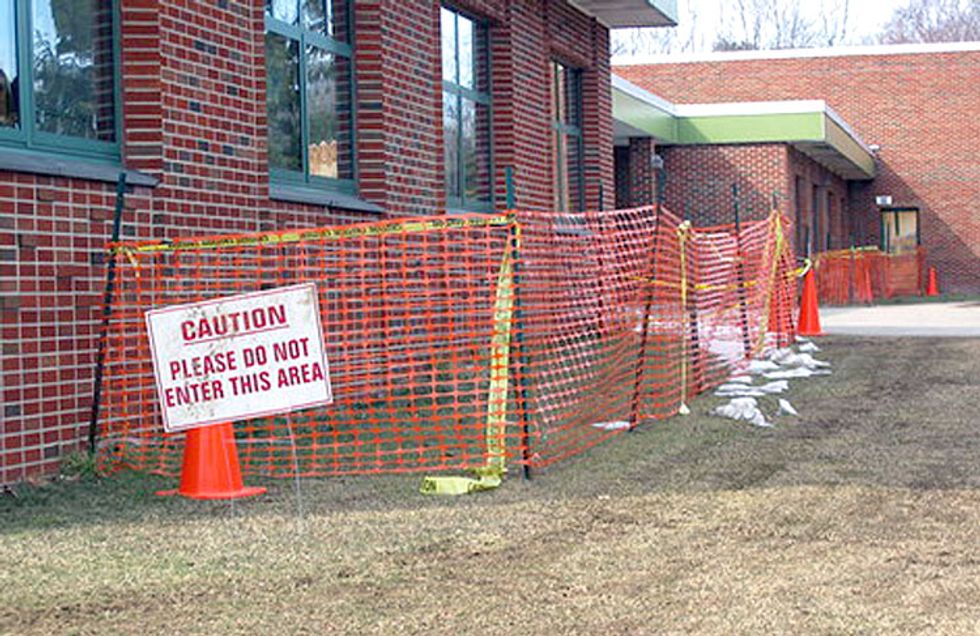 Photo credit: pcbinschools.org
PCBs are known human carcinogens and potent endocrine disruptors, which can interfere with physical, intellectual and sexual development in children. PCBs persist in the environment and bio accumulate in animals and humans. According to U.S. Environmental Protection Agency (EPA), children exposed to PCBs can suffer damage to their immune, reproductive, nervous and endocrine systems. Two recent publications from U.S. EPA and the National Institute Environmental Health Science Children's Center at UC Davis report that PCBs can disrupt early brain development, by hijacking the signals that promote normal neuron branching which increase the risk of brain damage, including autism. Between 1935 and 1977, Monsanto was the exclusive manufacturer of PCBs in the U.S. Congress banned the manufacturing of PCBs in 1979 over concerns about its potential to cause severe health and environmental injury.
I've been sparring over PCBs since the start of my 32-year career as an environmental lawyer. For more than three decades I have been litigating and campaigning against General Electric (GE) to force the clean-up of the Hudson River. PCBs manufactured by Monsanto and dumped by GE have contaminated 200 miles of the Hudson, which is the country's largest superfund site. GE's long awaited Hudson River clean-up is now ongoing, but the Hudson is not America's only PCB contaminated waterway.
Monsanto's PCBs have poisoned 80,000 river miles elsewhere in our nation from Washington state's Duwamish River to Connecticut's Housatonic. Seattle and six other cities are currently in litigation with Monsanto to force the company to clean up local rivers and bays. The GOP's TSCA's shield provision would dismiss all those lawsuits. Congress would have the public, not the polluters pay to clean up Monsanto's monumental mess.
Of even greater concern is the burgeoning issue of PCBs in our public schools.
Monsanto marketed PCB-based caulking to schools and other municipal buildings throughout the U.S beginning in 1950, touting the chemical's ability to contract and expand with changing temperatures. Studies suggest that any school built or renovated between 1950 and 1977 may contain PCBs. As the scientific evidence about PCB hazards to human health accumulated in the early 1970's, and regulatory agencies and Congress began moving toward a ban, Monsanto amplified its aggressive marketing of plasticizer PCBs for use in caulk that was applied throughout America's public schools. Despite Monsanto's own internal conclusion in 1969 that PCBs were becoming "global environmental contaminants," Monsanto increased its production of PCBs which peaked in 1970 at 85 million pounds.
The National Center for Education Statistics estimates that 45 percent of all schools in the U.S. (approximately 45,000) were built during this era. About 27 to 54 percent of all these schools—12,000 to 25,000 nationwide—may contain PCBs with little variation among U.S. regions. The costs of mitigation and remediation ranges from $750,000 to $3.1 million per building. The total costs to school districts across the nation could be upwards of $80 billion. As the exclusive manufacturer of PCBs in the U.S., Monsanto is responsible for these damages. I am representing school districts across the country who are suing Monsanto to pay the costs of removing contaminated caulking and PCB laden light bulb ballasts.
TSCA section 15 U.S.C. 2605(e), which was enacted in 1977, requires that every school district with PCBs in caulking and lighting ballasts greater than 50 parts per million, immediately remove these contaminants to safeguard school children's health. However, in 2009, the EPA implemented an informal policy allowing school districts to delay remediation until such time as there were major renovations or demolition of the contaminated structure. The EPA told the school districts that it would not enforce that law if the school district chose to wait.
While this unpromulgated and illegal EPA policy seemed like a concession to financially pressed school districts, it was actually a monumental gift to Monsanto. Most schools, low on cash flow, chose to delay the expensive and logistically challenging remediation projects indefinitely, despite the danger to children. When delays stretch past the five year statute of limitations (which begins running when the school district becomes aware—or should have been aware—of the contamination), Monsanto is off the hook. Those $80 billion in Monsanto's costs are then transferred to local school districts. As predicted, school districts given the option to delay, mostly did just that despite the awful consequences to future taxpayers.
It's important to understand that if a single school district in a state files a class action lawsuit against Monsanto to recover remediation costs, the statute of limitations is tolled for every district in that state. In most states, no district has filed a class action lawsuit. However, one courageous, pioneering district in Massachusetts chose to file, and that suit had the effect of tolling the statute for every school in that state—creating a deep pool of potential liability for Monsanto. GOP's new shield provision is designed to abolish Monsanto's liability as a favor to the company, which has donated $39 million to politicians over 30 years.
Documents uncovered during our litigation have confirmed Monsanto's sickeningly corrupt corporate culture. Instead of being a good corporate citizen, Monsanto's decision making matrix puts greed before public health and welfare.
As early as the 1930's and 1940's, Monsanto was aware that prolonged occupational exposure to PCBs might cause liver damage in humans. A Monsanto memorandum dated Sept. 20, 1955, stated:
"We know Aroclors [PCBs] are toxic but the actual limit has not been precisely defined."
In late 1968, Monsanto learned that Japanese citizens were becoming ill from eating rice oil contaminated with Japanese manufactured PCBs. The company responded with a draft Oct. 2, 1969 directive stressing a preeminent focus on its bottom line:
"The objective of the [PCB] committee was to recommend action that will: 1. Protect continued sales and profits of Aroclors; 2. Permit continued development of new uses and sales, and; 3. Protect the image of the Organic Division and the Corporation as members of the business community ..."
An internal draft document dated Oct. 2, 1969, illustrates the moral bankruptcy of the company:
"The committee believes there is little probability that any action that can be taken [that] will prevent the growing incrimination of specific [PCBs] (the higher chlorinated—e.g. Aroclors 1254 and 1260) as nearly global environmental contaminants leading to contamination of human food (particularly fish), the killing of some marine species (shrimp), and the possible extinction of several species of fish-eating birds. There are, however, a number of actions which must be undertaken in order to prolong the manufacture, sale and use of these particular Aroclors as well as to protect the continued use of other members of the Aroclor series."
A document dated Jan. 26, 1970, The PCB-Pollution Problem, describes a Jan. 21 and 22, 1970 meeting between representatives of GE and Monsanto. This document appears to make a commitment by Monsanto science and safety division to fraudulently massage scientific data to make their dangerous product appear safe. The document states (emphasis added):
"In essence, results reported by Mr. Wheeler on chronic animal toxicity tests and animal reproducibility studies underway are not as favorable as we had hoped or anticipated. Particularly alarming is evidence of effect on hatchability and production of thin egg shells regards white leghorn chickens. The studies involved Aroclor 1242, 1254 and 1260. Some of the studies will be repeated to arrive at better conclusions."
The GOP is currently working to rewrite TSCA to assure that no jury will ever see these or the many other damning documents in our possession.
If Monsanto gets its way, the American people will pay a high price for corporate greed and political corruption.
YOU MIGHT ALSO LIKE
Seattle Sues Monsanto Over PCB Contamination, Becomes 6th City to Do So
California Widow Sues Monsanto Alleging Roundup Caused Her Husband's Cancer
Why Is Glyphosate Sprayed on Crops Right Before Harvest?
France, Sweden, Italy and the Netherlands Rebel Against Relicensing of Monsanto's Glyphosate