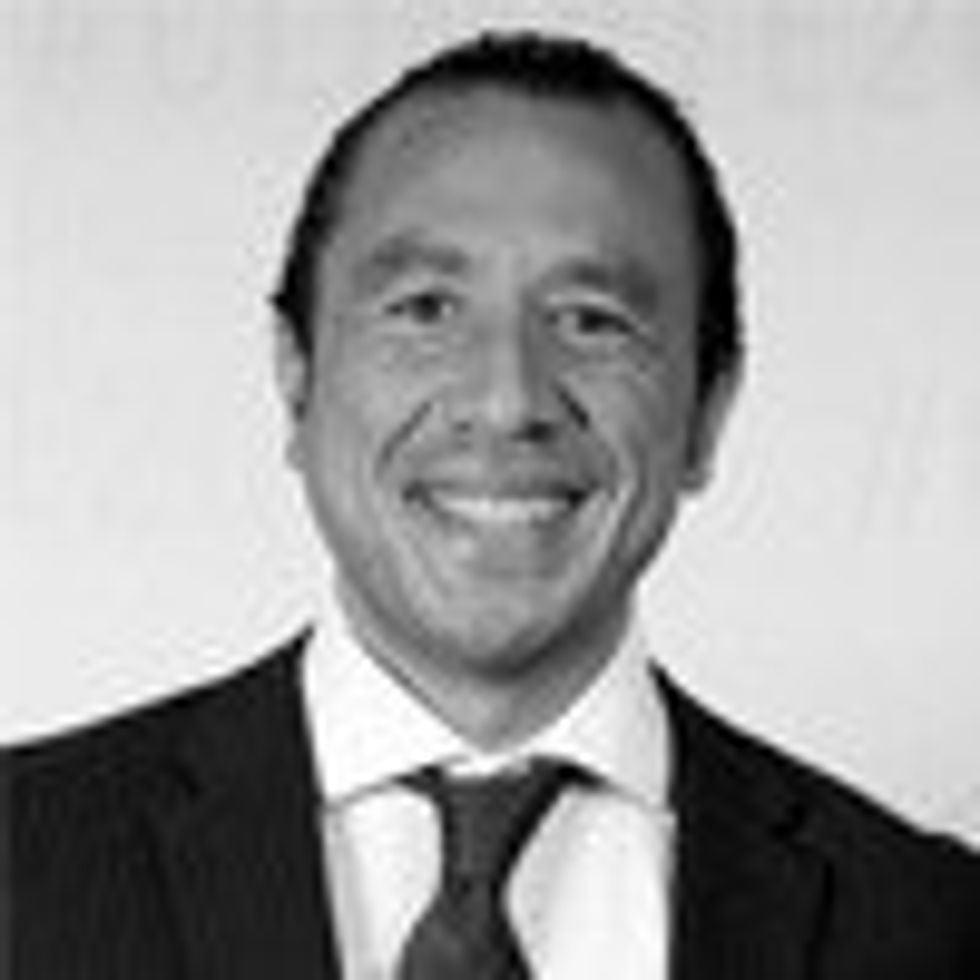 If you ever needed proof that we are truly embarking on a renewable energy revolution, then look no further than the latest report from one of the most respected credit ratings agencies in the world.
According to Standard & Poor's latest analysis, the Paris Agreement, signed last month during COP21, will unleash more than $16 trillion of investments for renewable energy and clean technologies.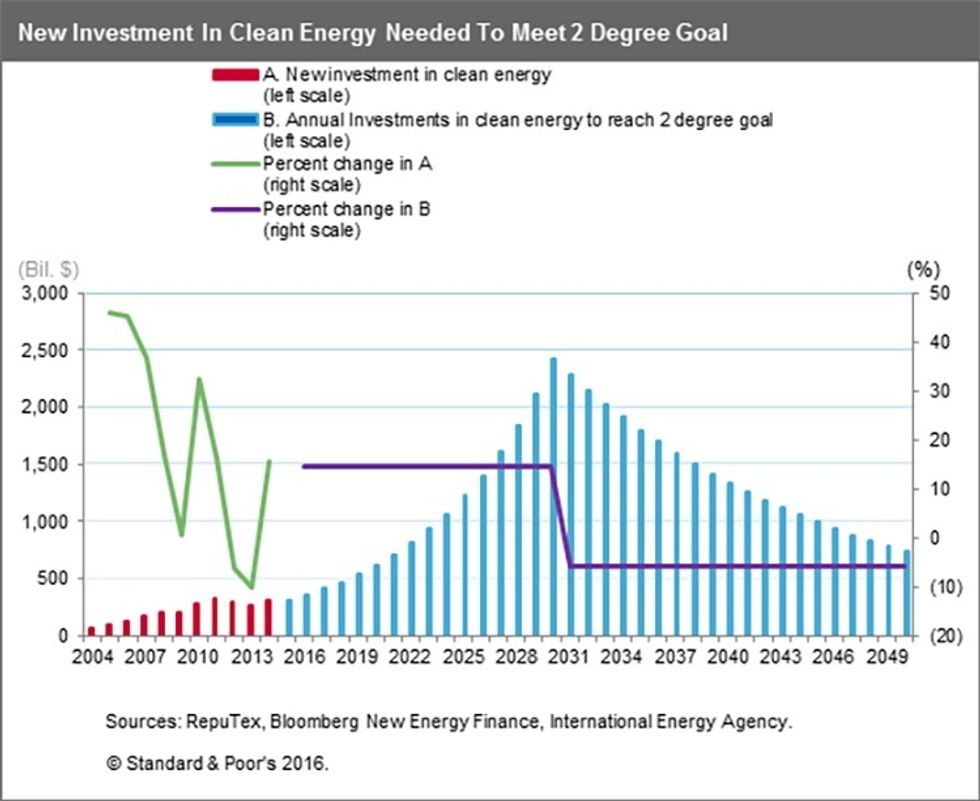 The report predicts that as a result of the Paris Agreement, the market for renewables, clean tech and green finance could take off because almost all of the plans submitted by the 195 countries mention renewables in their commitments. In fact, the pledges mentioned by China and India alone could potentially double the world's wind and solar capacity within 15 years.
The agency expects that investments will move more quickly into renewables and new business models, with a focus on providing more energy efficiency solutions to consumers globally. They also expect this energy transition to shake the industry's fundamentals over the coming years. In other words, the energy sector will undergo a dramatic and major transformation as never seen before.
"As the costs of renewable energy and other zero and low-carbon technologies continue to fall and more clean technological breakthroughs are unveiled, political pressure against supporting the initial cost of such a transformation should continue to ease and incentives for development should persist," the report says.
This mega trend is supported by many new initiatives that were launched during COP21 such as Dubai committing to sourcing 25 percent of power generation from solar by 2030 and 75 percent by 2050, with a $27 billion Dubai Green Fund to support it. The International Solar Alliance by India and France, backed by 120 other governments, which aims to provide $1 trillion of solar investment, representing 1 terawatt (1,000 GW) of capacity, by 2030, is also a good example of this increase in finance for renewables.
Renewable energy, clean tech & green finance poised for $16.5 trillion post-Paris take-off https://t.co/WFyrFXd5KO https://t.co/uvtzpiy5he

— GCCA (@GCCA)1453482058.0
To support this transition, a UN backed initiative was launched called the Green Infrastructure Investment Coalition. It aims to help investors understand the pipeline of green infrastructure investments as well as shape capital market instruments to ensure capital flows. The idea is to scale up the green bond market from its current $40 billion to the $1 trillion needed to fund low-carbon infrastructure.
This is all good news for consumers as well, as "Big leaps in energy innovation, cheaper renewables and the more efficient use of power—have reduced carbon emissions over the past 15 years without substantial increases in cost to end users."
This latest renewable energy investment prediction is unprecedented and now that these market signals have been triggered, it's up to governments and the corporate sector to start implementing this massive transition.
YOU MIGHT ALSO LIKE 
World's Top Carbon Reserves That Must Be Kept in the Ground to Prevent Climate Chaos
Record-Breaking Snowfall Dumps on East Coast
Carbon Capture: 'Only Realistic and Affordable Way to Dramatically Reduce Emissions'
EcoWatch Daily Newsletter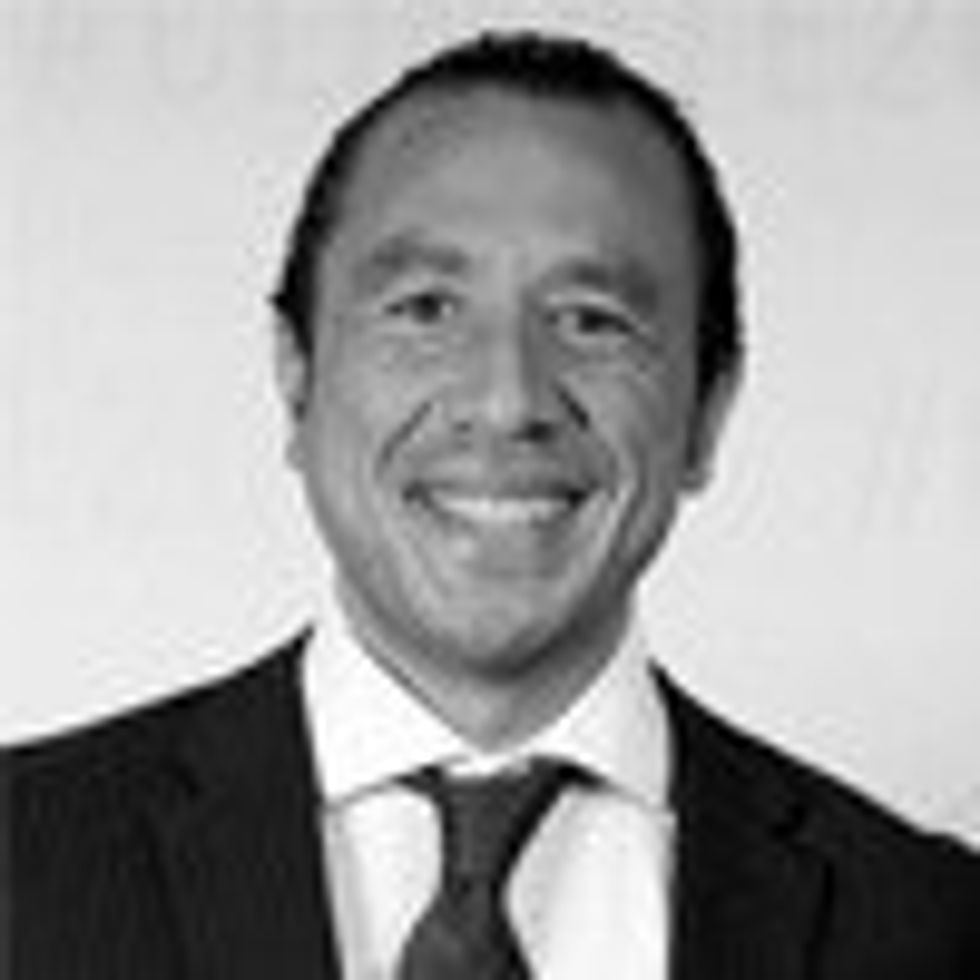 Many doubt the scientific, technical and economic feasibility of achieving 100 percent renewable energy in a single country or even globally. But this vision has never been more realistic than now, according to the latest International Renewable Energy Agency (IRENA) report and a paper written by Stanford University.
The first report by IRENA, RE Thinking Energy, points out that the transition to a sustainable energy future by 2030 is technically feasible and economically viable.
New REthinking Energy report says renewables poised to deliver climate solution #REenergise https://t.co/vZibn0WW9O https://t.co/xNH8gJCF3x

— IRENA (@IRENA)1448261779.0
On the same day, Morocco announced its plan to launch a gigantic solar plant next month, capable of providing power to 1 million people.
IRENA's report offers five key points for making this a vision a reality:
Strengthen the policy commitment to renewable energy.
Mobilize investments in renewable energy.
Build institutional, technical and human capacity to support renewable energy deployment.
Harness the cross-cutting impact of renewable energy on sustainable development.
Enhance regional engagement and international cooperation on renewable energy development.
"The strong business case for renewable energy has made the energy transition inevitable," IRENA Director-General Adnan Amin said.
The Stanford University report goes a step further than IRENA, laying out roadmaps for 139 countries to go 100 percent renewable by 2050. According to the report, 100 percent scientifically doable. They even have a nifty interactive map showing all the countries and their plans.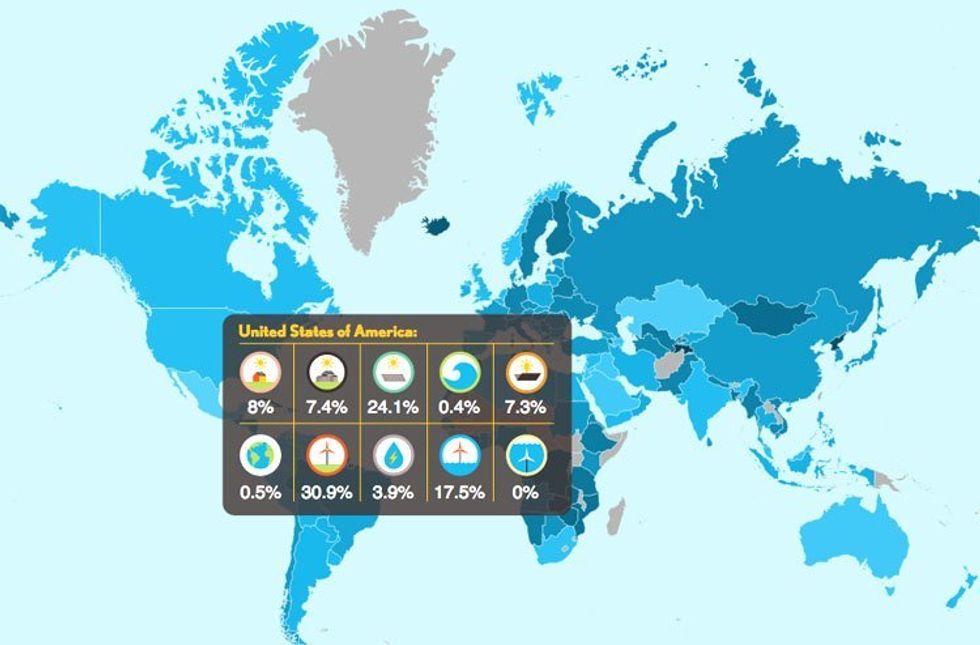 "I hope that the 139 country roadmaps, together with a just-published grid integration study for the U.S., will give confidence to leaders of the world that going to 100 percent clean, renewable energy for all purposes will not only provide reliable power at low cost, but will also create 22 million more jobs worldwide than it will cost, reduce international conflict over fuels because each country will largely be energy independent, reduce terrorism risk by providing more distributed power, eliminate the 4-7 million air pollution deaths annually worldwide and eliminate global warming," said Mark Jacobson, Stanford University professor and main author of the report.
This global 100 percent renewable transition would create 24 million 35-year construction jobs and 26.5 million 35-year operation jobs for the energy facilities alone, the combination of which would outweigh by 22.1 million jobs lost in the conventional fossil fuel sector.
Furthermore, this transformation would eliminate 4.6 million premature air pollution mortalities per year today and 3.3 million per year in 2050, avoiding $25 trillion per year in 2050 air-pollution damage costs (equivalent to 7.9 percent of the 2050 139-country GDP).
Scaling up renewables enough to meet climate objectives can support 12/17 #SDGs https://t.co/vZibn0FkLe #REenergise https://t.co/tEkPCdL2ec

— IRENA (@IRENA)1448276421.0
But this transition still has a long way to go. Indeed, as of the end of 2014, only three countries  [Norway (67 percent), Paraguay (54 percent) and Iceland (39 percent)] have installed more than 35 percent of their energy as renewables. The current world average conversion is 3.8 percent.
This is why Jacobson plans to attend COP21 in Paris next week and present the report to all the 139 governments. "The conversion to 100 percent renewables is technically and economically feasible. The main barriers are still social and political," the study concludes.
Now all we need is political will and feasibility to make this 100 percent renewable transition a reality. But have no doubt—our 100 percent renewables world starts now.
YOU MIGHT ALSO LIKE
100% Clean Energy is 100% Possible
Morocco's Giant Solar Plant to Bring Energy to 1 Million People
782 Richest People Could Power Half the World With 100% Renewable Energy
Mark Jacobson: Barriers to 100% Clean Energy are Social and Political, Not Technical or Economic
PavloBaliukh / iStock / Getty Images
Through net metering programs, homeowners who have installed solar energy systems can get utility credits for any electricity their panels generate during the day that isn't used to power home systems. These credits can be "cashed in" to offset the cost of any grid electricity used at night.
Where net metering is available, solar panels have a shorter payback period and yield a higher return on investment. Without this benefit, you only save on power bills when using solar energy directly, and surplus generation is lost unless you store it in a solar battery. However, net metering gives you the option of selling any excess electricity that is not consumed within your home.
Generally, you will see more home solar systems in places with favorable net metering laws. With this benefit, going solar becomes an attractive investment even for properties with minimal daytime consumption. Homeowners can turn their roofs into miniature power plants during the day, and that generation is subtracted from their nighttime consumption.
What Is Net Metering?
Net metering is a billing arrangement in which surplus energy production from solar panels is tracked by your electricity provider and subtracted from your monthly utility bill. When your solar power system produces more kilowatt-hours of electricity than your home is consuming, the excess generation is fed back into the grid.
For homeowners with solar panels, the benefits of net metering include higher monthly savings and a shorter payback period. Utility companies also benefit, since the excess solar electricity can be supplied to other buildings on the same electric grid.
If a power grid relies on fossil fuels, net metering also increases the environmental benefits of solar power. Even if a building does not have an adequate area for rooftop solar panels, it can reduce its emissions by using the surplus clean energy from other properties.
How Net Metering Works
There are two general ways net metering programs work:
The surplus energy produced by your solar panels is measured by your utility company, and a credit is posted to your account that can be applied to future power bills.
The surplus energy produced by your solar panels is measured by your home's electricity meter. Modern power meters can measure electricity flow in both directions, so they tick up when you pull from the grid at night and count down when your solar panels are producing an excess amount of electricity.
In either scenario, at the end of the billing period, you will only pay for your net consumption — the difference between total consumption and generation. This is where the term "net metering" comes from.
How Does Net Metering Affect Your Utility Bill?

Net metering makes solar power systems more valuable for homeowners, as you can "sell" any extra energy production to your utility company. However, it's important to understand how charges and credits are managed:
You can earn credits for your surplus electricity, but utility companies will not cut you a check for the power you provide. Instead, they will subtract the credits from your power bills.
If your net metering credit during the billing period is higher than your consumption, the difference is rolled over to the next month.
Some power companies will roll over your credit indefinitely, but many have a yearly expiration date that resets your credit balance.
With all of this in mind, it is possible to reduce your annual electricity cost to zero. You can accumulate credit with surplus generation during the sunny summer months, and use it during winter when solar generation decreases.
You will achieve the best results when your solar power system has just the right capacity to cover your annual home consumption. Oversizing your solar array is not recommended, as you will simply accumulate a large unused credit each year. In other words, you cannot overproduce and charge your power company each month.
Some power companies will let you pick the expiration date of your annual net metering credits. If you have this option, it's wise to set the date after winter has ended. This way, you can use all the renewable energy credits you accumulated during the summer.
Is Net Metering Available Near You?
Net metering offers a valuable incentive for homeowners to switch to solar power, but these types of programs are not available everywhere. Net metering laws can change depending on where you live.
In the U.S., there are mandatory net metering laws in 38 states and Washington, D.C. Most states without a mandate have power companies that voluntarily offer the benefit in their service areas. South Dakota and Tennessee are the only two states with no version of net metering or similar programs.
If net metering is available in your area, you will be credited for your surplus energy in one of two ways:
Net metering at retail price: You get full credit for each kilowatt-hour sent to the grid. For example, if you're charged 16 cents per kWh consumed, you'll get a credit of 16 cents per kWh exported. This type of net metering is required by law in 29 states.
Net metering at a reduced feed-in tariff: Surplus electricity sent to the grid is credited at a lower rate. For example, you may be charged 16 cents per kWh for consumption but paid 10 cents per kWh exported. Feed-in tariffs and other alternative programs are used in 17 of the states where retail-rate net metering is not mandatory.
Note: This is just a simplified example — the exact kWh retail price and solar feed-in tariff will depend on your electricity plan.
The Database of State Incentives for Renewables & Efficiency (DSIRE) is an excellent resource if you want to learn more about net metering and other solar power incentives in your state. You can also look for information about solar incentives by visiting the official websites of your state government and utility company.
Other Financial Incentives for Going Solar

Net metering policies are one of the most effective incentives for solar power. However, there are other financial incentives that can be combined with net metering to improve your ROI:
The federal solar tax credit lets you claim 26% of your solar installation costs as a tax deduction. For example, if your solar installation had a cost of $10,000, you can claim $2,600 on your next tax declaration. This benefit is available everywhere in the U.S.
State tax credits may also be available depending on where you live, and they can be claimed in addition to the federal incentive.
Solar rebates are offered by some state governments and utility companies. These are upfront cash incentives subtracted directly from the cost of your solar PV system.
In addition to seeking out solar incentives available to you, you should compare quotes from multiple installers before signing a solar contract. This will ensure you're getting the best deal available and help you avoid overpriced offers and underpriced, low-quality installations. You can start getting quotes from top solar companies near you by filling out the 30-second form below.
Frequently Asked Questions: Solar Net Metering

Why is net metering bad?
When managed correctly, net metering is beneficial for electricity consumers and power companies. There have been cases in which power grids lack the capacity to handle large amounts of power coming from homes and businesses. However, this is an infrastructure issue, not a negative aspect of net metering itself.

In places with a high percentage of homes and businesses using solar panels, surplus generation on sunny days can saturate the grid. This can be managed by modernizing the grid to handle distributed solar power more effectively with load management and energy storage systems.

How does net metering work?
With net metering, any electricity your solar panels produce that isn't used to power your home is fed into your local power grid. Your utility company will pay you for this power production through credits that can be applied to your monthly energy bills.
Can you make money net metering?
You can reduce your power bills with net metering, using surplus solar generation to compensate for your consumption when you can't generate solar power at night and on cloudy days. However, most power companies will not pay you for surplus production once your power bill has dropped to $0. Normally, that credit will be rolled over, to be used in months where your solar panels are less productive.
On very rare occasions, you may be paid for the accumulated balance over a year. However, this benefit is offered by very few electric companies and is subject to limitations.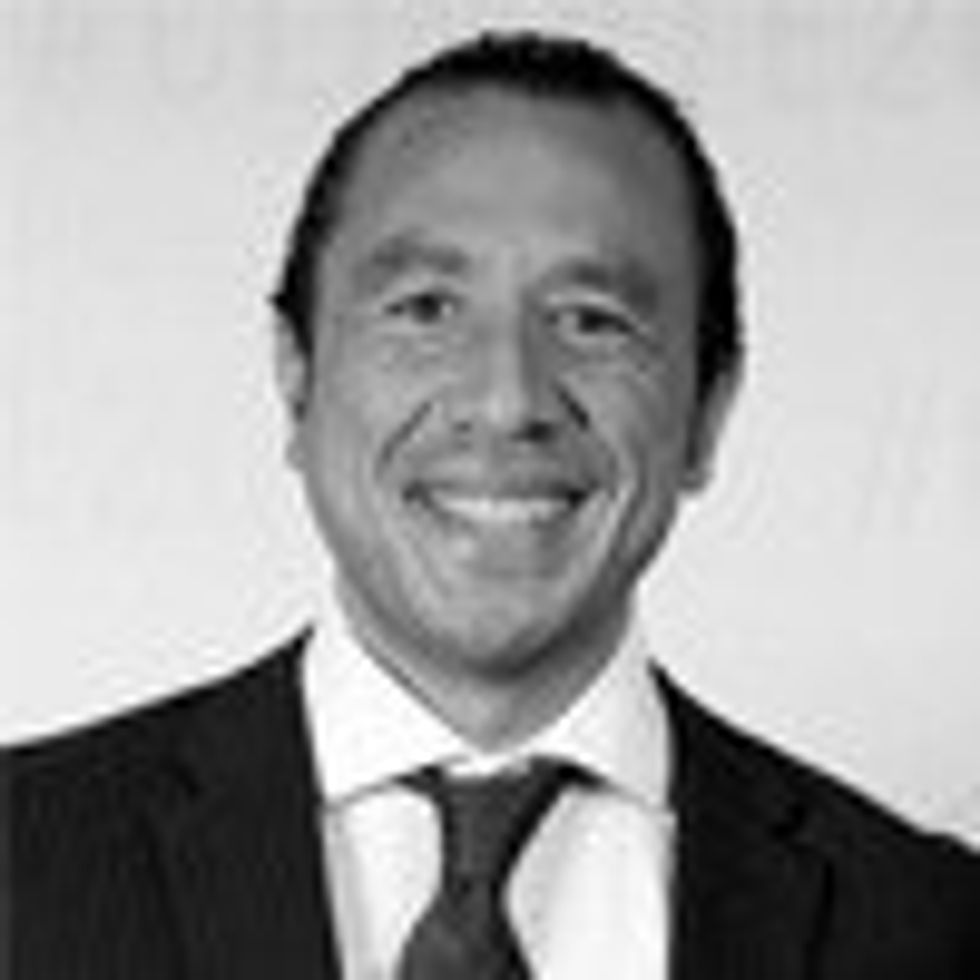 As COP21 draws nearer, there is more and more hope that the 2015 UN Climate Summit will be a turning point in tackling climate change globally. And the latest report from the Climate Policy Initiative indicates that climate finance has significantly increased over the last year, adding further support for a successful global deal in Paris.
In order to make this happen, a global transformation of our financial and energy systems is needed. This will enable a low-carbon and climate-resilient global economy to take place, and will support the implementation of the climate action plans (INDCs) already proposed by more than 150 countries.
Discover where global #climatefinance is flowing with our new interactive: https://t.co/8VCo0MgJCB https://t.co/a33TbW8GgK

— CPI (@CPI)1447877163.0
To support this, the Climate Policy Initiative's new report, The Global Landscape of Climate Finance 2015, presents "The most comprehensive information available about which sources and financial instruments are driving investments, and how much climate finance is flowing globally."
According to the latest figures, global climate finance flows reached an all-time high of at least USD$391 billion in 2014 as a result of a steady increase in public finance and record private investment in renewable energy technologies. This is an increase of 18 percent from last year's USD$331 billion. The majority of this climate finance went to climate mitigation projects, representing more than 90 percent of total global.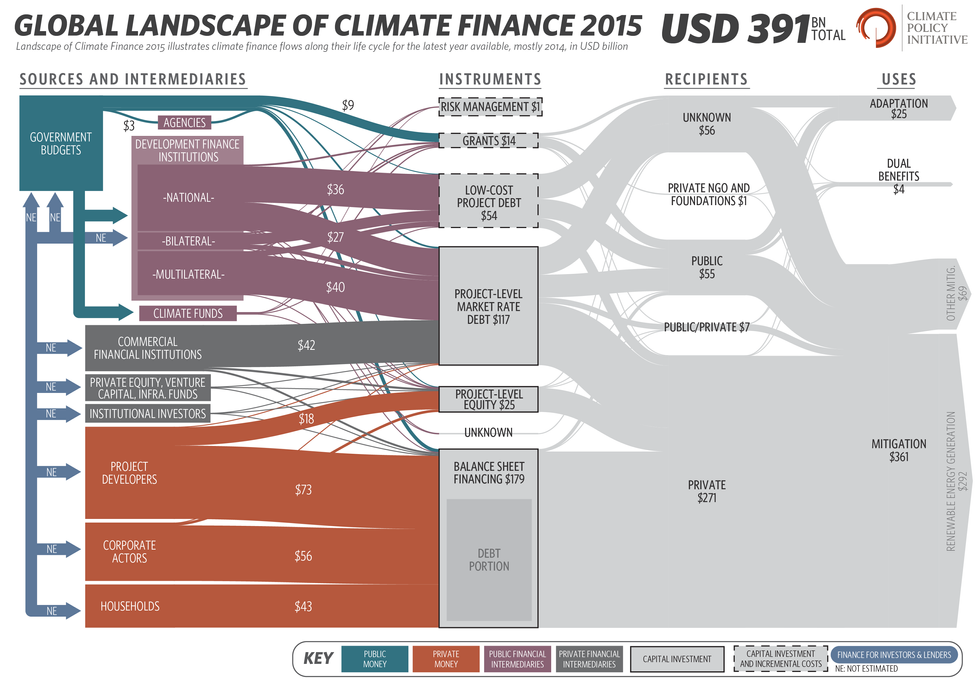 Public climate finance increased by 8 percent, with contributions by governments and intermediaries reaching at least USD$148 billion, but it is private finance that was the largest contributor to climate mitigation.
Private investment grew by 26 percent in 2014 after two years of decline. With USD$243 billion, private investment remained the largest source (62 percent) of global climate finance.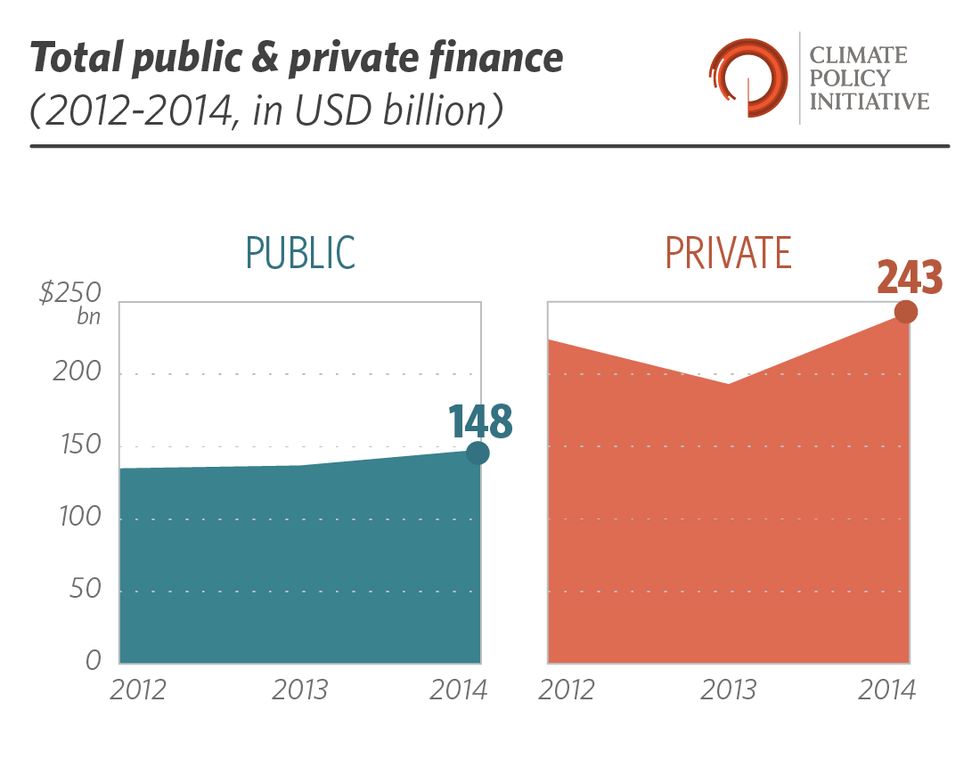 This big increase was mainly driven by the huge renewable energy demands in China and the decrease in costs of electricity from utility scale solar, which has fallen by 50 percent since 2009.
These latest figures are very encouraging in helping us transition to a global low-carbon economy. Nevertheless, more than USD$16.5 trillion is needed between 2015-2030, to successfully reach a less than 2c degree world. This equates to a little more than $1 trillion/year.
The report offers four key advices on moving forward to scale climate finance.
Enhance tracking efforts of climate finance globally

Encourage domestic investment policy

Innovate to develop or refine financial instruments that meet the needs of investors

Enhance the integration of climate change considerations into the financial system
Last year's increase in climate finance is very encouraging, but we need to do much more to be able to reach our 2 degree objective. And hopefully COP21, with the help of this report, will offer a platform for financiers to make this happen and scale climate finance.
YOU MIGHT ALSO LIKE
COP21 Must Go On and Offer Hope for Paris
3 Key Ingredients for the COP21 Paris Climate Agreement
Bernie Sanders: 'Climate Change Is Directly Related to the Growth of Terrorism'
Meet the Climate Scientists Travelling by Bike and Foot from the Poles to Paris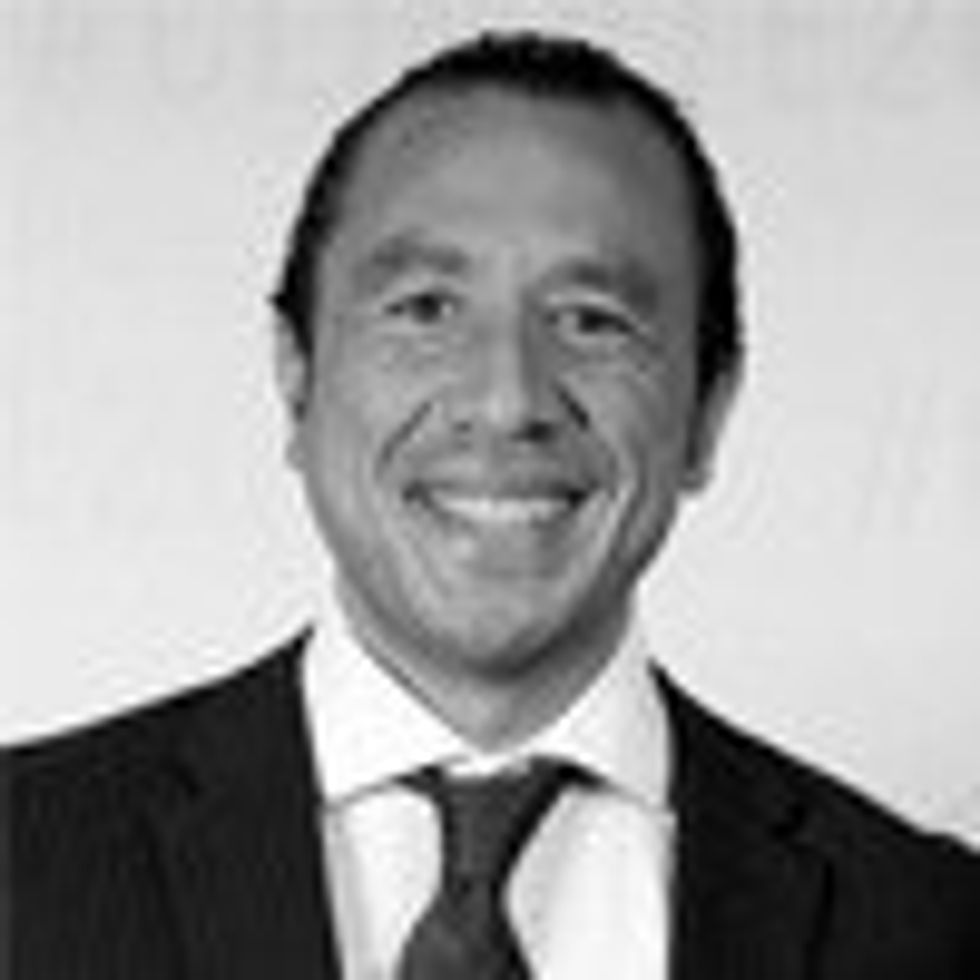 As a French national, I am deeply saddened by the tragic events that unfolded in Paris on Friday. Paris, the city of light, experienced one of its darkest hours. Paris, the city of love and romance, experienced one of its worst moments of violence and hatred. Paris, the city of the universal declaration of human rights, experienced one of its most inhumane acts. These heinous terrorist acts were not just attacks on France and its fundamental values, but also on the international community—more than 10 other countries were affected by civilian casualties.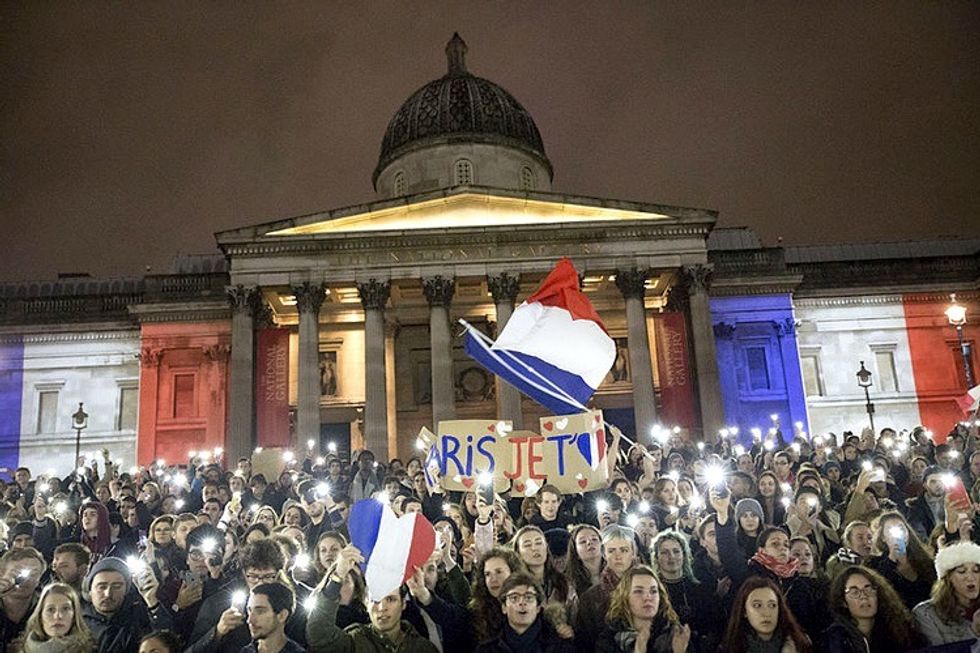 The rest of the world quickly showed its solidarity with France by lighting up many landmark monuments with the colors of the French flag. These also represent its values: blue for liberty, white for equality and red for fraternity.
However, these horrific, barbaric acts cannot deter all those who uphold France's universal values. And we certainly cannot counteract these violent acts by destroying the Islamic State of Iraq and Syria (ISIS) as suggested by President of France François Hollande. This will only breed more hatred and violence, and will not address some of the root causes that led to the rise of ISIS.
ISIS terrorists also targeted Russia and Lebanon in the last month. With more than 80 country leaders coming to Paris in two weeks, the upcoming UN conference on climate change (COP21) is a perfect opportunity to send out a loud and clear message: terrorist attacks like Friday's are unacceptable and the rest of the world is working together to make it better. Though French Prime Minister Manuel Valls announced that COP21 will be limited to its core talks, (there will unfortunately be no major public demonstrations or concerts), we should not stop the current societal, financial and political momentum for a global deal on climate change. Indeed, a vision of a more sustainable world has never been so palpable, so possible or so present.
Many leaders around the world have been quick to link the rising terrorism to climate change. During Saturday's Democratic election debate, Sen. Bernie Sanders linked the current tragedies in Paris with climate change as he directly linked the rise in terrorism to climate change.
However, climate change is more complex than this. Its global consequences have unprecedented social, economical and environmental consequences worldwide. It is, as Professor Lazarus wrote, a "Super Wicked Problem," and as former U.S. Defense Secretary Chuck Hagel put it, a "threat multiplier." "Rising global temperatures, changing precipitation patterns, climbing sea levels and more extreme weather events will intensify the challenges of global instability, hunger, poverty and conflict," Hagel wrote.
A recent scientific paper suggests that climate change exacerbated global conflicts in Syria: "There is evidence that the 2007−2010 drought contributed to the conflict in Syria. It was the worst drought in the instrumental record, causing widespread crop failure and a mass migration of farming families to urban centers. We conclude that human influences on the climate system are implicated in the current Syrian conflict." And since current reports indicate that the "Paris Attacks" perpetrators belonged to ISIS, we should not dismiss this consequential link.
Therefore, this should give us more reason to make COP21 a success by signing a global deal on climate change. This will not only provide a framework to help solve the environmental crisis of our time, but it will also attack this "super wicked threat multiplier" at its root.
A global deal on climate change will help the world transition to a clean energy future. It will unleash clean energy investments and decrease fossil fuels—a major financial resource for the ISIS. A global deal on climate change will also make the world more secure by giving countries more autonomy in producing sustainable food and energy. Finally, a global deal on climate change will, as the World Bank argues, help billions of people ameliorate their lives and come out of poverty. "Ending poverty and fighting climate change cannot be done in isolation—the two will be much more easily achieved if they are addressed together," Stephane Hallegatte, World Bank senior economist, said about the report.
We must fight terrorism on all fronts. We cannot ignore the difficult, complex geopolitical causes that lead to such senseless attacks. The root causes are multiple and interlinked, but we must not forget that to eradicate it, climate change may be one of them.
These horrifying terrorist attacks happened very closely to the start of the COP21, perhaps to deter people and global leaders from coming to Paris. However, COP21 will and must go on, and it is our duty to make it a success.
And hopefully, the light, the love and the humanity that Paris is famous for will overcome the dark, deadly and destructive forces that resulted in last week's atrocious acts.
YOU MIGHT ALSO LIKE
Bernie Sanders Refuses to Back Down on Climate-Terrorism Connection
El Niño + Climate Change = 'Uncharted Territory'
Why Fossil Fuel Stocks Are Doomed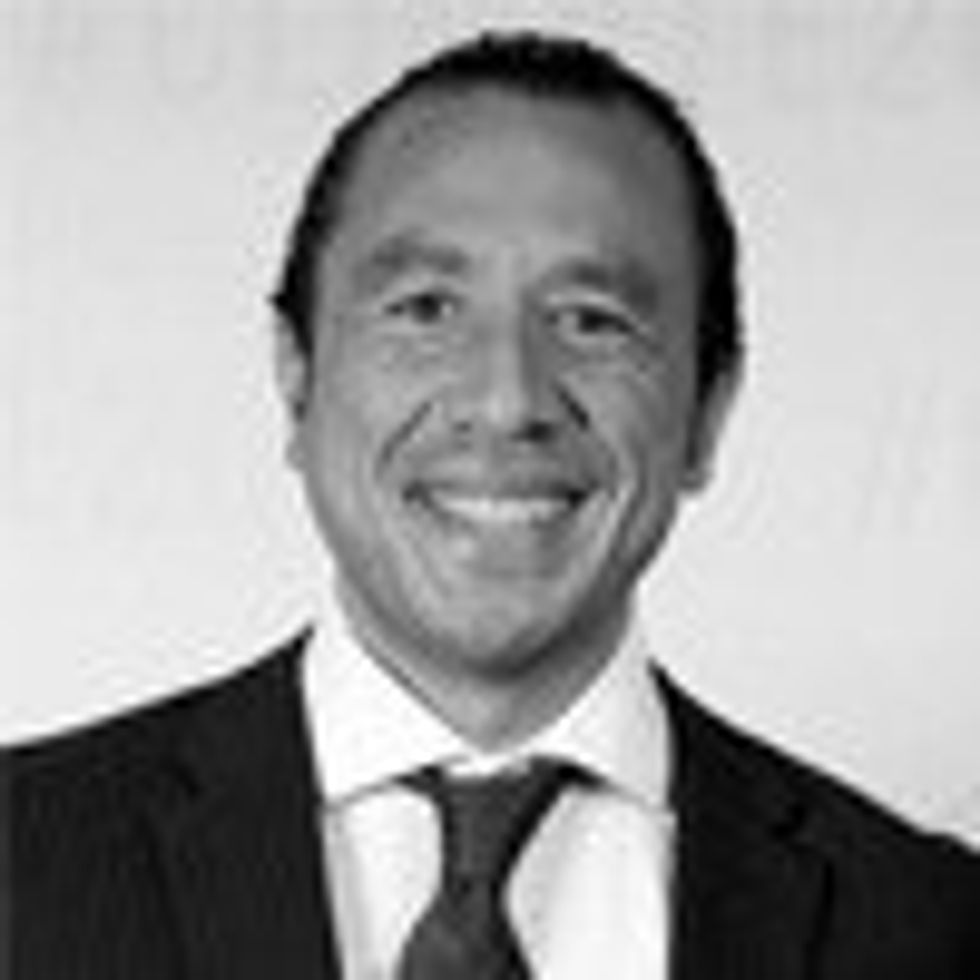 Last week more than 60 ministers from different countries (including the U.S., Canada, Australia, EU, China, India, South Africa, Brazil and Russia) convened in Paris, at the last global diplomatic meeting before the most important climate conference of our time: COP21.
Under the auspices of the French Foreign Minister and COP21 President, Mr. Laurent Fabius, its objectives were to talk about possible solutions, give political momentum and kickstart negotiations prior to the United Nations conference starting Nov. 30.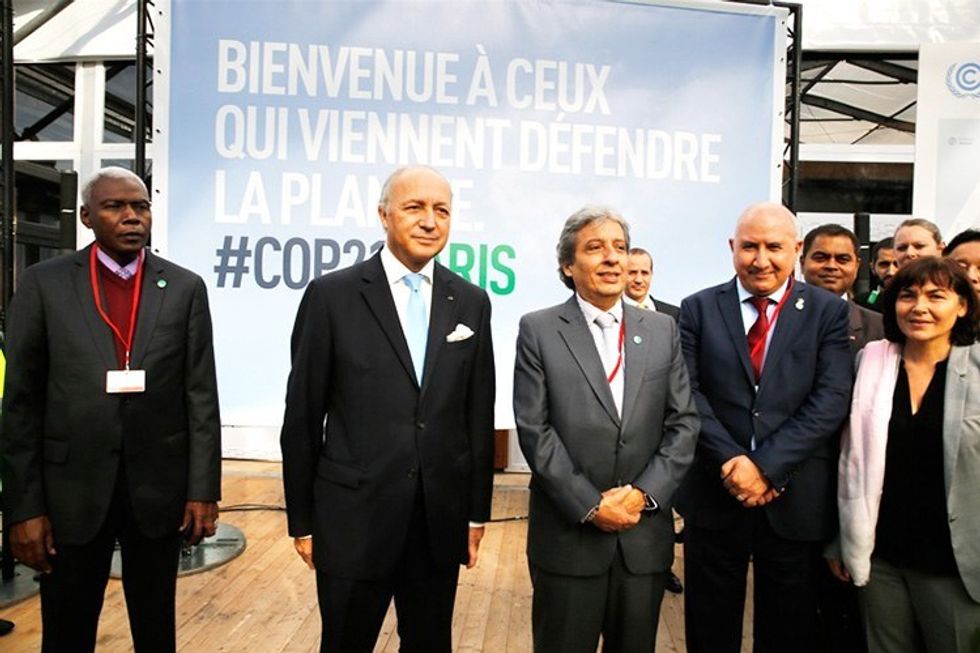 Last week more than 60 ministers from different countries convened in Paris, at the last global diplomatic meeting before the most important climate conference of our time: COP21. Photo credit: Michael Mathres
The mood was surprisingly hopeful, encouraging and positive and four key conclusions emanated from the three-day discussions:
Universal and non-reversible agreement — An ambitious Paris Accord on limiting greenhouse gases is possible, with a large consensus of the countries present agreeing on establishing a review period every 5 years. This is a very important point, as the world will be able to gauge countries' progress in limiting their carbon emissions. Countries also agreed that all their commitments were non-reversible. This means that all the current contributions submitted by the countries (so called INDCs) are their minimum commitments and that any new contributions will become better.
Equitable treatment — a unique system will be implemented making sure that all countries are treated in a balanced and fair way. This will be a very contentious point during the conference between developed and developing countries.
Climate Financing — positive signals were sent by all countries about contributing to the $100bn/yr Green Climate Fund to help developing countries mitigate and adapt to climate change. It was also pointed out that developing countries would also contribute to this target, indicating that this huge financial commitment does not only rest on developed countries.
Bottom-up Actions—a pre-2020 review of all the actions taken by civil society (all non-state actors) in 2017 and 2018, to make sure that the current commitments made by all organizations (there are currently more than 6,000) are ambitious and complement the countries' objectives.
In addition to these four broad agreements, three countries released their contributions to the Paris global deal: Saudi Arabia, Sudan and Egypt. This means that, in total, 160 countries have submitted plans for Paris, representing more than 90 percent of global greenhouse gases. This is very encouraging as we are nearing 100 percent coverage of GHGs worldwide.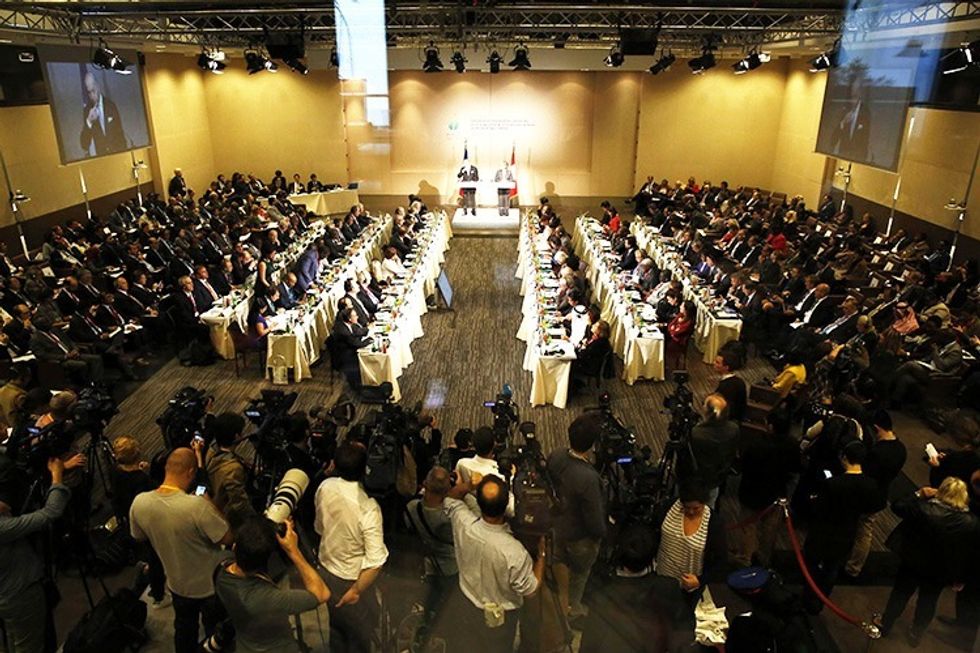 Pre-COP21 meeting in session. Photo credit: Michael Mathres
All in all, these conclusions indicate that countries are prepared and willing to sign a global agreement on climate change, but as is usually the case in large international negotiations, the devil will be in the details of the final accord. Let's hope we can keep this positive political momentum until and through COP21.
YOU MIGHT ALSO LIKE
Bernie Sanders: 'Climate Change Is Directly Related to the Growth of Terrorism'
Paris Climate Talks Will Not Be Canceled, Obama Will Attend
Bill McKibben: We Must Keep Brewing Gale-Force Winds to Shift Political Landscape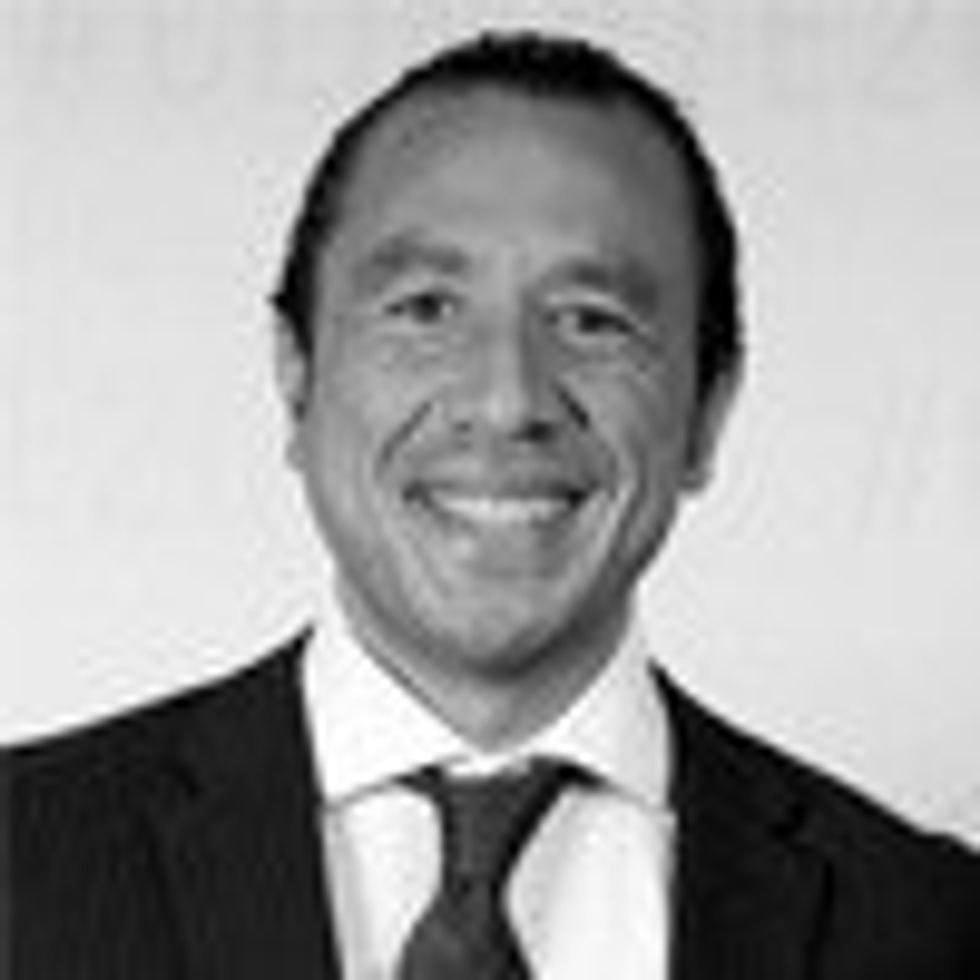 The latest report from the influential World Resources Institute (WRI), Assessing the Post-2020 Clean Energy Landscape, indicates that we are poised for an exponential growth in renewable energy production after the Paris COP21 climate conference.
According to the report, which analyzes the clean energy plans of eight of the top 10 carbon emitters in the world, the Paris 2015 conference could help double the current market in the next 15 years.
National Climate Plans, by the numbers #INDCs https://t.co/6idKVVkYc1 #COP21 #Paris2015 https://t.co/s9Urhf9SIN

— World Resources Inst (@World Resources Inst)1446223209.0
"These new renewable energy targets send strong signals to energy markets and investment circles," said Jennifer Morgan, global director of the Climate Program, at World Resources Institute.
Assuming these proposed clean energy plans are achieved, total annual renewable electricity generation will increase by nearly four times between now and 2030. This increase is equivalent to all of India's current energy demand.
Here are some key highlights:
China will increase the share of non-fossil fuel in primary energy consumption to around 20 percent by 2030;
European Union will achieve at least a 27 percent share of renewable energy consumption by 2030;
U.S. will increase the U.S. share of renewables—beyond hydropower—in the electricity generation mix to 20 percent by 2030.
The report also analyzed the current climate plans submitted by all the countries to the UNFCCC, the so-called INDCs. INDCs (intended nationally determined contributions) have been submitted by more than 150 countries and are expected to provide the fundamental plans for a global deal on climate change next month.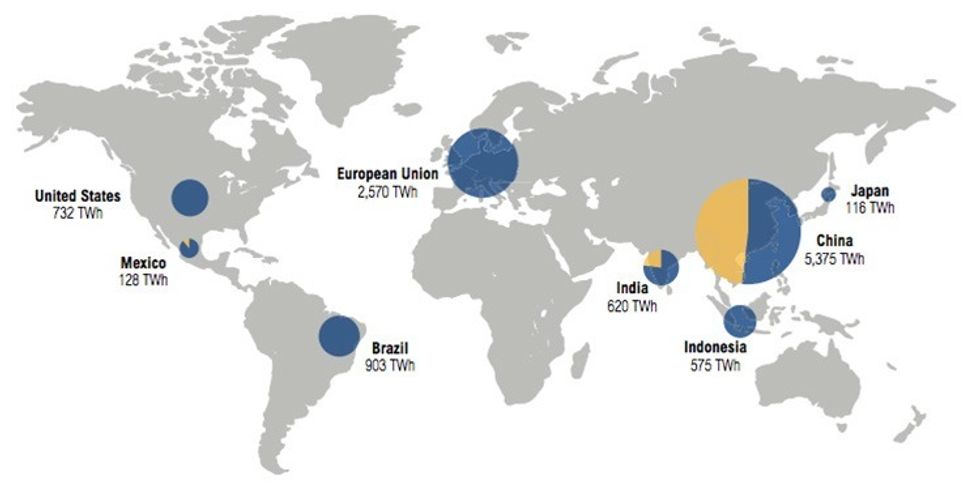 Out of the 127 INDCs submitted, 80 percent of them mentioned clean energy: 67 INDCs (53 percent) indicated clean energy targets and 35 INDCs (27 percent) committed to put forward clean energy actions.
This WRI report preceded the release of IEA's "World Energy Outlook 2015," which gives approximately similar projections but with longer targets: Renewables-based generation reaches 50 percent in the EU by 2040, around 30 percent in China and Japan and above 25 percent in the U.S. and India.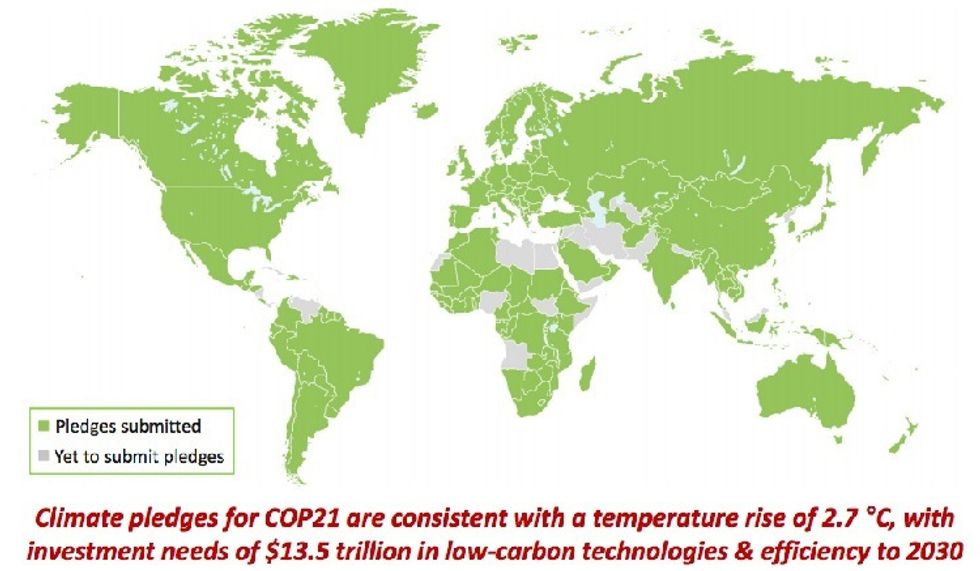 "World leaders meeting in Paris must set a clear direction for the accelerated transformation of the global energy sector." Fatih Birol, executive director, IEA.
Unfortunately, according to the IEA these INDCs and current renewables projections for emissions trajectory implies a long-term temperature increase of 2.7C by 2100. Therefore, more must be done to help all the countries accelerate, grow and implement this massive clean energy transition.
YOU MIGHT ALSO LIKE
Corporate and Financial World Are Finally Ready to Take Climate Action
Renewables to Overtake Coal as World's Largest Power Source, Says IEA
Climate Change Poised to Push 100 Million Into 'Extreme Poverty' by 2030
UN Report Measures Significant Progress Ahead of Paris Climate Talks