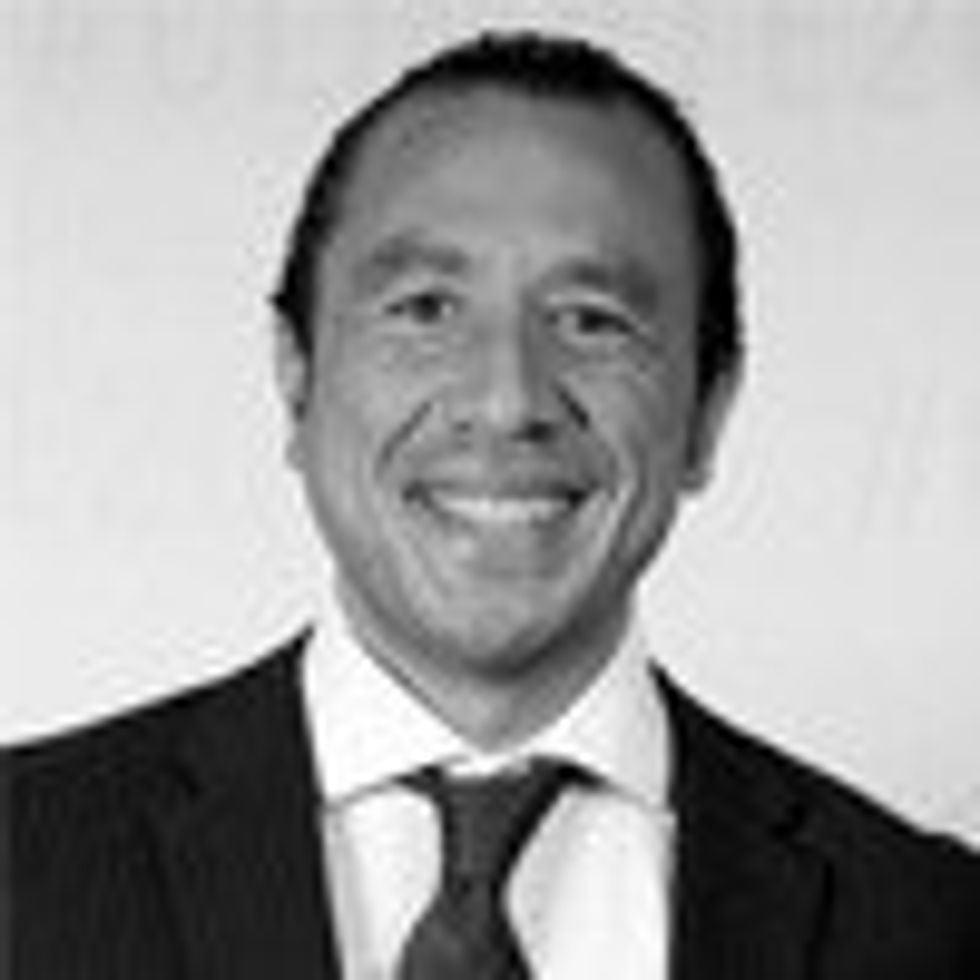 If you ever needed proof that we are truly embarking on a renewable energy revolution, then look no further than the latest report from one of the most respected credit ratings agencies in the world.
According to Standard & Poor's latest analysis, the Paris Agreement, signed last month during COP21, will unleash more than $16 trillion of investments for renewable energy and clean technologies.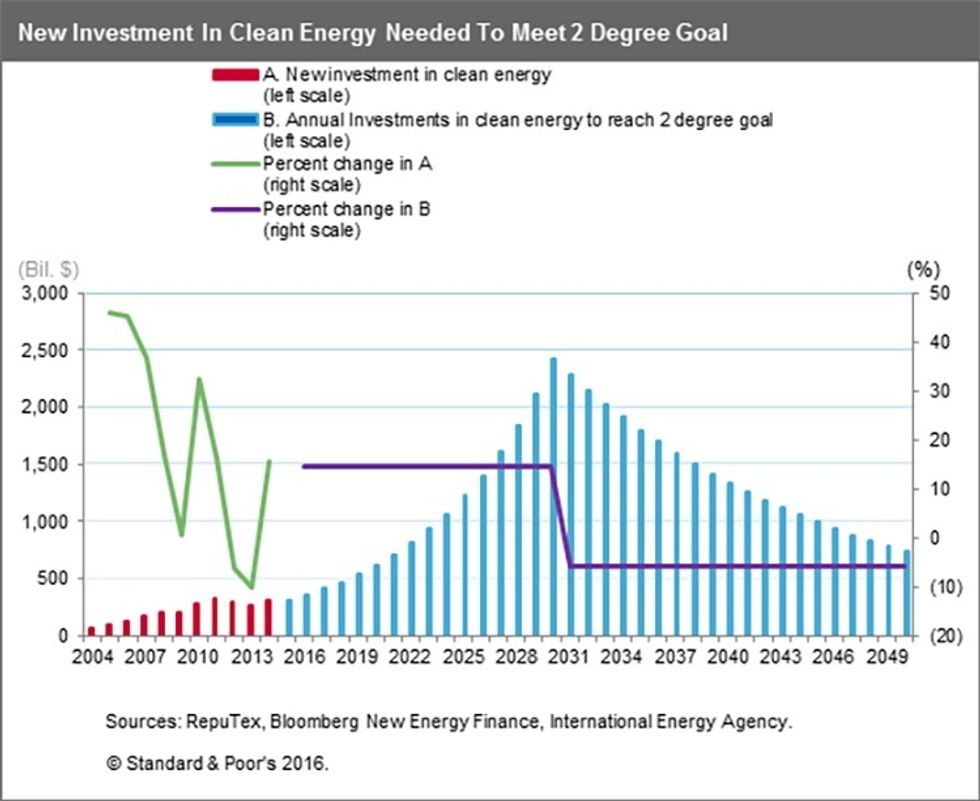 The report predicts that as a result of the Paris Agreement, the market for renewables, clean tech and green finance could take off because almost all of the plans submitted by the 195 countries mention renewables in their commitments. In fact, the pledges mentioned by China and India alone could potentially double the world's wind and solar capacity within 15 years.
The agency expects that investments will move more quickly into renewables and new business models, with a focus on providing more energy efficiency solutions to consumers globally. They also expect this energy transition to shake the industry's fundamentals over the coming years. In other words, the energy sector will undergo a dramatic and major transformation as never seen before.
"As the costs of renewable energy and other zero and low-carbon technologies continue to fall and more clean technological breakthroughs are unveiled, political pressure against supporting the initial cost of such a transformation should continue to ease and incentives for development should persist," the report says.
This mega trend is supported by many new initiatives that were launched during COP21 such as Dubai committing to sourcing 25 percent of power generation from solar by 2030 and 75 percent by 2050, with a $27 billion Dubai Green Fund to support it. The International Solar Alliance by India and France, backed by 120 other governments, which aims to provide $1 trillion of solar investment, representing 1 terawatt (1,000 GW) of capacity, by 2030, is also a good example of this increase in finance for renewables.
Renewable energy, clean tech & green finance poised for $16.5 trillion post-Paris take-off https://t.co/WFyrFXd5KO https://t.co/uvtzpiy5he

— GCCA (@GCCA)1453482058.0
To support this transition, a UN backed initiative was launched called the Green Infrastructure Investment Coalition. It aims to help investors understand the pipeline of green infrastructure investments as well as shape capital market instruments to ensure capital flows. The idea is to scale up the green bond market from its current $40 billion to the $1 trillion needed to fund low-carbon infrastructure.
This is all good news for consumers as well, as "Big leaps in energy innovation, cheaper renewables and the more efficient use of power—have reduced carbon emissions over the past 15 years without substantial increases in cost to end users."
This latest renewable energy investment prediction is unprecedented and now that these market signals have been triggered, it's up to governments and the corporate sector to start implementing this massive transition.
YOU MIGHT ALSO LIKE 
World's Top Carbon Reserves That Must Be Kept in the Ground to Prevent Climate Chaos
Record-Breaking Snowfall Dumps on East Coast
Carbon Capture: 'Only Realistic and Affordable Way to Dramatically Reduce Emissions'
EcoWatch Daily Newsletter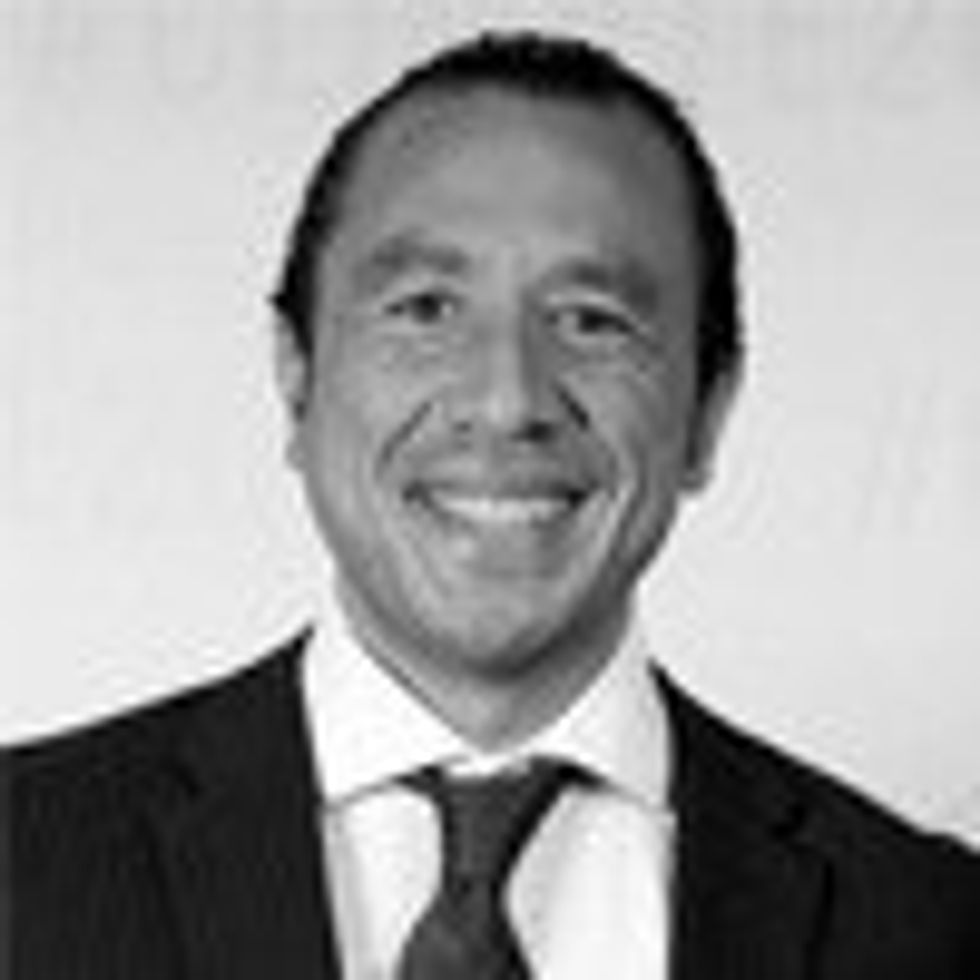 In recent years, businesses have been indirectly part of the United Nations conference on climate change (UNFCCC COP). This has mostly been as observer parties or lobbyists. But this year, during COP21, is the first time that business is showing true constructive leadership and influence within the negotiations and on the side as well.
There will be more than 180 business events during COP21 — including the event I am organizing the World Climate Summit, which was the original business summit since 2009. There will also be, for the first time ever, a business solutions gallery in the official UN zone at the COP21 venue called "La Galerie COP21."
This week, more than 350 companies with US$8 trillion in revenue sent out strong messages about an unconditional support for an ambitious Paris climate agreement.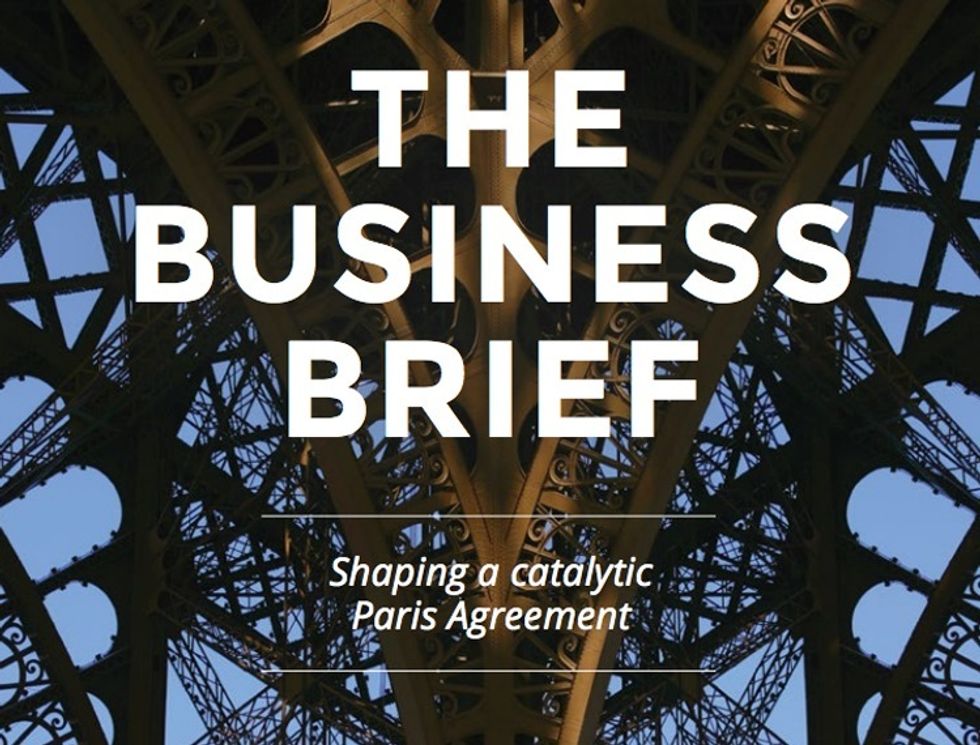 First the first time, We Mean Business Coalition released a Business Brief to all the COP21 negotiators that aims to assist the governments meeting in Paris to finalize the new international climate agreement. Indeed, business are not doing the usual "advocacy" work, but actually proposing a set of eight key asks for an ambitious agreement. They include:
Net Zero GHG emissions well before the end of the century.
Strengthen commitments every five years.
Enact meaningful carbon pricing.
New and additional climate finance at scale.
Transparency and accountability to promote a race to the top.
National commitments at the highest end of ambition.
Adaptation to build climate resilient economies and communities.
Pre-2020 ambition through workstream 2.
Secondly, the World Economic Forum launched a letter signed by 78 CEOs calling for urgent climate action. In it, the CEOs urge: "Governments to take bold action at the Paris climate conference (COP 21) in December 2015 to secure a more prosperous world for all of us."
And finally, today more than 100 CEOs of cleantech startups
signed a call to action
with WWF. In it, they call for 100 percent renewable energy by 2050, scaling climate finance, get rid of fossil fuel subsidies and set science-based targets.
The statement goes on to offer three commitments from their companies and four tools for governments to use:
Commitments:
Voluntarily reduce GHG emissions
Act as ambassadors that climate change is real and solutions exist
Actively manage risks within their business
Vision:
Implementing a price on carbon
A strategic action agenda to stimulate innovation
Transparency and disclosure with regards to energy related activities
Setting science-based targets in business planning for the development of future energy
Hastening the shift to a low-carbon economy in an economically sustainable manner will generate growth and jobs in both the developing and developed world. Delaying action is not an option.
Businesses have never been so ready to support climate action and build a global low-carbon economy. The signals this week have been loud and clear. Now let's hope that all governments do realize that business can be a force for good and that they are ready to support a global deal on climate change with them.
YOU MIGHT ALSO LIKE
Groups Demand French President Lift Ban on Climate Protests and Marches
Interactive Tool Maps Final Draft of Paris Climate Deal
100% Renewable-Powered World 'Technically Feasible and Economically Viable' by 2030
'Filthy' Corporate Sponsors Bankrolling COP21 Exposed in New Report
seed.com
You can't discount the importance of your gut health. Research shows that the microbiome within your digestive system has a disproportionate impact on how well your whole body functions.

Unfortunately, bad diets, the overuse of antibiotics, and other stressors mean many of our digestive systems are in trouble. Probiotic supplements claim to solve this problem by replenishing your gut with the healthy bacteria it needs for optimal functioning. Here, we'll analyze the popular probiotic brand Seed to determine whether its supplements are worth taking.
How We Review Probiotics
Whenever we review a probiotic supplement, we evaluate six specific categories.
Number of active strains - How many types of bacteria are included?
AFU (Active Fluorescent Units)/ CFU (Colony Forming Units) - These units of measurement tell you how many billions of bacteria are estimated to be within each supplement dose.
Storage Requirements - Some probiotics are shelf-stable, while others require refrigeration.
Ingredient Transparency – does the company disclose where it sources its active strains and provide clinical research for their efficacy?
Value - How are the probiotics priced? Can you purchase them without an auto-ship program?
Sustainability - Does the company show ways its supplements are better for the environment through sustainable ingredient sourcing or packaging?
Let's evaluate these criteria for Seed.
About Seed Probiotics
Seed is an e-commerce supplement brand with a single product—the DS-O1 Daily Synbiotic probiotic. The company got its start in 2018 when cofounders Ara Katz and Raja Dhir determined that the current probiotic supplements available weren't hitting the mark.
Katz's experiences of pregnancy and breastfeeding as a new mom led her to develop a deeper appreciation of the body's microbiome and its role in overall health. She joined forces with Dhir, who had the scientific experience to understand what could be improved within the probiotic industry.
Together, they strove to create a supplement that "raised the bar on bacteria" by giving the body what it needed for all its systems to operate most effectively. They collaborated with a large team of entrepreneurs, artists, and scientists to develop a probiotic known as DS-01 Daily Synbiotic.
The Seed DS-01 Daily Synbiotic
seed.com
Active Strains - 24
AFU - 53.6 billion AFU
Storage Requirements - Shelf-stable for 18 months after opening
Ingredient Transparency - Clinical data available for each strain
Sustainability - First order ships in reusable glass canisters and subsequent orders arrive in compostable biofilm.
Value - $49.99/60 supplements (30-day supply subscription)
The DS-01 Daily Synbiotic is a broad-spectrum probiotic that combines 24 probiotic strains with a non-fermenting prebiotic concentrate of Indian pomegranate for better delivery. Of these strains, 23 are human-derived, and one is isolated from fruit and added to promote healthy cholesterol levels.
These strains work synergistically to support the 38 trillion bacteria that make up your microbiome. They will purportedly help the body digest food, minimize inflammation, and better synthesize nutrients.
This supplement contains four distinct probiotic blends:
Digestive Health/ Gut Immunity/ Gut Barrier Integrity: 37.0 Billion AFU
Dermatological Health: 3.3 Billion AFU
Cardiovascular Health: 5.25 Billion AFU
Micronutrient Synthesis: 8.05 Billion AFU
(See strain-specific studies here)
How It Works
With these multiple strains, the company claims to take a 'Microbe-Systems Approach' through microbes that impact specific physical functions beyond the digestive system. These include skin and heart health, better immune system functioning, and micronutrient synthesis.
In other words, DS-01 goes beyond digestive issues to support full-body health. The company claims it's even one of the first probiotic formulations able to synthesize folate and increase its production.
Seed's DS-01 Daily Synbiotic probiotic also stands out with its delivery system. The supplement utilizes "nested capsule technology" along with a patented algae delivery system. This two-in-one capsule design houses the probiotic formula within a prebiotic casing made from Indian pomegranate to ensure these fragile bacteria survive both sitting on store shelves and the perilous journey through stomach acid to your colon.
Through this method, Seed claims to average a 100% delivery rate of the probiotic's starting dose to your colon. According to internal testing, DS-01 probiotics will exceed the living cell counts listed on the label even after ten days of constant 100º F exposure.
Usage Instructions
Adults can take two Seed probiotic supplements per day, preferably at the same time. It's best you do so on an empty stomach to limit the capsule's exposure to digestive enzymes that start to break it down. However, those with sensitive stomachs may want to eat something first. While you'll get optimal results from taking the supplements daily, it's not a problem if you occasionally skip one.
If you're new to probiotics, start by taking one per day for the first three days and then increasing your dosage to two per day. You may feel its effects on your digestive system within 48 hours, though long-term improvements to the cardiovascular system take more time and might not be noticeable to you.
Seed probiotics don't need require refrigeration. They are shelf-stable for 18 months at temperatures up to 78℉ and are safe to take when expired. Just note that the company can't guarantee their potency at this point.
How to Buy
Seed DS-01 Daily Synbiotic probiotics are only available on a subscription basis. They cost $49.99 per month and ship free throughout the US (international orders include a $10 shipping fee).
You will receive a 30-day supply (60 capsules) when you order through the company website, and the first order includes a reusable glass canister and travel vial. Each subsequent order arrives in compostable biofilm so you can transfer the capsules to the reusable ones.
All first orders are covered by a 30-day risk-free trial, during which you can return the probiotics for a full refund. It's possible to cancel the subscription at any time by contacting customer service at [email protected].
Note: At publication, these probiotics were sold out. They are available for pre-order and expected to ship again in 2-4 weeks.
What We Like About Seed
As a product within the largely unregulated supplement industry, Seed broad-spectrum probiotics earn major points from us for both transparency and abundant clinical research. The company shares detailed information about every bacterial strain within the supplement and links out to the scientific studies highlighting their effectiveness.
Customer reviews on Facebook and other review sites show that Seed probiotics work as described for many users. Some shared they experienced positive improvements in their digestive system within 48 hours and noticed better-looking skin within a month.
Those with allergies or food sensitivities will also appreciate these supplements are soy-free, vegan, gluten-free, dairy-free, corn-free, and free of binders and preservatives.
From a consumer standpoint, Seed makes taking probiotics simple. The shelf-stable formula means you won't have to store them in the fridge, and each 30-day supply is guaranteed to remain viable for 18 months after opening. Likewise, the nested capsule delivery system should improve how many billions of bacteria make it into your digestive system intact.
Equally noteworthy, we love Seed's commitment to environmental sustainability. By sending each customer two reusable glass containers at the start of their subscription, the company minimizes the packaging waste for each subsequent order.
What We Don't Like
Despite these positives, Seed broad-spectrum probiotics have some downsides. To start, they are pricier than many competitors. You will pay $1.66 per day's dose, which is more than some want to pay for supplements.
It's also not possible to try them without committing to a monthly subscription. While it will take several weeks or longer to start noticing their effects, some customers might not want to be locked into an auto-ship program so early in the experimenting process.
Likewise, some customer reviews complained of unexpected side effects such as breakouts and rashes. It's not clear whether these went away for users after a few weeks of use.
Finally, it's currently only possible to pre-order these supplements. If you're dealing with digestive distress today, you may want to try a probiotic brand that's available right now for faster relief.
Seed Safety & Side Effects
Seed DS-01 Daily Synbiotics are considered safe for adults over 18. Each supplement is vegan and free of common allergens like gluten, dairy, soy, and corn. They have undergone extensive third-party testing and adhere to the highest global regulatory standards for safety.
As with all probiotics, you might notice unpleasant side effects when you start taking them. Many people experience bloating, increased gas production, constipation, and other gastrointestinal problems for the first few days.
This can be discouraging, as many users take probiotics precisely to combat these symptoms in the first place. However, your system should adjust to the new bacteria within two weeks, and this digestive distress should diminish accordingly.
The DS-01 Daily Synbiotic is classified as safe for women who are pregnant and breastfeeding, although the company recommends speaking with a medical professional before starting them. As will all probiotics, you should not take these supplements if you have a weakened immune system, recently underwent surgery, or if you have a serious illness. Speak with your doctor before starting any dietary supplement if you have concerns or questions.
Takeaway: Are Seed Probiotics Worth It?
The Seed DS-01 Daily Synbiotic is well-formulated and shows clinical evidence of improving your gut biome for far-reaching health benefits. The company solves the tricky problem of selling a live product with its innovative delivery system that keeps the bacteria within the supplement safe both on the shelf and through the digestive process.
If you are dealing with digestive problems, or are looking for a way to improve your general health, then this broad-spectrum probiotic might be one worth trying.
Just keep in mind that you might feel worse for a few days before the microbes will take full effect in your gut and that giving it a try means you are committing to a monthly subscription.
Lydia Noyes is a freelance writer specializing in health and wellness, food and farming, and environmental topics. When not working against a writing deadline, you can find Lydia outdoors where she attempts to bring order to her 33-acre hobby farm filled with fruit trees, heritage breed pigs, too many chickens to count, and an organic garden that somehow gets bigger every year.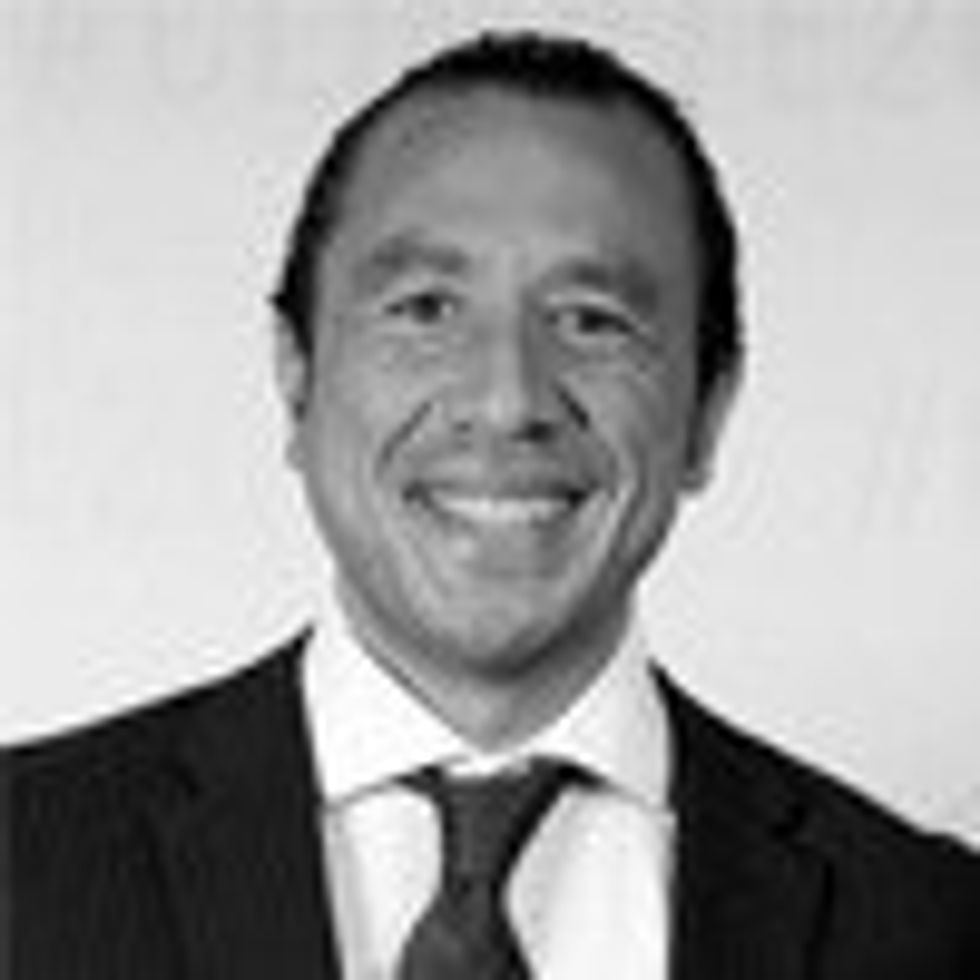 Many doubt the scientific, technical and economic feasibility of achieving 100 percent renewable energy in a single country or even globally. But this vision has never been more realistic than now, according to the latest International Renewable Energy Agency (IRENA) report and a paper written by Stanford University.
The first report by IRENA, RE Thinking Energy, points out that the transition to a sustainable energy future by 2030 is technically feasible and economically viable.
New REthinking Energy report says renewables poised to deliver climate solution #REenergise https://t.co/vZibn0WW9O https://t.co/xNH8gJCF3x

— IRENA (@IRENA)1448261779.0
On the same day, Morocco announced its plan to launch a gigantic solar plant next month, capable of providing power to 1 million people.
IRENA's report offers five key points for making this a vision a reality:
Strengthen the policy commitment to renewable energy.
Mobilize investments in renewable energy.
Build institutional, technical and human capacity to support renewable energy deployment.
Harness the cross-cutting impact of renewable energy on sustainable development.
Enhance regional engagement and international cooperation on renewable energy development.
"The strong business case for renewable energy has made the energy transition inevitable," IRENA Director-General Adnan Amin said.
The Stanford University report goes a step further than IRENA, laying out roadmaps for 139 countries to go 100 percent renewable by 2050. According to the report, 100 percent scientifically doable. They even have a nifty interactive map showing all the countries and their plans.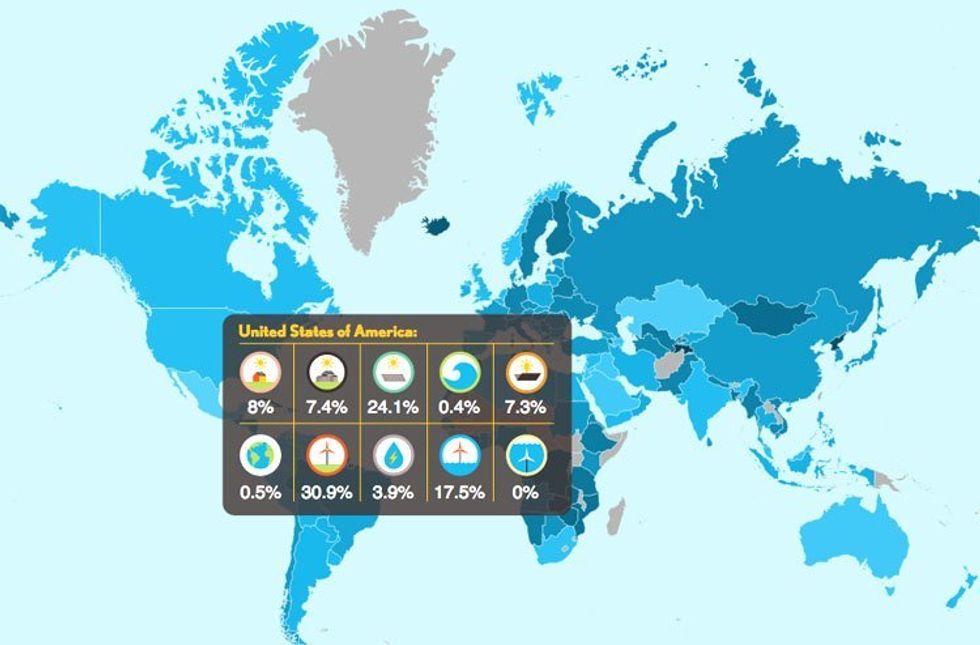 "I hope that the 139 country roadmaps, together with a just-published grid integration study for the U.S., will give confidence to leaders of the world that going to 100 percent clean, renewable energy for all purposes will not only provide reliable power at low cost, but will also create 22 million more jobs worldwide than it will cost, reduce international conflict over fuels because each country will largely be energy independent, reduce terrorism risk by providing more distributed power, eliminate the 4-7 million air pollution deaths annually worldwide and eliminate global warming," said Mark Jacobson, Stanford University professor and main author of the report.
This global 100 percent renewable transition would create 24 million 35-year construction jobs and 26.5 million 35-year operation jobs for the energy facilities alone, the combination of which would outweigh by 22.1 million jobs lost in the conventional fossil fuel sector.
Furthermore, this transformation would eliminate 4.6 million premature air pollution mortalities per year today and 3.3 million per year in 2050, avoiding $25 trillion per year in 2050 air-pollution damage costs (equivalent to 7.9 percent of the 2050 139-country GDP).
Scaling up renewables enough to meet climate objectives can support 12/17 #SDGs https://t.co/vZibn0FkLe #REenergise https://t.co/tEkPCdL2ec

— IRENA (@IRENA)1448276421.0
But this transition still has a long way to go. Indeed, as of the end of 2014, only three countries  [Norway (67 percent), Paraguay (54 percent) and Iceland (39 percent)] have installed more than 35 percent of their energy as renewables. The current world average conversion is 3.8 percent.
This is why Jacobson plans to attend COP21 in Paris next week and present the report to all the 139 governments. "The conversion to 100 percent renewables is technically and economically feasible. The main barriers are still social and political," the study concludes.
Now all we need is political will and feasibility to make this 100 percent renewable transition a reality. But have no doubt—our 100 percent renewables world starts now.
YOU MIGHT ALSO LIKE
100% Clean Energy is 100% Possible
Morocco's Giant Solar Plant to Bring Energy to 1 Million People
782 Richest People Could Power Half the World With 100% Renewable Energy
Mark Jacobson: Barriers to 100% Clean Energy are Social and Political, Not Technical or Economic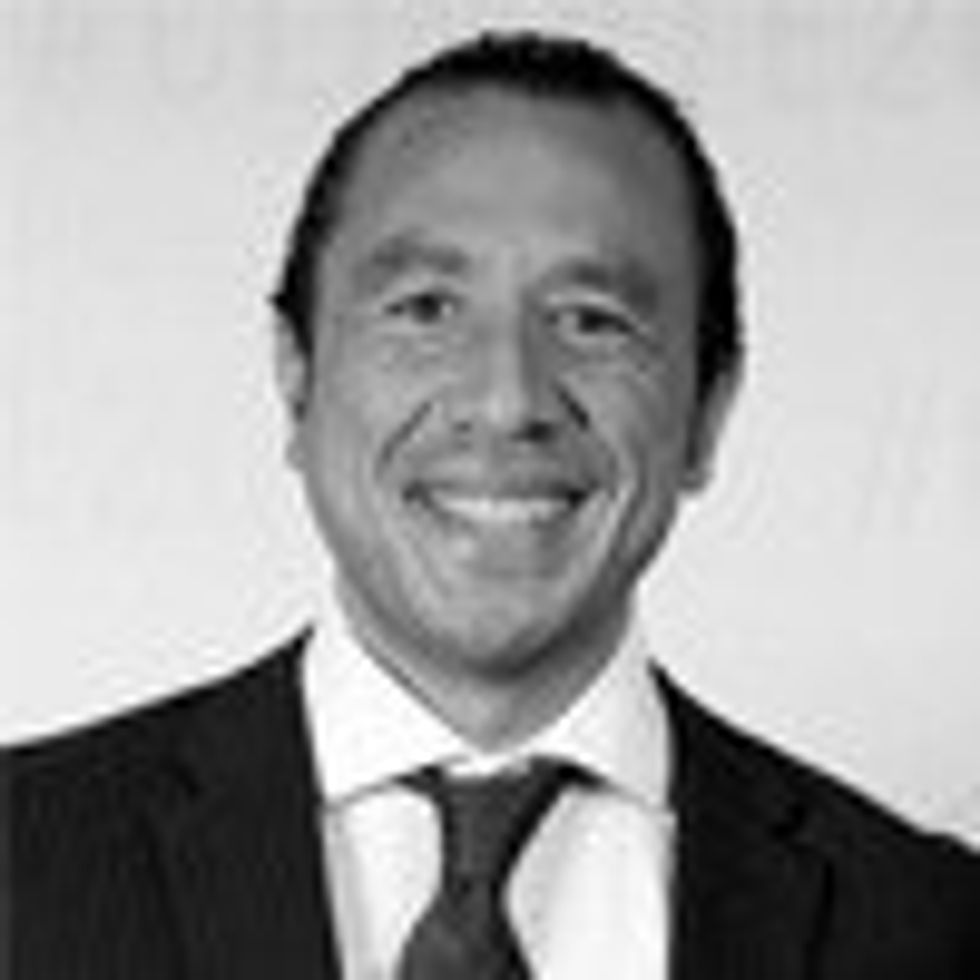 As COP21 draws nearer, there is more and more hope that the 2015 UN Climate Summit will be a turning point in tackling climate change globally. And the latest report from the Climate Policy Initiative indicates that climate finance has significantly increased over the last year, adding further support for a successful global deal in Paris.
In order to make this happen, a global transformation of our financial and energy systems is needed. This will enable a low-carbon and climate-resilient global economy to take place, and will support the implementation of the climate action plans (INDCs) already proposed by more than 150 countries.
Discover where global #climatefinance is flowing with our new interactive: https://t.co/8VCo0MgJCB https://t.co/a33TbW8GgK

— CPI (@CPI)1447877163.0
To support this, the Climate Policy Initiative's new report, The Global Landscape of Climate Finance 2015, presents "The most comprehensive information available about which sources and financial instruments are driving investments, and how much climate finance is flowing globally."
According to the latest figures, global climate finance flows reached an all-time high of at least USD$391 billion in 2014 as a result of a steady increase in public finance and record private investment in renewable energy technologies. This is an increase of 18 percent from last year's USD$331 billion. The majority of this climate finance went to climate mitigation projects, representing more than 90 percent of total global.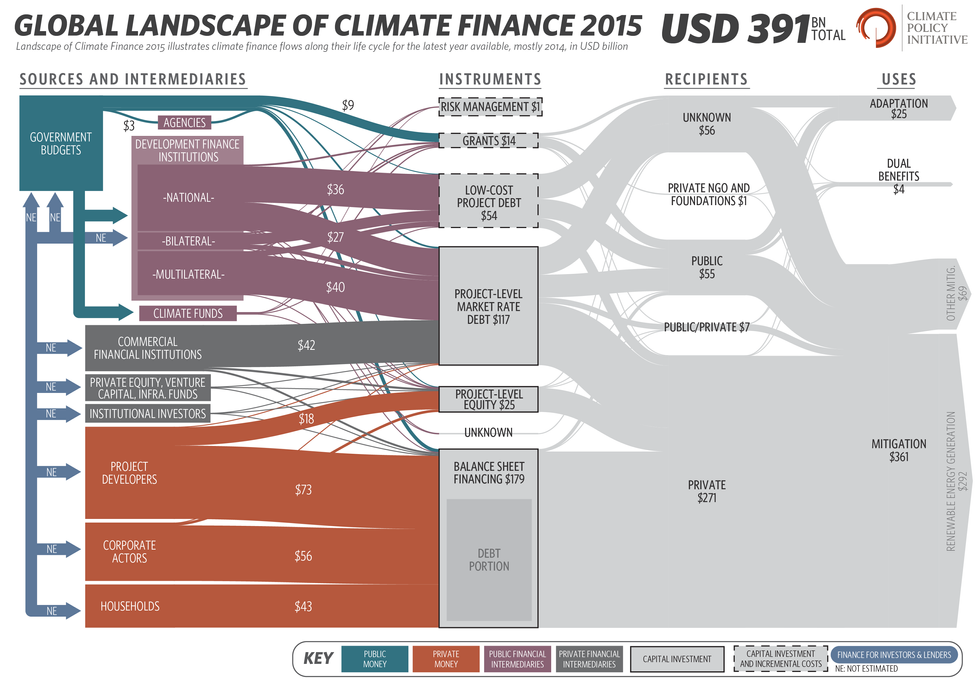 Public climate finance increased by 8 percent, with contributions by governments and intermediaries reaching at least USD$148 billion, but it is private finance that was the largest contributor to climate mitigation.
Private investment grew by 26 percent in 2014 after two years of decline. With USD$243 billion, private investment remained the largest source (62 percent) of global climate finance.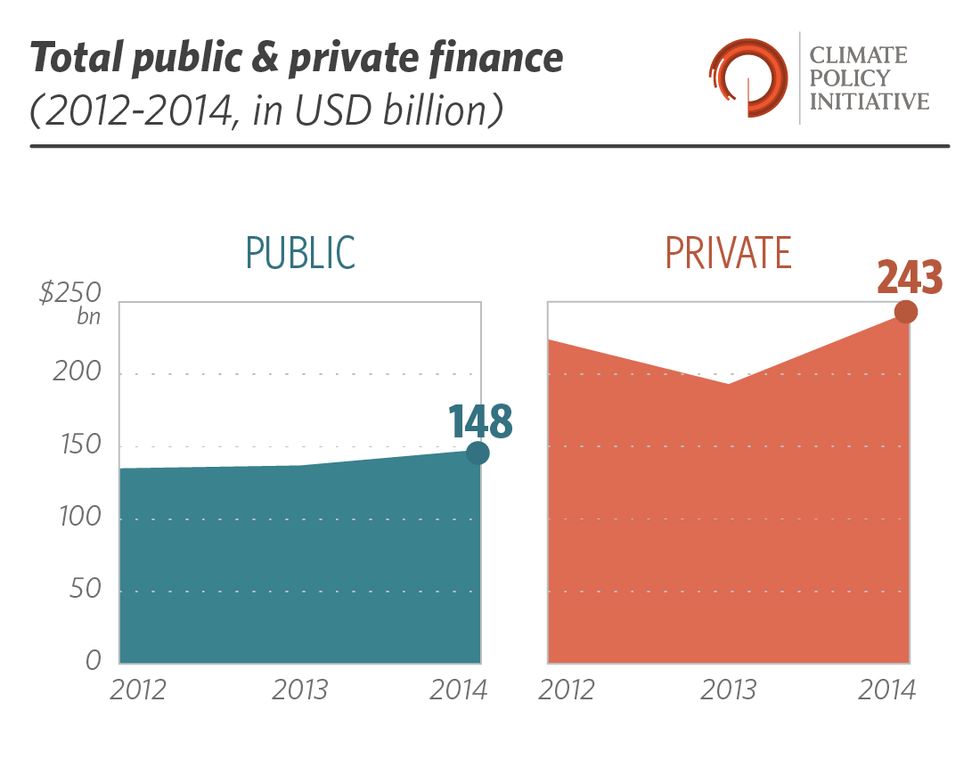 This big increase was mainly driven by the huge renewable energy demands in China and the decrease in costs of electricity from utility scale solar, which has fallen by 50 percent since 2009.
These latest figures are very encouraging in helping us transition to a global low-carbon economy. Nevertheless, more than USD$16.5 trillion is needed between 2015-2030, to successfully reach a less than 2c degree world. This equates to a little more than $1 trillion/year.
The report offers four key advices on moving forward to scale climate finance.
Enhance tracking efforts of climate finance globally

Encourage domestic investment policy

Innovate to develop or refine financial instruments that meet the needs of investors

Enhance the integration of climate change considerations into the financial system
Last year's increase in climate finance is very encouraging, but we need to do much more to be able to reach our 2 degree objective. And hopefully COP21, with the help of this report, will offer a platform for financiers to make this happen and scale climate finance.
YOU MIGHT ALSO LIKE
COP21 Must Go On and Offer Hope for Paris
3 Key Ingredients for the COP21 Paris Climate Agreement
Bernie Sanders: 'Climate Change Is Directly Related to the Growth of Terrorism'
Meet the Climate Scientists Travelling by Bike and Foot from the Poles to Paris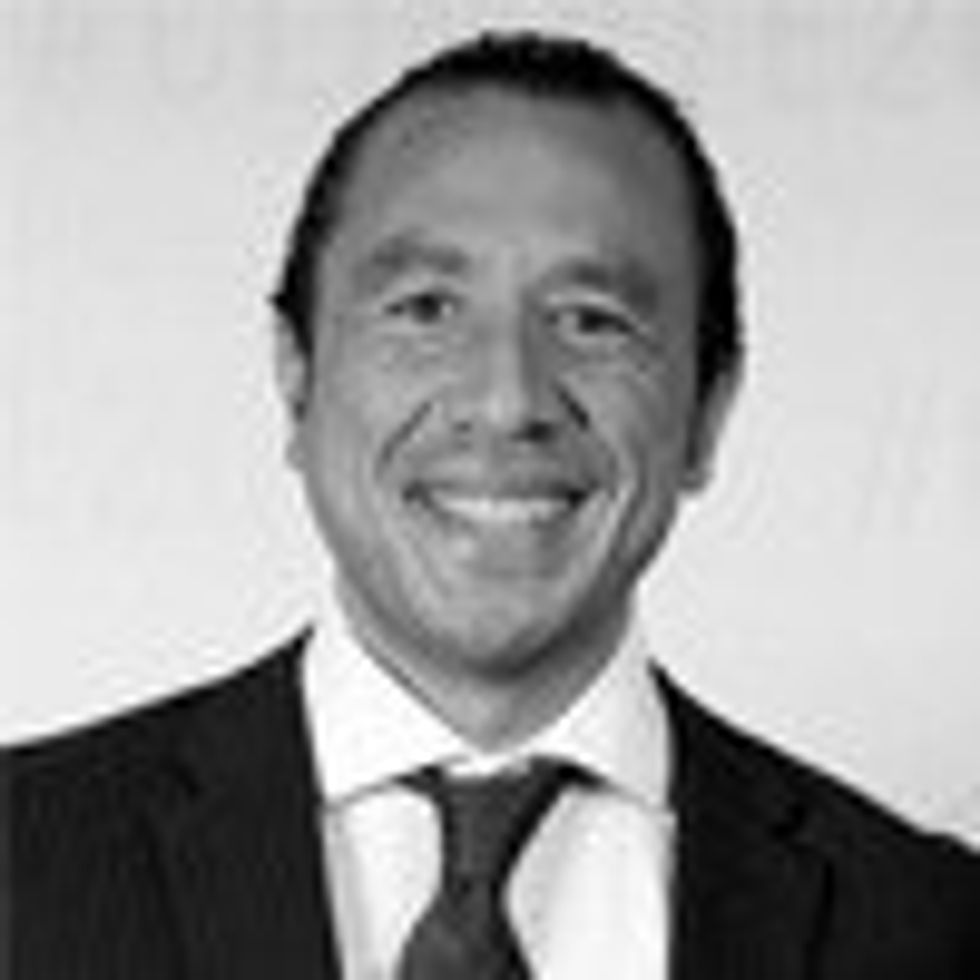 As a French national, I am deeply saddened by the tragic events that unfolded in Paris on Friday. Paris, the city of light, experienced one of its darkest hours. Paris, the city of love and romance, experienced one of its worst moments of violence and hatred. Paris, the city of the universal declaration of human rights, experienced one of its most inhumane acts. These heinous terrorist acts were not just attacks on France and its fundamental values, but also on the international community—more than 10 other countries were affected by civilian casualties.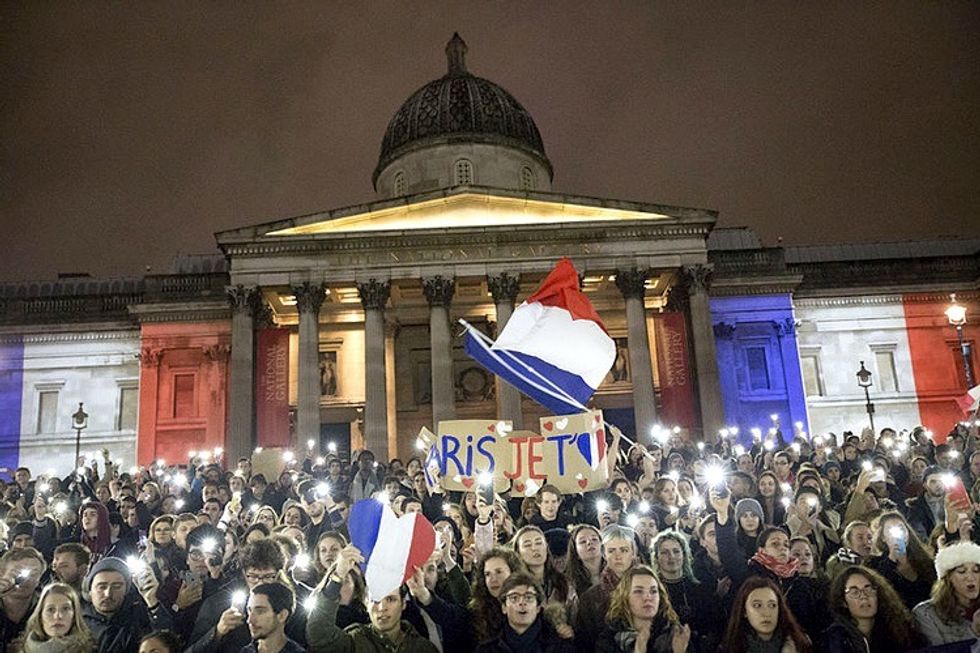 The rest of the world quickly showed its solidarity with France by lighting up many landmark monuments with the colors of the French flag. These also represent its values: blue for liberty, white for equality and red for fraternity.
However, these horrific, barbaric acts cannot deter all those who uphold France's universal values. And we certainly cannot counteract these violent acts by destroying the Islamic State of Iraq and Syria (ISIS) as suggested by President of France François Hollande. This will only breed more hatred and violence, and will not address some of the root causes that led to the rise of ISIS.
ISIS terrorists also targeted Russia and Lebanon in the last month. With more than 80 country leaders coming to Paris in two weeks, the upcoming UN conference on climate change (COP21) is a perfect opportunity to send out a loud and clear message: terrorist attacks like Friday's are unacceptable and the rest of the world is working together to make it better. Though French Prime Minister Manuel Valls announced that COP21 will be limited to its core talks, (there will unfortunately be no major public demonstrations or concerts), we should not stop the current societal, financial and political momentum for a global deal on climate change. Indeed, a vision of a more sustainable world has never been so palpable, so possible or so present.
Many leaders around the world have been quick to link the rising terrorism to climate change. During Saturday's Democratic election debate, Sen. Bernie Sanders linked the current tragedies in Paris with climate change as he directly linked the rise in terrorism to climate change.
However, climate change is more complex than this. Its global consequences have unprecedented social, economical and environmental consequences worldwide. It is, as Professor Lazarus wrote, a "Super Wicked Problem," and as former U.S. Defense Secretary Chuck Hagel put it, a "threat multiplier." "Rising global temperatures, changing precipitation patterns, climbing sea levels and more extreme weather events will intensify the challenges of global instability, hunger, poverty and conflict," Hagel wrote.
A recent scientific paper suggests that climate change exacerbated global conflicts in Syria: "There is evidence that the 2007−2010 drought contributed to the conflict in Syria. It was the worst drought in the instrumental record, causing widespread crop failure and a mass migration of farming families to urban centers. We conclude that human influences on the climate system are implicated in the current Syrian conflict." And since current reports indicate that the "Paris Attacks" perpetrators belonged to ISIS, we should not dismiss this consequential link.
Therefore, this should give us more reason to make COP21 a success by signing a global deal on climate change. This will not only provide a framework to help solve the environmental crisis of our time, but it will also attack this "super wicked threat multiplier" at its root.
A global deal on climate change will help the world transition to a clean energy future. It will unleash clean energy investments and decrease fossil fuels—a major financial resource for the ISIS. A global deal on climate change will also make the world more secure by giving countries more autonomy in producing sustainable food and energy. Finally, a global deal on climate change will, as the World Bank argues, help billions of people ameliorate their lives and come out of poverty. "Ending poverty and fighting climate change cannot be done in isolation—the two will be much more easily achieved if they are addressed together," Stephane Hallegatte, World Bank senior economist, said about the report.
We must fight terrorism on all fronts. We cannot ignore the difficult, complex geopolitical causes that lead to such senseless attacks. The root causes are multiple and interlinked, but we must not forget that to eradicate it, climate change may be one of them.
These horrifying terrorist attacks happened very closely to the start of the COP21, perhaps to deter people and global leaders from coming to Paris. However, COP21 will and must go on, and it is our duty to make it a success.
And hopefully, the light, the love and the humanity that Paris is famous for will overcome the dark, deadly and destructive forces that resulted in last week's atrocious acts.
YOU MIGHT ALSO LIKE
Bernie Sanders Refuses to Back Down on Climate-Terrorism Connection
El Niño + Climate Change = 'Uncharted Territory'
Why Fossil Fuel Stocks Are Doomed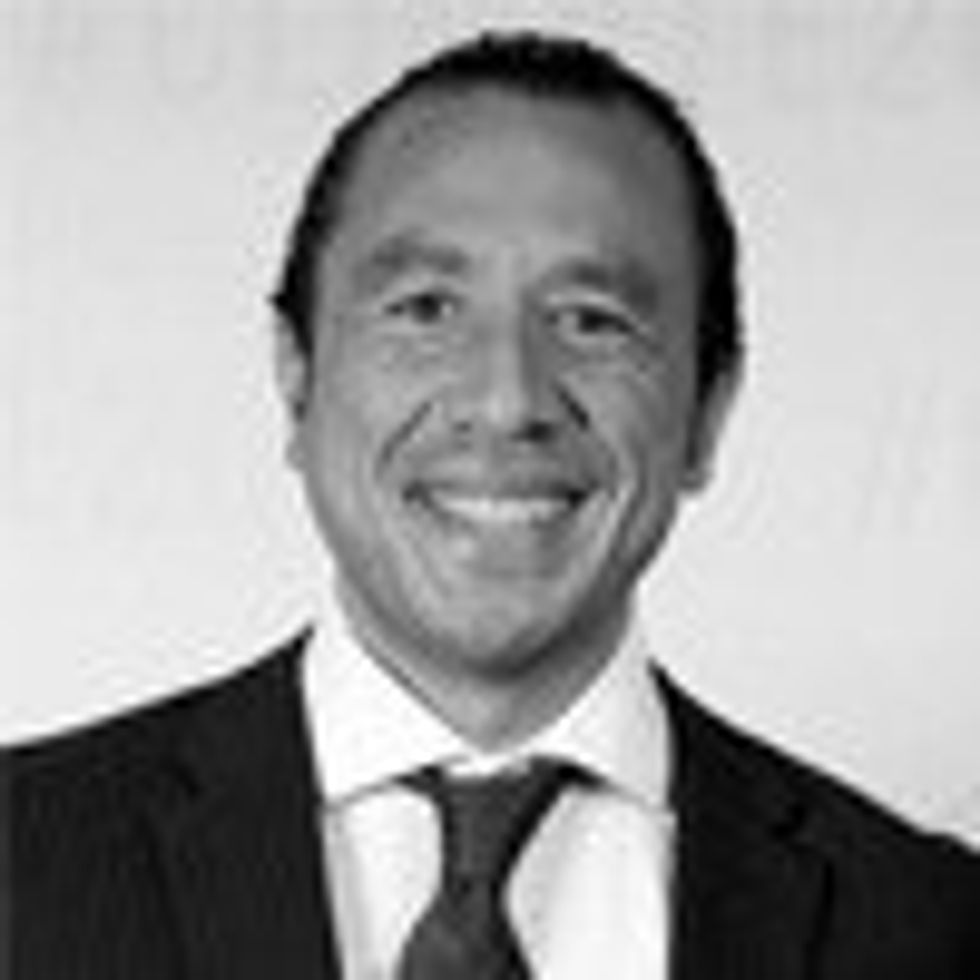 Last week more than 60 ministers from different countries (including the U.S., Canada, Australia, EU, China, India, South Africa, Brazil and Russia) convened in Paris, at the last global diplomatic meeting before the most important climate conference of our time: COP21.
Under the auspices of the French Foreign Minister and COP21 President, Mr. Laurent Fabius, its objectives were to talk about possible solutions, give political momentum and kickstart negotiations prior to the United Nations conference starting Nov. 30.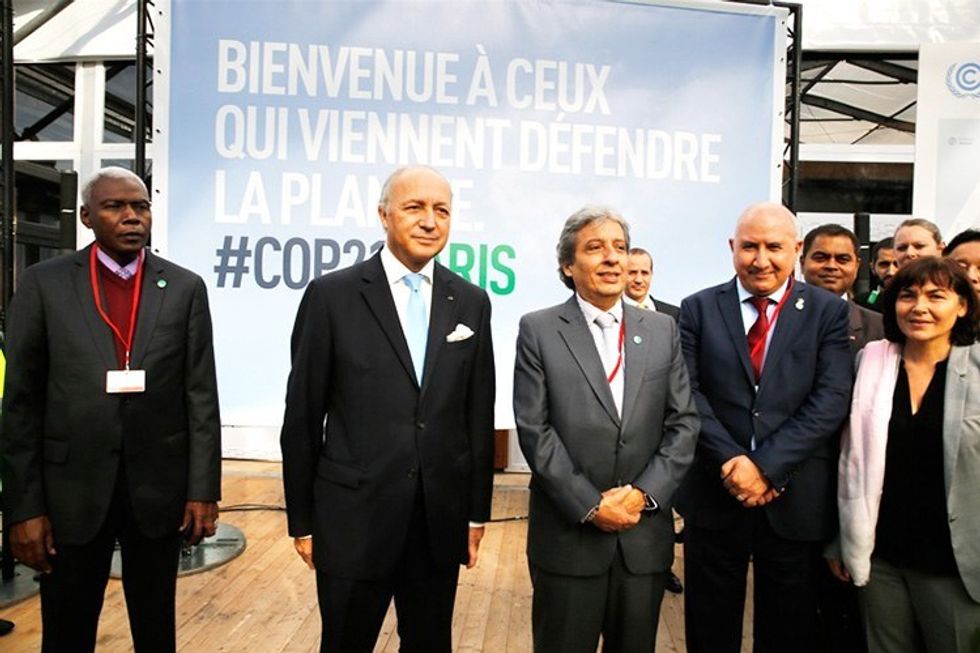 Last week more than 60 ministers from different countries convened in Paris, at the last global diplomatic meeting before the most important climate conference of our time: COP21. Photo credit: Michael Mathres
The mood was surprisingly hopeful, encouraging and positive and four key conclusions emanated from the three-day discussions:
Universal and non-reversible agreement — An ambitious Paris Accord on limiting greenhouse gases is possible, with a large consensus of the countries present agreeing on establishing a review period every 5 years. This is a very important point, as the world will be able to gauge countries' progress in limiting their carbon emissions. Countries also agreed that all their commitments were non-reversible. This means that all the current contributions submitted by the countries (so called INDCs) are their minimum commitments and that any new contributions will become better.
Equitable treatment — a unique system will be implemented making sure that all countries are treated in a balanced and fair way. This will be a very contentious point during the conference between developed and developing countries.
Climate Financing — positive signals were sent by all countries about contributing to the $100bn/yr Green Climate Fund to help developing countries mitigate and adapt to climate change. It was also pointed out that developing countries would also contribute to this target, indicating that this huge financial commitment does not only rest on developed countries.
Bottom-up Actions—a pre-2020 review of all the actions taken by civil society (all non-state actors) in 2017 and 2018, to make sure that the current commitments made by all organizations (there are currently more than 6,000) are ambitious and complement the countries' objectives.
In addition to these four broad agreements, three countries released their contributions to the Paris global deal: Saudi Arabia, Sudan and Egypt. This means that, in total, 160 countries have submitted plans for Paris, representing more than 90 percent of global greenhouse gases. This is very encouraging as we are nearing 100 percent coverage of GHGs worldwide.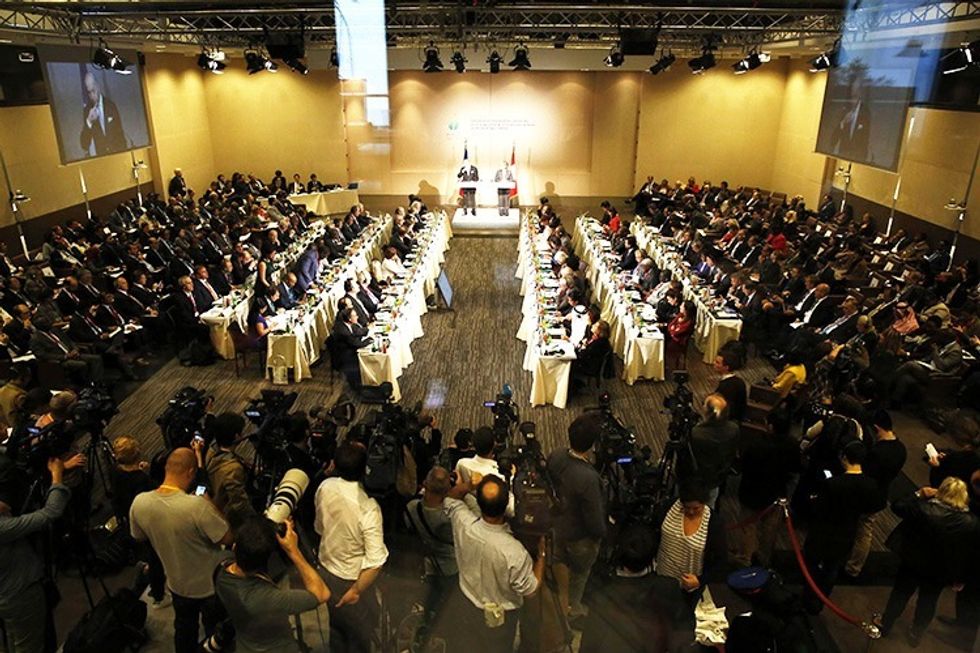 Pre-COP21 meeting in session. Photo credit: Michael Mathres
All in all, these conclusions indicate that countries are prepared and willing to sign a global agreement on climate change, but as is usually the case in large international negotiations, the devil will be in the details of the final accord. Let's hope we can keep this positive political momentum until and through COP21.
YOU MIGHT ALSO LIKE
Bernie Sanders: 'Climate Change Is Directly Related to the Growth of Terrorism'
Paris Climate Talks Will Not Be Canceled, Obama Will Attend
Bill McKibben: We Must Keep Brewing Gale-Force Winds to Shift Political Landscape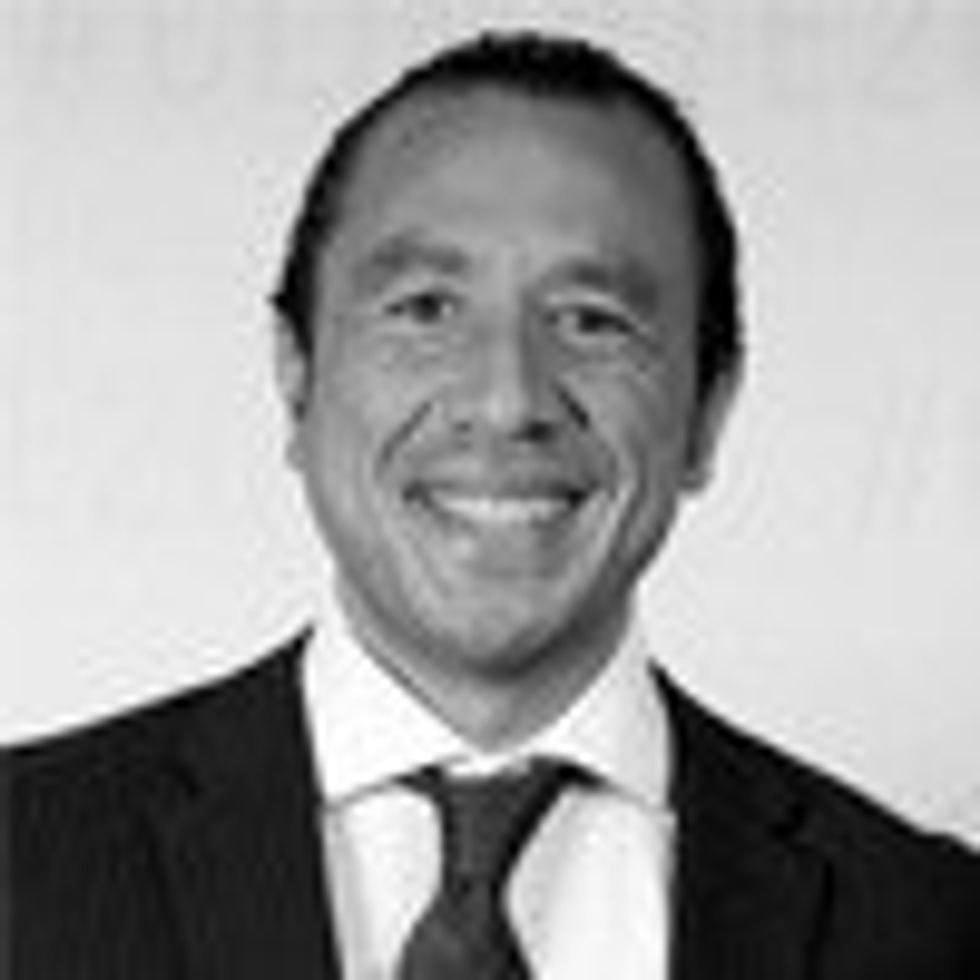 The latest report from the influential World Resources Institute (WRI), Assessing the Post-2020 Clean Energy Landscape, indicates that we are poised for an exponential growth in renewable energy production after the Paris COP21 climate conference.
According to the report, which analyzes the clean energy plans of eight of the top 10 carbon emitters in the world, the Paris 2015 conference could help double the current market in the next 15 years.
National Climate Plans, by the numbers #INDCs https://t.co/6idKVVkYc1 #COP21 #Paris2015 https://t.co/s9Urhf9SIN

— World Resources Inst (@World Resources Inst)1446223209.0
"These new renewable energy targets send strong signals to energy markets and investment circles," said Jennifer Morgan, global director of the Climate Program, at World Resources Institute.
Assuming these proposed clean energy plans are achieved, total annual renewable electricity generation will increase by nearly four times between now and 2030. This increase is equivalent to all of India's current energy demand.
Here are some key highlights:
China will increase the share of non-fossil fuel in primary energy consumption to around 20 percent by 2030;
European Union will achieve at least a 27 percent share of renewable energy consumption by 2030;
U.S. will increase the U.S. share of renewables—beyond hydropower—in the electricity generation mix to 20 percent by 2030.
The report also analyzed the current climate plans submitted by all the countries to the UNFCCC, the so-called INDCs. INDCs (intended nationally determined contributions) have been submitted by more than 150 countries and are expected to provide the fundamental plans for a global deal on climate change next month.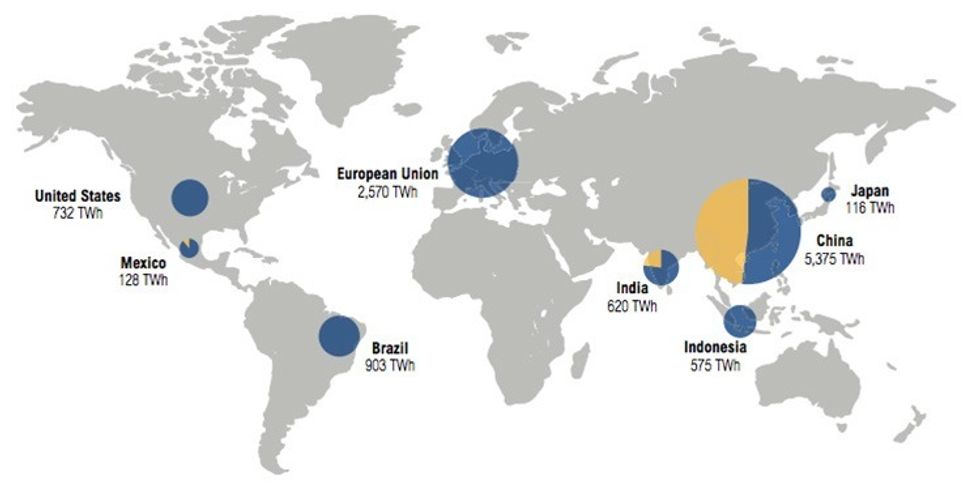 Out of the 127 INDCs submitted, 80 percent of them mentioned clean energy: 67 INDCs (53 percent) indicated clean energy targets and 35 INDCs (27 percent) committed to put forward clean energy actions.
This WRI report preceded the release of IEA's "World Energy Outlook 2015," which gives approximately similar projections but with longer targets: Renewables-based generation reaches 50 percent in the EU by 2040, around 30 percent in China and Japan and above 25 percent in the U.S. and India.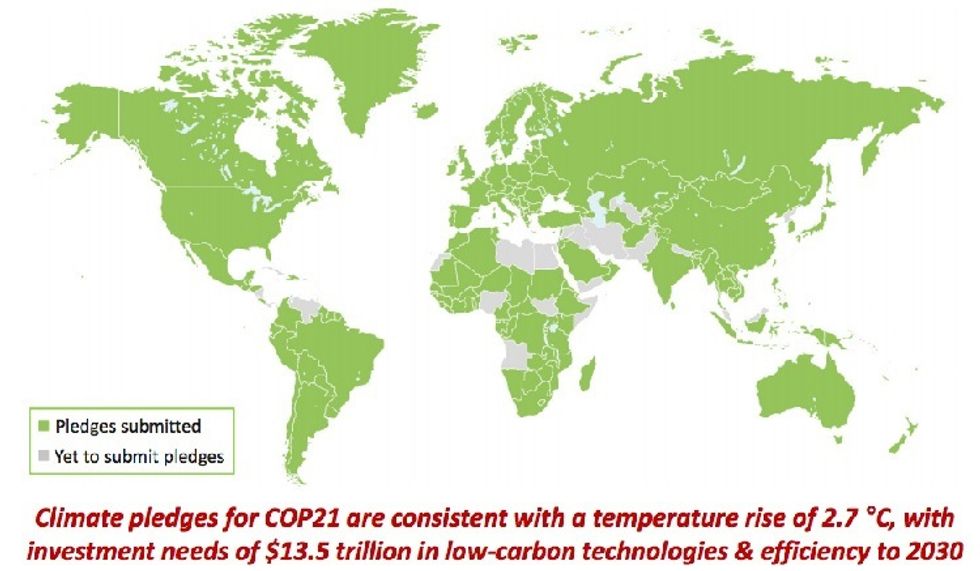 "World leaders meeting in Paris must set a clear direction for the accelerated transformation of the global energy sector." Fatih Birol, executive director, IEA.
Unfortunately, according to the IEA these INDCs and current renewables projections for emissions trajectory implies a long-term temperature increase of 2.7C by 2100. Therefore, more must be done to help all the countries accelerate, grow and implement this massive clean energy transition.
YOU MIGHT ALSO LIKE
Corporate and Financial World Are Finally Ready to Take Climate Action
Renewables to Overtake Coal as World's Largest Power Source, Says IEA
Climate Change Poised to Push 100 Million Into 'Extreme Poverty' by 2030
UN Report Measures Significant Progress Ahead of Paris Climate Talks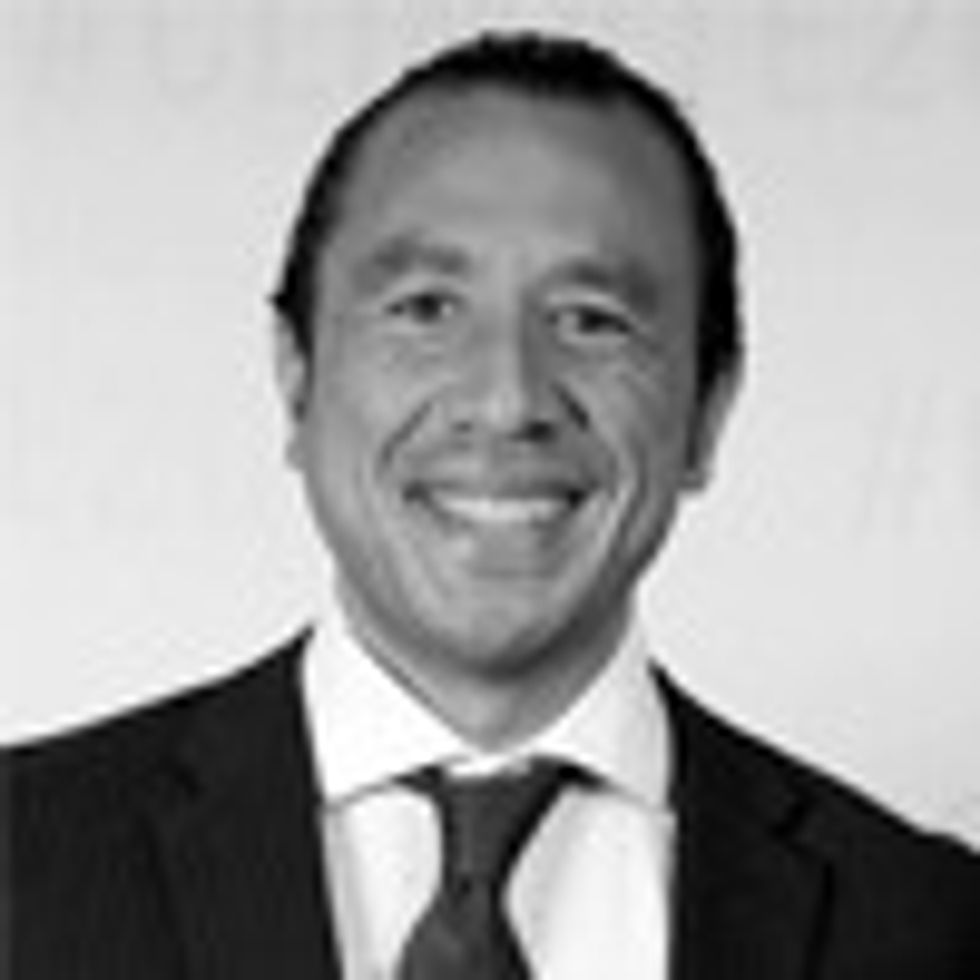 With less than one month to go until the most important climate conference of our time, the corporate and financial world have sent clear signals this week to the global markets that they are ready, willing and able to tackle climate change.
The influential not-for profit CDP, released the latest figures in its annual report on corporate carbon emissions disclosures on behalf of 822 investors representing US$95 trillion worldwide. It reveals the extent to which corporations have shifted their strategies over the past five years to become part of the solution to the climate challenge.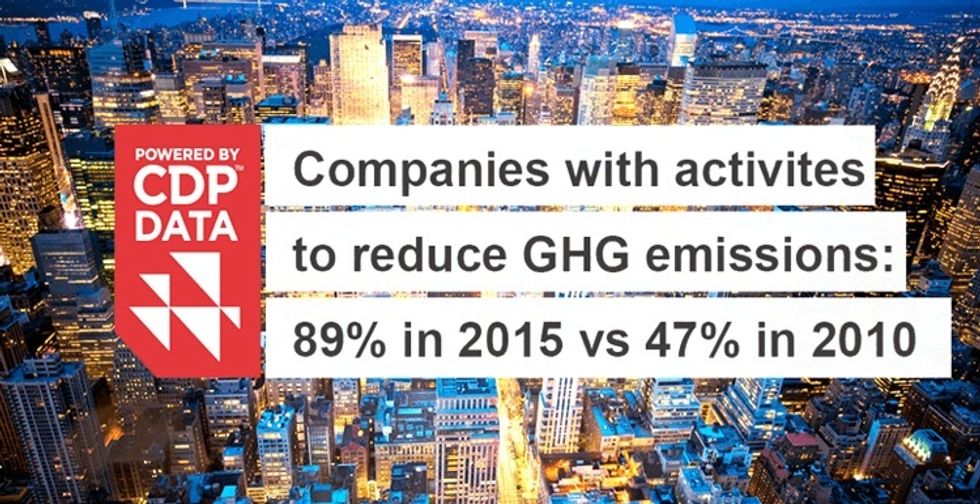 The report indicates that corporates have passed an important business tipping point with 89 percent of companies having activities to reduce GHG emissions. This is compared to less than 50 percent five years ago, before the ill-fated COP15 in Copenhagen.
This means that almost nine companies out of ten have decided to confront climate change seriously and measure their carbon emissions accordingly. And in business, what gets measured gets managed, improved and done.
CDP's Executive Chairman and Co-Founder Paul Dickinson said "The momentum of business action on climate change suggests we have reached a tipping point, where companies are poised to achieve their full potential."
The report also includes more than 100 "Climate A listers" who are leaders in reducing their carbon emissions and include three of the four largest corporations in the world, Apple, Microsoft and Google (the company that did not make the cut is ExxonMobil). This indicates that dealing with carbon emissions has become a leadership and competitive advantage issue for corporates.
In the finance world, Goldman Sachs, this week announced it was going to increase investments in clean energy to $150 billion over the next decade, multiplying its previous amount in that sector by almost four.
"It is our job to accelerate and lead this trend of allocating capital in technologies responsible for less carbon in the atmosphere," said Lloyd C. Blankfein, chairman and CEO, Goldman Sachs.
To put this number in perspective, Citi and Bank of America invested about the same amount in fossil fuels in the last five years according to a new report from the Fair Finance Guide. And the world's 25 largest private sector banks channelled at least $931 billion into fossil fuel companies in the period 2009-2014.
It seems that during the next 10 years, divestments will no longer be a side note for major global banks, it will clearly be a mainstream activity, expanding not incrementally but exponentially.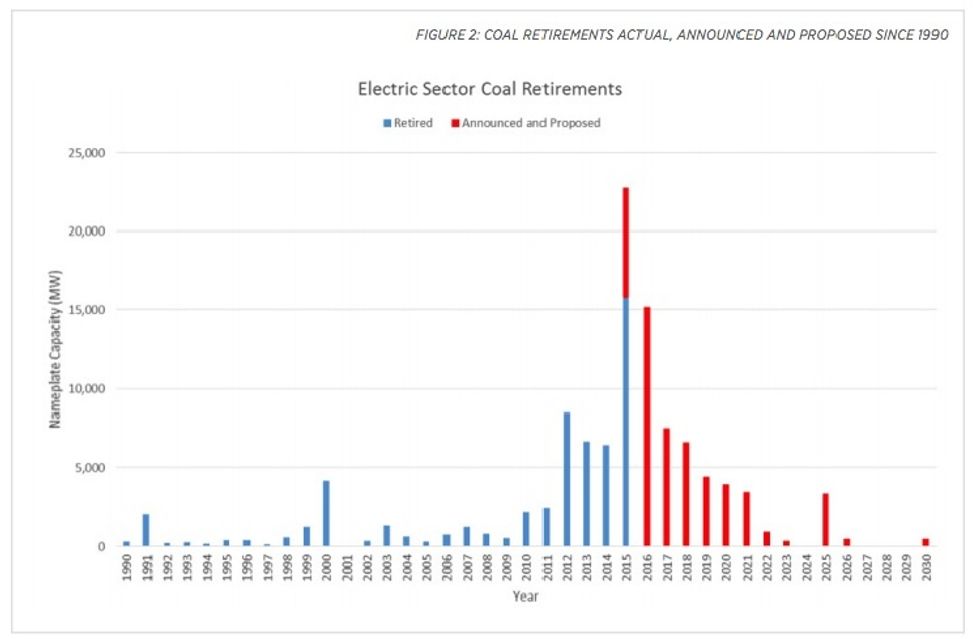 This is supported by two more reports this week. Firstly, there is a the continuing decline of divestments from the fossil fuel industry, as demonstrated by Sierra Club's latest report on the record shutdown of coal plants in the U.S. The 2015 coal retirements alone equal as much coal capacity as the U.S retired in the 20-year period between 1990 and 2009.
This is complemented by another new report from Fossil Free Indexes. Their most recent analysis indicates that if you had divested your money, over the last 10 years, from companies that are among the Carbon Underground 200 (companies that have the largest as-yet-untapped reserves of coal, oil and gas), your investment returns would have been an extra 1 percent higher per year.
As the UNFCCC scrambles to find $100bn/yr to tackle climate change, these latest announcements will send a strong signal that the private sector and private capital markets are ready to support the transition to a low-carbon world. This should encourage and ease governments to make their own financial commitments and contributions for the Paris global deal.
YOU MIGHT ALSO LIKE
Renewables to Overtake Coal as World's Largest Power Source, Says IEA
Offshore Wind Technology Is Advancing at a Rapid Pace
Global Coal Use Falling Fast, Arch Coal Could Face Bankruptcy
Obama: Keystone XL Pipeline 'Would Not Make a Meaningful Long-Term Contribution to Our Economy'