Would you eat oranges grown with oil wastewater? You might be already without knowing it.
Wonderful Citrus, the U.S.'s largest citrus grower and the company behind the popular Halos mandarins and Bee Sweet Citrus, another huge citrus grower, are using leftover wastewater from oil companies to irrigate their citrus—while also using pink ribbons to sell them.
The use of oil wastewater for food irrigation is expanding rapidly in California—the U.S.'s third largest oil-extracting state, which also produces more than a third of the nation's veggies and two-thirds of its fruits and nuts. Oil corporations are increasingly supplying their wastewater to California-based agricultural companies like Bee Sweet and Wonderful to use for food irrigation during an historic drought. As this type of irrigation is set to expand, we believe this is an urgent public health issue because of the potentially hazardous chemicals associated with the oil extraction process.
#California Farmers Irrigate Crops With Chevron's Oil #Wastewater in Drought-Stricken Central Valley https://t.co/1LJS7jnNCc via @EcoWatch

— Simon Mainwaring (@Simon Mainwaring)1455161413.0
Companies use pink ribbons to gain customer loyalty and increase their sales. After all, pink ribbons are profitable. But companies shouldn't put their profits before our health.
Bee Sweet Citrus puts a pink ribbon on their Sweetheart Mandarin labels "to achieve prevention and find a cure for breast cancer in our lifetime." And Wonderful Citrus participates in an in-store cause-marketing promotion called Pink Ribbon Produce, aimed at "uniting the produce industry in the fight for breast cancer."
Both of these companies claim to care about women with breast cancer and are using pink ribbons to sell their products—all while failing to protect farm workers and the public from the potential health risks of using oil wastewater to irrigate their citrus. We call this pinkwashing.
Oil companies use hundreds of chemical additives during the oil extraction process—to drill, maintain and clean their wells. In addition, the oil extraction process releases chemicals that are trapped underground. So when oil is extracted from underground reservoirs, wastewater comes back up with it and can contain all sorts of chemicals. Oil wastewater used for food irrigation has been found to contain the chemical benzene, a known human carcinogen linked to breast cancer. The U.S. Environmental Protection Agency's Maximum Contaminant Level Goal for benzene in drinking water is zero, which means "there is no dose below which the chemical is considered safe."
In a new report released earlier this month by PSE Healthy Energy—Healthy Energy, University of California—Berkeley, Lawrence Berkeley National Laboratory and the University of the Pacific, researchers call for a more thorough investigation of the potential health risks associated with using oil wastewater for crop irrigation in light of the potential health harms and gaps in safety testing.

The report finds that despite oil corporations being required to report chemical additives, 38 percent of the chemical additives could not be "sufficiently identified for preliminary hazard evaluation" because oil corporations are concealing them as trade secrets. Of the chemicals these scientists were able to analyze, they found that "43 percent of them can be classified as potential chemicals of concern from human health and/or environmental perspectives." They found that 10 chemicals are known or potential carcinogens. And they didn't even evaluate which chemicals are hormone disruptors, a class of chemicals which is linked to increasing our risk of breast cancer.
Current tests of oil wastewater used for food irrigation only look for some of the chemicals used in the oil extraction process. Because of the gaps in testing and treatment, an independent council of scientists commissioned by the State of California recently recommended that wastewater from fracking operations should not currently be used to irrigate our food. But the potential public health risks of the chemicals in oil wastewater are not limited to the fracking process and this report extends the recommendations to include wastewater from any oil operations. We, along with other public health groups and scientists, believe that wastewater from all oil extraction processes should not be used to grow our food, to protect both farm workers and the public from potential public health risks that have not been adequately studied.
Why #Fracking Is a Breast #Cancer Issue http://t.co/Z27YSnDwDl @BCAction @gaslandmovie @MarkRuffalo @BillMckibben ⊕http://t.co/3tf3YY3zui

— EcoWatch (@EcoWatch)1422380548.0
Using oil wastewater to irrigate our food has not been proven safe—neither for the health of the public nor for the health of farm workers, who are exposed firsthand to these chemicals. In fact, an expert panel is currently reviewing the potential health risks associated with using oil wastewater for food irrigation—while the state is still permitting this type of irrigation. A growing body of scientific evidence demonstrates the role of our everyday exposure to toxic chemicals in increasing our risk of breast cancer. We need to put the brakes on this process immediately.
In August 2016, we joined with 350,000 concerned people who wrote to California Gov. Jerry Brown, urging him to end the use of oil wastewater for food irrigation. To date, he has failed to do so. In the absence of strong government action, we're calling on Bee Sweet Citrus and Wonderful Citrus to stop using oil wastewater to irrigate their crops while using pink ribbons to sell their citrus—a practice we call pinkwashing.
Instead, these two companies, which are huge players in their local water districts, should stand up for women affected by breast cancer. We believe they have the power not only to stop using oil wastewater to grow their own citrus crops, but also to stop the use of oil wastewater for growing food altogether.
Send a letter to Bee Sweet Citrus and Wonderful Citrus to tell them to stop pinkwashing. Tell them to stop irrigating their produce with oil wastewater and to use their power to ensure that oil wastewater is not used to irrigate any of our food.
EcoWatch Daily Newsletter
If you live in an apartment without its own roof or if you're a business owner renting a commercial space, a community solar project may help you save on electric bills. Community solar power is a great option for individuals and businesses who can't install their own solar panels.
You can join a community solar project by purchasing a share or by paying a subscription. Then, the electricity production that corresponds to your ownership percentage or subscription will be measured and subtracted from your power bills. This is possible even if the community solar panel installation isn't located in your neighborhood — by investing in the project, your share of the solar generation is simply subtracted from your bill.
In this article, we'll outline the pros and cons of community solar subscriptions and help you decide whether to invest in your local program.
What is Community Solar?
Community solar is a term used to describe photovoltaic systems that are shared by many consumers, including homeowners, renters, businesses, nonprofit organizations and more. Electricity savings and other benefits from the solar project are split among its shareholders and subscribers at a rate based on the level of investment.
When starting a community solar project, developers will establish the geographic area from which consumers are eligible to join. Some programs have installed multiple solar power systems in the same area, allowing a larger number of shareholders and solar subscribers.
Community solar power is possible thanks to virtual net metering. Through this process, a percentage of the electricity produced by the community solar panels is subtracted from the total amount of power you use in your home even though the panels aren't located on your property. Here are a few key things to note:
The kilowatt-hours produced by a community solar project are measured for each billing period and are divided based on ownership shares.
If a community solar array produces 10,000 kWh of electricity and you own 5% of the project, you get 500 kWh for that billing period.
The value of those 500 kWh will be subtracted from your power bill, so if you use, for example, 750 kWh of electricity in your home, you'd only pay your utility company for 250 kWh.
Benefits of Community Solar
The main benefit of community solar is saving on power bills, especially in places with high electricity prices and abundant sunshine. However, the concept of sharing a solar array brings many other benefits, both technical and economic. These include:
Community solar can be used by homeowners or renters who can't install rooftop or ground-mounted solar panels. Some roof structures are not suitable for solar panels, and others are too shaded from surrounding buildings or objects to be effective. Community solar may also be an option if you live in an apartment without its own roof or if you simply don't like the appearance of rooftop solar panels.
You can easily take your solar savings to another home or apartment. If you install solar panels and decide to move in a few years, you must either sell them or take them with you. On the other hand, when joining a community solar project, you can simply assign the savings to your new address.
You can sometimes sell or donate your community solar share (depending on program conditions). This is useful if you move to a location that is not covered by the community solar program or if you decide to install your own solar panels in the future.
Community solar supports a more diverse customer base. To install your own solar panels, you must have the cash for an upfront payment or qualify for a loan. This financial barrier is eliminated with community solar — consumers can pay a monthly subscription or can purchase a small share according to their budget.
With community solar, you can forget about maintenance and part replacements. Solar panels need regular cleaning to stay productive, and components like inverters and solar batteries must usually be replaced after about 10 years. However, you don't have to worry about maintenance with community solar, as there is a project developer in charge.
Community solar shareholders are eligible for the federal solar tax credit. When purchasing a share of a community solar project, you can deduct 26% of your investment on your next tax declaration. Just keep in mind that this benefit is not available when joining as a subscriber, since technically you don't own a part of the community solar farm.
Community solar is an easier alternative to installing your own solar power system. The project developer is responsible for financing, installation, operation and maintenance, and you can reduce your electricity bills by simply buying a share of the project or subscribing.
However, installing your own solar power system also brings many benefits. You save the full economic value of the electricity generated, for example. Onsite solar power also increases the value of homes and commercial buildings, and many incentive programs are only available when you buy solar panels directly.
If you're weighing each option, it can be helpful to get a free quote for a home solar installation. Fill out the form below to get connected with a top solar company near you.
How Does Community Solar Work?

In a few words, community solar lets you save on power bills with a shared photovoltaic array, instead of having your own system. However, not all community solar projects are alike, and they can be classified into several types:
On-site vs. off-site
Ownership vs. subscription
Community solar should not be confused with group purchasing, which happens when many homeowners or businesses purchase individual solar systems at bulk prices. This does not count as community solar, since the project is split into many private installations.
On-Site Vs. Off-Site Community Solar
Many real estate developers use on-site community solar projects in their residential, commercial or mixed-use projects. The electricity generated by solar panels reaches consumers through a private power system, without depending on the local electric grid. On the other hand, off-site community solar is supplied via the grid.
Here are the main benefits and drawbacks of each type of community solar project:
| | On-Site Community Solar | Off-Site Community Solar |
| --- | --- | --- |
| Pros | On-site community solar systems often achieve higher savings — because they don't use the local electric grid, they don't pay transmission and distribution fees to a utility company. | Off-site community solar projects can serve a larger number of customers. You can also keep your ownership share or subscription when moving to another address, as long as you stay within the project's service area. |
| Cons | On-site community solar is only available for local property owners and tenants of communities that have installed these energy projects. | Depending on limitations with your local power grid, you may not yield as high of savings with off-site community solar. |
Ownership Vs. Subscription Model
Community solar projects offer ownership shares and subscriptions. Some projects only have one option available, while others let you choose. You can save on power bills with both options, but understanding the differences between them is important:
When you purchase an ownership share in a community solar project, the corresponding percentage of power generation is yours for the entire service life of the project. Also, since you're a partial owner of the system, you can claim 26% of your investment as a federal tax deduction. However, owning part of a community solar project means you must have the capital to pay upfront.
When you subscribe to a community solar project, there is no upfront investment. Instead, you pay a monthly fee. This means there is an ongoing cost, but the corresponding power bill savings are higher than the subscription fee. Keep in mind that subscription costs may increase over time, while an ownership share represents a single upfront payment.
Each option has pros and cons — you will generally save more when you become a shareholder in a community solar project, but a subscription comes with zero upfront cost. Also, consider that you must sell your share if you move to a location not covered by a community solar project, while a subscription can be easily canceled.
Is Community Solar Available Near You?
Community solar offers many benefits, but it is not available nationwide. To scale these types of projects, state governments must first enable this business model by law. Also, developers are more likely to invest in community solar projects if market conditions are favorable. Generally, the best states for solar power are those with incentive programs, abundant sunshine and/or high electricity prices.
There are currently 40 states with at least one community solar project in operation, and the Solar Energy Industries Association (SEIA) reported that 3.1 GW of community solar were online and operational by the end of Q1 2021. There is an optimistic outlook for community solar, and the SEIA has forecast a growth of 4 GW over the next five years. Each gigawatt of solar power can cover the electricity needs of around 186,000 American homes.
If you're interested in community solar power, you can check local government and utility websites — there could be several projects available near you.
FAQs: Community Solar
Is community solar legit?
Like all power generation projects, community solar systems are subject to laws and regulations. If you look for a developer that uses high-quality solar components and qualified installers, community solar is a reliable option to save on power bills for many years.
Is community solar a good deal?
To join a community solar project, you must become a shareholder with an upfront investment or pay an ongoing subscription. The power bill savings achieved will be higher than your monthly utility payments in both cases, but depending on the pricing model of your community's program, one option may present a better deal than the other.
What is community solar, and how does it work?
Community solar is an alternative to installing your own solar panels: You participate in a shared solar project as a shareholder or subscriber, and you get part of the electricity produced. This is a great option for individuals or companies who can't install their own solar panel systems due to lack of space or other limitations.
How does community solar make money?
Based on your ownership share or subscription type, you get part of the electricity produced by a community solar array. The kilowatt-hours generated are subtracted from your power bill — just like when you own solar panels directly.
Leonardo David is an electromechanical engineer, MBA, energy consultant and technical writer. His energy-efficiency and solar consulting experience covers sectors including banking, textile manufacturing, plastics processing, pharmaceutics, education, food processing, fast food, real estate and retail. He has also been writing articles about energy and engineering topics since 2015.
Cost. Quality. Color. These are some of the things we consider when choosing which products to buy.
We shouldn't also have to consider whether the chemicals in the products are linked to cancer.
I run a breast cancer watchdog organization, which for 26 years has been a leader in calling for protections from chemicals that can increase the risk of cancer. The outreach flyer for the first meeting to form Breast Cancer Action read: "Our goals are education and political action to prevent a further rise in the incidence of breast cancer; indeed, we hope that our efforts will serve in the future to lower the breast cancer rate in the United States."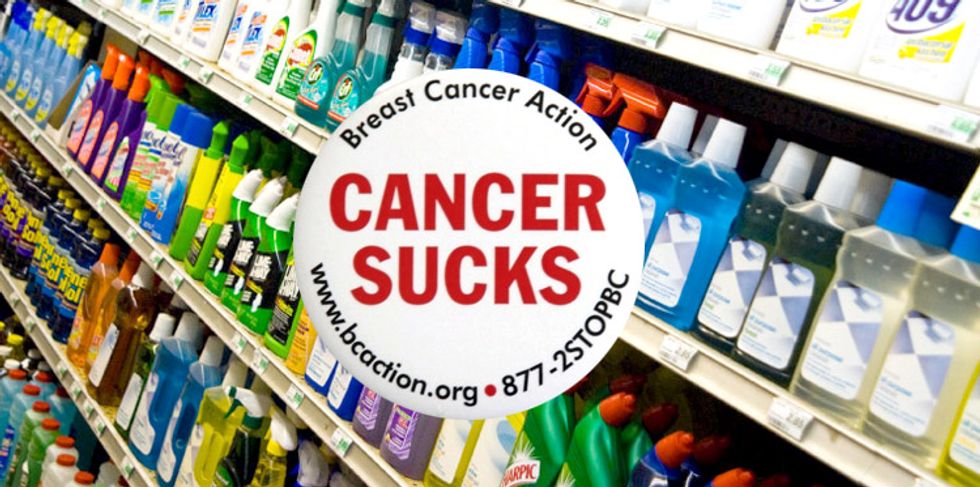 You would think that our founders, only one of whom is alive today, would be pleased then to see that long-overdue updates to chemical safety regulations are nearing the president's desk. Unfortunately, the compromise bill that resulted from approximately a dozen years of negotiations puts industry interests first and lets down women at risk of and living with breast cancer.
Most of us assume that anything that makes it onto store shelves is fully regulated and appropriately safety tested to ensure that we aren't harmed from using them. Unfortunately, that has never been true. And despite much-touted reforms to chemical safety laws, it is still "buyer beware" when it comes to chemicals linked to breast cancer.
The problem with putting the burden of protecting their own health on the public is that essentially none of us are equipped with the knowledge and expertise necessary to do so. This is not a question of passing a high school chemistry class. This each-for-her-own approach basically asks each of us to individually develop the safety-standard expertise of entire research groups and regulatory agencies in order to assess whether a particular chemical in a particular product is linked to health harms. Rather than accepting this requirement to become our own U.S. Environmental Protection Agency (EPA) to protect ourselves and our loved ones, we should continue to demand that our government act to protect our health—no matter who we are or how much we know about toxicology or epidemiology.
The primary law that has regulated chemicals used in everyday products for the past 40 years is called the Toxic Substances Control Act (TSCA). Since it was first introduced, TSCA has failed to protect us from toxic chemicals in everything from sippy cups to saucepans. Under this weak law, since its passage in 1976, the EPA has been able to limit the uses of just five of the 85,000 chemicals currently on the market. For more than a decade, Breast Cancer Action has been working alongside other environmental health organizations to demand lawmakers update this toothless and out-of-date law.
Unfortunately, the Frank R. Lautenberg Chemical Safety for the 21st Century Act, as the current compromise bill is optimistically named, puts corporate interests before public health and fails to improve chemical safety regulations for people living in the majority of states. This bill that Congress is preparing to send to the president for signature—barring further delay from Sen. Rand Paul—is a missed opportunity to reduce the incidence of cancer and other diseases and disorders.
How could efforts at reform fall so far short of the goals of environmental health advocates who have been working on this issue for years? It has often been said that "laws are like sausages, it is better not to see them being made" because of the messy, slow and too often mysterious process of making both.
To shorten a long story, by 2013 after nearly a decade of environmental health advocates working together on the issue, it appeared that a strong TSCA reform bill had a chance of moving forward. Seeing change on the horizon, industry moved quickly to hijack these efforts to improve TSCA. In fact, the Senate version of the bill was written by the American Chemistry Council, the chemical industry's biggest lobbying group. The resulting compromise bill fails to protect the public from exposure to harmful chemicals in consumer products—ultimately failing to prevent cancer.
As others before me have noted, it is testament to the power of the environmental health groups working on the issue for so long that the current bill is not worse than it is. Even though the revised TSCA doesn't go far enough in protecting public health, these partner groups were able, through diligence and collaboration, to prevent critical roll backs of safety in a few key areas. And there is ground for improvement in some areas such as giving the EPA some ability to assess a chemical before it enters the market and requiring the EPA to consider the most vulnerable populations.
But in other areas—particularly for states with the strongest regulations—we are going backwards when it comes to protecting the public from chemicals linked to breast cancer and other health problems. One of the biggest problems is a provision, referred to as the "pause" provision, that would block a state's ability to protect their residents from toxic chemicals—even when federal action is years away. This provision would stop the ability of states to create and implement laws around a toxic chemical as soon as that chemical went under review by the federal government—a process that can take years! During that time, states cannot protect their residents from exposure to these chemicals of greatest concern.
In the context of weak federal laws, stronger state protections have been important in both protecting their own residents and residents of other states. As a matter of practice, companies manufacturing or selling products in states with strong protections have often ended up lifting the standards for all of their products, even in states with weaker laws. We should not be sinking to the lowest denominator but instead raising everyone up to the highest level of protection.
In the U.S. we live in the richest country in the history of the world, with the world's largest economy and an astonishing assortment of consumer products of every kind. We should be able to trust that our laws uphold the highest health and safety standards to protect us from cancer and other diseases and disorders.
YOU MIGHT ALSO LIKE
These Four People Were Sued for $30 Million After Speaking Out Against a Hazardous Waste Dump
These 33 Cities Cheated on Lead Contamination Tests, Similar to Flint, Michigan
Landmark Federal Study Links Cell Phone Radiation to Brain Cancer
Vice President Biden and I have something in common that I wish we did not share. We have both lost a loved one to brain cancer.
The Vice President's 46 year old son, Beau Biden, died from the disease earlier this year.
Fifteen years ago, I was living in the San Francisco Bay Area, enjoying a blissful summer-long reunion with a dear college friend from the Midwest. Her joyful revelry in discovering San Francisco as an outgoing young, butch, queer woman, was occasionally interrupted by severe headaches. We were all shocked when she was diagnosed with brain cancer at the end of the summer. She died 20 months later, five days shy of her 29th birthday. I was heartbroken and still, so many years later, still sometimes lose my breath at the realization that she is no longer here.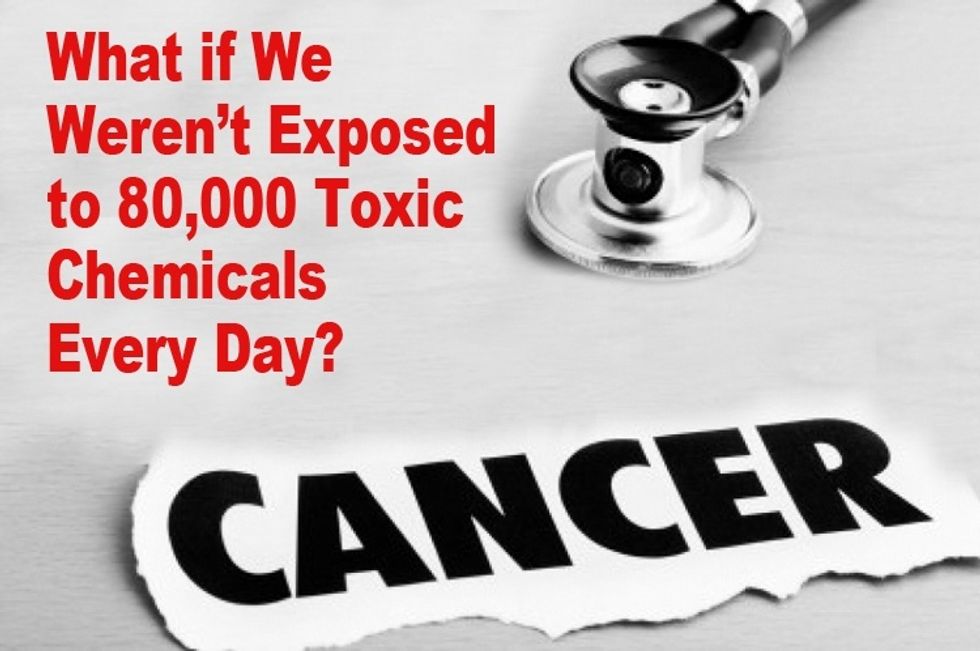 My fabulous friend Danielle Drumke was the first person in my inner circle to die of cancer. I wish I could say that she was the last.
As the first meeting of the government's new "moonshot" initiative on cancer convened today, headed up by Vice President Biden, I'm reflecting on what could come of this initiative—and what's missing from its framework.
According to the National Cancer Institute, nearly 1.7 million people in the U.S. are diagnosed with cancer each year. Approximately 600,000 people die of cancer. It's estimated that one in two men and one in three women will experience cancer in their lifetimes.
Though there have been a handful of dramatic advances for some cancers in recent years, many other cancers lag behind with few treatment options. In the more than 40 years since President Richard Nixon launched the War on Cancer, cancer treatments have moved beyond radical surgeries and mega-dose chemotherapies to include new, less-damaging chemotherapy regimens and also new targeted therapies for some cancers.
Unfortunately, many of these systemic treatments are highly toxic, taking both an immediate and all too often a long-term toll on the health and well-being of cancer patients. Anyone who has experienced or supported a loved one through common treatments for cancer is familiar with the terrible physical effects. Some of these—such as mouth sores and diarrhea—people experience while in treatment, and others—like heart disease—they may not experience until years later.
The millions of cancer patients undergoing treatment desperately need more effective, less toxic and less costly treatments. And my sincere hope is that we will see major advancements, especially for the most lethal cancers, with new treatments which extend and improve overall survival and do not come at the cost of serious, even life-threatening, side effects or bankruptcy.
I wish there had been this option for my friend Danielle, and for my loved ones who have been diagnosed with cancer in the years since she died.
Like so many people diagnosed with cancer, Danielle couldn't help but ask "Why?" Why her? Why did a healthy young woman develop brain cancer in her 20s?
No one knows.
Most brain tumors are unexplained, although age is thought to be a risk factor for cancer in general. Exposure to radiation is one of the only known risk factors for brain tumors, although, like many cancers, some chemicals have been linked to increased risk of brain cancer.
What we do know is that the overall incidence of cancer has been increasing in recent decades. And there is a compelling—and growing—body of evidence linking this troubling trend to toxic chemicals in our daily environments: carcinogens in our air and water, hormone disruptors in our food packaging and personal care products.
There are more than 80,000 chemicals in commercial use. Chemicals in products we all use every day. Chemicals to which we are all exposed throughout the course of our lives—no matter how much we may told to try to shop our way out of it.
The legislation "regulating" chemicals is the Toxic Substance Control Act (TSCA). I put the word regulating in quotes because when it was passed in 1976, TSCA exempted about 60,000 chemicals from testing for safety. And in the 40 years since TSCA was passed, only 200 chemicals have been tested for human safety. Out of these, only five chemicals have ever been restricted due to their harmful impact on human health.
The conclusion is not that we have about 80,000 harmless chemicals on the market; the shameful truth is that our regulators and legislators have been asleep at the wheel while we've all been exposed to countless toxic chemicals linked to cancer and other health problems.
Even those chemicals which are widely recognized to be harmful to human health have proven extremely hard to limit. To put things in perspective, the U.S. Environmental Protection Agency tried to use TSCA to restrict asbestos 20 years ago and failed. It hasn't tried since. And the law has never been updated since its passage in 1976.
The prevalence of chemical exposures and the gaps in our regulatory system cannot be ignored in the context of rising cancer rates more broadly. The same chemicals that can increase the risk of cancer are also thought to be linked to other diseases and health disorders: fertility issues, autism, diabetes, even obesity.
Not so many years before President Obama announced the Precision Medicine Initiative at the 2015 State of the Union, and the "Moonshot" Initiative in his 2016 State of the Union, the President's cancer panel released a report in 2010 pointing to the role of environmental exposures to chemicals in a range of cancers. The report was an urgent call to action: "The panel was particularly concerned to find that the true burden of environmentally induced cancer has been grossly underestimated."
We have come a long way in our understanding of the links between environmental toxins and human health harms in the 50 years since Rachel Carson sounded the alarm on DDT; role of everyday chemicals in increasing the risk of cancer has become widely recognized. If we want to truly end the epidemic of cancer that we're seeing, we need much better treatments, but we also need more than that. We need aggressive, public-health centered action on the toxic chemicals we're all exposed to that increase our risk of cancer. Without emphasizing prevention in addition to cures, no "moonshot" initiative to end cancer's death toll will succeed.
In announcing that he is putting Vice President Biden in charge of the new "moonshot" initiative, President Obama poignantly said: "For the loved ones we've all lost, for the family we can still save, let's make America the country that cures cancer once and for all."
While there is no question that we desperately need new, safe, effective and affordable treatments for many cancers, there is another equally important path we must also pursue: preventing cancer in the first place.
YOU MIGHT ALSO LIKE
Michael Moore: 10 Things They Won't Tell You About the Flint Water Tragedy, But I Will
These 4 Videos Expose the Horrific Reality of the Flint Water Crisis
Zika Virus 'Spreading Explosively' in Americas
Michael Moore: 'Do Not Send Us Bottles of Water. Instead, Join Us in a Revolt'
On the surface, the fear and urgency of a new breast cancer diagnosis seems far removed from a huge international trade deal. And yet, as the executive director of Breast Cancer Action, I am acutely aware of how the highly contested Trans-Pacific Partnership (TPP) threatens the health and well-being of women.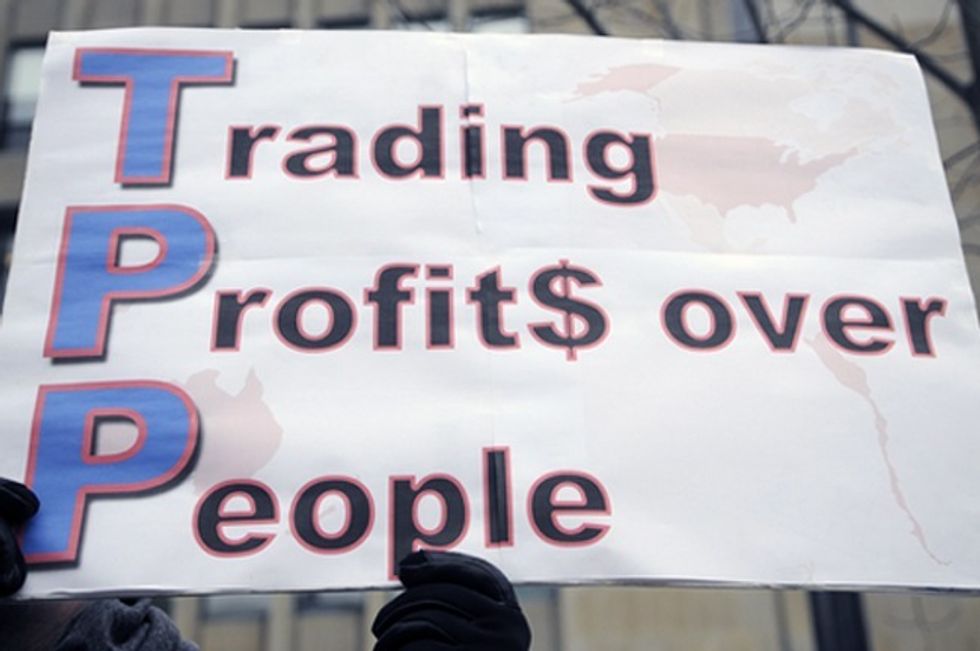 Photo credit: Shutterstock
Although negotiations between the world's biggest economic players can feel disconnected and distant from the day-to-day issues of women living with or at risk of breast cancer, the truth is these massive multinational trade deals play out in ways that directly impact all of us. These impacts include restricting access to affordable cancer treatments and increasing our exposure to chemicals that increase our risk of cancer.
The TPP is a sweeping free trade deal negotiated in secret by the U.S. and 11 other Asian and European countries, with the "help" of more than 600 corporate advisors, including institutions and corporations that produce policies or products linked to breast cancer, like the American Chemistry Council, Avon and Chevron. Yet, while these multibillion dollar giants have a seat at the table, the public is forced to rely only on leaked snippets of information about the trade deal that will impact many aspects of our lives—and bodies.
And as if the secretive and back room deal politicking isn't bad enough, President Obama has asked Congress to give him authority to quickly pass, or "fast-track," the deal. Yesterday the Senate said "no" to moving forward with Fast Track—and we must keep the pressure on.
As the head of a watchdog organization for the breast cancer movement, I work to ensure that public health and patient interests come before those of big business—and I say no way to secret trade deals that harm our health and well-being, especially when we have no say in the matter. I am outraged that information revealed so far about the TPP shows that while it will be great for multinational corporations, it would be, as is too often the case, terrible for our health.
The TPP both threatens access to affordable treatments and limits regulation that protects the public from toxic exposures and processes. This means that not only will more people be exposed to chemicals that are known and suspected to cause health harm, but the treatments for these medical problems will be more expensive as a result of the TPP.
Cost of treatment for breast cancer (and other) patients is a critical issue in the U.S. Too many women already experience first-hand the exorbitant cost of cancer drugs in the U.S.: 11 out of the 12 cancer drugs approved by the U.S. Food and Drug Administration (FDA) in 2012 cost more than $100,000 per year. The current U.S. patent system is designed to reward drug companies for introducing new treatments by providing them with a period of exclusivity, during which no other drug company can sell a competing or generic version of that drug.
The Obama administration once acknowledged that an important step in making cancer treatments more affordable is by limiting this period of exclusivity so that generic options can come onto the market more quickly and provide cancer patients with affordable treatments options. Despite this, the administration is reportedly pushing for market exclusivity periods to last 12 years.
According to language in the TPP's leaked intellectual property chapter, the trade deal would require all participating countries to enact automatic market exclusivity periods on many essential medical drugs, including biological therapies used to treat cancer. In this way, no country would be able to take action within their borders to bring down the cost of treatment by reforming the patent system or reducing the period of exclusivity. It could also limit the U.S. government from negotiating with pharmaceutical companies for lower prices and better reimbursements for patients requiring Medicaid and Medicare. And it would spell disaster for developing countries signing on to the deal.
By locking all 12 nations into patents with long exclusivity periods, the TPP removes any chance for participating countries to take action to reduce the cost of breast cancer and other medical treatments. The TPP would limit access to life-saving treatment by keeping drug prices high—and out of reach of too many patients. This is unacceptable and wrong.
The TPP will include an "Investor-State Dispute Settlement" (ISDS) provision, which allows international investors—mainly multinational corporations—to sue a country if its laws interfere with their profits. Corporations are able to bypass domestic courts and go before an international tribunal of private lawyers, who can, in turn, force nations to pay compensation or "reparation" to corporations—sometimes handing over millions in taxpayer dollars. While ISDS is a provision in many international trade agreements, the TPP expands the current reach of ISDS to thousands of corporations in the twelve countries signing on to the trade deal.
Currently, the nation's fifth-largest pharmaceutical company, Eli Lilly, is using an ISDS to challenge Canada's drug approval process. After finding that one of Eli Lilly's drugs was not effective, Canada invalidated one of its drug patents. In response, Ely Lilly is attempting to use the ISDS provision under the North American Free Trade Agreement (NAFTA) to sue Canada for $500 million. The TPP threatens to expand the power of pharmaceutical corporations like Eli Lilly to set and maintain high drug costs—and high profits at the expense of patient well-being.
Not only do the TPP and its ISDS provision threaten to keep the costs of breast cancer treatments high, this trade deal will also erode efforts to stop cancer before it starts—meaning more and more people may need these exorbitantly expensive cancer treatments.
Health activists, environmental justice activists, and healthcare professionals have long sought strong chemical policy reform in the U.S. to limits exposures to toxic chemicals—some of which have been linked to breast cancer—in consumer, personal care, and household products. While we have a long way to go to strengthen the Toxic Substance Control Act (TSCA) and other chemical regulatory policies, the TPP would enable countries importing goods to the U.S. to bypass our existing chemical safety regulations. As a result of ISDS, countries signing on to the TPP won't be held to U.S. standards for chemical safety when importing their goods here.
Similarly, activists across the country have been fighting for both local and national bans on fracking, a process using many chemicals linked to breast cancer and other health harms. But because of ISDS, foreign oil and gas corporations could sue the U.S. if they assert that our fracking bans interfere with their profit – thus undermining the important work the anti-fracking movement is doing in the U.S. to limit its toxic impact.
We must take a stand and demand public health comes before corporate profit. We must stand against the TPP which blatantly and unapologetically shifts power away from people and toward corporations. Not only would the TPP block vital work to reduce toxic exposures that increase our risk of breast cancer in the first place, the TPP threatens access to affordable and effective treatments for women who are diagnosed with breast cancer.
Now is the time to tell our Congressional representatives: Don't trade away our health.
YOU MIGHT ALSO LIKE
Trans-Pacific Partnership: A Fast Track to Disaster
35 Worst Cities (and the Worst State) for Asthma and Allergy Sufferers
Pope Francis: Environmental Sinners Will Face God's Judgment