garywockner.com
You'd have thought the earth moved exactly two years ago with all the ballyhoo at the State Capitol when Gov. John Hickenlooper unveiled the final Colorado Water Plan. I stood in the west foyer of the Capitol as every TV camera in the city pointed at Hickenlooper and his then-Colorado Water Conservation Board director, James Eklund. Bold promises were made that the plan was going to save our rivers, farms, cities, and the whole state from the coming catastrophe of population growth.

I was deeply involved in the Colorado Water Plan process, and at the time I issued a big word of caution in the form of a newspaper column that was printed in seven outlets across the state.
I warned that the plan was too heavily focused on draining and damming rivers rather than protecting and restoring them.
Now, two years out from that unveiling, I take no solace in being right. In fact, the Colorado Water Plan has become the "Colorado Dam Plan."
If you look at the sheer amount of money so far spent and supported, the state's endorsements and loans for dams have outsized water conservation and river restoration by a margin of at least 50 to 1. Before the ink was dry, Hickenlooper used the plan to endorse the $350 million "Moffat Collection System Project," which would be a massive enlargement of Denver Water's "Gross Dam" in Boulder County. In fact, it would build the tallest dam in the history of Colorado and fill it by draining another 4.5 billion gallons of water every year out of the already severely degraded Upper Colorado River in Grand County.
If that wasn't enough, Hickenlooper then used the plan to endorse the $380 million "Windy Gap Firming Project," which would take another 9 billion gallons of water every year out of the same Upper Colorado River, reducing its flow to a small fraction of its natural beauty. To add insult to injury, the Colorado Water Conservation Board (all appointed by Hickenlooper) then ran a bill through the Legislature to loan that project $90 million to give it financial legs because it couldn't stand on its own two feet.
And there's more.
The "Basin Roundtables," which are made up of self-appointed "stakeholders" around the state, have used the plan to get funding from the Colorado Water Conservation Board for more planning and scheming about dams in northern Colorado on the Cache la Poudre River, in the southwest corner of the state on the San Juan River, and in the northwest corner of the state on the White River.
At the same time that all of that money and planning has flowed toward dams, the alternatives to dams and river protection have gotten extreme short shrift, just as I predicted two years ago.
Despite all the rhetoric, a pittance of money has been allocated to water conservation, water recycling and reuse, and the highly touted "alternative transfer mechanisms" to share water with farmers.
On that last note, the Colorado Water Conservation Board has promoted a few small "pilot" alternative transfer mechanisms, including one larger one in Weld County which wasn't to increase water supply for growing cities—it was created to share water between farmers and frackers. Implementation of the plan has also allocated a tiny amount of money for "Stream Management Plans," but such little money has yielded a similar result.
Here in Fort Collins along the Cache la Poudre River, we just found out that Hickenlooper endorsed "Fish and Wildlife Mitigation Plan" for a massive proposed $850 million dam project called the "Northern Integrated Supply Project."
Despite complete scientific opposition from actual wildlife scientists, the mitigation lan unanimously sailed through the Colorado Parks and Wildlife Commission and the Colorado Water Conservation Board, both appointed by Hickenlooper.
Let's just say Hickenlooper's never seen a river-destroying dam he didn't like.
When the Colorado Water Plan was proposed four years ago, it was perceived by many educated onlookers as an effort by the Front Range growth machine to push through policy and funding to further dam and drain rivers to fuel and subsidize growth.
Two years down the road, that perception has become complete reality.
I'm no longer skeptical about the Colorado Water Plan; I'm now working to stop it.
Wherever you are in the state, if you hear someone touting the Colorado Water Plan, don't take the bait, again—we need to stop it before every beautiful river in our state is drained and destroyed.
Author Gary Wockner, Ph.D., directs two river-protection groups, "Save The Poudre" and "Save The Colorado."
EcoWatch Daily Newsletter
Donald Trump finally opened his mouth about dams and hydropower last week. The result is as bad as you can imagine.
Daniel Dale, Washington correspondent for the Toronto Star, tweeted what Trump had to say:
"Hydropower is great, great, form of power—we don't even talk about it, because to get the environmental permits are virtually impossible. It's one of the best things you can do—hydro. But we don't talk about it anymore."
But, once again, Trump is dead wrong.
Here are the problems with hydropower worldwide:
Trump's statement that "we don't talk about it anymore" is ridiculous. In fact, there are hundreds of massive hydropower dams under construction across the globe, and thousands being planned.
Clearly, Trump doesn't know a damn thing about dams.
Gary Wockner, PhD, directs river-protection organizations and is the author of River Warrior: Fighting to Protect the World's Rivers. Contact: [email protected] or @GaryWockner
Marc_Osborne / iStock / Getty Images

Making the switch to solar energy can help you lower or even eliminate your monthly electric bills while reducing your carbon footprint. However, before installing a clean energy system in your home, you must first answer an important question: "How many solar panels do I need?"
To accurately calculate the ideal number of solar panels for your home, you'll need a professional assessment. However, you can estimate the size and cost of the system based on your electricity bills, energy needs and available roof space. This article will tell you how.
If you make a purchase using the links included, we may earn commission.
Factors That Influence How Many Solar Panels You Need
To determine how many solar panels are needed to power a house, several factors must be considered. For example, if there are two identical homes powered by solar energy in California and New York, with exactly the same energy usage, the California home will need fewer solar panels because the state gets more sunshine.
The following are some of the most important factors to consider when figuring out many solar panels you need:
Size of Your Home and Available Roof Space
Larger homes tend to consume more electricity, and they generally need more solar panels. However, they also have the extra roof space necessary for larger solar panel installations. There may be exceptions to this rule — for example, a 2,000-square-foot home with new Energy Star appliances may consume less power than a 1,200-square-foot home with older, less-efficient devices.
When it comes to installation, solar panels can be placed on many types of surfaces. However, your roof conditions may limit the number of solar panels your home can handle.
For example, if you have a chimney, rooftop air conditioning unit or skylight, you'll have to place panels around these fixtures. Similarly, roof areas that are covered by shadows are not suitable for panels. Also, most top solar companies will not work on asbestos roofs due to the potential health risks for installers.
Amount of Direct Sunlight in Your Area
Where there is more sunlight available, there is more energy that can be converted into electricity. The yearly output of each solar panel is higher in states like Arizona or New Mexico, which get a larger amount of sunlight than less sunny regions like New England.
The World Bank has created solar radiation maps for over 200 countries and regions, including the U.S. The map below can give you an idea of the sunshine available in your location. Keep in mind that homes in sunnier regions will generally need fewer solar panels.
© 2020 The World Bank, Source: Global Solar Atlas 2.0, Solar resource data: Solargis.
Number of Residents and Amount of Energy You Use
Households with more members normally use a higher amount of electricity, and this also means they need more solar panels to increase energy production.
Electricity usage is a very important factor, as it determines how much power must be generated by your solar panel system. If your home uses 12,000 kilowatt-hours (kWh) per year and you want to go 100% solar, your system must be capable of generating that amount of power.
Type of Solar Panel and Efficiency Rating
High-efficiency panels can deliver more watts per square foot, which means you need to purchase fewer of them to reach your electricity generation target. There are three main types of solar panels: monocrystalline, polycrystalline and thin-film. In general, monocrystalline panels are the most efficient solar panels, followed closely by polycrystalline panels. Thin-film panels are the least efficient.
How to Estimate the Number of Solar Panels You Need
So, based on these factors, how many solar panels power a home? To roughly determine how many solar panels you need without a professional assessment, you'll need to figure out two basic things: how much energy you use and how much energy your panels will produce.
According to the latest data from the U.S. Energy Information Administration (EIA), the average American home uses 10,649 kWh of energy per year. However, this varies depending on the state. For example:
Louisiana homes have the highest average consumption, at 14,787 kWh per year.
Hawaii homes have the lowest average consumption, at 6,298 kWh per year.
To more closely estimate how much energy you use annually, add up the kWh reported on your last 12 power bills. These numbers will fluctuate based on factors like the size of your home, the number of residents, your electricity consumption habits and the energy efficiency rating of your home devices.
Solar Panel Specific Yield
After you determine how many kWh of electricity your home uses annually, you'll want to figure out how many kWh are produced by each of your solar panels during a year. This will depend on the specific type of solar panel, roof conditions and local peak sunlight hours.
In the solar power industry, a common metric used to estimate system capacity is "specific yield" or "specific production." This can be defined as the annual kWh of energy produced for each kilowatt of solar capacity installed. Specific yield has much to do with the amount of sunlight available in your location.
You can get a better idea of the specific yield that can be achieved in your location by checking reliable sources like the World Bank solar maps or the solar radiation database from the National Renewable Energy Laboratory.
To estimate how many kW are needed to run a house, you can divide your annual kWh consumption by the specific yield per kilowatt of solar capacity. For example, if your home needs 15,000 kWh of energy per year, and solar panels have a specific yield of 1,500 kW/kW in your location, you will need a system size of around 10 kilowatts.
Paradise Energy Solutions has also come up with a general formula to roughly ballpark the solar panel system size you need. You can simply divide your annual kWh by 1,200 and you will get the kilowatts of solar capacity needed. So, if the energy consumption reported on your last 12 power bills adds up to 24,000 kWh, you'll need a 20 kW system (24,000 / 1,200 = 20).
So, How Many Solar Panels Do I Need?
Once you know the system size you need, you can check your panel wattage to figure how many panels to purchase for your solar array. Multiply your system size by 1,000 to obtain watts, then divide this by the individual wattage of each solar panel.
Most of the best solar panels on the market have an output of around 330W to 360W each. The output of less efficient panels can be as low as 250W.
So, if you need a 10-kW solar installation and you're buying solar panels that have an output of 340W, you'll need 30 panels. Your formula will look like this: 10,000W / 340W = 29.4 panels.
If you use lower-efficiency 250-watt solar panels, you'll need 40 of them (10,000W / 250W = 40) panels.
Keep in mind that, although the cost of solar panels is lower if you choose a lower-efficiency model over a pricier high-efficiency one, the total amount you pay for your solar energy system may come out to be the same or higher because you'll have to buy more panels.
How Much Roof Space Do You Need for a Home Solar System?
After you estimate how many solar panels power a house, the next step is calculating the roof area needed for their installation. The exact dimensions may change slightly depending on the manufacturer, but a typical solar panel for residential use measures 65 inches by 39 inches, or 17.6 square feet. You will need 528 square feet of roof space to install 30 panels, and 704 square feet to install 40.
In addition to having the required space for solar panels, you'll also need a roof structure that supports their weight. A home solar panel weighs around 20 kilograms (44 pounds), which means that 30 of them will add around 600 kilograms (1,323 pounds) to your roof.
You will notice that some solar panels are described as residential, while others are described as commercial. Residential panels have 60 individual solar cells, while commercial panels have 72 cells, but both types will work in any building. Here are a few key differences:
Commercial solar panels produce around 20% more energy, thanks to their extra cells.
Commercial panels are also more expensive, as well as 20% larger and heavier.
Residential 60-cell solar panels are easier to handle in home installations, which saves on labor, and their smaller size helps when roof dimensions are limited.
Some of the latest solar panel designs have half-cells with a higher efficiency, which means they have 120 cells instead of 60 (or 144 instead of 72). However, this doesn't change the dimensions of the panels.
Conclusion: Are Solar Panels Worth it for Your Home?
Solar panels produce no carbon emissions while operating. However, the EIA estimates fossil fuels still produce around 60% of the electricity delivered by U.S. power grids.
Although the initial investment in solar panels is steep, renewable energy systems make sense financially for many homeowners. According to the Department of Energy, they have a typical payback period of about 10 years, while their rated service life is up to 30 years. After recovering your initial investment, you will have a source of clean and free electricity for about two decades.
Plus, even if you have a large home or find you need more solar panels than you initially thought you would, keep in mind that there are both federal and local tax credits, rebates and other incentives to help you save on your solar power system.
To get a free, no-obligation quote and see how much a solar panel system would cost for your home, fill out the 30-second form below.
Click on "Energy Independence," sit back and start reading. It's short, succinct and devastatingly to the point:

"The Trump Administration will make America energy independent. Our energy policies will make full use of our domestic energy sources, including traditional and renewable energy sources. America will unleash an energy revolution that will transform us into a net energy exporter, leading to the creation of millions of new jobs, while protecting the country's most valuable resources—our clean air, clean water, and natural habitats. America is sitting on a treasure trove of untapped energy. In fact, America possesses more combined coal, oil, and natural gas resources than any other nation on Earth. These resources represent trillions of dollars in economic output and countless American jobs, particularly for the poorest Americans.
"Rather than continuing the current path to undermine and block America's fossil fuel producers, the Trump Administration will encourage the production of these resources by opening onshore and offshore leasing on federal lands and waters. We will streamline the permitting process for all energy projects, including the billions of dollars in projects held up by President Obama, and rescind the job-destroying executive actions under his Administration. We will end the war on coal, and rescind the coal mining lease moratorium, the excessive Interior Department stream rule, and conduct a top-down review of all anti-coal regulations issued by the Obama Administration. We will eliminate the highly invasive 'Waters of the US' rule, and scrap the $5 trillion dollar Obama-Clinton Climate Action Plan and the Clean Power Plan and prevent these unilateral plans from increasing monthly electric bills by double-digits without any measurable effect on Earth's climate. Energy is the lifeblood of modern society.
"It is the industry that fuels all other industries. We will lift the restrictions on American energy, and allow this wealth to pour into our communities. It's all upside: more jobs, more revenues, more wealth, higher wages, and lower energy prices.
"The Trump Administration is firmly committed to conserving our wonderful natural resources and beautiful natural habitats. America's environmental agenda will be guided by true specialists in conservation, not those with radical political agendas. We will refocus the EPA on its core mission of ensuring clean air, and clean, safe drinking water for all Americans. It will be a future of conservation, of prosperity, and of great success."
With his climate denying cabinet—including Exxon CEO Rex Tillerson as Secretary of State, Rick Perry for Secretary of Energy, and Cathy McMorris Rodgers or U.S. Rep. Ryan Zinke, R-MT, in the running for Secretary of Interior—and a fossil-fuel friendly U.S. House and Senate, it is no understatement to say the Trump is preparing a fossil fuel takeover of the U.S. economy. But the economy won't be the only thing that's taken over. Our public lands, clean air and clean water will face a withering assault.
This type of "Energy Independence" will be the final nail in the coffin assuming the scientific consensus of 97 percent of the world's leading climate scientists are correct, when they said:
"Observations throughout the world make it clear that climate change is occurring, and rigorous scientific research demonstrates that the greenhouse gases emitted by human activities are the primary driver."
Gary Wockner, PhD, is a Colorado-based environmental activist and the author of the 2016 book, River Warrior: Fighting to Protect the World's Rivers. Contact Gary at [email protected].
The devastating defeat of Hillary Clinton and the environmental agenda we hoped she would support has given American environmentalists a key opportunity to remake the movement and create a "Bernie Sanders Revolution" that will help stop Donald Trump in his first 100 days in office and lead us into a greener future.
Here are three key steps we must take right now:
1. Do everything possible to stop Donald Trump.
In terms of administrative action, expect Trump to try to gut the U.S. Environmental Protection Agency, push an intense fossil-fuel agenda through the Departments of Energy and Interior, and over-ride federal laws whenever possible.
To fight these actions, environmental organizations will need to take to the streets and the courts—non-violent direct action as well as lawsuits will help slow or undermine Trump's agenda and draw media and public attention to our side.
In terms of congressional action, we should expect the worst from Trump and the Republican-controlled Congress. Remember all of those radical anti-environmental bills that were pushed forward when the Tea Party seized control of the U.S. House in 2010? They will come back to haunt us. So too will all of the bills that a Democratic Senate and Obama vetoed over the last 6 years.
Expect an attempt to radically gut the Endangered Species Act, National Environmental Policy Act, Clean Water Act and other federal laws. We will need a united Democratic Party in the U.S. Senate—including some filibusters—along with a couple key moderate Republicans who don't trust Trump. We must work in Washington, DC to make that happen.
2. Ignite and reform the mainstream environmental movement.
In the same way that the Bernie Sanders Revolution is igniting and reforming the mainstream Democratic Party, so too must we ignite and reform the mainstream environmental movement. We need to sweep out the old tactics and ideas and sweep in a bunch of new aggressive people that have fire in their belly.
Over the last 8 years, we've watched much of mainstream American environmentalism become way too soft as it tried to nudge Obama forward rather than lead with an aggressive agenda. That nudging tactic hardly worked before, and now with Trump in power it must be completely discarded.
The environmental movement needs a new independent voice that is not beholden to a political party, or to major funders and purse strings. We can't speak truth to power if those in power are providing the paycheck. Environmentalists need to be guard dogs, not lap dogs. We need to speak for people and our environment, and not be greenwashed mouthpieces for any institutional or corporate agenda.
3. Engage local people and local politics.
If there's one thing the 2016 election taught us, it's that people matter and populism is alive again in America. Sanders' populism almost unearthed Clinton's political machine. Trump's populism de-throned two huge political powers—Clinton's Democratic Party and Bush's Republican Party.
We need to end the top-down focus of environmental organizations where a handful of mainstream groups and funders define the environmental agenda, and we must re-focus on local people and local communities. The American people want clean air, clean water, and protected landscapes and wildlife, but will only support those issues if they feel deeply connected to them. We need to support thousands of small and grassroots groups protecting local wetlands, parks, wildlife and rivers. We need to de-centralize environmentalism and connect it to where people live, work and play.
The first 100 days of the Trump administration must be the first 100 days of a new agenda for the health of our planet.
Sanders proved that the American public is thirsty for change. Stopping Trump, reforming mainstream environmentalism, and engaging local people and politics must be our agenda to create a "Bernie Sanders Revolution" for the environmental movement.
Gary Wockner, PhD, is a Colorado-based environmental activist and the author of the 2016 book, River Warrior: Fighting to Protect the World's Rivers. Contact: [email protected].
By Gary Wockner and Lydia Bleifuss

Hydropower, falsely sold to the public as a source of "green" or "clean" energy, is expanding at an alarming rate in many of South America's beautiful and ecologically pristine rivers.
In line with a global trend, many South American governments—backed by multi-national hydropower corporations, international financiers and profit-motivated corruption—continue to endorse hydropower developments as "renewable" sources of energy despite public opposition and dramatic negative environmental impacts.
Hydropower destroys rivers, often forces the relocation of local communities, increases the spread of vector-borne diseases, and disrupts local cultures and ecologies that have evolved together for thousands of years. Perhaps even worse, methane emissions from hydropower reservoirs are making climate change worse.
Here are seven incredible rivers flowing through South America that are currently threatened:
1. The Beni River
Beni River, Bolivia.Havelock13 / Deviant Art
The Beni River in Bolivia is a tributary to the Madre de Dios which flows into the Amazon. The Beni is threatened by the proposed Bala Hydropower Plant, which would be constructed in the Bala Gorge. The reservoir would flood up to 2,000 square kilometers, including a great portion of the Madidi National Park, jeopardizing tropical forests and biodiversity. Like many hydro developments in South America, the Bala's electricity production estimations are based off of limited hydrological data and accuracy is unreliable.

2. The Jondachi River
Jondachi River, Ecuador.Abraham Herrera
The Jondachi River in Ecuador is a tributary of the Napo Basin which flows into the Amazon. The "La Merced de Jondachi" hydroelectric project would divert the majority of the river's water, which provides world renowned whitewater paddling. Although Ecuador seeks energy independence, development of the Jondachi has been met with fervent resistance from organizations like Ecuadorian Rivers Institute. The massive hydroelectric dam would cause a dramatic decline in the local eco-tourism industry, in addition to ecological degradation, both of which contradict the developer's "clean" and "sustainable" energy platform.

3. The Maipo River
Maipo River, Chile.Paulo Urrutia
The Maipo River in Chile, a whitewater destination and also Santiago's main source of drinking water, is threatened by an internationally financed hydropower tunneling system that is siphoning away the majority of the water of its tributaries—the Volcán, Yeso and Colorado rivers. The hydropower project has met sustained local opposition because it would cause drastic ecological shifts in the valley and has already caused groundwater contamination due to tunnel construction. The proposed electricity production is compromised by drought in the region and isn't reliable. Further, the electricity would be largely funneled to the private mining industry or exported to Argentina for profit.

4. The Marañón River
Maranon River, Peru.Gary Wockner
The Marañón River in Peru is the Amazon River's largest tributary. On the grounds of "national interest," the construction of approximately twenty internationally financed dams have been proposed. Four projects are currently in the permitting process, although none have begun construction. The projects—which would devastate the river's ecological health, fragment nutrient flow and flood local communities—are meeting increasing local, national and international opposition.

5. The Ñuble River
Ñuble River, Chile.Paulo Urrutia
The Ñuble River of Chile runs through the Bío Bío Region and is currently slated for two hydropower projects. While the Chilean government claims the electricity is needed for public use, private mining corporations appear to be the biggest supporters of the projects. Beyond the The Ñuble's amazing scenery and sections of class III/IV whitewater opportunities are jeopardized, as are local farms that would be drowned. While some nearby agricultural communities once recognized the benefits of increased irrigation access the reservoir would provide, the realities of human relocation and an overwhelming focus upon energy production have generated increasing resistance to the developments.

6. The Quijos River
Quijos River, Ecuador.Abraham Herrera
The Quijos River in Ecuador is a tributary of the larger Napo Basin. While one dam already exists on this river (named "Coca Codo Sinclair HPP"), several others are proposed that would slice this once wild and pristine river into an eviscerated tunnel and reservoir plumbing system. The government of Ecuador is endorsing these nationally and internationally financed projects, claiming they will provide "clean" and "sustainable" hydropower, while disregarding the unavoidable environmental degradation and negative social implications that have already started to take hold.

7. The Rocín River
Rocín River, Chile.
The Rocín River in Chile flows from the Andes in the Valparaiso Region. Northern Chile holds some of the largest copper deposits and thus mines, in South America. The privately funded and legally approved hydropower project planned for this river would provide electricity to those mines, which are also held by private companies. Due to the remoteness of the Rocín, relatively little attention has been focused on the development despite local community concerns regarding water access for agriculture and also contamination of both surface and groundwater from mining activities.

Almost all of these seven proposed hydropower projects in South America are being pushed forward to create electricity to be sent to private mining corporations or exported to nearby countries for profit. In most cases, the negative human and environmental consequences are being glossed over, and the "Environmental Impact Assessments" required by governments lack scientific rigor and integrity. Government corruption may also be playing a role as hydroelectric companies are rarely held accountable in permitting processes nor are they required to strictly follow national environmental laws.
Most projects are marketed to the public as "green" energy. In South America's tropical Amazon Basin, for example, methane emitting hydropower reservoirs have been measured to be bigger greenhouse gas polluters than coal-fired power plants of equivalent electricity production. International financial institutions and hydroelectric corporations that fund these projects are distanced from the problems they create, while they continue to push hydro development forward under the guise of "clean" energy mandates that resulted from COP21, the 2016 Paris climate agreement.
It's Official: #Hydropower Is Dirty Energy https://t.co/68RHiviCZA @GaryWockner @Waterkeeper @patagonia @greenpeaceusa @Greenpeace @RAN

— EcoWatch (@EcoWatch)1475254548.0
Layers of different preservation strategies are needed to guarantee any river's safety in South America, and fortunately there are groups who are working on creating and maintaining them. However, these river-protection movements are often isolated from each other and lack funding to help connect and promote their effectiveness. The seven cases above are but a sliver of the threats to South America's—as well as the world's—magnificent rivers. These threats are constantly expanding and shifting, and demand an urgent global response.
Over the last two years, I've written four articles about the massive problem with methane emissions from hydropower dams and reservoirs. Finally, the mainstream media covered this story Thursday after an international team of scientists released a new study that synthesizes more than 100 scholarly articles on the topic.
The Seattle Times headline read, "Hydropower Isn't Carbon Neutral After All" and the Washington Post headline read, "Oh Great—Scientists Have Confirmed A Key New Source Of Greenhouse Gases"
The scientific study featured in these news articles will appear next week in the journal Bioscience and is co-authored by 10 international researchers including scientists at the U.S. Environmental Protection Agency. As reported in the Seattle Times and Washington Post, key findings in the scientific study include:

Methane emissions from dams and reservoirs across the planet, including hydropower, are estimated to be significantly larger than previously thought, approximately equal to 1 gigaton per year.
The international boom in the construction of hydropower projects is rapidly accelerating this increase in methane emissions.
Reservoirs in mid-latitude areas of the planet, including in the U.S., can have as high of methane emissions as those in tropical countries which have been measured to emit as much greenhouse gases as coal-fired power plants.
The United Nation's Intergovernmental Panel on Climate Change (IPCC) should now better account for these massive methane emissions and include them in climate change scenarios.
In the four articles I wrote:
I laid out the science behind why dams and reservoirs cause methane emissions. I explained how there are hundreds of dams under construction right now and thousands in the planning process, and I described how the U.S. government and the IPCC need to address this issue because countries around the world are sweeping it under the rug.
Inspiring news & a great example of what a few people can accomplish w/ dedication. https://t.co/ErHTKrTbjF cc: @RobertKennedyJr #Futaleufu

— Leonardo DiCaprio (@Leonardo DiCaprio)1473814499.0
Now I'm taking it a step farther. I'm calling for a global moratorium on the construction and permitting of all hydropower projects.
Hydropower is being pushed forward as "clean" and "carbon free" by an industry that is making hundreds of billions of dollars per year building dams. Countries, including the U.S., are in denial about how hydropower is contributing to climate change. Corruption in developing countries is undermining democracy and endangering the lives of local people who are fighting these projects. The murder of dam-fighter Berta Cáceres in Honduras got widespread international attention, but it is only the tip of the iceberg for the human rights abuses faced by local people fighting hydropower across the planet.
A moratorium on hydropower is the only just path forward.
As I paddled my kayak amidst the hundreds of people in the Free The Snake flotilla last weekend, I believe Ryan is on the right track. Dams are a 50 to 100 year old technology—it's time to remove even more dams along America's diminished waterways and replace that aged technology with flourishing solar and wind energy systems.
2016 was the second year for the Free The Snake flotilla. Co-sponsored by more than a dozen non-profit groups and organized by Save Our Wild Salmon and Patagonia, the flotilla took place on the Idaho border on the Snake River. Four huge dams on the lower Snake River have contributed to several species of salmon being placed on the endangered species list. Removing the dams would help restore the salmon and a way of life in the Snake and Columbia River basins.

The flotilla included participation from river conservation and fishing groups, native American tribes and local businesses, all who have a stake in seeing the lower Snake River dams removed. Since the dams were built more than 30 years ago, only about 1 percent of salmon return from the sea to their native spawning grounds along the river. Historically, around 8 million salmon would return from the sea, swim up the Columbia River and then up into the Snake. That number is now down to around 80,000. Further, the vast majority of those fish are bred and stocked every year, with few or none being original wild salmon.

"Bigger and better, this year's flotilla underscores the public support for restoring this river and bringing these critical salmon species back to our environment," Joseph Boggard, director of Save Our Salmon, said.
The 300-person flotilla had the wind at its back, literally and figuratively, as it floated down the river towards the Clarkston-Lewiston bridge. In May of 2016, a federal district court judge ruled that the Endangered Species Recovery Program for the salmon was "illegal" and needed to "consider all recovery options" including "dam removal." Save Our Salmon has been litigating on the behalf of the endangered salmon for nearly two decades and is thrilled at the court's decision.
A new recovery plan must be developed by the federal agencies. Conservation groups have vowed to crank up the "dam removal" campaign. Further, the Snake River Waterkeeper recently filed another notice of intent to sue to address the pollution and temperature problems in the river.

"We've opened up another legal front in our fight to protect the salmon and take down these dams," said Ryan.
The crowd chanted and drummed as it floated down the river. Leading the flotilla was a giant inflatable killer whale to symbolize the threat to ocean species from the massive decrease in salmon populations. In fact, the Southern Resident Killer Whales—which live part-time in Puget Sound—are endangered because their food supply has been depleted. This species of killer whale lives entirely by eating fish and migrating along the coast down to northern California and back up to Puget Sound. Historically, this population of killer whales almost exclusively ate salmon, but as the salmon numbers dwindled, killer whale numbers have dramatically decreased as well, down to 82 animals, which has put them on the endangered species list.

"With all the negativity that surrounds trying to save an endangered species, everyone that took part in the Snake River flotilla sent a strong message today that is proof positive that we can right this ship," said Shari Tarantino, director of the Orca Conservancy, which is trying to restore the Southern Resident Killer Whales.
Some of the tribal members at the Free The Snake Flotilla had just returned from the Dakota Access Pipeline flotilla and were excited to keep their boats in the water supporting the cause of justice and environmental restoration. The rainy day deterred no one's enthusiasm, including the five different tribes that participated in the event.

In addition to sending a message to the Army Corps of Engineers and Bonneville Power Administration which now must write a new recovery plan for the salmon, the flotilla also sent a strong message to the local communities that removing the dams would be good for the river and the economy.
"It's great to have hundreds of boaters on the water showing Clarkston and Lewiston that the public supports dam removal," said Samantha Mace of Save Our Salmon.
As the 3-hour even wound down, the chanting and drumming increased and I came to believe that it's not if, but a matter of when, the Snake River dams come down.

President Obama made a historic announcement Wednesday, saying that the federal government is considering investing in the geothermal power in the rock formations under the Salton Sea in Southern California. Considered to be "the most powerful geothermal reservoirs in the world," the Salton Sea announcement could play a critical role in the future management of the Colorado River.
Mud flies as carbon dioxide gas from deep underground fissures escapes through geothermal mudpots or mud volcanoes, over the southern San Andreas earthquake fault near the Salton Sea National Wildlife Refuge near Calipatria, California. David McNew
Fifty years ago, Glen Canyon Dam was built above the Grand Canyon, and the Colorado River was enslaved to generate electricity to feed the hunger of the booming southwestern cities and suburbs. The Colorado's pulsing flows had carved and nourished the Grand Canyon for millennium, but that came to a crashing halt when the gates were closed and the water was ponded in Lake Powell. The environmental damage and steady decline of one of our nation's crown jewels has led to many calls for restoration of the natural system through the removal of Glen Canyon Dam.
The dam's ability to provide power has shielded it from any serious attempt to bring it down. Times change though and, over the last 16 years, the historic drought in the Southwest U.S. has drained Lake Powell to historic lows, severely diminishing the potential to generate hydroelectricity from the massive turbines encased in Glen Canyon Dam. Water and electricity managers are scrambling to come up with a plan to prop up the lake above what's called "power pool" so they can continue to generate and sell power. Any such solution is, however, clearly a stop-gap measure to keep the dam operational and is doomed to fail when confronted by the realities of climate change.

Lake Powell: Going, Going, Gone? - EcoWatch https://t.co/qu3xLvqQc7 @ClimateDesk @CeresNews

— EcoWatch (@EcoWatch)1471384872.0
Fortunately, Obama's announcement offers a true path to the future.
The Salton Sea announcement could create an opportunity to replace the hydroelectric power generated at Glen Canyon Dam and a path forward to restoring the Grand Canyon. The geothermal reservoirs under the Salton Sea are an untapped resource that could add power to the grid as Lake Powell is slowly drained and Glen Canyon Dam is removed. Lake Powell's water could be put into Lake Mead, its downstream sister, thus keeping one fully functioning hydroelectric facility on the grid. Further, this "geo-hydro power trade" could keep the federal government solvent in its current financial contracts to provide electricity to the Southwest U.S.
The idea has already generated a bit of a buzz when Geothermal Resources retweeted this tweet:
Salton Sea Geothermal power could be used replace Glen Canyon hydropower as #climatechange drains Powell. #CORiver https://t.co/Mk9mtkDffQ

— SaveTheColoradoRiver (@SaveTheColoradoRiver)1472665768.0
Climate change scientists have painted a bullseye on the Southwest U.S. and the Colorado River, indicating the area will become warmer and dryer with even less flow in the Colorado River. Hydroelectricity is threatened at both Lakes Powell and Mead, as well as reservoirs in California. Salton Sea geothermal power could be a breakthrough in building a climate change-resistant Southwest while also preserving and restoring the lifeblood of the region—the Colorado River.

The 16-year drought on the Colorado River has drained Lake Mead and Lake Powell to their combined lowest level in history. But that's nothing compared to what could happen, according to a new study from the State of Colorado.
The study indicates that a drought like the one that happened in 2000 – 2006 "would empty Lake Powell," according to the Aspen Daily News. "Another potential conclusion from the risk study is that any new trans-mountain diversion would only make it more likely that Powell would go below target levels," the publication noted.
And, whether you want to believe it or not, water agencies in Colorado, Wyoming and Utah are proposing to do just that. In fact, Denver Water, Northern Water (in Colorado), and the states of Wyoming and Utah are all proposing even more dams and diversions of water out of the river and its tributaries that would accelerate the draining of Lake Powell and cause serious legal consequences for the entire Southwest U.S.
Further, climate change scientists have painted a bullseye on the Southwest U.S., indicating that it will get hotter and drier, with even less flow into the Colorado River. The lead investigator in the in-progress Colorado report has even said, "I haven't shown the climate change hydrology because it just scares everybody."
Save the Colorado has formally opposed all new proposed dams and diversions out of the river or its tributaries. We believe climate change is real and will have a serious impact on the Colorado River. The solution proposed by the State of Colorado is to buy massive amounts of water from farmers in Colorado, and then let that water run downstream to Lake Powell to keep the water level high enough to produce electricity at Glen Canyon Dam.
This plan is very unlikely to be successful. There's just not enough farmers who would want to sell massive amounts of water in order to keep the hydroelectric turbines spinning. Further, it could cost hundreds of millions of dollars every year to buy out those farmers even if they would sell.
What makes more sense is a responsible, planned effort by the government to drain Lake Powell, rather than letting drought and climate change do it in a haphazard way.
Lake Powell's days are numbered. The lake was a mistake, it's time to forsake.
Gary Wockner, PhD, is the executive director of the Save the Colorado river campaign. Contact Wockner at [email protected].
News reports over the weekend confirm what we Coloradans have been hearing for months, that our Governor, John Hickenlooper, is on the short list for vice president by presumptive Democratic nominee Hillary Clinton.
Wikimedia Commons
Having suffered through six long years of Gov. Hickenlooper here in Colorado, I offer these top five reasons why Clinton should not pick him as her vice president:

1. Climate Change
When Hickenlooper got in office, one of his first quips was about how he wasn't sure climate change was real. Throughout his tenure he's maintained an arm's length to the issue and when, in 2015, he finally released a "Climate Action Plan," it ensured that emissions would continue rising and the issue would not be taken seriously during his tenure.
2. Coal
As Governor, Hickenlooper gets to appoint the Public Utilities Commission in Colorado which oversees the electricity industry. Hickenlooper's appointments have been pro fossil fuel (the chair of the commission used to work for a fossil fuel company). In addition, he's repeatedly spoken in favor of the coal industry and even supports opening up roadless areas for more coal mining in Colorado.
3. Water and Rivers
To much ballyhoo, Hickenlooper launched the Colorado Water Plan which missed the mark and is an "all of the above" approach to water supply in Colorado. Further, no sooner did the ink dry, than he endorsed two controversial new dam and diversion projects that would further drain and destroy the already beleaguered Colorado River.
4. Fracking
If there's one thing Hickenlooper will be known for, it's his support of fracking and the oil and gas industry. He's drank Halliburton's fracking fluid, sued cities that voted to ban fracking and he's stood arm-and-arm with Tea Party Republicans in his support for the fracking industry. He didn't get—he earned—the nickname "Frackenlooper."
5. Population Growth
During Hickenlooper's tenure, population growth has boomed in Colorado at a faster clip than at any time in history. He has lured, subsidized and promoted population and business growth which has had a devastating impact on our state's air quality, water supplies and road congestion. From mountains to plains, our state's landscape is being devoured by population growth.
Many folks in the environmental community in Colorado think we should all stay silent—after all, if Clinton picks Hickenlooper, he will be gone from here and we'll have a new dawn to try and get a new governor who respects and protects the environment. But I see it differently.
Under Hickenlooper's regime, the environmental community and the progressive base of the Democratic Party in Colorado has been split, scorned, marginalized and eviscerated. I do not want to see that happen to the U.S. by a person who could be a heartbeat away from the presidency.
The California think-tank Pacific Institute released a report—Impacts of California's Drought: Hydroelectric Generation 2015 Update—earlier this month that contains significant false and misleading information that could negatively impact California rivers and delay the transition away from dirty energy.
First, the report and the news stories surrounding it repeatedly say that hydroelectric power is "less expensive" in California than competing sources. This statement gives credence to the anti-environmental mindset of discounting the negative impacts that dams and reservoirs have on free-flowing rivers, and disregards the externalized costs to the environment. In fact, the report omits the devastating impacts hydropower has on fish, wildlife, wetlands and countless other species that depend on healthy flowing rivers for survival. If the report would have included an "environmental full-cost accounting," the cost of hydropower for California consumers would have been shown to be huge.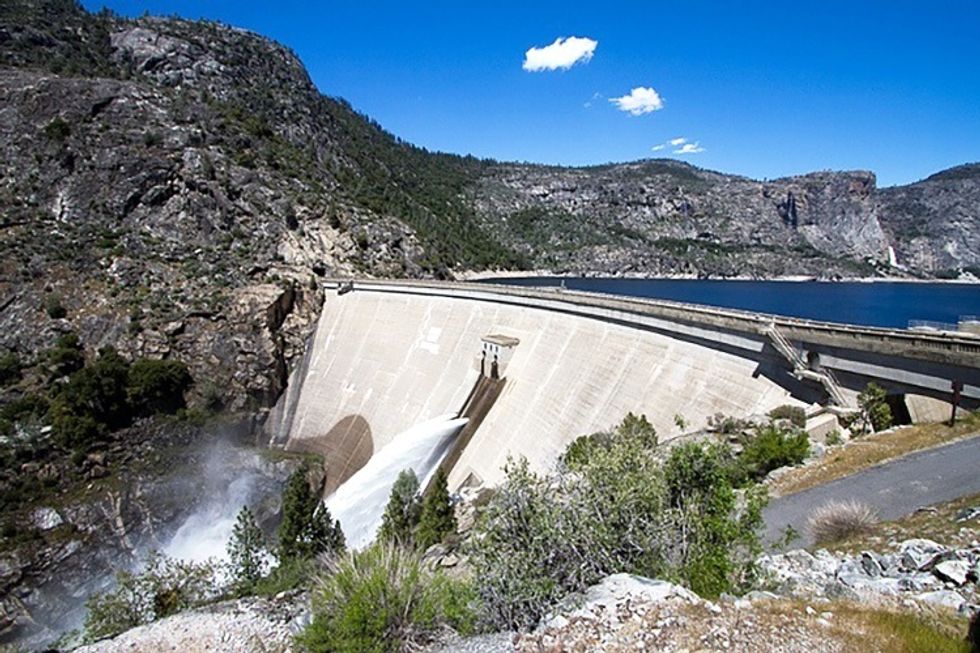 Second, the report pushes the anti-science myth that hydropower is "clean energy," when nothing is further from the truth. Hydropower dams and reservoirs emit methane, a greenhouse gas that is 20 times more potent than carbon dioxide. These emissions are caused by the decomposition of organic vegetation flowing into the water as the reservoir levels fluctuate, and as rivers and floodplains are flooded each year. Methane bubbles up from the surface of the reservoirs and methane is jetted out the turbines below the dam. In fact, in tropical environments, hydropower can emit as much or even more greenhouse gases than coal-fired power plants. Unfortunately, the state of California does not measure the methane emissions from hydropower dams and reservoirs even though the science proving its impact is 25 years old.
Third, the report ignores positive impacts on water and electric use in California due to the drought. For example, the Metropolitan Water District of Southern California spent $450 million "buying lawns" in its service area and replacing them with drought tolerant landscapes. This transformation of the landscape from water guzzling to water conserving has significant impacts that lowers water and energy bills for consumers. Similarly, because of the ongoing drought, in Los Angeles, Orange and San Diego counties, stormwater and wastewater recycling programs have been launched, which could save large amounts of water, energy and money as compared to other types of new water supplies.
Finally, the report says hydropower is "less polluting" and the media surrounding the report has been saying that hydropower is "clean as a whistle"—all of which greenwashes the industry's reckless history of environmental and cultural destruction in the U.S. and across the rest of the globe. Hydropower causes massive impacts to indigenous peoples, forests and biological diversity, and increases the spread of disease (even the Zika virus), all of which is escalating exponentially worldwide.
Thousands of new hydroelectric dams are being proposed in South America, Eastern Europe, Asia and Africa. Hundreds of dams are under construction, most of which are extremely controversial, surrounded by large-scale protests and supported by government subsidies.
The rivers of the world are facing major threats from hydroelectric dams that displaces people, destroys forests and increases climate change emissions. In Latin America, Indonesia, China, Vietnam and across the developing world, people and activists who are fighting to stop these dams are being assaulted, imprisoned and sometimes murdered.
Rivers are the living, breathing blood veins of the planet. Hydroelectric dams kill rivers. Nothing about that is clean and cheap.
YOU MIGHT ALSO LIKE
Warren Buffett Wages Quiet War on Solar in the West
Robert F. Kennedy, Jr. to Keynote SXSW Eco
Koch Brothers Plotting Multimillion Dollar War on Electric Vehicles