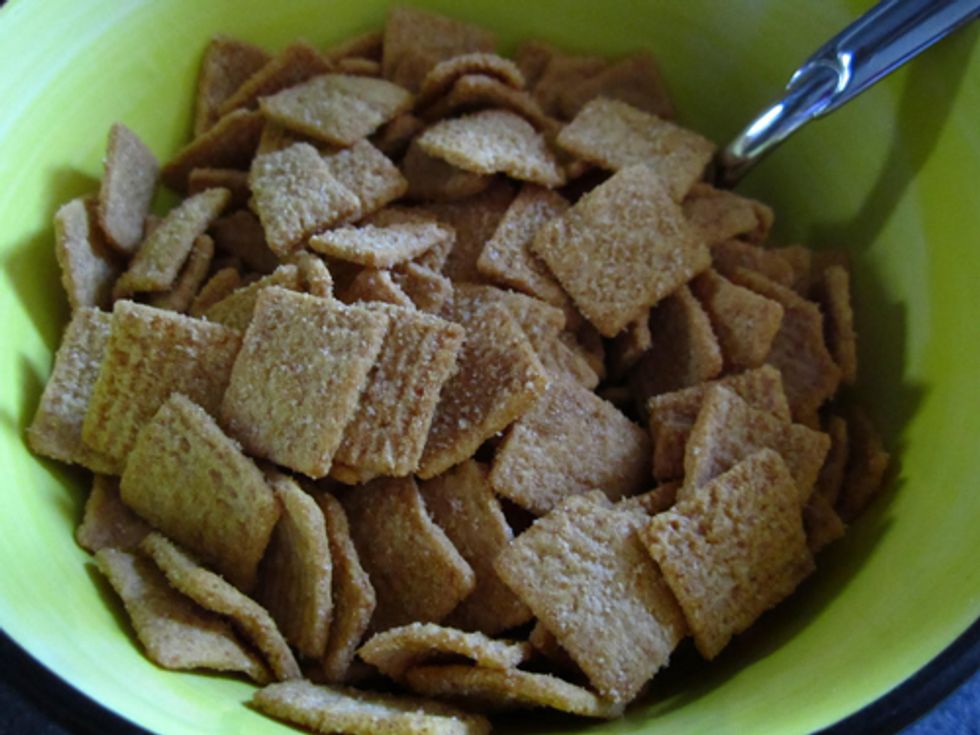 By Janelle Sorensen
Like many other consumers, I used to think that if I shopped at the local co-op or in the natural section of the grocery store, I couldn't go wrong. I could relinquish my fears of genetically modified organisms (GMOs) and pesticides and breeze through my grocery shopping without an eco-care in the world.
Not so true.
Now, I know that just because a product has pictures of baby animals or leaves, or is sitting on the shelf next to an organic product, or says "natural," it does not mean it's healthier or more eco-friendly than other conventional options.
According to the latest report from the Cornucopia Institute:
There are no restrictions for foods labeled "natural" (very basic standards exist only for meat products). The term often constitutes nothing more than meaningless marketing hype promoted by corporate interests seeking to cash in on the consumer desire for food produced in a genuinely sustainable manner.
Unlike the organic label, no government agency, certification group or other independent entity fully defines the term "natural" on processed food packages or ensures that the claim has merit.
This report explores the vast differences between organic cereal and granola products and so-called natural products, which contain ingredients grown on conventional farms where the use of toxic pesticides and genetically engineered organisms is widespread.
Our analysis reveals that "natural" products—using conventional ingredients—often are priced higher than equivalent organic products. This suggests that some companies are taking advantage of consumer confusion.
To find brands that are committed to sustainable agriculture, avoiding genetically engineered ingredients and supporting organic farmers, use the Cereal Scorecard.
Here's a quick video summary of their findings:
Does your family eat cereal? What kind? Any other easy breakfast ideas?
Learn more:
Visit Eat Healthy to find recipes that are fast, frugal, fun and eco-friendly.
 For more information, click here.

EcoWatch Daily Newsletter
Lorena Canals
Rugs add a cozy aesthetic to the home, but they can also contribute to toxin exposure if you're not careful when shopping around. How do you find the best sustainable rugs in a world where almost everything is mass produced with questionable chemicals involved?
There is a lot to consider in the search for a nontoxic rug you hope was ethically made. That's especially true in a time where we are reevaluating our environmental impact every day. We rounded up four of the best sustainable rugs for any area of your home, from your living room to your outdoor space. Read on to learn more.
Best Sustainable Rugs: Our Recommendations
Each product featured here has been independently selected by the writer. Learn more about our review methodology here. If you make a purchase using the links included, we may earn a commission.
Why Switch to a Sustainable, Nontoxic Rug?
Many people want to secure an area rug in the most affordable, fastest and easiest way. However, that often leaves your choices limited to rugs that are most likely not sustainably or ethically made.
Most ordinary new rugs and carpets contain harmful chemicals called volatile organic compounds, or VOCs. They can off-gas for up to five years, emitting VOCs in your home and causing short- and long-term health issues including headaches, dizziness, liver and kidney damage, and even cancer in animals and humans. An eco-friendly rug choice avoids these adverse health effects.
You may also wonder why you need a special cleaner filled with questionable chemicals for a rug. In some ways, you end up spending more money over time on a synthetic rug that ends up in the landfill.
By choosing home decor products made from sustainable materials, you can make a positive impact and promote a kinder and healthier planet.
Full Reviews of Our Top Picks
How to Choose the Best Sustainable Rug

There are a few factors to consider when purchasing the best sustainable rug for your home:
Natural fibers: What material is the rug made out of? When looking for nontoxic rugs, choose natural fibers like organic cotton, jute, wool and sisal. Agave sisalana is the botanical name for sisal, which is native to southern Mexico. Many fruit plants also make cozy natural textile materials in place of genetically modified cotton.
Material harvesting and manufacturing: Was the material ethically harvested? Was the rug sustainably made? Is it an ethically made rug? Was the rug treated with any chemicals?
Cost: A handmade rug understandably costs more than a mass-produced one. However, you should also shop around and stay within budget.
Style: Many natural fiber and sustainable rugs are varied and unique in design. Have a look in mind when shopping for an organic rug to ensure you will be happy with the aesthetic.
Note that some natural fibers, like jute, can shed and may tend to unravel lightly in some areas over time. That's the nature of the material.
Frequently Asked Questions: Best Nontoxic Rugs
How do you know if a rug is toxic?
A rug's surface can consist of natural fibers. However, many don't consider that the rug's backing and underlay padding could contain toxic materials. All parts of the rug should be produced with natural materials. Unfortunately, you may also find hidden toxins in the form of formaldehyde, stain deterrent treatments and flame retardants on the surface of the rug.
Are jute rugs environmentally friendly?
Yes, jute rugs can be very environmentally friendly. Jute is a sturdy natural fiber that many consider to be one of the most eco-conscious materials out there. Jute comes from a tropical plant and is both recyclable and biodegradable. Jute fibers are spun into durable threads to create such products as twine, mats and rugs.
Are handwoven rugs ethical and sustainable?
It is ethical to purchase from a craftsperson who used their skills and traditional practices to thoughtfully make a beautiful and sustainable rug. However, many products that are labeled "sustainable" can still be produced unethically and illegally via child labor and human rights violations. A good resource to check is Amnesty.org, which recently discovered human rights violations by larger U.S. companies in the production of "sustainable" palm oil.
Research each product and manufacturer across various platforms, always checking reviews and non-biased news sources. Where possible, purchase ethical rugs from craftspeople directly. Local maker collectives and arts organizations are great places to start.
How do you clean a natural fiber rug?
Drenching a natural fiber rug with wet shampoo or steam can cause damage and discoloration. Spot-clean natural fiber rugs with a mild detergent, or use club soda for acidic stains.
Routinely sweep or vacuum your rugs lightly, using a rug beater as appropriate. You can also buy a dry cleaning powder that is compatible with natural fiber rugs. Simply sprinkle this powder on the rug and vacuum it up. Take more heavily soiled rugs to a green dry cleaner if care instructions allow.
With fair labor practices and ethical standards in place, a rug made of natural fibers is a much more eco-friendly option than a rug made with toxic chemicals. Be wary of companies that greenwash their marketing with sustainability claims they fail to deliver on.
Where possible, consider handcrafted rugs when shopping for a rug for your home. It's much easier to verify sustainability, and you support a talented individual and the local economy with your purchase.