By Tyler Rivlin and Leann Leiter
Allen Young and his family are surrounded. They can see three sizable natural gas plants–operated by Dominion and Energy Transfer Partners–without taking a step off their property. Over the past three years, these facilities have taken over the boomerang-shaped ridge less than a half-mile from the Young's home in Powhatan Point, Ohio.
Soon after the compressor stations went into operation, Allen, his wife and two children noticed unsettling changes. Their previously fresh air often smelled, they were plagued by noise from engines and machinery, and the whole family experienced frequent headaches, dizziness, shortness of breath, nosebleeds and other respiratory symptoms. Concerned for his family's health and wellbeing, Allen attempted to resolve these issues by reporting them directly to the sites' operators for over three years–but to no avail. He'd even called and written to Dominion about the ongoing problems. Citing the plethora of gas companies in the area and the lack of "evidence" that Dominion was the one responsible for the problems, the company wrote back: "Dominion is declining your claim."
Fortunately, they haven't given up. Along with other Ohio residents, Allen is using an important avenue for action: submitting complaints to the Ohio Environmental Protection Agency (Ohio EPA) and the Ohio Department of Health (ODH). Recently, Earthworks has teamed up with Ohio residents like Allen to pressure these public agencies to do their jobs and hold companies accountable for fixing problems and ending the pollution they create.
Through the Community Empowerment Project, Earthworks offers tools and support to residents like Allen who live on the front lines of oil and gas development. We use a specialized camera that allows us to see and document the air pollution endemic to facilities like the Dominion and ETP compressors. This technology, called Optical Gas Imaging (OGI), makes visible this normally invisible pollution, and is the same technology used by regulators like the Ohio EPA. After Allen saw OGI footage of the emissions he and his family were exposed to every day, he decided to start submitting formal complaints to the Ohio EPA.
A complaint is a way of officially reporting problems or concerns to regulators. Ohio EPA rules require that the agency investigate and respond to complaints from the public. Together, Allen and Earthworks staff submitted complaints to the Ohio EPA on each of the three facilities, and awaited their response.

Meanwhile, with Earthworks' support, Allen incorporated new methods to document and share his observations. He began logging his family's health symptoms and measuring the noise pollution from the compressors with a phone app. He shared his family's story in a video interview conducted by Earthworks, and was featured in news stories by the Allegheny Front and local WTRF News.
Ohio EPA responded to the complaints by contacting the operators to ensure the facilities were running as permitted. They told us to contact the county health department, and later, the ODH–leading us in a frustrating circle, with those health agencies stating that oil and gas is not their purview and directing us back to Ohio EPA.
Finally, with more calls–and the suggestions of some very helpful, determined ODH staff–we learned of a small office within the Department with the ability to investigate exactly these types of complaints. The ODH's Health Assessment Section eagerly took the details Allen had carefully amassed–including noise levels, photographs of his children's skin rashes and nose bleeds, prescriptions for recently emerged health symptoms–and began its own investigation by collaborating with Ohio EPA.
Within two months, ODH and Ohio EPA had conducted air quality testing right in Allen's backyard. Ohio EPA informed us of additional plans for a summer-long odor study at these and other nearby sites. What's more–and perhaps the biggest relief for Allen and his family–Dominion installed new equipment to control noise, and the Young's backyard fell quiet again.
In all, Earthworks and Allen submitted a total of nine complaints. During a repeat visit in August, the OGI camera revealed what appeared to be reduced emissions and we saw operators conducting maintenance at the sites.
All that Allen achieved–air monitoring, the attention of regulators, action by Dominion to reduce the noise pollution–are vital improvements for his family and community. But these compressors are three of the more than 100,000 gas facilities in Ohio. And the Youngs are among 3.25 million Ohioans living within ½ mile of those sources of dangerous air pollution. Currently, Earthworks is awaiting the results of Ohio EPA's investigations into seven complaints we submitted from other locations between March and July of 2018.
Agencies should take action when residents complain, but also need to inspect the sites they permit much more frequently, and work harder to reduce pollution from the industry they're charged with overseeing. In fact, Ohio EPA staff recently confirmed that they don't actually audit the wells and compressors in Ohio with unannounced site inspections, checking up on them only when they receive a complaint–and even then, they may only call the operator for verbal assurance before dismissing the complaint as resolved.
The complaint process requires strong safeguards and regulators who have the resources and the will to enforce them. It demands persistence on the part of residents like Allen Young. And it takes more of them reporting the problems of the industry to make all of Ohio a safer, more livable place.
Related Articles Around the Web
EcoWatch Daily Newsletter
The Oil & Gas Threat Map
A new analysis of state and federal data shows 2.9 million children enrolled in schools and daycares across the country are threatened by oil and gas air pollution. Released by the national environmental group Earthworks, this new analysis is part of a larger update to The Oil & Gas Threat Map, a map-based suite of tools designed to inform and mobilize Americans about the health risks from the oil and gas industry's toxic air pollution.
The Obama-era U.S. Environmental Protection Agency (EPA) and Interior Department issued rules to limit this type of oil and gas pollution. The Trump administration is now trying to block and revoke these rules before they go into effect.
"My two sons are among the millions of children who go to school near oil and gas operations that threatens their health and safety," said Patrice Tomcik, National Oil and Gas program coordinator with Moms Clean Air Force, from Southwest Pennsylvania. She continued, "Children are especially vulnerable to these threats, including cancer, respiratory illness, fetal defects, blood disorders and neurological problems. With so many children living, playing and learning in close proximity to oil and gas production, it is unconscionable that our federal government wants to stall and revoke safeguards that protect our children from this industrial pollution. Moms want to see these vital safeguards implemented, not ignored."
The Oil & Gas Threat Map maps the nation's 1.3 million active oil and gas wells, compressors and processors. Using peer-reviewed research into the health impacts attributed to oil and gas air pollution, the map conservatively draws a 1/2 mile health threat radius around each facility. Within that total area are:
2,944,785 students attending 9,102 schools, colleges and day care facilities;
12.5 million people living in their homes including
3,035,508 children under 18
1,756,398 senior citizens 65 and over;
2,292 medical facilities; and
all encompassed by the 187,413 square miles—an area larger than California—that lay within 1/2 mile of 1,292,669 oil and gas production facilities.
The searchable map also allows users to:
Look up any street address to see if it lies within the health threat radius;
View infrared videos which makes visible the normally invisible pollution at hundreds of the mapped facilities; and
View interviews with people impacted by this pollution.
"The Trump administration has at least 2.9 million reasons to support stronger safeguards against toxic oil and gas air pollution," said Earthworks Policy Director Lauren Pagel. She continued, "Instead, EPA Administrator Pruitt and Interior Secretary Zinke are hell bent on eliminating them altogether."
Peer-reviewed science indicates that living within a 1/2 mile of these production facilities is clearly correlated with negative health impacts including cancer, respiratory illness, fetal defects, blood disorders and neurological problems.
Lorena Canals
Rugs add a cozy aesthetic to the home, but they can also contribute to toxin exposure if you're not careful when shopping around. How do you find the best sustainable rugs in a world where almost everything is mass produced with questionable chemicals involved?
There is a lot to consider in the search for a nontoxic rug you hope was ethically made. That's especially true in a time where we are reevaluating our environmental impact every day. We rounded up four of the best sustainable rugs for any area of your home, from your living room to your outdoor space. Read on to learn more.
Best Sustainable Rugs: Our Recommendations
Each product featured here has been independently selected by the writer. Learn more about our review methodology here. If you make a purchase using the links included, we may earn a commission.
Why Switch to a Sustainable, Nontoxic Rug?
Many people want to secure an area rug in the most affordable, fastest and easiest way. However, that often leaves your choices limited to rugs that are most likely not sustainably or ethically made.
Most ordinary new rugs and carpets contain harmful chemicals called volatile organic compounds, or VOCs. They can off-gas for up to five years, emitting VOCs in your home and causing short- and long-term health issues including headaches, dizziness, liver and kidney damage, and even cancer in animals and humans. An eco-friendly rug choice avoids these adverse health effects.
You may also wonder why you need a special cleaner filled with questionable chemicals for a rug. In some ways, you end up spending more money over time on a synthetic rug that ends up in the landfill.
By choosing home decor products made from sustainable materials, you can make a positive impact and promote a kinder and healthier planet.
Full Reviews of Our Top Picks
How to Choose the Best Sustainable Rug

There are a few factors to consider when purchasing the best sustainable rug for your home:
Natural fibers: What material is the rug made out of? When looking for nontoxic rugs, choose natural fibers like organic cotton, jute, wool and sisal. Agave sisalana is the botanical name for sisal, which is native to southern Mexico. Many fruit plants also make cozy natural textile materials in place of genetically modified cotton.
Material harvesting and manufacturing: Was the material ethically harvested? Was the rug sustainably made? Is it an ethically made rug? Was the rug treated with any chemicals?
Cost: A handmade rug understandably costs more than a mass-produced one. However, you should also shop around and stay within budget.
Style: Many natural fiber and sustainable rugs are varied and unique in design. Have a look in mind when shopping for an organic rug to ensure you will be happy with the aesthetic.
Note that some natural fibers, like jute, can shed and may tend to unravel lightly in some areas over time. That's the nature of the material.
Frequently Asked Questions: Best Nontoxic Rugs
How do you know if a rug is toxic?
A rug's surface can consist of natural fibers. However, many don't consider that the rug's backing and underlay padding could contain toxic materials. All parts of the rug should be produced with natural materials. Unfortunately, you may also find hidden toxins in the form of formaldehyde, stain deterrent treatments and flame retardants on the surface of the rug.
Are jute rugs environmentally friendly?
Yes, jute rugs can be very environmentally friendly. Jute is a sturdy natural fiber that many consider to be one of the most eco-conscious materials out there. Jute comes from a tropical plant and is both recyclable and biodegradable. Jute fibers are spun into durable threads to create such products as twine, mats and rugs.
Are handwoven rugs ethical and sustainable?
It is ethical to purchase from a craftsperson who used their skills and traditional practices to thoughtfully make a beautiful and sustainable rug. However, many products that are labeled "sustainable" can still be produced unethically and illegally via child labor and human rights violations. A good resource to check is Amnesty.org, which recently discovered human rights violations by larger U.S. companies in the production of "sustainable" palm oil.
Research each product and manufacturer across various platforms, always checking reviews and non-biased news sources. Where possible, purchase ethical rugs from craftspeople directly. Local maker collectives and arts organizations are great places to start.
How do you clean a natural fiber rug?
Drenching a natural fiber rug with wet shampoo or steam can cause damage and discoloration. Spot-clean natural fiber rugs with a mild detergent, or use club soda for acidic stains.
Routinely sweep or vacuum your rugs lightly, using a rug beater as appropriate. You can also buy a dry cleaning powder that is compatible with natural fiber rugs. Simply sprinkle this powder on the rug and vacuum it up. Take more heavily soiled rugs to a green dry cleaner if care instructions allow.
With fair labor practices and ethical standards in place, a rug made of natural fibers is a much more eco-friendly option than a rug made with toxic chemicals. Be wary of companies that greenwash their marketing with sustainability claims they fail to deliver on.
Where possible, consider handcrafted rugs when shopping for a rug for your home. It's much easier to verify sustainability, and you support a talented individual and the local economy with your purchase.
Thanks to a bill passed this June by the state legislature, Pennsylvania now has the dubious distinction of being the only state in the nation to abandon oil and gas regulations after they've been fully developed and publicly reviewed. While other states have modernized oil and gas oversight in the wake of the shale boom, no other state has exempted a major part of the oil and gas industry in the process.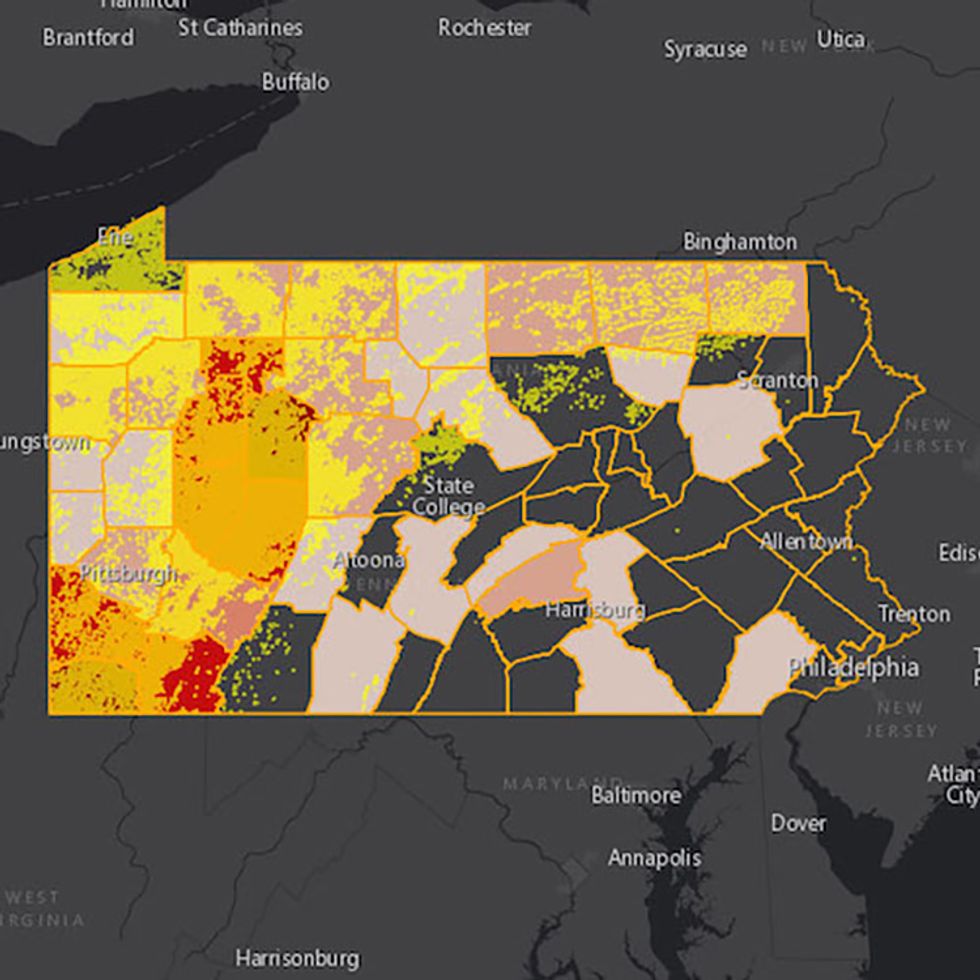 But that's exactly what SB 279 does. Called the Penn Grade Crude Development Advisory Council bill, it wipes out updated environmental protection requirements for conventional oil and gas operations (known as Chapter 78). In effect, 178 state representatives and senators just overturned what it took five years, 12 public hearings, 30,000 public comments and affirmative votes by public regulatory commissions and the legislature to accomplish.
Unfortunately, Gov. Wolf just signed SB 279 into law, sounding the death knell for Chapter 78 in the process. Equally unfortunate, official statements from his administration have completely ignored the negative impact SB 279 will have on Pennsylvanians—even as the Governor declares victory for new rules that will go into effect only for unconventional oil and gas operations.
Such political spin may be Harrisburg's status quo, but in this case it's a dangerous affront to Pennsylvanians whose air, water and health is damaged by oil and gas development..
On the same day as the SB 279 vote, the Clean Air Task Force (CATF), Earthworks and the FracTracker Alliance released OilandGasThreatMap.com. Using state well location data and U.S. Census Bureau data, it shows that nearly 25 percent of Pennsylvania's population lives within a half-mile of oil and gas wells and facilities—a distance at which serious health impacts are most clearly linked, according to the majority of peer-reviewed science.
Threatened residents include large proportions of several Pennsylvania counties including Warren (86 percent); McKean (72 percent); Venango (58 percent); and Forest (30 percent). Data from the Department of Environmental Protection (DEP) show that in 2014, those four counties comprised more than 90 percent of all the conventional oil and gas wells drilled statewide.
According to the accompanying report, Fossil Fumes (by CATF with support from the Alliance of Nurses for a Healthy Environment and Earthworks), eight Pennsylvania counties have an elevated cancer risk directly attributable to toxic emissions from oil and gas operations (Armstrong, Clarion, Fayette, Forest, Greene, Indiana, Jefferson and Washington). DEP data indicate that 60-99 percent of all active oil and gas wells in these counties are conventional ones.
Throughout the long debate over Chapter 78, the oil and gas industry and its legislative champions propagated the fantasy that conventional operations have limited, if any, environmental and health impacts. Yet just like their shale-drilling cousins, modern-day conventional activities rely on hydraulic fracturing and chemicals, generate toxic waste, and cause hazardous spills and air pollution.
In fact, between 2008-2014, conventional operators were responsible for 60 percent of the cases in which oil and gas activities contaminated the private water supplies of Pennsylvanians. In 2014, conventional drillers were responsible for three-quarters of regulatory violations issued by DEP. Conventional operations are clearly a big problem with which a vastly understaffed DEP will have to continue to contend, though now without the benefit of stronger regulations.
Another part of SB 279 requires the use of public funds to run an advisory council made up primarily of oil and gas industry representatives.
So not only does the bill eliminate environmental protections from oil and gas operations, it holds any future attempts to improve them hostage to oil and gas industry interests. This runs directly counter to the public interest and epitomizes the misplaced legislative priorities that SB 279 represents.
One can only hope that going forward, elected officials will find the courage to stand up to this undue industry pressure and finally give Pennsylvanians the respect and environmental protections they deserve.
YOU MIGHT ALSO LIKE
Interactive Map Shows Where Toxic Air Pollution From Oil and Gas Industry Is Threatening 12.4 Million Americans
Pipeline Ruptures Spilling 29,000 Gallons of Oil, Just Hours After Obama Signs PIPES Act
Obama Fracking Rule Struck Down by Federal Judge
How Radioactive Fracking Waste Wound Up Near Homes and Schools
Two leading national environmental groups—Clean Air Task Force (CATF) and Earthworks—unveiled a suite of tools Wednesday designed to inform and mobilize Americans about the health risks from toxic air pollution from the oil and gas industry.
For the first time, Americans across the country—from Washington County, Pennsylvania, to Weld County, Colorado to Kern County, California—can access striking new community-level data on major health risks posed by oil and gas operations across the country.
The oil and gas industry is the country's largest and fastest-growing source of methane emissions. And its facilities emit numerous other hazardous and toxic air pollutants along with methane—including benzene, formaldehyde, acetaldehyde and ethylbenzene. That toxic pollution presents significant cancer and respiratory health risks, underscoring the need for the U.S. Environmental Protection Agency (EPA) to clean up existing sources of toxic air pollution without delay.
The EPA recently signed New Source Performance Standards (NSPS) that for the first time will regulate methane pollution from new and modified oil and gas facilities, preventing some of the sector's future toxic air pollution from being released. The EPA's current regulations addressing the industry's toxic air pollution are limited and the NSPS does not cover the 1.2 million existing facilities in 33 states. CATF's report, Fossil Fumes, and Earthworks' Oil & Gas Threat Map focus specifically on toxic pollutants from those facilities and their resulting health impacts.
Earthworks Oil & Gas Threat Map Summary
The Oil and Gas Threat Map maps the nation's 1.2 million active oil and gas wells, compressors and processors. Using the latest peer-reviewed research into the health impacts attributed to oil and gas air pollution, the map conservatively draws a half mile health threat radius around each facility. 

Within that total area are:
11,543 schools and 639 medical facilities
184,578 square miles, an area larger than California
For each of the 1,459 counties in the U.S. that host active oil and gas facilities, the interactive map reports:
instances of elevated cancer and respiratory risk
total affected population (with separate counts for Latino & African-Americans)
total affected schools and medical facilities
The searchable map allows users to:
look up any street address to see if it lies within the health threat radius
view infrared videos which makes visible the normally invisible pollution at hundreds of the mapped facilities
view 50+ interviews with citizens impacted by this pollution
"The Oil & Gas Threat Map shows that oil and gas air pollution isn't someone else's problem, it's everyone's problem," Earthworks executive director Jennifer Krill said.
"Our homes and schools are at risk while most state regulators do nothing. Although completely solving this problem ultimately requires ditching fossil fuels, communities living near oil and gas operations need the EPA to cut methane and toxic air pollution from these operations as soon as possible."
Clean Air Task Force Fossil Fumes Report Summary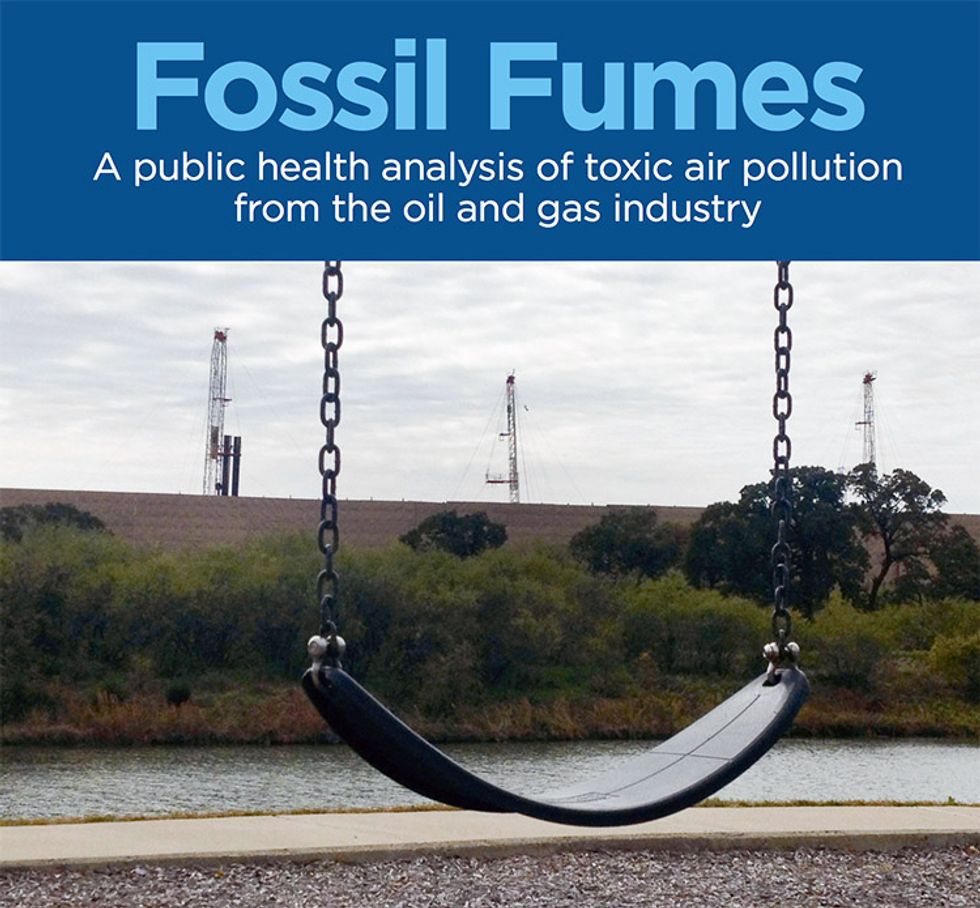 Fossil Fumes, CATF's companion report to Earthworks' Oil and Gas Threat Map, is based on EPA's recent National Air Toxics Assessment (NATA) analysis updated to reflect the latest emissions data from EPA's National Emissions Inventory (NEI) and the conclusions are striking.
The report finds that:
238 counties in 21 states face a cancer risk that exceeds EPA's one-in-a-million threshold level of concern
Combined, these counties have a population of more than 9 million people and are mainly located in Texas, Louisiana, Oklahoma, North Dakota, Pennsylvania and Colorado
Of these counties, 43 face a cancer risk that exceeds one in 250,000 and two counties in West Texas (Gaines and Yoakum) face a cancer risk that exceeds one in 100,000
32 counties, primarily in Texas and West Virginia, also face a respiratory health risk from toxic air emissions that exceeds EPA's level of concern (with a hazard index greater than one)
"The Fossil Fumes report and Earthwork's Interactive Threat Map will allow concerned citizens to learn the cancer and respiratory risks they face from toxic air pollution from the oil and gas industry," Lesley Fleischman, CATF technical analyst and author of Fossil Fumes, said. "Armed with this information, we trust that citizens and communities will demand protective safeguards requiring industry to clean up its act and reduce these serious risks to public health."
"The Oil & Gas Threat Map and Fossil Fumes are outstanding tools for nurses, their patients and affected communities to better understand the health risks posed by oil and gas facilities," Katie Huffling, director of programs for the Alliance of Nurses for Healthy Environments, said.
"As nurses, we are especially concerned by the number of schools and hospitals revealed to be within a half mile of an active oil and gas facility. The best available science shows that methane and toxic chemicals emitted by these facilities threaten our most vulnerable citizens, which is why we encourage the EPA to quickly address this pollution."
Other key findings of the map and report at the statewide level include:
Los Angeles County, California is home to the most impacted "vulnerable" populations: there are more impacted schools and hospitals in Los Angeles than any other county in America (226 schools and 60 hospitals)
There are particularly widespread impacts in Texas, with 15 counties with more than 75 percent of their populations living within ½ mile risk radius and 32 percent of Texas counties have elevated oil and gas health risks (82 out of 254)
Almost 25 percent of all Pennsylvanians live within the half-mile threat radius
"The Oil & Gas Threat Map and Fossil Fumes show more than 12 million Americans need protection from oil and gas industry air pollution as soon as possible. Industry talks about voluntarily reducing their pollution, but refuses to make binding commitments," Earthworks policy director Lauren Pagel said.
"Some states like Colorado have stepped up, but other states like Texas have vowed never to regulate greenhouse gases and associated toxics. It is only the U.S. Environmental Protection Agency that can act to protect all Americans, their health and the climate from this pollution."
By Earthworks, Food & Water Watch, Our Longmont, Sierra Club
Today, the Colorado Supreme Court struck down the rights of Coloradans to protect their health, safety and wellbeing from fracking through the use of local bans. The justices denied residents their "right of enjoying and defending their lives and liberties; and of seeking and obtaining their safety and happiness" as outlined in the Colorado Constitution, by determining that oil and gas development is pre-empted by the state.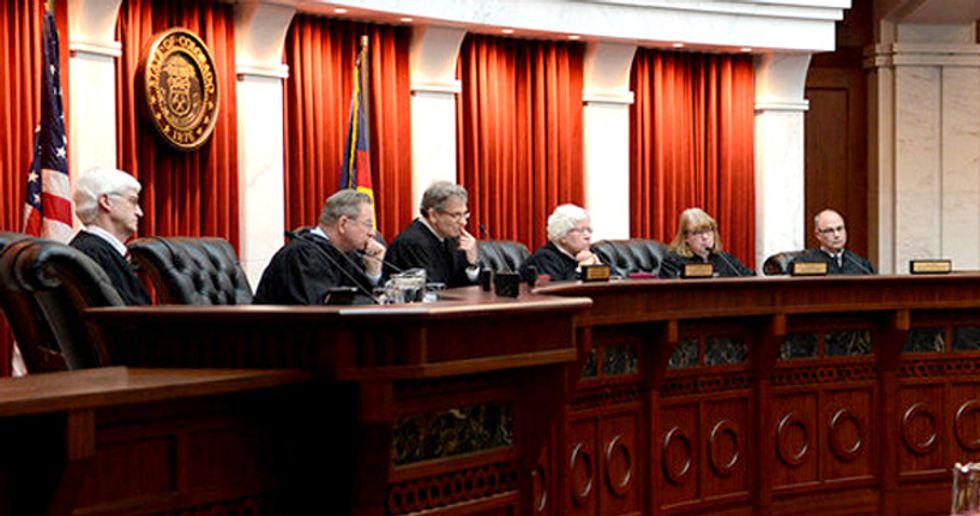 This decision overturns the democratically enacted measure to ban fracking passed overwhelmingly by Longmont residents in 2012 and strips all Coloradans of their Constitutional right to say "no" to fracking in their communities in order to prevent problems inherent in fracking, including air pollution, health complications, water contamination and reduced property values.
"It is beyond comprehension that the Colorado Supreme Court still fails to recognize the rights of people to live in a safe and healthy environment," Kaye Fissinger, president of Our Longmont, said. "The state has declared that fostering oil and gas development is in its interest. That the court apparently equates a government interest superior to human rights is a severe slap in the face. Our country's founding fathers are most certainly turning over in their graves."
In 2012, residents in Longmont passed a city charter amendment, Measure 300, which banned fracking and the disposal of its waste products, including injection wells within city limits, to protect homes, schools and public parks. The local ban passed with an overwhelming 60 percent majority despite being outspent 30-1 by the oil and gas industry. Gov. Hickenlooper and the oil and gas industry sued Longmont over this democratically enacted measure.
"Today's decision deals a devastating blow not just to Longmont residents, but to all Coloradans who have been stripped of a democratic process that should allow us the right to protect our health, safety and property from the impacts of this dangerous industrial activity," Lauren Petrie, Rocky Mountain region director with Food & Water Watch, said.
After appealing the District Court's ruling in 2015, the Colorado Court of Appeals petitioned the Colorado Supreme Court to hear this case. In an unprecedented decision, the Colorado Supreme Court agreed to hear this case and listened to oral arguments in December 2015, leading to this historic decision.
"Straight out of Orwell's Animal Farm, the Colorado Supreme Court just decided that the oil and gas industry is 'more equal' than other industries," Earthworks energy program director Bruce Baizel said. "Turning democracy on its head, today's ruling prohibits local communities from deciding whether and how to balance their health against the fracking industry's profits."
Physicians, Scientists & Engineers for Healthy Energy conducted an analysis of peer-reviewed studies on the impacts of fracking and shale gas development. It found that 21 of 25 papers published on the health impacts show potential risks or actual adverse outcomes, including increased incidence of cancer and birth defects associated with living in close proximity to oil and gas wells. The group's survey also showed that 33 of 48 water quality studies find either the potential for, a positive association with or direct evidence of water contamination. In addition, 30 of 34 focused on air quality found elevated levels of air pollution and that children are especially vulnerable to exposure to such pollution, according to the scientists.
As these inherent harms of fracking become ever-clearer, Gov. Hickenlooper's failed task force—formed in 2014 as a way to keep several anti-fracking measures off the ballot—has left municipalities frustrated as proposals to drill continue to encroach closer to homes and schools. In Adams County, a recent proposal to drill several new mega-facilities could place fracking wells within 100 feet from homes and a middle school. The governor's task force has failed to provide Coloradans with a way to protect their homes, families and futures from this dangerous, industrial activity.
"As a retired RN I am horrified that we continue to allow this toxic industry to operate next to our homes and schools," Karen Dike of the Sierra Club Rocky Mountain Chapter said. "The Colorado Supreme Court ruling discounts the inherent rights of the people of this state to have clean air to breath, fresh water to drink, land free of contamination and safe places to live, go to school and work. The ruling places profit of corporations before people and will allow the continuing toxic onslaught of this dangerous industry."
https://www.scribd.com/doc/311234580/Colo-Supreme-...
YOU MIGHT ALSO LIKE
Is Fracking Causing the Epidemic of Horse Birth Defects at Breeding Farm?
Watch: River Explodes Into Flames From Methane Coming From Nearby Fracking Sites
12 Arrested in Earth Day-Themed Protest Against Gas Storage in Seneca Lake's Salt Caverns
10 Years of Fracking: Its Impact on Our Water, Land and Climate
Just as the worst methane leak in California's history is sealed and the U.S. Environmental Protection Agency (EPA) acknowledged that America pollutes much more methane than previously estimated, Earthworks—the group that filmed the videos revealing the scope of the methane disaster in Los Angeles County—released a map of 180+ infrared videos of oil and gas methane pollution events across the country.
New

[email protected]

estimates show we have a huge #methane problem, now you can see it: https://t.co/5K7XAKLHfh https://t.co/ldRKf3G3ym

— EARTHWORKS (@EARTHWORKS) 1456333770.0
The map, created with the help of FracTracker Alliance, includes two new videos that epitomize the national methane pollution problem.
The first is of a well near Longmont, Colorado:
[youtube https://www.youtube.com/watch?v=lO-t_EXeZpk&feature=youtu.be expand=1]
The second one is of a massive pipeline blowdown in North Dakota's Bakken shale region:
"In November of 2012, the voters in Longmont banned fracking to protect our health, safety and wellbeing, especially because of air pollution," said Kaye Fissinger, president of Our Longmont.
"The air we breathe in Longmont is still subject to 'toxic trespass' from extreme extraction in communities nearby. It's long past time for government to stop tinkering around the edges and genuinely address the ever-growing damage that fracking and drilling inflict."
"For the past eight years I have witnessed the rapid increase of oil and gas industrialization and the environmental destruction that comes with it," said Lisa DeVille of Dakota Resource Council and the Three Affiliated Tribes. "Finally we can see the air pollution that's all around us. We are concerned about the harmful health and environmental impacts of methane and other air pollutants released from well sites. This is an unmeasurable cost to tribal members on Ft. Berthold and those downwind. We value our health and our lands."
With more being added every month, the 180+ infrared videos—filmed starting in September 2014—expose otherwise invisible air pollution from oil and gas development. Earthworks uses a FLIR (Forward Looking InfraRed) GasFinder 320 camera that is specially calibrated to detect approximately 20 pollutants associated with oil and gas development including methane (a climate pollutant more than 80 times as powerful as carbon dioxide over 20 years), benzene (a known carcinogen) and other volatile organic compounds (VOCs). Earthworks ITC-certified thermographers have documented air pollution from wells, compressor stations, transmission infrastructure and storage facilities.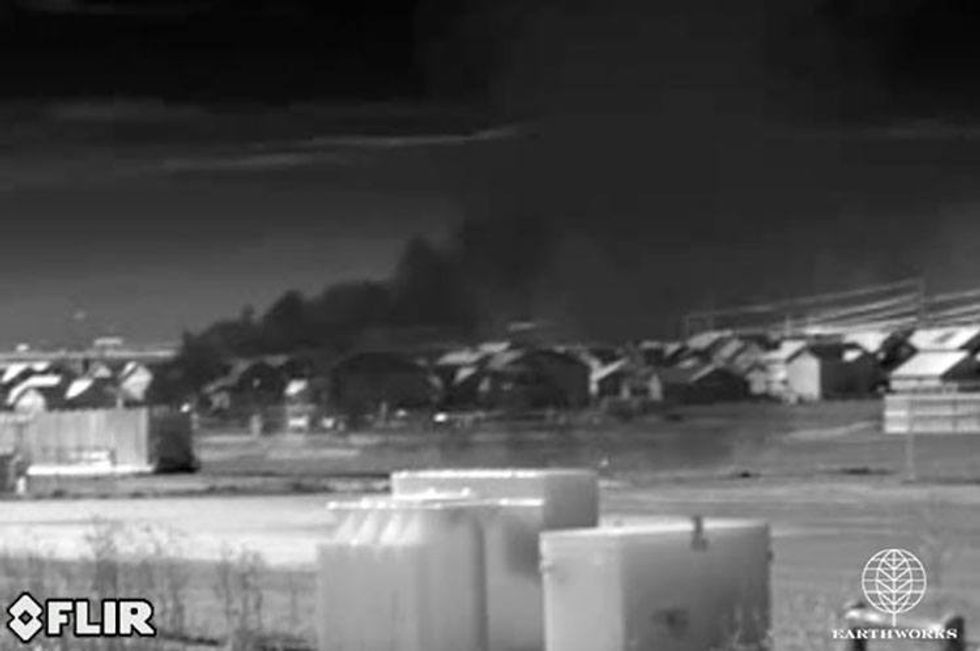 "After crisscrossing the country for more than a year collecting these videos, we've learned oil and gas air pollution is inevitably associated with oil and gas development," said Bruce Baizel, Earthworks energy program director. "These videos show we need strong state and federal rules for all new and and existing sources of this pollution. The Environmental Protection Agency in particular needs to propose rules covering existing pollution sources to accompany their proposal to cut pollution from new oil and gas facilities."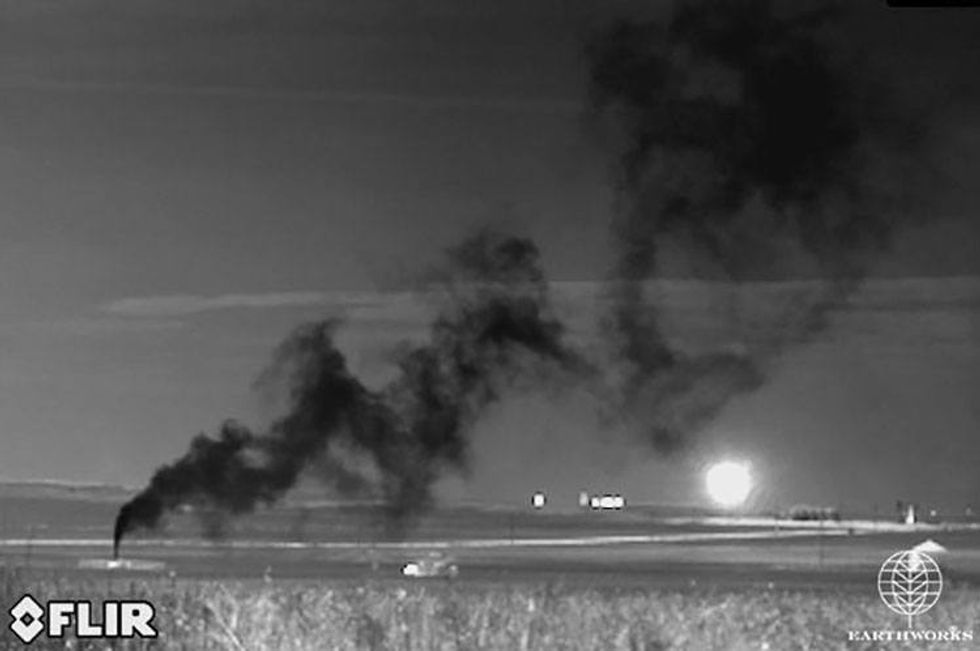 The map comes on the heels of the Bureau of Land Management's proposal to cut methane pollution from oil and gas development on public lands from new and existing sources. Late last year the U.S. EPA proposed rules to cut methane pollution from new and modified oil and gas facilities. If the EPA does not begin a new rulemaking to address existing sources of air pollution, communities living next to this invisible oil and gas pollution will be left to breathe dirty air. Earlier this week in a draft, the EPA revised its estimate of U.S. oil and gas methane pollution upward by more than 25 percent.
"Infrared videos allow us to see the magnitude of EPA's draft Greenhouse Gas Inventory revision in black and white. Oil and gas methane pollution is more severe than previously thought, and more widespread," said Lauren Pagel, Earthworks' policy director. "We need EPA to step up and set standards for oil and gas climate pollution from all facilities. But frankly the best way to eliminate this pollution is to keep dirty fossil fuels in the ground."
YOU MIGHT ALSO LIKE
Erin Brockovich on Oklahoma Earthquakes: 'It's Fracking, Let's Just be Honest'
Fracking Cases in Pennsylvania Expose the Human Cost of Drilling
Massive Methane Leaks From Texas Fracking Sites Even More Significant Than Infamous Porter Ranch Gas Leak
The Biggest Oil Leak You've Never Heard Of, Still Leaking After 12 Years
Natural gas is not cleaner than coal.
But thanks to boatloads of advertising and campaign contributions, oil and gas lobbyists has convinced many politicians, including President Obama, that replacing coal with natural gas is a viable way to stave off catastrophic climate change.
But it isn't. The now-famous Aliso Canyon methane leak, its impacts on thousands of residents of near Porter Ranch and its damage to the climate is just the latest and most public example showing that we need to keep natural gas in the ground, not burn it.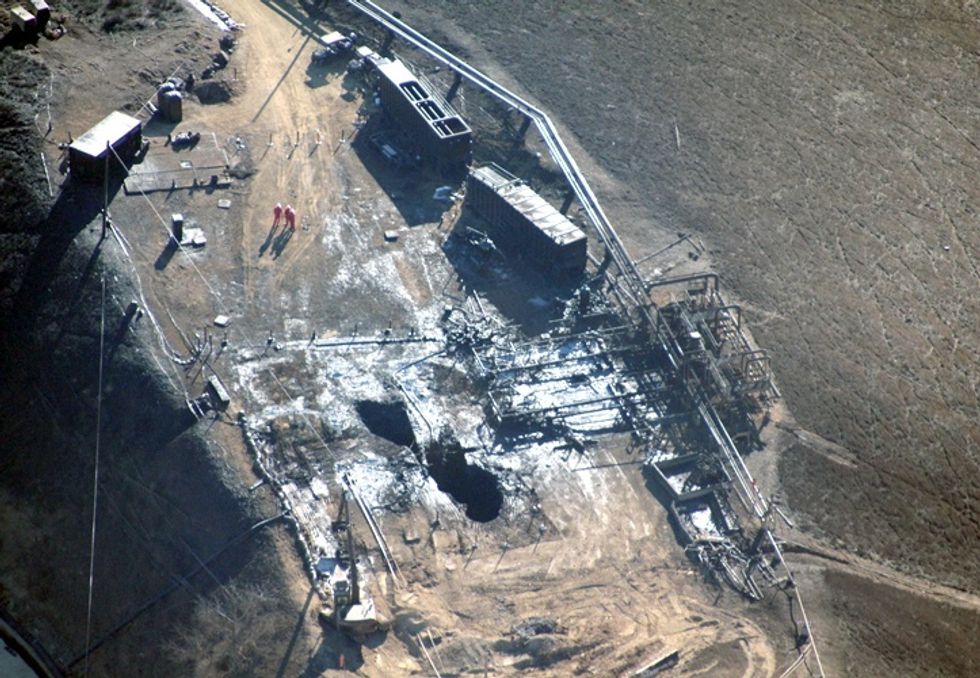 The oil and gas industry's argument for natural gas boils down to this: to generate electricity, burning natural gas is cleaner than burning coal. While that is true, it's only part of the story. But it's the only part industry tells because it's the only part they like. Unfortunately for all of us, though, natural gas is far more than just a replacement utility-scale fossil fuel.
SoCalGas, a division of Sempra Energy, provides natural gas not just to power plants, but to 21 million customers in Southern California. "Now you're cooking with gas," is the Bob Hope adage from the 30's and 40's as natural gas began to be piped into homes for heating and cooking. To look at it another way, the leaking Aliso Canyon gas storage facility supplies millions of kitchen ovens with the blue flame prized by home chefs.
But to see the true cost of natural gas we need to look beyond the burner.
The environmental and community health damage caused by fracked natural gas extraction is well known at this point, and science is confirming its danger with every new peer-reviewed study.
Californians' attention turned to the problem of aging pipeline infrastructure in our cities, when a suburban neighborhood in the town of San Bruno was destroyed in a 2010 natural gas pipeline explosion. Then Nathan Phillips at Boston University used gas analyzers to develop 3-D "methane maps" in urban environments, estimating 7-15 percent of global manmade methane pollution could be coming from pipes in cities bringing natural gas to consumers.
Until Aliso Canyon, we weren't looking at the step in the supply chain before urban pipelines—storage facilities. Refined natural gas has been stored in former oil wells at Aliso Canyon since the 70's; when the oil wells were emptied, they were repurposed for storage of natural gas. The volcano of methane that is now California's largest single source of greenhouse gases is coming from a broken well that was last inspected in 1976. The LA Weekly reports that the well's safety valve was inexplicably removed in 1979. Among the hundred at the facility, other wells also lack safety valves.
Aliso Canyon was a disaster waiting to happen. The facility was old, poorly managed and experienced abysmal oversight. Gov. Jerry Brown finally declared a state of emergency last week, directing state agencies to take unprecedented action on underground gas storage in the Golden State.
There are more than 300 similar facilities around the country. We need to to make sure that we don't have other climate and health disasters waiting to happen in California and around the U.S. We need:
An emergency statewide effort to shut down facilities that lack basic safety equipment, including Aliso Canyon. Gas storage wells that lack shut off valves should be taken offline before other Porter Ranches happen.
Increased oversight and management of these facilities.
Support for residents affected by pollution, including health care as well as financial compensation.
A rapid transition for consumers away from gas.

The Solutions Project

has mapped out a 100 percent fossil fuel free plan by 2050

. This transition would protect communities from underground storage risks, gas line leakage and explosions like the one in San Bruno.
We've already wrapped our heads around a rooftop solar revolution and what it might mean for distributed energy generation rather than big boxes of fossil fuels. Now it's time to start planning to get rid of the blue flames on our stovetops, water heaters and furnaces. There is an electric or solar electric alternative to every natural gas appliance. We can't just cut natural gas's electric cord; we have to cut the pipeline too.