An upcoming reality TV show, Yardfarmers, will pit six young Americans against each other as they compete for the title of "America's Best Yardfarmer."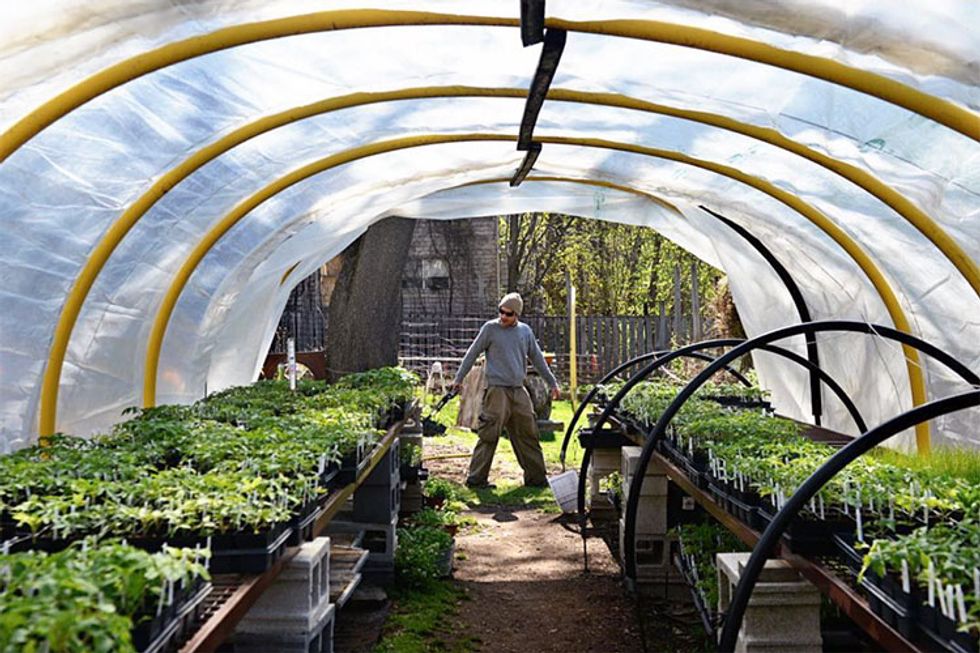 Yardfarmers will follow six young adults as they move back in with their parents to farm their yard or neighborhood greenspace. The show, which will air in spring 2017, was created by Erik Assadourian, a senior fellow at the Worldwatch Institute. It will be produced by Big Mouth Productions in partnership with the Worldwatch Institute.
The winner will be chosen based on a number of factors including: the amount of produce grown, what sustainable practices the yardfarmers used to produce the food, how effectively they enrich the land, and how well they educate and mobilize neighbors as well as the viewing audience.
The ultimate goal of the project is to help transform the 40 million acres of lawn in the U.S. into productive growing space and "convert the next generation of Americans into sufficiency farmers."
Yardfarmers want viewers to "imagine if suburban, exurban and even small urban plots around the country were converted to yardfarms. They imagine that "this land could create new livelihoods, food security, community resilience and more biodiverse lands that would absorb water runoff, attract local wildlife and sequester carbon (in the form of richer soils). Moreover it would reduce demand for lawn chemicals and over time reduce demand for industrial food and farming—in turn making it possible for those lands to be rewilded."
Cities across the country could play a huge role in the #yardfarming #revolution! https://t.co/uSYATdgbzd https://t.co/U1i97zGofd

— Yardfarmers (@Yardfarmers)1457535667.0
According to Assadourian, too many Americans' diets are "full of highly processed foods made primarily from corn, wheat and soy," and more than two-thirds of American adults are overweight or obese.
At the same time, Americans are spending "thousands of dollars a year sustaining polluting, climate-changing, monocropped lawns," he noted. Turf-grass lawn is the fifth largest crop in the U.S. by acreage.
"These lawns are using valuable resources such as water, fertilizers, energy, fossil fuels, and no less importantly, our time," Assadourian continued. "Each week across North America millions of gallons of gasoline are used in the weekly lawn mowing ritual.
"It seems a bit crazy when the U.S. and Canada are doing everything possible to extract difficult, highly polluting oil resources, such as tar sands, deep water and fracking, that we are wasting our time and energy on making sure the lawn looks good for the neighbors."
Meanwhile, we're "sitting on huge reserves of fallow land just begging to be farmed," he added. That's why he's called on the next generation—with 36 percent of young Americans (ages 18-31) living in their parents' homes—to take up the call and convert America's lawns to farmland.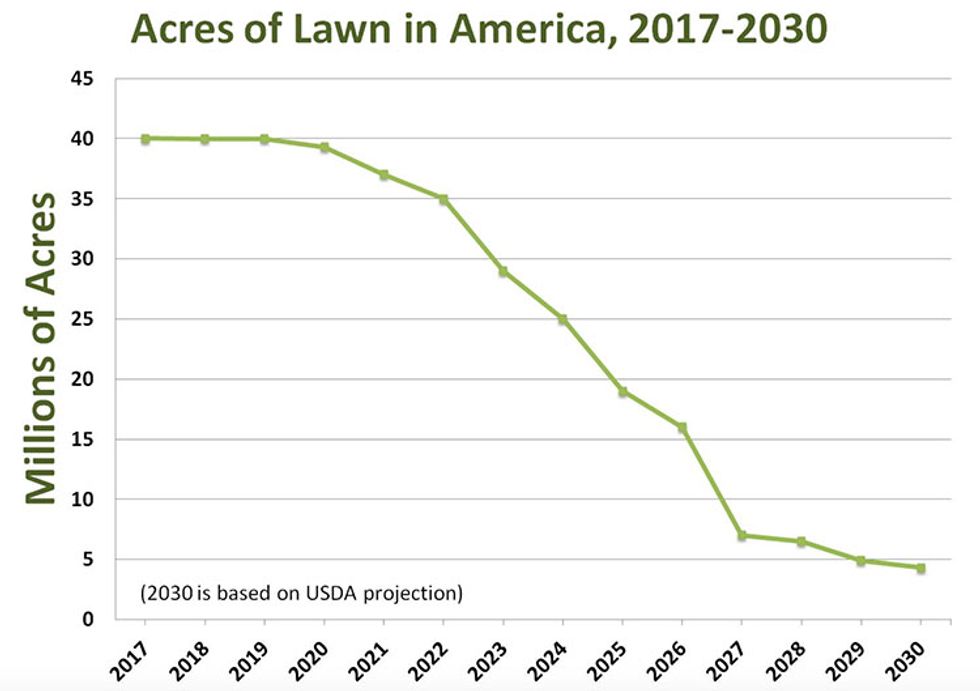 Casting is now closed for the first season, but applications are being accepted until Aug. 1 for the 2017 growing season.
Here's what Yardfamers is looking for if you're interested in applying:
Are you a young American between the ages of 21 and 30ish?
Do you live with your parents or would you consider moving back in with them?
Do you want to try to convert your parents' lawn (and neighborhood greenspaces) into a workable yardfarm—one that can sustain you and your family either nutritionally or financially or both?
Do you want some guy with a camera following you around while you try to do this for nine months?!?
Watch the trailer for the upcoming season here:
YOU MIGHT ALSO LIKE
Cereal Giant General Mills to Start Labeling GMOs Nationwide as Vermont Law Looms
25 Easy Ways to Get More Fermented Foods in Your Diet
First-of-it-Kind Supermarket Sells Expired Food, And It's a Hit
EcoWatch Daily Newsletter
Bhutan is often overlooked by the international community. The small nation lies deep within the Himalayas between China and India, two of the most populated countries in the world.
But the country of about 750,000 people has set some impressive environmental benchmarks. As we've written about in the past, Bhutan is not merely carbon neutral, it's also a carbon sink—making it one of the few countries in the world to have negative carbon emissions.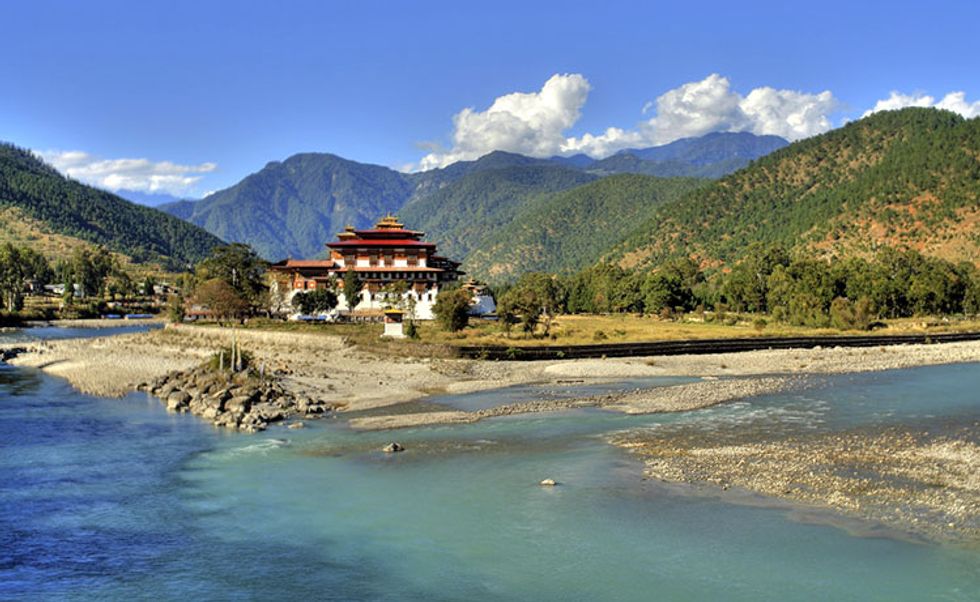 This means the country's carbon sinks, such as its forests, absorb more carbon dioxide each year than its sources of pollution, such as factories, emit.
"According to recent figures, the country emits around 1.5 million tonnes of carbon annually, while its forests absorb over 6 million tonnes," Proudly Carbon Neutral said.
To boot, Bhutan is aiming for zero net greenhouse gas emissions, zero-waste by 2030 and to grow 100 percent organic food by 2020. The Himalayan nation is currently 72 percent forested and the constitution requires that no less than 60 percent of it remains forested. It has even banned export logging.
Trees hold special value in Buddhism, the nation's dominant religion. Last June, a team of 100 volunteers set a world record for planting 49,672 trees in just one hour. And earlier this month, to celebrate the birth of the first child of King Khesar and Queen Jetson, all 82,000 households in Bhutan planted a tree, while volunteers planted another 26,000 in various districts around the country, for a total of 108,000 trees.
Planting trees with thousands of volunteers to celebrate the birth of HRH, our Gyalsey. Well done Tendrel Initiative https://t.co/i0hxFF9EHa

— Tshering Tobgay (@Tshering Tobgay)1457258802.0
Bhutan also refuses to judge its success on Gross Domestic Product, instead using an index that measures Gross National Happiness.
Many have credited its Gross National Happiness index as part of the reason for the country's strong commitment to environmental stewardship. Rather than focusing solely on economic indicators, the index measures prosperity by giving equal importance to non-economic aspects of well being.
"Bhutan's Gross National Happiness index gives the natural world a central place in the making of public policy, and environmental protection is a core guiding principle in Bhutan's constitution," the Santa Cruz Sentinel reported.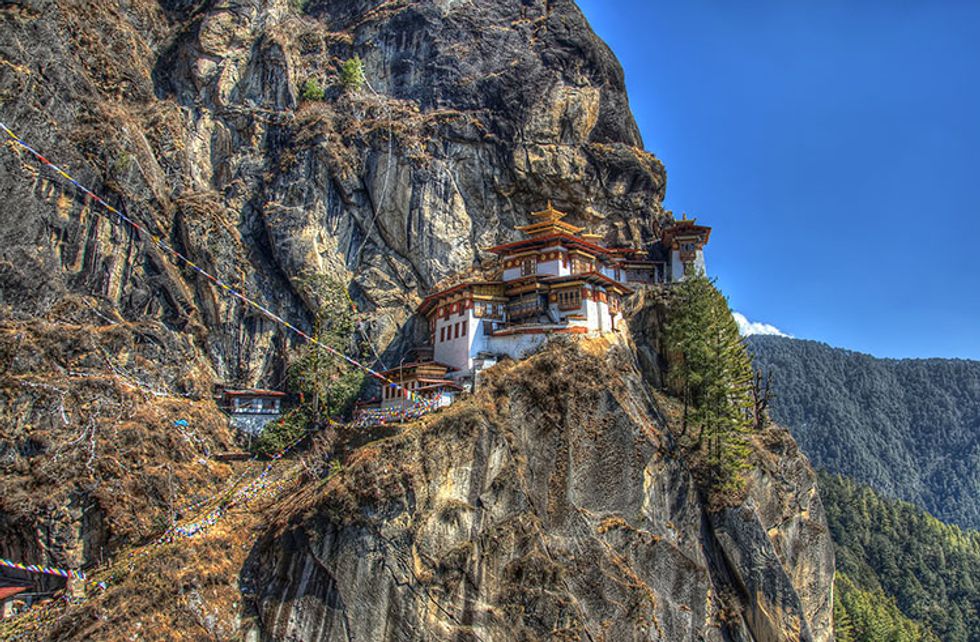 The country would also like to increase its share of renewables, while decreasing its reliance on hydropower and electricity imports in the winter. So, it's currently exploring wind, biogas and solar.
And the Bhutanese government has formed a partnership with Nissan to provide hundreds of electric cars to the country—with the promise of thousands soon after. Bhutan's Prime Minister Tshering Tobgay wants to eventually convert all of the country's vehicles to electric power.
The nation is not without its problems of course, as Tobgay readily admitted in a TED Talk he gave last month. But the country is no doubt unique in a world that has too often valued economic growth above all else, often at the expense of the environment.
For more on how Bhutan emerged as an environmental leader, watch Tobgay share his country's mission to put happiness before economic growth and set a world standard for environmental preservation in his TED Talk:
YOU MIGHT ALSO LIKE
Bhutan Celebrates Birth of Prince by Planting 108,000 Trees
The Nature Conservancy and Leonardo DiCaprio Foundation Unite to Create Second Largest Marine Protected Area in West Indian Ocean
Federal Court to Decide if Kids Can Sue Government for Failing to Act on Climate Change
Portland Becomes 7th City to Sue Monsanto Over PCB Contamination
RoschetzkyIstockPhoto / iStock / Getty Images
By installing solar panels, homeowners can curb their dependence on traditional utilities, reducing their monthly electric bills while also minimizing their environmental impact. Of course, solar energy is more viable in some places than in others; it's best suited for homeowners who live in areas that get ample sun exposure. And the Lone Star State is certainly on that list.
In fact, a report from the Solar Energy Industries Association, or SEIA, shows that Texas installed the second-most solar in 2020 and the most in the first quarter of 2021. And some municipalities have gone especially heavy on solar power. So, what are the top cities for solar in Texas? Let's find out if your city made our top 10 list.
Top 10 Cities for Solar in Texas
To rank the top cities for solar in Texas, the EcoWatch team took into account reports furnished by the SEIA, the National Renewable Energy Laboratory's solar irradiance maps, and Environment America's most recent Shining Cities report among other data points.
Based on our findings, these we've determined the following cities to be Texas' top 10 solar energy hubs:
San Antonio
Austin
El Paso
Houston
Fort Worth
Dallas
Plano
Round Rock
Bruceville-Eddy
Tyler
San Antonio

San Antonio is a sun-soaked city, so it makes sense that local home and business owners have invested heavily in harnessing the sun's power. We rate San Antonio as No. 1 among the top cities for solar in Texas, and there's plenty of evidence to back that up. In terms of total installed solar capacity, San Antonio ranks first in the state and fifth in the nation, according to Environment America. (First in the nation? Los Angeles.) It also boasts more than 50 watts of solar energy per person, one of just 38 cities in the nation to earn this distinction.
Austin
The Austin community is well-known for environmental activism and advocacy, and with residents' investments in solar energy, they're really putting their money where their mouth is. Like San Antonio, Austin boasts more than 50 watts of solar energy per person.
El Paso
Thanks to its average of 302 days of sunshine annually, El Paso is nicknamed the "Sun City" — and it's taking advantage of its weather with over 54 MW of solar capacity installed. A lot of this comes down to significant solar installations built into the city's municipal infrastructure, including solar arrays on the main library and other government buildings.
Houston
A sprawling metropolitan area with ample exposure to sunlight, Houston has an impressive commitment to solar power. In terms of total installed solar energy capacity, the city is in the top 20 for the entire nation, falling just behind New Orleans and just in front of Boston in Environment America's latest Shining Cities report.
Fort Worth
Fort Worth is home to some of the state's top solar companies, making it easy and relatively affordable for local homeowners to make the jump to solar power. The general Dallas-Fort Worth area tends to be a standout solar power hub, both at state and national levels.
Dallas
Likewise, Dallas boasts an impressive level of solar investment. In the Shining Cities report of the nation's most prolific solar builders, Dallas ranks at No. 43 in the nation, just behind Cincinnati.
Plano
Located north of Dallas, Plano is in prime "Sun Belt" position. The city boasts a solid (and growing) solar infrastructure, earning it a place on our list. According to NREL's solar irradiance maps, Plano has some of the highest potential for residential roof-mounted solar power generation in the state.
Round Rock
This central Texas town just north of Austin is one of the fastest-growing cities in the nation. As the population expands, so does its commitment to clean, renewable energy. NREL maps show Round Rock is located in a part of the state with above-average annual solar power generation potential and a high number of buildings suitable for solar installation.
Bruceville-Eddy
Though it's not as sizable as some of the other municipalities on our list, Bruceville-Eddy has a surprisingly robust solar infrastructure, allowing homeowners to harness the renewable energy of the sun. In fact, in the latest Shining Cities report, Bruceville-Eddy was reported as No. 1 in the state for per capita photovoltaic solar installation.
Tyler
Rounding out our list is Tyler, located east of Dallas near the Texas-Louisiana border. Homes in Tyler represent a not-insignificant portion of the state's solar energy potential, according to NREL. The area has a high number of solar-suitable buildings and high roof-mounted solar potential in terms of both capacity and generation.
Where Solar Panels Work Best
There are a few different factors that can make a city particularly well-suited for solar energy. One is exposure to sunlight; consistent, year-round solar exposure is common throughout Texas, which explains why the Lone Star State has so many major solar-producing and solar-ready hubs.
Average Texas Electricity Costs
Another factor to consider? High energy costs. As a general rule, when local electrical costs are higher, the value of solar power increases. By contrast, if electrical costs are already low, the benefits of going solar tend to be more modest.
In 2019, the average monthly electric bill in Texas was just over $134, according to the EIA. This is considerably higher than surrounding states, including Louisiana, Arkansas, and Oklahoma. The relatively high cost of electrical power makes Texas well-positioned for maximum solar benefits. Also note that the average monthly electric consumption was 1,140 kWh; again, this is higher than in neighboring states.
Texas Solar Tax Incentives
One reason some cities stand out over others for solar installations is that local utility companies offer rebates to help with the cost of solar panels. In addition to the federal tax rebate, which we'll explain in a moment, Texas homeowners should to aware of the following incentives:
| Solar Energy Incentive | Details |
| --- | --- |
| Statewide Property Tax Incentive | State law includes a property tax exemption for solar installations. Basically, this means installing solar panels increases the value of a home without increasing property taxes. |
| City-Specific Utility Incentives | Local utilities offer additional savings opportunities to residents of many cities across the state. |
Net Metering in Texas
Net metering programs allow solar users to take any excess energy their panels produce and sell it back to a local utility company. Currently, there is no statewide net-metering program in Texas, though some municipalities offer it to local utility users.
Homeowners are encouraged to check with their utility companies to see if they can get energy credits for any surplus solar energy they feed back into the electrical grid. Most of the best solar companies in Texas will also help you identify and apply for any tax breaks and rebates you're eligible for.
Federal Solar Tax Credits
As for federal programs, there is currently a 26% tax credit available for homeowners who install solar panels before 2023. In 2023, that incentive is set to lower to 22%, and it is scheduled to drop off completely in 2024.
Texas Solar Regulations
Statewide regulations also play a part in how and where Texans can install residential solar panel systems.
One regulation relevant to solar installation is Texas HB-362, which states that homeowners associations cannot ban solar panels within their community outright. However, homeowners must still go through their HOA's normal architecture review approvals process.
The Texas Property Code gives HOAs some specific grounds on which they can prohibit homeowners from installing solar panels, including:
Instances where the solar installation is a threat to health or safety
Installations that impede on public property or common areas
Installations that extend higher than the roofline
Installations that are ground-mounted but extend above the fence line
Final Thoughts: Top Cities for Solar in Texas
Did your city make our list of the 10 top cities for solar energy in Texas? If you want to raise your area's solar profile, one of the best ways is to install a solar panel system on your roof. You can also contact your local and state legislators to urge for ambitious city- and statewide renewable energy goals that will drive Texas toward more solar power in the future.
Desalinating seawater has been hailed as the solution to addressing freshwater scarcity, but the technology has yet to be scaled. Big Think, which bills itself as a "knowledge forum," hosts a series, Tuesdays With Bill Nye, where viewers ask Nye questions about a range of popular topics. This Tuesday, Nye answered a question from a young girl in Minnesota who wanted to know if we can desalinate water for human consumption on a massive scale.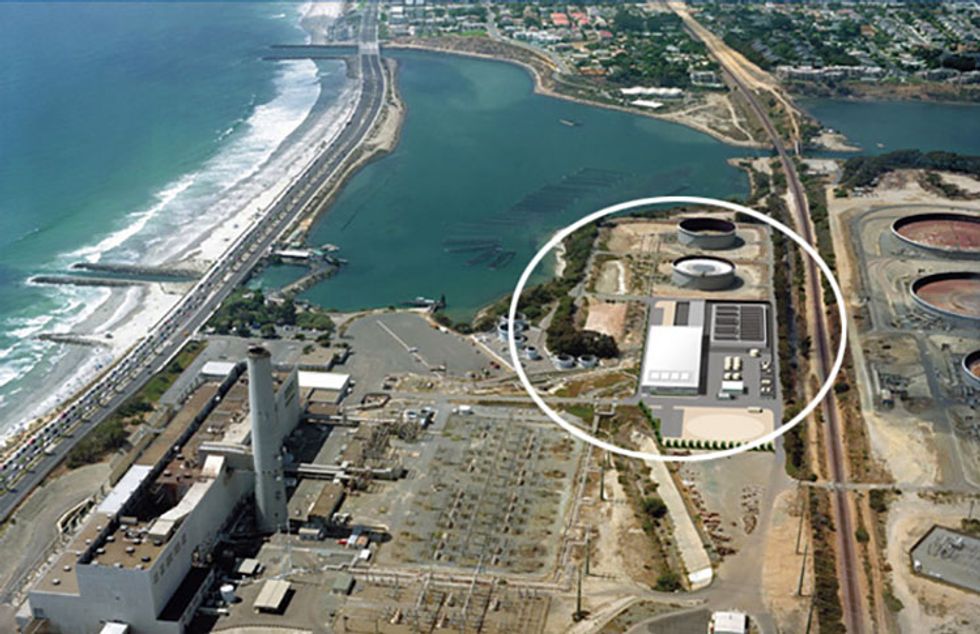 "Desalination of water could be the key to the future for so many of us humans," Nye said, explaining how desalination plants utilize reverse osmosis to remove salt from seawater. Researchers are in the process of developing new technologies right now, he continued.
Many places around the world already use the technology, Nye noted. "This is done all the time. It's done in Australia at several industrial-scale, citywide installations ... Carlsbad, California has one. And cruise chips and I guess the U.S. Navy exploit this technology all the time," Nye said.
So, he's very optimistic that we "are living at a time where this breakthrough may be made on an industrial scale," and he believes it could even be powered by renewables.
"We could have all the clean water we wanted for everybody all over the world and we would power the pumps with solar power, regular old photovoltaic solar cells, and when the sun is not shining you don't pump the water," Nye explained.
"So you pump the water when the sun is shining and and you fill up reservoirs all over the world. And so humankind could—if this stuff works out—it could have access to clean water for the billions of us that need it."
Critics argue the technology is too expensive and too energy-intensive to be adopted on a massive scale. Take, for example, the Carlsbad, California desalination plant that Nye mentioned. The plant, which came online at the end of last year, is the largest in the Western Hemisphere.
But the water from the plant "costs 80 percent more than San Diego pays for water outside the county, and even though the plant is huge, it can only meet 10 percent of San Diego's needs," Julian Huguet from Discovery News explained. "And it will use a lot energy ... making it more a small puzzle piece than the ultimate solution to California's drought."
Still, California and other water-stressed regions of the world, particularly the Gulf region, are rushing to develop energy-efficient desalination plants. About a dozen desalination plants are being proposed in California.
Worldwide, there are already an estimated 15,000–20,000 desalination plants producing more than 20,000 cubic meters of water per day. Places as varied as Aruba, Chile and Algeria all use desalination.
Israel already supplies 40 percent of its drinking water from desalination. That number is projected to climb to 70 percent by 2050.
Forward-thinking companies are working on solar-powered desalination plants. French engineering company Mascara is developing a desalination plant that is powered by off-grid, rooftop solar in Abu Dhabi in the United Arab Emirates.
The plant is the fifth desalination demonstration project from Masdar, which is currently running a pilot program to test renewably powered desalination plants in the United Arab Emirates. The group hopes to have a facility at commercial scale by 2020.
Developers in Saudi Arabia are currently building the world's first utility scale, solar-powered desalination plant, which is projected to be online by early 2017. And Monsson Group announced last week it will launch a fully automated and remote controlled desalination plant powered by renewables in Qatar.
Watch the Big Think video of Tuesdays With Bill Nye here:
YOU MIGHT ALSO LIKE
Leonardo DiCaprio: 'This Is the Video Future Generations Will Be Wishing Everyone Watched Today'
Portland Becomes 7th City to Sue Monsanto Over PCB Contamination
Ice Shelf Twice the Size of Manhattan Is About to Break Off From Antarctica
Denali is Alaska's most well known national park, attracting nearly half a million visitors every year. To enter the park, there is only one 92-mile road visitors must travel.
To help reduce traffic congestion and to protect the natural resources of the park, personal vehicles are not allowed beyond a certain point of Denali Park Road for most of the year. Only buses, bikes or hikers may go beyond mile 15. The only exception is a four-day "Road Lottery," in which visitors can win a prized permit to drive as much of the road as weather allows.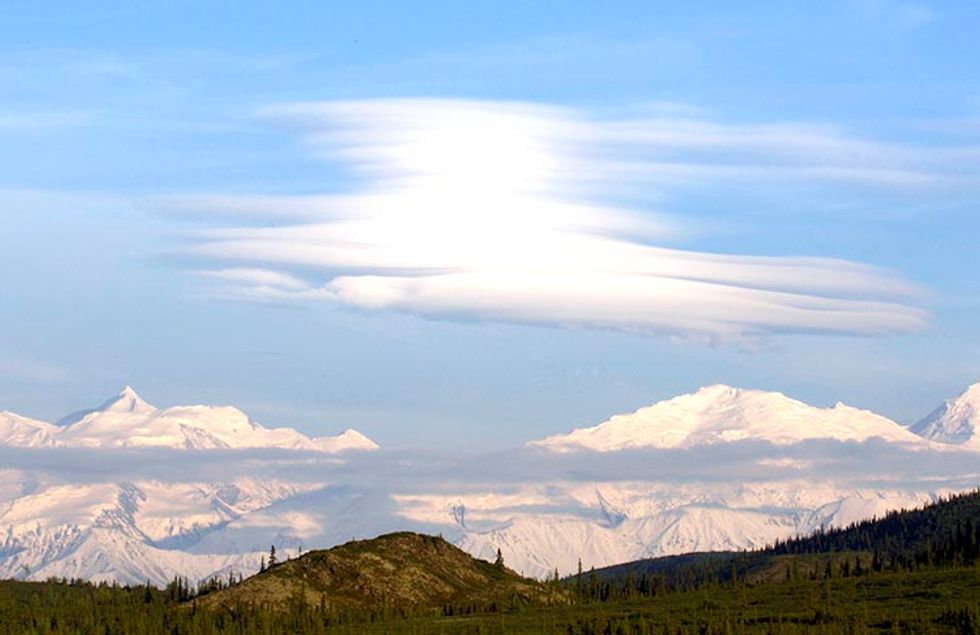 Tucked away in the Alaska Interior, Denali is undoubtedly a trek for most. But it's well worth it.
"Other North American parks have their wildlife, but none has animals so visible or diverse as Denali," National Geographic said. "And other parks have their mountains, but none with a stature so stunning, a summit so towering as Denali."
Need more convincing? Here are the top five reasons why you've got to visit Denali:
1. Six million acres to roam and ramble
Denali is comprised of 4.7 million acres of national park and 1.3 million acres of national preserve. At 6 million acres, it's about the size of Vermont and bigger than Yellowstone, Yosemite and the Grand Canyon combined.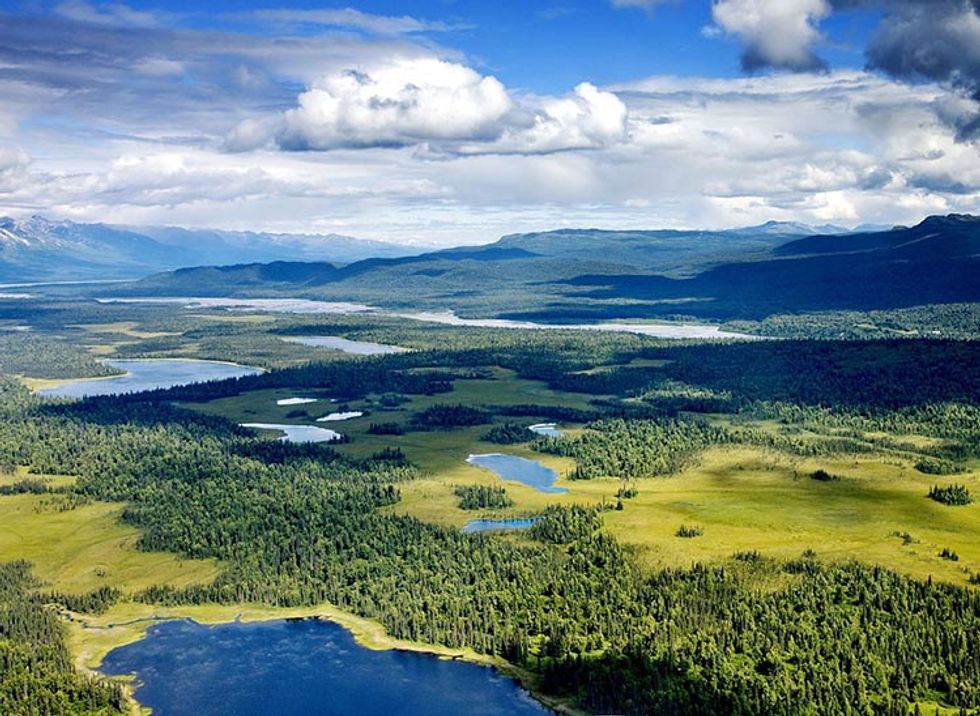 Hiking and backpacking in Denali is unlike trekking in other national parks, according to the park service. There are only a handful of trails—most of which are near the park entrance for day-hiking. If you're looking for a rugged, backcountry adventure, you'd be hard pressed to find a better place.
2. An amazing diversity of flora and fauna
Think nothing can grow in Denali? Think again. More than 650 species of flowering plants fill the park, delighting summer visitors with their beautiful blooms. Many species of mosses, lichens, fungi, algae and others make their home in the vast expanse of tundra in the park.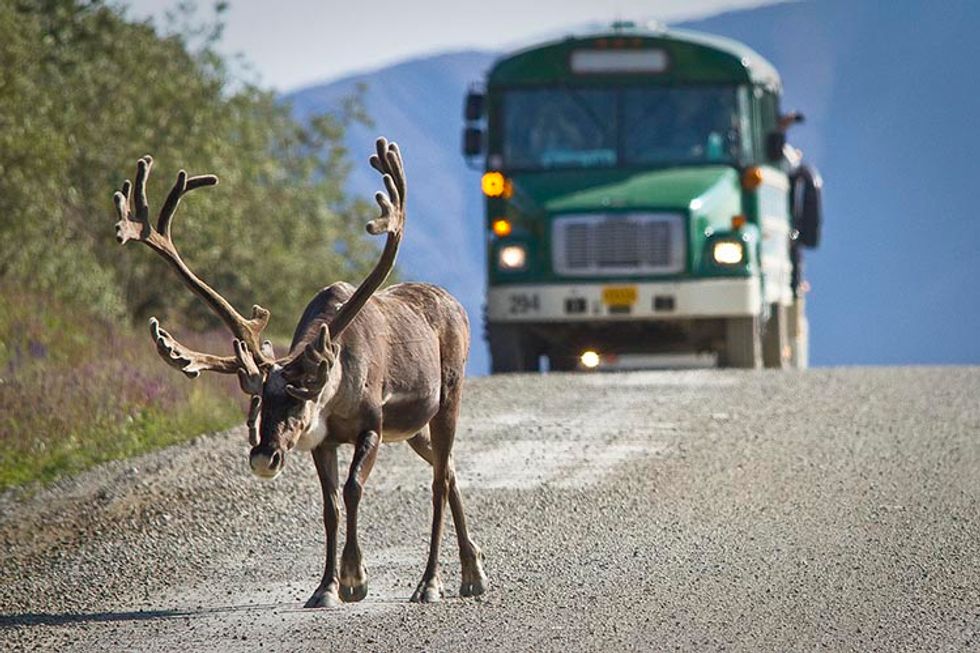 Of course, Denali is better known for its iconic, mammal species, including grizzly and black bears, wolves, caribou, moose and Dall's sheep. Birdwatchers will also love Denali with 169 species of birds identified in the park, including golden and bald eagles.
3. The "high one"
The park is, of course, home to Denali, the highest mountain peak in North America with a summit elevation of 20,310 feet above sea level. The base-to-peak rise—at some 18,000 feet—is the largest of any mountain in the world.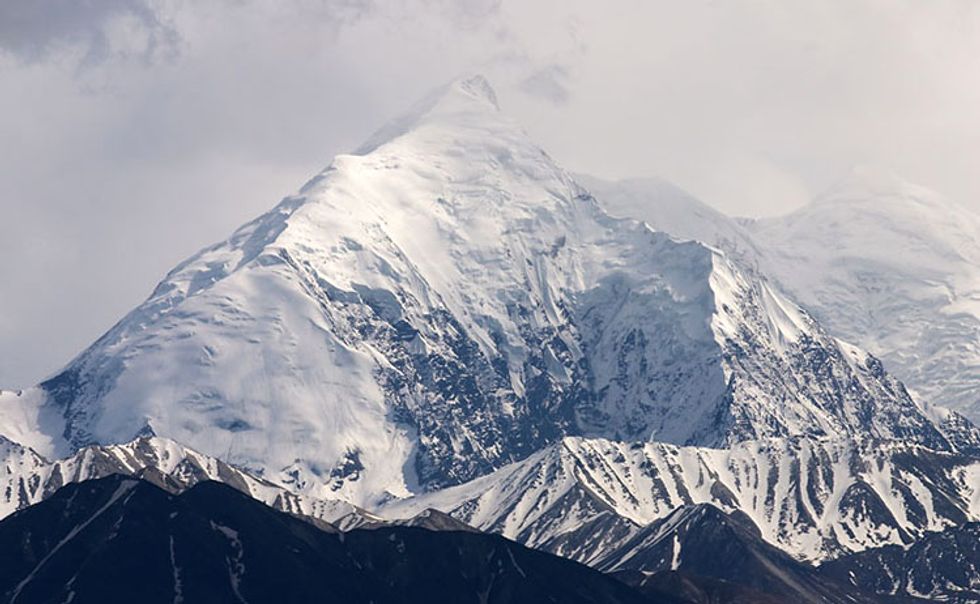 Originally established in 1917 as Mount McKinley, the park's name was changed in 1980 to Denali, or "the high one" to honor the native Athabaskan name for the park's iconic peak. Last year, President Obama and Sec. of the Interior Sally Jewell announced that the peak's name itself was officially being changed to Denali to restore its native name.
For intrepid hikers looking to climb Denali, the park service provides detailed answers to frequently asked questions about mountaineering in the park, including what you need to know before climbing Denali. Even for those who don't wish to make the climb, Denali provides a stunning backdrop to many of your hikes in the park.
4. Something for everyone 
So you don't want to be on a crowded bus the entire time, but you're not ready to summit Denali? No worries. There are plenty of trails to choose from to get away from the crowds and take in the beauty of Alaska's rugged wilderness. From short and easy 0.2-mile hikes to Denali's longest trail at 9.5 miles, hikers can take in Denali's alpine lakes, spruce forests and some of the park's stunning wildlife.

And remember, most of the park is devoid of human-made trails. That may seem daunting to some, but the park service said, "The nature of Denali's Park Road and bus system, and the terrain itself, can make trail-less hiking more approachable than it may seem at first blush."
Just be sure to read the park service's travel tips before you head off-trail.
5. A land sculpted by ice
Glaciers cover a million acres or one-sixth of the park. "Hundreds of unnamed glaciers and at least 40 named glaciers flow from heights as high as 19,000 feet and descend to elevations as low as 800 feet above sea level," the park service said.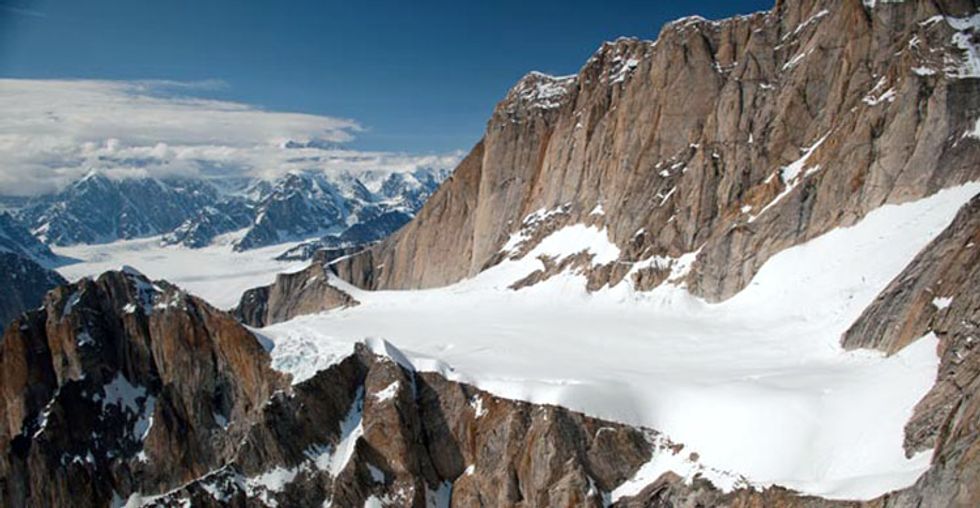 The three longest are the Ruth, Kahiltna and Muldrow glaciers. Each is more than 30 miles long. Kahiltna is the longest at 44 miles.
The park's glaciers transport hundreds of thousands of tons of ice per year. This ice eventually melts in the lower portions of the glaciers and fills rivers with water that ultimately drains into the oceans.
Glaciers in the park—as in other parts of the world—are rapidly decreasing in size due to climate change. According to the park service, the area of Denali's glaciers has decreased by eight percent in the 60 years prior to 2010.
YOU MIGHT ALSO LIKE
Hottest and Driest Place in North America Is Experiencing a Rare and Spectacular 'Super Bloom'
6 Island Hikes to Add to Your Bucket List
Cancer Survivor Climbs World's Tallest Peaks, Helps Others Do the Same
NASA scientists fear that a growing crack in the Nansen Ice Shelf may cause it to break free from the Antarctic coast and form a massive iceberg more than twice the size of Manhattan.
Nansen Ice Shelf hangs on 'like loose tooth'; crack almost 50km @USGSLandsat https://t.co/5ge1zFPIU3 pic @NASAEarth https://t.co/OBSvNNo2OM

— The Antarctic Report (@The Antarctic Report)1457762336.0
"Over the course of two years, a small crack grew large enough to spread across nearly the entire width of the Nansen Ice Shelf," NASA said in a post last week.
Ice shelves are thick plates of coastline ice that float over the ocean. This particular one, Nansen, measures about 20 miles wide and 30 miles long.
A team of scientists first noticed the crack in 2013, but two NASA scientists Christine Dow and Ryan Walker discovered in December 2015 that the crack had grown substantially. Dow and Walker were visiting the ice shelf to install GPS stations on it to track how it was affected by tides. When they flew over the area, they realized that it was no longer a small crack.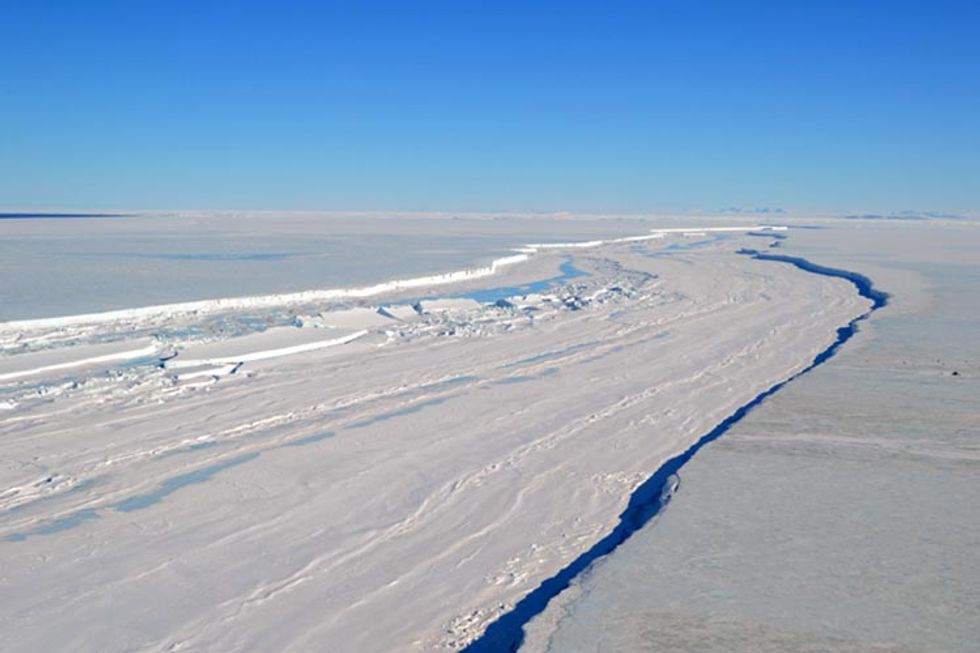 Satellite images taken when Dow and Walker returned confirmed what they saw on the ground.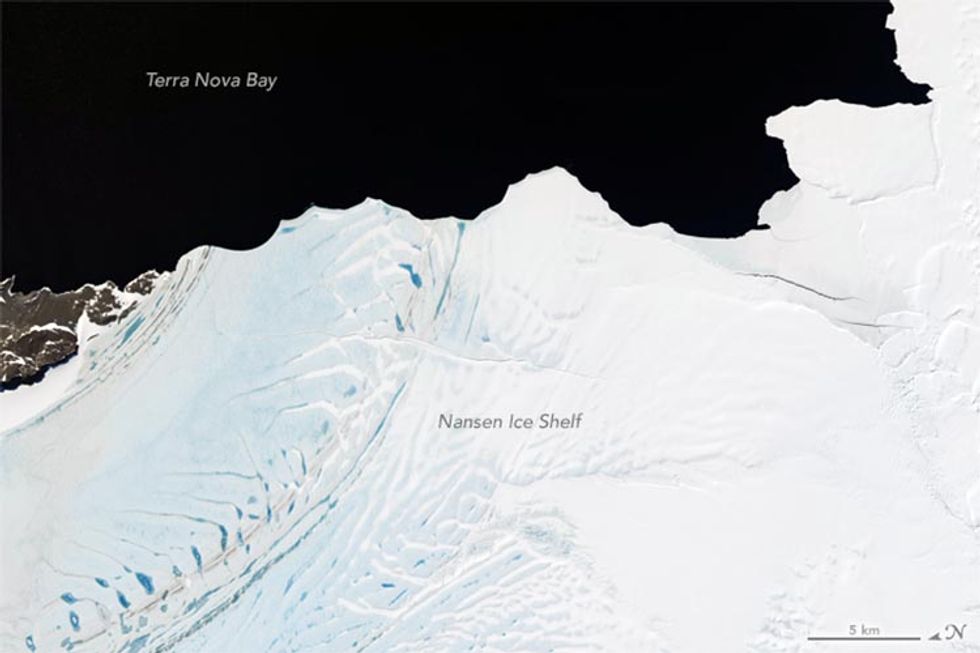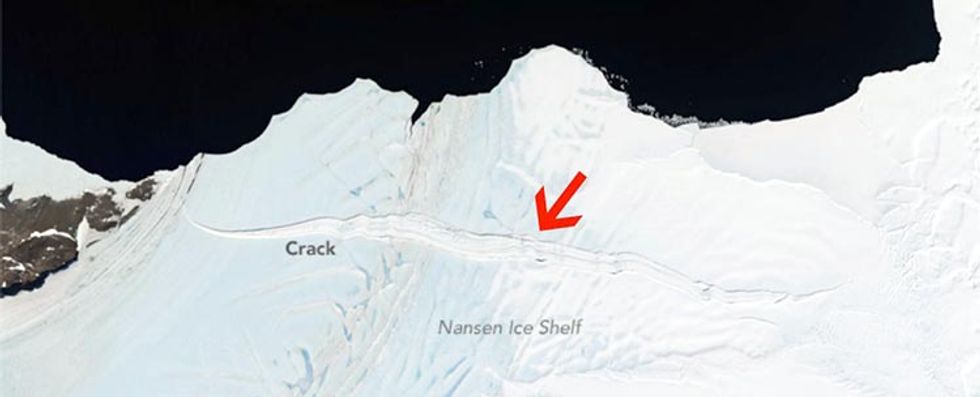 "There's a huge crack, miles long and sometimes over a hundred yards wide, which runs more or less parallel to the front of the ice shelf," Walker wrote in a post in December 2015. "Over the winter, the sea surface freezes and traps small icebergs in the crack, producing a fascinatingly broken icescape."
Antarctic winter is now setting in, and, as of this month, satellite imagery indicated the ice shelf was still attached. Though winter may not be enough to prevent the shelf from collapsing.
"Even in winter, strong winds can prevent the water beyond the shelf from freezing, so it is unclear whether the front will separate soon or hang on like a loose tooth," NASA said.
Although the ice shelf's collapse may sound catastrophic, IFLScience noted, there are two points worth considering:
"Firstly, ice shelves make up around 75 percent of the Antarctic coastline, and their total combined area is equivalent to 1.56 million square kilometers (603,000 square miles). If all of Nansen collapses, it will reduce Antarctica's ice shelf coverage by just 0.1 percent.
Nansen doesn't even register as a 'major' ice shelf, with those such as Ross, at around 472,000 square kilometers (182,000 square miles), dwarfing it. The Ross Ice Shelf partly collapsed at the end of the last ice age around 10,000 years ago, when a colossal chunk 280,000 square kilometers (108,000 square miles) in size fell into the sea over 1,500 years. That's 360 times the size of Manhattan Island, by the way.
Secondly, these ice shelves may be anchored to the land, but they do not actually significantly contribute to sea level rise—after all, they're already floating on the sea. So the collapse of Nansen by itself won't cause much harm, per se.
However, ice shelves like Nansen do act as vast barricades for glaciers behind them. When an ice shelf is removed, glaciers begin to tumble into the sea at surprisingly fast speeds—sometimes moving ten times faster than normal—and these will definitely cause the sea level to rise. So in effect, man-made climate change is breaking Antarctica's huge ice dams.
And while ice shelves have historically broken off and often reformed, ScienceAlert said the trend is alarming:
"Several iconic ice-shelf disintegrations, such as the Serson Ice Shelf in northern Canada, have been linked to increasing temperatures.
And the rate of ice shelf loss has also been speeding up. Over the past 20 years, Antarctica's Larsen ice shelves has pretty much decreased significantly, losing 75 percent of its area.
The icebergs produced by these types of events don't just pose threats to boats that get in their way, but also to marine life—such as the 150,000 penguins that died at the start of this year when an iceberg blocked their path to the sea, cutting off their food supply."
NASA researchers want to keep studying the ice shelves to better understand why they collapse and how to prevent it. Dow is already planning a trip with other researchers to study the crack this summer.
"I'm really interested to see whether this feature is occurring because of the topography around the ice shelf, or whether it was initially created by surface water flowing into a small ice surface crack," she said. "We're planning an intensive survey of this feature in the coming years and will hopefully get a handle on the causes."
YOU MIGHT ALSO LIKE
13 Million Americans at Risk From Rising Seas
February Smashes Earth's All-Time Global Heat Record by a Jaw-Dropping Margin
NOAA: Carbon Dioxide Levels 'Exploded' in 2015, Highest Seen Since End of Ice Age
Obama, Trudeau Agree to Safeguarding Arctic, Reducing Methane Emissions
Yellowstone National Park's wildlife has been in the news quite a bit in recent weeks. Last week, the park sent 100 bison to slaughter as part of its annual cull. Activist groups, such as the Animal Legal Defense Fund and the Buffalo Field Campaign, have been fighting to stop what they argue is the unnecessary killing of America's last wild herd of bison.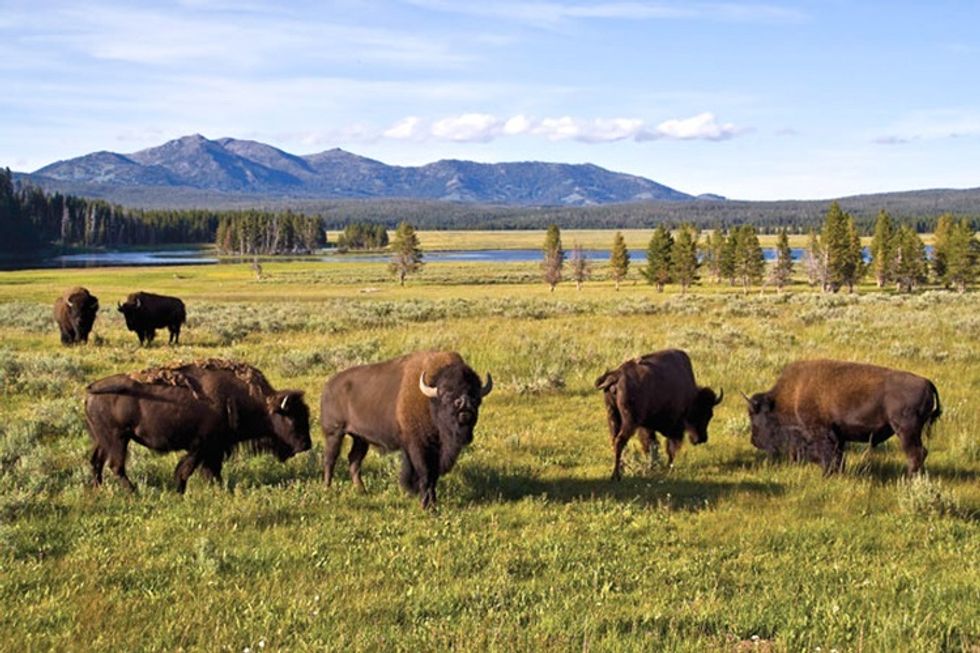 The park service claims they reduce the wild bison population due to the threat of brucellosis, a livestock disease originally brought to North America by Eurasian cattle. But Buffalo Field Campaign said, "There has never been a documented case of wild bison transmitting brucellosis to livestock."
Another iconic species of the Yellowstone ecosystem is also under threat, according to conservationists. Earlier this month, the U.S. Fish and Wildlife Service proposed removing Yellowstone grizzly bears from the Endangered Species List, arguing their numbers have recovered substantially.
"The restoration of the grizzly bear in Montana, Wyoming and Idaho during the last three decades stands as one of America's great conservation successes—a testament to the value of the Endangered Species Act and the strong partnerships it drives," the Fish and Wildlife Service said. "The Yellowstone grizzly bear population has rebounded from as few as 136 bears in 1975 to an estimated 700 or more today."
However, conservation groups, such as the Humane Society of the United States and the Center for Biological Diversity, have vowed to fight the proposed delisting, saying it's "premature" and would pave the way for "state-supported trophy hunts," such as those that take place for the area's wolves.
Yellowstone's bison, bears and wolves, along with its hundreds of other species, serve a critical role in the Greater Yellowstone Ecosystem. The area is "one of the largest nearly intact temperate-zone ecosystems on Earth," according to the park service.
And it's home to one of the largest elk herds in North America, one of the few grizzly bear populations in the contiguous U.S. and the largest free-roaming, wild herd of bison in the U.S.
These photos of Yellowstone's wildlife show why the area is such an incredible and unique place that's worth protecting:
Read page 1
YOU MIGHT ALSO LIKE
Yellowstone Sends 100 Wild Buffalo to Slaughter
Grizzly Bears at Risk of Being Hunted for the First Time in Decades
Humpback Whale Entangled in Illegal Gillnet Saved by Sea Shepherd Crew
Horrible! This Guy Drags Shark From Sea Just to Pose for Photos
To celebrate the birth of the first child of King Khesar and Queen Jetson, all 82,000 households in Bhutan planted a tree, while volunteers planted another 26,000 in various districts around the country, for a total of 108,000 trees.
Bhutan plants 108,000 trees to celebrate the birth of the new Prince. How inspiring! https://t.co/M7mZOJ7gCa

— Yahoo India (@Yahoo India)1457976601.0
"Each sapling encapsulates a prayer and a wish from the person who planted it to His Royal Highness the Prince so that just like the bountiful tree, the Prince also grows up healthy, strong, wise and compassionate," Tenzin Lekphell, whose organization, Tendrel, coordinated the initiative, told The Diplomat.
Trees hold special value in Bhutan, where Buddhism is the dominant religion.
"In Buddhism, a tree is the provider and nourisher of all life forms, symbolizing longevity, health, beauty and even compassion," Lekphell said, noting that it's not a coincidence the Buddha attained enlightenment under a banyan tree.
Planting trees with thousands of volunteers to celebrate the birth of HRH, our Gyalsey. Well done Tendrel Initiative https://t.co/i0hxFF9EHa

— Tshering Tobgay (@Tshering Tobgay)1457258802.0
The number 108 is special in Buddhism, as well. It denotes "the cleansing of 108 defilements that impede beings from attaining enlightenment," Lekphell explained.
The Ministry of Tourism used the occasion to inaugurate a "Happiness Garden" in the capital city, Thimphu. Ministry officials are asking tourists to plant "happiness trees" in the garden, with the goal of having a tree that represents every country in the world.
Planting 5,000 trees today in dedication to our Crown Prince, Ecology and Happiness. A proud moment for #Bhutan https://t.co/UQAfHNpxH2

— Tourism Bhutan (@Tourism Bhutan)1457243938.0
"Bhutan is known as a country of happiness. To have a happiness garden is therefore logical. With this garden, we hope to bring the peoples of the world closer," Damchoe Rinzin, a spokesperson for the Tourism Council of Bhutan, said.
And this isn't the first time the country has planted an impressive number of trees. Last June, a team of 100 volunteers set a world record for planting 49,672 trees in just one hour.
Bhutan's monarchy is very popular among its people, according to The Diplomat. The nation only became a democratic monarchy in 2008, after King Singye abdicated the throne to his son Khesar, who introduced democratic reforms.
Many have credited Bhutan's "Gross National Happiness" Index, as part of the reason for the country's strong commitment to environmental stewardship. Rather than focusing solely on economic indicators, the index measures prosperity by giving equal importance to non-economic aspects of well being.
"Bhutan's Gross National Happiness Index gives the natural world a central place in the making of public policy, and environmental protection is a core guiding principle in Bhutan's constitution," the Santa Cruz Sentinel reported.
Bhutan has not only pledged to remain carbon neutral, it's currently a carbon sink, meaning its forests absorb more carbon dioxide than the country emits each year. That makes it one of the few countries in the world to have negative carbon emissions.
The country's constitution mandates at least 60 percent of its land remains forested. Currently, more than 70 percent is. Bhutan has even banned export logging. And its ambitions don't stop there. It's aiming for zero net greenhouse gas emissions by 2020, while also going 100 percent organic by 2020 and zero-waste by 2030.
YOU MIGHT ALSO LIKE
The Nature Conservancy and Leonardo DiCaprio Foundation Unite to Create Second Largest Marine Protected Area in West Indian Ocean
Hottest and Driest Place in North America Is Experiencing a Rare and Spectacular 'Super Bloom'
Many U.S. cities have taken the lead on sustainability efforts, particularly when it comes to adopting renewable energy. Already, at least 13 U.S. cities—including San Diego; San Francisco; Burlington, Vermont; and Aspen, Colorado—have committed to 100 percent clean energy.
Other American cities, though not generating all their electricity from renewables, have innovative projects that could soon become widely adopted and transform our energy system.
Here are three cities leading the way:
1. Brooklyn, New York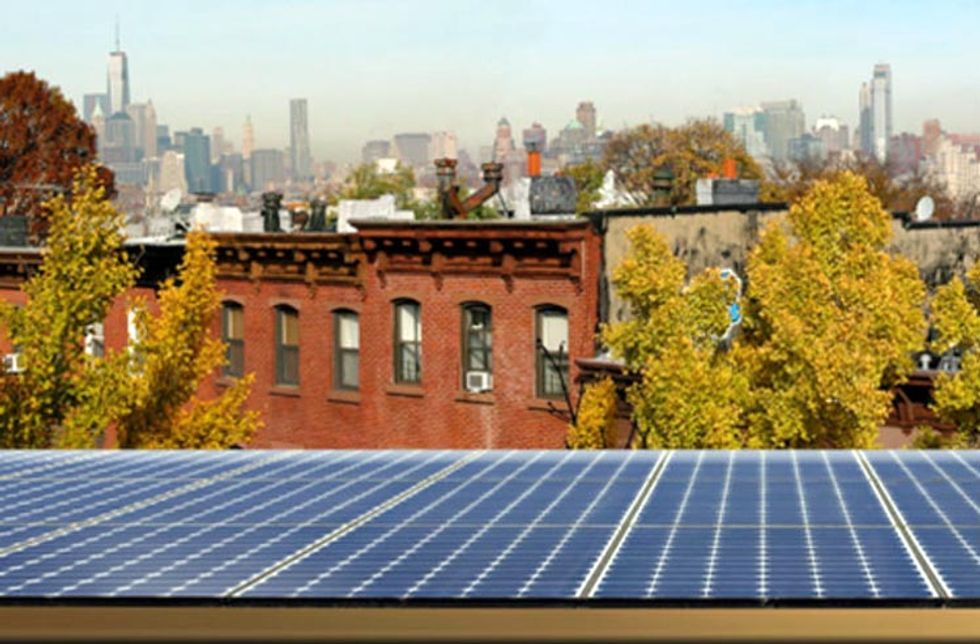 The Brooklyn Microgrid, a project of TransActive Grid, is developing a community microgrid in the Gowanus and Park Slope neighborhoods of Brooklyn that has the potential to disrupt the local energy market.
"Community microgrids are a new approach for grid operations that achieve a sustainable, secure, and cost-effective energy system by providing long-term, locally generated power security prioritized for the community," the startup explained. "Microgrids have the ability to separate from the larger electric grid during extreme weather events or other emergencies, providing the backbone for resilient, sustainable and more efficient energy production of the future."
The first version of the project connects solar energy producers with their neighbors who want to buy renewable energy. And the benefits are manyfold, according to TransActive Grid Co-founder Joseph Lubin.
"This whole concept benefits the area you live in," Lubin told Treehugger. "By buying energy locally, rather than from a national entity, the money goes back into the pockets of people in the community. We'll install the transactive platform which pretty much runs itself, whereby energy is automatically priced based on things consumers care about.
"It's pretty hands off—as we think that will suit consumers best—but in future we plan to enable people to set preferences to maximize savings, do good in the community and potentially sell energy cheaper to lower-income residents."
Watch TransActive Grid's video for more information on the technology behind their microgrid:
2. Austin, Texas
Research and development firm Pecan Street Inc. is developing a smart grid research project that began in Austin's Robert Mueller mixed-use development and has since expanded across Texas and into California and Colorado.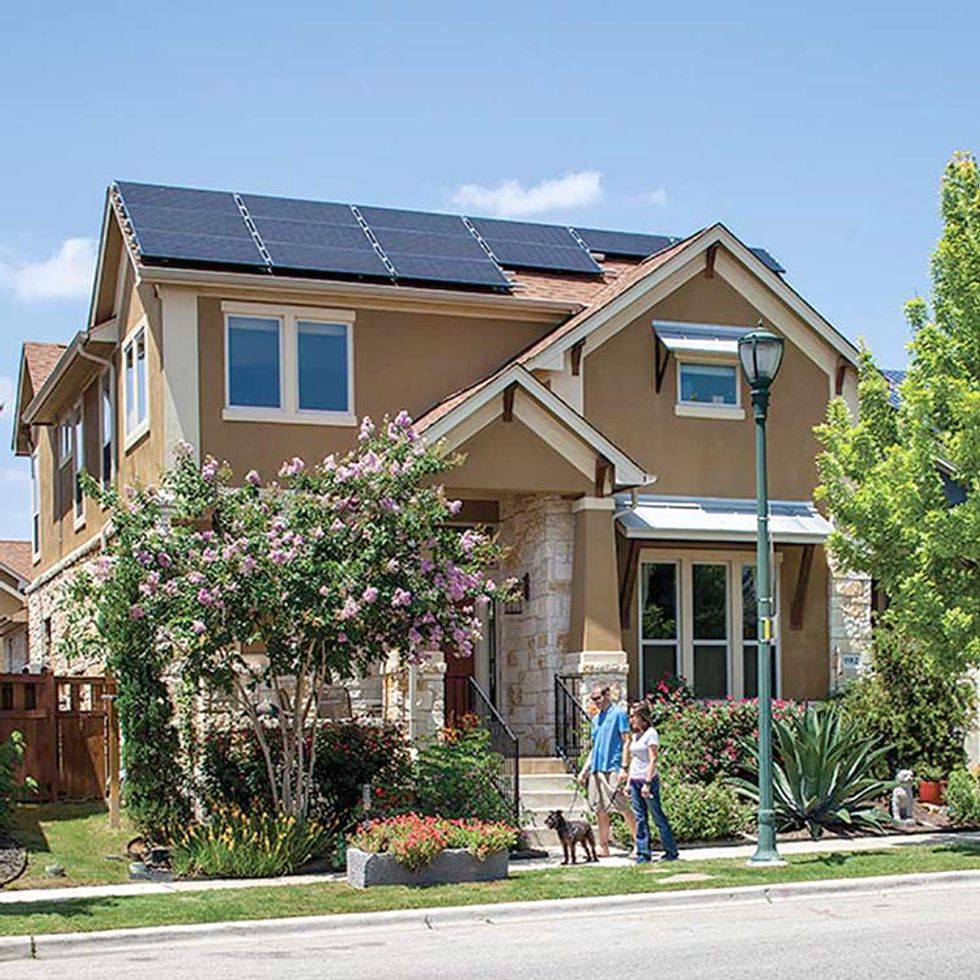 The organization created an "Energy Internet Demonstration" at the 711-acre Robert Mueller community. Some of the project's smart grid technologies include home energy monitoring systems, a smart meter research network, energy management gateways, distributed generation, electric vehicles with Level 2 charge systems and smart thermostats.
The neighborhood has nearly 13,000 residents, 4 million square feet of office and retail space, more than 5,700 homes and 140 acres of public open space. The neighborhood is designed to be walkable and transit-oriented.
Every home has been designed to meet the standards of at least a 3-star energy rating by Austin Energy, according to the video below. And several residents have rooftop solar panels, electrical vehicles, and smart water and gas meters.
"Through the use of Pecan Street's home energy monitoring systems, customers can view their energy use in real-time at the device level, set and track utility bill budgets, have software manage electricity use of individual appliances and sell energy back to the grid," Pecan Street explained. "Cars connected to the grid can be powered with solar energy and help level load, and utilities can store power and deliver it when needed."
Watch Green City Realty's video to learn more about Austin's smart-grid community:
3. Boston, Massachusetts
Boston-based Yeloha is a peer to peer solar sharing company that allows anyone to go solar. The concept allows people to invest in solar even if they rent, don't have a rooftop suitable for solar panels or cannot afford the upfront cost.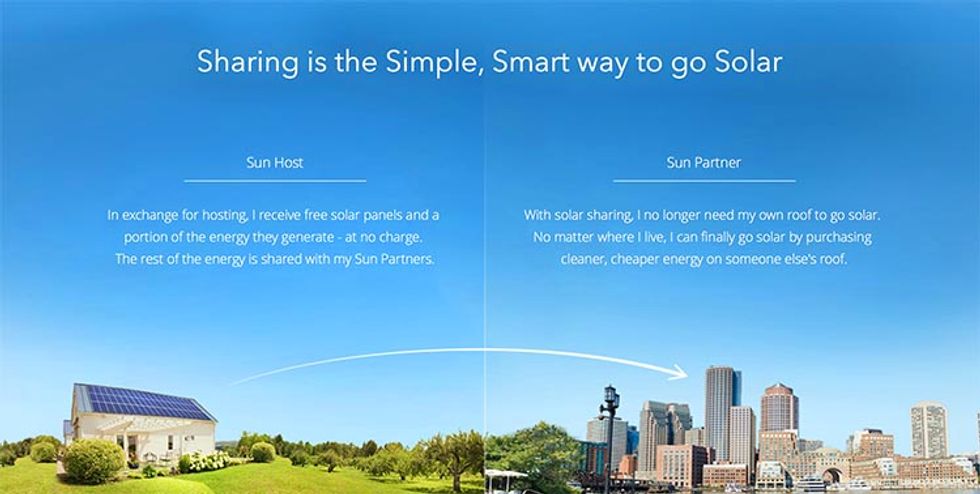 Customers can sign up for the service as a "sun host" or a "sun partner." Sun hosts are for homeowners who have a suitable roof for solar but can't afford panels. Yeloha will install the panels for free in exchange for access to the solar power the panels create. Sun hosts will also get about a third of the electricity created by the panels, all for free. This translates to lower monthly power bills for the homeowner.
The remaining power goes to the sun partners, who are customers that want to go solar but don't have a proper roof or don't own their home. Sun partners can buy as many solar credits as they'd like from Yehola at a price that's less than what they'd normally pay to their local utility.
Sun hosts can also assign their electricity to specific partners, and sun partners can choose who hosts their power. The savings work out to about 10 percent less than the utility's prices for a year's worth of energy.
It's currently only available in Massachusetts, but Yeloha is in the process of expanding to New York and Vermont, and has plans to expand to other states too.
YOU MIGHT ALSO LIKE
Oregon Becomes First State in Nation to Sign Bill That Phases Out Coal, Ramps Up Renewables
Patagonia to Fund Rooftop Solar Installations on 1,500 Homes
Solar Energy Will Lead the Way for New Power in 2016
World's Largest Floating Solar Farm to Provide 10 Million People With Clean Drinking Water
If you've never been to Sedona, Arizona, you should add it to your bucket list. It's been said that "God created the Grand Canyon, but he lives in Sedona." I don't know about all that, but it's definitely worth a visit.
Its stunning red rock formations serve as a backdrop for all kinds of fun activities, from hiking and biking to wine tastings and soothing spa treatments.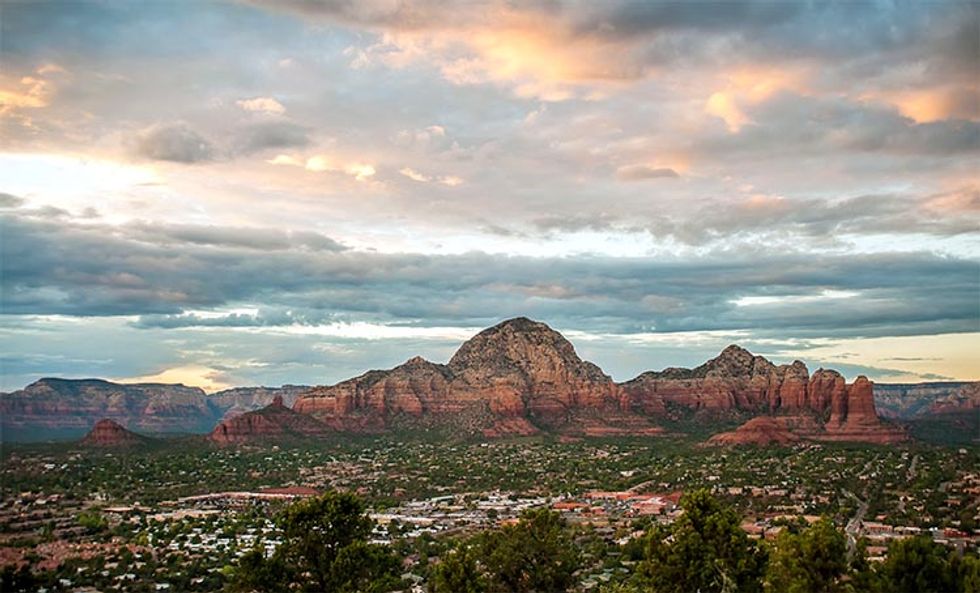 Here are five great reasons to visit Sedona:
1. Endless Outdoor Adventure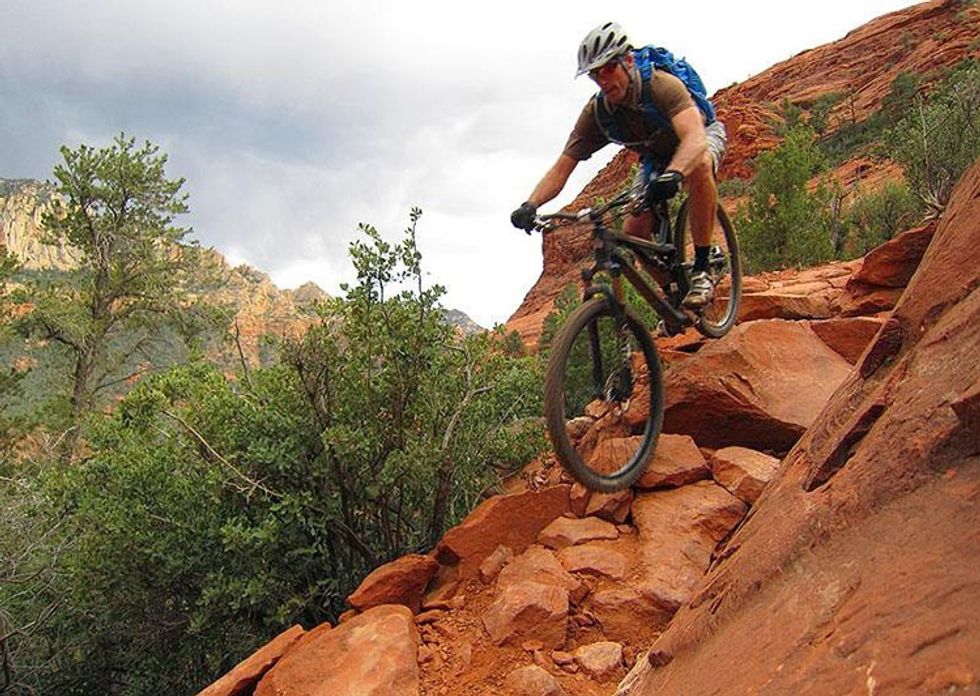 Surrounded by 1.8 million acres of national forest land, four wilderness areas and two state parks, Sedona has so many things to do: hiking, biking, climbing, rafting, kayaking, you name it.
With more than 120 trails in Sedona, there's plenty to explore. And Sedona has recently emerged as the "new mountain bike mecca," according to Outside. In fact, the city hosted a mountain bike festival last weekend.
"One of the best things about Sedona is the variety," Matt Mcfee, whose company Hermosa Tours guides visiting riders, told Outside. "There's trail for everyone, and you can't call any of it, even the easy stuff, boring."
Looking for a more relaxed adventure? Then, check out Sedona Adventure Tours' "Water to Wine Tour," where you'll float the Verde River before indulging in a wine tasting at the Alcantara Vineyards.
2. Stay and Play Year-Round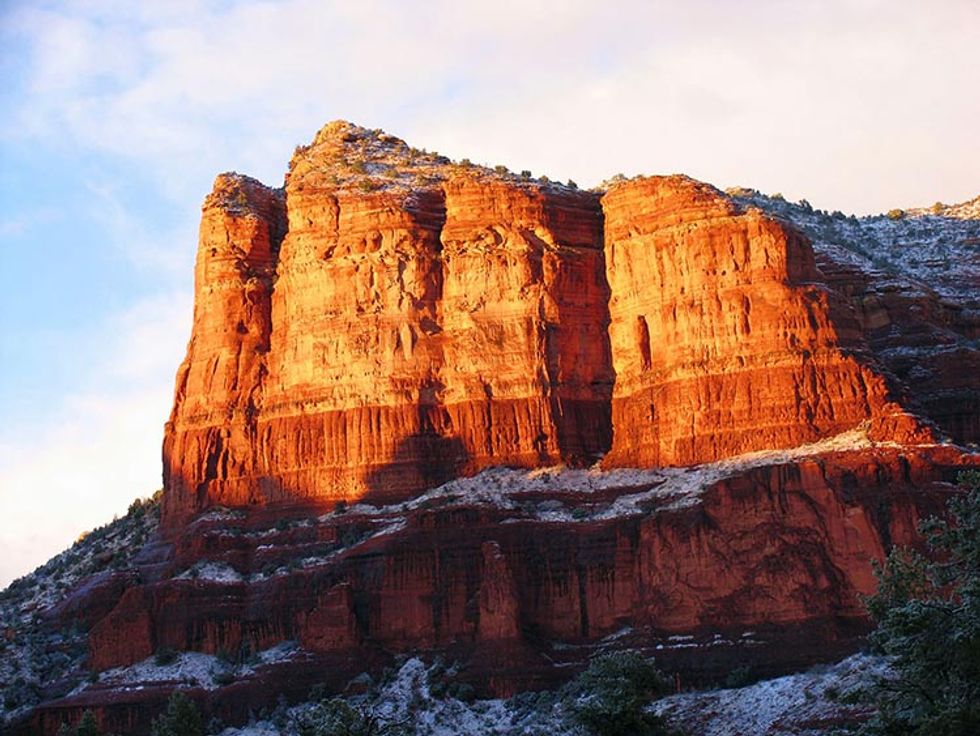 One might argue Sedona is even more beautiful in the winter. Its far less crowded in the winter months. And visitors will enjoy ample sunshine, mild temperatures and might even get the chance to see the red rocks dusted by snow.
After a brisk hike or bike ride, visitors can unwind in the city's funky boutiques, galleries and spas.
3. Sedona is a Very Spiritual Place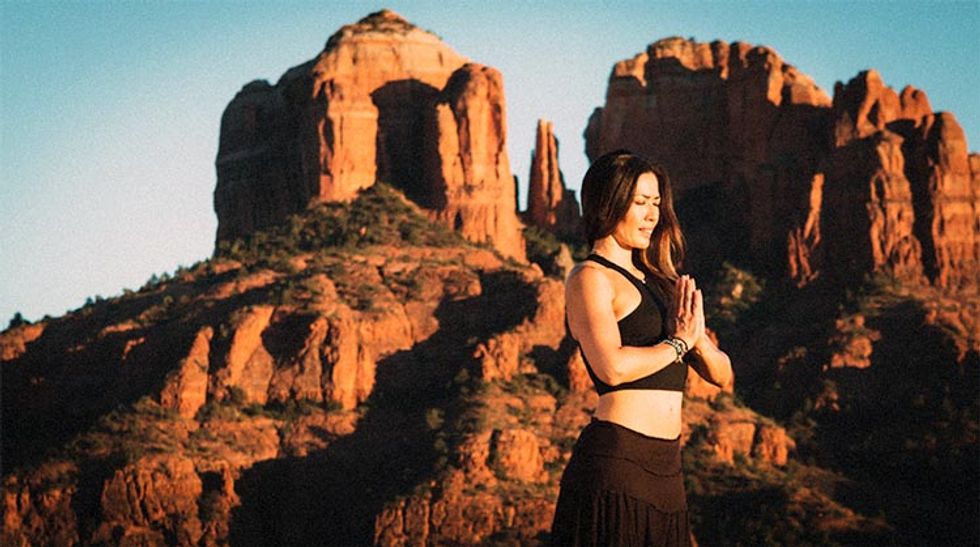 "Regarded by Native Americans as sacred, Sedona continues to be recognized as a place of healing and spiritual renewal," Visit Sedona said. "Many come to experience the vortex energy centers of Sedona."
No matter what, you are bound to get some rest and relaxation there. Sedona is home to "mystical bazaars" with psychic readers, yoga studios and spas offering massages, reiki and other healing therapies.
4. There's a Festival for Everyone in Sedona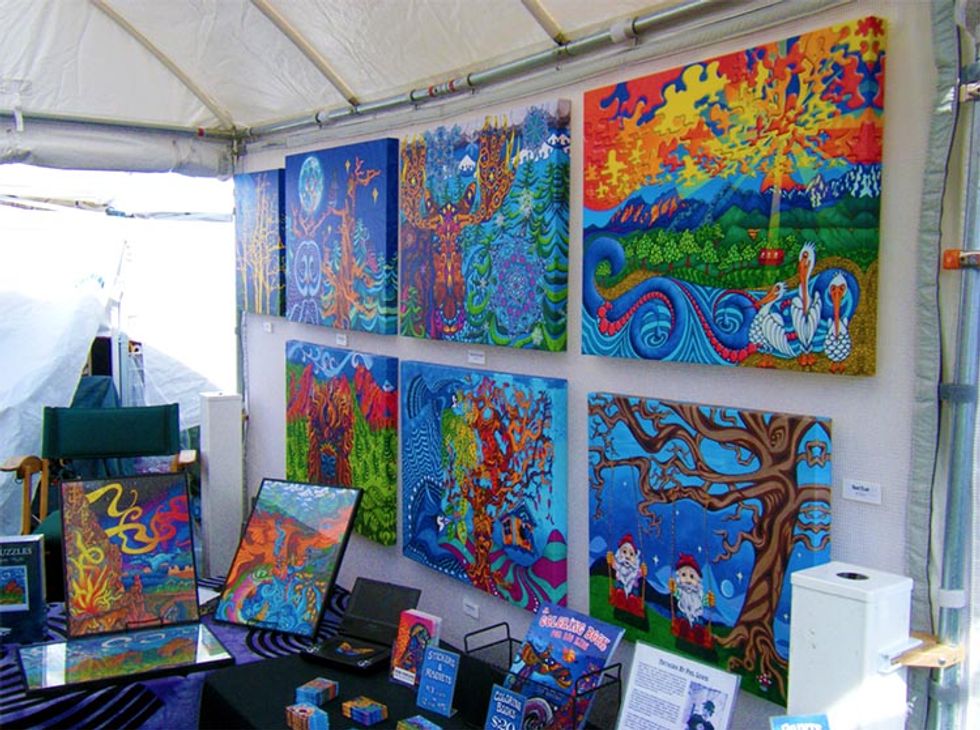 There's the previously mentioned mountain bike festival. But there's also an arts festival, a film festival and a yoga festival. Not enough for you? There's also a wine festival, a beer festival and many more annual events.
Some of the more uncommon festivals include a Dia de los Muertos celebration, Red Rocks Oktoberfest, and Bike and Brew Fest.
5. The Sunrises and Sunsets Are Breathtaking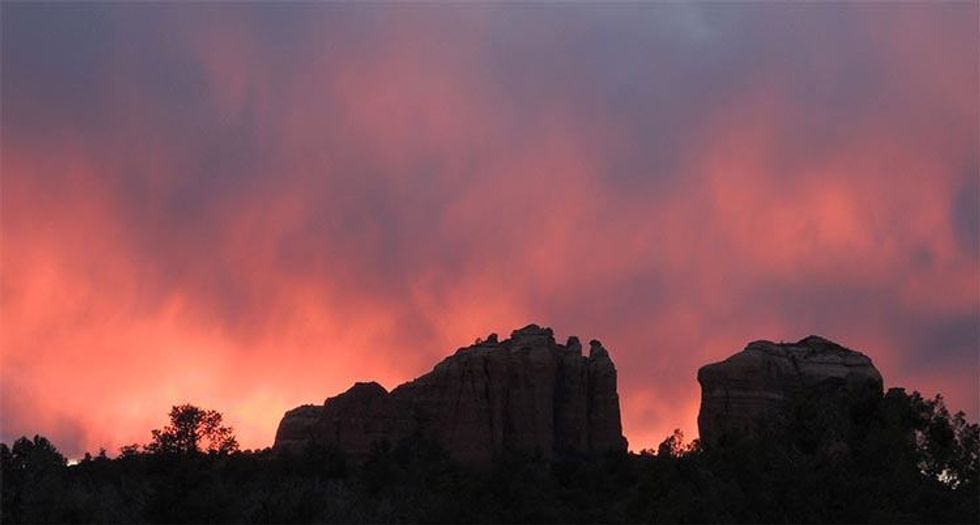 The pictures really speak for themselves. And while it's hard to find a bad spot to watch the sunrise or sunset in Sedona, there are some spots that offer particularly stunning views.
Somehow still not sold on Sedona? Then, watch this promo video from Visit Sedona:
YOU MIGHT ALSO LIKE
Hottest and Driest Place in North America Is Experiencing a Rare and Spectacular 'Super Bloom'
12 Breathtaking Photos of Yellowstone National Park
6 Island Hikes to Add to Your Bucket List
World's First and Only Sunglasses Made From 100% Reclaimed Fishing Nets
Researchers from Utah State University found that the Beehive State's Great Salt Lake has shrunk by 48 percent since 1847. Meanwhile, Lake Poopó, Bolivia's second-largest lake, is died up and may be beyond recovery.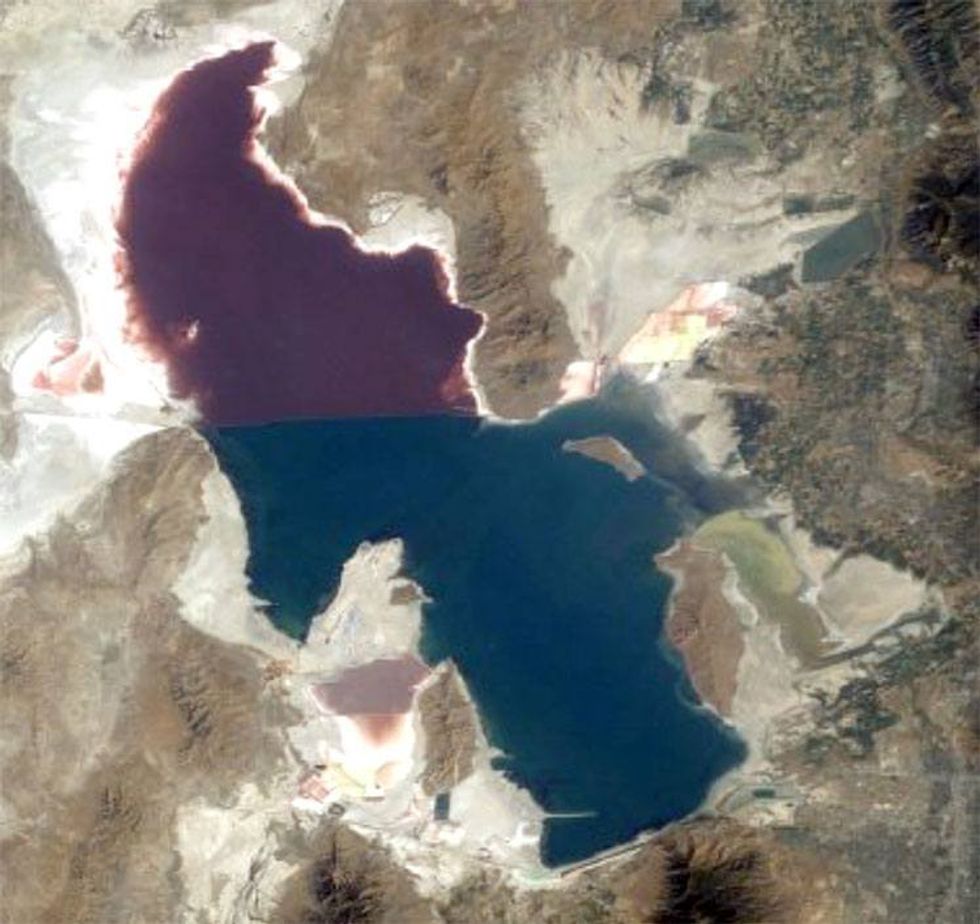 The Utah State researchers published their findings last month in a white paper, Impacts of Water Development on Great Salt Lake and the Wasatch Front. They warned that the Great Salt Lake may follow in the footsteps of some of the world's salt lakes, such as the Aral Sea in central Asia or California's Owens Lake, which have almost entirely disappeared.
"There's no doubt about it, Great Salt Lake is shrinking," Wayne Wurtsbaugh, lead author on the paper, said. "Though we've witnessed droughts and floods in recent decades, impacts of water diversions have decreased the lake's level by 11 feet."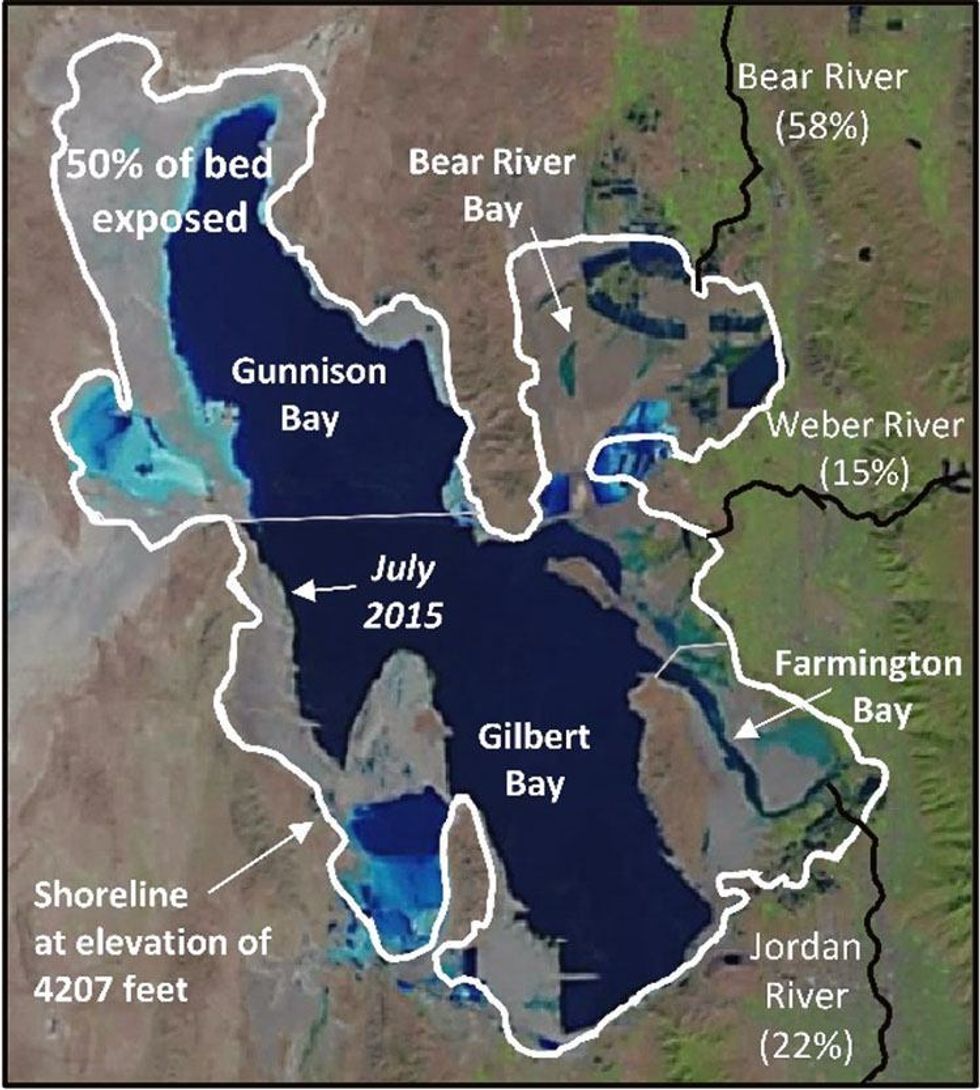 The authors blame overconsumption, particularly agriculture, which consumes 63 percent of the water in the Great Salt Lake Basin.
"Loss of water in the lake threatens its unique ecology, along with the wildlife and industries that depend on the lake's ecosystem services," Wurtsbaugh said. "Further, lowering lake levels increase dust pollution, which worsens the health effects of the Salt Lake City area's already serious air pollution problems."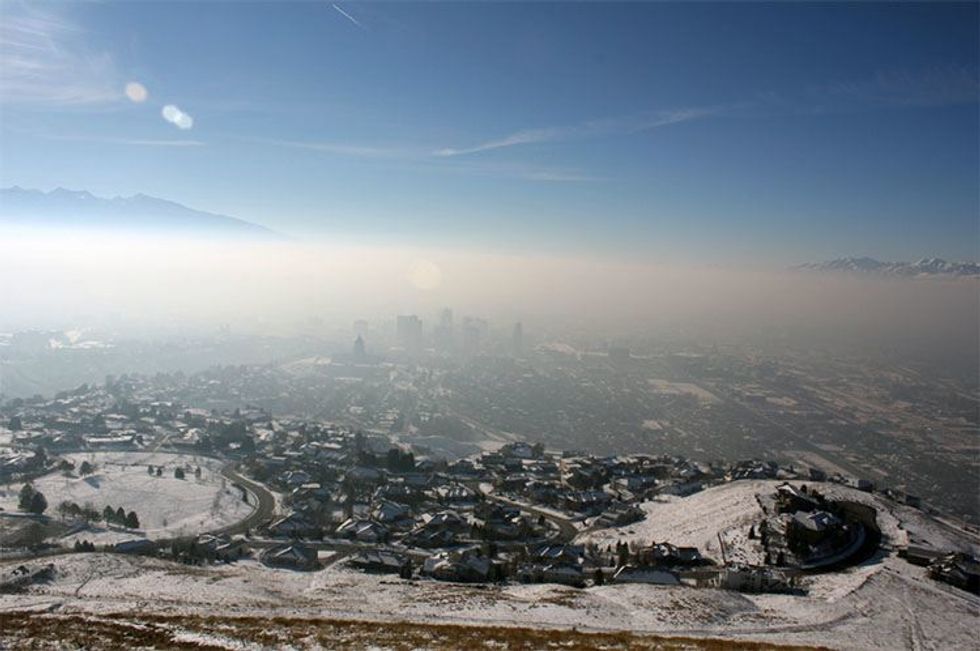 Water conservation has helped somewhat, but the researchers said it's not enough: "Although water conservation has reduced urban per capita use by 18 percent, overall municipal water use has increased by five percent because of our growing population."
The diminishing supply has led water managers to import water from the Colorado River, which is itself at "extreme risk" from overallocation, according to Gary Wockner, executive director of Save The Colorado. And the area's increased reliance on the Colorado River is still not enough.
"Reduced stream flows have been offset by eight percent with imported water from the Colorado River Basin through the Central Utah Project, as well as return flows from upstream diversions," the authors noted. "Overall, however, consumptive water use has reduced net river inflow to the lake by 39 percent over the past 150 years."
"Any future development of water will cause the lake to drop more," researchers cautioned. "For example, the Utah Division of Water Resources estimates that water consumption associated with the proposed Bear River Development Project would decrease the level of Great Salt Lake approximately 8.5 inches. This would expose about another 30 square miles of lake bed."
"The logic is straightforward," the authors added. "If less water is delivered to the lake, the lake level must drop. This is an inevitable consequence of ever increasing water consumption."
The story of Bolivia's Lake Poopó should serve as a warning for what can happen when water resources are mismanaged. Poopó historically has been 380 square miles or about twice the size of Los Angeles with a maximum depth of 16 feet.
Another victim of climate change. Lake Poopó, Bolivia's 2nd largest lake, at 400 sq. miles. https://t.co/BQSt8JpAsk https://t.co/seSdZzZFLf

— Mark Ohe (@Mark Ohe)1453945346.0
Currently though, it's a mere two percent of its former water level, regional governor Victor Hugo Vasquez told The Guardian. And though lake levels have fluctuated with the weather in the past, scientists worry recovery may no longer be possible.
In December 2015, the lake was "officially declared evaporated," according to The Guardian, displacing hundreds, if not thousands, of people and sparking an ecological disaster for hundreds of species.
#Photos Of The Day: #Bolivia's Second-Largest Lake Disappears @MNetNews #climate #LakePoopo https://t.co/4kKciEmR3s https://t.co/dEXCwauIzt

— Katie Mohr (@Katie Mohr)1453842109.0
The Bolivian government blames El Niño and climate change for the particularly dry weather, but National Geographic said, "that's not the whole story."
"Misuse of the water supply and a failure on the part of the Bolivian government to act on existing management plans are partly responsible for the rapid drying of the lake over the past few years," Lisa Borre, a senior researcher with the Cary Institute for Ecosystem Studies in New York, explained to National Geographic.
"The lake was very shallow, only a few feet deep, and it is in an arid climate, so its level fluctuates a lot with the weather," Borre said, noting that Poopó has shrunk significantly a number of times in the past, "but it's never been this bad."
National Geographic explained how lake levels dropped so dangerously low:
"Lake Poopó gets most of its water from the Desaguadero River, which flows from Lake Titicaca (Bolivia's largest lake). According to the published management plan, water managers are supposed to allow flow down the river into Poopó, but they have recently allowed that to slow to a trickle.
Titicaca has plenty of water in it, so that's not the problem, Borre says. Officials just aren't opening control gates often enough to send water down the river. Some of the water is being diverted for agriculture and mining. And even when water is available, the river is often clogged with sedimentation, due to the runoff from development and mining in the area.
Poopó is high, at 12,000 feet (3,680 meters), and the area has warmed an estimated one degree Celsius over the past century, leading to an increase in the rate of evaporation from the lake. And the lack of rain over the past year has sped the process even further. But these factors weren't surprises, Borre says, they were foreseeable changes that scientists anticipated.
Tilikum, the killer whale at the center of the 2013 documentary Blackfish, is in deteriorating health. SeaWorld's teams are treating him for what they believe is a bacterial infection in his lungs, the company announced on its Facebook page Tuesday.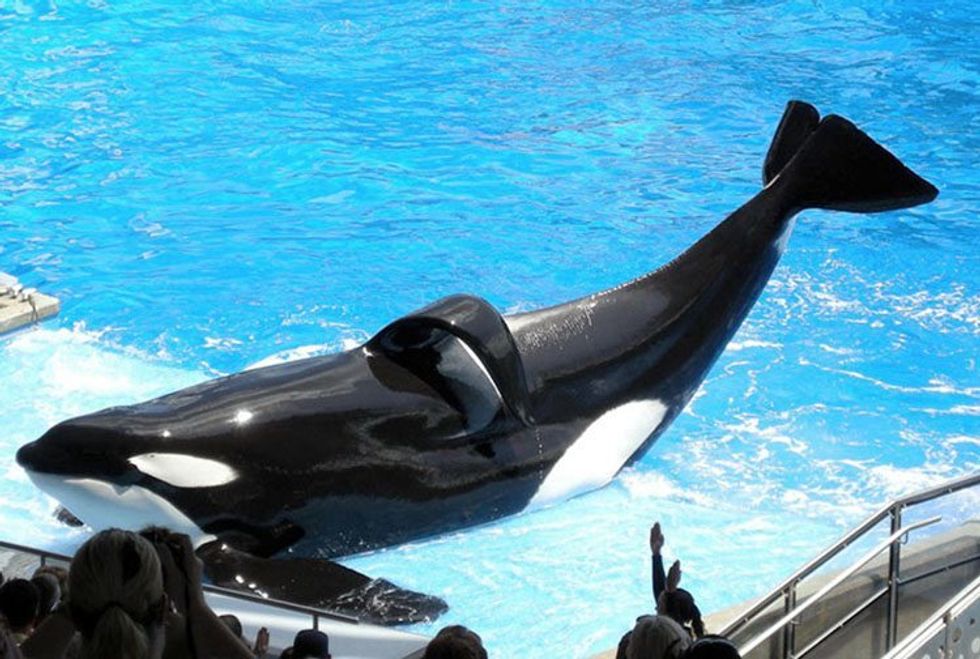 "We are saddened to report that over the past few weeks, Tilikum's behavior has become increasingly lethargic, and the SeaWorld veterinary and animal care teams are concerned that his health is beginning to deteriorate," the company said.
The 35-year-old male orca is not responding to treatment and "a cure for his illness has not been found," SeaWorld said.
"Since Tilikum became a part of SeaWorld's family 23 years ago, he has received the best in marine mammal health care and life enrichment available for killer whales—including a focus on his physical health, mental engagement and social activity with other whales," SeaWorld said. "Despite the best care available, like all aging animals, he battles chronic health issues that are taking a greater toll as he ages."
Tilikum, whose name means "friend" in Chinook, was captured from the wild in 1983 at the age of 2, according to Reuters. He came to SeaWorld 23 years ago from Sealand of the Pacific in Canada.
Average life expectancy for orcas in the wild is 30 to 50 years. Some males live 60 to 70 years, and females can live to be 80 to 100 years old. Life expectancy for killer whales in captivity is much shorter. The median survival rate for orcas in U.S. marine parks is just 12 years.
Had #Tilikum been left wild, this would have been his view. https://t.co/F3OLw9E4eH #DontGoToSeaWorld https://t.co/baGOcaHFQj

— Dolphin Project (@Dolphin Project)1457529994.0
As America's most famous orca, Tilikum, has "shouldered a fraught history, emerging as the symbol of both orcas' elegance and their capacity for violence," The Washington Post said.
Tilikum has fathered 21 offspring (1o of which are still alive today). But he's also been linked to three human deaths.
In 1991, while housed in poor conditions at Sealand, Tilikum and two females killed a 20-year-old, part-time trainer named Keltie Byrne after she slipped and fell into their tank.
"She tried to get back out and the other girl tried to pull her up, but the whale grabbed her back foot and pulled her under," a witness told CNN in 1991. "And then the whales—they bounced her around the pool a whole bunch of times, and she was screaming for help."
Byrne was the first trainer to be killed by orcas at a marine park. Sealand never recovered from the controversy, sold Tilikum and its other killer whales to SeaWorld and was forced to close.
Then in 1999, Tilikum appeared to strike again. Twenty-seven-year-old Daniel Dukes was found dead lying across Tilikum's back after Dukes snuck into the park at night.
And then, there was the most recent and well known death caused by Tilikum. In 2010, the male orca pulled a trainer, Dawn Brancheau, into the water and violently thrashed her around in front of an audience at SeaWorld Orlando. Brancheau was dead by the time SeaWorld employees reached her.
#Tilikum is ill and may die soon and our loathing of #SeaWorld will only increase. #Blackfish #EmptyTheTanks https://t.co/aESxpGYdzr

— SeaWorld Shut Down (@SeaWorld Shut Down)1457518156.0
Tilikum was retired from doing shows for about a year, but was brought back for public performances in the spring of 2011.
Two years later Blackfish was released, documenting the plight of killer whales in captivity. The film has sparked a massive public outcry against keeping these large creatures in small tanks since in the wild they swim up to 100 miles per day.
SeaWorld condemned the documentary as "propaganda." SeaWorld's stock has nosedived and ticket sales have declined sharply in the years since the film's release.
In October 2015, to the delight of animal activists, California banned captive breeding of orcas at SeaWorld. However, SeaWorld has remained mired in controversy, as the death of Dart, a male dolphin, brought the park's death toll to four large marine mammals in just four months.
YOU MIGHT ALSO LIKE
Why Is Mine Waste Being Dumped Directly Into the Ocean?
Whale Found Dead With Small Pieces of Plastic Garbage in Its Stomach
Iceland's Fin Whale Hunt Cancelled for 2016
Humpback Whale Entangled in Illegal Gillnet Saved by Sea Shepherd Crew