Toms River, N.J. was the sort of place people romanticized about as a quintessential setting for the American dream—until a dye manufacturer began dumping its toxic waste in the local water supply.
People were thrilled to welcome Ciba Geigy to Toms River in the '50s, but soon the town's reputation inspired monikers like "cancer hotspot." Unfortunately, that didn't happen until after more and more people moved to town believing the local government's assurance that everything was just fine.
Earth Focus spoke to some of those people who are old enough to remember the transition their town underwent, including the horror their families felt when the U.S. Army Corps of Engineers granted the company a permit to build a 10-mile pipeline enabling the company to dump its waste directly into the Atlantic Ocean. Those people also recall how the pipeline burst in the middle of town years later and how residents, attorneys media and more fought back to reclaim their drinking water.
In the episode's latter half, Earth Focus examines illegal gold mining in Peru and its tragic impact on human health and the environment. The topic was featured in the 2012 film, Amazon Gold.
EARTH FOCUS airs every Thursday at 9 p.m. ET (6 p.m. PT) on Link TV—channel 375 on DIRECTV and channel 9410 on DISH Network. Episodes are also available to watch online at linktv.org/earthfocus.
EcoWatch Daily Newsletter
As jet shootings intensified the Ukraine crisis this week, some U.S. politicians took the opportunity to advocate for more oil drilling.
Hours after the jets were shot down, Congress members from both sides of the aisle presented cases to lift the 40-year-old ban on crude oil exports. The oil would cut Europe's oil dependence on Russia and provide an economic boost to the U.S.—but at the cost of further damaging our environment and collective health by drilling.
MSNBC's The Ed Show features U.S. Sen. Sherrod Brown (D-OH), who does not advocate for more drilling, and Tiernan Sittenfeld of the League of Conservation Voters in a lengthy segment that shows why this isn't a good idea. The clip puts recent news about the warmest June ever and raging wildfires in Washington State into perspective as part of the climate problem. Drilling for more oil certainly wouldn't help that problem.
Earlier in the week, Ring of Fire's Mike Papantonio appeared on the show to discuss some politicians' desire to lift the ban.
Could solar paint overtake solar panels?
Reviews
Anna Efetova / Getty Images
The solar boom has funneled billions of dollars into the solar energy sector, and top companies across the world are investing in what is now the cheapest source of energy in the world: solar panels. Though we're huge fans of solar power here at EcoWatch, we won't deny that even current carbon-neutral solar technology has room for improvement. Commercial solar installations can take up large plots of land, and though solar panels have a very long lifetime, they eventually need to be disposed of.
Solar panels and solar roof shingles have been a huge step forward in the fight against reducing fossil fuel emissions, but some challenges still remain. What if we run low on non-renewable resources like silicon and copper that are so important to photovoltaic cells? What about all of the homes with roofs that aren't fit for solar panels? Or all of the other surfaces exposed to sunlight that are unfit for solar panels?
Scientists seeking to answer these questions have been developing ideas to further reduce the expense, size and impact of solar panels. One idea with particular promise and intrigue is solar paint.
What is Solar Paint?
Solar paint is still (very much) a theory in its infancy, but its promise and simplicity have attracted the attention of investors and innovators across the globe. There are a few different types of solar paints in development, and each has its own unique way of producing energy. Most solar paint prototypes contain liquids with photovoltaic properties, meaning they produce an electric current when exposed to light (hydrogen-producing solar paint works a little differently, though we'll get into that).
So what are the different ways that solar paint could theoretically produce energy, and how effective are they in their current states? Let's take a look.
Types of Solar Paint
With any type of technology this new and innovative, there are bound to be several unique methods in development. Here are the three that we found to have the most potential.
Quantum Dot Solar Cells (Photovoltaic Paint)
Efficient spray-coated colloidal quantum dot solar cells are perhaps the most well-known method for solar paint. Conventional solar panels typically only harness visible light (light we can see), but 99% of the electromagnetic spectrum contains radiation besides visible light. Quantum dot solar cells were initially developed at the University of Toronto to "better harness the infrared portion of the sun's spectrum, which is responsible for half of the sun's power that reaches the earth," Susanna Thon, a researcher with the university, says in a news release.
Conventional solar panels typically only harness visible light, but quantum dot solar cells were developed to better harness infrared raysEcoWatch
To put it more simply, this solar cell technology could be used to increase solar panel efficiency well beyond the current metrics by capturing a wider spectrum of light. The technology itself uses a technique of incorporating spectrally tuned nanoparticles into solar cells to increase the spectrum of light captured. These semiconductive nanoparticles are capable of converting light into an electric current.
But what if you could use these nanoparticles in paint? In theory, these cells are so small that they could be blended into a liquid or applied to a thin surface, similar to spray paint or wallpaper.
As it stands today, this form of photovoltaic paint still creates a few more questions than answers. Mainly, how do you take the energy generated and direct its flow into a current? Much more development is necessary for this technology, but colloidal quantum dots have spurred promising new research and development in the technology.
Perovskite Solar Paint
Derived from the perovskite crystals first discovered by Russian mineralogist Lev Perovski, the mineral compounds in perovskite were later found to be semiconductors capable of transporting an electric charge when struck by light. Today, perovskite compounds can be found in ultrasound machines, memory chips, and – you guessed it – solar cells.

The mineral compounds in perovskite are semiconductors capable of transporting an electric charge when struck by light.VvoeVale / iStock / Getty Images
What's so alluring about perovskite's special crystalline structure is that it can take liquid form, has near the same efficiency as silicon-based solar cells and is actually a little less expensive to make.
Recent attempts at a perovskite-based solar paint resemble more of a thin film than they do a true spray paint. But even in this form, perovskite solar cells could be used as a near-transparent layer of film that could be incorporated into tinted windows to increase energy efficiency. White perovskite solar cells could be used on roofs or the sides of buildings to generate electricity. Perhaps even trains, planes or buses might someday have perovskite-based paint layers capable of getting their fuel from the sun.
We may still be a long way away from seeing perovskite solar paint available on the market, but research on solar paint has led to better a understanding of perovskite's potential benefits in its thin-film form, similar to thin-film solar panels made from cadmium telluride.
Professor David Lidzey from the University of Sheffield explains in a news release: "I believe that new thin-film photovoltaic technologies are going to have an important role to play in driving the uptake of solar energy, and that perovskite-based cells are emerging as likely thin-film candidates."
Hydrogen-Producing Solar Paint
The first two solar paint theories we covered both focus on liquid semiconductors, which convert sunlight into direct current (DC) energy in a way similar to modern solar panels. But another new and exciting breakthrough in solar paint actually creates hydrogen fuel. Hydrogen has been a hot topic in the energy sector for decades, as it is both the most abundant element in the universe and the cleanest source of energy available. But can it work with solar paint?
The Royal Melbourne Institute of Technology, looking to answer this question, developed a liquid that contains a compound to absorb moisture in the air. The product is also a semiconductor that, when powered by sunlight, splits water atoms into hydrogen and oxygen (this process is called electrolysis, and you may remember it from chemistry class).
Electrolysis is a process by which water is split into its hydrogen and oxygen atoms.EcoWatch
RMIT lead researcher Dr. Torben Daeneke says in a news release that his team found that "mixing the compound with titanium oxide particles leads to a sunlight-absorbing paint that produces hydrogen fuel from solar energy and moist air."
Torben's colleague, professor Kourosh Kalantar-Zadeh, further explains the importance of this breakthrough and its potential uses: "Hydrogen is the cleanest source of energy and can be used in fuel cells as well as conventional combustion engines as an alternative to fossil fuels."
The paint pulls moisture from the atmosphere, even in hot and dry regions as long as they're near an ocean. Interestingly, the paint currently has a cherry-red hue thanks to its chemical makeup. So if you're interested in painting your house red, keep an eye on this technology.
Can You Buy Solar Paint?
Solar paint is a fascinating idea, and the impressive strides toward making it a reality have come far closer than many anticipated. Sadly, the efficiency of solar paint (in all its forms) still lags behind that of silicon-based solar panels. As a result, solar paint has yet to be taken to market. The work continues, however, as researchers work on lower-cost, flexible solution-processed semiconductors that could theoretically come in the form of solar paint.
Though solar paint is not yet available to consumers, we do see innovative ideas like thin-film solar starting to make their way into the mainstream. With further funding, research and creativity, alternative forms of clean energy may eventually be used throughout the world.
Is Solar Paint the Future of Energy?
While some other developing solar technologies have glaring issues impeding their production — like solar roadways, for example — solar paint may just need a little more research before it becomes a marketable product. But what are the chances this actually happens?
"Solar paint is still a developing technology," Alan Duncan, CEO and founder of Solar Panels Network, tells EcoWatch. "However, we must keep in mind that solar panels were at a similar stage not long ago. The solar industry is a forward-thinking sector that is continually striving to enhance its technology. If I had to guess, I'd say solar paint has a decent chance of being a viable alternative in the solar field in the not-too-distant future."
Now comes the fun part — imagining how solar paint might make its way into everyday life.
At this point at least, solar paint lacks the efficiency necessary to power a home by itself. The benefit of solar paint's affordability, however, is that it opens the door to a lot more large-scale options than solar panels do. How would you use your solar paint? Here are some of our favorite ideas:
Paint for large-scale buildings or warehouses: Painting roofs with white solar paint could not only generate electricity for a commercial property but could deflect sunlight better than a normal roof would. Though not quite as effective as planting vegetation atop buildings might be, deflecting this sunlight helps lower temperatures of heat islands in cities.
Tinted windows for large buildings: Not every window in a new development has to be perfectly clear. In larger buildings or complexes, a certain amount of tinted windows could help overall energy efficiency while generating energy at the same time.
Solar paint for wind and marine power: Solar panels have been considered to help commercial ships reduce their carbon emissions — but what about solar paint? Solar paint could also be used on the sides of ships to pick up light reflected off of the water.
Adding to houses with existing solar: Houses with solar equipment already installed won't have to deal too much with the hassle of inverters, permits and net metering agreements if they add solar paint. Though less efficient than solar panels, solar paint could supplement the energy generation of homes with small roofs unable to fit a lot of panels.
All in all, solar paint remains an idea, and it will be a while before any form of it becomes widely available. Solar panels remain the best option and the focal point of clean energy investment for the foreseeable future. But as so often happens with science, research may lead to surprising discoveries that uncover alternative uses for solar paint technology not previously thought of. We, for one, are excited to see what will play out.
Karsten Neumeister is a writer and renewable energy specialist with a background in writing and the humanities. Before joining EcoWatch, Karsten worked in the energy sector of New Orleans, focusing on renewable energy policy and technology. A lover of music and the outdoors, Karsten might be found rock climbing, canoeing or writing songs when away from the workplace.
The shuffling of lobby dollars that keeps fossil fuel-friendly policies on the books for the benefit of huge corporations and their legislative pals isn't specific to the U.S.
A new report from Friends of the Earth Europe aims to expose Shell, Total and ExxonMobil, along with groups like BusinessEurope and OGP, to reveal what it calls a "thick web of lobbying activity." The report says public relations and law firms, paid-for scientific reports, and even members of Parliament have all been used to advance fracking for shale gas around the continent.
"The legislative process has been taken hostage by private interests," Antoine Simon, a shale gas campaigner for Friends of the Earth Europe, said in a statement. "They have created a climate of industry-funded misinformation that sells shale gas as a responsible resource—this could not be further from reality. The European Commission needs to put the interest of people and planet before the profits of big oil companies, by re-opening the debate on shale gas regulation."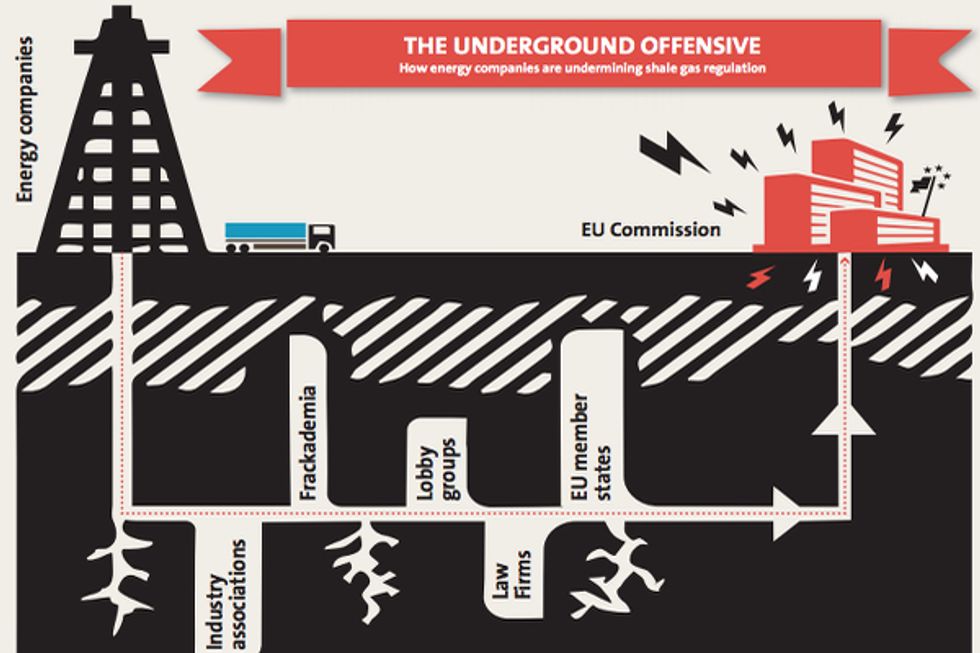 The report hopes to reignite the discussion of stronger shale gas industry regulation within the European Commission and increased lobbying transparency. At the very least, FOE Europe hopes for a moratorium on fracking, similar to those passed in the U.S. by the New York Assembly and in cities like Los Angeles.
In the meantime, the organization seeks to explain who is making contributions to keep a practice with proven health risks alive. Here is a visualization of the tangled web of gas companies and lobbyists in Europe. Each line shows membership, affiliation or financial contributions from energy companies to lobby groups in Brussels who represent their interests. Europia, European Union of the Natural Gas Industry and European Federation of Energy Traders are among the names included.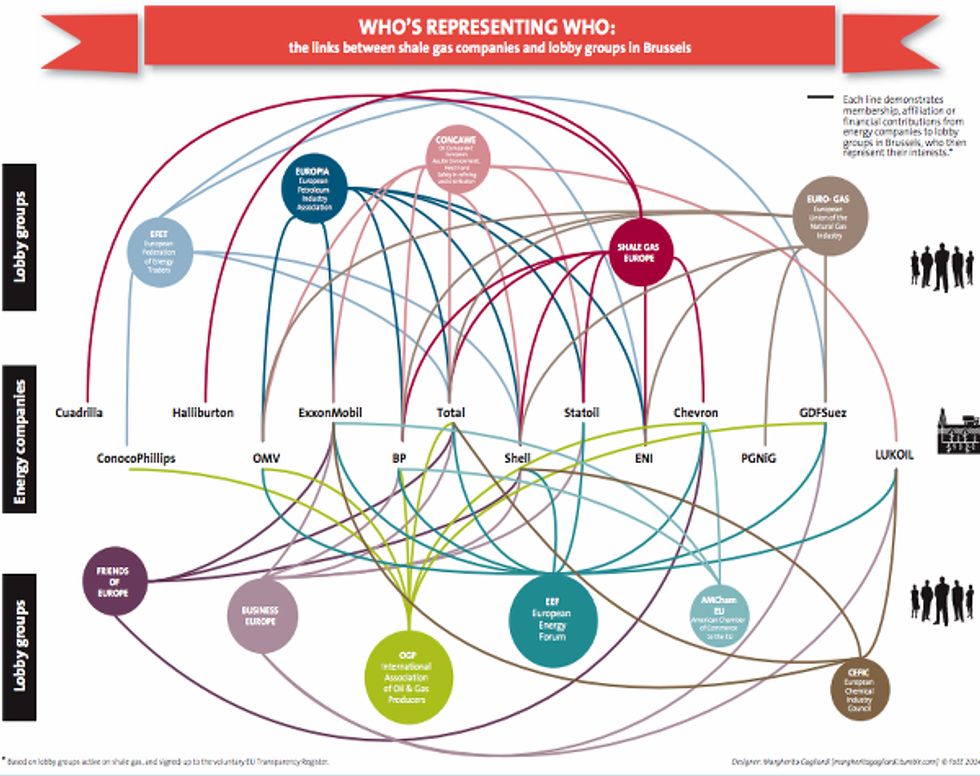 "An underground offensive by the oil industry has managed to silence well-founded concerns about the dangers of fracking," Simon said. "It has side-stepped the growing body of evidence on the environmental, economic and health risks of shale gas development, and undermines Europe-wide opposition from citizens to the unconventional fossil fuel."
Environmental groups believe the U.S. Environmental Protection Agency got it right by denying the emergency use request Texas filed in order to use hazardous herbicide propazine to kill superweeds infesting the state's cotton.
Environmental groups, public health advocates and organic farmers all pleaded with the EPA to recognize the health and water risks that would arise from permitting propazine to be used on 3 million acres of cotton fields across the humongous state.
"Based on an assessment consistent with EPA's legal responsibilities, drinking water estimates suggest that risks from drinking water alone may lead to unacceptable risks in some cases," Jack Housenger, EPA director of the office of pesticide programs, wrote in the agency's response to the request, according to the Wall Street Journal.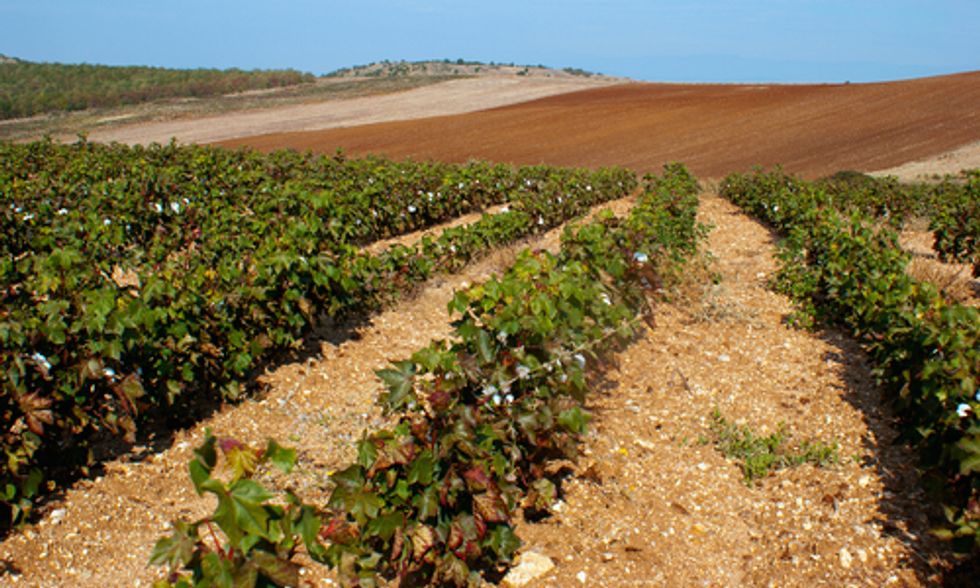 Though the EPA found that the request met urgent and non-routine emergency criteria, groups like Beyond Pesticides were pleased with the final decision.
"While we disagree with the EPA that this meets any of the criteria for emergency exemption, we applaud the EPA for putting the health of people and the environment first and upholding the health and environmental standards under the law," Jay Feldman, executive director of Beyond Pesticides, said in a statement. 
Beyond Pesticides filed comments opposing emergency status for the use of propazine. 
"This is not an emergency because the weed resistance is predictable since it has been known for many years that GMO cotton sprayed with glyphosate would create resistant superweeds," Feldman said. "It is an abuse of the law to prop up failed GMO cropping systems with toxic chemicals when viable alternatives, like organic growing methods, exist."
Texas Department of Agriculture officials lamented the news.
"Once again, members of the current administration have turned their back on the hard-working farmers of Texas," said Bryan Black, a department spokesman.
Propazine is a possible human carcinogen and a "restricted use pesticide"—the EPA's category for particularly hazardous agricultural chemicals. The EPA has found that propazine, like atrazine, is an endocrine disruptor (disrupts the hormonal system) and that when fed to pregnant rats, it causes birth defects in their young. Propazine is persistent, requiring years to break down, and is detected in both ground and surface waters. The European Union has banned propazine due to its toxicity.
The U.S. Department of Transportation (DOT) announced details Wednesday of a proposal to make crude oil transportation safer, in a bid to prevent more derailments and the threats that accompany them.
The proposal would phase out older DOT 111 tank cars that ship packing group I flammable liquids, a category that includes most Bakken crude oil. Retrofitting the tank cars to comply with new standards is the only way that wouldn't be phased out.
Other elements of the proposal include braking controls, lower speed laws and a testing program for mined gases and liquids.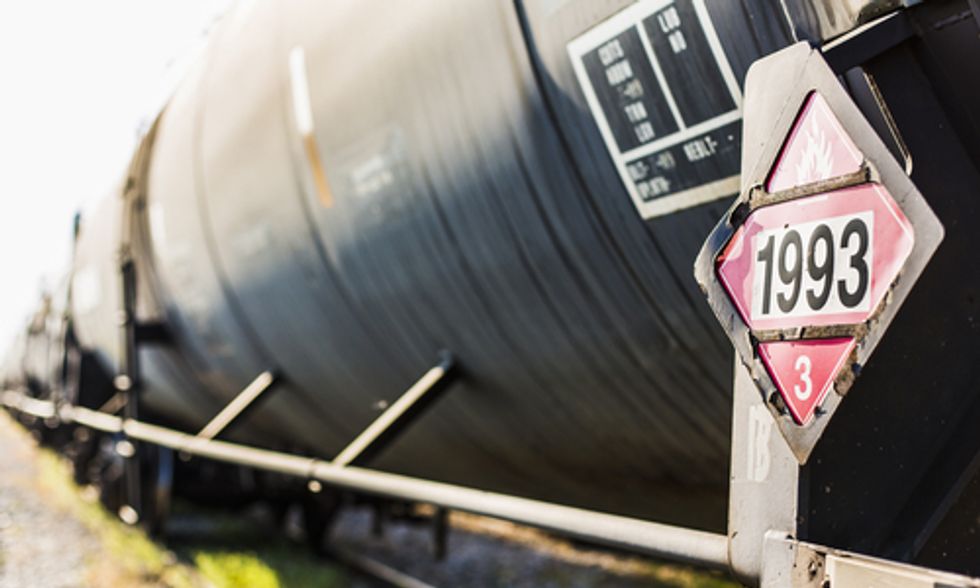 Photo courtesy of Shutterstock
"Safety is our top priority, which is why I've worked aggressively to improve the safe transport of crude oil and other hazardous materials since my first week in office," DOT Secretary Anthony Foxx said. "While we have made unprecedented progress through voluntary agreements and emergency orders, today's proposal represents our most significant progress yet in developing and enforcing new rules to ensure that all flammable liquids, including Bakken crude and ethanol, are transported safely."
The proposal is subject to 60 days of public comment. The proposal is based on an Advanced Notice of Proposed Rulemaking published by the Pipeline and Hazardous Materials Safety Administration in September that received more than 150,000 comments. Here are some highlights of Wednesday's proposal:
 Carriers would be required to perform a routing analysis for high-hazard flammable trains (HHFTs) that would consider 27 safety and security factors and select a route based on findings of the route's analysis.
HHFTs that contain any tank cars that don't meet enhanced tank car standards would be required to choose one of three speed restrictions: A 40-miles-per-hour maximum speed restriction in all areas; a 40-mph speed restriction in "high-threat urban areas"; or a 40-mph speed restriction in areas with populations of 100,000 or more.
All HHFTs would be equipped with alternative brake signal propagation systems. Depending on the outcome of the tank car standard proposal and implementation timing, all HHFTs would be operated with either electronic controlled pneumatic brakes, a two-way end of train device or distributed power.
More crude oil was spilled from rail cars in 2013 than in the previous four decades combined. The trend continued this year with derailments like one that spilled thousands of crude oil gallons into the James River in Virginia.
The DOT in February issued an emergency order requiring all shippers to test product from the Bakken region to ensure the proper classification of crude oil before it was transported by rail.
Already known as one of Michigan's worst air polluters, you could could argue that Severstal Inc. is the last company that needs a permit to emit more toxins.
But Michigan's Department of Environmental Quality (DEQ) did just that in May, which prompted the Sierra Club and three other petitioners to file a lawsuit Monday in Wayne County Circuit Court. The groups want the court to strike down the Dearborn steel company's permit, citing federal Clean Air Act provisions and actions allowing a state business-promoting agency to intervene with environmental regulators involved in a permit decision.
The permit allows Severstal to release more than 725 times more lead into the air from one portion of the company's plant, compared to the original permit from 2006, the Detroit Free Press reported prior to the approval. The new permit lets the company pollute at levels already cited more than 30 times in clean air enforcement actions by the DEQ, according to the Sierra Club.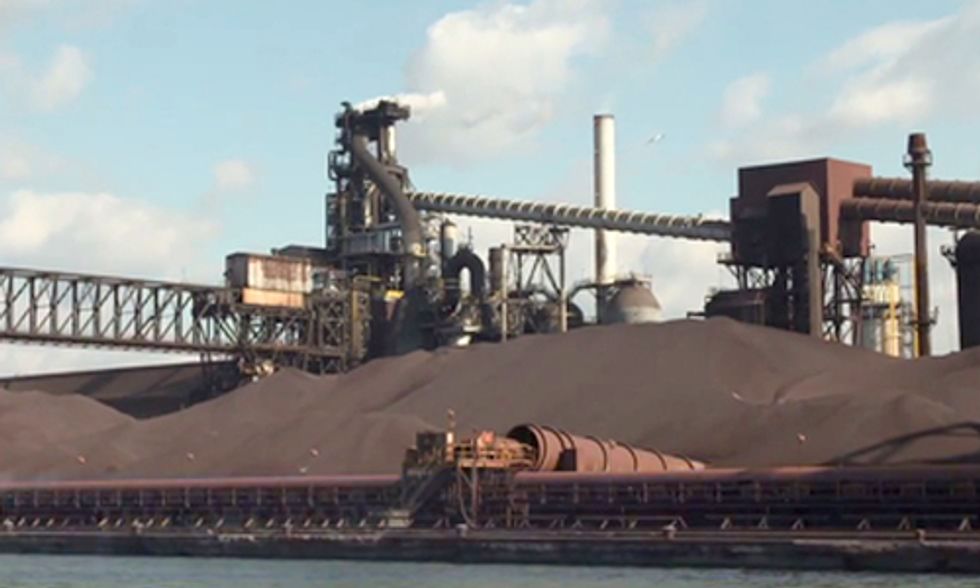 "The decision to grant this permit to pollute violates the Clean Air Act and means families living in Dearborn and Detroit will be breathing more toxic air for years to come," Rhonda Anderson, the Sierra Club's senior Detroit organizer, said in a statement.
The South Dearborn Environmental Improvement Association, Detroiters Working for Environmental Justice and the Original United Citizens of Southwest Detroit also field the suit. Coincidentally, the groups filed the suit the same day that West Chester, OH-based AK Steel bought Severstal for $700 million. That didn't take any eyes off the permit, though.
"It's outrageous and just wrong to put a corporate polluter's interest ahead of public health," Tyrone Carter, president of the Original United Citizens of Southwest Detroit, said. "There are kids growing up and going to school within sight of this plant who deserve and have a right to be protected from harmful pollution by a company that makes millions of dollars in profits but won't be required to comply with clean air laws."
A 90-day review of emissions from a Severstal smokestack two years ago revealed 1,660 violations of state and federal regulations for smoke opacity, which is a measure of particle levels in the smoke. Still, the company received the permit shortly after a visit from Gov. Rick Snyder, in which some alleged the governor received a Russian vase and a $1,000 contribution from Severstal's top North American official. The chair of the state's Democratic party deemed the permit "backdoor politics at its worst," while Rhonda Anderson of the Sierra Club said it was "an embarrassment" for the state.
"We are doing this for our kids and our grandkids," said South Dearborn Environmental Improvement Association board member Abdo Bapacker. "Many families in the South End are sick from breathing polluted air."
Though officials say they aren't backing down to pressure from protesters and other activists, Detroit announced Monday morning that it will suspend its water shutoffs for 15 days.
The Detroit Water and Sewerage Department (DWSD) turned off water service on about 17,000 customers since March, according to The Detroit News.   
"This is a pause. This is not a moratorium," department spokesman Bill Johnson told the publication. "We are pausing to give an opportunity to customers who have trouble paying their bills to come in and make arrangements with us. We want to make sure we haven't missed any truly needy people."
Others don't buy that, and are convinced that pressure from the United Nations, the Detroit Water Brigade, Michigan Welfare Rights Organization and others played a role in the suspension.
Maybe the protests were heard: Water shutoffs in Detroit have been suspended for 15 days. http://t.co/3Bh9dqKa2X

— Diocese of Michigan (@EpiscopalMI) July 21, 2014
Detroit halts water cut off for two weeks! Activism works. A just future is possible.

— Maude Barlow (@MaudeBarlow) July 21, 2014
They stopped the water shut offs in Detroit for 15 days. If you were in any way a part of this struggle. You know how big of a feat this is

— Slim (@just_tyree) July 21, 2014
About 89,000 customers owe about $91 million to the department, Johnson said. More than 2,000 residential accounts had service cut off in the first two weeks of this month.
"Looking forward, we call on the DWSD to indefinitely suspend all residential shutoffs, restore service to those families already turned off, and immediately begin work to implement an income-based Water Affordability Plan," the Detroit Water Brigade said in a statement. "The DWSD should also hold a week-long public event at Cobo Hall, with extended hours for working people, to give Detroiters an opportunity to enter into flexible payment plans based upon their ability to pay."
The announcement came as some residents filed a complaint in U.S. Bankruptcy Court in Detroit. Part of their complaint is that city came down on low-income residents while not shutting off past-due commercial accounts, Bloomberg reported.
"Water service to private residences is the most basic and essential utility service, and is necessary for the health and safety of the residents," the filing states.
Wenonah Hauter, executive director of Food & Water Watch, says the suspension is positive news, but should be followed up with an evaluation of how DWSD views access to water.
"We are glad the Detroit Water and Sewerage Department has announced it will suspend water shutoffs for 15 days to allow residents to demonstrate their inability to pay," she said in a statement. "But this is only a small step toward rectifying the problem in Detroit.
"DWSD must take this time to fundamentally reconsider its use of draconian water shutoffs as a means of strong-arming residents who cannot afford to pay their water bills. It must also turn back on the water of those households that have had their water service shutoff."
While some U.S. are lukewarm on the idea of taxing fossil fuel companies for emitting carbon, more are willing to support a tax if the funds support cleaner energy.
According to the University of Michigan and Muhlenberg College's Spring 2014 National Surveys on Energy and Environment (NSEE), most Americans—56 percent—support a revenue-neutral carbon tax, in which all tax revenue would be returned to the public as a rebate check. However, that amount rises to 60 percent if revenues would be used to fund research and development for renewable energy programs.
The study, authored by professors from Michigan's Gerald R. Ford School of Public Policy and Muhlenberg's College of Political Science and its Accounting, Business & Economics department, shows that the carbon tax support spreads across all political parties.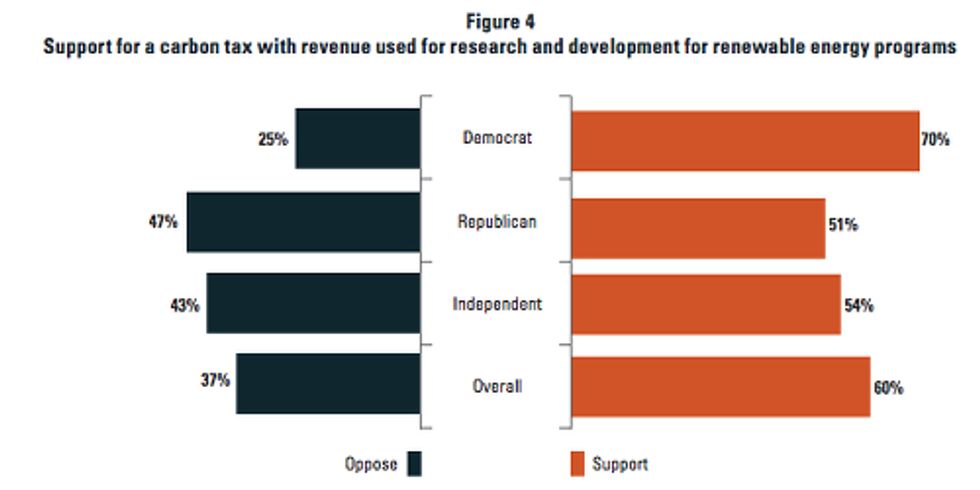 The carbon tax coupled with renewable energy research earns majority support across all political categories, including a little more than half of Republicans.
If a carbon tax's revenues were used to reduce the federal budget deficit, only 38 percent of Americans would support it, the study suggests. A tax with unspecified revenue direction would receive the least support, with 34 percent.
The study's authors believe harsh winters, reports like the most recent round from the Intergovernmental Panel on Climate Change and the work of environmentalists have combined to shift the public's thoughts on climate change.
"Climate change is a highly politicized issue, and we find strong evidence of a partisan divide. Democrats express more support for all the policies in our survey than Republicans do, with Independents generally clustering more closely to Democrats," the report reads. "However, respondents across all parties express considerably more support for a carbon tax when a use of revenue is attached."
The study also followed up with respondents by asking which use of revenue they would prefer for a carbon tax. Renewable energy edged out tax rebate checks.

"The cold winters of 2013 and 2014 have eroded the public's beliefs in the existence of global warming, and the recent political landscape has not favored legislative action on climate change at the federal level," the report concludes. "Nonetheless, several states and many other countries are moving ahead with market-based climate change mitigation policies and recent regulatory steps by the U.S. Environmental Protection Agency may reopen this discussion in many states.
"Conventional wisdom holds that a carbon tax, while attractive on economic grounds, is a political non-starter. The survey results reported here suggest that this conclusion may be premature."
Renewable energy continues growing its share of new electricity generation in the U.S.
According to the latest Energy Infrastructure Update from the Federal Energy Regulatory Commission, solar and wind energy constituted more than half of the new generating capacity in the country for the first half of 2014. Solar and wind energy combined for 1.83 gigawatts (GW) of the total 3.53 GW installed from January to June.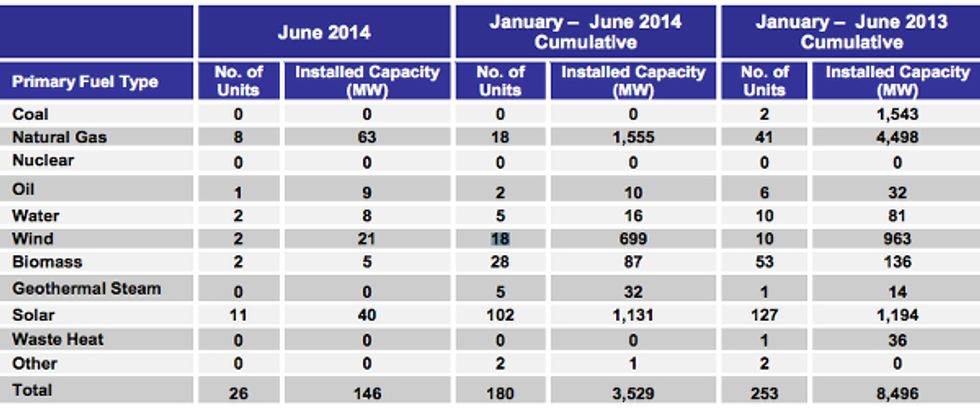 Natural gas constituted much of the remainder of installed capacity with about 1.56 GW. Coal and nuclear energy came to a complete half with zero projects and zero capacity. Last year, coal had two new units during the same time period. Since then, the Obama Administration issued a proposal for U.S. power plants to reduce carbon emissions by 30 percent compared to 2005 level. Coal plants account for nearly half of the country's carbon emissions.
Solar and wind combined for 120 of the 180 projects in the first half of the year. That figure is slightly down from the 137 projects during this period last year. Installed capacity was also higher by this point last year at about 2.16 GW.
Still, natural gas suffered a much larger fall from the 41 units for nearly 4.5 GW during the first six months of 2013.
In 2013, renewable energy projects tripled the amount of new coal, oil and nuclear projects. Natural gas accounted for more than half the installed capacity for all of last year.
Here are a few renewable energy highlights from the first half of the year:
First Wind's 14 MW Warren Solar project in Worcester County, MA is online. The power generated is sold to National Grid USA under long-term contract.
NRG Solar Community I LLC's 6 MW Community Solar 1 project in Imperial County, CA is online. The power generated is sold to Imperial Irrigation District under a long-term contract.
Two Dot Wind Farm LLC's 9.7 MW Two Dot Wind Farm project in Wheatland County, MT is online. The power generated is sold to Northwestern Energy Montana under a long term contract.
While the rest of spent much of the past month watching the World Cup, hoping our fandom would help push the U.S. to a better outcome, one nonprofit was busy ranking the world's top energy efficiency performers.
The American Council for an Energy Efficient Economy (ACEEE) has unveiled the top 16 countries in terms of energy efficiency policies and programs. The U.S. finished near the bottom, placing at No. 13. The country scored a 42 out of a possible 100 on its scorecard, which is based on four categories: Buildings, industry, transportation and national effort.
Meanwhile, Germany mirrored its World Cup performance, edging the competition to take home the energy efficiency championship. Here are the full rankings: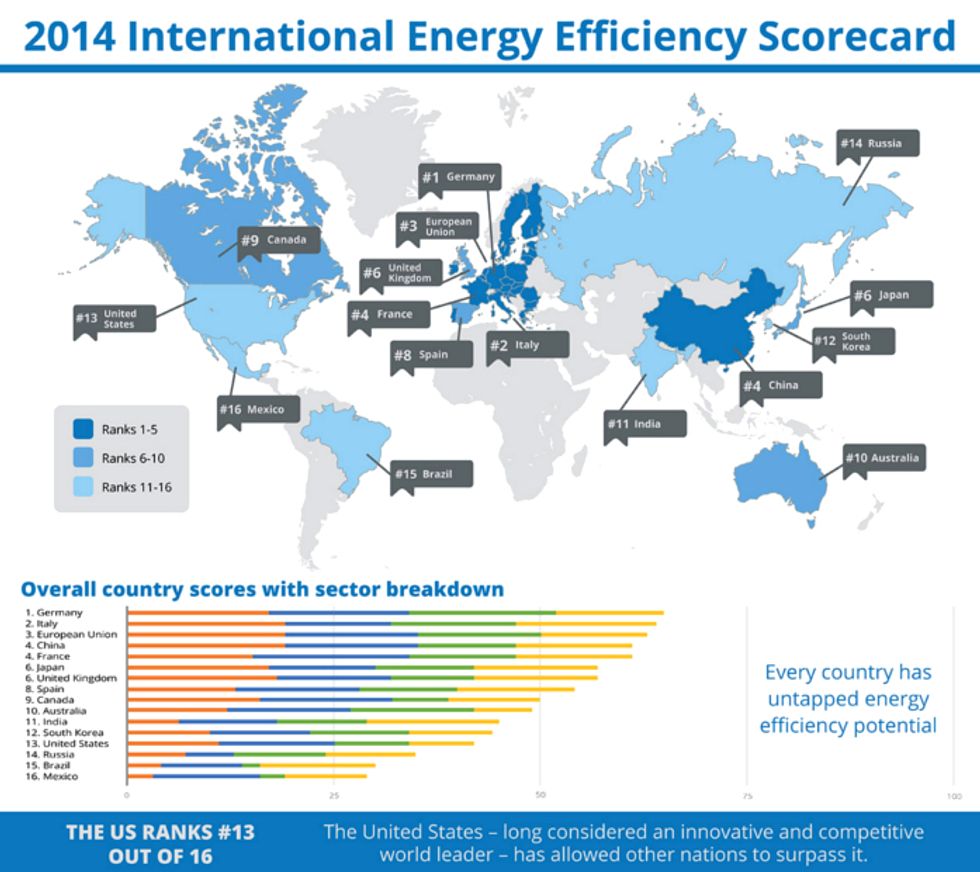 ACEEE didn't just give its country the bad news and bail. The group also provided a few suggestions on how the U.S. can improve its ranking next time.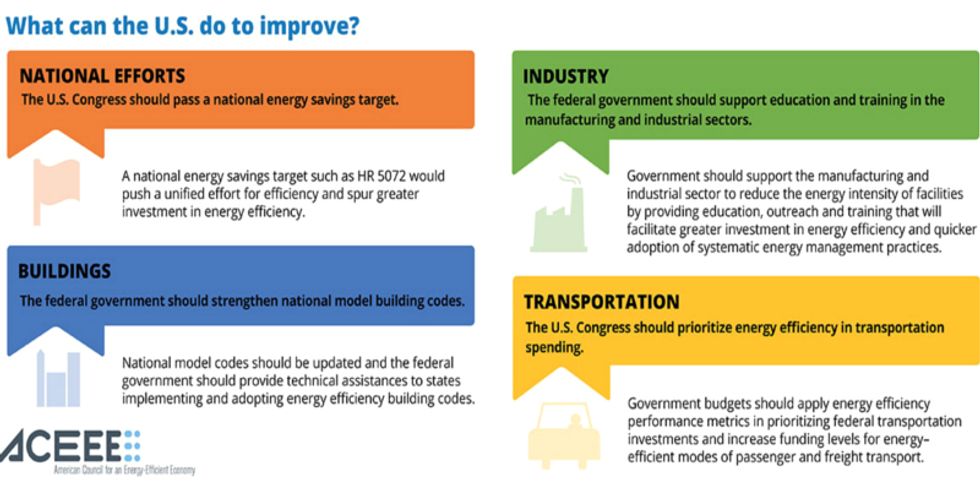 "There's really no excuse for the U.S. lagging behind other nations on energy efficiency," U.S. Rep. Peter Welch (D-VT) told USA Today regarding the rankings. "There's bipartisan common ground on this issue in Congress."
Less than two months after it was instructed to clean its coal-ash mess from North Carolina's Dan River, Duke Energy has completed the job.
The U.S. Environmental Protection Agency and Duke both announced the cleanup's completion this week. In February, Duke reported that it spilled 50,000 to 82,000 tons of coal ash into the river near Eden, NC. Based on those numbers, the spill was the equivalent of 413 to 677 rail cars of wet coal ash being poured into a public drinking water source. However, the company has since decreased its estimate down to 39,000 tons.
Duke only dredged about 2,500 tons of coal ash that had been found against a dam in Danville, VA, the Associated Press reported. Though the company only recovered a small portion of its spill, a coordinator said recent testing showed that concentrations of toxic metals were below federal limits and comparable to pre-spill levels.
"We continue to do some monitoring and will base our decisions for actions on the data collected," the EPA's on-scene coordinator Myles Bartos Bartos said. "But I don't think there will ever be a removal again in the river. I think it has been adequately removed."
Duke making its own announcement didn't sit well with Waterkeeper Alliance, especially an attorney who has reason to believe the announcement came far too soon.
"This arrogant announcement from Duke Energy is the ultimate insult to the people North Carolina and Virginia whose river has been devastated by the company's toxic ash spill," Waterkeeper Alliance attorney Pete Harrison—who conducted testing on the Dan River after the announcement—said in a statement.
"Worse yet, Duke doesn't even acknowledge the fact that there's still a public health advisory declaring that the river is not safe to fish and swim in. Duke's celebratory announcement that it 'completed' the clean-up threatens to mislead the public into think the danger has passed."
Coal ash, which contains arsenic, mercury and more, made its way into the river after a pipe collapsed at a waste dump, turning the river gray for about 70 miles.
 As a result of the spill, the EPA decided the company had to:
Perform a comprehensive assessment
Determine the location of coal ash deposits
Remove deposits along the Dan River as deemed appropriate by EPA, in consultation with the US Fish and Wildlife Service
"Protection of public health and safety remains a primary concern, along with the long-term ecological health of the Dan River," EPA Regional Administrator Heather McTeer Toney said before the cleanup.
It would be tough to think of any disgusting, gutless acts that aren't featured in new videos about brutal sheep shearing in Australia and the U.S., produced by People for the Ethical Treatment of Animals (PETA).
The videos are full of undercover footage, not unlike the last month's video of buried-alive chickens produced by Washington DC-based Compassion Over Killing. However, these might be worse.
With sheep getting punched in the face, dragged on the floor, beaten with hammers and even swiped across a wooden floor to wipe urine, both videos are certainly more graphic. Be warned.
PETA investigators documented 70 workers employed by nine shearing contractors in Victoria and New South Wales—Australia's top wool-producing states—as well as South Australia. Collectively, they shear about 4 million sheep per year.
Even worse, many of the shearers began their kicking and punching after the sheep expressed fear. They were also often deprived of food and water before the process even began.
One explanation for the cruelty is that most shearers are paid by volume instead of by the hour. That systematically encourages fast-paced, violent work.
It's not just an Australian practice, though. PETA also exposed shearers in the U.S. for being just as violent in another video. One shearer calmly says, "I might have killed it," after he is shown twisting its neck.
[youtube https://www.youtube.com/watch?v=G9gKaB3pssY&oref=https%3A%2F%2Fwww.youtube.com%2Fwatch%3Fv%3DG9gKaB3pssY&has_verified=1 expand=1]
In the U.S., PETA's investigator documented 14 ranches in Wyoming—the country's second-leading wool producer—as well as Colorado and Nebraska. In 2013, 3.7 million sheep were shorn in the U.S.
PETA is asking consumers to refrain from buying and wearing wool products as a result of its findings. It also hopes people will sign its petition asking J. Crew and Ralph Lauren to drop sheep products from their clothing lines. Click here and scroll to the bottom to find the petition.