Toms River, N.J. was the sort of place people romanticized about as a quintessential setting for the American dream—until a dye manufacturer began dumping its toxic waste in the local water supply.
People were thrilled to welcome Ciba Geigy to Toms River in the '50s, but soon the town's reputation inspired monikers like "cancer hotspot." Unfortunately, that didn't happen until after more and more people moved to town believing the local government's assurance that everything was just fine.
Earth Focus spoke to some of those people who are old enough to remember the transition their town underwent, including the horror their families felt when the U.S. Army Corps of Engineers granted the company a permit to build a 10-mile pipeline enabling the company to dump its waste directly into the Atlantic Ocean. Those people also recall how the pipeline burst in the middle of town years later and how residents, attorneys media and more fought back to reclaim their drinking water.
In the episode's latter half, Earth Focus examines illegal gold mining in Peru and its tragic impact on human health and the environment. The topic was featured in the 2012 film, Amazon Gold.
EARTH FOCUS airs every Thursday at 9 p.m. ET (6 p.m. PT) on Link TV—channel 375 on DIRECTV and channel 9410 on DISH Network. Episodes are also available to watch online at linktv.org/earthfocus.
EcoWatch Daily Newsletter
[Editor's note: This article was updated Aug. 1.]
A team of University of Colorado Boulder researchers began a seismic investigation after a May 31 earthquake. The researchers' information led the Colorado Oil and Gas Conservation Commission to request a 20-day halt to NGL Water Solutions' fracking wastewater injection operations.
NGL, formerly known as High Sierra Water Services, was given permission to resume its activities at a 10,800-foot-deep well a few weeks later. Anne Sheehan and her team found that the well is linked to more than 200 earthquakes, the geophysics professor in the CU Department of Geological Sciences told Boulder County Business Report. NGL made modifications to the well, cementing the bottom 400 feet of the well, and it is has come back into production at a lower rate of pressure and injection. CU continues to monitor the earthquake activity and has found it has decreased. The information from the study will help the researchers find out why some wells have earthquakes and some do not, and how to fix the wells that do have earthquakes, if possible.
Sheehan said the group found "quite a few" earthquakes with epicenters within two miles of the well.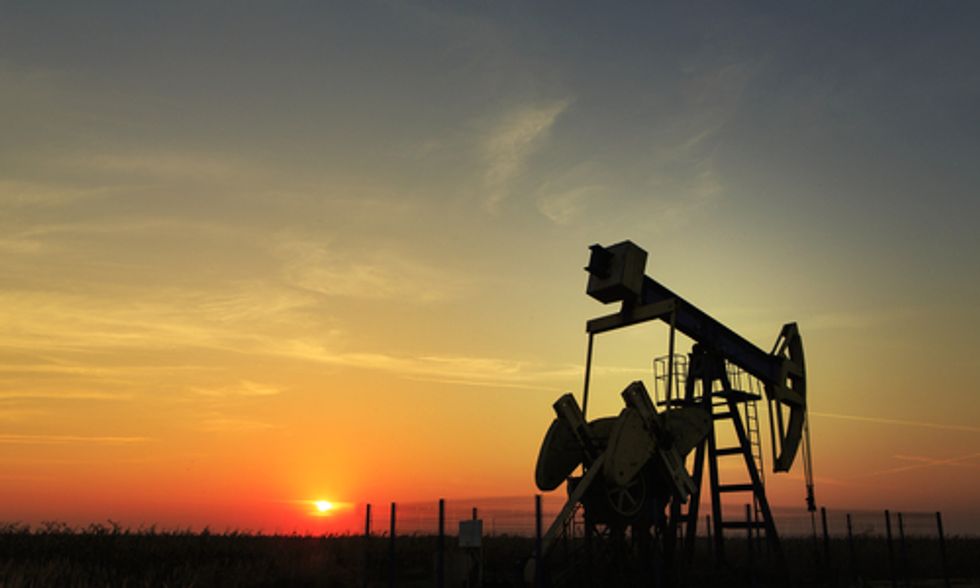 Photo courtesy of Shutterstock
Two earthquakes—with magnitudes of 3.4 and 2.6—took place within mere miles of the well. Shemin Ge and Matthew Weingarten, also of CU, also found that activity within fracking wastewater injection wells likely caused earthquakes in central Oklahoma.
NGL operates 11 of the 29 fracking wastewater injection wells in Weld County, CO. When the Colorado Oil and Gas Conservation Commission allowed NGL to resume activities, it began injecting 7,500 barrels per day at maximum pressure.
"We'll continue to closely monitor and accumulate all available information at this location," Colorado Department of Natural Resources spokesman Todd Hartman told the Report, "and work with partners to continue understanding how best to limit and prevent potential seismic impacts related to deep injection generally."
There are many different CBD oil brands in today's market. But, figuring out which brand is the best and which brand has the strongest oil might feel challenging and confusing. Our simple guide to the strongest CBD oils for pain, anxiety, and sleep will point you in the right direction.
More and more people are looking to boost their health with CBD oil. The rise in CBD's popularity shows that many people are experiencing positive outcomes through the regular use of CBD to help control and improve difficult health issues.
Our guide to the strongest CBD oils will help to point you in the right direction so that you can choose the best, most potent oil for your needs. We will also educate you about the best CBD oils along the way, while also discussing how we chose our top brands and why.
Does Strength of CBD Oil Matter?
The strength of an oil does matter. The more potent a CBD oil is, the stronger effects it will create. To that end, full spectrum oils are the best oils to go with because CBD isolates do not have all of the other vitamins, terpenes, compounds, and phytonutrients that full spectrum oils have. So, not only will you be getting all the positive effects that a strong oil has to offer, you'll also be able to receive the vast therapeutic benefits that the many compounds, terpenes, and phytonutrients bring to the table.
The strength or concentration of a CBD oil is measured in milligrams of CBD, both per bottle and per serving. For many brands, a serving is considered 1 mL of the oil tincture. The best way to evaluate the strength of a CBD oil by how many milligrams of CBD you will get with each 1 mL dropper.
6 Strongest CBD Oil Brands of 2021
Each product featured here has been independently selected by the writer. You can learn more about our review methodology here. If you make a purchase using the links included, we may earn commission.
How We Chose the Strongest CBD Oil Brands
When it comes to choosing a CBD oil brand, you need to take the time and put in the research to ensure that you are getting the strongest, and best quality product you can purchase.
We've put the time and effort into selecting the top brands that we feel have the strongest CBD oil, the best reputation, and the cleanest, most effective products. When it came to selecting our top strongest CBD oils, we looked at six key categories:
Type of CBD - We looked to see whether the CBD oil was full spectrum, broad spectrum, or CBD isolate.
Strength - We compared the oil strength and purity versus other available options. All of our recommendations offer a concentration of at least 50 mg of CBD per serving.
Source - Where does the brand source its hemp from, and is it grown organically?
Flavor - We looked for oil flavors and the ingredients used in the oil.
Transparency - A key consideration is whether a third-party lab was used to test the products and if those results are easy for customers to find
Customer experience - We also read verified customer reviews to see what actual users had to say.
Based on these factors, here are the brands that made our list of strongest CBD oils.
6 Strongest CBD Oils of 2021
Research on CBD Oil and Potency
CBD oil is created when cannabidiol, or CBD, is infused into a fat-based carrier oil such as hempseed oil, coconut oil, grapeseed oil, or olive oil. Carrier oils are usually medium-chain triglycerides that are easily digested by the body. The very basic oils will only have CBD and the carrier oil, however, some can also contain other compounds such as tetrahydrocannabinol, or THC, flavonoids, phytonutrients, and terpenes. Some brands will also infuse various natural flavors or essential oils into the final products.
CBD oil can vary in color, flavor, and consistency depending on its makeup. Likewise, the strength also depends on the oil's formulation. CBD oils can be isolates, broad spectrum, or full spectrum. In CBD isolates, only pure CBD is used. These oils are usually 99 percent pure. CBD isolates are typically made solely from the hemp plant.
Broad spectrum and full spectrum oils, on the other hand, are typically sourced from the cannabis plant and have had minimal processing and purification. These oils have a large amount of cannabinoids, terpenes, nutrients, vitamins, and phytonutrients. The difference between the two is that broad spectrum CBD products contain zero THC.
Along with CBD, one of the main compounds in full spectrum oils is THC. In large amounts, THC causes feelings of euphoria. However, legally, all CBD crafted and sold within the United States must contain less than 0.3% THC. When CBD and THC are combined, an entourage effect occurs. In the entourage effect, the compounds work together to dampen each other's negative side effects while amplifying each other's best qualities. For example, too much THC can cause feelings of nausea or dizziness. However, when THC is combined with CBD, the THC enables those with sleep issues to finally get some rest, and helps those with extreme nausea, due to cancer treatment, finally get some much-needed nourishment by increasing appetite. Put simply, the cannabinoids bind with cell receptors in the human endocannabinoid system to create therapeutic effects.
How to Choose the Right CBD Oil and Potency for You
There are several key factors to take into consideration when choosing the strongest CBD oil for pain, sleep, or anxiety. One of the first things to look at is the concentration of CBD within the product. Next, take a look at the milligrams of CBD that are in a single serving. The best quality products clearly have all the facts and information laid out on their labels. In reading the labels, you should be able to tell exactly how much CBD you are getting per serving. How much CBD you need to be taking depends on how your body reacts to the product over time.
What to Look For
Here are the primary things to look for when comparing the strongest CBD oil options.
CBD Spectrum - Make sure you know whether you are getting a full spectrum, broad spectrum, or CBD isolate oil. This is especially important if you are concerned about THC content.
Concentration - When looking for the strongest CBD oils, you need to be certain of how many milligrams of CBD are contained in each bottle and each 1 mL serving.
Lab Testing - For any CBD product, it's vital that you look for brands who ensure their CBD undergoes independent third-party lab testing for purity and safety.
How to Read Labels
Make sure that you know what to look for on the label of any CBD oil or product. Here are the key things to know.
Type of CBD - The label should clearly indicate the spectrum of CBD in the oil. If it is a broad spectrum or CBD isolate, it will usually say that it is "THC-Free."
Dosage Guide - Some brands include a dosage guide on the label to help you measure the appropriate amount of CBD per serving. This is important with higher potency oils.
Test Results - Look for proof that the CBD has undergone third-party lab testing. Many brands include a QR code or link on the label to the test results for that product.
How to Use
Everyone's body is different, so what works well for one person might not work for another. Smaller individuals might need less CBD than larger individuals based on body size and overall mass. Along with body size, the reason you are taking CBD is another consideration in purchasing strong CBD oil.
Whatever oil strength you choose, you should first start low and go slow when it comes to dosing. For example, begin by taking half of a serving of CBD once a day for one week. If you are not feeling any benefits, then go ahead and take half a dose twice a day. Continue increasing the dosage slowly until you are achieving the desired effects. Always check in with yourself to see how you are feeling along the way. This will help you to determine if you should increase the dosage at all. As with any other medication or holistic supplement, your body will need adequate time to get used to a new CBD dosage, and CBD typically works best as it builds up in your system over time.
Safety & Side Effects
There are very few minor side effects associated with CBD. To date, a great number of studies have been done on CBD showing that it is generally well-tolerated and safe for adults.
Some of the most common side effects associated with CBD include:
Dry mouth
Dizziness
Nausea
Changes in weight
Diarrhea
Drowsiness
Changes in appetite
CBD may also interact with certain prescription medications. If you are on any prescription drugs, or have questions about CBD and your health, be sure to consult with your doctor before taking CBD.
Takeaway
Those suffering from chronic pain or increased stress may benefit from stronger CBD oil tinctures that can provide a more potent dose of cannabinoids. CBD oil can be a great addition to any natural healthcare routine. Just make sure you are putting in the time and effort to find the product and the brand that is best suited to your own unique needs, condition, and lifestyle.
One thing is for sure—you can't accuse Boulder County District Court Judge D.D. Mallard of being dishonest.
Her decision Thursday regarding Longmont, CO's fracking ban includes no ambiguity. Instead it clearly states that concerns about health risks to residents don't quite stack up against Colorado's stake in the oil and gas industries.
"While the court appreciates the Longmont citizens' sincerely held beliefs about risks to their health and safety, the court does not find this is sufficient to completely devalue the state's interest," Mallard wrote in the decision, uploaded to Scribd by the Denver Post.
Voters approved the ban in 2012, but the Colorado Oil and Gas Association never stopped fighting to overturn it. Earthworks, the Sierra Club, Our Health, Our Future, Our Longmont and the other environmental groups listed as defendants plan on appealing the decision. The judge ruled that the ban can remain in place while an appeal is considered.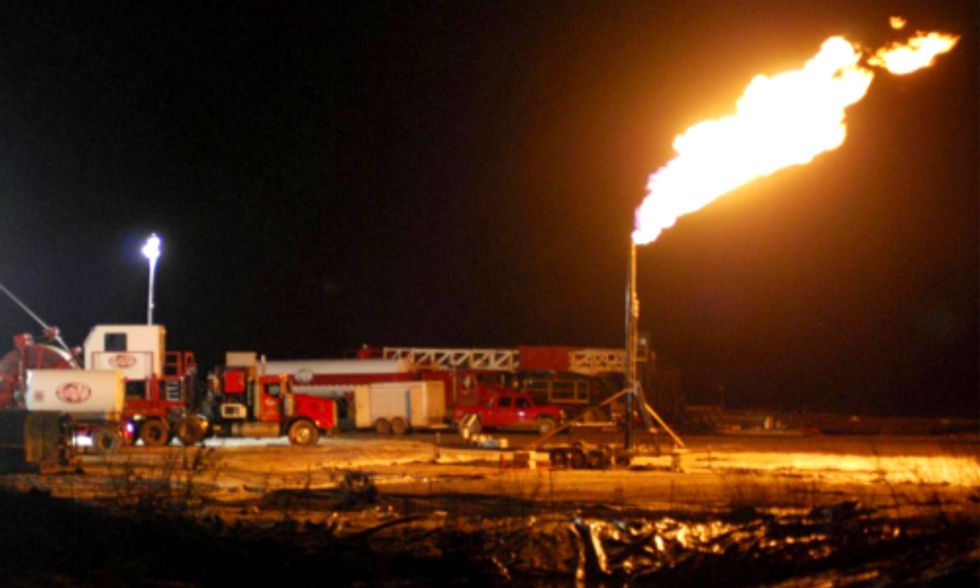 "While we respectfully disagree with the court's final decision, [Mallard] was correct that we were asking this Court, in part, to place protection from the health, safety and environmental risks from fracking over the development of mineral resources," Kaye Fissinger, president of Our Health, Our Future, Our Longmont, said in a statement on Earthworks' website.
"It's tragic that the judge views the current law in Colorado is one in which fracking is more important than public health; reversing that backwards priority is a long-term battle that we're determined to continue."
According to the Post, the City of Longmont had spent $116,324 defending the ban as of June 30. Though the groups argued that the language the industry relied on to get its desired result was written far before modern practices like fracking, Mallard said the issue should be taken up with a higher court or state legislators.
"This decision means two things: The judge has invited us to seek the change we need either through the higher courts or the legislature," said Bruce Baizel, Earthworks Energy Program director. "We fully intend to pursue the former on appeal, while the latter underscores the need for the citizens of Colorado to get out and support the Environmental Bill of Rights ballot measure this Fall."
Elon Musk received his widest TV exposure earlier this year on 60 Minutes, providing insight into his multiple technologies in response to a serious line of questioning. Obviously, things were different Thursday night when Comedy Central's audience saw him sitting on the set of the Colbert Report. 
The interview, broken into two videos, features a bit of Stephen Colbert rightfully marveling at Musk's innovations before asking him to explain why he allowed other automakers access to the electric vehicle patents his company, Tesla, uses to advance the market.
"You saw the future as a kid and said, 'let's make that happen,'" Colbert hypothesized. Musk didn't deny it.
The videos also include Colbert asking Musk what he'll do next to "blow my mind with" and test-flight footage for a reusable SpaceX rocket that Colbert could only describe as "the most badass thing I've ever seen in my life."
As jet shootings intensified the Ukraine crisis this week, some U.S. politicians took the opportunity to advocate for more oil drilling.
Hours after the jets were shot down, Congress members from both sides of the aisle presented cases to lift the 40-year-old ban on crude oil exports. The oil would cut Europe's oil dependence on Russia and provide an economic boost to the U.S.—but at the cost of further damaging our environment and collective health by drilling.
MSNBC's The Ed Show features U.S. Sen. Sherrod Brown (D-OH), who does not advocate for more drilling, and Tiernan Sittenfeld of the League of Conservation Voters in a lengthy segment that shows why this isn't a good idea. The clip puts recent news about the warmest June ever and raging wildfires in Washington State into perspective as part of the climate problem. Drilling for more oil certainly wouldn't help that problem.
Earlier in the week, Ring of Fire's Mike Papantonio appeared on the show to discuss some politicians' desire to lift the ban.
A new ad campaign from the League of Conservation Voters characterizes the recent behavior of the U.S. Chamber of Commerce and other fossil fuel supporters and donors with three D's—dirty, desperate and dangerous.
The $250,000 "Desperate" campaign blasts the U.S. Chamber of Commerce and its allies' attempts to kill the Environmental Protection Agency's emissions proposal in advance of next week's public hearings in Atlanta, Pittsburgh, Denver and Washington D.C. The ad is in response to the analysis from Chamber and U.S. House of Representatives Speaker John Boehner (R-OH) stating that the power plan would cost the country more than 224,000 jobs and $17 billion in electricity bill costs.
"The U.S. Chamber of Commerce's phony analysis of the EPA's Clean Power Plan should be shelved under 'Fiction,' LCV President Gene Karpinski said in a statement announcing the campaign. "Politicians like Speaker Boehner should be ashamed for doing the bidding of polluters and pedaling its proven lies to just help their campaign contributors make even more money."
Several of the Chamber's largest donors are fossil fuel companies and its board of directors includes senior officials from ConocoPhillips, Phillips 66, big coal producer Alliance Resource Partners, CONSOL Energy, and Southern Company.
The LCV ad campaign airs this week in the four markets where the EPA hearings will be held.
In addition to the area residents, cleanup crew members and consumers of regional seafood, monkeys have also suffered health issues likely attributable to the Fukushima nuclear disaster of 2011.
In the case of the Japanese macaques, the radioactive material spewed by the Fukushima Daiichi Nuclear Power Plant has led to abnormally low white and red blood cell levels and low haemoglobin. The findings, published Thursday in the Scientific Reports journal, show that the low counts make the monkeys more susceptible to various diseases.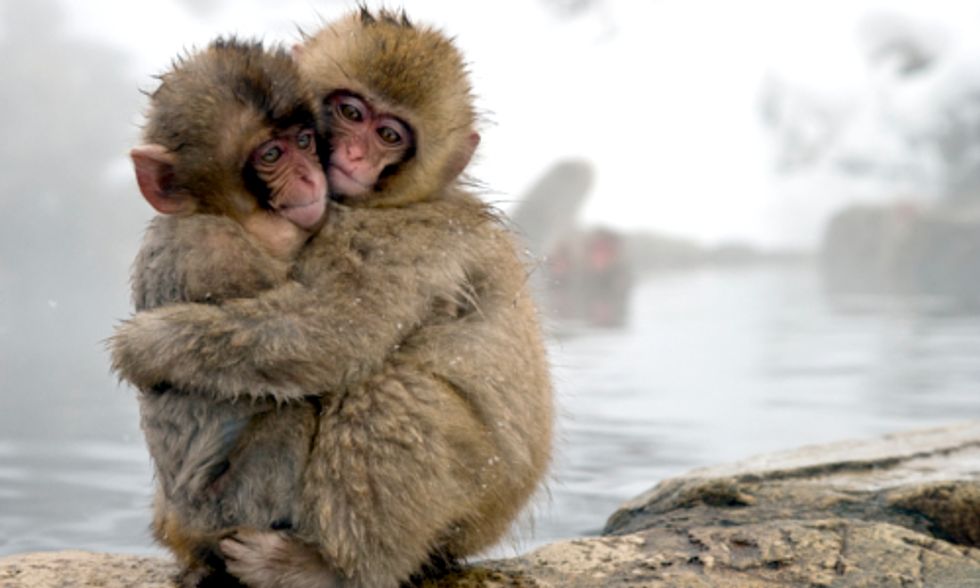 "This first data from non-human primates—the closest taxonomic relatives of humans—should make a notable contribution to future research on the health effects of radiation exposure in humans," Professor Shin-ichi Hayama, of the Nippon Veterinary and Life Science University in Tokyo, told The Guardian.
One of the study's 11 authors, Hayama said that the monkeys were likely exposed to radiation from feeding on tree buds and bark that accumulated radioactive caesium from the power plant explosions. The researchers examined wild monkeys who were 43 miles away from the plant reactors in the forest area of Fukushima City. Their counts of white and red blood cells, as well as hemoglobin, and hematocrit, were much lower than those of monkeys about 250 miles away in the Shimokita Peninsula in the Aomori Prefecture.
Hamaya would not make a definitive claim that caesium caused the low blood counts, despite the suggestive findings and the inability to find any other cause.
"The low haematological values in the Fukushima monkeys could have therefore been due to the effect of any radioactive materials," he said. "We did not conclude the low-blood cell counts are caused by caesium but so far we cannot find other reasons except radiation."
Professor Geraldine Thomas of Imperial College in London didn't believe the study at all.
"Unfortunately this is yet another paper with insufficient power to distinguish real effects and relevance to human health," she said. "We know that one of the most damaging health effects comes from fear of radiation, not radiation itself."
The shuffling of lobby dollars that keeps fossil fuel-friendly policies on the books for the benefit of huge corporations and their legislative pals isn't specific to the U.S.
A new report from Friends of the Earth Europe aims to expose Shell, Total and ExxonMobil, along with groups like BusinessEurope and OGP, to reveal what it calls a "thick web of lobbying activity." The report says public relations and law firms, paid-for scientific reports, and even members of Parliament have all been used to advance fracking for shale gas around the continent.
"The legislative process has been taken hostage by private interests," Antoine Simon, a shale gas campaigner for Friends of the Earth Europe, said in a statement. "They have created a climate of industry-funded misinformation that sells shale gas as a responsible resource—this could not be further from reality. The European Commission needs to put the interest of people and planet before the profits of big oil companies, by re-opening the debate on shale gas regulation."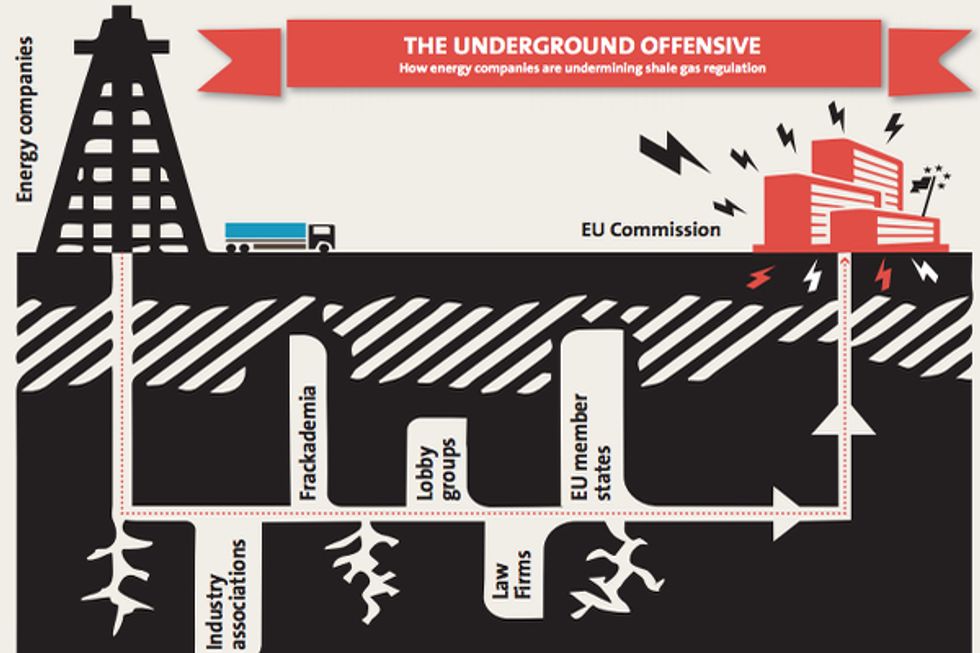 The report hopes to reignite the discussion of stronger shale gas industry regulation within the European Commission and increased lobbying transparency. At the very least, FOE Europe hopes for a moratorium on fracking, similar to those passed in the U.S. by the New York Assembly and in cities like Los Angeles.
In the meantime, the organization seeks to explain who is making contributions to keep a practice with proven health risks alive. Here is a visualization of the tangled web of gas companies and lobbyists in Europe. Each line shows membership, affiliation or financial contributions from energy companies to lobby groups in Brussels who represent their interests. Europia, European Union of the Natural Gas Industry and European Federation of Energy Traders are among the names included.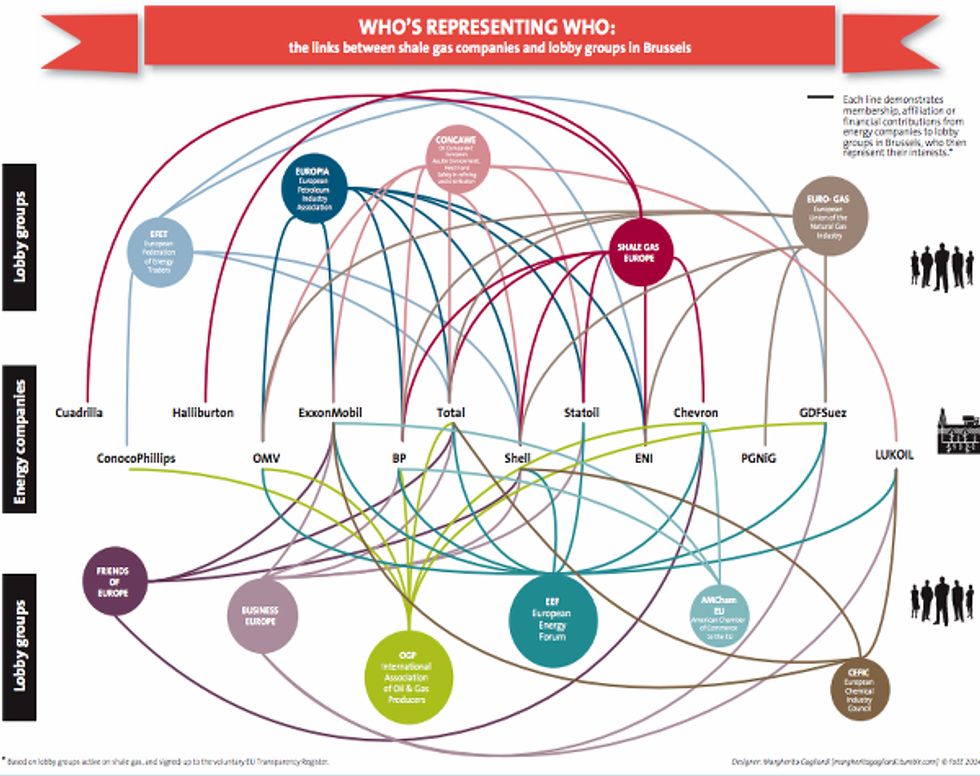 "An underground offensive by the oil industry has managed to silence well-founded concerns about the dangers of fracking," Simon said. "It has side-stepped the growing body of evidence on the environmental, economic and health risks of shale gas development, and undermines Europe-wide opposition from citizens to the unconventional fossil fuel."
President Barack Obama is part of a "very long list" of global officials slated to attend a climate summit in September in New York, United Nations Climate Chief Christiana Figueres said, and for good reason.
A wildfire that has burned nearly 400 square miles in North-Central Washington was only about half contained as of Thursday morning, and Obama minced no words Wednesday when describing its cause.
"A lot of it has to do with drought, a lot of it has to do with changing precipitation patterns and a lot of that has to do with climate change," he said, according to the Associated Press.
The Carlton Complex—the largest wildfire in the state's history—has destroyed about 150 homes and has been fought by about 2,500 people. Earlier this week, Chelan HD Productions provided drone footage of devastated land in Washington. 
The other fires damaging North-Central Washington are the Chiwaukum Complex fire near Leavenworth, which has burned 12,225 acres, and the Mills Canyon fire, which has burned 22,571 acres. The latter was about 90 percent contained by Thursday morning.
Obama has asked Congress for $615 million in emergency spending to battle wildfires in the West. The Federal Emergency Management Agency and the U.S. Department of Homeland Security have coordinated disaster relief, aiding state and local agencies with more equipment and resources following the the president's declaration of a state of emergency.
"These additional resources will significantly help our efforts to restore power to thousands of people affected by these fires," Gov. Jay Inslee said. "I appreciate his prompt response and partnership in helping our state."
Earlier this year, California, Arizona and Alaska all dealt with severe wildfires. Nearly one dozen wildfires burned more than 25,000 acres in San Diego County alone in May.
The nation's largest-ever climate march is scheduled to take place in New York the day before the UN climate summit.
Environmental groups believe the U.S. Environmental Protection Agency got it right by denying the emergency use request Texas filed in order to use hazardous herbicide propazine to kill superweeds infesting the state's cotton.
Environmental groups, public health advocates and organic farmers all pleaded with the EPA to recognize the health and water risks that would arise from permitting propazine to be used on 3 million acres of cotton fields across the humongous state.
"Based on an assessment consistent with EPA's legal responsibilities, drinking water estimates suggest that risks from drinking water alone may lead to unacceptable risks in some cases," Jack Housenger, EPA director of the office of pesticide programs, wrote in the agency's response to the request, according to the Wall Street Journal.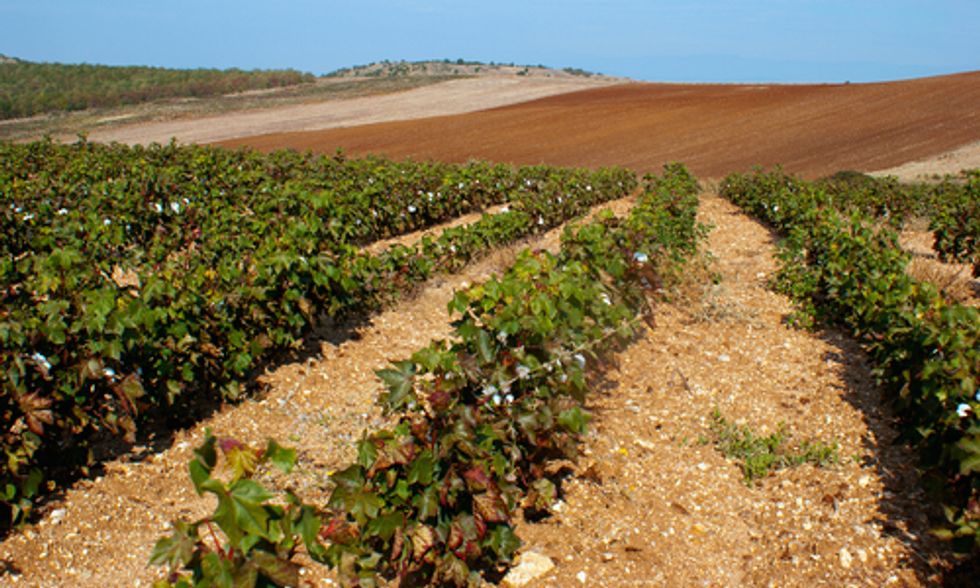 Though the EPA found that the request met urgent and non-routine emergency criteria, groups like Beyond Pesticides were pleased with the final decision.
"While we disagree with the EPA that this meets any of the criteria for emergency exemption, we applaud the EPA for putting the health of people and the environment first and upholding the health and environmental standards under the law," Jay Feldman, executive director of Beyond Pesticides, said in a statement. 
Beyond Pesticides filed comments opposing emergency status for the use of propazine. 
"This is not an emergency because the weed resistance is predictable since it has been known for many years that GMO cotton sprayed with glyphosate would create resistant superweeds," Feldman said. "It is an abuse of the law to prop up failed GMO cropping systems with toxic chemicals when viable alternatives, like organic growing methods, exist."
Texas Department of Agriculture officials lamented the news.
"Once again, members of the current administration have turned their back on the hard-working farmers of Texas," said Bryan Black, a department spokesman.
Propazine is a possible human carcinogen and a "restricted use pesticide"—the EPA's category for particularly hazardous agricultural chemicals. The EPA has found that propazine, like atrazine, is an endocrine disruptor (disrupts the hormonal system) and that when fed to pregnant rats, it causes birth defects in their young. Propazine is persistent, requiring years to break down, and is detected in both ground and surface waters. The European Union has banned propazine due to its toxicity.
The City of San Diego claimed a week ago that its permanent mandatory water use restrictions were good enough as a response to California's continuous drought. The city believed it didn't need any additional or different actions.
That line of thinking didn't sit well with environmental groups. As a result, San Diego Coastkeeper and the Save the Colorado River Campaign banded together to call out the nation's eighth-largest city for what they view as a laissez–faire approach to the drought. 
"Governor Jerry Brown has asked for statewide water conservation of 20 percent, and the City of San Diego contributed to an eight percent increase in water use—how is it acceptable to not take action?" Matt O'Malley, waterkeeper for San Diego Coastkeeper, asked in a joint statement.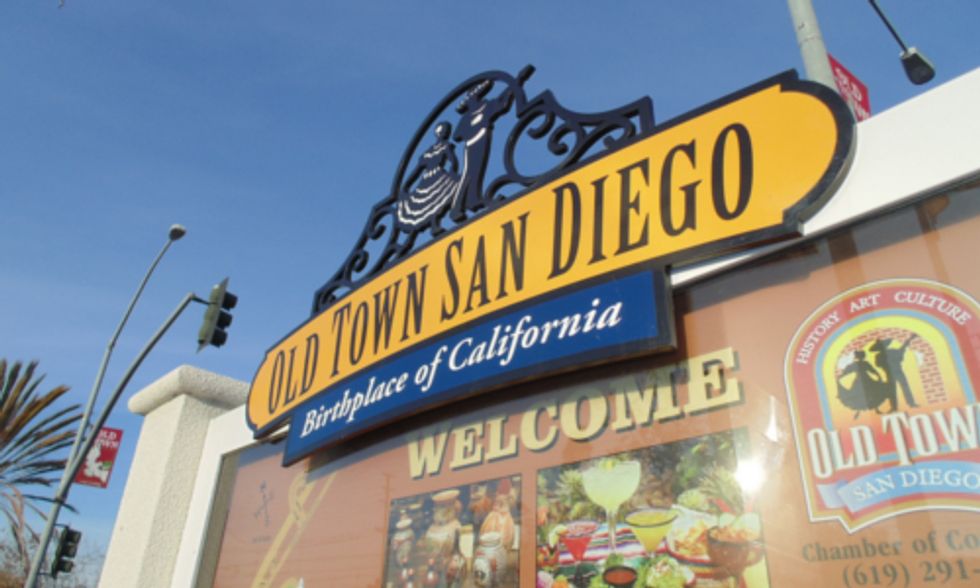 "We don't want the City to be a bad actor. At a bare minimum, it must follow the State Water Board's regulations and enact its level two drought response conditions to ensure this region does its part to reduce water use."
California is in the midst of its driest year on record in 115 years. San Diego imports more than half of its water from the Colorado River, which no longer capable of reaching the Gulf of California because cities, farms and industry drain 5 trillion gallons of water from the river per year. The Colorado also feeds Lake Mead, the nation's largest reservoir, which fell to its lowest level in history a week ago.

"As Lake Mead drops and other states in the Southwest U.S. face water shortages, San Diego needs to know that a dwindling supply of water is the new normal," said Gary Wockner with the Save the Colorado River Campaign. "We think San Diego, the nation's 8th largest city, should be a national leader and acknowledge with action that its California way of life can still flourish on less water."
The organizations hope the city implements its predetermined and approved level-two drought response conditions that are stated in its water shortage contingency plan. O'Malley pointed to the fact that the State Water Board said emergency regulations set a "minimum standard requiring only modest lifestyle changes across the state."
"Many irrigated landscapes would not suffer greatly from receiving a decreased amount of water," according to the board.
The U.S. Department of Transportation (DOT) announced details Wednesday of a proposal to make crude oil transportation safer, in a bid to prevent more derailments and the threats that accompany them.
The proposal would phase out older DOT 111 tank cars that ship packing group I flammable liquids, a category that includes most Bakken crude oil. Retrofitting the tank cars to comply with new standards is the only way that wouldn't be phased out.
Other elements of the proposal include braking controls, lower speed laws and a testing program for mined gases and liquids.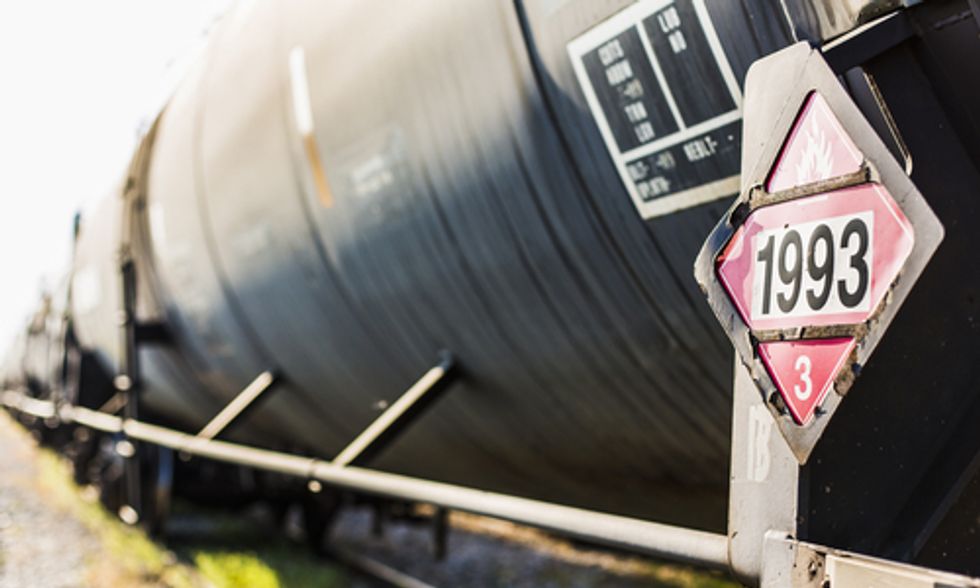 Photo courtesy of Shutterstock
"Safety is our top priority, which is why I've worked aggressively to improve the safe transport of crude oil and other hazardous materials since my first week in office," DOT Secretary Anthony Foxx said. "While we have made unprecedented progress through voluntary agreements and emergency orders, today's proposal represents our most significant progress yet in developing and enforcing new rules to ensure that all flammable liquids, including Bakken crude and ethanol, are transported safely."
The proposal is subject to 60 days of public comment. The proposal is based on an Advanced Notice of Proposed Rulemaking published by the Pipeline and Hazardous Materials Safety Administration in September that received more than 150,000 comments. Here are some highlights of Wednesday's proposal:
 Carriers would be required to perform a routing analysis for high-hazard flammable trains (HHFTs) that would consider 27 safety and security factors and select a route based on findings of the route's analysis.
HHFTs that contain any tank cars that don't meet enhanced tank car standards would be required to choose one of three speed restrictions: A 40-miles-per-hour maximum speed restriction in all areas; a 40-mph speed restriction in "high-threat urban areas"; or a 40-mph speed restriction in areas with populations of 100,000 or more.
All HHFTs would be equipped with alternative brake signal propagation systems. Depending on the outcome of the tank car standard proposal and implementation timing, all HHFTs would be operated with either electronic controlled pneumatic brakes, a two-way end of train device or distributed power.
More crude oil was spilled from rail cars in 2013 than in the previous four decades combined. The trend continued this year with derailments like one that spilled thousands of crude oil gallons into the James River in Virginia.
The DOT in February issued an emergency order requiring all shippers to test product from the Bakken region to ensure the proper classification of crude oil before it was transported by rail.