This website uses cookies to ensure you get the best experience while browsing it. By clicking 'Got It' you're accepting these terms.
Bill McKibben
Bill McKibben is the author of a dozen books about the environment, beginning with The End of Nature in 1989, regarded as the first book for a general audience on climate change. He is a founder of the grassroots climate campaign 350.org. Follow him on Twitter: @billmckibben.
In a bold new strategy unveiled on Monday in the Guardian, the U.S. Department of Agriculture—guardians of the planet's richest farmlands—has decided to combat the threat of global warming by forbidding the use of the words.
Under guidance from the agency's director of soil health, Bianca Moebius-Clune, a list of phrases to be avoided includes "climate change" and "climate change adaptation," to be replaced by "weather extremes" and "resilience to weather extremes."
EcoWatch Daily Newsletter
Donald Trump is so spectacularly horrible that it's hard to look away (especially now that he's discovered bombs). But precisely because everyone's staring gape-mouthed in his direction, other world leaders are able to get away with almost anything. Don't believe me? Look one nation north, at Justin Trudeau.
We're going to be dealing with an onslaught of daily emergencies during the Donald Trump years. Already it's begun—if there's nothing going on (or in some cases when there is), our leader often begins the day with a tweet to stir the pot and suddenly we're debating whether burning the flag should lose you your citizenship.
These crises will get worse once he has power—from day to day we'll have to try and protect vulnerable immigrants or deal with the latest outrage from the white supremacist "alt-reich" or confront the latest self-dealing scandal in the upper reaches of the Tower. It will be a game (though not a fun one), for 48 months, of trying to preserve as many people and as much of the Constitution as possible.
Apollo 17's Blue Marble.NASA
And if we're very lucky, at the end of those four years, we might be able to go back to something that resembles normal life. Much damage will have been done in the meantime, but perhaps not irreparable damage. Obamacare will be gone, but something like it—maybe even something better—will be resurrectable. The suffering in the meantime will be real, but it won't make the problem harder to solve, assuming reason someday returns. That's, I guess, the good news: that someday normal life may resume.

But even that slight good news doesn't apply to the question of climate change. It's very likely that by the time Trump is done we'll have missed whatever opening still remains for slowing down the trajectory of global warming—we'll have crossed thresholds from which there's no return. In this case, the damage he's promising will be permanent, for two reasons.
The first is the most obvious: The adversary here is ultimately physics, which plays by its own rules. As we continue to heat the planet, we see that planet changing in ways that turn into feedback loops. If you make it hot enough to melt Arctic ice (and so far we've lost about half of our supply) then one of the side effects is removing a nice white mirror from the top of the planet. Instead of that mirror reflecting 80 percent of the sun's rays out to space, you've now got blue water that absorbs most of the incoming rays of the sun, amping up the heat. Oh, and as that water warms, the methane frozen in its depths eventually begins to melt—and methane is a potent greenhouse gas. Even if, someday, we get a president back in power who's willing to try and turn down the coal, gas and oil burning, there will be nothing we can do about that melting methane. Some things are forever, or at least for geologic time.
There's another reason too, however, and that's that the international political mechanisms Trump wants to smash can't easily be assembled again, even with lots of future good will. It took immense diplomatic efforts to reach the Paris climate accords—25 years of negotiating with endless setbacks. The agreement itself is a jury-rigged kludge, but at least it provides a mechanism for action. It depends on each country voluntarily doing its part, though, and if the biggest historic source of the planet's carbon decides not to play, it's easy to guess that an awful lot of other leaders will decide that they'd just as soon give in to their fossil fuel interests too.
So Trump is preparing to make a massive bet: a bet that the scientific consensus about climate change is wrong, and that the other 191 nations of the world are wrong as well. It's a bet based on literally nothing—when The New York Times asked him about global warming, he started mumbling about a physicist uncle of his who died in 1985. The job—and it may not be a possible job—is for the rest of us to figure out how to make the inevitable loss of this bet as painless as possible.

It demands fierce resistance to his silliness—clearly his people are going to kill Obama's Clean Power Plan, but perhaps they can be shamed into simply ignoring but not formally abrogating the Paris accords. This is work not just for activists, but for the elites that Trump actually listens to. Here's where we need what's left of the establishment to be weighing in: Fortune 500 executives, Wall Streeters—anyone who knows how stupid a bet this is.
But we also need to be working hard on other levels. The fossil fuel industry is celebrating Trump's election, and rightly so—but we can continue to make their lives at least a little difficult, through campaigns like fossil fuel divestment and through fighting every pipeline and every coal port. The federal battles will obviously be harder, and we may lose even victories like Keystone. But there are many levers of power, and the ones closer to home are often easier to pull.
We also have to work at state and local levels to support what we want. The last election, terrible as it was, showed that renewable energy is popular even in red states—Florida utilities lost their bid to sideline solar energy, for instance. The hope is that we can keep the buildout of sun and wind, which is beginning to acquire real momentum, on track; if so, costs will keep falling to the point where simple economics may overrule even Trumpish ideology.
And of course we have to keep communicating, all the time, about the crisis—using the constant stream of signals from the natural world to help people understand the folly of our stance. As I write this, the Smoky Mountain town of Gatlinburg is on fire, with big hotels turned to ash at the end of a devastating drought. Mother Nature will provide us an endless string of teachable moments, and some of them will break through—it's worth remembering that the Bush administration fell from favor as much because of Katrina as Iraq.
None of these efforts will prevent massive, and perhaps fatal, damage to the effort to constrain climate change. It's quite possible, as many scientists said the day after the election, that we've lost our best chance. But we don't know precisely how the physics will play out, and every ton of carbon we keep out of the atmosphere will help.
And amidst this long ongoing emergency, as I said at the beginning, we've got to help with all the daily crises. This winter may find climate activists spending as much time trying to block deportations as pipelines; we may have to live in a hot world, but we don't have to live in a jackbooted one, and the more community we can preserve, the more resilient our communities will be. It's hard not to despair—but then, it wasn't all that easy to be realistically hopeful about our climate even before Trump. This has always been a battle against great odds. They're just steeper now.
Reposted with permission from our media associate Moyers & Company.
So, the question everyone's asking me this week is: What now?
I don't have a great answer—the Trump saga will play out over time, and we'll be learning how to resist as we go along. But resist we will.
I do know that the election last Tuesday made this Tuesday's demonstrations in support of Standing Rock even more important. We'll be gathering in nearly 200 cities worldwide to demand that the Army Corps of Engineers, and the Obama Administration, do their jobs and reject the Dakota Access Pipeline's final permit.
We don't know if we can make President Obama act—so far he's been noncommittal and vague. And we don't know if Trump would simply overturn his actions if he took them. But we do know that now more than ever we have to stand by our allies, and make our battles loud and public.
The ugly side of the American psyche that's propelled Trump to the presidency is nothing new to Indigenous people. It's nothing new to people of color, to immigrants, to the vulnerable and the marginalized. This is a time for drawing together the many threads of our resistance—to fossil fuels, yes, but also and just as importantly to widespread hatred.
Solidarity with Indigenous leadership—in Standing Rock and beyond—is more important today, not less. The original inhabitants of this continent have been pepper-sprayed and shot with rubber bullets, maced and attacked by guard dogs, all for peacefully standing up for their sovereign rights, and for the world around us. If we can't rally in support of them—well, that would be shameful.
I wish I had some magic words to make the gobsmacked feeling go away. But I can tell you from experience that taking action, joining with others to protest, heals some of the sting.
And throughout history, movements like ours have been the ones to create lasting change—not a single individual or president. That's the work we'll get back to, together.
So, what's next? Showing our solidarity with Standing Rock. Please join me and thousands of others across the world Nov. 15.
The questions come after talks, on twitter, in the days' incoming tide of email—sometimes even in old-fashioned letters that arrive in envelopes. The most common one by far is also the simplest: What can I do? I bet I've been asked it 10,000 times by now and—like a climate scientist predicting the temperature—I'm pretty sure I'm erring on the low side.
"What can we do to make a difference?"The Thinker
It's the right question or almost: It implies an eagerness to act and action is what we need. But my answer to it has changed over the years, as the science of global warming has shifted. I find, in fact, that I'm now saying almost the opposite of what I said three decades ago.
Then—when I was 27 and writing the first book on climate change—I was fairly self-obsessed (perhaps age appropriately). And it looked like we had some time: No climate scientist in the late 1980s thought that by 2016 we'd already be seeing massive Arctic ice melt. So it made sense for everyone to think about the changes they could make in their own lives that, over time, would add up to significant change. In The End of Nature, I described how my wife and I had tried to "prune and snip our desires," how instead of taking long vacation trips by car we rode our bikes in the road, how we grew more of our own food, how we "tried not to think about how much we'd like a baby."

Some of these changes we've maintained—we still ride our bikes, and I haven't been on a vacation in a very long time. Some we modified—thank God we decided to have a child, who turned out to be the joy of our life. And some I've abandoned: I've spent much of the last decade in frenetic travel, much of it on airplanes. That's because, over time, it became clear to me that there's a problem with the question "What can I do."
The problem is the word "I." By ourselves, there's not much we can do. Yes, my roof is covered with solar panels and I drive a plug-in car that draws its power from those panels, and yes our hot water is heated by the sun, and yes we eat low on the food chain and close to home. I'm glad we do all those things, and I think everyone should do them, and I no longer try to fool myself that they will solve climate change.
Because the science has changed and with it our understanding of the necessary politics and economics of survival. Climate change is coming far faster than people anticipated even a couple of decades ago. 2016 is smashing the temperature records set in 2015 which smashed the records set in 2014; some of the world's largest physical features (giant coral reefs, vast river deltas) are starting to die off or disappear. Drought does damage daily; hundred-year floods come every other spring. In the last 18 months we've seen the highest wind speeds ever recorded in many of the world's ocean basins. In Basra Iraq—not far from the Garden of Eden—the temperature hit 129 Fahrenheit this summer, the highest reliably recorded temperature ever and right at the limit of human tolerance. July and August were not just the hottest months ever recorded, they were, according to most climatologists, the hottest months in the entire history of human civilization. The most common phrase I hear from scientists is "faster than anticipated." Sometime in the last few years we left behind the Holocene, the 10,000 year period of benign climatic stability that marked the rise of human civilization. We're in something new now—something new and frightening.
Against all that, one's Prius is a gesture. A lovely gesture and one that everyone should emulate, but a gesture. Ditto riding the bike or eating vegan or whatever one's particular point of pride. North Americans are very used to thinking of themselves as individuals, but as individuals we are powerless to alter the trajectory of climate change in a meaningful manner. The five or ten percent of us who will be moved to really act (and that's all who ever act on any subject) can't cut the carbon in the atmosphere by more than five or ten percent by those actions.
No, the right question is "What can we do to make a difference?"
Because if individual action can't alter the momentum of global warming, movements may still do the trick. Movements are how people organize themselves to gain power—enough power, in this case, to perhaps overcome the financial might of the fossil fuel industry. Movements are what can put a price on carbon, force politicians to keep fossil fuel in the ground, demand subsidies so that solar panels go up on almost every roof, not just yours. Movements are what take 5 or 10 percent of people and make them decisive—because in a world where apathy rules, five or ten percent is an enormous number. Ask the Tea Party. Ask the civil rights movement.
The other side knows this, which is why it ridicules our movements at all times. When, for instance, 400,000 people march on New York City, I know that I will get a stream of ugly tweets and emails about how—saints preserve us—it takes gasoline to get to New York City. Indeed it does. If you live in a society that has dismantled its train system, then lots of people will need to drive and take the bus, and it will be the most useful gallons they burn in the course of the year. Because that's what pushes systems to change.
When brave people go to jail, cynics email me to ask how much gas the paddywagon requires. When brave people head out in kayaks to block the biggest drilling rigs on earth, I always know I'll be reading dozens of tweets from clever and deadened souls asking "don't you know the plastic for those kayaks require oil?" Yes, we know—and we've decided it's well worth it. We're not trying to be saints; we're trying to be effective.
We're not going to be forced into a monkish retreat from society—we need to engage this fight with all the tools of the moment. We're trying to change the world we live in and if we succeed then those who come after will have plenty of time to figure out other ways to inhabit it. Along the way those who have shifted their lives can provide inspiration, which is crucial. But they don't by themselves provide a solution. Naomi Klein once described visiting an "amazing" community farm in Brooklyn's Red Hook that had been flooded by Hurricane Sandy. "They were doing everything right, when it comes to climate," she said. "Growing organic, localizing their food system, sequestering carbon, not using fossil-fuel inputs—all the good stuff." Then came the storm. "They lost their entire fall harvest and they're pretty sure their soil is now contaminated, because the water that flooded them was so polluted. It's important to build local alternatives, we have to do it, but unless we are really going after the source of the problem"—namely, the fossil-fuel industry and its lock on Washington—"we are going to get inundated."
Like Klein, I find that the people who have made some of those personal changes are usually also deeply involved in movement-building. Local farmers, even after a long day pulling weeds, find the energy to make it to the demonstration, often because they know their efforts out in the field aren't enough, even to guarantee a climate that will allow them to continue their efforts. No, the people calling environmentalists hypocrites for living in the real world are people who want no change at all. Their goal is simply to shame us and hence to quiet us. So we won't make them feel bad or disrupt the powers that be.
It won't work, unless we let it. Movements take care of their own: They provide bail money and they push each other's ideas around the web. They join forces across issues: BlackLivesMatter endorsing fossil fuel divestment, climate justice activists fighting deportations. They recognize that together we might just have enough strength to get it done. So when people ask me what can I do, I know say the same thing every time: "The most important thing an individual can do is not be an individual. Join together—that's why we have movements like 350.org or Green for All, like BlackLivesMatter or Occupy. If there's not a fight where you live, find people to support, from Standing Rock to the Pacific islands. Job one is to organize and jobs two and three."
And if you have some time left over after that, then by all means make sure your lightbulbs are all LEDs and your kale comes from close to home.
Most Americans live far from the path of the Dakota Access Pipeline—they won't be able to visit the encampments on the Standing Rock Sioux reservation where representatives of more than 200 tribes have come together in the most dramatic show of force of this environmental moment. They won't be able to participate in the daily nonviolent battle along the Missouri River against a $3.7 billion infrastructure project that threatens precious water and myriad sacred sites, not to mention the planet's unraveling climate.
TD Bank in Providence, Rhode Island, became the target of environmental and Native American rights activists.Steve Ahlquist / RIFuture.org
But most of us live near a bank.

Maybe there's a Citibank branch in your neighborhood. Or Wells Fargo or Bank of America or HSBC. Maybe you even keep your money in one—if so, you inadvertently helped pay for the guard dogs that attacked Native Americans as they tried to keep bulldozers from mowing down ancestral grave sites.
Maybe you have a retirement plan invested with Goldman Sachs or Morgan Stanley—if so, you helped buy the pepper spray that the company used to clear the way for its crews as they cleared the right of way straight to the Missouri River.
Perhaps you bank overseas. Credit Agricole? Deutsche Bank? Sumitomo? Royal Bank of Scotland? Barclays? Yeah, them too.
In fact, virtually every name in the financial pantheon has extended credit in some form to the Dakota Access Pipeline project, according to a remarkable dossier assembled by the organization Food & Water Watch. It shows a credit line of $10.25 billion (that's a b) for the companies directly involved in building the project—from 38 banks—a list of names that, the group adds, "might give you flashbacks to the 2007 financial crisis."
Sporadic protests have begun at some of the banks—activists occupied a Vancouver branch of TD Bank and across the continent in Philadelphia held a protest outside another of the giant's outlets. The same thing happened at a Citibank in downtown Chicago.
"It's unlikely that Citibank customers support poisoning indigenous peoples' water, desecrating sacred burial sites, or contributing to global climate change," said Gloria Fallon of Rising Tide Chicago. Which is true.
But banks love these kinds of deals precisely because they're so capital-intensive. (And because they're financially stacked in favor of the developers: Federal tax breaks worth more than $600 million helped make the balance sheet for Dakota Access Pipeline.)
The key Dakota Access Pipeline loan, said Rainforest Action Network's Amanda Starbuck, is still pending. It's a multibillion-dollar line of credit, but only $1.1 billion of the loan can be doled out until the company "resolves certain governmental permits." Citi, Mizuho, Bank of Tokyo MUFJ, and Mizuho Bank are leaders on that loan.
Many of these banks may be vulnerable to pressure. For one thing, they're eager to appear green: Bank of America, for instance, recently announced plans to make all its bank branches "carbon-neutral" by 2020. Which is nice—solar panels on the roof of the drive-thru tellers are better than no solar panels. But as Starbuck said, it's basically meaningless stacked up against Bank of America's lending portfolio, chock full of loans to develop "extreme fossil fuels, which are simply incompatible with a climate-stable world."
Put another way: They're going to be the vegan owners of a global chain of slaughterhouses.

Rainforest Action Network's numbers make clear just how mammoth this problem is for those of us fighting to keep fossil fuels in the ground: In June, it reported that just 25 banks have invested "$784 billion in coal mining, coal power, 'extreme oil' and liquefied natural gas facilities between 2013 and 2015."
But there are success stories: Australian campaigners, led by indigenous groups downunder and working with campaigners across three continents, persuaded most of the world's banks to stop bankrolling plans for what would have been the world's largest coal mine and port, and in turn, that has helped bring the project to a standstill.
The pressure will increase after this week's release of a new report from Oil Change International, which makes clear that the oil fields, gas wells, and coal mines already in operation have enough carbon to carry us past the 2-degree target the world set in Paris a year ago (and to absolutely annihilate the stretch goal of 1.5 degrees).
That is to say: At this point, anyone who finances any fossil fuel infrastructure is attempting to make money on the guaranteed destruction of the planet.
So those Dakota Access Pipeline loans should come under new scrutiny—moral, as well as financial—since they assume that governments won't enforce their Paris promises. That's a gamble accountants might want to think twice about, especially after this week's news that the SEC was investigating Exxon for its refusal to write down the value of its reserves in light of the global accords.
And at least one bank is waking up. Amalgamated—the New York-based, labor-affiliated bank—announced jointly with Bank of America that it would make its branches carbon neutral. More significantly, it also announced it was divesting from the fossil fuel business.
"We need to be honest, we have a growing environmental crisis unfolding and Amalgamated Bank will no longer sit on the sideline," said Keith Mestrich, President and CEO of Amalgamated Bank. "As an industry that prides itself on innovation and bold action, we must all be leaders and take real action to change our course."

Put another way: They're vegans who will now be lending to tofu makers.
But it's probably sustained public pressure that will do the most good.
"Oil companies are always going to drill for oil and build pipelines—it's why they exist," Rainforest Action Network's Scott Parkin. "But the banks funding this pipeline have a choice as to where they put their money. Right now, Citibank, TD Bank and others have chosen to invest in a project that violates indigenous rights and destroys the climate."
Parkin points to the protests that have already sprung up at dozens of banks from DC to New Orleans to Tucson to Long Beach to the Bronx.
"We have the power to derail that loan with a different kind of currency," he said. "Putting our bodies on the line at any financial institution that says 'Dakota Access Pipeline, we're open for business.'"
And if anyone has any doubts that civil disobedience can be useful, remember how the amazing activists at Standing Rock forced the federal government to blink, pausing construction earlier this month. Their nonviolent leadership has inspired all of us—and it should have sent a shiver down the spine of a few bankers.
Reposted with permission from our media associate Yes! Magazine.
The Democratic and Republican conventions are history and the epochal 2016 election is now before us. My general theory is less talk and more action, so I hope you'll join me in taking this climate pledge, one that will power our efforts into the fall.
People's Climate March in New York City, Sept. 21, 2014.
But since I've got the microphone, maybe I'll say a few more words.
One is, Trump is truly bad news. His insistence that global warming is a Chinese manufactured hoax and his declaration that he will abrogate the Paris treaty mean that he's as much a nihilist on climate change as he is on anything else. In fact, no major party candidate since the start of the global warming era has been as bad on this issue, not even close. He's also terrifying for many other obvious reasons.
Second is, it was a little hard for me to watch Bernie's bittersweet speech to the Democratic convention. He's my Vermont neighbor (where 350.org was born) and he was my candidate and he talked about climate change as no presidential candidate ever has before, declaring forthrightly that it was the greatest problem the planet faced. I wish he'd won.
But his powerful showing meant, among other things, that he had a significant hand in writing the Democratic party platform for 2016. (In fact, he named me as one of 15 platform writers. Did I say we were neighbors?) And though it's far from perfect it is by far the strongest party platform on climate issues Americans have ever seen.
This is my third thought. In four years we've gone from an "all of the above" energy strategy to one that explicitly favors sun and wind over natural gas. The platform promises a Keystone-style test for all federal policy: If it makes global warming worse, it won't be built. And it calls for an emergency climate summit in the first hundred days of the new administration. All those changes are the direct result of your work, showing up to demand action over many months and years.
Thursday night Hillary Clinton pledged to enact that platform and she said "we have to hold every country accountable to their commitments, including ourselves."
"Accountability" is the right word. Will this platform mean anything more than words? That actually depends on you. If we vote as climate voters this fall—and if we then show up to demand that those promises are kept—this could turn out to be a ground-breaking political season. That's why we need you signed on to this pledge and lined up to get out the vote and do the other chores of an election.
But remember: election day is just one day in the political calendar. The other 364 count just as much.
Our job is not to elect a savior. Our job is to elect someone we can effectively pressure. And as tough as the work of this election will be—the real work starts on Wednesday, Nov. 9.
That's how it seems to me, anyway. There's plenty to be scared of this election season and plenty to hope for. And most of all there's plenty of work to be done.
An interesting question is, what are you waiting for?
Global warming is the biggest problem we've ever faced as a civilization—certainly you want to act to slow it down, but perhaps you've been waiting for just the right moment.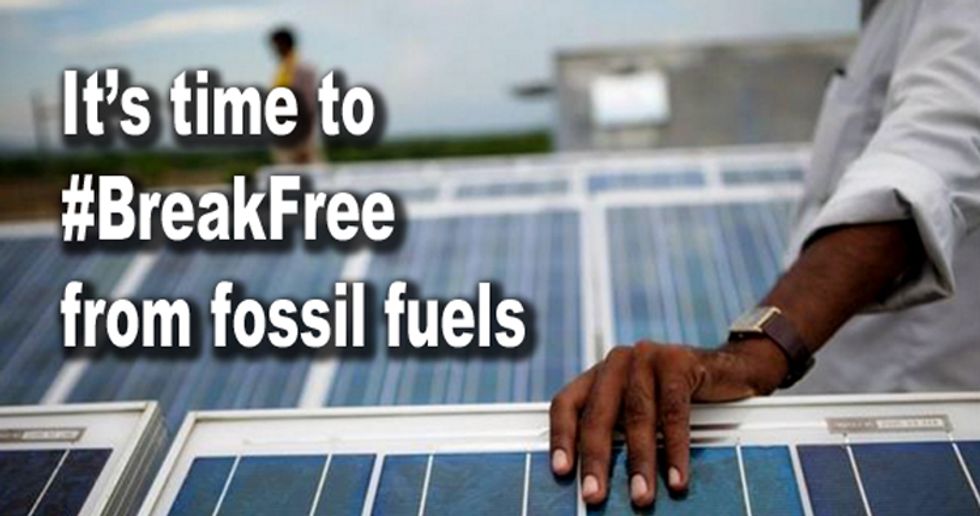 © Prashanth Vishwanathan / Greenpeace
The moment when, oh, marine biologists across the Pacific begin weeping in their scuba masks as they dive on reefs bleached of life in a matter of days. The moment when drought in India gets deep enough that there are armed guards on dams to prevent the theft of water. The moment when we record the hottest month ever measured on the planet, and then smash that record the next month, and then smash that record the next month? The moment when scientists reassessing the stability of the Antarctic ice sheet have what one calls an "OMG moment" and start talking about massive sea level rise in the next 30 years?
That would be this moment—the moment when 135 children have drowned in Thailand trying to cool off from the worst heatwave on record there. The moment when, in a matter of months, we've recorded the highest wind speeds ever measured in the western and southern hemispheres.
For years people have patiently and gently tried to nudge us onto a new path for dealing with our climate and energy troubles—we've had international conferences and countless symposia and lots and lots and lots of websites. And it's sort of worked—the world met in Paris last December and announced it would like to hold temperature increases to 1.5C or less. Celebration ensued. But what also ensued was February, when the planet's temperature first broke through that 1.5C barrier. And as people looked past the rhetoric, they saw that the promises made in Paris would add up to a world 3.5C warmer—an impossible world. The world we're starting to see take shape around us.
So there's a need to push harder. A need, as it were, to break free from some of the dogma that's surrounded this issue for a very long time. Yes, we need to have "everyone work together." Yes, we need a "multi-faceted, global effort." But you know what we really need? We need to keep oil and gas and coal in the ground, keep it from being burned and adding its freight of carbon to the global total.
Which is why, from one end of the planet to the other, people are taking greater risks this month. In one of the biggest coordinated civil disobedience actions the world has ever seen, frontline communities and climate scientists and indigenous people and faith leaders and just plain people who actually give a damn will be sitting down and sitting in and standing pat—blocking, at least for a few hours, those places where the coal and oil and gas currently reside, in the hopes of helping keep them there.
In Australia they'll be taking to kayaks at the world's largest coal port in Newcastle, and in Brazil it's the fracking onslaught they're opposing. In Vancouver they'll be surrounding a new proposed oil terminal on the coast, and in Indonesia they'll be outside the presidential palace in Jakarta. Coal will be the target in the Philippines and Turkey and the UK; oil in Nigeria; gas in the Rocky Mountains of Colorado—on and on around the planet, a swell of people saying the time has come.
The time has come to turn up the heat on the small band of companies and people still willing to get rich off fossil fuel, even though it's now utterly clear they're breaking the planet.
The time has come to show that we understand we're in this together across borders and boundaries.
The time has come to take action commensurate with the scale of the problem. Yes, risking arrest is harder than signing a Facebook petition. But experience has shown it can often work—that's what kicked the fight against the Keystone pipeline into high gear, turning it into the highest profile defeat of the oil industry in a generation. That's what made it impossible for Shell to keep drilling in the Arctic, and for Adani to find the funds they need to build Earth's biggest coal mine.
Not everyone can do it—there are regimes that are too authoritarian for anyone to dare even peaceful civil disobedience of this kind. But for those of us who still live in places theoretically committed to freedom, it's time to put that privilege to use. The planet is well outside its comfort zone—that's what it means when whole ecosystems are obliterated in a matter of days. Which means its time for us to be there too.
YOU MIGHT ALSO LIKE
Watch Jimmy Kimmel Slam Sarah Palin for Her Part in Climate Hustle
Leonardo DiCaprio Invests in Runa, Donates All His Shares to Ecuadorian Farmers
Largest Civil Disobedience in History of the Environmental Movement Begins Today
Quaker Oats Accused of Being 'Deceptive and Misleading' After Glyphosate Detected in Oatmeal
This February was the hottest in recorded history, scorching crops and flooding homes all across the planet. Record-breaking temperatures have robbed the Arctic of its winter.
And yet despite this, governments around the world still plan to build massive new coal mines and open new oil and gas fields.
But everywhere they do, something remarkable is happening: resistance. This May, people will be joining hands in a new way to step up that fight on the front lines. This May, we're breaking free from fossil fuels across the globe.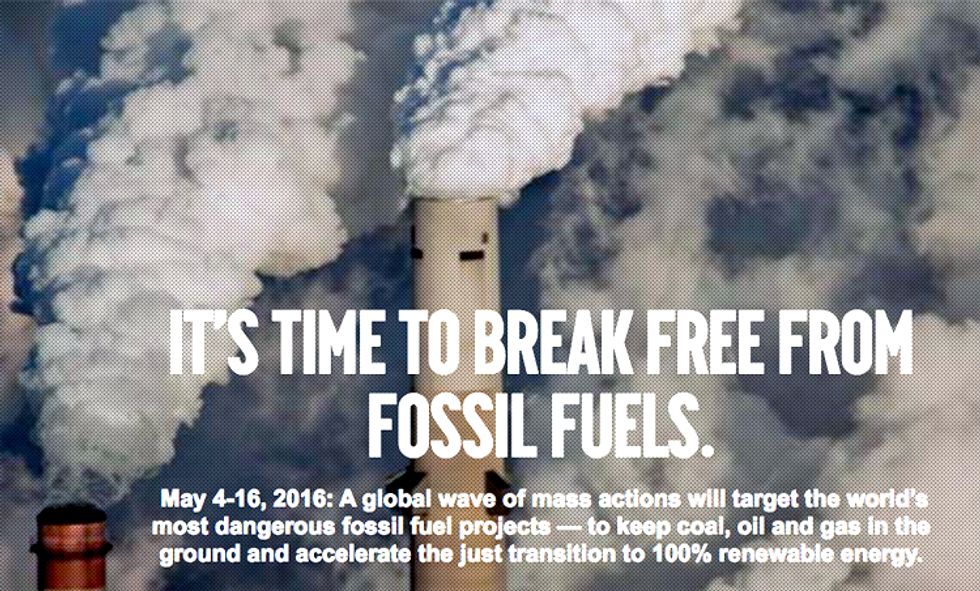 Next month, from the oil and gas fields of Nigeria and Brazil to the coal fields of Germany and Australia, people have made their intentions clear: they intend to keep coal, oil and gas in the ground and are willing to put their bodies on the line to do it. Even as the ability to freely protest is constrained in many parts of the world—recent violent crackdowns in the Philippines and Bangladesh mark a tragic uptick in a troubling trend—those who can, are standing up. Resistance is not fading away. It's growing.
That's what Break Free is about: escalating the global fight to keep fossil fuels underground and accelerating a just transition to the renewable energy driven economy we know is possible.
The good news is that the transition to renewable energy is coming sooner and faster than anyone thought. Ninety percent of the new electricity generation installed last year was renewable, leading to two years running of flat—though still too high—global carbon emissions.
But the real reason I see for hope is in the resistance to fossil fuels that is growing everywhere the fossil fuel industry turns. Break Free will be one of those moments that you will remember and if you can find a way to join in an action near you, you will be a part of something special.
It's likely that this fight is the biggest humanity will ever face. It may look like the odds are stacked against us, but no fight worth fighting has ever been easy.
Watch this video to learn more:
YOU MIGHT ALSO LIKE
Big Oil Gearing Up to Battle Electric Vehicles
Melting of Arctic Sea Ice Already Setting Records in 2016
Removal of 4 Dams to Reopen 420 Miles of Historic Salmon Habitat on Klamath River