The annual State of the Climate report from the National Oceanic and Atmospheric Administration (NOAA) and American Meteorological Society assembles climate studies and reports from the previous year in one package. The 25th annual report is out and the news isn't good: indicators of climate change show up everywhere.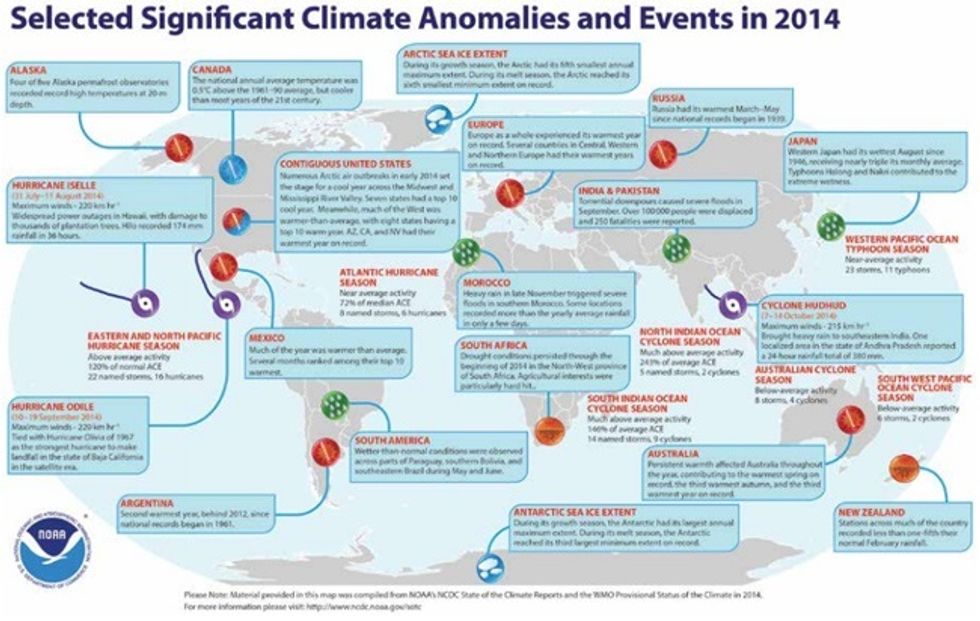 "Most of the dozens of essential climate variables monitored each year in this report continued to follow their long-term trends in 2014, with several setting new records," the report said.
A lot of the 292-page study is highly technical as it incorporates the work of more than 400 scientists analyzing everything from temperatures to precipitation to extreme weather events to ice melt all over the world. But one of the main conclusions of the report is how much things are changing and how quickly.
Perhaps Jeff Severinghaus of the Scripps Institution of Oceanography provides the best takeaway from the report, saying, if this is Earth's annual checkup, "the doctor is saying 'you are gravely ill.'"
Here are seven climate records broken in 2014:
1. Hottest Year: Records for the hottest temperature were set around the world with the highest average global surface temperature since record-keeping began, according to four separate analyses. Records were shattered everywhere. Europe and Mexico had their warmest years ever, while Argentina and Uruguay had their second hottest years and Australia its third warmest after enduring all-time record heat in 2013. Africa and Asia also had above-average temperatures.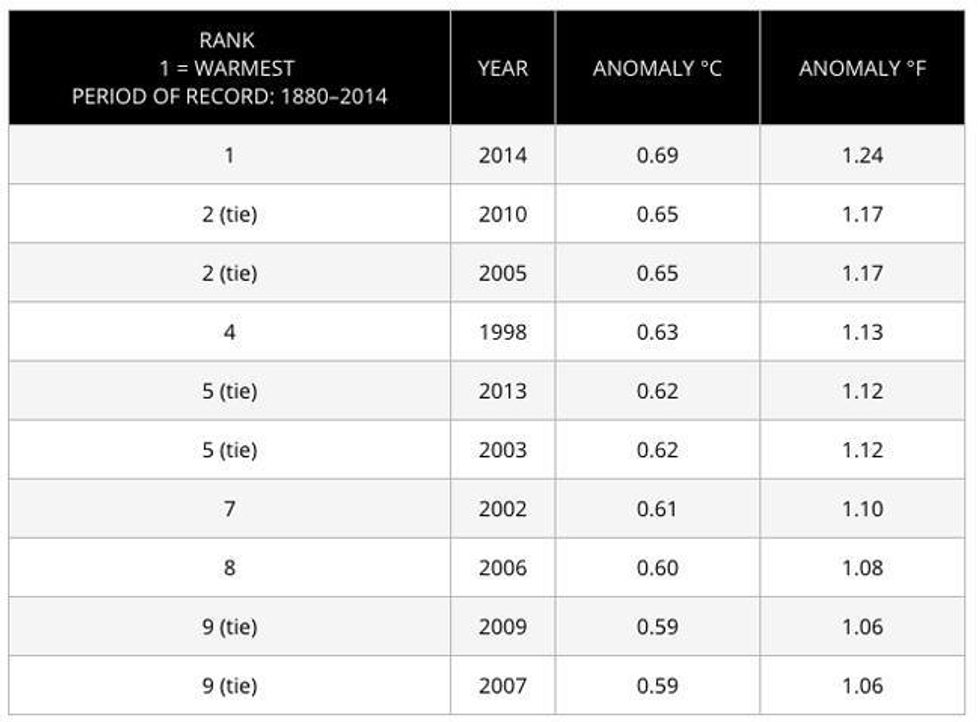 "Warmer-than-average conditions were present across much of the world's land and ocean surfaces during 2014," the report said. "These contributed to a global average temperature that was the highest or joint highest since records began in the mid-to-late 1800s. Over land surfaces, Eurasia and western North America were particularly warm, while noticeable cold was felt in eastern North America, which suffered several Arctic cold-air outbreaks in early 2014. The frequency of warm extreme temperatures was above average for all regions apart from North America."
2. Greenhouse Gas Emissions: Driving those temperature increases were all the major heat-trapping greenhouse gases, including carbon dioxide, methane and nitrous oxide, which reported record high atmospheric concentrations. Carbon levels at Mauna Loa stayed above 400 ppm from April through June, and globally the average was 397.2ppm. Methane concentrations rose as well, with an increase that's bigger than the average annual increase of the past decade.
3. Sea Surface Temperature: The average sea surface temperature globally was the highest on record, with especially warm temperatures in the western Atlantic and central and northeast Pacific. While this didn't drive an El Niño event in 2014, scientists expect one to arrive in 2015.
4. Ocean Temperature: The heat content of the ocean's waters also set a record, reflecting the fact that the oceans absorb more than 90 percent of the heat trapped in the Earth's atmosphere by greenhouse gases. As greenhouse gases rise, therefore, so do ocean temperatures.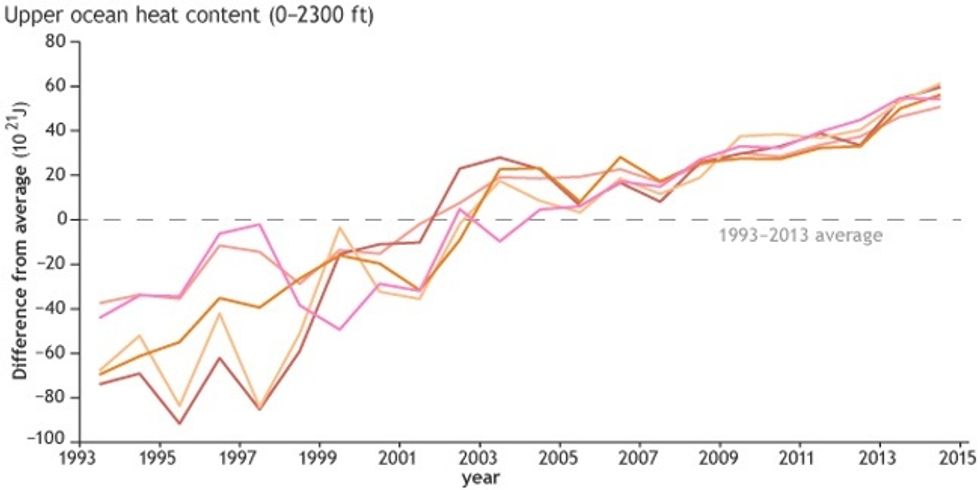 Ocean heat content each year since 1993 compared to the 1993-2013 average (dashed line) from a variety of data sources. Exact estimates differ among data sets, but they all show the same upward trend. Graph adapted from Figure 3.7 in State of the Climate in 2014.
5. Sea Level Rise: Sea levels are setting records too. Sea levels are now about 67 millimeters, or about 2.6 inches, higher than they were in 1993. Factors contributing to this rise include the melting of glaciers and other sea ice, the fact that water expands as it warms and melting land ice flowing out to sea.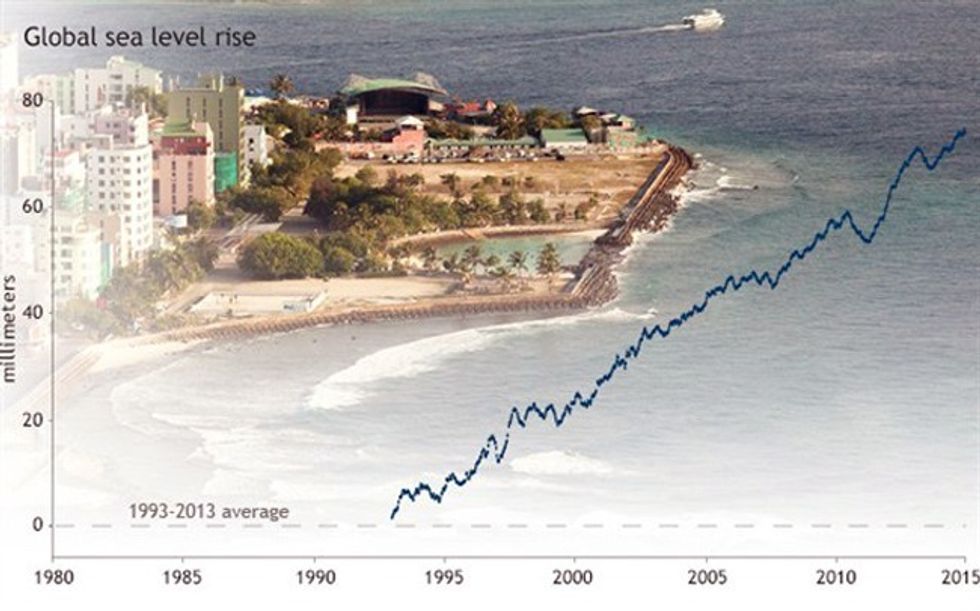 6. Greenland Ice Melt: The Greenland ice sheet was above average in its rate for melt for 90 percent of the regular melt season. It hit a record low for August in how much of the sun's energy is reflected off its surface. Melting darkens the ice sheet's surface, making it less able to reflect the sun's energy.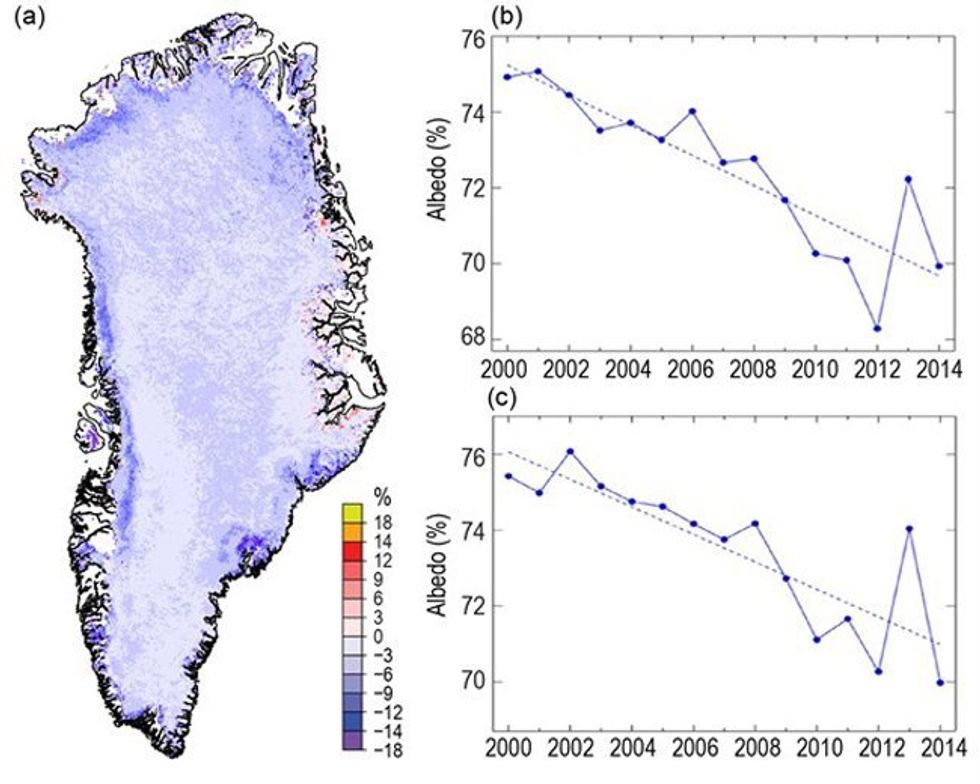 7. Antarctic Ice Melt: Antarctic sea ice set a different record—for highest sea ice extent, which has broken records three years running. One possible reason for that is changing wind patterns, scientists say. Without land to block it as in the Arctic, ice near land blows out to sea, exposing open water, which then freezes. While it might sound counterintuitive to the idea of a warming planet, it's indicative of  potentially climate change-driven atmospheric shifts.
"As we step into the next quarter-century of this report's life, we look forward to seeing our Earth science disciplines grow to meet the challenges associated with documenting the evolving state of our planet's climate system in this series," says the report. "These challenges are not just in observing and documenting, but in connecting: across the climate system's several major components and associated myriad sub-components, the time scales and observing practices related to these, and the possibilities of satellite-era Big Data with the longevity and purpose of more traditional observations."
YOU MIGHT ALSO LIKE
David Suzuki: Is the Climate Crisis Creating a Global Consciousness Shift?
June 2015 Smashes Heat and Rainfall Records in U.S.
Antarctica Records Hottest Day Ever, New Study Finds Rapid Acceleration of Ice Melt
EcoWatch Daily Newsletter
Pope Francis is certainly putting his muscle where his mouth is when it comes to climate change. Just a month after his groundbreaking Encyclical on the topic, the Vatican will host a workshop called "Modern Slavery and Climate Change: The Commitment of Cities," followed by a symposium on "Prosperity, People and Planet: Achieving Sustainable Development in Our Cities."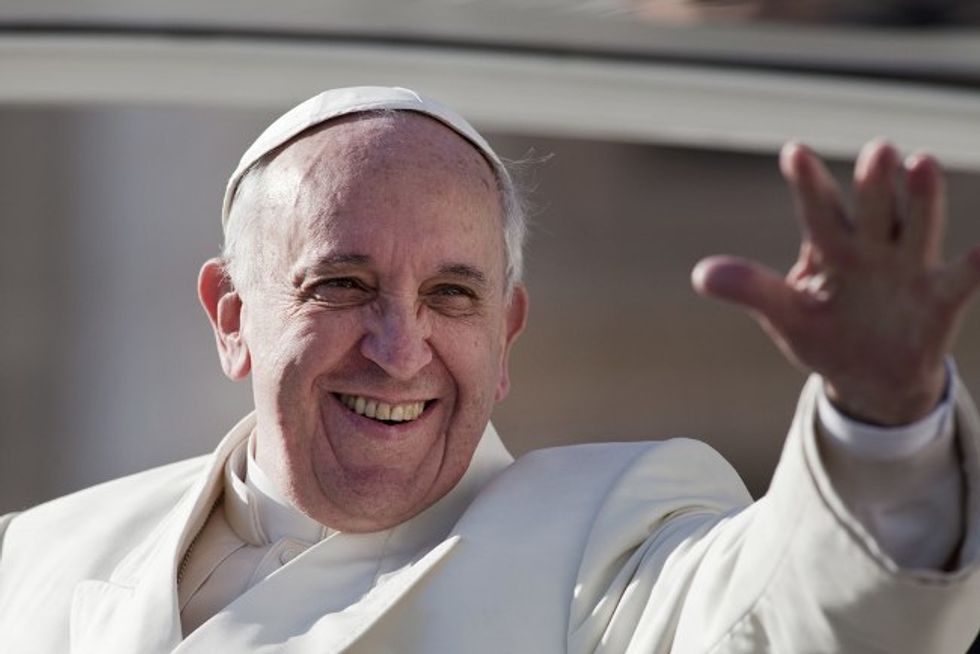 Photo credit: Shutterstock
He has invited mayors from around the world to the gathering, taking place next Tuesday and Wednesday. It's the first time an international group of mayors has gathered at the Vatican and the fact that they're doing so to address the impacts of climate change on the poor shows what a high priority the issue is for Pope Francis. About 60 mayors are scheduled to attend from every corner of the globe, from big cities like Mexico City and New York, and small cities like Soroti, Uganda, with a population of about 40,000. The Pope is expected to address the gathering.
"I am deeply thankful that Pope Francis is tackling issues of such grave importance not only to my city of Minneapolis but to the world," said Mayor Betsy Hodges. "I look forward to learning how Minneapolis can join hands in global efforts around climate change and ending the factors that contribute to 21st century trade in human beings, and to share the successes we that we as a city have achieved."
Seattle Mayor Ed Murray said, "Seattle is an innovative leader in sustainability and carbon reduction, but too often the benefits of our progress are not equitably shared. Our most at-risk communities, low-income families and communities of color are disproportionally impacted by climate change. Seattle is committed to changing this through our Equity and Environment Initiative to ensure strong social justice outcomes in our environmental policy. I'm humbled to have the opportunity to share this experience with global leaders as we heed the Pope's call for action."
At a press conference in the Vatican yesterday to talk about the upcoming event, Bishop Marcelo Sánchez Sorondo, the chancellor of the Pontifical Academy of Social Sciences which is hosting it, explained that climate change and modern slavery are "interconnected emergencies." "Although the poor and the excluded have the least effect on climate change, they are the most exposed to the terrible threat posed by human-induced climate disruption," he said.
Bishop Sanchez referred to the Pope's words in the recent Encyclical, "The climate is a common good, belonging to all and meant for all. At the global level, it is a complex system linked to many of the essential conditions for human life," adding, "As the Pontifical Academy of Sciences has shown in several studies, available as free downloads on our website www.pas.va, this warming has been accompanied by a constant rise in the sea level. Moreover, it's difficult not to link it to extreme weather events such as prolonged drought, heat waves and destructive storms, which are becoming more and more frequent. Humanity, therefore, is called to recognize the need for changes of lifestyle, production and consumption in order to combat this warming or at least the human causes which produce or aggravate it."
He went on to explain the importance of mayors in making these changes.
"Following the Encyclical, our commitment is to make the whole of society aware of these phenomena and of the human responsibilities of these crises and to react firmly, as a new moral imperative for all of humanity in favor of the common good," he said. "In this fundamental moral context, cities and their mayors play a key role. Currently, most of humanity is concentrated in formal and informal urban settlements, and this trend is set to increase. Although the poor and the excluded have the least effect on climate change and often live on the outskirts of the city, they are the most exposed to the terrible threat posed by human-induced climate disruption."
"We intend for the mayors to commit to promoting the empowerment of the poor and of those who live in vulnerable conditions in our cities and in our urban settlements, reducing their exposure to  extreme weather events caused by radical environmental, economic and social instabilities, which create fertile ground for forced migration and human trafficking," said Sanchez. "In short, we would like our cities and urban settlements to become more socially inclusive, safe, resilient and ecologically integrated."
Some of the U.S. mayors who are committed to attending include those from San Francisco, Seattle, Boulder, New Orleans, San Jose, Boston, Minneapolis and Birmingham, Alabama, as well as California Gov. Jerry Brown, who said, "This unprecedented gathering of global leaders is a wake-up call to face up to the common threats of climate change and human exploitation."
New York Mayor Bill DiBlasio is among those who will address the conference.
"Pope Francis has been one of the world's most powerful voices on fighting income inequality, and Mayor de Blasio shares the pope's belief that addressing climate change is essential to that fight," said City Hall spokeswoman Monica Klein.
DiBlasio announced Friday he'd like the city to be 100 percent powered by renewables and put out a Request for Information (RFI) asking for clean energy ideas to move the city in that direction.
"This is a call to the marketplace: the biggest energy customer you'll find is ready to put our money where our mouth is when it comes to renewable power," said DiBlasio. "Our administration has made an unprecedented commitment to dramatically reducing our environmental footprint, becoming the largest city in the world to commit to 80x50. Now, by leveraging our energy purchasing power, we aim to catalyze new capacity, chart a path to powering 100 percent of city government from renewables and make clear why New York City remains a global leader in the fight against climate change."
Mayors are also coming from Oslo, Paris, Berlin, Vancouver, Rome, Florence, Naples, Rio de Janeiro, Sao Paulo, Bogota, Stockholm, Madrid, Algiers, Tehran, Kochi and Kingston in Jamaica. They're traveling from Nigeria, Gabon, South Africa, Botswana, Senegal and Mozambique.
The mayors planning to attend expressed excitement about the importance of this event and what it could accomplish.
"I am very much looking forward to discuss sustainable development of our cities to reduce global climate change and, by arranging this symposium, the Vatican is contributing to finding the viable long-term solutions we all work towards," said Oslo Mayor Stian Berger Røsland. "When we say humans must, and can, reduce our climate gas emissions, people do not envision a good public transport system or responsible building legislation. But when cities emit 70 percent of the world's CO2, clearly, we do have game-changing tools."
"Boulder is honored to join in discussion with Pope Francis and this group of global cities that have shown leadership through their actions to address the climate crisis," said Mayor Matthew Appelbaum. "The City of Boulder has long prioritized environmental stewardship and sustainability. Boulder and all local governments have essential roles in developing and implementing policies and technical solutions to mitigate, and adapt to, climate change, and working together to find innovative and responsible environmental actions that can be adopted globally."
"Here in Jamaica we are constantly reminded of our contribution to and the effects of human-induced climate change as we experience hotter days and nights, less rainfall and longer periods of drought," said Kingston Mayor Dr. Angela Brown Burke. "And even as global and economic development are top of the agenda, we are mindful of our symbiotic relationship with the environment—the oxygen that is produced by plants is vital to our continued existence and plants cannot survive without the carbon dioxide we exhale. I am grateful that we have been afforded the opportunity to participate in these meetings where we can explore and share ideas on how we can live up to our God-given mandate as ordained custodians of the Earth."
YOU MIGHT ALSO LIKE
Pope Francis' Encyclical Urges Swift Action on Climate Change Ahead of Paris Climate Talks
Pope Francis: Unbridled Capitalism Is 'Dung of the Devil'
Marc_Osborne / iStock / Getty Images

Making the switch to solar energy can help you lower or even eliminate your monthly electric bills while reducing your carbon footprint. However, before installing a clean energy system in your home, you must first answer an important question: "How many solar panels do I need?"
To accurately calculate the ideal number of solar panels for your home, you'll need a professional assessment. However, you can estimate the size and cost of the system based on your electricity bills, energy needs and available roof space. This article will tell you how.
If you make a purchase using the links included, we may earn commission.
Factors That Influence How Many Solar Panels You Need
To determine how many solar panels are needed to power a house, several factors must be considered. For example, if there are two identical homes powered by solar energy in California and New York, with exactly the same energy usage, the California home will need fewer solar panels because the state gets more sunshine.
The following are some of the most important factors to consider when figuring out many solar panels you need:
Size of Your Home and Available Roof Space
Larger homes tend to consume more electricity, and they generally need more solar panels. However, they also have the extra roof space necessary for larger solar panel installations. There may be exceptions to this rule — for example, a 2,000-square-foot home with new Energy Star appliances may consume less power than a 1,200-square-foot home with older, less-efficient devices.
When it comes to installation, solar panels can be placed on many types of surfaces. However, your roof conditions may limit the number of solar panels your home can handle.
For example, if you have a chimney, rooftop air conditioning unit or skylight, you'll have to place panels around these fixtures. Similarly, roof areas that are covered by shadows are not suitable for panels. Also, most top solar companies will not work on asbestos roofs due to the potential health risks for installers.
Amount of Direct Sunlight in Your Area
Where there is more sunlight available, there is more energy that can be converted into electricity. The yearly output of each solar panel is higher in states like Arizona or New Mexico, which get a larger amount of sunlight than less sunny regions like New England.
The World Bank has created solar radiation maps for over 200 countries and regions, including the U.S. The map below can give you an idea of the sunshine available in your location. Keep in mind that homes in sunnier regions will generally need fewer solar panels.
© 2020 The World Bank, Source: Global Solar Atlas 2.0, Solar resource data: Solargis.
Number of Residents and Amount of Energy You Use
Households with more members normally use a higher amount of electricity, and this also means they need more solar panels to increase energy production.
Electricity usage is a very important factor, as it determines how much power must be generated by your solar panel system. If your home uses 12,000 kilowatt-hours (kWh) per year and you want to go 100% solar, your system must be capable of generating that amount of power.
Type of Solar Panel and Efficiency Rating
High-efficiency panels can deliver more watts per square foot, which means you need to purchase fewer of them to reach your electricity generation target. There are three main types of solar panels: monocrystalline, polycrystalline and thin-film. In general, monocrystalline panels are the most efficient solar panels, followed closely by polycrystalline panels. Thin-film panels are the least efficient.
How to Estimate the Number of Solar Panels You Need
So, based on these factors, how many solar panels power a home? To roughly determine how many solar panels you need without a professional assessment, you'll need to figure out two basic things: how much energy you use and how much energy your panels will produce.
According to the latest data from the U.S. Energy Information Administration (EIA), the average American home uses 10,649 kWh of energy per year. However, this varies depending on the state. For example:
Louisiana homes have the highest average consumption, at 14,787 kWh per year.
Hawaii homes have the lowest average consumption, at 6,298 kWh per year.
To more closely estimate how much energy you use annually, add up the kWh reported on your last 12 power bills. These numbers will fluctuate based on factors like the size of your home, the number of residents, your electricity consumption habits and the energy efficiency rating of your home devices.
Solar Panel Specific Yield
After you determine how many kWh of electricity your home uses annually, you'll want to figure out how many kWh are produced by each of your solar panels during a year. This will depend on the specific type of solar panel, roof conditions and local peak sunlight hours.
In the solar power industry, a common metric used to estimate system capacity is "specific yield" or "specific production." This can be defined as the annual kWh of energy produced for each kilowatt of solar capacity installed. Specific yield has much to do with the amount of sunlight available in your location.
You can get a better idea of the specific yield that can be achieved in your location by checking reliable sources like the World Bank solar maps or the solar radiation database from the National Renewable Energy Laboratory.
To estimate how many kW are needed to run a house, you can divide your annual kWh consumption by the specific yield per kilowatt of solar capacity. For example, if your home needs 15,000 kWh of energy per year, and solar panels have a specific yield of 1,500 kW/kW in your location, you will need a system size of around 10 kilowatts.
Paradise Energy Solutions has also come up with a general formula to roughly ballpark the solar panel system size you need. You can simply divide your annual kWh by 1,200 and you will get the kilowatts of solar capacity needed. So, if the energy consumption reported on your last 12 power bills adds up to 24,000 kWh, you'll need a 20 kW system (24,000 / 1,200 = 20).
So, How Many Solar Panels Do I Need?
Once you know the system size you need, you can check your panel wattage to figure how many panels to purchase for your solar array. Multiply your system size by 1,000 to obtain watts, then divide this by the individual wattage of each solar panel.
Most of the best solar panels on the market have an output of around 330W to 360W each. The output of less efficient panels can be as low as 250W.
So, if you need a 10-kW solar installation and you're buying solar panels that have an output of 340W, you'll need 30 panels. Your formula will look like this: 10,000W / 340W = 29.4 panels.
If you use lower-efficiency 250-watt solar panels, you'll need 40 of them (10,000W / 250W = 40) panels.
Keep in mind that, although the cost of solar panels is lower if you choose a lower-efficiency model over a pricier high-efficiency one, the total amount you pay for your solar energy system may come out to be the same or higher because you'll have to buy more panels.
How Much Roof Space Do You Need for a Home Solar System?
After you estimate how many solar panels power a house, the next step is calculating the roof area needed for their installation. The exact dimensions may change slightly depending on the manufacturer, but a typical solar panel for residential use measures 65 inches by 39 inches, or 17.6 square feet. You will need 528 square feet of roof space to install 30 panels, and 704 square feet to install 40.
In addition to having the required space for solar panels, you'll also need a roof structure that supports their weight. A home solar panel weighs around 20 kilograms (44 pounds), which means that 30 of them will add around 600 kilograms (1,323 pounds) to your roof.
You will notice that some solar panels are described as residential, while others are described as commercial. Residential panels have 60 individual solar cells, while commercial panels have 72 cells, but both types will work in any building. Here are a few key differences:
Commercial solar panels produce around 20% more energy, thanks to their extra cells.
Commercial panels are also more expensive, as well as 20% larger and heavier.
Residential 60-cell solar panels are easier to handle in home installations, which saves on labor, and their smaller size helps when roof dimensions are limited.
Some of the latest solar panel designs have half-cells with a higher efficiency, which means they have 120 cells instead of 60 (or 144 instead of 72). However, this doesn't change the dimensions of the panels.
Conclusion: Are Solar Panels Worth it for Your Home?
Solar panels produce no carbon emissions while operating. However, the EIA estimates fossil fuels still produce around 60% of the electricity delivered by U.S. power grids.
Although the initial investment in solar panels is steep, renewable energy systems make sense financially for many homeowners. According to the Department of Energy, they have a typical payback period of about 10 years, while their rated service life is up to 30 years. After recovering your initial investment, you will have a source of clean and free electricity for about two decades.
Plus, even if you have a large home or find you need more solar panels than you initially thought you would, keep in mind that there are both federal and local tax credits, rebates and other incentives to help you save on your solar power system.
To get a free, no-obligation quote and see how much a solar panel system would cost for your home, fill out the 30-second form below.
Presidential candidate Hillary Clinton met behind closed doors with House and Senate Democrats Tuesday to talk about her positions on key issues. According to the members of Congress who attended the lunch, she told them that climate change can be a winning issue for Democrats, especially among younger voters, if they can develop a message to persuade voters that action is essential.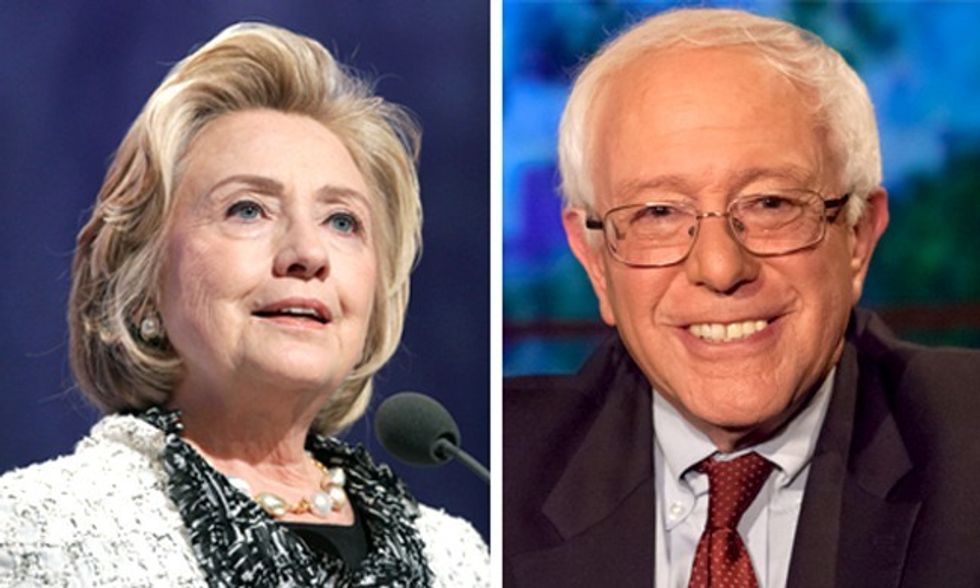 "She was incredible," said Maryland Sen. Ben Cardin. "She really relates [climate change] to the current political communities and how we have to do a better job. We know the policy, but we have to do a better job on the politics."
Congressman Raul Grijalva of Arizona, who co-chairs the House Progressive Caucus, also gave Clinton's session a favorable review.
"I thought it was pretty solid," he said. "Some of the progressive issues and members have kind of been crying in the wilderness for a while, and now these issues like climate change, income inequality and the jobs agenda are resonating with the public. The fact that the progressive causes and organizations feel more in touch with and included with Hillary now is a mark that she understands that."
"You hear issues from her when she's out on the stump that are pretty much identical with what progressives are saying in the caucus," said Ohio Sen. Sherrod Brown.
According to the National Journal, "Clinton framed global warming as a pressing and serious threat and touted the climate credentials of John Podesta, the chairman of her 2016 campaign and a former climate adviser to President Obama."
However, she also went easy on coal, according to Sen. Joe Manchin, who represents the coal mining state of West Virginia. He invited Clinton to tour West Virginia's coal country.
"She was very much concerned," he said. "She said people need to realize what coal has done for this country. People don't realize that; they just want to condemn it now, and she was very compassionate about that."
In addition, Clinton continued her silence on an issue that many environmental activists see as make-or-break: the Keystone XL pipeline. She has said nothing about whether she would give the project a thumbs-up or a thumbs-down.
One of her competitors for the Democratic presidential nomination, Vermont Sen. Bernie Sanders, left the meeting early and held a press conference to remind reporters that he is more progressive than Clinton and that he stands firmly against the pipeline.
"I have helped lead the opposition against the Keystone pipeline," said Sanders. "I don't believe we should be excavating or transporting some of the dirtiest fuel on this planet. I think Secretary Clinton has not been clear on her views on that issue."
Senate Minority Leader Harry Reid said that Sanders has also been invited to come make a presentation to congressional Democrats.
A third Democratic primary candidate, Martin O'Malley, has also been running on strong environmental advocacy and opposes Keystone XL. He has called for the U.S. to be powered 100 percent by renewables by 2050. Both O'Malley and Sanders joined Green Party candidate Jill Stein in taking a pledge—promoted by The Nation and 350 Action—to reject any campaign funding from fossil fuel companies. Clinton did not respond to the pledge.
But regardless of where Clinton stands in relation to Sanders and O'Malley, her record and her remarks on climate are in stark contrast to the entire Republican field, now up to 15 candidates and soon to be 16 when Ohio Gov. John Kasich announces his candidacy on July 21. While a few have tentatively said that climate change is likely happening, all have warmly embraced the fossil fuel industry and most have joined congressional Republicans in rejecting steps to address climate, and all support the Keystone XL pipeline.
YOU MIGHT ALSO LIKE
Hillary Clinton Announces 2016 Presidential Bid: Find Out Where She Stands on Climate
9 Climate-Denying Republicans Who Might Run for President
Martin O'Malley Enters Presidential Race Calling Climate Change 'Greatest Business Opportunity to Come to Our Country in 100 Years'
[Editor's update: According to the Community Environmental Legal Defense Fund, an attempt to quash a citizens' county charter initiative failed in the Common Pleas Court this week. Seeking to expand their right to local self-government, and to ban the injection of fracking waste and related activities as a violation of rights, Athens County residents recently submitted well over the required number of signatures to place their initiative on the November ballot.]
As more and more evidence emerges on the potential harm to air, water and land from fracking and as oil and gas companies get more aggressive in growing their operations, communities are saying "enough" and fighting to retain or restore their democracy.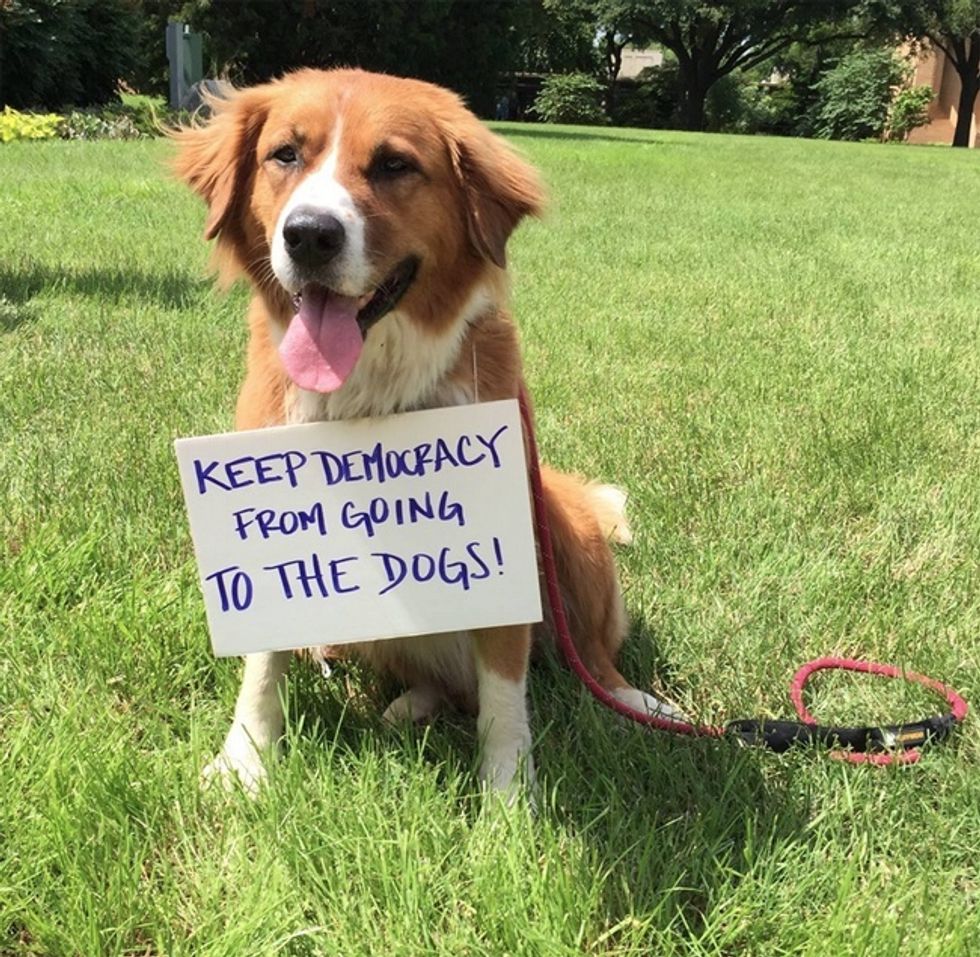 The most recent battleground is Ohio where communities are trying various tactics, including charter reform, to ban fracking operations within their borders. It's pitted local officials against the Ohio Department of Natural Resources (ODNR) and the courts.
This week Akron City Council passed a resolution opposing a bill currently in the legislature that would allow the forced inclusion of public lands in a fracking operation without permission of the public entity. Summit Metro Parks already passed such a resolution and asked the Akron City Council to do so as well (Akron is located in Summit County).
"We're very concerned that it takes local control away," said Summit Metro Parks interim director Mike Johnson.
This is merely the latest in a series of skirmishes around the state whose eastern half, sitting atop the Utica and Marcellus shale formations, has become a mecca for fracking operations. The liberal college community of Athens, in southeastern Ohio, is a hotbed for fracking wastewater injection wells (they currently have eight active fracking waste injection wells and are likely to become Ohio's number one fracking waste dump this year) and anti-fracking activism. The city successfully passed a fracking ban last November with 78 percent of the vote, while bans failed in three other Ohio communities.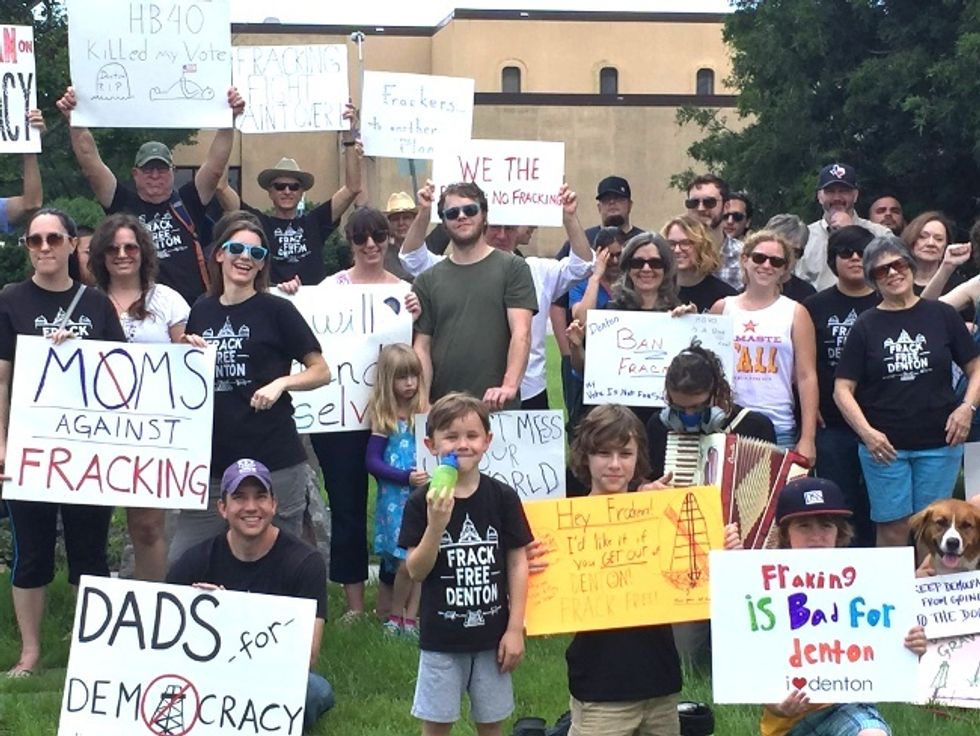 Anti-fracking activists there will be in court this week trying to get a charter issue on the ballot for this coming November that would make it illegal to use Athens County water for fracking or to dispose of fracking waste products in the county. The county board of elections has rejected the initiative, saying it's not a valid charter so charter supporters are appealing.
But Ohio courts have not been friendly to community pleas. The Ohio Supreme Court ruled in February in a 4-3 decision that fracking falls under state, not local, jurisdiction. Last week, a court dismissed a lawsuit brought by citizens of Broadview Heights in Northeast Ohio, saying that the right of companies to frack trumps the rights of community citizens. And more than 100 local elected officials signed a letter from Environment Ohio appealing to Gov. John Kasich to support local control, which was delivered to him last week.
"Fracking brings local harm, contaminating our drinking water, polluting our air and causing earthquakes," said Sarah Frost, outreach director of Environment Ohio. "So it should be subject to local control."
The response from Kasich's office was unsurprisingly cool.
"As you know, the governor cannot unilaterally repeal laws," said Kasich spokesman Rob Nichols. "They may wish to consider directing their attention to the Ohio General Assembly or the Ohio Supreme Court."
"Even if we're stuck with the court's decision, and the governor is going to side with the oil and gas industry, there are several steps we can take that are still valid," said letter signer James O'Reilly, a councilman in the suburban Cincinnati town of Wyoming. "It's important to look at all of the alternatives because it's unlikely any one solution will work. We need to get back our authority to protect the public."
According to the Cleveland Plain Dealer, "He [O'Reily] recommended using local ordinances to enforce road weight limits on fracking trucks in an effort to prevent the degradation of bridges, culverts and roads; enforcing local noise ordinances and curfews to limit drilling operations to daylight hours, and prevent drilling 24 hours a day, seven days a week; and to enforce air quality ordinances that restrict air emissions that could aggravate childhood asthma."
In the fracking boom state of Texas, which has traditionally been friendly to drilling interests, citizens in the city of Denton voted last November to ban new fracking operations within its borders, after attempts to enlist cooperation from drilling companies had failed. This spring the Texas legislature passed a bill stripping local communities of the right to regulate drilling, ultimately taking away their democracy. In Denton, that's led to an escalation of protests with demonstrators arrested last month blocking the entrance to a fracking site.
"It just became obvious that we had exhausted all legal means to block fracking and that this unjust law is being forced on a community that voted it out," said Tara Linn Hunter, one of those arrested. "We saw that it was about to happen so we decided it was more important to do what was right than go along."
The city ultimately repealed its ban to protect itself against ongoing lawsuits from oil and gas interests, despite the protests of citizens who felt it should be kept in place in case of a successful challenge to the new state law to avoid another expensive campaign in which fracking interests outspent citizen groups 10-1.
"Fracking is happening right now in our community, again, and it's pretty clear that in our community, people do not want fracking to happen," said Denton resident Ron Seifert at a recent city council meeting. "So my question is: What is the city prepared to do to follow through with the will of the people here?"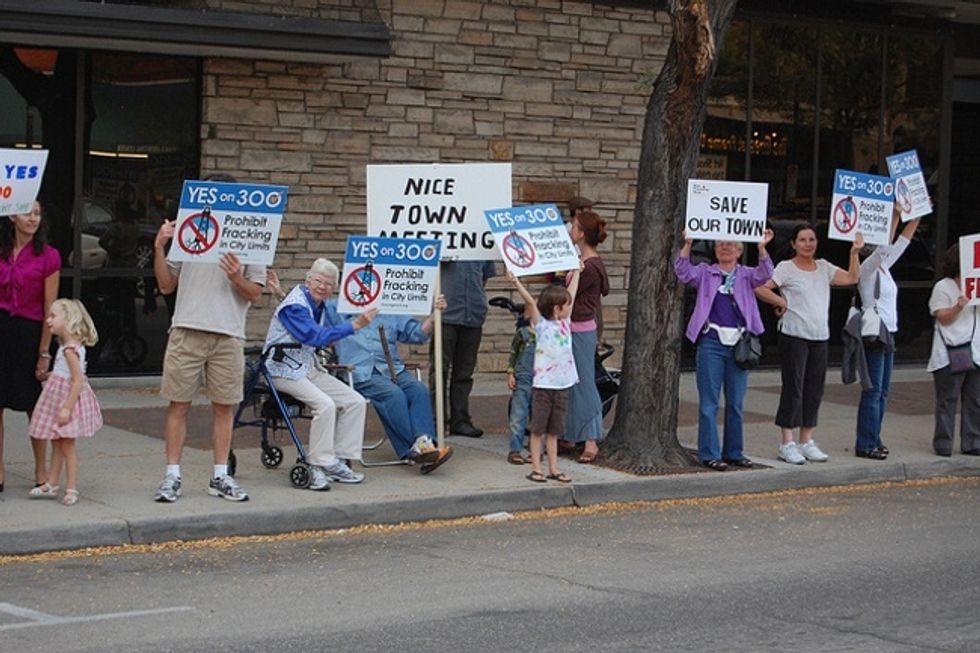 Free Range Longmont
Several Colorado cities have also passed local fracking bans in the last several years, including Boulder, Longmont, Fort Collins and Lafayette. They've been fought by oil and gas interests which have successfully appealed to the courts to block the bans. To ward off a threatened statewide ballot initiative to ban fracking, Gov. John Hickenlooper convened a task force last fall to try to hammer out a compromise. But community members felt the proposals that emerged from the panel's deliberations were overly influenced by the oil and gas companies and didn't sufficiently protect citizens.
The panel's proposals would give local governments a consulting role but not the power to set their own regulations over oil and gas drilling operations. The panel also rejected proposals to require disclosure of all chemicals used during the drilling process.
"I stand by the pessimistic view most of us had of the Blue Ribbon Panel," said Karen Pike of Coloradans Against Fracking. "It was loaded with oil and gas industry executives and other fossil fuel advocates. Only a few (less than a third) were known to be skeptical of the industry's claims regarding the safety of fracking."
She pointed out that the meeting schedule for stakeholder input on the panels proposals was posted July 7, with the first meeting scheduled that day—hosted by the Colorado Oil and Gas Association, American Petroleum Institute and Colorado Petroleum Association.
They are now looking at bringing the issue to the 2016 ballot.
On the east coast, activist efforts against fracking have been more successful, as New York has banned fracking, Maryland has enacted a two-and-a-half-year moratorium and Pennsylvania courts have upheld local community bans, while new Pennsylvania Gov. Tom Wolf is less friendly to uncontrolled fracking than its previous Gov. Tom Corbett. One of his first acts in office in January was to restore a moratorium, eliminated by Corbett, on fracking in state parks and forests.
YOU MIGHT ALSO LIKE
No Fracking in State Parks, Ohio House Democrats and Republicans Surprisingly Agree
3 Arrested in Denton As Oklahoma Joins Texas in Banning Fracking Bans
There's been buzz for a couple of years around the potential presidential campaign of Wisconsin Gov. Scott Walker. Today he made it official: he's running and is now the 15th candidate to enter the GOP presidential race.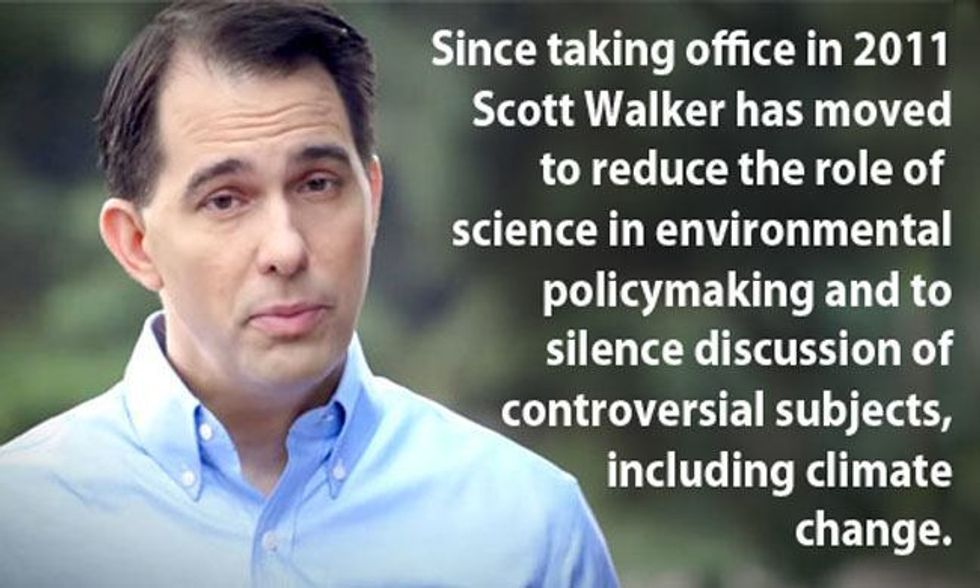 Walker has been widely touted as a frontrunner and someone who actually could snag the nomination, unlike some of the candidates in the crowded field. But his record of failure in his own state—sinking wages, largest loss of middle class in the U.S., population outflow, increased government secrecy, top aides convicted and a federal investigation into possible abuses of his offices continuing—hasn't been widely scrutinized yet.
And of course, that includes a dismal record on the environment. He doesn't have any outrageous climate denier statements on record, but he does have a history of coziness with fossil fuel interests and climate deniers, and a resume of attacks on environmental regulations, two things that are probably connected.
According to a recent article in Scientific American, "Since taking office in 2011 Walker has moved to reduce the role of science in environmental policymaking and to silence discussion of controversial subjects, including climate change, by state employees. And he has presided over a series of controversial rollbacks in environmental protection, including relaxing laws governing iron mining and building on wetlands, in both cases to help specific companies avoid regulatory roadblocks. Among other policy changes, he has also loosened restrictions on phosphorus pollution in state waterways, tried to restrict wind energy development and proposed ending funding for a major renewable energy research program housed at the University of Wisconsin–Madison."
"He really has gone after every single piece of environmental protection: Land, air, water—he's left no stone unturned," said Kerry Schumann, executive director of the Wisconsin League of Conservation Voters (LCV). "It's hard to imagine anyone has done worse."
Walker proposed cutting 57 employees at the state Department of Natural Resources (DNR) as part of his 2016-2017 budget including 27 in the Bureau of Natural Sciences, although the final budget, which Walker signed this weekend, only cut 18. But that budget is stuffed with anti-environment policy items.
"I hate hyperbole, but I can honestly say that this is one of the two worst conservation budgets in the past 50 years," said George Meyer, former DNR secretary and now executive director of the Wisconsin Wildlife Federation.
The Wisconsin LCV pointed to a few "lowlights." The budget removed water quality protections from rivers and lakes in 30 counties which depend on activities such as boating, fishing and swimming to attract tourism, barring them from setting regulations stricter than the state's. It cut all subsidies for state parks, which comprised 28 percent of their funding, making it the first state park system totally dependent on user fees. It prohibited local governments from requiring that pipeline companies have enough insurance to deal with cleanup from potential oil spills while also included incentives for Canada's Enbridge to expand pipelines to bring tar sands oil through Wisconsin.
"This is putting taxpayers on the hook for a billion dollar bailout," said Peter Anderson with 350 Madison. "Given the likelihood of a spill from Enbridge's tar sands pipelines, Dane County has currently required environmental insurance in order to guarantee they won't be liable to pay for those cleanup costs. By removing this ability, no other county will be able to protect itself in this manner and tax payers will be responsible for these cleanup costs."
"Governor Walker's state budget is bad news for Wisconsin's air, water, wildlife and the many economic engines that depend on maintaining sustainably managed, intact natural resources," said the Wisconsin John Muir Chapter of the Sierra Club. "Many of the changes to the DNR threaten Wisconsin's tourism industry, which supports 185,495 jobs and contributes $17.5 billion to our economy each year."
Walker has also been a leading figure in the state attacks on President Obama's Clean Power Plan. After Senate Majority Leader Mitch McConnell asked for state governors to defy the federal government and refuse to comply with the plan, few agreed—but Walker was one of them. He called the plan "unworkable" and "riddled with inaccuracies" and said that it would lead to "staggering costs."
Even if Walker hasn't been caught saying climate change isn't happening or isn't human caused, he has a history of close relationships with climate deniers who have. One of the most notorious climate denial think tanks is the Chicago-based Heartland Institute, which recently made headlines for its attacks on Pope Francis' climate advocacy. The group has hosted a dinner and reception with Walker, which called him "America's most important and successful governor."
Walker is also close to the Koch brothers. The New York Times reported this spring that he was their candidate of choice to which they would direct the nearly $1 billion they vowed to spend putting a Republican in the White House. PoliticsUSA also reported that the "Koch brothers selected Wisconsin Gov. Scott Walker to be their chosen 2016 Republican candidate/puppet."
And, today, the Agenda Project Action Fund launched a new campaign with American Family Voices targeting Gov. Walker's ties to the Koch brothers. The campaign includes ad buys in Iowa and Washington, DC. Watch here:
"Puppet for President" is the first in a series planned against Walker which will focus on his relationship with the billionaire Koch brothers. The series will paint Walker as a bought and paid for PUPPET of the GOP mega-donors, according to the campaign statement.
"Americans are fed up with the influence of money has on our political leaders and they will vote accordingly," said Agenda Project President Erica Payne. "Our goal is to highlight the most egregious offenders and force them to pay a political price. The relationship between the Kochs and Governor Walker is an embarrassment to our democracy."
An anti-Walker rally will be held in Wisconsin next to the location where Walker will be making his presidential campaign announcement. Hundreds of rally goers will sport "Puppet for President" stickers to amplify the ad campaign's message.
"Walker's record shows that he is the ultimate puppet for the priorities of the Koch brothers: eviscerating protections for the environment, and eviscerating the power of working people to negotiate for better wages and working conditions," said AFV President Mike Lux. "This was a natural fit for AFV because we stand on the side of working people and against big-money special interests."
Walker's devotion to the fossil fuel billionaires was made clear after Walker got punked by blogger Ian Murphy back in 2011. Murphy called Walker, pretending to be David Koch. Walker fell for the ruse, accepted the call and had a lengthy revealing conversation with Murphy/"Koch" about his controversial attacks on union workers, which instigated massive protests at the state capitol. This friendship will be hard for Walker to deny—there's audio.
YOU MIGHT ALSO LIKE
First Florida, Now Wisconsin, Bans the Words 'Climate Change'
Pope or Kochs: Republicans, Who Do You Stand With?
Heartland Institute Tells Pope Francis: 'Humans Are Not Causing a Climate Crisis on God's Green Earth'
The islands of the Caribbean are some of the most beautiful places on Earth, which is why they are among the most popular tourist destinations.
But those same island nations also suffer from some of the highest electricity prices in the world, a factor that fuels poverty, helps grow their national debts and blocks their ability to plan for sustainable development. Because relatively little of that electricity comes from renewable sources, these countries spend large portion of their GDP importing fossil fuels, money that could otherwise be spent growing their economies.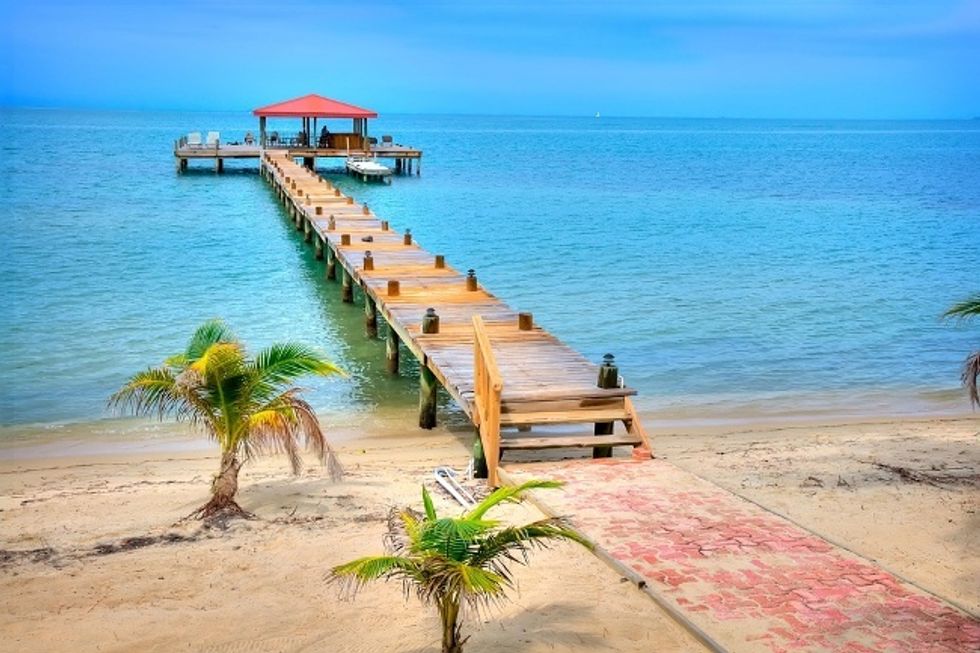 Photo credit: Shutterstock
And while these islands don't contribute significantly to global greenhouse gas emissions, they suffer an outsized impact from climate change, with rising sea levels, hotter temperatures and extreme weather events such as hurricanes.
That's why Virgin founder Sir Richard Branson's climate group the Carbon War Room (CWR), now partnered with Amory Lovins' think tank the Rocky Mountain Institute (RMI), created the Ten Island Challenge to encourage these nations to tap into their abundant supply of sun and wind. The challenge was kicked off last year at the Creating Climate Wealth Islands Summit to start collecting commitments from the islands, with CWR and RMI working with them to set ambitious renewable energy goals, develop plans to do so and build the infrastructure and resource capacity to execute those plans.
Aruba was the first nation to join the challenge. Its government worked with the two organizations to create the Smart Growth Pathways, and it has committed to transitioning from fossil fuels by 2020. St. Lucia, Grenada, the British Virgin Islands, the Bahamas, Turks and Caicos, and San Andres and Providencia have already joined the challenge and are working to transition their economies away from fossil fuels.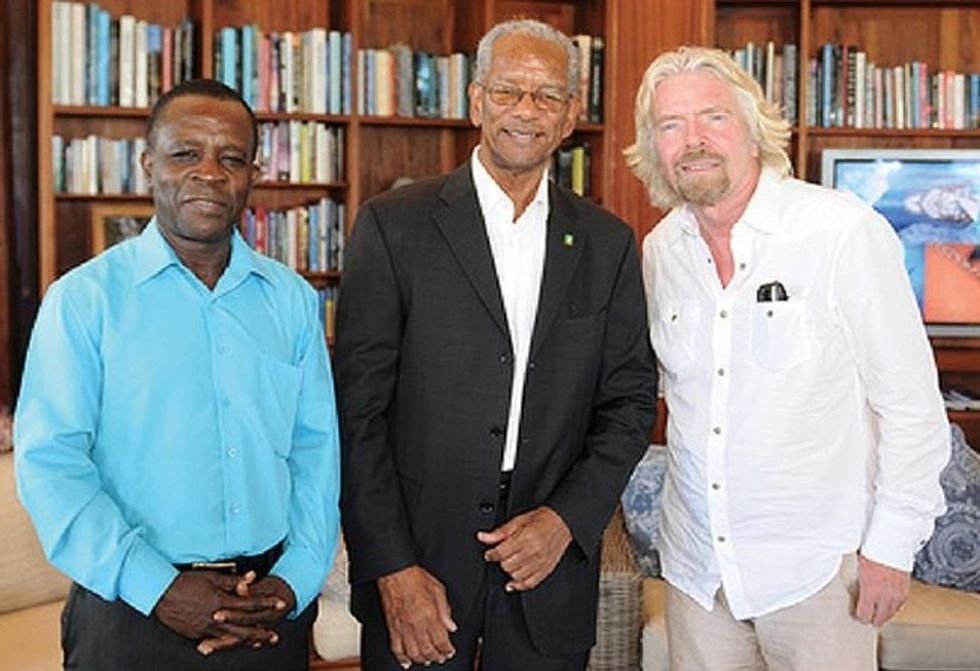 Now Belize, a country of about 340,000 off the east coast of Central America whose diverse natural ecosystem, extensive coastline, beautiful weather and Mayan ruins have made it a popular tourist destination, has signed on. Its government signed a Memorandum of Understanding to transition off fossil fuels, aiming for an eventual 100 percent renewables goal, while committing to be almost 90 percent renewable by 2033.
Belize is already more than halfway down the path to achieving that. Currently, about 60 percent of the country's electricity is generated through hydro or biomass, with the rest provided by fossil fuel-fired power plants. And that's down from the 66 percent provided by imported fossil fuel in 2009.
"We are thrilled to have Belize join the challenge," said José María Figueres, chairman of the board of the Carbon War Room, and the Rocky Mountain Institute. "Belize is a real leader in the region, producing 60 percent of its electricity from local and renewable hydro and biomass resources."
Belize's initiative will include such projects as developing its wind energy potential, expanding the use of electric vehicles and improving energy efficiency in its hospitals.
"Belize is extremely pleased to join the Ten Island Challenge," said Sen. Joy Grant, Belize Ministry of Energy, Science & Technology and Public Utilities. "As a regional leader in the use of renewable energy, this partnership with the Carbon War Room and Rocky Mountain Institute will allow Belize to make significant strides in realizing its renewable energy production target of 89 percent in the electricity sector by 2033. Achieving this milestone will also allow Belize to enhance its energy security and build its energy resiliency, while ensuring that it buffers its economy from the oil-price shocks that have debilitating impacts on small, open economies like Belize."
Belize is already a popular destination for ecotourists, including some famous ones. Actor Leonardo DiCaprio, a longtime environmental activist, is part of a group of investors developing an eco-resort on one of Belize's hundreds of outlying cayes. Its goal is to restore and protect the natural environment of the caye. It's set to open in 2018.
"Belize is truly unique," DiCaprio told the New York Times. "It has the second largest coral reef system in the world, and it has some of the most biodiverse marine life, like the manatee population and almost every species of fish you can imagine. With the onset of climate change, there are huge challenges, so we want the structure to not only enhance and improve the environment, but to be a model for the future."
YOU MIGHT ALSO LIKE
Leonardo DiCaprio Unveils Groundbreaking Eco-Resort in Belize
Renewable Energy Growth Mitigates Climate Change While Boosting Economy, IEA Reports
Deniers will keep on denying apparently, but the signs of climate change are everywhere. As the planet has warmed up, severe weather events are happening in every corner of the globe, alerting us to the need for strong, immediate action.
1. Many parts of the world are suffering from extended heat waves. We've heard a lot about the heat waves blanketing India and Pakistan, which have claimed a high body count. Thousands of people in the region have died as a result. The situation has been exacerbated by the region's high poverty—most of those dying have been the poor and/or homeless. Temperatures have soared as high as 122 degrees Fahrenheit in New Delhi.
"Let us not fool ourselves that there is no connection between the unusual number of deaths from the ongoing heat wave and the certainty of another failed monsoon," India's Earth Sciences Minister Harsh Vardhan told Reuters. "It's not just an unusually hot summer, it is climate change."
Heat wave in India is literally melting the roads with temps up to 48 °C / 118 °F. http://t.co/TNMvePI5Dj pic.twitter.com/j8gx5DYOz7

— Imgur (@imgur) May 26, 2015
2. There's been no dramatic death toll there, but Europe is also languishing under a heat wave, and temperatures there have set records in many places. Germany just set an all-time heat record of 104.5 degrees in the city of Kitzingen. Downtown Frankfort also had its hottest day on record, with a temperature of 102.2 degrees. Paris saw its second hottest day ever on July 1 when the temperature reached 103.5.
And players at this year's Wimbledon might almost think they're back at January's Australian Open where scorching heat has impacted matches for years during that country's peak summer season. On July 1, it reached 96 degrees at the nearest weather reporting station to the fabled tennis courts, but on-court temperatures were much higher. The temperature on Center Court was measured at more than 106 degrees.
Maybe those dangerously hot Australian matches have made the players take heat waves in stride, but top women players seemed unconcerned. "Yeah, it is going to be very hot," said the world No. 1 ranked player and top seed Serena Williams. "But I don't think I've ever played in 34, 35 degrees Celsius here. But I do in other countries. I just was training in Florida. It was like 42 degrees. I mean, this will be OK." The world No. 4 player, Maria Sharapova, was similarly unconcerned. "It's much warmer in my hometown of Longboat Key, Florida," she said.
It's a #heatwave in #Switzerland at 38°C - the Place des Nations fountains @UNGeneva are a good place to cool down! pic.twitter.com/EX24TnkkqS — UN Geneva (@UNGeneva) July 3, 2015
3. The wildfire season has started earlier than usual up and down the Pacific Coast of the U.S. and Canada with thousands of acres of drought-parched forests going up in flames. It's not only starting earlier but lasting longer and producing larger and more numerous fires, thanks to a combination of warming temperatures, extreme drought and stronger winds. In California, Oregon, Washington, Arizona, Saskatchewan, British Columbia and Alaska, hundreds of fires are forcing the evacuations of thousands of people from their homes. Alaska, where temperatures have warmed twice as fast as the rest of the U.S., saw almost a tenfold increase in wildfires in the 2000s over the 1950s and 1960s. Fires in western Canada are so large and numerous that smoke is blanketing much of the western and midwestern U.S., leading to air quality warnings as far away as Colorado and Minnesota. The National Weather Service has reported some smoke as far east as the Atlantic Coast.
And experts fear that the 2015 season could be the worst yet.
"Climate change and misguided forestry policies have combined to present a landscape very vulnerable to devastating fires," Dr. Wally Covington, director of the Ecological Restoration Institute at North Arizona University, told Climate News Network. "Since around 2000, we've seen more severe dry weather, matched with high winds throughout the western U.S. Intense firestorms are the result. Get in the vicinity of one of those and it's like being near a blast furnace."
Firefighters are battling over 300 #wildfires in Alaska right now. That's a troubling number. http://t.co/DKC7XvHUnw pic.twitter.com/XvpmBe1JJ5

— Greenpeace (@Greenpeace) June 29, 2015
4. Greenland's ice sheet remained solid during its cool spring, but now that summer has arrived, it's melting at a faster-than-normal rate for this time of year, with half its surface now liquid. Greenland might seem remote, but its ice sheet, the second largest glacial ice mass in the world, influences sea levels and how fast the Gulf Stream current moves. Although the temperatures in Greenland seem polar compared to Europe, those temperatures in the 30s and 40s are accelerating melt. The movements of massive hunks of ice are even causing earthquakes. "The earthquakes are not themselves destabilizing the ice sheet," said Meredith Nettles of the Lamont-Doherty Earth Observatory at Columbia University. "But they are a marker of the fact that the ice sheet is getting smaller and retreating."
Around 50% of the #greenland ice sheet is currently experiencing melt (from models + obs) http://t.co/fzy00SwV35 pic.twitter.com/kU5jk3d97M — Greenland (@greenlandicesmb) July 6, 2015
5. The drought in California is well into its fourth year, and the state imposed unprecedented water-saving restrictions in June. While rich people whine about their lawns turning brown, debates rage about allocations for drinking, agriculture, fracking and bottled water companies. Actor Tom Selleck is being accused by the Calleguas Municipal Water District in Ventura County of stealing water from a public hydrant and having it delivered in truckloads to his house. While conservatives have blamed gays, abortion, immigrants and even environmentalists for the drought, scientists, looking at actual facts, are fingering climate change as a more likely culprit.
Sneaky celeb #TomSelleck caught stealing thousands of gallons of water in drought-ravaged CA http://t.co/5MNSBS8Zdx pic.twitter.com/L0MqNIweJN

— Occupy Wall Street (@OccupyWallStNYC) July 8, 2015
According to the Union of Concerned Scientists, "Global climate change affects a variety of factors associated with drought. There is high confidence that increased temperatures will lead to more precipitation falling as rain rather than snow, earlier snow melt, and increased evaporation and transpiration. Thus the risk of hydrological and agricultural drought increases as temperatures rise."
YOU MIGHT ALSO LIKE
Epic Drought Brings Fear of Worst Wildfire Season Yet
Jon Stewart: 'It's Time to Get Real' About California's Epic Drought
Gathering in a local park with neighbors to watch city-sponsored fireworks or shooting off (sometimes illegal) fireworks in the backyard have become a time-honored way of celebrating the 4th.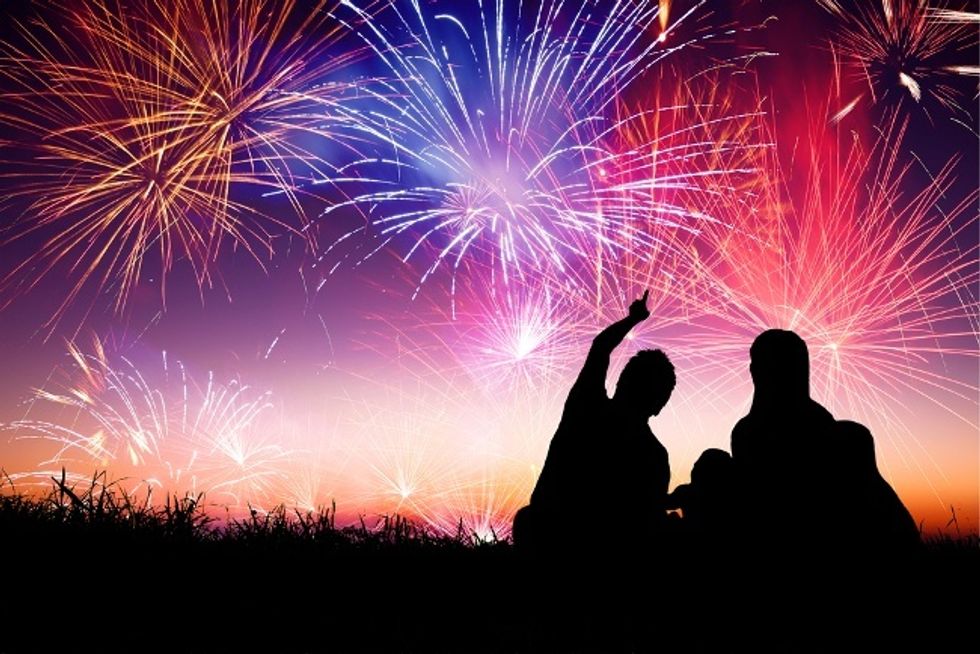 Photo credit: Shutterstock
But thanks to the ongoing drought, some communities on the west coast have eliminated their city-sponsored fireworks displays while many more have clamped down on personal fireworks. And fire departments across the country are on high alert over concern that illegal fireworks could fuel brush fires that turn into major wildfires, even as more states lift bans on the sales of fireworks to private individuals, including, most recently, Georgia and Ohio.
With an earlier than usual wildfire season already giving firefighters an extra workload, communities in California, Oregon, Washington and Alaska have nixed these civil displays of patriotism.
With Alaska currently ravaged by drought-fueled wildfires, the state's largest city, Anchorage, has cancelled its fireworks even though the state fire marshall's statewide ban on fireworks sales has been lifted following cooler weather and rains.
Cupertino, California, outside San Jose in the Bay area, will also go dark this year. With many cities in that area cutting their displays following the 2008 recession, Cupertino was one of the few still hosting such a show. Its reason for cancellation was drought-related but not wildfire-related: it's trying to conserve water. The high school, where the fireworks take place, switched to artificial turf 10 years ago to save water. But 100,000 gallons of water is needed to spray on the turf to prevent falling ashes from turning the turf into a pile of burning plastic.
City spokesman Rick Kitson said if the field was still real grass, the fireworks probably would have gone on.
"Because we've done the right thing, the total use of water becomes more conspicuous," said Kitson. "You've got to hose down the plastic before and a lot afterward."
Elsewhere in California, Kern County has banned displays in public parks and Danville has banned all fireworks, including those childhood staples of the 4th, sparklers.
"With the drought leaving the hills and yards in Danville extremely dry, it could potentially be very dangerous to be out and using fireworks this week," said Lt. Allan Shields of the Danville Police Department. "In Contra Costa County alone, firefighters respond to several fires per year, directly attributable to fireworks."
Los Angeles and San Francisco will still host displays. Bass Lake at the entrance to Yosemite National Park will be doing a laser light show in place of its usual fireworks display.
"There is no replacement for the fireworks show," said Michelle Miller, secretary of the Bass Lake Chamber. "But we believe the laser light show will be a fun and unique alternative, and a great option considering the current fire risks."
Washington Gov. Jay Inslee said the law doesn't allow a statewide fireworks ban. Such a ban is not on the list of things the governor can prohibit after declaring a state of emergency, as Inslee did last month due to wildfire danger, although many communities have banned personal fireworks. Some cities, including Seattle, will still sponsor civic shows. But in the small rural timber community of Forks, the official display was cancelled due to unusually dry conditions.
Portland, Oregon's fire chief Erin Janssen issued a burn ban a week before the holiday that included legal fireworks due to hot, windy weather conditions, but lifted the ban the following day.
"I suggest to show our patriotism, fly U.S. flags, not fireworks," said Janssens.
Oregon Gov. Kate Brown also urged caution.
"I encourage Oregonians to be aware and considerate of our state's natural beauty, neighbors and pets before deciding on when and where you choose to light fireworks," said Gov. Brown.
About 18,000 fires a year are reported to have been started by fireworks, with a majority of those occurring during the 4th of July holiday. And while most of those are small and quickly extinguished, cities and firefighters fear drought conditions could cause more of them to spread.
"Fireworks are not only dangerous, but of course due to their very nature can spark fires from dying embers reaching the dried-out vegetation," said AccuWeather Western weather expert Ken Clark. "This is heightened during periods of droughts, especially in the historic drought California is now in."
YOU MIGHT ALSO LIKE
Epic Drought Brings Fear of Worst Wildfire Season Yet
Oklahoma almost never used to have earthquakes. But in the last six years they've increased so much that last year the state surged past California as the most seismically active state in the continental U.S. Prior to 2009, the state averaged two quakes of greater than 3.0 magnitude annually. By 2014 that number had soared to 585, up from 109 in 2013.
The culprit? Scientists are convinced it's the wastewater injection wells that have accompanied the explosion of fracking in that state during the same time period.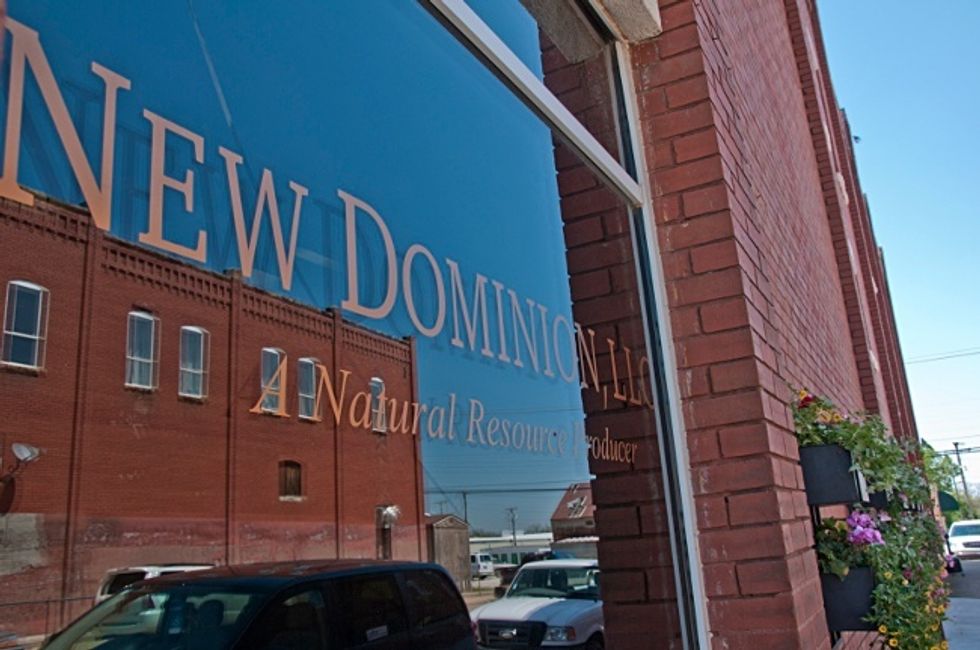 Now the Oklahoma Supreme Court has cleared the way for citizens to sue the oil and gas companies responsible for the wells. In a 7-0 decision, with two justices not voting, the court said that Sandra Ladra, a resident of Prague, Oklahoma, which was hit by a 5.6 magnitude earthquake on Nov. 5, 2011, could seek injuries for injuries she suffered in that tremor.
"On November 5, 2011, Appellant was at home in Prague, Oklahoma watching television in her living room with her family when a 5.0 magnitude earthquake struck nearby," reads Ladra's complaint. "Suddenly, Appellant's home began to shake, causing rock facing on the two-story fireplace and chimney to fall into the living room area. Some of the falling rocks struck Appellant and caused significant injury to her knees and legs, and she was rushed immediately to an emergency room for treatment. She claims personal injury damages in excess of $75,000."
The industry said that the Oklahoma Corporation Commission, which regulates the oil and gas industries and tends to be very friendly toward them, should deal with these cases. The state supreme court disagreed.
"The commission, although possessing many of the powers of a court of record, is without the authority to entertain a suit for damages," the court found. "Private tort actions, therefore, are exclusively within the jurisdiction of district courts."
That decision also clears the way for a second Prague citizen to sue for property damages. That plaintiff, Jennifer L. Cooper, is seeking class-action status, and if granted, tens of millions of dollars in damages could be awarded. Both plaintiffs are suing Tulsa-based New Dominion, which calls itself "the leader in harvesting hydrocarbons," and the smaller Spess Oil Co. of Cleveland, Oklahoma.
"It is refreshing to see that the Oklahoma State Supreme Court ruling will not allow the oil and gas industry to skirt responsibility for the damage their earthquake-inducing practices have caused Oklahomans," said Food & Water Watch organizer Matt Ohloff.
"We know oil & gas wastewater disposal wells are causing the increase in earthquakes in Oklahoma, and those suffering from the property, physical and psychological damage from these earthquakes should receive full rewards directly from the responsible parties—oil & gas. And while it is a major victory that these lawsuits will be allowed to move forward, what we ultimately need is for the Oklahoma state legislature and Oklahoma Governor to enact a moratorium on oil & wastewater disposal wells to stop the earthquakes from happening in the first place," Ohloff continued.
The Prague earthquake was the strongest ever felt in Oklahoma and was followed in the next few days by two more tremors of 5.0 magnitude or greater, destroying half a dozen homes and damaging more than 170 others in the town of about 2,300 people and the surrounding area, where New Dominion is the largest employer. One of its three field offices is located in Prague.
Back in 2012, eight months after the damaging quakes, Jean Antonides, New Dominion's vice president of exploration, said it was silly to think the company's injection wells caused the quakes.
"That's people watching too many Superman movies," Antonides scoffed to Energy & Environment Daily. "Some individuals pick only the data that serves their purpose."
He suggested the real cause of the quakes was heavy rains.
"When you have rainfall amounts of six inches over a few day period, these rainfalls cover a thousand square miles—that's a lot of weight," he said. "That much new weight—potentially trillions of tons—if it's along or across a fault, can be enough to cause an earthquake. If you change the weight, relative near surface, across that fault—either reducing the weight on one side, loading up the other side or vice versa, that could be the trigger point."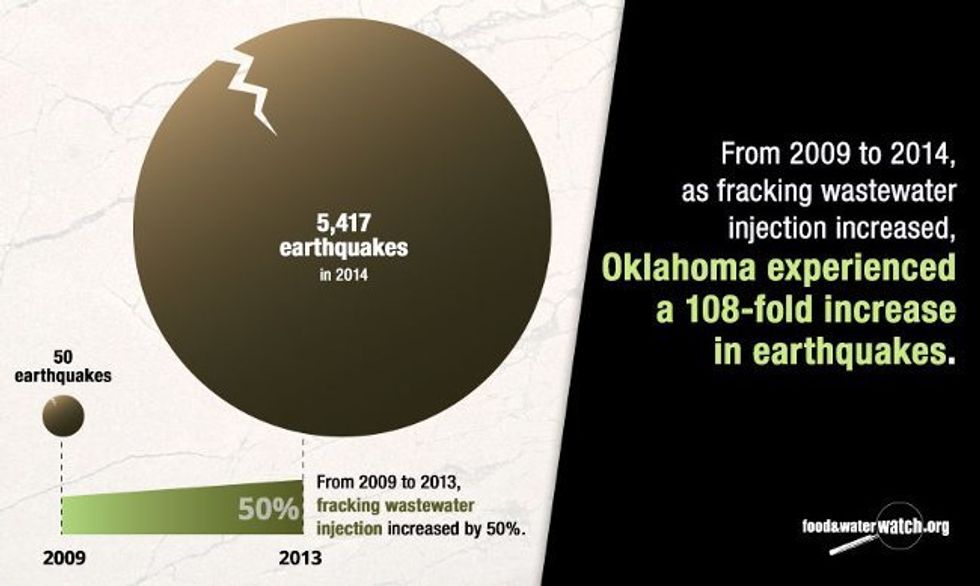 Other scientists not employed by oil and gas exploration companies don't agree with his theory.
"Large areas of the U.S. that used to experience few or no earthquakes have, in recent years, experienced a remarkable increase in earthquake activity that has caused considerable public concern as well as damage to structures," the U.S. Geological Survey (USGS) said last year. "This rise in seismic activity, especially in the central U.S., is not the result of natural processes. Deep injection of wastewater is the primary cause of the dramatic rise in detected earthquakes and the corresponding increase in seismic hazard in the central U.S."
With fossil fuel extraction booming in Oklahoma since the widespread use of fracking began around 2009, the state has been under pressure from oil and gas companies to downplay the connection between injection wells and earthquakes. For instance, in November 2013, University of  Oklahoma president David Boren requested that state seismologist Austin Holland meet with billionaire Harold Hamm of Oklahoma city-based Continental Resources, who is known as the founding father of the U.S. fracking boom.
Bloomberg reported, ""Hamm requested that Holland be careful when publicly discussing the possible connection between oil and gas operations and a big jump in the number of earthquakes, which geological researchers were increasingly tying to the underground disposal of oil and gas wastewater, a byproduct of the fracking boom that Continental has helped pioneer."
Boren called the meeting "purely informational," but Holland said it was "just a little bit intimidating" and he subsequently dialed down making the connection publicly. However, state officials have been less and less able to deny the connection, as studies keep piling up making the connection both in Oklahoma and other states. Those studies provide ammunition for Ladra's and Cooper's attorneys as they are now cleared to press their cases in the courts.
YOU MIGHT ALSO LIKE
Confirmed: Oklahoma Earthquakes Caused By Fracking
Earthquakes Tied to Fracking Boom, Two New Studies Confirm
Oil and Gas Billionaire Pressured Oklahoma Scientist to Ignore Fracking-Earthquake Link
Fracking operations in the U.S. have gotten thirstier in the last 15 years, consuming more than 28 times the water they did a mere 15 years ago.
A new study by the U.S. Geological Survey (USGS), in partnership with the American Geophysical Union, shows that not only has the number of such operations grown as fracking has expanded its reach and improved technology has allowed drilling in harder to reach locations, but individual wells are consuming more water as well. The median amount of water consumed by a single fracked well grew from 177,000 per oil and gas well in 2000 to more than 4 million gallons per oil well and 5.1 gallons per gas well in 2004. That's far more than the 671,000 gallons a year used by a conventional or vertical well. In the 52 out of 57 watersheds with the highest average water use, more than 90 percent of the wells were involved in horizontal drilling in shale gas areas.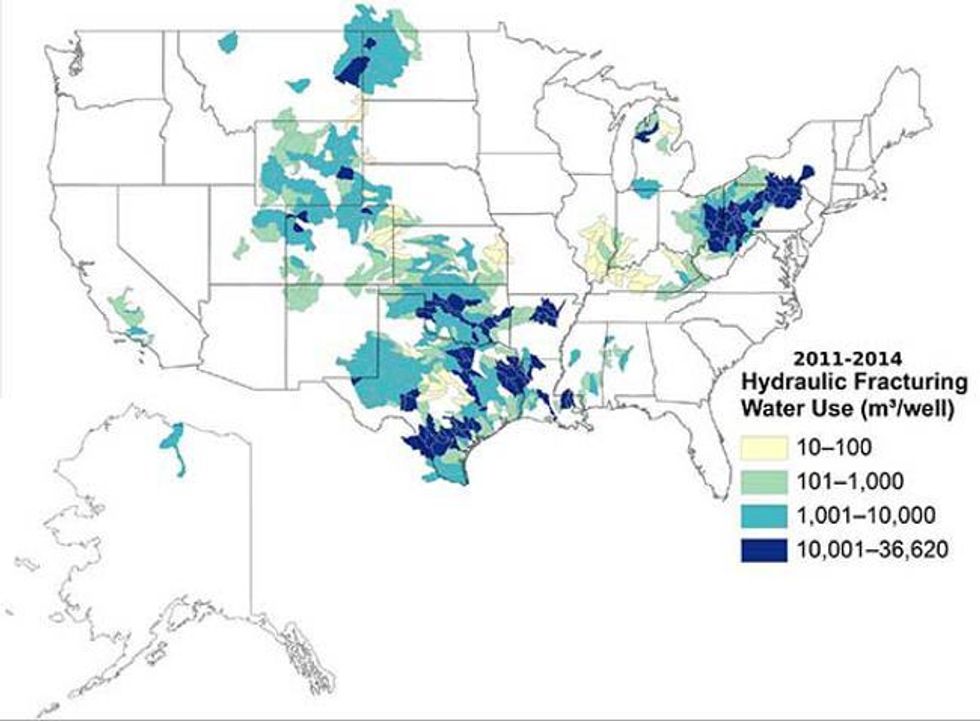 Water consumption within a watershed where fracking takes place varied considerably, depending on the geology of the region and the location of the oil or gas deposit. Some operations in southern Illinois used as little as 2,600 gallons per well, while others in Pennsylvania, Ohio, Montana, Colorado, Arkansas and Texas used as much as 9 million gallons.
"One of the most important things we found was that the amount of water used per well varies quite a bit, even within a single oil and gas basin," said USGS scientist Tanya Gallegos, the study's lead author. "This is important for land and resource managers, because a better understanding of the volumes of water injected for hydraulic fracturing could be a key to understanding the potential for some environmental impacts."
According to study co-author Mark Engle, the increase is due to the same improved technology that allows companies to reach more out-of-the-way deposits. Fracturing the rock formations in those areas to allow access to the gas or oil requires more fluid to be injected under pressure.
The study compiled data on the amount of water used in more than 263,859 oil and gas wells drilled between 2000 and 2014 to create the first ever map depicting how and where hydraulic fracturing operations use water. The shale formations that coincided with watersheds where the most water was used for fracking operations including Eagle Ford and Barnett with watersheds located in Texas, Haynesville-Bossier above watersheds in Texas and Louisiana, Arkansas' Fayetteville, Oklahoma's Woodford, Tuscaloosa with watersheds located mainly in Louisiana and Mississippi, and the eastern Marcellus and Utica shale plays with watersheds in parts of Ohio, Pennsylvania, West Virginia and New York.
Many of those areas have also experienced damaging droughts in the last five years due to climate change-driven global warming. So while the amount of water used in fracking is small compared to other uses such as agriculture, "The reality is there is a pretty strong constraint on the amount of fresh water available," said Engle.
Some of the water used in drilling operations is recycled. But most of it, laden with toxic chemicals, is injected into deep underground wells where it is removed from future reuse. And, injecting fracking wastewater into underground wells has created another issues for many of these states—earthquakes.
"This research was carried out as part of a larger effort by the USGS to understand the resource requirements and potential environmental impacts of unconventional oil and gas development," says the governmental organization.
And if understanding leads to banning, as it did in New York recently, environmental advocates will cheer.
YOU MIGHT ALSO LIKE
States Fail to Properly Manage Fracking Waste, Says Groundbreaking Report
Long-Awaited EPA Study Says Fracking Pollutes Drinking Water
Drought-Stricken California Exempts Big Oil and Big Ag from Mandatory Restrictions
Pope Francis is shaking up the world with his activism on climate change. Fossil fuel billionaires Charles and David Koch have vowed to spend nearly $900 million to put a climate denier in the White House. And Republican candidates for president such as Jeb Bush and Rick Santorum have been telling the Pope to mind his own business. Could there be a connection?
To highlight the contrast and call out the candidates, the progressive advocacy group Americans United for Change has just launched a campaign called Pope or Kochs.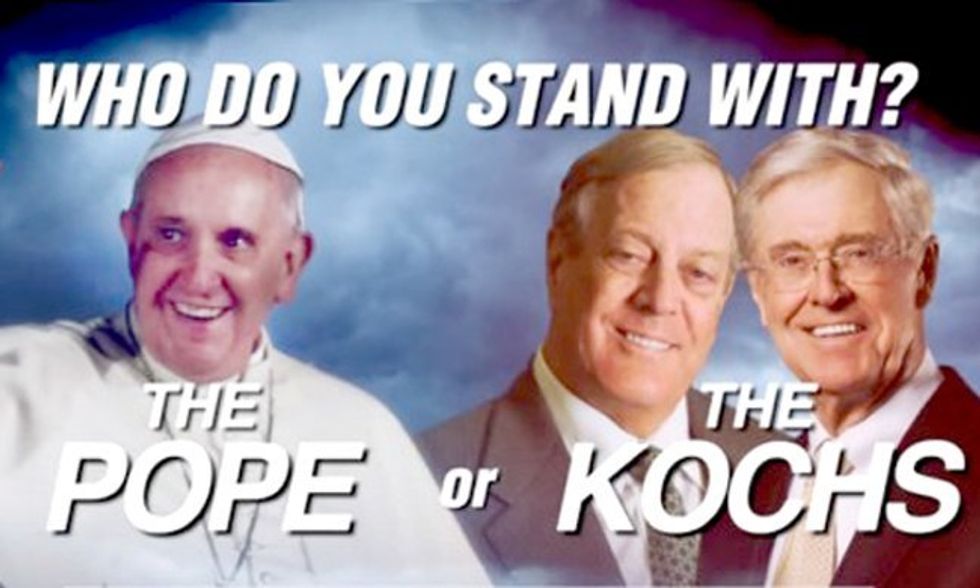 "Climate change is a moral issue," it says. "The Pope's message underscores to people of faith the obligation we have to future generations to address climate change and protect our environment."
But, it adds, "The Kochs are bankrolling the anti-Pope movement. The Kochs sent their stooges at the Heartland Institute to try to change Pope Francis' mind on climate change ... and attack his character when he refused."
The campaign's website provides a hair-raising checklist of the potential presidential candidates the Koch brothers might put their money behind, as well as fellow-travelers like Sen. Jim Inhofe, who has repeatedly called global warming a "hoax," oil industry-funded Texas congressman Joe Barton, who has also told the Pope to butt out of climate issues, and Rush Limbaugh, who called the Pope a Marxist.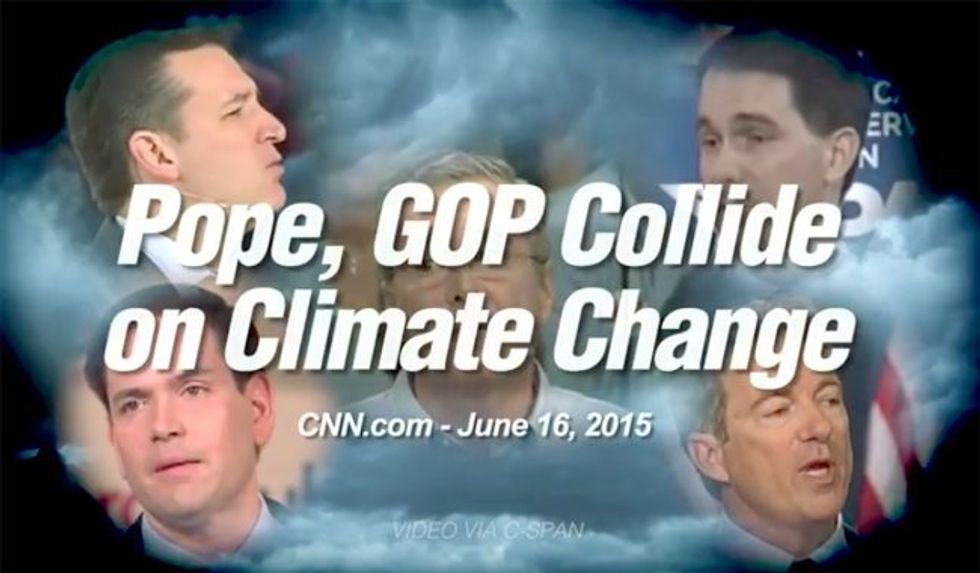 The Pope or Kochs website highlights quotes from candidates Jeb Bush, Marco Rubio, Ted Cruz, Rand Paul, Scott Walker, Rick Santorum, Rick Perry, Mike Huckabee and John Kasich, as they all appear to be auditioning for the Koch money. They include Bush's direct putdown of the Pope's climate activism, in which he said "I don't get economic policy from my bishops or my cardinals or my pope. I think religion ought to be about making us better as people, less about things [that] end up getting into the political realm."
"The promise of $900 million in campaign support from the Koch brothers has led to a race to the bottom between GOP presidential hopefuls over who believes less in climate science, some even going so far as to publicly dis the Pope," said Brad Woodhouse, president of Americans United for Change.
"Buying influence in Washington and funding quack climate studies is all part of Big Oil's profit-protection plan to kill any effort to limit the millions of metric tons of carbon pollution they spew into the air every year. It's why today the GOP's entire environmental policy can be boiled down to 'Whatever the Kochs say.' So far, the moral appeal by the Pope and many of other faith leaders that our political leaders be better stewards of the planet has been met with indifference from those too busy chasing Koch money. What will it take to convince the Grand Oil Party to act: a climate event straight out of the book of Genesis?"
Americans United for Change has created an ad which it is running in the key primary states of Iowa and New Hampshire, calling on GOP candidates to commit to the Pope or the Koch brothers and challenging them to support science on climate change. Watch it here:
"The Republicans eyeing the White House may all sing from the same climate-skeptic hymnal, but the worsening consequences of climate change are not something that have to be taken on faith," said Woodhouse. "It's happening right before our eyes, whether it's rising average temperatures and sea levels, out-of-control forest fires stemming from longer periods of drought, or more frequent and more intense storms and tornadoes. It's no wonder 70 percent of voters want their representatives to stop fiddling as Rome burns."
The Pope or Kochs campaign features the usual options, share with friends on Facebook and Twitter. There's also a button to show your support for the Koch Brothers on climate change. Go click on it and see what happens. Surprise!
YOU MIGHT ALSO LIKE
How Pope Francis's Climate Encyclical Is Disrupting American Politics
David Suzuki: Koch Brothers Continue to Oil the Machine of Climate Change Denial
Jon Stewart Slams GOP for Criticizing Pope's 'Call for Environmental Consciousness'
There's been a lot to celebrate as the U.S. Supreme Court has announced its final decisions for this session. People with subsidies under the Affordable Care Act will still receive them. Same sex couples can now be married in all 50 states. Independent redistricting panels established to address gerrymandering are still legal.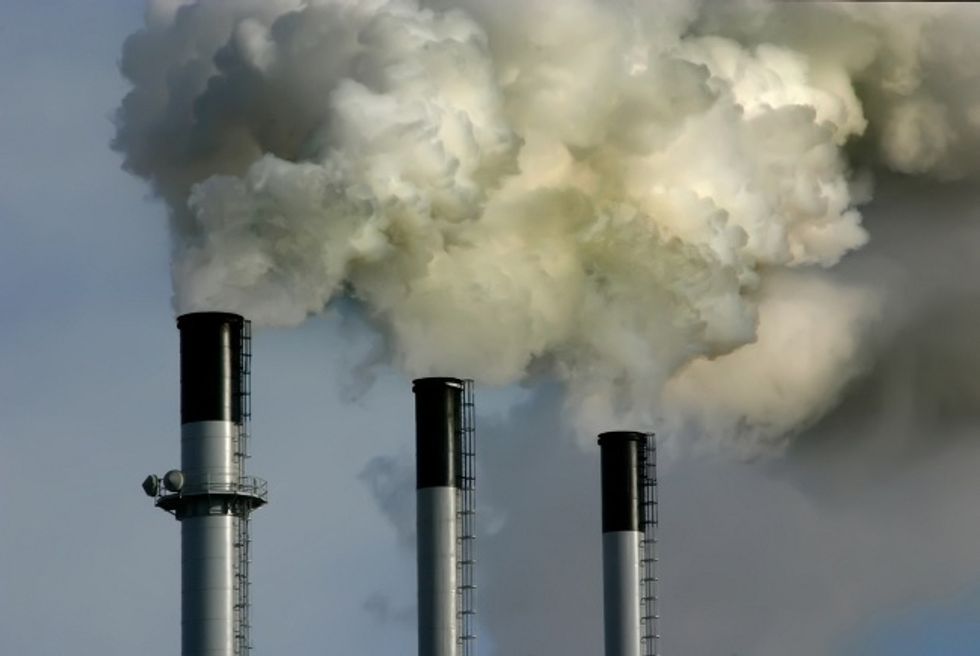 Photo credit: Shutterstock
But those living near coal plants won't be breathing easier. Environmentalists won't be cheering another decision announced this morning which puts roadblocks on the ability of the U.S. Environmental Protection Agency (EPA) to regulate health-damaging pollutants from power plants. The court said today in a 5-4 decision that the U.S. EPA must take into account the costs to the industry of a cap on mercury emissions and other pollutants that contain neurotoxins harmful to the health of vulnerable populations, especially children and pregnant women. Most mercury air pollution is produced by coal-fired power plants, which emit about 33 tons of mercury pollution annually.
"Congress decided more than two decades ago that no child should be born with brain damage or other neurological harm, simply because industrial polluters refuse to pay for pollution controls," said Sanjay Narayan, Sierra Club's managing attorney on mercury and air toxics. "But today, five justices of the Supreme Court have decided to make an exception for Big Coal—the industry responsible for the majority of mercury, arsenic and acid gas pollution in the United States. The court chose to give industry's lobbyists another chance to weaken the rule, requiring EPA to address industry's costs—even though the agency already did so—and even though we know that these standards were a tremendous bargain for the American public."
In late 2011, the EPA established the first such regulations ever limiting these pollutants after receiving more than 800,00o comments in favor of doing so. It estimated the cost of removing the pollutants from emissions could cost the industry close to $10 billion a year. The regulations started to take effect in April, but were challenged by 21 states and industry groups such as the National Mining Association who said the EPA overstepped its authority in forcing them to do something that has, what they said, an exorbitant price tag.
The rules were supported by a range of environmental, medical and community groups, drawing a clear line between public and industry interests. They include such groups as the NAACP, American Lung Association, Chesapeake Bay Foundation, Sierra Club, American Academy of Pediatrics, Physicians for Social Responsibility and Waterkeeper Alliance, among others.
"I would think it's classic arbitrary and capricious agency action for an agency to command something that is outrageously expensive and in which the expense vastly exceeds whatever public benefit can be achieved," said Justice Antonin Scalia who voted with the majority.
In fact, the price tag is relatively small. By comparison, the $9.6 billion is less than 10 percent of the state of California's annual budget. But the coal industry is increasingly concerned about competition from other energy sources whose costs are dropping, including natural gas, wind and solar.
And it's dwarfed by the annual costs of the detrimental health impacts and other negative effects of burning coal. A 2011 Harvard study, Full Cost Accouting for the Life Cycle of Coal, found that the total cost to the country of burning coal—including cleaning up streams, property depreciation and health care—could be as much as $500 billion.
The study said, "Each stage in the life cycle of coal—extraction, transport, processing, and combustion—generates a waste stream and carries multiple hazards for health and the environment. These costs are external to the coal industry and thus are often considered as 'externalities.' We estimate that the life cycle effects of coal and the waste stream generated are costing the U.S. public a third to over one-half of a trillion dollars annually. Many of these so-called externalities are, moreover, cumulative. Accounting for the damages conservatively doubles to triples the price of electricity from coal per kWh generated, making wind, solar and other forms of non-fossil fuel power generation, along with investments in efficiency and electricity conservation methods, economically competitive."
The decision, while a reversal of previous court decisions holding that the EPA could consider cost but wasn't required to do so, does not mean that no such rules will be allowed, only that the EPA must go back and rewrite the rules factoring in the cost.
"The Supreme Court's decision does not change the importance of EPA's role in protecting our families and communities from toxic air pollution," Lisa Garcia, Earthjustice's vice president of Litigation for Healthy Communities, pointed out. "The court gave EPA the ability to finalize these critical public health protections once and for all. Now EPA must act quickly. Thousands of lives are at stake. Further delay is not an option."
Mary Anne Hitt of Sierra Club's Beyond Coal campaign suggested that the litigants in this case were fighting a last-ditch effort.
"Practically speaking, today's decision won't revive the fortunes of Big Coal or slow down our nation's transition to clean energy," she said. "Most utilities have long since made decisions about how to meet the standard. Only a few dozen coal plants are still operating today with no pollution controls for mercury and air toxics and no clear plans to install them."
As a mom I'm appalled by #SCOTUS mercury decision, but it won't revive big #coal - my statement for @sierraclub http://t.co/GeKWli7695

— Mary Anne Hitt (@maryannehitt) June 29, 2015
Environmental groups attacked today's decision as shortsighted and damaging but vowed to continue the fight.
"The court's decision to let polluters off the hook is a huge setback for our kids' health," said Environment America's Anna Aurillo. "But we'll keep fighting for clean air and a healthier future. Polluters' days of dumping unlimited deadly toxins into our air are numbered."
"The council is disappointed by the court's decision not to uphold this rule, which would bring many of the country's oldest and dirtiest power plants in line with modern standards and allow citizens to breathe cleaner, safer air," said Joseph O. Minott, executive director of the Clean Air Council. "It is clear that the benefits to public health and the environment this rule would provide dwarf the costs of implementing it, no matter when in the determination those costs are considered. We hope EPA will work quickly to address the court's concerns and issue a revised rule that implements these protections."
YOU MIGHT ALSO LIKE
World Leaders Urged to Kick Coal Habit to Save Lives, Money and the Planet
10 Reasons Clean Coal Is a Marketing Myth
This Public Utility Is Waging an All-Out War on Renewable Energy