Most Americans picture rural farms, rather than city sidewalks as the cradle of environmentalism, but New Yorkers are "all about the environment. We'll do everything we can to protect it," TV host Andy Cohen said as he arrived Wednesday evening at Chelsea Piers 60 to MC the Riverkeeper's 50th anniversary Fishermen's Ball, which raised $1.6 million with the Leonardo DiCaprio Foundation and Ralph & Ricky Lauren Family Foundation each awarding $100,000 grants.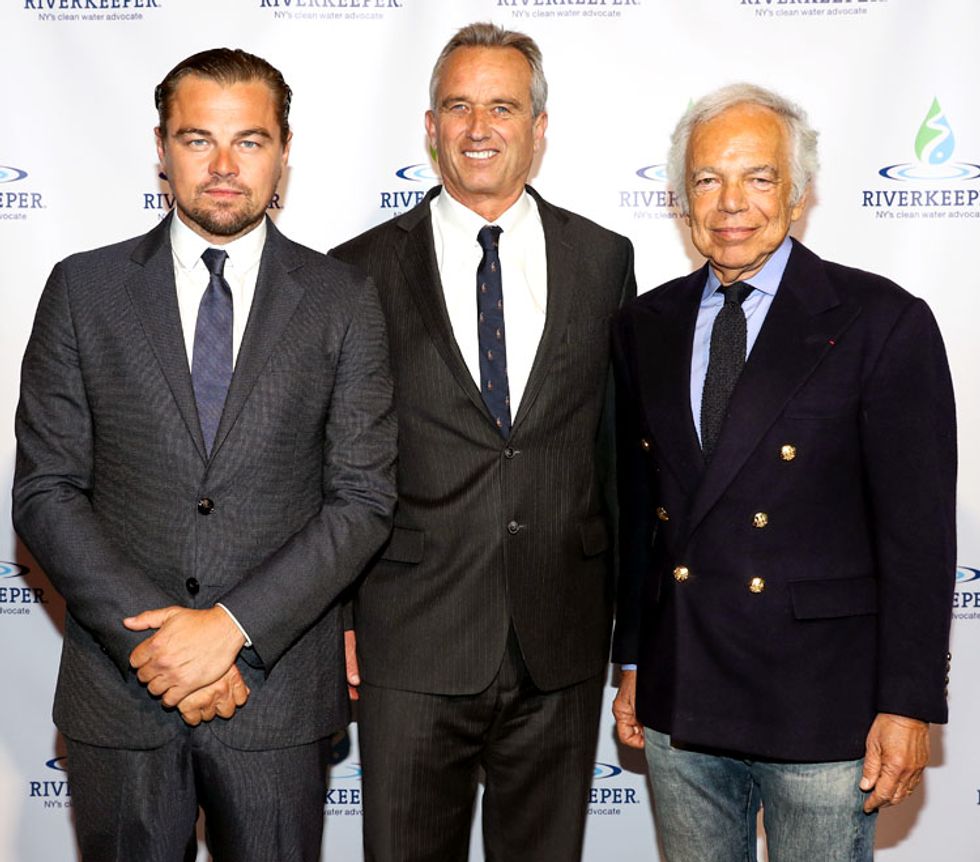 Riverkeeper, one of New York's most venerable grassroots environmental organizations, protects the environmental, recreational and commercial integrity of the Hudson River and its tributaries, and safeguards the drinking water for 9 million New York City and Hudson Valley residents.
Academy Award winner Leonardo DiCaprio and Ralph Lauren received the Fishermen's Ball's "Big Fish" award. Riverkeeper's 2016 "Hudson Hero" went to Robert De Niro and the "Big Fish Emeritus" award to Howard Rubin. Robert F. Kennedy, Jr., Mark Ruffalo and Sting were among others that participated in the celebratory event.
"The first 50 years at Riverkeeper were all about undoing the damage of the past," Riverkeeper President Paul Gallay said during his opening remarks. "The next 50 years will be about bringing the Hudson back to its former glory and assuring that we all have clean, abundant drinking water, no matter who we are or where we live."
Fifty years ago, the southern reaches of the Hudson served as a dumping ground for sewage waste, industrial pollutants and nuclear releases. Long stretches of the river were devoid of wildlife and living organisms. Other parts of it were dying. In 1966, local fishermen got together and formed the organization to champion the river and clean it up.
DiCaprio applauded Riverkeeper for its perseverance. "My Foundation partners with many effective organizations that fight to protect our world's lands and waterways, and I am proud to count the Hudson Riverkeeper among them. We know that ignorance, greed and political malfeasance stand in the way of our simple vision of achieving the basic right of access to clean water for every living being on our shared planet. The work of the Riverkeeper is critical to creating and protecting a healthier future for millions of people."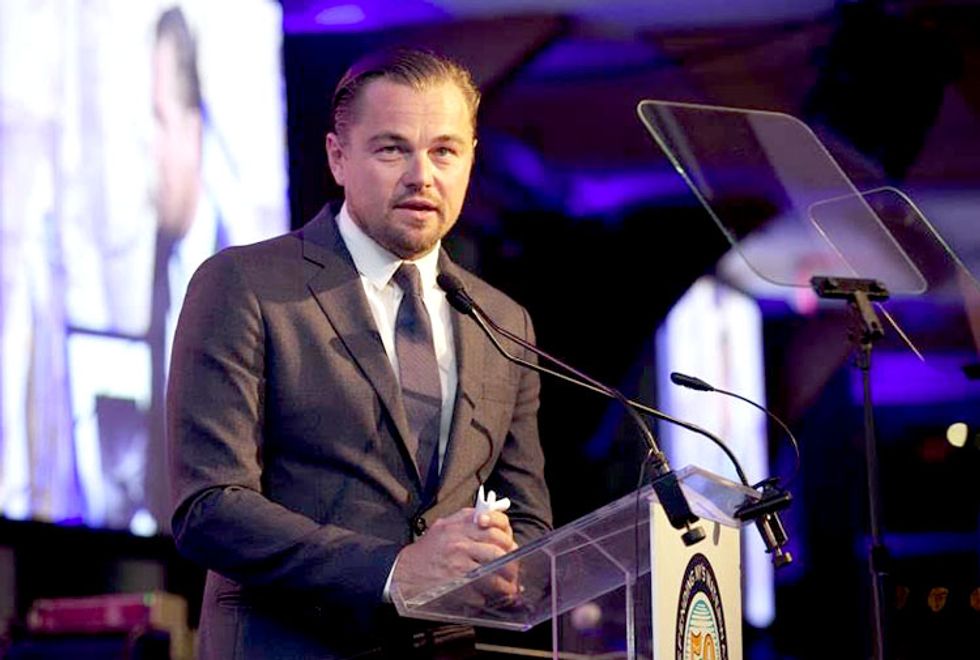 "I'm a New Yorker. I was born here. I was married here. I raised my children here. And almost 50 years ago, I started a company here," Lauren said after being called to the stage by Kennedy, Riverkeeper's chief prosecuting attorney.
"The Hudson is my river—it's our river. Like Riverkeeper, next year, our company celebrates our 50th anniversary," Lauren continued. "We have accomplished much to make our workplace and our products environmentally sound and we recognize that we have much more to do in our future, and we are committed to this endeavor."
The Fishermen's Ball also featured the premiere of a short documentary created by the Tribeca Film Fellows, Keeping On, which explores Riverkeeper's history, accomplishments and future plans to preserve the integrity of the Hudson River.
The evening finished with a special live acoustic performance by 16-time Grammy Award winner and past "Big Fish" honoree, Sting.
YOU MIGHT ALSO LIKE
10 Extraordinary Places Saved by the Endangered Species Act
Fossil Fuel Industry-Funded Attorneys General Try to Block Exxon Climate Fraud Probe
This Oregon County Said 'No' to Nestle and Won in a 'Landslide Victory'
Portugal Sets Record, Runs on Renewables for 107-Hours Straight
EcoWatch Daily Newsletter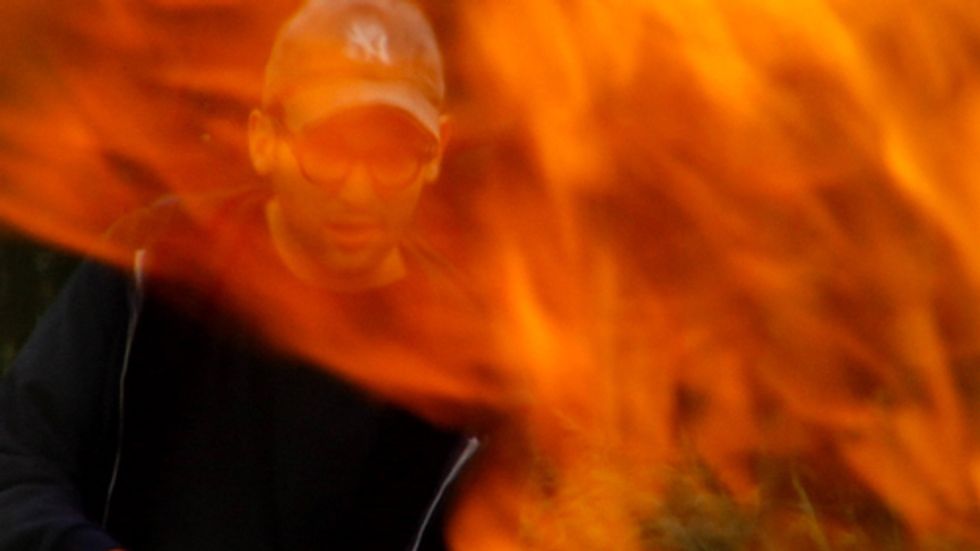 Sometimes people tell me, "If you cover fracking, you really need to see that film—that film, what's it called?"
"Gasland?" I'll offer helpfully.
"Yes, that's it."
It kind of charms me that people less immersed in this issue, than many folks I know, would imagine that I could cover the topic without knowing the film that started it all. Fact is, I've seen  Gasland nine or more times, usually because I accompany people I feel must see it. And now, we can start all over because of the release of Gasland II.
When I sat in an HBO screening room in June 2010 to cover the first Gasland, I was moved and shocked. But I hardly dared to hope that the film would play such a powerful role in this country's wake-up call about fracking.
The new Gasland II premiered at the Tribeca Film Festival on April 21. It delves even deeper into the transformation of the U.S. from a first world nation to a country in fossil fuel limbo. Josh Fox and his team have followed the well pads through a land of broken dreams, deserted homes and betrayed rights, tracking the painful discovery by average Americans that governmental protections have failed them. Capturing half a dozen or so families from Australia to Wyoming to Pennsylvania, Fox's camera accompanies their journey from disbelief to indignation to disillusionment—when no one in government seems willing or able to make industries accountable for fracking harms.
The oversized whirlpool tub in Steve Lipsky's million dollar dream house sits empty, gathering dust ever since test results showed water contaminated following nearby fracking activities. Officials of the U.S. Environmental Protection Agency privately advised the family never to drink the water or even use it to water the lawn, but rejected key opportunities to rein in Range Resources, the offending company.
Although the film is about fracking, its deeper subject is America in the early twenty-first century. What used to happen in the far away Third World or indigenous regions, is now going on in the U.S. Call it karma.
As the film documents, seducing the populace with promises of "energy independence," a government that once vaunted democracy as its prime export, now disenfranchises citizens in places like Dimock, Pennsylvania, in order to supply raw resources to foreign countries. The film traces the history of the town's aquifer contamination, which affected the drinking water in many homes. The Pennsylvania government first offered a pipeline of potable water to be constructed at industry expense, but later nixed that plan and left numerous townsfolk permanently without water.
As a result, many were forced to sign non-disclosure agreements in exchange for rock bottom buy-outs. In one poignant scene, Fox films community leader Victoria Switzer, as she "practices" being silent. No fan of democracy likes to see grassroots leaders like Switzer muted. Some of those profiled in Gasland II have been forced by their own or their children's health to abandon homes with decimated property values. Many have accepted buyouts in exchange for silence. What the film omits mentioning is whether any of its subjects are former lessors or drilling proponents.
This sacrifice of environment and community, seen in Gasland II, is said to create "energy independence." In the film, economic analyst Deborah Rogers explains why that's not likely to happen. Once the export terminals and pipelines criss-crossing this country are built, and after the gas is liquefied for export to China (where gas prices are high), what could possibly happen? The currently low U.S. gas prices will mount, Rogers predicts. Americans will have invested their tax dollars in gas infrastructures for the sake of cheap energy. But that energy won't be there.
Fortunately, there is a solution to our energy problem, and that is renewable energy technology. As Stanford researcher Mark Z. Jacobson explains in the film, the technology for renewables has evolved so thoroughly that by 2030, 100 percent of U.S. energy needs could be supplied by wind, complemented by some use of solar and water energy. Jacobson and his colleagues on the Solutions Project are devising a detailed plan for New York state.
Gasland II zooms in on the early stages of social disruption due to extreme energy extraction. Its subjects are real and their voices still count. Unless the concerns the film highlights are heeded, more extreme forms of devastation, involving greater numbers of people could lie ahead. Gasland II questions undertaking such risks when economically viable ways to meet our energy needs exist.
Gasland II will debut nationally on HBO this summer.
Visit EcoWatch's FRACKING page for more related news on this topic.
——–
Sign the petition today, telling President Obama to enact an immediate fracking moratorium:

Installing solar panels is a great option for homeowners who want to reduce their power bills, and the payback period can be just a handful of years with favorable conditions. However, renters and apartment owners cannot use a typical solar power system due to the lack of space, and renters in particular must also negotiate with their landlords. A miniature solar system that is portable and easy to install can be a better option in these cases.
Rooftop solar systems can greatly reduce your electric bills, and you can add solar batteries to store solar energy for use at night. However, because most systems are tied to the power local grid, you must meet many technical requirements and get a permit to put solar on your property. The initial investment and paperwork are not a problem when installing solar panels in a home you own, but they're a limiting factor for renters.
If you don't own your home or apartment, you may have little incentive to invest in improving someone else's property. Even if your landlord gives you permission to install solar panels, the decision only makes sense financially if you plan to rent for a very long time — longer than the solar payback period. Also, consider the following factors:
When your lease ends, your landlord may not be willing to purchase the solar panels you installed.
Moving rooftop solar panels to another home is difficult, and you will need a professional installation and another permit for the new property.
There are many types of miniature solar systems that can be installed without the complex requirements and permitting procedures of more permanent structures. These systems are an excellent option for renters, since taking them to another property is as simple as relocating your TV.
Solar Benefits for Non-Homeowners
Solar panel systems offer a common benefit, regardless of their size: they generate electricity from sunlight, reducing the amount of electricity you must pay your utility company for each month. Solar power also lowers the environmental footprint of your home, especially if you live in a region where most of the grid electricity comes from fossil fuels.
Homeowners get a few extra benefits when they install a traditional solar system, including:
Their property becomes more valuable, and many states don't charge increased property taxes for the portion of home value that corresponds to solar panels.
Homeowners also qualify for the 26% federal solar tax credit as well as any additional incentives from state governments or utility companies.
There are permitting and grid connection requirements to meet, but once the solar PV system starts operating, it provides electricity for decades with minimal maintenance.
While mini solar panel systems may not be eligible for these perks, they have their benefits compared with rooftop systems. For example, they are much easier to install, with no permitting involved, and any maintenance is much simpler. Small-scale solar systems also have a lower price, and they are easily relocated.
The power bill savings achieved by a rooftop solar system are much higher, but that's because they're much larger. Many homeowners use solar PV systems that have capacities at or above 6 kW (6,000 W), while miniature systems often only generate up to 100 W. As you might expect, the corresponding cost of solar panels is very different: A 6 kW solar system can cost around $18,000 (before incentives) to install, while a miniature 100 W system might cost less than $300. However, each dollar invested is earned back multiple times over in both cases.
How to Utilize Solar Energy When You Rent
There are several options for renters who want to use solar power. These include:
Plug-in mini solar systems
Off-grid solar and battery systems
Portable solar panels
DIY solar setups
Appliance-specific solar panels
Plug-in mini solar systems work exactly like rooftop PV systems — they connect to your residence's wiring and synchronize with the voltage and frequency of your grid power — just at a smaller scale. The power generated by a plug-in mini system is usually enough to power several electronic devices and LED bulbs, but not high-power devices like air conditioners and washing machines.
Here are some things to consider when deciding whether a solar plug-in mini system is right for your rental property:
Plug-and-play solar panels are not subject to the permitting requirements and interconnection procedures of a traditional rooftop installation, and they can be simply connected to a suitable power outlet.
NOTE: When using plug-in solar panels, you must make sure that the power outlet used has a circuit with enough capacity to carry the current, as well as an adequate breaker. Otherwise, you can cause an electrical fault.
Because this type of panel connects to the electrical system of the property, you should ask your landlord for permission before investing in one. You should also ask an electrician to check the power outlet you plan on plugging the panels into to make sure it has adequate capacity.
Off-grid solar panels and solar battery systems are completely disconnected from the grid, which makes them a popular option for remote or rural sites with no electric service. In these types of systems, one or more solar panels are used to charge a battery or solar generator with USB charging sockets and power outlets for small appliances. These off-grid systems are also a viable option for renters, because they are entirely self-contained and don't connect to the utility grid.
Portable solar panels are popular for camping, but they can also be used by renters to power small devices. These are some of the smallest solar panels available, and they only have a few watts of capacity. Their main purpose is charging smartphones, tablets and other tiny USB devices, and many of them have built-in LED flashlights.
DIY solar panel setups are also an option. You can shop online for compatible solar panels, inverters, batteries and solar charge controllers, and then build a custom system according to your needs. However, keep in mind that you must have at least basic knowledge about electricity to safely and successfully install a homemade solar system.
Appliance-specific solar panels are also a viable option for renters. You can find many devices with built-in solar panels, which don't depend on a power outlet to operate. For example, you can install solar-powered outdoor lights for your backyard or balcony, or use a solar air conditioning unit or fan to provide extra ventilation during the hottest hours of the day.
Pros and Cons of Small Solar Units
Miniature solar systems have advantages and limitations like any device. They have a lower cost than traditional rooftop systems, plus they are easier to install and relocate. Just keep in mind that they can't power larger appliances, which means their power bill savings are small.
The following table summarizes the pros and cons of the most common types of miniature solar systems:
Renter-Friendly Solar System
Pros
Cons
Typical Price
Plug-in solar system
- Easy to install
- Can be plugged into a normal power outlet

- Can only operate when connected to the grid
- You need a dedicated circuit and breaker of adequate capacity

$1,500 for a 600 W solar system
Off-grid solar system
- Can charge batteries or generators to be used after sunset
- Fully independent from the grid

- Batteries increase the system cost significantly if you want a high energy storage capacity
$400 for a 100 W solar panel with a 24,000 mAh battery
Portable
- Easy to carry
- Can be used for camping and other trips

- Limited use: Charging smartphones and other small devices
$100 or less for a foldable 30 W panel
DIY Solar
- You can create a custom system that meets your needs
- Basic electrical knowledge is needed to set up a safe system
Variable, depending on the components used.
Appliance-specific
- Easy to install
- The solar panel is often included with the price of the device

- You can only use the solar panel to power one appliance or device
Variable, depending on the appliance
Miniature solar power systems are designed for small, low-power devices such as LED bulbs and electronic gadgets. If you're a renter and would like to increase your savings beyond what is possible with small solar kits, you can consider joining a community solar project near you.
These projects normally have two membership options: purchasing a share or paying a monthly subscription.
In both cases, you will be entitled to a portion of the kilowatt-hours produced by the system, and this portion will be subtracted from your bill.
Another advantage of community solar is that you can move freely to another apartment or home. Since the solar panels are not physically located where you live, you can usually re-assign the electricity savings to your new address.
Products to Help Renters Maximize Solar
There are many brands of miniature solar kits, but you should look for a reliable provider like Sunboxlabs. Since you're dealing with electricity, purchasing high-quality products is strongly advised to avoid accidents. Before purchasing any solar panel or a related component, make sure it has an electrical certification mark such as:
UL (Underwriters Laboratories)
ETL (Intertek)
CSA (Canadian Standards Association)
CE (Conformité Européenne)
You can look for a solar kit that includes all components, such as this WindyNation 100 Watt Solar Panel Kit. Alternatively, you can buy compatible parts separately, and build your own system. The following are some recommendations:
Keep in mind that you will also need wiring to connect all components together, and make sure you read all instructions carefully to ensure safety.