This website uses cookies to ensure you get the best experience while browsing it. By clicking 'Got It' you're accepting these terms.
Alison Rose Levy
For over two decades, Alison Rose Levy has served as an inquiring journalist, reporting on the health, food and the environment.
Most Americans picture rural farms, rather than city sidewalks as the cradle of environmentalism, but New Yorkers are "all about the environment. We'll do everything we can to protect it," TV host Andy Cohen said as he arrived Wednesday evening at Chelsea Piers 60 to MC the Riverkeeper's 50th anniversary Fishermen's Ball, which raised $1.6 million with the Leonardo DiCaprio Foundation and Ralph & Ricky Lauren Family Foundation each awarding $100,000 grants.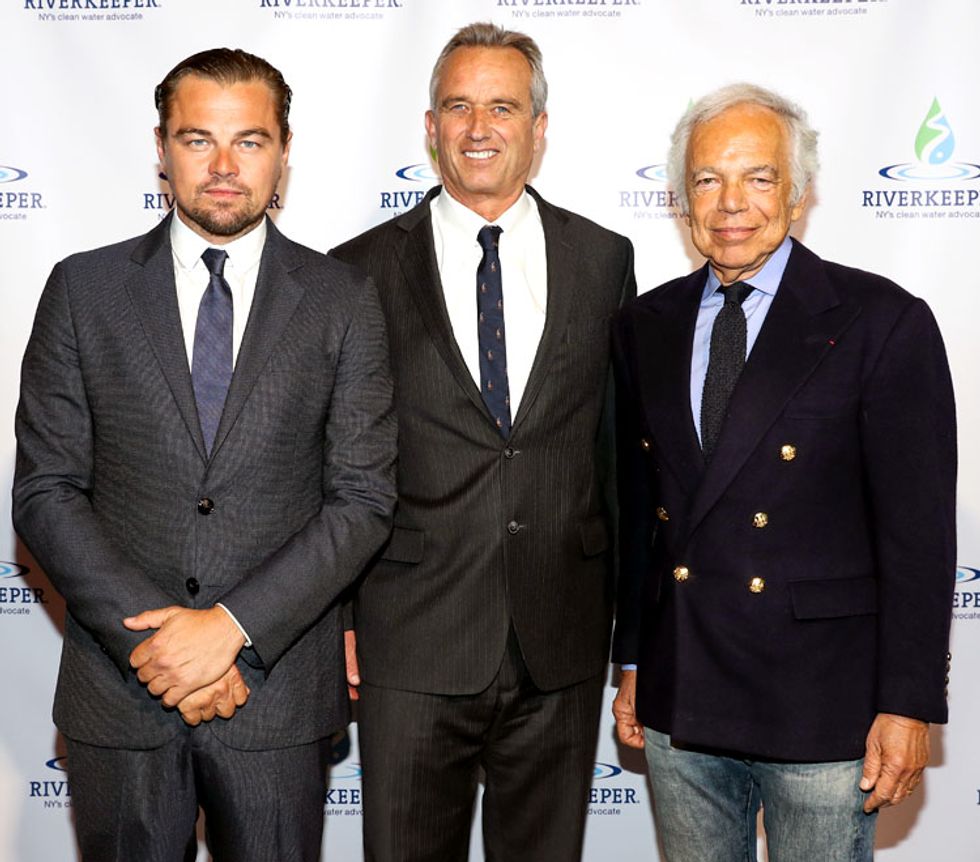 Riverkeeper, one of New York's most venerable grassroots environmental organizations, protects the environmental, recreational and commercial integrity of the Hudson River and its tributaries, and safeguards the drinking water for 9 million New York City and Hudson Valley residents.
Academy Award winner Leonardo DiCaprio and Ralph Lauren received the Fishermen's Ball's "Big Fish" award. Riverkeeper's 2016 "Hudson Hero" went to Robert De Niro and the "Big Fish Emeritus" award to Howard Rubin. Robert F. Kennedy, Jr., Mark Ruffalo and Sting were among others that participated in the celebratory event.
"The first 50 years at Riverkeeper were all about undoing the damage of the past," Riverkeeper President Paul Gallay said during his opening remarks. "The next 50 years will be about bringing the Hudson back to its former glory and assuring that we all have clean, abundant drinking water, no matter who we are or where we live."
Fifty years ago, the southern reaches of the Hudson served as a dumping ground for sewage waste, industrial pollutants and nuclear releases. Long stretches of the river were devoid of wildlife and living organisms. Other parts of it were dying. In 1966, local fishermen got together and formed the organization to champion the river and clean it up.
DiCaprio applauded Riverkeeper for its perseverance. "My Foundation partners with many effective organizations that fight to protect our world's lands and waterways, and I am proud to count the Hudson Riverkeeper among them. We know that ignorance, greed and political malfeasance stand in the way of our simple vision of achieving the basic right of access to clean water for every living being on our shared planet. The work of the Riverkeeper is critical to creating and protecting a healthier future for millions of people."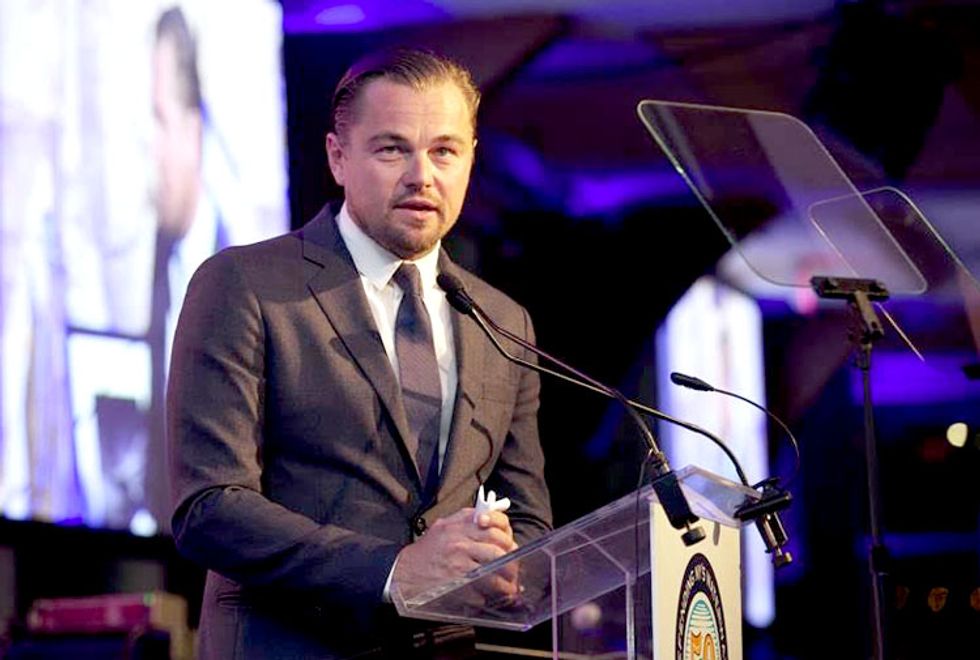 "I'm a New Yorker. I was born here. I was married here. I raised my children here. And almost 50 years ago, I started a company here," Lauren said after being called to the stage by Kennedy, Riverkeeper's chief prosecuting attorney.
"The Hudson is my river—it's our river. Like Riverkeeper, next year, our company celebrates our 50th anniversary," Lauren continued. "We have accomplished much to make our workplace and our products environmentally sound and we recognize that we have much more to do in our future, and we are committed to this endeavor."
The Fishermen's Ball also featured the premiere of a short documentary created by the Tribeca Film Fellows, Keeping On, which explores Riverkeeper's history, accomplishments and future plans to preserve the integrity of the Hudson River.
The evening finished with a special live acoustic performance by 16-time Grammy Award winner and past "Big Fish" honoree, Sting.
YOU MIGHT ALSO LIKE
10 Extraordinary Places Saved by the Endangered Species Act
Fossil Fuel Industry-Funded Attorneys General Try to Block Exxon Climate Fraud Probe
This Oregon County Said 'No' to Nestle and Won in a 'Landslide Victory'
Portugal Sets Record, Runs on Renewables for 107-Hours Straight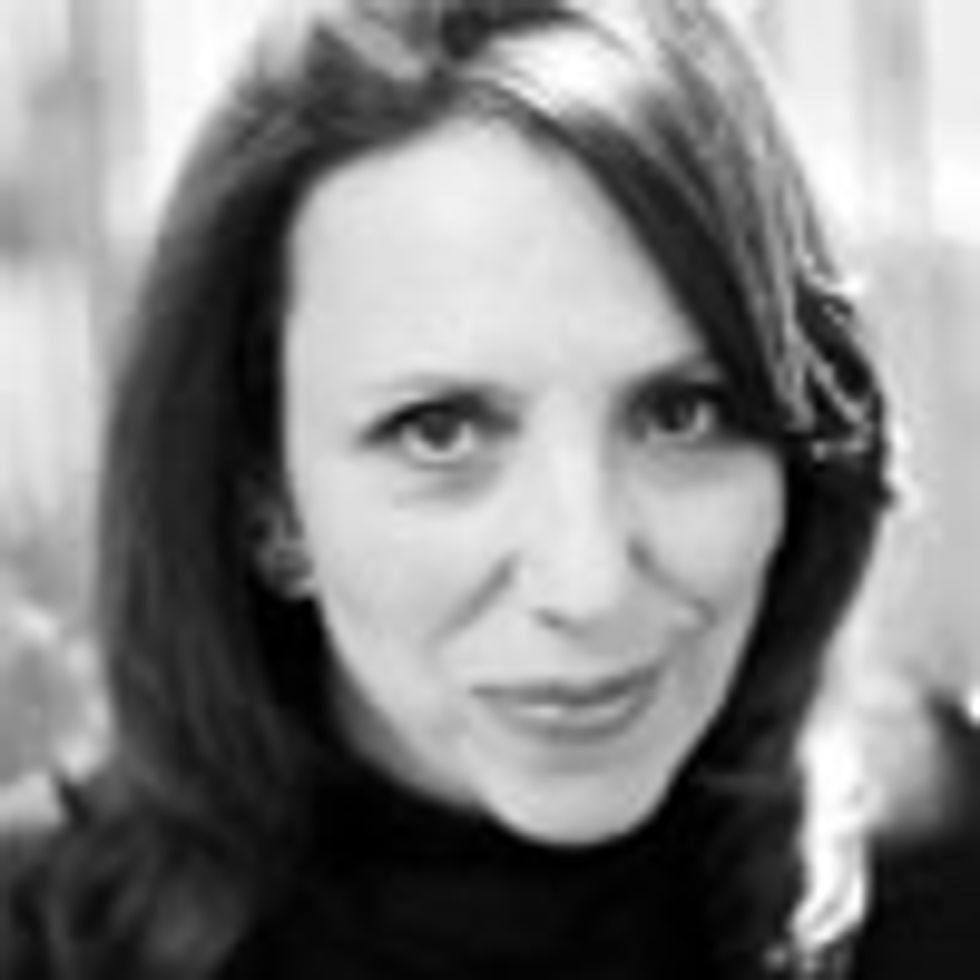 Thanks to a recent Wikileaks' leak, certain truly onerous provisions of President Obama's secret trade deals are no longer secret. As reported this week in the New York Times, the Transpacific Partnership (TPP) would "grant broad powers to multinational companies operating in North America, South America and Asia. Under the accord, still under negotiation but nearing completion, companies and investors would be empowered to challenge regulations, rules, government actions and court rulings—federal, state or local—before tribunals organized under the World Bank or the United Nations."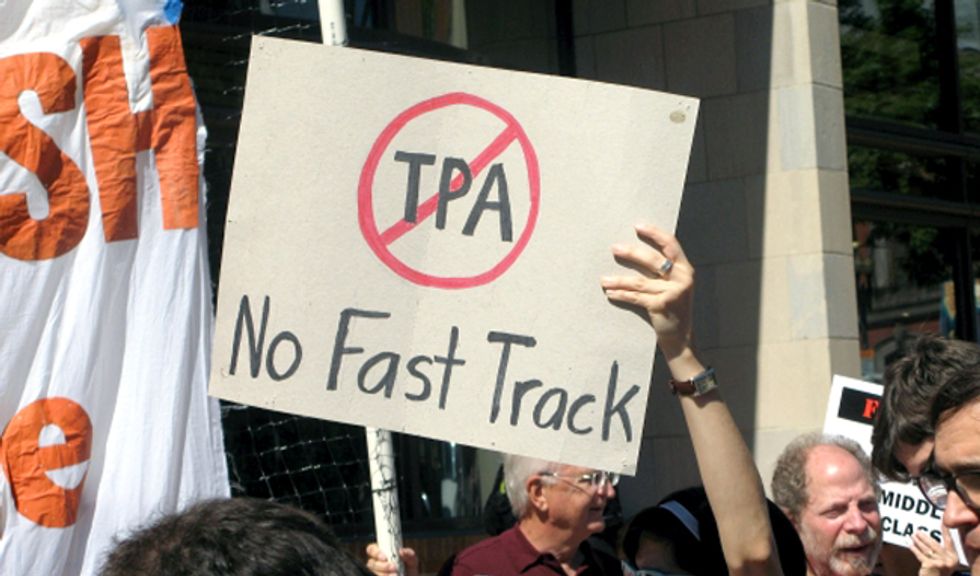 As terrible as this sounds for the rule of law, and democracy, it's even worse. Long-time consumer advocate, Ralph Nader describes how the Investor State Tribunals would work:
Suppose that Brazil sues the U.S. and says "your food labeling laws are too restrictive and they are keeping out our exports to your country." Then we send our Attorney General to Geneva before the Tribunal. There can be no press, no public disclosure of what happens behind closed doors. If we lose, as we almost certainly will, there is no independent appeal. It circumvents our courts, legislative and regulations. Foreign corporations can take our food, health and safety protections and bring us before these tribunals and if they lose, we pay millions of dollars in compensation.
https://www.mixcloud.com/Popular_Resistance/national-fast-track-resistance-call-1-with-ralph-nader/
The cases are argued, tried and judged by a small, revolving group of elite corporate attorneys, taking turns playing the role of judge and prosecutor. The potential for conflicts of interest and secret handshakes exceeds even the current regulatory revolving door, in which industry lawyers, officials and consultants move into key positions in public agencies, alter governmental regulations in industry's favor and then return to their bespoke industry.
Under the terms of the agreement, corporations would have the right to sue U.S. federal, state and local governments if regulations, laws or bans, for example, those protecting health or the environment, cause a reduction in the company's future profits. Nobel Prize winning economist, Joseph Stiglitz, told a group gathered in Queens, New York last month, that New York's fracking ban would be a likely candidate for a Tribunal suit, should these agreements be signed by the President.
If on the other hand, if fracking chemicals contaminated water aquifers, or if any corporation's products, actions or activities engendered economic loss to say, U.S. citizens or businesses—or damaged health, lives, property, communities or public goods, such as our air, water, food or Earth—there would be no avenue for redress or compensation. Ordinary citizens or businesses would have no standing to sue, says Nader. "It would be thrown out."
In other words, these are one-sided agreements with benefits flowing one way—to corporations, and unstoppable harm flowing the other way—towards the people and the Earth.
How Would the Trade Agreements Affect Climate Change and the Environment?
When Congress returns from its recess on April 11, it's projected that the Senate Finance Committee will bring to the floor Fast Track legislation to advance the trade deals.
Fast Track gives President Obama Trade Promotion Authority (TPA) to sign the TPP and the Transatlantic Trade and Investment Partnership (TTIP) without any further scrutiny, disclosure, debate or changes.
"Once passed, the TPP will unleash a gigantic explosion of trade in fossil fuels. Some of the biggest promoters of these deals are Chevron, Exxon, and BP," predicts William Waren, senior trade analyst for Friends of the Earth. Waren delineates the plans which companies and their elected officials are expectantly putting into place, awaiting the imminent Fast Tracking of the TPP:
Strip Mining Coal
"There are plans to use TPP to strip mine more climate destroying coal in the Wyoming Powder River basin, ship it by rail to ports in Oregon and Washington State, and put in huge vessels that threaten the wildlife and habitat of the Puget Sound," Waren says. "From there, the companies will ship it across the Pacific to China where they have an insatiable appetite for coal. In that way, the treaties would vastly increase the pace of climate change, but the CO2 emissions would be coming from China, rather than the U.S.."
Natural Gas and Oil Exports
"It's the same with natural gas and oil exports. The Keystone XL pipeline, if stopped, would likely become the basis for an Investor State Tribunal suit brought by Trans Canada," Waren notes. "Under the treaties, they could demand that they be compensated for money they expected to make in future."
"Congress stands ready to roll back the current limited regulation of liquefied natural gas, or LNG. It is even worse than coal because of the chemicals, and methane release," says Waren. "In the expectation of the Fast Tracking of the trade agreements, they are already rolling back those regulations. They will also roll back the ban on crude oil exploration to speed up the export of fossil fuels and cook the planet as a result."
Tar Sands
"Before the Atlantic deal has been signed, Michael Frohman pushed the European Union to roll back its fuel quality directive, because it put tar sands oil and other more dangerous fuel sources at a disadvantage in the export market," says Waren. "Although the EU directive is by no means a comprehensive approach to climate change, it's the best we have and instead of being rolled back, should be modeled around the world. Instead the U.S. demanded that they get rid of it right away to facilitate their trade talks.
"On the other hand," Waren points out that, "Europe has demanded that the U.S. step up fossil fuel production to compensate for the loss of Russian gas sources due to tensions in the Ukraine. This is a suicidal course, a stealthy but effective way for corporations to pursue climate denial."
YOU MIGHT ALSO LIKE
The Secret to a Carbon-Friendly Diet May Surprise You
Global Warming Is Slowing Ocean Currents Causing Dire Consequences, Warns Climate Expert Michael Mann
EcoWatch Daily Newsletter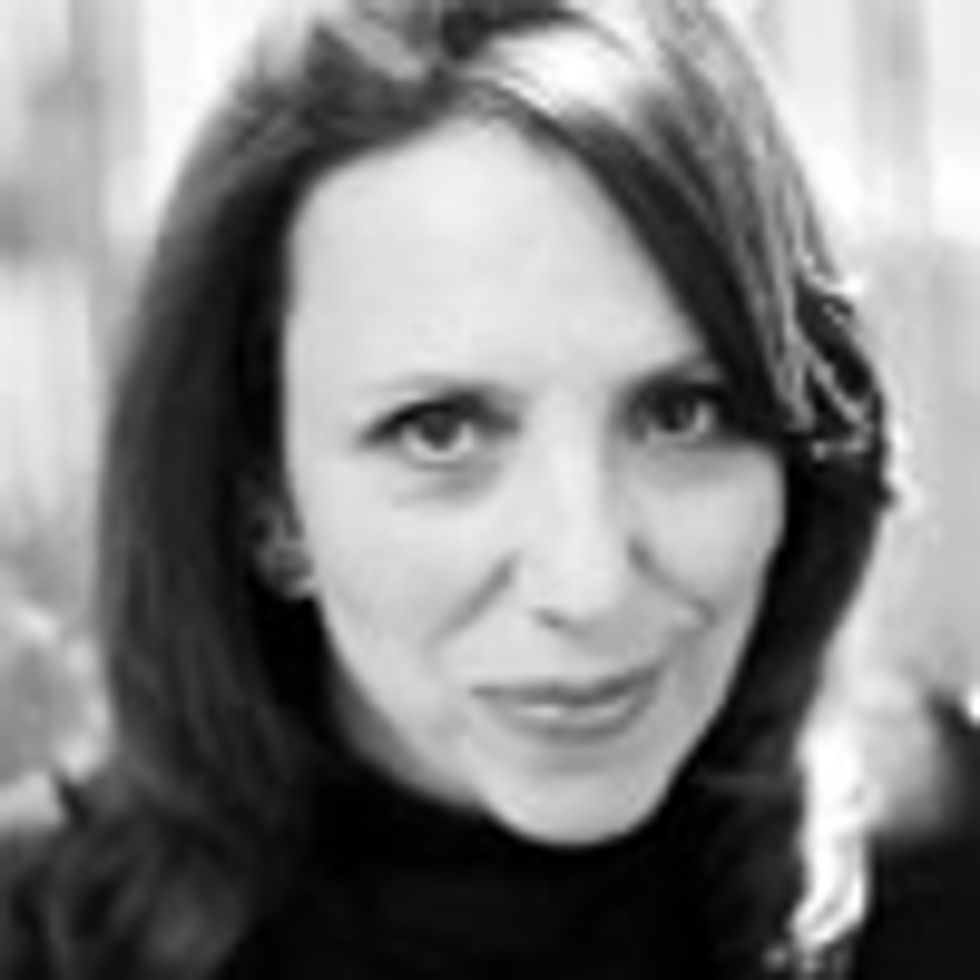 Apart from those imprisoned in a fortress of science denial, 69 percent of Americans give credence to the 95 percent of climate scientists who agree on the reality and trajectory of human-induced climate change.
Nevertheless, the levers on its supersized drivers don't seem to be within our grasp. Americans live with this looming threat, without knowing if , when or how it will overtake our lives. Even when it shows up on our doorsteps—such as direct hits like Katrina and Sandy or compound hits like floods and fracking in Colorado or tsunamis and nuclear meltdowns like Fukushima—it doesn't derail American life from business as usual.
Not everyone is waiting for more tragedy to occur before working on solutions to climate change. Last month, the International Women's Earth and Climate Summit took place in Suffern, NY, with 100 women delegates, top-level policymakers, grassroots organizers and indigenous chiefs from around the world. From the heart of the Amazon Rainforest, to the forests of the Congo, to the foothills of Himalayas, organizers and indigenous tribal leaders from Africa, Asia, Latin America, Europe and North America assembled, speaking different languages, wearing different garbs, embedded in different cultures, but all devoted to the health of the Earth and future generations.

They came from afar to do what women do, talk and listen, share and support, as well as organize, strategize and plan concrete ways to support the continuation of human life on Earth.
"We need to value the expertise of women, who have cultivated the land to feed their families, to counter a form of expertise that only knows how to destroy the Earth, to exploit and reward the exploiters," said Dr. Vandana Shiva at the conference.
Listening to each others stories, participants were confronted by what first world people rarely see, climate chaos, the ecological destruction of lands, oceans and water sources, the uprooting of homes and communities, the despoiling of food and water, all of which strike at the life supports of peoples in nearly every region of the Earth. Not decades from now, but today.
For Americans, an interruption in cell phone service is tough. Yet in many parts of the world, there is no electricity, water or food. 
"We used to have rain from the river to water the maize and now we don't have the rain and the river has dried up," Rosemary Enie from Tanzania told the other delegates.
The delegates' accounts of rainfalls that no longer come, food crops that wither, felled forests that turn to deserts, snow caps that melt, species that die out and insect populations that run rampant, brought the distant damage to our doorstep. Even seemingly innocuous changes, like Japan's cherry trees blossoming three weeks earlier, signify ecological shifts.
"The snows of Kilamanjaro were famous worldwide, now they've melted," Jane Goodall said in conversation with Dr. Shiva and Democracy Now's Amy Goodman.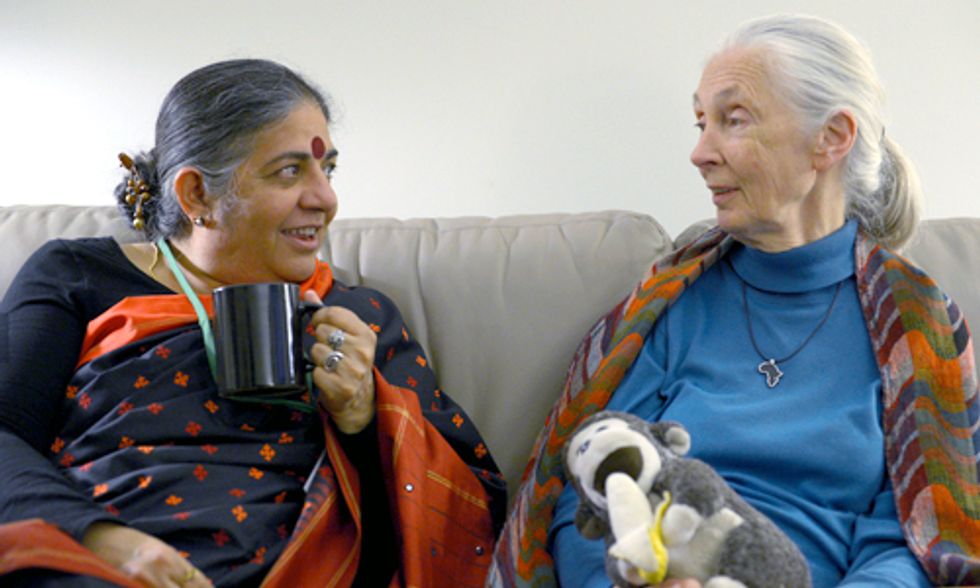 The conference was yet another reminder that the U.S. is inextricably bound by multinational corporations. Many corporations appropriate the Earth's limited resources without real accountability to any nation, people or law. "They used to be contained by the rules of democracy and they have knocked off those rules—bit by bit," Goodall said.
"Civilized people in all parts of the world act wisely by looking to the effects of current activities for seven generations. Uncivilized people rape the earth for today," said Dr. Shiva.
It's one thing to know that systemic dilemma, and it's another to meet women whose families, communities and regions are taking the first hit. Their commitment is formidable. Hearing the Earth's tale told by diverse voices, in distinct accents, but all with a common theme, broke my heart. Because their faces, their voices, their accounts of their beloved regions awoke me from the distant but still abstract notion of climate change. In their hearts and minds, they brought the lived and embodied experience of global warming. And in encountering them, I grasped it.
The summit organizers sought to gather women because women are more impacted by climate change, more motivated to address it, and yet, are minimally represented at climate negotiations.
"You are the women willing to take a stand," conference organizer Osprey Orielle Lake told the delegates before they signed a joint climate declaration that states:
We are gathering to raise our voices to advocate for an Earth-respecting cultural narrative, one of "restore, respect, replenish" and to replace the narrative of  "domination, depletion and destruction" of nature.
We are committed to a transition from a future of peril to a future of promise, to rally the women around the world to join together in action at all levels until the climate crisis is solved.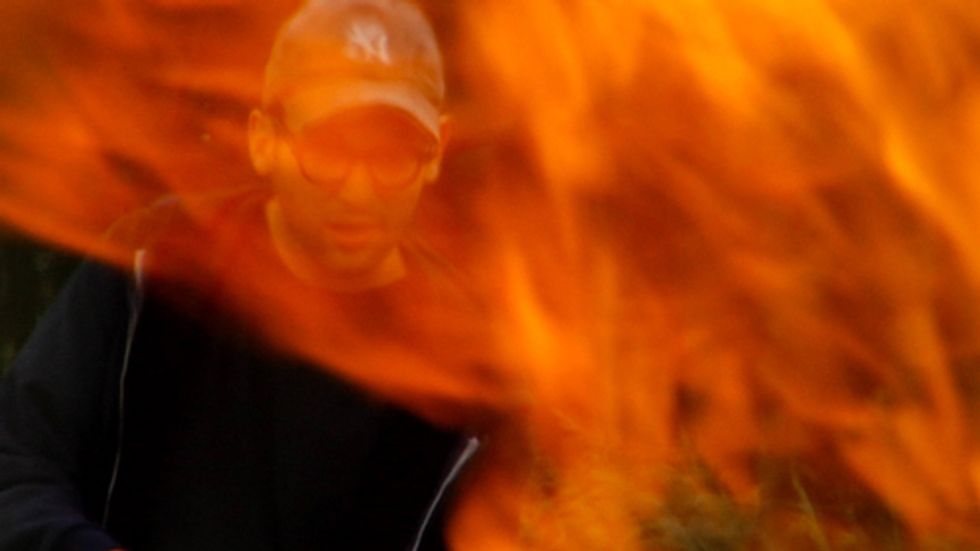 Sometimes people tell me, "If you cover fracking, you really need to see that film—that film, what's it called?"
"Gasland?" I'll offer helpfully.
"Yes, that's it."
It kind of charms me that people less immersed in this issue, than many folks I know, would imagine that I could cover the topic without knowing the film that started it all. Fact is, I've seen  Gasland nine or more times, usually because I accompany people I feel must see it. And now, we can start all over because of the release of Gasland II.
When I sat in an HBO screening room in June 2010 to cover the first Gasland, I was moved and shocked. But I hardly dared to hope that the film would play such a powerful role in this country's wake-up call about fracking.
The new Gasland II premiered at the Tribeca Film Festival on April 21. It delves even deeper into the transformation of the U.S. from a first world nation to a country in fossil fuel limbo. Josh Fox and his team have followed the well pads through a land of broken dreams, deserted homes and betrayed rights, tracking the painful discovery by average Americans that governmental protections have failed them. Capturing half a dozen or so families from Australia to Wyoming to Pennsylvania, Fox's camera accompanies their journey from disbelief to indignation to disillusionment—when no one in government seems willing or able to make industries accountable for fracking harms.
The oversized whirlpool tub in Steve Lipsky's million dollar dream house sits empty, gathering dust ever since test results showed water contaminated following nearby fracking activities. Officials of the U.S. Environmental Protection Agency privately advised the family never to drink the water or even use it to water the lawn, but rejected key opportunities to rein in Range Resources, the offending company.
Although the film is about fracking, its deeper subject is America in the early twenty-first century. What used to happen in the far away Third World or indigenous regions, is now going on in the U.S. Call it karma.
As the film documents, seducing the populace with promises of "energy independence," a government that once vaunted democracy as its prime export, now disenfranchises citizens in places like Dimock, Pennsylvania, in order to supply raw resources to foreign countries. The film traces the history of the town's aquifer contamination, which affected the drinking water in many homes. The Pennsylvania government first offered a pipeline of potable water to be constructed at industry expense, but later nixed that plan and left numerous townsfolk permanently without water.
As a result, many were forced to sign non-disclosure agreements in exchange for rock bottom buy-outs. In one poignant scene, Fox films community leader Victoria Switzer, as she "practices" being silent. No fan of democracy likes to see grassroots leaders like Switzer muted. Some of those profiled in Gasland II have been forced by their own or their children's health to abandon homes with decimated property values. Many have accepted buyouts in exchange for silence. What the film omits mentioning is whether any of its subjects are former lessors or drilling proponents.
This sacrifice of environment and community, seen in Gasland II, is said to create "energy independence." In the film, economic analyst Deborah Rogers explains why that's not likely to happen. Once the export terminals and pipelines criss-crossing this country are built, and after the gas is liquefied for export to China (where gas prices are high), what could possibly happen? The currently low U.S. gas prices will mount, Rogers predicts. Americans will have invested their tax dollars in gas infrastructures for the sake of cheap energy. But that energy won't be there.
Fortunately, there is a solution to our energy problem, and that is renewable energy technology. As Stanford researcher Mark Z. Jacobson explains in the film, the technology for renewables has evolved so thoroughly that by 2030, 100 percent of U.S. energy needs could be supplied by wind, complemented by some use of solar and water energy. Jacobson and his colleagues on the Solutions Project are devising a detailed plan for New York state.
Gasland II zooms in on the early stages of social disruption due to extreme energy extraction. Its subjects are real and their voices still count. Unless the concerns the film highlights are heeded, more extreme forms of devastation, involving greater numbers of people could lie ahead. Gasland II questions undertaking such risks when economically viable ways to meet our energy needs exist.
Gasland II will debut nationally on HBO this summer.
Visit EcoWatch's FRACKING page for more related news on this topic.
——–
Sign the petition today, telling President Obama to enact an immediate fracking moratorium: