This website uses cookies to ensure you get the best experience while browsing it. By clicking 'Got It' you're accepting these terms.
Solar-Powered 3D Printers a Game-Changer for Developing Countries
Apr. 14, 2015 09:02AM EST
Business
We've already seen how 3D printing can tackle plastic waste and even create nutritious food. And now, the ever-expanding technology is also bringing simple yet potentially life-saving devices to people in developing countries.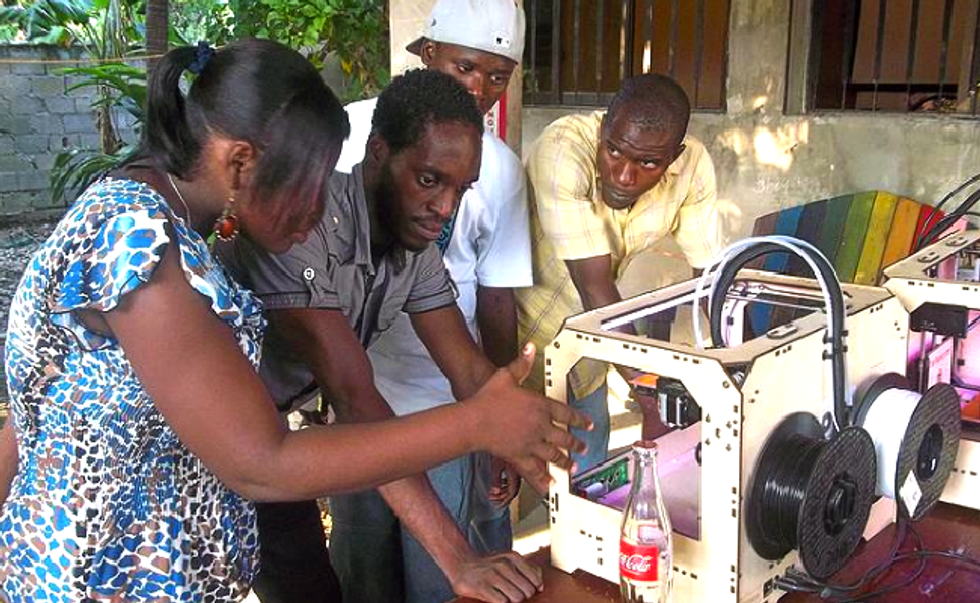 Joshua Pearce, a materials science and engineering professor at Michigan Technological University, invented the first mobile, solar-powered 3D printer. His website shows a whole range of 3D printing possibilities, such as wind turbines, hand-cranked power generators, medical braces, breast pumps, prosthetic leg covers, water spouts and more.
Incredibly, his designs are open-source, which means people can use, study, copy and change a design for free, he told The Guardian.
The prospect of using solar-powered printers is especially important for locations that have little to no access to electricity or when power has been destroyed by a natural disaster such as an earthquake. As we mentioned previously, about a quarter of the world's population—1.6 billion people—live without electricity.
It could also produce important devices at pennies to the dollar. For example, Pearce's lab created an open-source 3D printable colorimeter for testing water which cost only $50 and worked just was as well as one costing $2,000.
In Haiti, the nonprofit organization Field Ready and their partners are working to make medical devices as varied as umbilical cord clamps, IV bag hooks, oxygen tank valves and even prosthetic limbs using 3D printers.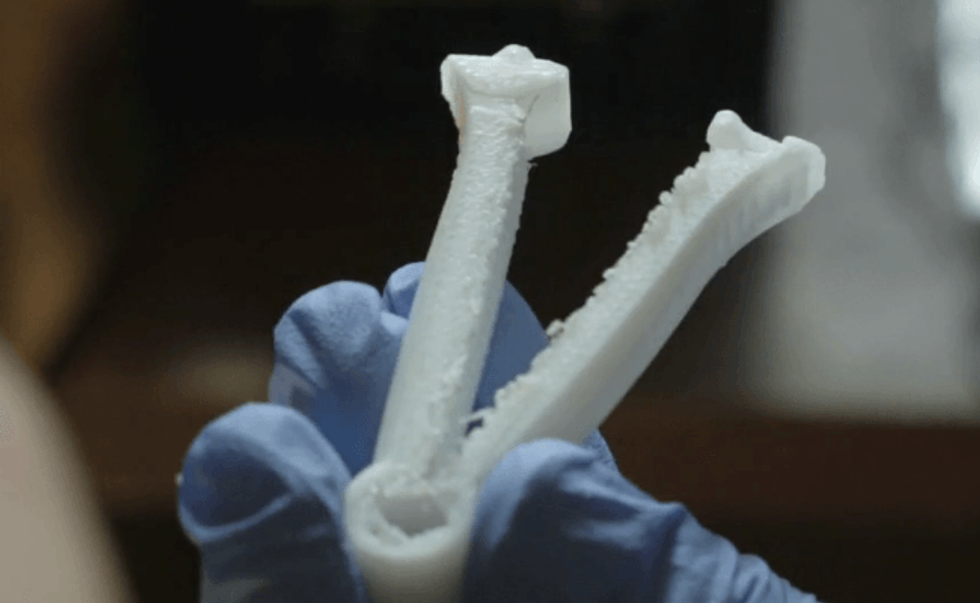 In the video below, Dara Dotz, Field Reader designer and co-founder described how a simple umbilical cord clip could be printed out in under  10 minutes. She also pointed out the importance of producing products on-demand in the onset of disasters, such as the 2010 Haitian earthquake.
"During the earthquake, the airport was actually overflowing with a bunch of materials, some of which were not needed," she said. "[But] the tools and medication that were needed couldn't actually get access because of the congestion."
In other sustainability measures, the organization is training and hiring local residents to use 3D printers and also piloting the use of recycled plastics in order to cut waste. They also hope to eventually switch to solar-powered 3D printers, as their current printers run on batteries and generators.
"The items that we can actually manufacture tend to be small but the ability to make many different things is what's really unique about it," Eric James, the director of Field Ready, said. "As long as we have the basic power source and the designs, we can fabricate virtually anything that would be needed."
As 3D printing technology becomes more and more affordable, the possibilities for manufacturing scientific equipment and medical supplies are endless. Peter Bermant, a senior at Park City High School in Utah, used a 3D printer to create a concept syringe that could mix vaccine ingredients as it's injected into a patient, eliminating the need for refrigeration (a costly hurdle for off-grid communities). A University of Washington team of students used 3D printing to turn waste plastic into composting toilets and rainwater harvesting systems.
The video below shows Alois Mbutura, a 21-year-old electrical engineering student at the University of Nairobi in Kenya, who used a MakerBot 3D printer to create an affordable medical device that helps doctors administer intravenous needles to infants. It's said that about 100 of these devices could be produced in a day using the 3D printer.
"The vein finder was actually a solution that the School of Health and School of Engineering partnered to reduce the inability of health care people to find veins in babies and also for it to be economical and suited to Kenya," said Mbutura.
YOU MIGHT ALSO LIKE
Solar-Powered Tent Keeps Food Fresh Without a Fridge
GoSun Portable Stove Reinvents Solar Cooking
Developing Countries Lead Global Surge in Renewable Energy Capacity
EcoWatch Daily Newsletter
Half of the extracted resources used were sand, clay, gravel and cement, seen above, for building, along with the other minerals that produce fertilizer. Cavan Images / Cavan / Getty Images
The world is using up more and more resources and global recycling is falling. That's the grim takeaway from a new report by the Circle Economy think tank, which found that the world used up more than 110 billion tons, or 100.6 billion metric tons, of natural resources, as Agence France-Presse (AFP) reported.
By Gero Rueter
Heating with coal, oil and natural gas accounts for around a quarter of global greenhouse gas emissions. But that's something we can change, says Wolfgang Feist, founder of the Passive House Institute in the western German city of Darmstadt.

By George Citroner
Recent research finds that official government figures may be underestimating drug deaths by half.
Researchers estimate that 142,000 people died due to drug use in 2016.
Drug use decreases life expectancy after age 15 by 1.4 years for men and by just under 1 year for women, on average.
Government records may be severely underreporting how many Americans die from drug use, according to a new study by researchers from the University of Pennsylvania and Georgetown University.
Water coolers in front of shut-off water fountains at Center School in Stow, MA on Sept. 4, 2019 after elevated levels of PFAS were found in the water. David L. Ryan / The Boston Globe via Getty Images
In a new nationwide assessment of drinking water systems, the Environmental Working Group found that toxic fluorinated chemicals known as PFAS are far more prevalent than previously thought.
An iguana is seen on a tree branch on November 22, 2019 in Marathon Island, Florida. LUDOVIC MARIN / AFP / Getty Images
An unusual weather report made waves this week as meteorologists warned residents of Florida to be aware of "raining iguanas."