This website uses cookies to ensure you get the best experience while browsing it. By clicking 'Got It' you're accepting these terms.
Poorly Located Industrial-Scale Solar Power Projects Threaten Public Lands
Sep. 07, 2012 08:14AM EST
Energy
By Dr. Guy DiDonato, David Lamfrom and Elizabeth Myers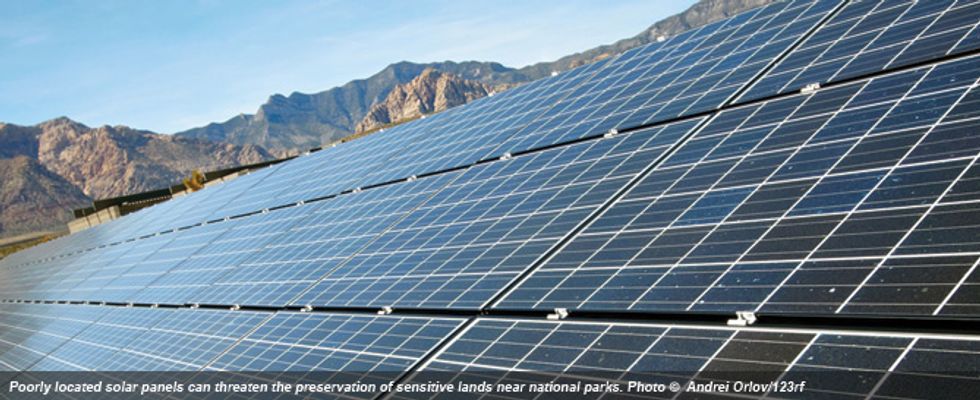 Location, location, location. These simple but wise words apply to homebuyers and business owners alike. They also apply to energy developers—some places just are not suitable for industrial-scale projects, including lands adjacent to our national parks.
In recent years, there has been a significant push to develop industrial-scale solar developments in the deserts of the Southwest. Abundant sunlight, large areas of relatively flat land and vast public acreage make six southwestern states—California, Nevada, Utah, Arizona, Colorado and New Mexico—prime locations to generate clean solar energy. To guide future solar development, the Department of Interior's Bureau of Land Management (BLM) has developed what is known as a "programmatic environmental impact statement" (PEIS)—basically, a guiding document for where developers can build these solar arrays—that includes three alternative management strategies. The agency will soon decide which of these three alternatives to pursue:
The no-action alternative allows development on 99 million acres of BLM land across this region.
The second alternative (and the one preferred by the BLM) encourages development in designated solar energy zones (285,000 acres), but also leaves an additional 19 million acres of BLM land open for solar development (these lands are known as "variance" lands).
The third alternative restricts future solar energy development to designated solar energy zones only.
BLM is ready to decide between these alternatives and seems poised to select the second alternative listed above, which would encourage development in solar energy zones but allow, under certain circumstances, development on variance lands. Solar development on some of these variance lands might lead to significant resource concerns for some of the 80 national park units in this region. The National Park Service has identified areas of land around 53 national parks and six national historic trails where, if industrial solar development were permitted to occur, significant conflicts with park resources and values would result. Some of the lands potentially available for solar development flank Death Valley National Park to the east and nearly abut Mojave National Preserve and Joshua Tree National Park. In Nevada, BLM variance lands encircle Great Basin National Park and border Lake Mead National Recreation Area. Solar developments, under the second alternative above, could creep up to the border of Grand Canyon National Park in Arizona and crowd up against Chaco Culture National Historical Park.
Location, location, location, indeed. NPCA believes that lands that abut, surround, and flank our national parks are not suitable for industrial-scale solar development. These developments would fragment habitat, impede wildlife movement, threaten rare and endangered species, and mar scenic views, potentially reducing the economic value and resource values associated with our most treasured national places. Other excellent alternatives exist: using brownfields and other disturbed public lands, continuing to develop rooftop solar resources on the existing built environment, and supporting projects of all sizes on suitable private lands.  
Solar energy is an important component in our national energy portfolio. But many public lands are simply unacceptable places to build solar energy facilities due to the negative consequences to our national parks. The Department of Interior has been entrusted with the responsibility of guarding our most sensitive lands, waters and species for future generations—it needs to make the safekeeping of these protected lands its top priority.
Visit EcoWatch's RENEWABLES page for more related news on this topic.
--------
Dr. Guy DiDonato is the natural resources program manager for the NPCA's Center for Park Research. David Lamfrom is NPCA's California desert senior program manager. Elizabeth Meyers is the information and outreach manager for the Center for Park Research.
EcoWatch Daily Newsletter
On the Solomon Islands, rats and poachers are the two major threats to critically endangered sea turtles. A group of local women have joined forces to help save the animals from extinction.
By Joe Roman
One of the most important global conservation events of the past year was something that didn't happen. For the first time since 2002, Iceland — one of just three countries that still allow commercial whaling — didn't hunt any whales, even though its government had approved whaling permits in early 2019.
People participate in a national mile-long march to highlight the push for clean water in Flint Feb. 19, 2016 in Flint, Michigan.
Bill Pugliano
/ Stringer / Getty Images
The Supreme Court made a decision Tuesday that means Flint residents can sue state and local officials over the water crisis that leached lead into their water and resulted in at least 12 deaths.
One species of walking shark. Mark Erdmann, California Academy of Sciences
Scientists have identified four new species of walking shark in the waters off Australia and New Guinea.
A new study shows that half of all Arctic warming and corresponding sea-loss during the late 20th century was caused by ozone-depleting substances. Here, icebergs discharged from Greenland's Jakobshavn Glacier. Kevin Krajick / Earth Institute /
EurekAlert!
The world awakened to the hole in the ozone layer in 1985, which scientists attributed it to ozone-depleting substances. Two years later, in Montreal, the world agreed to ban the halogen compounds causing the massive hole over Antarctica. Research now shows that those chemicals didn't just cut a hole in the ozone layer, they also warmed up the Arctic.