Morocco's Giant Solar Plant to Bring Energy to 1 Million People
Nov. 23, 2015 12:54PM EST
Business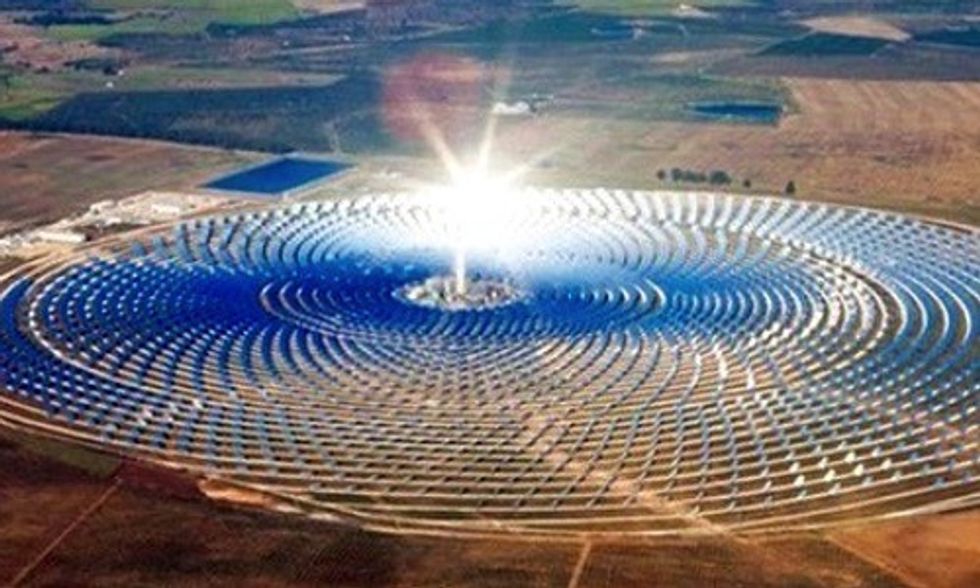 Morocco's enormous concentrated solar power plant—which will be the world's largest once fully built—will complete phase one next month and bring energy to 1 million people, BBC News reports.
Morocco's giant solar plant in the Sahara is due to open https://t.co/2XOBvJkQj9 #bbcgofigure https://t.co/SM81JbjjFF

— BBC News (World) (@BBC News (World))1448284540.0
Located outside the city of Ourrzazate, the plant will take up the same amount of space as Morocco's capital, Rabat, and will generate 580 megawatts of electricity.
The plant employs a large number of movable mirrors that can follow the sun's path and harness sunlight to melt salt. The molten salt stores energy and can be used to power a steam turbine, allowing for energy production even at night.
"You have 35 soccer fields of huge parabolic mirrors pointed to the sky which are moveable so they will track the Sun throughout the day," Paddy Padmanathan of Saudi-owned ACWA Power, which is running the project, told BBC.
The plant's first phase, or Noor 1, can store solar energy in the form of heated molten salt for three hours after the sun sets. The Noor 2 and 3 plants, planned to go live in 2017, will store energy for up to 8 hours, according to the Guardian.
As EcoWatch noted previously, Morocco has been dependent on fossil fuels and imports for nearly 97 percent of its energy, making the $9 billion solar thermal project all the more promising for the North African country.
According to The World Bank, which produced the video below, the Ourrzazate plant will reduce Morroco's energy dependence by about 2 and a half million tons of oil, and is expected to reduce the country's carbon emissions by 760,000 tons per year, translating to a reduction of 17.5 million tons of carbon emissions over 25 years.
BBC News says that the complex is all part of Morocco's King Mohammed VI's plans to turn his country into a renewable energy powerhouse.
"We are convinced that climate change is an opportunity for our country," environment minister Hakima el Haite told BBC.
Morocco has an ambitious renewable energy generation target of 42 percent by 2020 that outshines richer and more developed countries. For comparison, President Obama has set a 20 percent target by 2020 for the U.S. In the U.K., it's 30 percent by the same date.
This solar plant is expected to provide half of #Morocco's #RenewableEnergy by 2020: https://t.co/K1UlZvsTYU https://t.co/gnUatRjMx1

— Technetics Group (@Technetics Group)1447445161.0
Padmanabhan explained to BBC that if all goes to plan with the solar plant, Morocco might even be able to export surplus green energy to neighboring countries.
"If Morocco is able to generate electricity at seven, eight cents per kilowatt—very possible—it will have thousands of megawatts excess," he said.
"It's obvious this country should be able to export into Europe and it will," Padmanabhan said. "And it will not need to do anything at all ... it needs to do is just sit there because Europe will start to need it."
Morocco, with its endless expanse of sunny deserts, is poised to become a solar super power. The country has one of the highest rates of solar insolation of any country—receiving about 3,000 hours of sunshine annually.
YOU MIGHT ALSO LIKE 
Mark Jacobson: Barriers to 100% Clean Energy are Social and Political, Not Technical or Economic
4 U.S. Cities That Have Gone 100% Renewable
Tesla's Massive Gigafactory Will Be Net Zero Energy, Powered by 100% Renewables
Apple to Power 100% of Singapore Operations With Solar Energy
EcoWatch Daily Newsletter
Recent Stories from EcoWatch