This website uses cookies to ensure you get the best experience while browsing it. By clicking 'Got It' you're accepting these terms.
How a German Village Created an Independent Grid and a Renewable Energy Future
Feb. 20, 2014 09:09AM EST
Business
By Laurie Guevara-​Stone
Regardless of debate about the success of Germany's renewables revolution, there is no denying that a small town in the corner of rural eastern Germany, 40 miles south of Berlin, may be one of the best examples of decentralized self-sufficiency.
Feldheim (population: 150), in the cash-strapped state of Brandenburg, was a communist collective farm back when Germany was still divided into East and West. Now, it is a model renewable energy village putting into practice Germany's vision of a renewably powered future.
In 1995, a local entrepreneur paid for Feldheim's first wind turbine. As farmers started to worry when prices for their milk, potatoes, and beets began to fall and energy prices started to rise, they learned they could earn cash by renting their land to energy companies wanting to install a wind turbine. A local renewable energy company, Energiequelle GmbH, saw the potential as well, and decided to install a wind farm in Feldheim. Forty-three wind turbines with an installed capacity of 74.1 megawatt (MW) soon dotted the Feldheim landscape, providing income to farmers who leased their land to the energy company.
Renewable fervor was catching on, and in 2008 Energiequelle bought a 111-acre former Soviet military site about five miles from Feldheim, cleaned up the toxic military waste and hidden ammunition and constructed a 284-panel solar farm that produces over 2,700 MW hours per year. Its power is fed into the grid at the feed-in-tariff rate.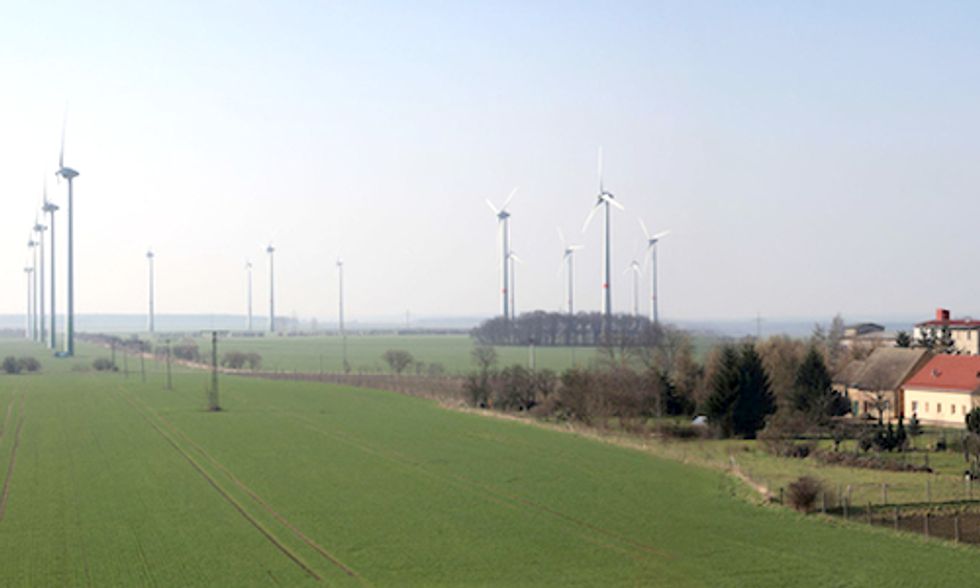 That same year, the town of Feldheim and Energiequelle established a joint venture, called Feldheim Energie GmbH & Co. The new company built a biogas factory that converts pig manure and unused corn into heat, taking advantage of the community's 700 pigs and 1,700 acres of arable farmland. The biogas plant is fed from the town's agricultural cooperative and produces of electricity a year. A 400-kilowatt, wood-chip furnace fueled by the byproduct of forest thinning helps to firm the power from wind and biogas.
By 2009 Feldheim was producing all its own energy with renewable sources. Residents then wanted to take things a step further and free themselves from the large utility company, E.on, which was supplying the grid.
E.on refused to either sell or lease the part of its energy grid that ran through Feldheim. So the people took the matter into their own hands, and decided to build their own. Each of the 150 residents contributed 3,000 Euros (~$4,000 at today's exchange rates) so that they could build their own smart grid. With help from Energiequelle and financing from the European Union and government subsidies, the smart grid was completed in 2010, making Feldheim then the only town in Germany with its own mini-grid. This allows the locally produced heat and electricity to be fed straight to consumers and gives them control over their electrical prices, which are set at community meetings.
They now pay 31 percent less for electricity and 10 percent less for heating than before. The town consumes less than one percent of the electricity produced annually by its wind turbines and solar panels, selling the rest back to the market. This lowers their electricity bills to around half the national average. The biogas plant not only sells electricity back to the market, but also supplies the entire community with heating, saving over 160,000 liters of heating oil each year. As an added benefit, the plant produces over three million gallons of high-quality fertilizer annually that the agricultural cooperative uses.
Feldheim has also installed a plug-and-pay EV charging station in the town center, and next plans to install a 10-MW battery later this year. The storage will help balance the community microgrid's generation and load.
There are now more wind turbines than houses in the town. While residents don't mind the noise or aesthetics of the wind turbines, there has been some opposition from neighboring towns, which didn't—until recently—directly benefit from the wind farm. "In order to make neighbors feel more at ease with the wind farm, we are offering power at a special rate," Energiequelle spokesman Werner Frohwitter told Rocky Mountain Institute. "Our aim is to let as many people as possible directly benefit from our turbines, thus encouraging social acceptance for renewable energies."
All the renewable projects also created jobs. While other villages in the economically depressed state of Brandenburg have roughly a 30 percent unemployment rate, Feldheim virtually erased its unemployment. Most residents work in the biogas plant or maintain the wind and solar farms. And the town, which has not a single museum or restaurant, has seen an influx of visitors. Three thousand people visit the small town of 150 each year. This has prompted the foundation of a new organization, Förderverein des Neuen Energieforums Feldheim (Friends of the New Energies Forum Feldheim), which is converting an old inn into a renewable energy information and training center. The hope is that when the center opens in the fall of 2014 it will bring even more visitors to Feldheim, generating more jobs and income for the villagers.
Feldheim has proven that a high-renewables energy future is possible today. "There have been and are still occurring remarkable changes (in Feldheim)," says Frohwitter. The small town is thriving thanks to its confidence in renewable energy technologies.
Visit EcoWatch's RENEWABLES page for more related news on this topic.

EcoWatch Daily Newsletter
A sign marks the ground covering TransCanada's Keystone I pipeline outside of Steele City, Nebraska on April 21, 2012. Lucas Oleniuk / Toronto Star via Getty Images

The company behind the controversial and long-delayed Keystone XL pipeline announced it would proceed with the project Tuesday, despite concerns about the climate impacts of the pipeline and the dangers of transporting construction crews during a pandemic.
Penguins are seen near the Great Wall station in Antarctica, Feb. 9, days after the continent measured its hottest temperature on record at nearly 65 degrees Fahrenheit. Xinhua / Liu Shiping / Getty Images
By Richard Connor
Scientists have recorded Antarctica's first documented heat wave, warning that animal and plant life on the isolated continent could be drastically affected by climate change.
The Athos I tanker was carrying crude oil from Venezuela when a collision caused oil to begin gushing into the Delaware River.
U.S. Department of the Interior
A case that has bounced around the lower courts for 13 years was finally settled yesterday when the U.S. Supreme Court upheld a lower court decision, finding oil giant Citgo liable for a clean up of a 2004 oil spill in the Delaware River, according to Reuters.
The buildings of downtown Los Angeles are partially obscured in the late afternoon on Nov. 5, 2019, as seen from Pasadena, California, a day when air quality for Los Angeles was predicted to be "unhealthy for sensitive groups." Mario Tama / Getty Images
The evidence continues to build that breathing dirty air is bad for your brain.
Wave power in Portugal. The oceans' energy potential is immense. Luis Ascenso, via Wikimedia Commons
By Paul Brown
The amount of energy generated by tides and waves in the last decade has increased tenfold. Now governments around the world are planning to scale up these ventures to tap into the oceans' vast store of blue energy.