Youth Explorers Embark to North Pole to Bury Time Capsule for Save the Arctic Campaign
Apr. 08, 2013 09:05AM EST
Climate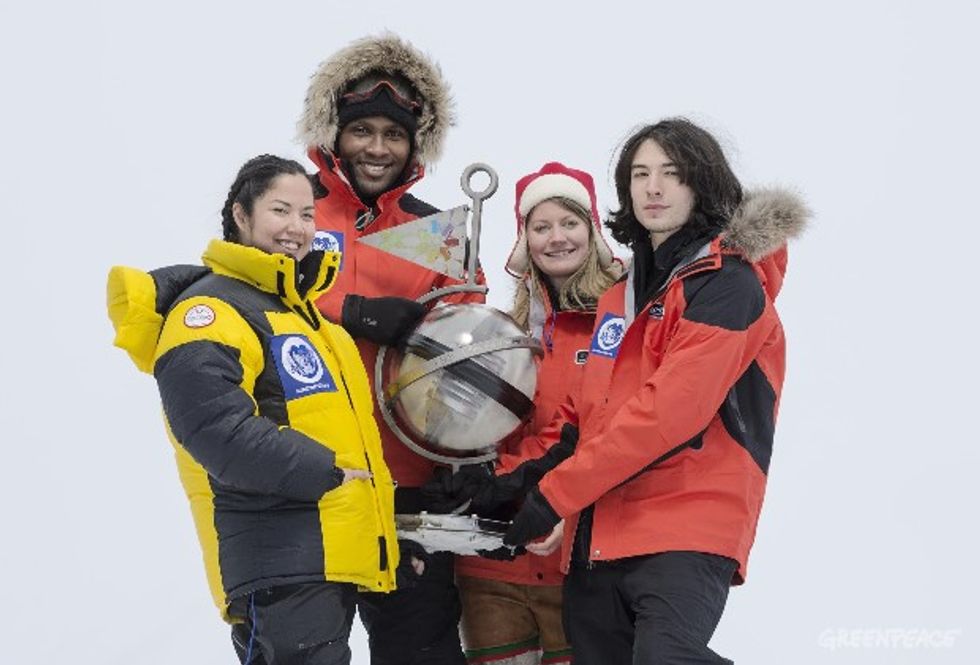 A group of young campaigners set off this week on an expedition to help save the Arctic, aiming to also hold an unexpected meeting with a delegation of influential Arctic officials at the North Pole later this week.
Sixteen people, including four international youth ambassadors—Hollywood actor Ezra Miller, two Arctic Indigenous representatives and a young man from the Seychelles—set off from Barneo Base on a ski trek across the sea ice with Greenpeace to the geographic North Pole.
Shortly before setting off, they learned that members of the Arctic Council—the governing body comprised of foreign ministers and senior officials from Arctic states—will also be at the North Pole this week.
One of the explorers, Josefina Skerk, a 26-year-old member of the Sami Parliament in Sweden, sent a letter to Gustaf Lind, Swedish chair of the Arctic Council's Senior Arctic Officials, requesting a meeting with the Arctic officials. Lind accepted the invitation and the groups now hope to meet at the North Pole, weather permitting.
The trekkers are carrying with them a time capsule that contains a declaration with 2.7 million signatures calling for the Arctic to be made a global sanctuary. They plan to lower the capsule and a "Flag for the Future" through 4.3 km of freezing water to the seabed beneath the North Pole.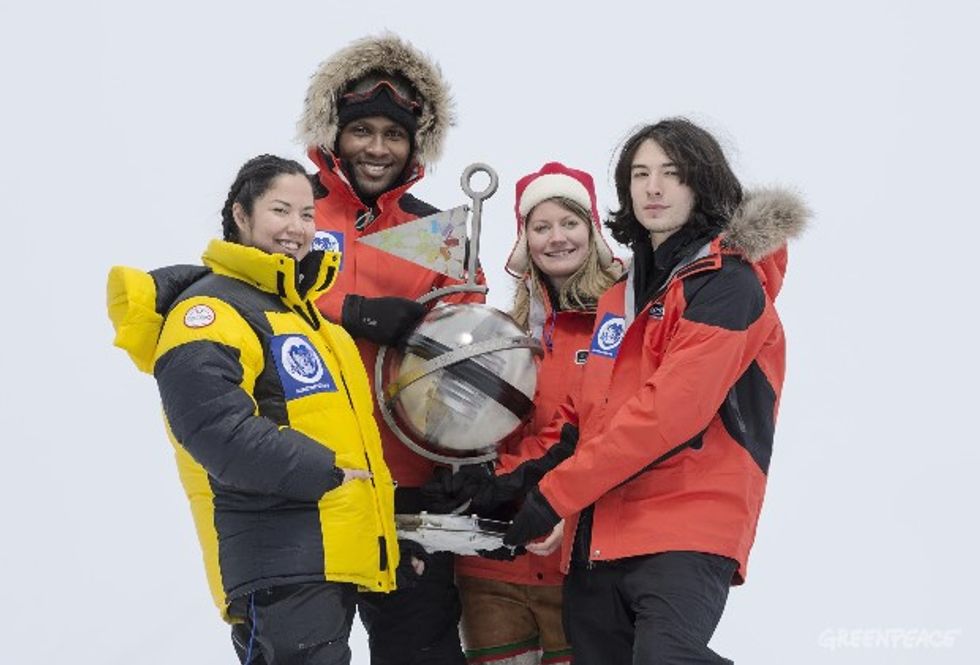 "I'm here with three young people from across the world who each have connections to the Arctic and it's a great honor to deliver our message to the council at the place we all wish to protect for future generations," Skerk said.
"This will be a really grueling expedition and we're all a little bit nervous right now. But this is a unique chance for us to talk with the people responsible for protecting the Arctic and we know our supporters around the world would want us to go for it."
The activists say no one nation should own the Arctic or be allowed to exploit the melting Arctic sea ice, a crisis created by climate change, for more of the fuels that caused the melt in the first place. 

The campaigners now plan to use the unexpected meeting with the Arctic Council to challenge the council and put forward their demand that the uninhabited areas around the North Pole be declared a global sanctuary.

Visit EcoWatch's BIODIVERSITY page for more related news on this topic.
——–
EcoWatch Daily Newsletter