Youth Climate Action Celebrated in Heart of New York City
Jul. 31, 2014 09:43AM EST
Climate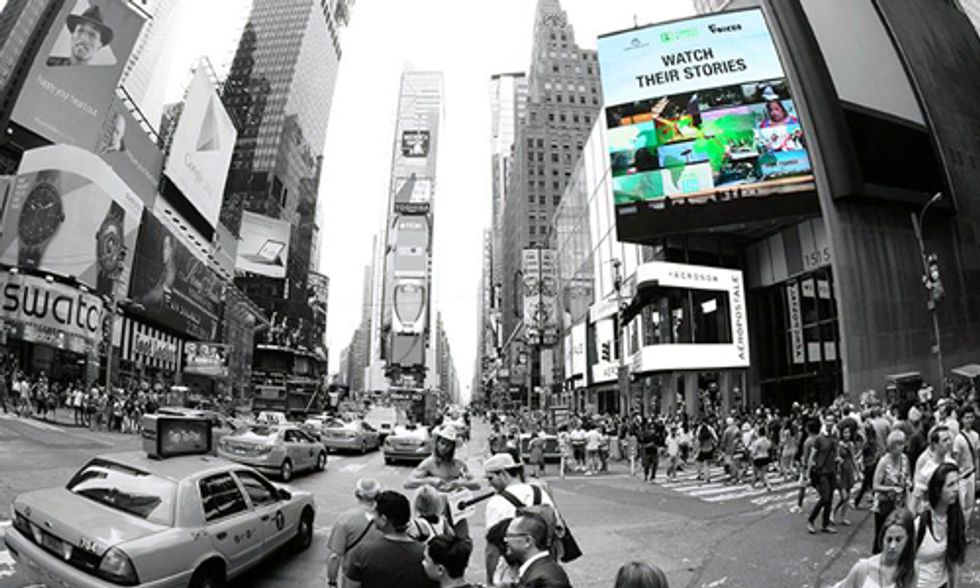 The World Bank initiative Connect4Climate has partnered with MTV Voices to celebrate youth climate action documentaries, exhibiting a 30 second compilation of Action4Climate competition submissions on two massive Broadway displays on Times Square. The short video is part of Action4Climate, a global documentary competition that inspired more than 230 young filmmakers in 70 countries and gave them a platform to discuss their concerns about the future.
The Action4Climate jury, headed by film director Bernardo Bertolucci, features award-winning film directors, producers and international organization representatives, including Atom Egoyan, Marc Forster, Mika Kaurismaki, Rachel Kyte, Rose Kuo, Cynthia López, Fernando Meirelles, Mira Nair, Bob Rafelson, Walter Salles, Pablo Trapero and Wim Wenders.
Through their documentaries, the filmmakers help viewers see how communities are experiencing climate change, from drought in Sub-Saharan Africa, flooding in Southeast Asia, extreme weather in the Philippines and elsewhere. They show solutions, from renewable energy to inspiring leadership, and they show how societies are tackling climate change together. These are stories of hope and action, directed at a global audience.
"Climate change is a global challenge, and we need a global solution involving all sectors. Each and every one of us is involved," said Lucia Grenna, who leads Connect4Climate, an initiative with about 200 partners that was created by the World Bank, Italian Ministry of Environment and Global Environment Facility. In Times Square, those messages had the chance to reach more than 300,000 people a day.
The World Bank Group launched Connect4Climate to raise global consciousness and encourage action on climate change, in line with the World Bank Group's goals to end extreme poverty within a generation and boost shared prosperity.
We know from the work of scientists worldwide that climate change is a growing risk to populations, particularly to the poorest and most vulnerable who have the fewest resources to help them adapt. Without bold action from governments, businesses and society, climate change puts economic development at risk and threatens to roll back decades of development gains.
The Action4Climate competition is supported by Edison, European Bank for Reconstruction and Development, Italian Ministry for Land, Sea and the Environment, United National Development Program, United Nations Environment Program, Televisionet.tv and Vimeo.
You Might Also Like
10 Biggest Threats to Human Existence
Big Polluters Cry Wolf Over EPA Plan to Fight Climate Change and Protect Human Health
EcoWatch Daily Newsletter