This website uses cookies to ensure you get the best experience while browsing it. By clicking 'Got It' you're accepting these terms.


The best of EcoWatch, right in your inbox. Sign up for our email newsletter!
Your Climate Dot—5/5 Is Almost Here
May. 02, 2012 10:57AM EST
Climate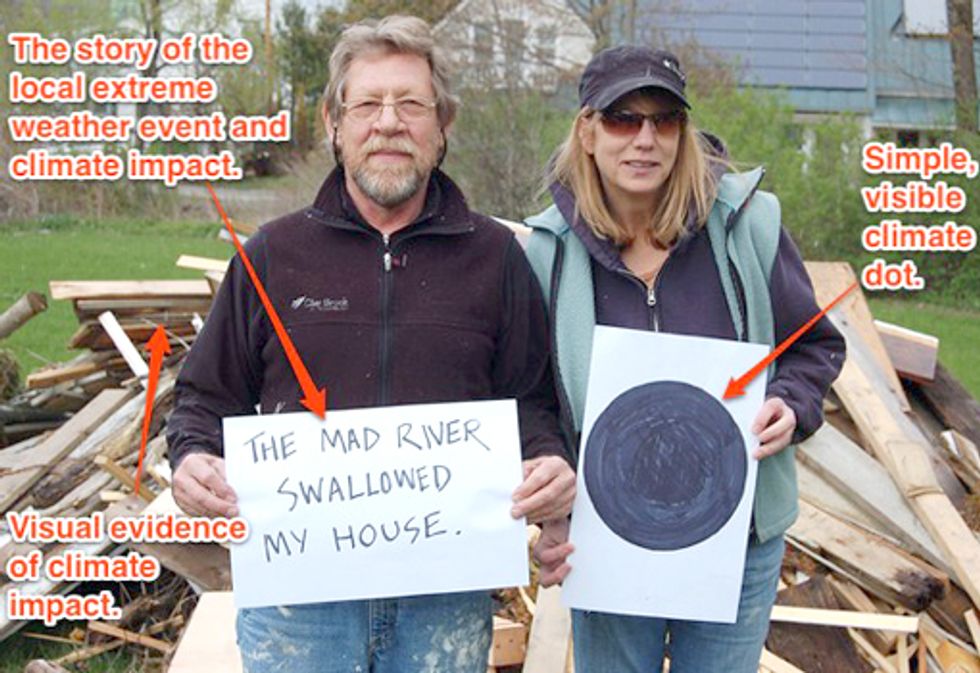 By May Boeve
This Saturday (May 5), at events around the world, people will Connect the Dots between extreme weather and climate change. It's going to be an amazing day—and the theme that will tie it all together is the dots.
Here's the deal: At each event, people will take a photo of their "climate dot" which they'll make out of fabric or cardboard or anything else. Each of these dots will represent how climate change is already hitting home in our local communities. Some of them will have a climate message on them, some of them will have a symbol of local extreme weather, and some will just be a big, plain dot.
We put together a full tip-sheet on how to make a great photo here, and to the right is an example of a great, simple climate dot photo that just came in from our friends in Vermont, recently devastated by the flooding of the Mad River.
As soon as the local events are finished, we're asking everyone around the world to upload their photos to us—our 350 team will make a global photo mosaic that connects all those dots. To make sure our message reaches "outside of the choir," we'll deliver those photos to global media and decision-makers—the people who most urgently need to connect the dots.
Here in New York, our 350 crew had a lot of fun making our climate dot (you can see photos here)—and we learned a lot while we were doing it. Here are the basic steps to make your dot:
1. Cut out a dot. We used a parachute for our dot, so we didn't have to cut it, but most fabric stores will help cut out the dot. Or cut a giant dot from a thrift-store bed sheet, a big piece of cardboard, or anything else that works for you. Or, if you don't feel like cutting something out, just draw a big dot on a sign.
2. Put a message on it. Will your dot be in a place that's self explanatory? Will the climate impact be clear? If not, write the name of the city and your climate message on the dot. For example, we wrote "NYC Underwater" on our dot. You can also just put one of the "climate impact symbols" on your climate dot—you can download and print those symbols right here.
3. Make sure you have a team set up to hold it up. Sometimes an overhead angle on your dot makes a dramatic visual. Wondering about having a lot of people in the shot? Great if you have them, but no worries if you don't.
4. Scout your location and take a photo. Take some photos and figure out where the dot will look best. Ideally, the dot will be front and center, and the background will show how climate change is impacting your community.
5. Send it in. Send your single best photo to photos@350.org. Put the location as the email subject line, and include the story behind the photo in the body of the email. You can find full photo upload-instructions here.
Things are getting a bit hectic as we gear up for 5/5, and it's all starting to come together. I truly can't wait to see your climate dots this weekend—to see, once again, what this movement is capable of when we act together.
Most of all, we need you out in your community on May 5, but the action isn't all offline—we also need a crew of online activists who can spread the word and Connect the Dots using social media. We're gathering a #ConnectTheDots Social Media Team to share key photos, facts and videos from our day of action. Click here to join the team.
For more information, click here.
EcoWatch Daily Newsletter
Pexels
Up to 20% of people may have a food addiction or exhibit addictive-like eating behavior.
Spiced hot chocolate. Lilechka75 / iStock / Getty Images
Food is the cornerstone of the holiday season. It brings friends and family together to share memories, cultural traditions, and great flavors.
Solar panels at the Renewable Hydrogen Fueling and Production Station on Joint Base Pearl Harbor-Hickam. U.S. Navy / Mass Communication Specialist 2nd Class Daniel Barker / Released
By Tara Lohan
Three years into the Trump administration, its anti-climate and anti-science agenda is well established. Despite dire warnings from the world's leading scientists about the threats from rising greenhouse gas emissions, the administration has stubbornly continued to deny climate change, obstructed and undermined efforts to curb it, and moved again and again to roll back existing regulations that help reduce emissions.
Pexels
Rye bread tends to have a darker color and stronger, earthier taste than regular white and wheat bread, which is one reason why many people enjoy it.
Elva Etienne / Moment / Getty Images
By Ketura Persellin
Gift-giving is filled with minefields, but the Environmental Working Group's (EWG) got your back, so you don't need to worry about inadvertently giving family members presents laden with toxic chemicals. With that in mind, here are our suggestions for gifts to give your family this season.