Young Humpback Whale Found Dead, Exposes Devastating Impacts of Ocean Trash
A humpback whale was found dead on the Isle of Barra in Scotland earlier this week. According to the Scottish Marine Animal Strandings Scheme, the juvenile male had lesions on its tail that was likely caused by inadvertent entanglement in fishing gear.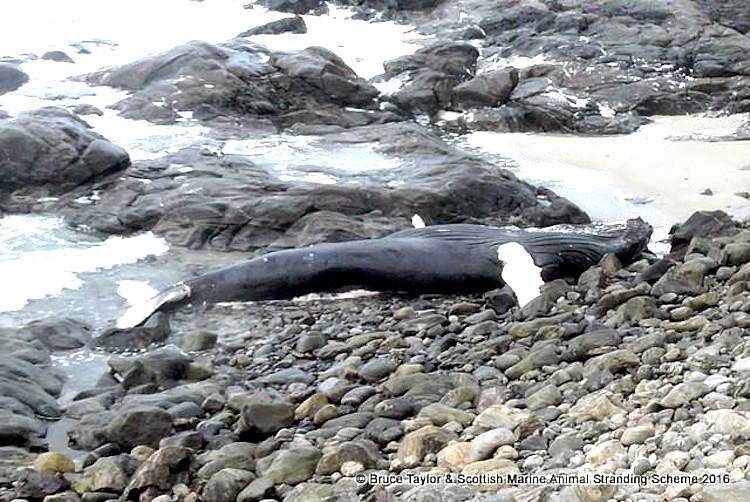 Bruce Taylor/ Scottish Marine Animal Strandings Scheme
The Hebrides News reported March 2 that the 26-foot-long whale was in a "poor, thin condition" when first discovered by local residents. A spokesman from the Scottish Marine Animal Strandings Scheme told the publication that the cuts on the whale's body were consistent with being accidentally caught in fishing gear which may have indirectly caused its death.
"It's an unfortunate accident as fishermen obviously do not go out intending to catch whales," the spokesperson said, who added that since whales can't swim in reverse, the heavy weight of trailing ropes and fishing creel acts "like a sea anchor so it can't feed properly and loses condition."
The Scottish Marine Animal Strandings Scheme noted on Facebook that the lesions found on the whale's body was "typical of those we see associated with creel lines."
"We have no way of knowing whether it was active or ghost gear that it became entangled in," the post continues. "It is possible it was cut loose from active gear but equally it could of floated loose from ghost gear."
"Ghost gear" includes nets, lines and traps that are lost, abandoned or discarded in our oceans. With an estimated 640,000 tonnes of this material left in our oceans annually, ghost gear can have a devastating and deadly effect on aquatic life.
There have been 21 strandings of humpback whales recorded in the UK since 2001, the Scottish Marine Animal Strandings Scheme noted on Facebook.
"Entanglement is the most commonly recorded cause of death for Minke whales in Scottish waters, and has been observed in several humpback whales and other species as well, including the Killer whale that stranded on Tiree earlier this year," the organization wrote.
"Nevertheless the exact numbers and scale at which entanglement occurs are unknown, making it challenging to quantify the issue and its impact on a population level."
As EcoWatch reported last month, an adult female Orca named Lulu was found dead on the Scottish island of Tiree with deep lesions on her body. After a necropsy was performed, the Scottish Marine Animal Strandings Scheme concluded the whale had been "chronically entangled" in abandoned fishing gear for several days and likely drowned from entanglement.
According to the Sea Shepherd Conservation Society, adult male humpbacks grow up to 40-48 feet and have a life expectancy of 45-50 years. There are an estimated 30,000-40,000 humpbacks on the planet, or about 30-35 percent of the original population.
Although the humpback whale is currently listed as endangered, the National Oceanic and Atmospheric Administration says that protection and restoration efforts over the past 40 years have led to an increase in numbers and growth rates for humpback whales in many areas and has proposed removing most of the species's population sites off the endangered species list.
YOU MIGHT ALSO LIKE
TED Talk: 'It's Not Too Late for Our Oceans'
Scientists Find Answer to Why Thousands of Sea Lion Pups Are Starving
World's First and Only Sunglasses Made From 100% Reclaimed Fishing Nets
Whale Found Dead With Small Pieces of Plastic Garbage in Its Stomach
A coalition of conservation groups and others announced Thursday that a historic number of comments and petitions of support have been submitted to the U.S. Department of the Interior in support of Bears Ears National Monument. Despite the entirely inadequate 15-day comment period ending on May 26, more than 685,000 comments in support of Bears Ears National Monument have been collected.
Keep reading...
Show less
Rink Glacier in western Greenland, with a meltwater lake visible center. NASA/OIB
Scientists have had their eyes on Greenland as its iconic glaciers have begun disappearing due to a warming climate. But, what they didn't expect to see was a whole new type of melting.
Keep reading...
Show less
Mountain View Fire
By Lena Moffitt
An oil tanker in Mead, Colorado exploded, killing one and injuring three on Thursday. Authorities are continuing to investigate the cause of the explosion.
Keep reading...
Show less
Banner created by Alliance for Climate Education
Keep reading...
Show less
Twenty-two GOP senators sent a letter Thursday urging Donald Trump to pull out of the Paris agreement. They argued remaining in the deal could "upend" the administration's ability "to fulfill its goal of rescinding the Clean Power Plan."
Keep reading...
Show less
By Cheryl Johncox
The Federal Energy Regulatory Commission (FERC) rejected on Thursday Energy Transfer Partners' request to resume horizontal directional drilling at two sites for its Rover fracked gas pipeline. This rejection comes after numerous leaks into Ohio's wetlands, and Clean Air and Clean Water act violations. FERC has halted the process at only eight locations of the 32 where drilling is taking place under Ohio's wetlands and streams.
Keep reading...
Show less
By Nadia Prupis
A majority of people in eight countries say they are ready to change their lifestyles if it would prevent climate catastrophe, a survey on global threats released Wednesday found.
Keep reading...
Show less
May. 25, 2017 01:55PM EST
Bill Maher is sick of billionaires' obsession with Mars, more like "Mars-a-Lago," he said.
In a new animation produced by ATTN:, the popular talk show host of Real Time, discusses the perils of our planet, including how "climate change is killing us."
Keep reading...
Show less