This website uses cookies to ensure you get the best experience while browsing it. By clicking 'Got It' you're accepting these terms.
Young Humpback Whale Found Dead, Exposes Devastating Impacts of Ocean Trash
Mar. 04, 2016 11:35AM EST
Animals
A humpback whale was found dead on the Isle of Barra in Scotland earlier this week. According to the Scottish Marine Animal Strandings Scheme, the juvenile male had lesions on its tail that was likely caused by inadvertent entanglement in fishing gear.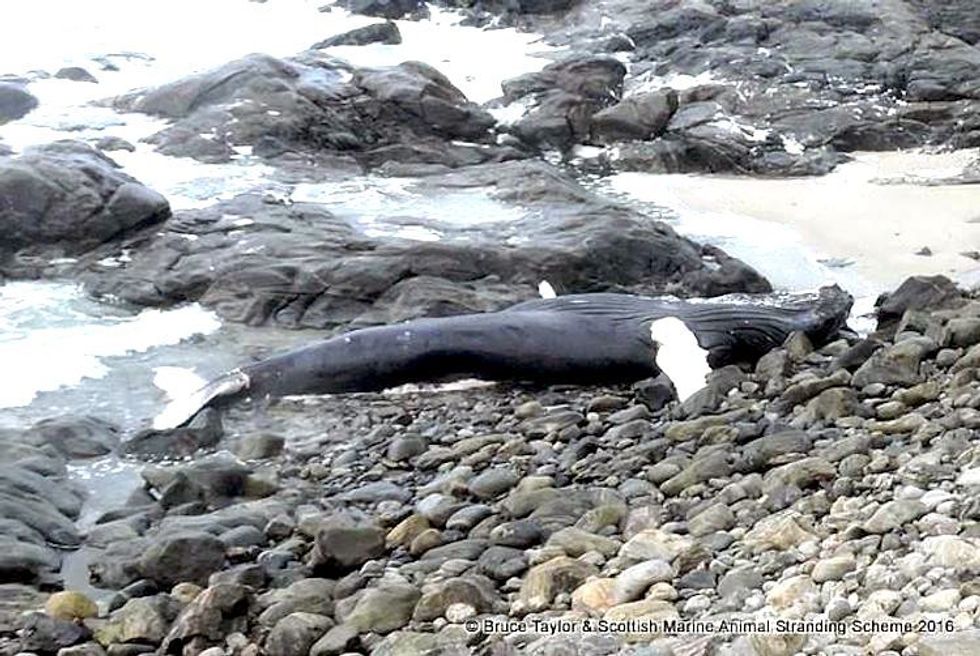 Bruce Taylor/ Scottish Marine Animal Strandings Scheme
The Hebrides News reported March 2 that the 26-foot-long whale was in a "poor, thin condition" when first discovered by local residents. A spokesman from the Scottish Marine Animal Strandings Scheme told the publication that the cuts on the whale's body were consistent with being accidentally caught in fishing gear which may have indirectly caused its death.
"It's an unfortunate accident as fishermen obviously do not go out intending to catch whales," the spokesperson said, who added that since whales can't swim in reverse, the heavy weight of trailing ropes and fishing creel acts "like a sea anchor so it can't feed properly and loses condition."
The Scottish Marine Animal Strandings Scheme noted on Facebook that the lesions found on the whale's body was "typical of those we see associated with creel lines."
"We have no way of knowing whether it was active or ghost gear that it became entangled in," the post continues. "It is possible it was cut loose from active gear but equally it could of floated loose from ghost gear."
"Ghost gear" includes nets, lines and traps that are lost, abandoned or discarded in our oceans. With an estimated 640,000 tonnes of this material left in our oceans annually, ghost gear can have a devastating and deadly effect on aquatic life.
There have been 21 strandings of humpback whales recorded in the UK since 2001, the Scottish Marine Animal Strandings Scheme noted on Facebook.
"Entanglement is the most commonly recorded cause of death for Minke whales in Scottish waters, and has been observed in several humpback whales and other species as well, including the Killer whale that stranded on Tiree earlier this year," the organization wrote.
"Nevertheless the exact numbers and scale at which entanglement occurs are unknown, making it challenging to quantify the issue and its impact on a population level."
As EcoWatch reported last month, an adult female Orca named Lulu was found dead on the Scottish island of Tiree with deep lesions on her body. After a necropsy was performed, the Scottish Marine Animal Strandings Scheme concluded the whale had been "chronically entangled" in abandoned fishing gear for several days and likely drowned from entanglement.
According to the Sea Shepherd Conservation Society, adult male humpbacks grow up to 40-48 feet and have a life expectancy of 45-50 years. There are an estimated 30,000-40,000 humpbacks on the planet, or about 30-35 percent of the original population.
Although the humpback whale is currently listed as endangered, the National Oceanic and Atmospheric Administration says that protection and restoration efforts over the past 40 years have led to an increase in numbers and growth rates for humpback whales in many areas and has proposed removing most of the species's population sites off the endangered species list.
YOU MIGHT ALSO LIKE
TED Talk: 'It's Not Too Late for Our Oceans'
Scientists Find Answer to Why Thousands of Sea Lion Pups Are Starving
World's First and Only Sunglasses Made From 100% Reclaimed Fishing Nets
Whale Found Dead With Small Pieces of Plastic Garbage in Its Stomach
EcoWatch Daily Newsletter
A new study shows that half of all Arctic warming and corresponding sea-loss during the late 20th century was caused by ozone-depleting substances. Here, icebergs discharged from Greenland's Jakobshavn Glacier. Kevin Krajick / Earth Institute /
EurekAlert!
The world awakened to the hole in the ozone layer in 1985, which scientists attributed it to ozone depleting substances. Two years later, in Montreal, the world agreed to ban the halogen compounds causing the massive hole over Antarctica. Research now shows that those chemicals didn't just cut a hole in the ozone layer, they also warmed up the Arctic.
Diane Wilson holds up a bag full of nurdles she collected from one of Formosa's outfall areas on Jan. 15. Julie Dermansky / DeSmogBlog
On the afternoon of Jan. 15, activist Diane Wilson kicked off a San Antonio Estuary Waterkeeper meeting on the side of the road across from a Formosa plastics manufacturing plant in Point Comfort, Texas.
After Wilson and the waterkeeper successfully sued Formosa, the company agreed to no longer release even one of the tiny plastic pellets known as nurdles into the region's waterways. The group of volunteers had assembled that day to check whether the plant was still discharging these raw materials of plastics manufacturing.
Malaysian Environment Minister Yeo Bee Yin (front 2nd L) and officials inspect a container containing plastic waste shipment on Jan. 20, 2020 before sending back to the countries of origin. AFP via Getty Images
The Southeast Asian country Malaysia has sent 150 shipping containers packed with plastic waste back to 13 wealthy countries, putting the world on notice that it will not be the world's garbage dump, as CNN reported. The countries receiving their trash back include the United States, the United Kingdom, France and Canada.
Trump leaves after delivering a speech at the Congress Centre during the World Economic Forum annual meeting in Davos on Jan. 21, 2020. JIM WATSON / AFP via Getty Images