This website uses cookies to ensure you get the best experience while browsing it. By clicking 'Got It' you're accepting these terms.
Yellowstone Begins 2014 Wild Bison Slaughter
Feb. 13, 2014 09:18AM EST
Yellowstone National Park shipped 20 of America's last wild bison to slaughter yesterday morning. Twenty-five bison were captured Friday in the Stephens Creek bison trap, located inside the world's first national park. After being confined in the trap for five days, 20 of the bison were handed over to the Confederated Salish and Kootenai Tribes, who are required to slaughter them under a controversial agreement between the tribes and the Park. Five bison remain locked in the trap as of Wednesday afternoon.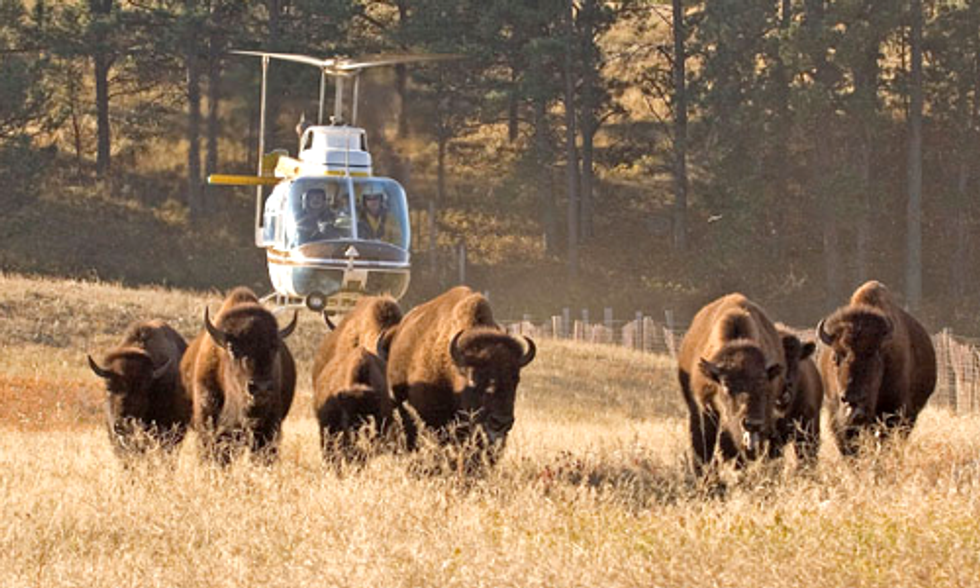 Yellowstone plans to slaughter between 600 and 800 bison this winter, according to park spokesman Al Nash. "We're going to seek opportunities to capture any animals that move outside the park's boundaries," he said. Yellowstone has set a "population target," or objective, of 3,000 to 3,500 animals.
The current buffalo population numbers approximately 4,400 (1,300 in the Central Interior and 3,100 in the Northern range). The Central Interior subpopulation also migrates north into the Gardiner basin and has not recovered from the last Park-led slaughter in 2008 that killed over half of the Central Interior buffalo. The government's "population target" makes no distinction for conserving subpopulations in this unique buffalo herd.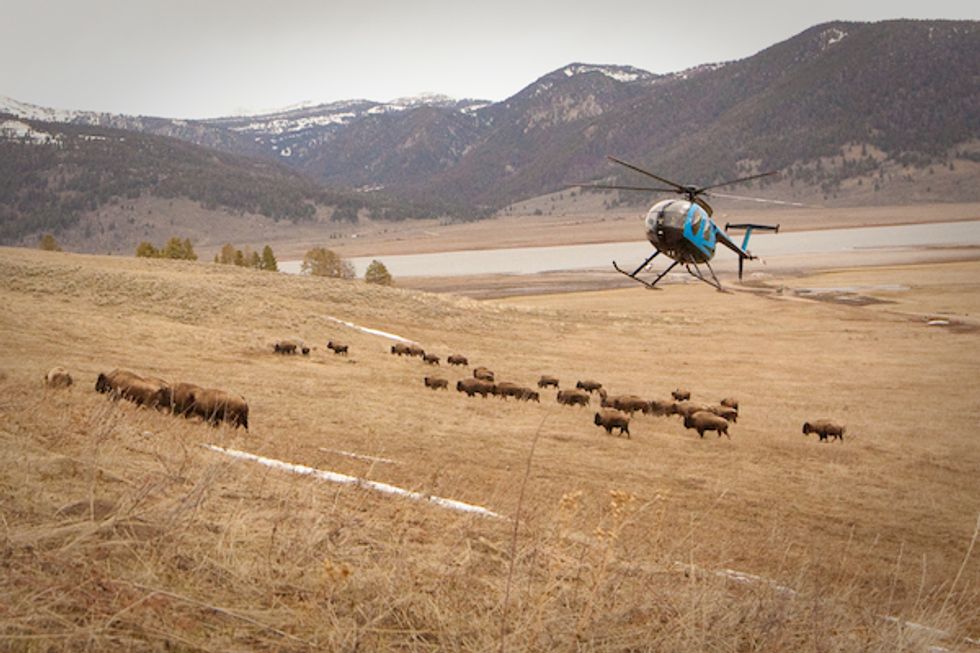 According to Dan Brister, Executive Director of Buffalo Field Campaign (BFC), "This number was politically derived to limit the range of wild buffalo and has no scientific basis. It does not reflect the carrying capacity of the buffalo's habitat in and around Yellowstone National Park."
This is the first time Yellowstone has turned bison over to the tribes under the slaughter agreements. According to James Holt, a Nez Perce Tribal Member and a member of BFC's board, "It is disheartening to see tribes support these activities."
"Buffalo were made free, and should remain so," Holt said. "It is painful to watch these tribal entities take such an approach to what should be the strongest advocacy and voice of protection."
"It is one thing to treat their own fenced herds in this manner, it is quite another to push that philosophy onto the last free-roaming herd in existence," Holt continued. "Slaughter Agreements are not the answer."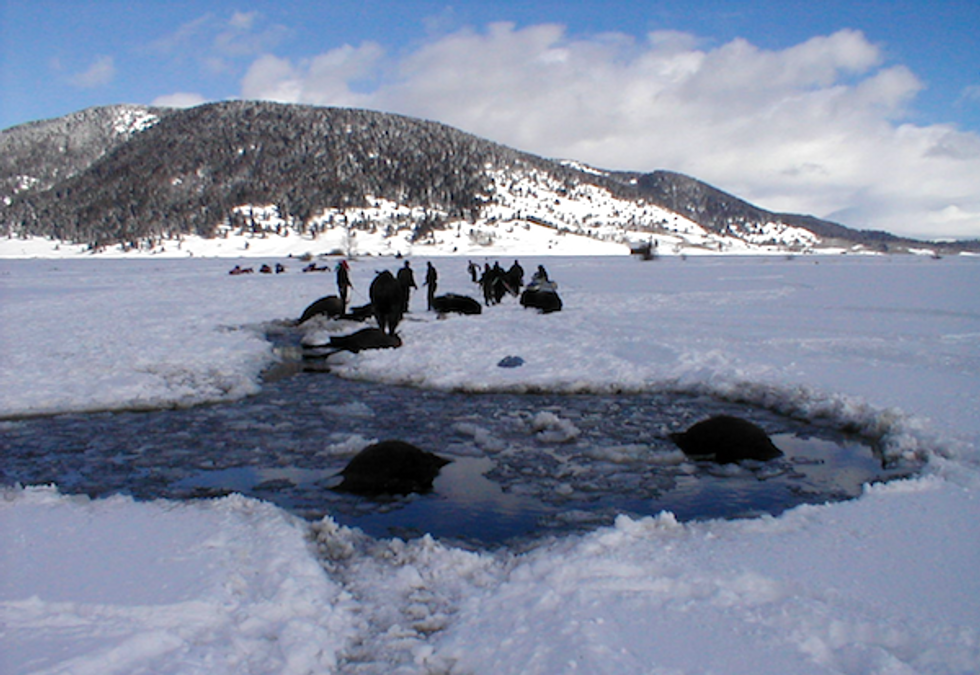 Brucellosis is the reason used by Yellowstone to justify the slaughter of wild bison. There has never been a documented case of wild bison transmitting the livestock disease to cattle. Other wildlife, such as elk, also carry brucellosis and are known to have transmitted it, yet they are free to migrate, and even commingle with cattle with no consequence.
Year after year, Yellowstone and Montana officials executing the ill-conceived Interagency Bison Management Plan forcibly prevent wild bison's natural migration with hazing, capture, slaughter, quarantine and hunting. Millions of U.S. tax dollars are wasted annually under activities carried out under the IBMP.
The wild bison of the Yellowstone region are America's last continuously wild population. Like other migratory wildlife, bison cross Yellowstone's ecologically insignificant boundaries in order to access the habitat they need for survival. During 2007-2008 more than 1,300 wild bison were captured in Yellowstone National Park and shipped to slaughter.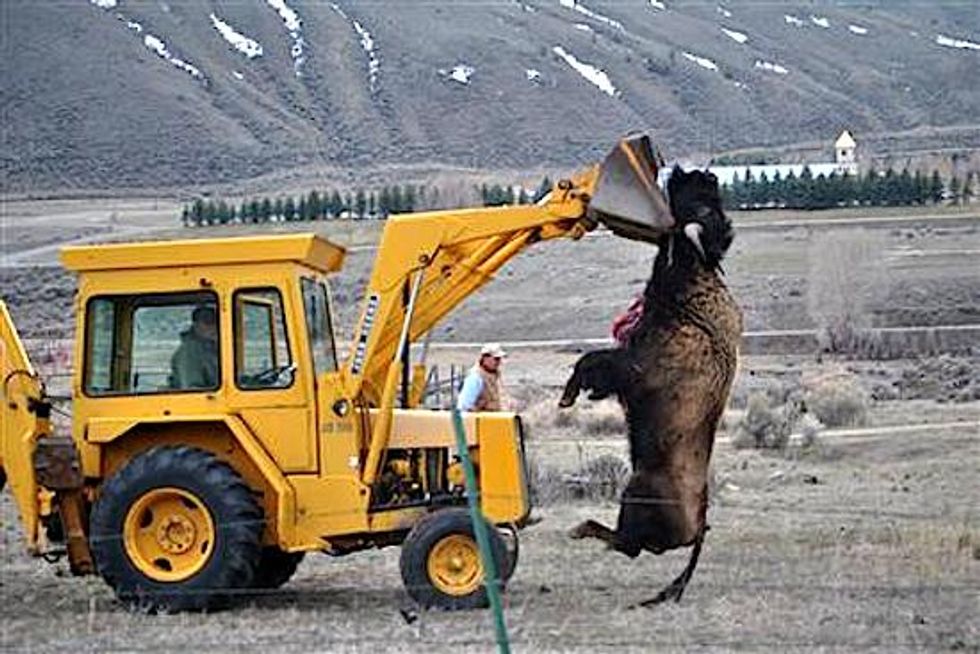 Nearly 7,200 wild bison have been eliminated from America's last wild population since 1985. Bison once spanned the North American continent, but today, fewer than 4,400 wild bison exist, confined to the man-made boundaries of Yellowstone National Park and consequently are ecologically extinct throughout their native range. 
Visit EcoWatch's BIODIVERSITY page for more related news on this topic.

EcoWatch Daily Newsletter
The Opera House is seen with smoke haze which enveloped Sydney Harbor on Dec. 10 in Sydney, Australia. Smoke haze hangs over the city as the New South Wales fire danger risk is raised from 'very high' to 'severe'. James D. Morgan / Getty Images
The brushfires raging through New South Wales have shrouded Australia's largest city in a blanket of smoke that pushed the air quality index 12 times worse than the hazardous threshold, according to the Australia Broadcast Corporation (ABC).
People walk across the bridge near Little Raven Court in downtown Denver. Younger Americans increasingly prefer to live in walkable neighborhoods. Helen H. Richardson / The Denver Post via Getty Images
By David B. Goldstein
Energy efficiency is the cornerstone of any country's plan to fight the climate crisis. It is the cheapest option available, and one that as often as not comes along with other benefits, such as job creation, comfort and compatibility with other key solutions such as renewable energy. This has been recognized by the International Energy Agency (IEA) for at least a decade.
Activists from Extinction Rebellion New York City engaged in nonviolent direct action to confront climate change outside City Hall on April 17, 2019. Erik McGregor / Pacific Press / LightRocket via Getty Images
By Andrea Germanos

Over 500 groups on Monday rolled out an an action plan for the next president's first days of office to address the climate emergency and set the nation on a transformative path towards zero emissions and a just transition in their first days in office.

The Ladakh region of India, pictured above, is a part of the Himalayan mountain region of the upper Indus Valley which is the most vulnerable water tower, according to researchers. Suttipong Sutiratanachai / Moment / Getty Images
Jet stream triggered heat waves could threaten food production in several important breadbaskets, including central North America.
Carl Wycoff /
CC BY 2.0
Researchers have pinpointed a previously underexamined threat to global food production, and they warn it will only get worse as the climate crisis intensifies.