Yale Study Finds Nearly One-Quarter of Americans Are Climate Deniers
Jan. 21, 2014 11:31AM EST
Climate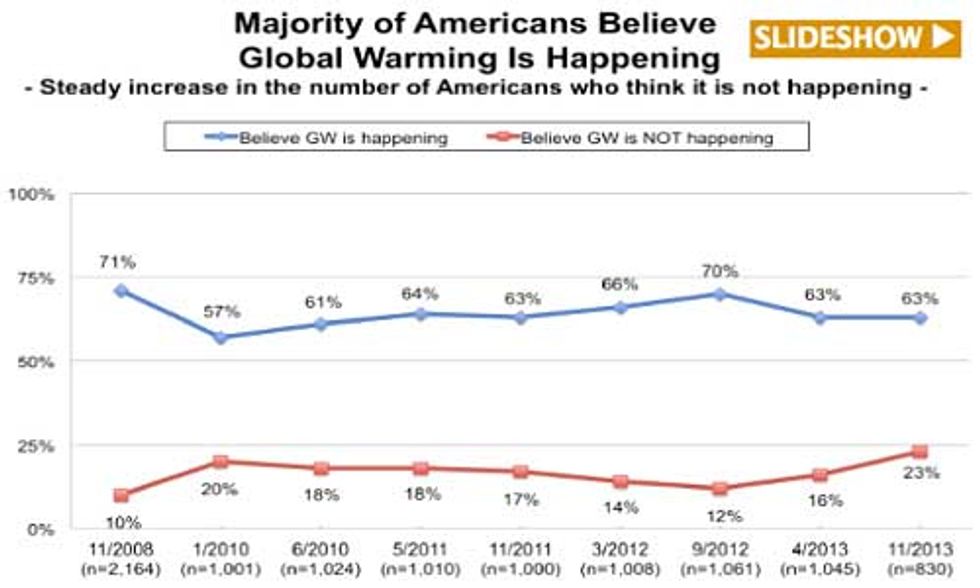 The good news is that most Americans—63 percent—believe global warming is happening. That figure has been steady since last spring.
However, the disheartening part of a joint report from Yale and George Mason universities centers on climate deniers. The amount of people who do not believe global warming is happening has increased by 7 percentage points to 23 percent since spring.
[slideshow_deploy id='346827']
The study also uncovered that:
About half of Americans (53 percent) say they are "somewhat" (38 percent) or "very worried" (15 percent) about global warming.

Fewer than half of Americans (38 percent) believe they personally will be harmed a "moderate amount" or a "great deal" by global warming. By contrast, half or more believe that global warming will harm future generations of people (65 percent), plant and animal species (65 percent), people in developing countries (56 percent), people in other industrialized societies (54 percent), or people in the U.S. (53 percent).

Whereas only one in twenty Americans (5 percent) say humans can reduce global warming and will do so successfully, one in four say we won't because people are unwilling to change their behavior (25 percent), and nearly one in five (16 percent) say humans can't reduce global warming even if it is happening.
The universities polled 830 Americans, 18 years or older, between November and December. Find more survey results in the slideshow above.
Visit EcoWatch's CLIMATE CHANGE page for more related news on this topic.

EcoWatch Daily Newsletter
Recent Stories from EcoWatch