This website uses cookies to ensure you get the best experience while browsing it. By clicking 'Got It' you're accepting these terms.
Xeriscape Your Yard
Jul. 16, 2014 03:10PM EST
If you live in a high precipitation area, perhaps you've installed a lovely rain garden. But what's a good landscaping choice for no rain at all?
Several regions of the U.S. are experiencing record droughts, from the shrinking Colorado River basin to megadroughts in California. 
While we have no choice but to wait for rainfall whenever it comes, how we respond to this crisis is up to us—for example, investments in water efficiency. What is a sound option for our lawns and yards?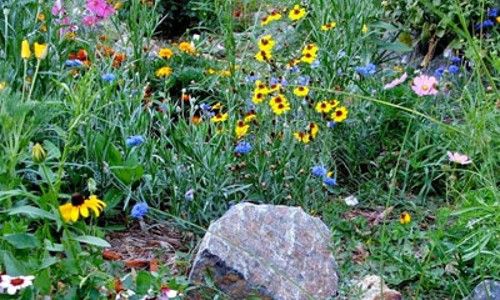 A lush garden that conserves water? Photo credit: Planet Natural
Enter xeriscaping.
Xeriscaping is a landscaping technique that conserves water. The word is a combination of xeros, the Greek word for dry, and scape, meaning scene. While dry landscaping may sound unappealing to some, xeriscapes are not just dusty rocks and thorny cacti, but a combination of elements in a landscape that are locally appropriate and water conserving. Watch this video from GreenCO to see why it's not a garden but a system—and one that can be colorful and lush.
Xeriscapes exist in nearly all states and can reduce water used for landscaping by 60 percent.
To visualize how much water can be saved, check out this graphic presented by the city of Albuquerue, NM.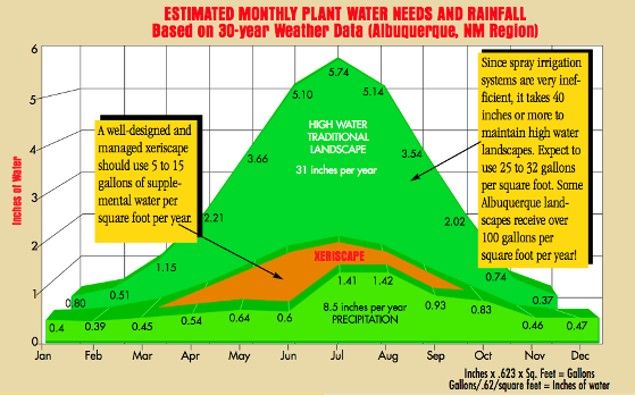 The landscaping system is based on the following 7 principles:
Planning and design

Soil improvements

Efficient irrigation

Plant zones

Mulches

Turf alternatives

Landscape maintenance
When designing your landscape for water-efficiency, be sure to choose plants that are defined as low water use or drought tolerant for your area. To search for native plants for your xeriscaping needs, visit the U.S. Environmental Protection Agency's WaterSense database, searchable by state, to find lists for your area.
Once you have selected your natives, follow these 10 steps for a healthy xeric plant:
 Select the right plant for the right spot

Dig the right size hole

Amend the soil

Carefully remove plant from container

Separate matted roots

Place plant and backfill the hole

Give the plant a good soaking

Mulch it

Use efficient irrigation

Maintain your xeriscape
 Have you tried xeriscaping in your yard?
EcoWatch Daily Newsletter
Lara Hata / iStock / Getty Images
By SaVanna Shoemaker, MS, RDN, LD
Rice is a staple in many people's diets. It's filling, inexpensive, and a great mild-tasting addition to flavorful dishes.
An image of the trans-alaskan oil pipeline that carries oil from the northern part of Alaska all the way to valdez. This shot is right near the arctic national wildlife refuge. kyletperry / iStock / Getty Images Plus
The Trump administration has initialized the final steps to open up nearly 1.6 million acres of the protected Alaskan National Wildlife Refuge to allow oil and gas drilling.
Kaboompics / Pexels
Tensions between lawmakers and several large manufacturing companies came to a head on Capitol Hill this week during a hearing on toxic fluorochemicals in U.S. drinking water.
A male african lion plays with his 4 month old cub at Big Marsh in Serengeti National Park, Tanzania. Nick Garbutt / Barcroft Media / Getty Images
A Florida man has been allowed to import a Tanzanian lion's skin, skull, claws and teeth, a first since the animal was listed as threatened under the Endangered Species Act, according to US Fish and Wildlife Service records uncovered by the Center for Biological Diversity through the Freedom of Information Act.
A fracked natural gas well in northwest Louisiana has been burning for two weeks after suffering a blowout. A state official said the fire will likely burn for the next month before the flames can be brought under control by drilling a relief well.
The universe is expanding much quicker than previously thought, according to researchers in Germany, leading scientists to suggest it may be more than 2 billion years younger than past estimates.