Wrongful Death Lawsuit Filed as SoCalGas Faces Criminal Charges Over Porter Ranch Gas Leak
Feb. 03, 2016 11:51AM EST
Energy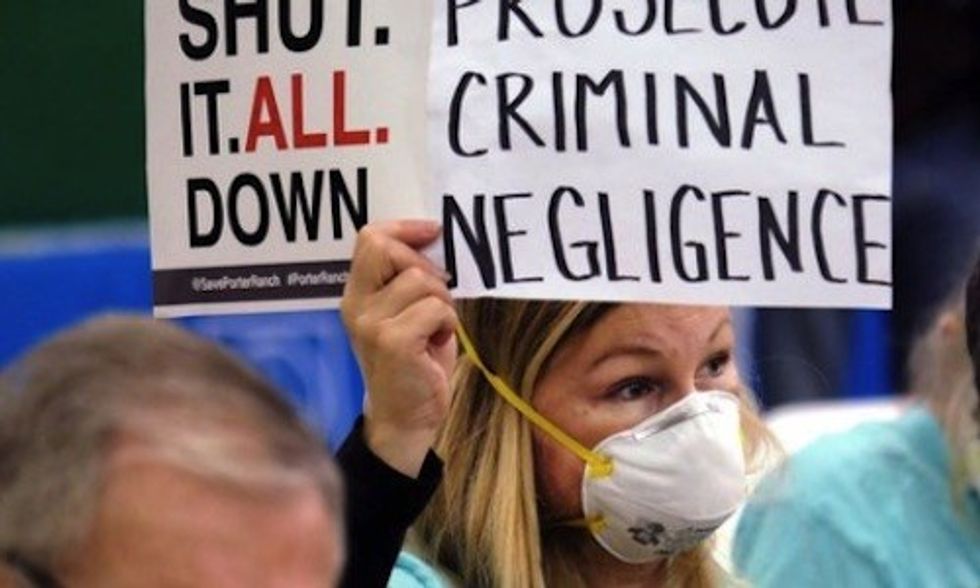 The Southern California Gas Company (SoCalGas) is under increasing legal fire over the catastrophic Porter Ranch gas leak. The embattled company, which is the primary provider of natural gas to Southern California, is facing potential criminal and civil charges, and now, its first wrongful death lawsuit.
Utility faces criminal charges after massive #PorterRanchGasLeak https://t.co/O80fPIFUel https://t.co/xHnRavQI8X

— Mashable (@Mashable)1454465915.0
It's estimated that more than 92,000 metric tons of methane, a powerful climate pollutant, have escaped from the Aliso Canyon natural gas storage facility since the noxious leak was first reported on Oct. 23, 2015. On Jan. 6, California Gov. Jerry Brown declared the leak, which has forced the relocation thousands of residents, a state of emergency.
Los Angeles County District Attorney Jackie Lacey announced Tuesday that SoCalGas will face four misdemeanor criminal charges in connection with the gas leak: three counts of failing to report the release of hazardous materials from Oct. 23-26, 2015, and one count of discharging air contaminants, beginning on Oct. 23, 2015, to the present.
If convicted in the criminal case, SoCal Gas could be fined up to $25,000 a day for each day it failed to notify state authorities about the leak. An arraignment is scheduled for Feb. 17, Lacey's office said.
"While we recognize that neither the criminal charges nor the civil lawsuits will offer the residents of Los Angeles County a complete solution, it is important that Southern California Gas Co. be held responsible for its criminal actions," Lacey said in a statement.
Hours earlier, California Attorney General Kamala Harris joined a civil lawsuit filed by the county and city of Los Angeles against the utility.
"This gas leak has caused significant damage to the Porter Ranch community as well as our statewide efforts to reduce greenhouse gas emissions and slow the impacts of climate change," Harris said. Photo credit: Wikipedia
Harris, who represents the California Air Resources Board, indicated in the lawsuit that the natural gas leak has caused a public health and statewide environmental emergency, which has sickened residents of Porter Ranch and compelled them to relocate.
"The impact of this unprecedented gas leak is devastating to families in our state, our environment and our efforts to combat global warming. Southern California Gas Company must be held accountable," Harris said in a statement. "This gas leak has caused significant damage to the Porter Ranch community as well as our statewide efforts to reduce greenhouse gas emissions and slow the impacts of climate change. My office will continue to lead this cross-jurisdictional enforcement action to ensure justice and relief for Californians and our environment."
The Attorney General seeks relief in the form of injunction, civil penalties and restitution.
"This action recognizes the impacts of this ongoing leak on our climate and ensures there's accountability," California Air Resources Board Chair Mary D. Nichols said in a statement.
Consumer Advocate Erin Brockovich voiced support for today's criminal charges. Brockovich, who has been working with the law firm Weitz & Luxenberg to seek compensation for affected residents, said, "I'm pleased to see the people of this community have finally been heard by the city. This crisis has been going on for months and it is high time SoCalGas is held responsible for its actions."
#PorterRanch gas leak: Legal woes mount for Southern California Gas Company https://t.co/bP8pu0UjpQ https://t.co/KlD5UKBJ0M

— CNN (@CNN)1454470166.0
Also on Tuesday, a Pasadena, California family filed a wrongful death lawsuit against SoCalGas on behalf of Zelda Rothman, 79, a longtime Porter Ranch resident who lived less than three miles from the leaking well.
The complaint against SoCalGas appears to be the first of its kind, according to the Los Angeles Daily News.
The complaint alleges that the leaking gas infiltrated Rothman's home and surroundings, exacerbating her fragile health. Rothman, who had already been suffering from lung cancer, died on Jan. 25.
"The gas replaced precious oxygen in the air that she breathed, causing her to suffer from difficult and labored breathing," according to the complaint. "As a result, she required the use of an oxygen tank twenty-four hours a day. The gas, and carcinogens within the gas, also weakened Ms. Rothman and caused intense headaches and migraines, among other symptoms. The gas leak deteriorated her health and ultimately hastened her death."
Rothman's son, Michael Rothman, told the Daily News that he pursued the lawsuit because his mother told him she was certain she would be among the first in one of many casualties as a result of this gas leak.
"Southern California Gas Company's decision to operate its inherently dangerous gas storage operation next to 30,000 residents of Porter Ranch without taking all reasonable steps necessary to prevent catastrophic gas leaks is unconscionable," Pasadena trial lawyer Scott Glovsky, the lawyer for Rothman and her children, said in a statement. "Its decision has not only damaged the health and property values of thousands of Porter Ranch residents, it has hastened the death of Zelda Rothman."
SoCalGas told CNN that they would respond to the state lawsuit "through the judicial process," but noted that the state lawsuit was the same one jointly filed by the Los Angeles City Attorney and Los Angeles County Counsel. The state lawsuit adds allegations of health and safety violations, the utility said.
As for the criminal charges, the company said: "We have just been notified of this filing, and we are still reviewing it. We have been working with regulatory agencies to mitigate the odors associated with the natural gas leak and to abate the gas leak as quickly as safety allows. We will defend ourselves vigorously through the judicial process."
SoCalGas has not yet issued a response to the wrongful death suit.
The company has apologized for the leak and said it is on its "fifth and final phase" in plugging the leak, the company announced on Jan. 25. SoCalGas added that the completion date is anticipated to be by late February, or possibly sooner, noting that drilling operations can still encounter delays.
Watch here to see the first aerial footage of the Aliso Canyon natural gas leak:
YOU MIGHT ALSO LIKE 
This One Policy Could Open Up Millions of Acres to New Offshore Oil Drilling
Hottest Year Ever Recorded + Collapsing Oil Prices = Broken Fossil Fuel Economy
Huge Victory for Environmentalists: Offshore Fracking Moratorium Now in Effect Off California's Coast
EcoWatch Daily Newsletter
Related Articles from EcoWatch
Recent Stories from EcoWatch