This website uses cookies to ensure you get the best experience while browsing it. By clicking 'Got It' you're accepting these terms.
Would You Like Soot With that Hot Dog?
Dec. 18, 2012 09:02PM EST
Energy
By Paul E McGinniss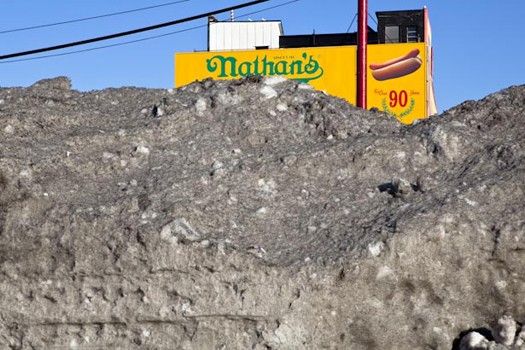 Dirty, soot covered snow in Cony Island, New York. Photo courtesy e-arcades.com
As a native New Yorker, I know soot. Talk to anyone in NYC and they will tell you they've wiped soot off their faces, window sills, car windows and picnic tables.
Fortunately, on Dec. 14, the U.S. Environmental Protection Agency (EPA) announced new clean air standards which will reduce harmful soot in the atmosphere by putting limits on emissions of fine particulate matter or PM2.5, one of the deadliest and most dangerous forms of air pollution. The new standard will reduce soot pollution by 20 percent. Soot pollution causes thousands of premature deaths every year across the U.S. through a variety of cardiovascular and respiratory illnesses.
And certainly the U.S. is not alone. A report out today by Greenpeace East Asia, estimated 8,572 premature deaths occurred in four major Chinese cities in 2012, due to high levels of PM2.5.
Even the Arctic is suffering from the world's high soot levels. James Balog and his Extreme Ice Survey Team, who bravely captured the Arctic glaciers disappearing as a result of global warming in the must see film, Chasing Ice, probably feels somewhat relieved that the U.S. EPA mandated new soot standards. Soot, also known as black carbon, is a significant contributor to climate change which Balog talks about in his film. According to a 2010 study by Dr. Mark Jacobson of Stanford University in the Journal of Geophysical Research, reducing black carbon emissions in the next 15 years could be the best and only way to save the Arctic ice from warmer temperatures.
Check out this video of Dr. Jacobson talking about his study Soot Is Second Leading Cause of Global Warming:
Clearly the U.S. EPA Administrator Lisa P. Jackson understands the value of stronger clean air standards. She said in a statement:
"These standards are fulfilling the promise of the Clean Air Act. We will save lives and reduce the burden of illness in our communities, and families across the country will benefit from the simple fact of being able to breathe cleaner air.
However, some industry groups acting like dinosaurs from ages long past, such as the National Association of Manufacturers (NAM) and the American Petroleum Institute (API), oppose these tougher emissions restrictions.
Dinosaur-in-Chief, NAM President and CEO Jay Timmons, stated in a press release:
"With the fiscal cliff only a few weeks away and so much hanging in the balance, the EPA displayed a staggering level of shortsightedness by dropping another harsh regulation on America's job creators."
But is protecting the health of Americans and our environment really shortsighted and a cost that businesses can't afford?
The API, another, shall we say, "not progressive" trade group representing an industry experiencing record profits, thinks businesses can't afford to protect the environment or the health of Americans, including their own employees.
Howard Feldman, API director of Regulatory and Scientific Affairs, said about the EPA's new standards:
"The collective impacts of these and other potential new regulations at a time when 12 million Americans are still unemployed would be a blow to our economy as it struggles to recover and put Americans back to work. It makes no sense to risk economic harm when the public health necessity of these regulations is ambiguous at best."
Fortunately, many American businesses don't buy the jobs vs. the environment ploy and believe that a strong, sustainable economy is only achievable when you have healthy people and a healthy planet.
Grain Processing Corporation (GPC) in Muscatine, Iowa, is demonstrating that they can stay in business while meeting the tougher new environmental standards. Janet R. Sichterman, corporate spokesperson for GPC, told EcoWatch today by email:
"Grain Processing Corporation has an ongoing commitment to the health and safety of our community. We are well on our way to reducing our environmental impact with the construction of a new $100 million dryer house.
"Operational in 2015, this new dryer house alone will enable GPC to reduce total emissions by 72 percent in less than three years and by 82 percent by 2020.
"This $100 million environmental renovation will allow GPC to slash emissions and achieve the new air quality standards set by the Environmental Protection Agency long before they take effect."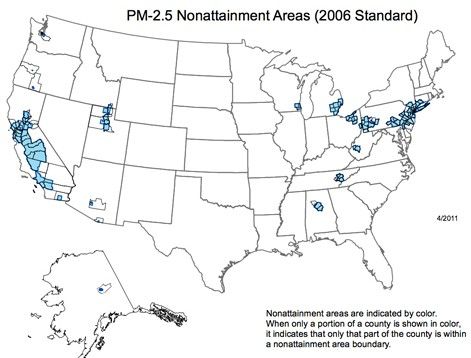 Of course it will take time to see progress from these new regulations, especially considering that 66 counties in the U.S. haven't even reached the air quality required by the old soot standard. If you live in greater Cleveland, Ohio, or the New York City metro region including New Jersey, Connecticut and Long Island, or one of the many parts of California as shown in the map to the right, you breathe air every day that is classified as non-attainment air quality.
Is it too much to ask for the snow falling on NYC to stay white for longer than a New York Minute?
Visit EcoWatch's AIR and COAL pages for more related news on this topic.
--------
Paul E McGinniss is The New York Green Advocate. He is a green building consultant and real estate broker in New York. He is pretty much obsessed with all things environment and has lately become a resiliency addict. Follow McGinniss @PaulEMcGinniss.
EcoWatch Daily Newsletter
Large food companies are following in the footsteps of fast-food restaurants such as Burger King and KFC by offering meat alternatives. Getty Images
By Elizabeth Pratt
Hormel, Kellogg's, and Kroger are among the large companies now planning to offer "fake meat" products at grocery stores.
Experts say the trend toward plant-based meats coincides with consumers' desires to eat less meat.
However, experts urge consumers to closely check package labels as a product isn't necessarily healthy just because it's described as plant-based.
In grocery stores and fast-food outlets around the U.S., a revolution is taking place.
Colombia rainforest. Marcel Oosterwijk / CC BY-SA 2.0
Many of us think of the Amazon as an untouched wilderness, but people have been thriving in these diverse environments for millennia. Due to this long history, the knowledge that Indigenous and forest communities pass between generations about plants, animals and forest ecology is incredibly rich and detailed and easily dwarfs that of any expert.
picture-alliance / Newscom / R. Ben Ari
By Wesley Rahn
Plastic byproducts were found in 97 percent of blood and urine samples from 2,500 children tested between 2014 and 2017, according to a study by the German Environment Ministry and the Robert Koch Institute.

Pexels
Medically reviewed by Daniel Bubnis, MS, NASM-CPT, NASE Level II-CSS
Hot yoga has become a popular exercise in recent years. It offers many of the same benefits as traditional yoga, such as stress reduction, improved strength, and flexibility.
Lara Hata / iStock / Getty Images
By SaVanna Shoemaker, MS, RDN, LD
Rice is a staple in many people's diets. It's filling, inexpensive, and a great mild-tasting addition to flavorful dishes.
An image of the trans-alaskan oil pipeline that carries oil from the northern part of Alaska all the way to valdez. This shot is right near the arctic national wildlife refuge. kyletperry / iStock / Getty Images Plus
The Trump administration has initialized the final steps to open up nearly 1.6 million acres of the protected Alaskan National Wildlife Refuge to allow oil and gas drilling.