This website uses cookies to ensure you get the best experience while browsing it. By clicking 'Got It' you're accepting these terms.
Worst Fracking Wastewater Spill in North Dakota Leaks 3 Million Gallons Into River
Jan. 23, 2015 07:58AM EST
Energy
Three million gallons of brine, a salty, toxic byproduct of oil and natural gas production—also known as fracking wastewater—spilled from a leaking pipe in western North Dakota. State officials say it's the worst spill of its kind since the fracking boom began in the state.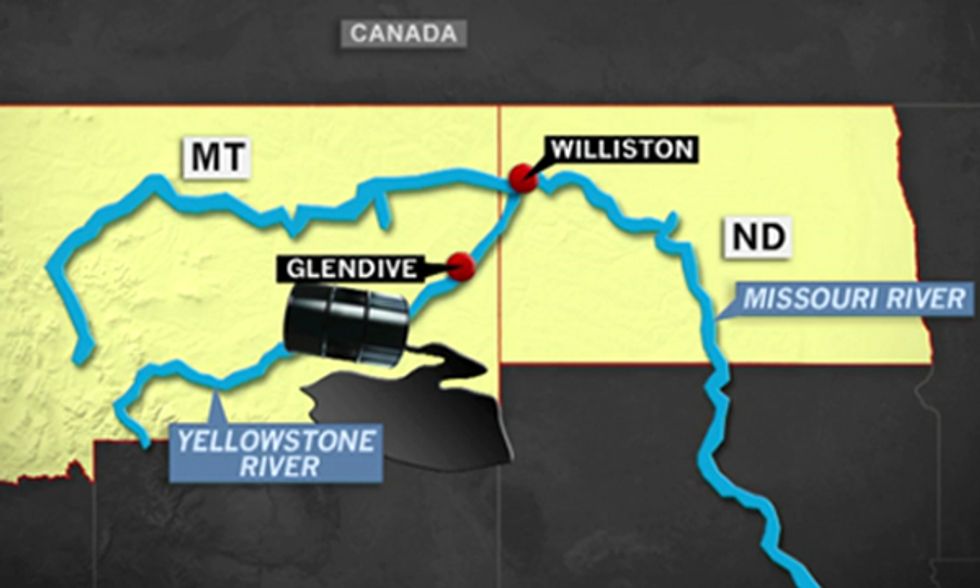 The spill was reported 17 days ago when Operator Summit Midstream Partners found a toxic leak of salty drilling waste from a pipeline in the heart of the Bakken oil boom.
Officials say there's no immediate threat to human health but as Marketplace's Scott Tong reports yesterday, there could be trouble ahead. He interviews Duke geochemist Avner Vengosh who has sampled frack wastewater and has found that "North Dakota's is 10 times saltier than the ocean, that endangers aquatic life and trees, and it has ammonium and radioactive elements."
Tong also interviewed Hannah Wiseman, law professor at Florida State, who says the disposal of fracking wastewater is underregulated.
"A typical well can spit about 1,000 gallons a day," says Tong. "Some of the water is recycled back into fracking, stored in pits or used to de-ice roads. It's also injected deep underground, which has been known to cause earthquakes."
Wiseman shares that fracking wastewater issues also exist in Ohio, Oklahoma and Texas.
And, for the latest update on the spill, watch last night's MSNBC's The Rachel Maddow Show:
YOU MIGHT ALSO LIKE
How We Banned Fracking in New York
How Fracking Impacts Everything, Including Professional Sports
EcoWatch Daily Newsletter
A harbour seal on an ice floe in Glacier Bay, Alaska. A new study shows that the climate crisis has warmed waters, changing ecosystems and crippling sea ice growth. Janette Hill / robertharding / Getty Images Plus
Doctors report that only 1 in 4 children are getting the recommended 60 minutes of physical activity per day. Ronnie Kaufman / DigitalVision / Getty Images
By Dan Gray
Pediatricians are being urged to start writing "exercise prescriptions" for the children they see in their office.
A First Nations protester walks in front of a train blockade in Tyendinaga, near Belleville, Ontario, Canada on Feb. 21, 2020. LARS HAGBERG / AFP via Getty Images
An indigenous rail blockade that snarled train travel in Canada for more than two weeks came to an end Monday when police moved in to clear protesters acting in solidarity with another indigenous community in British Columbia (B.C.), which is fighting to keep a natural gas pipeline off its land.
A rainbow snake, a rare reptile spotted in a Florida county for the first time in more than 50 years, seen here on July 5, 2013.
Kevin Enge / FWC Fish and Wildlife Research Institute / Flickr
A Florida hiker recently stumbled across a slithering surprise — a rare snake that hadn't been spotted in the area for more than 50 years.
We need our government to do everything it can to stop PFAS contamination and exposure from wreaking havoc in communities across the country. LuAnn Hun /
Unsplash
By Genna Reed
The EPA announced last week that it is issuing a preliminary regulatory determination for public comment to set an enforceable drinking water standard to two of the most common and well-studied PFAS, PFOA and PFOS.
This decision is based on three criteria:
PFOA and PFOS have an adverse effect on public health
PFOA and PFOS occur in drinking water often enough and at levels of public health concern;
regulation of PFOA and PFOS is a meaningful opportunity for reducing the health risk to those served by public water systems.