This website uses cookies to ensure you get the best experience while browsing it. By clicking 'Got It' you're accepting these terms.
Worst Fracking Wastewater Spill in North Dakota Leaks 3 Million Gallons Into River
Jan. 23, 2015 07:58AM EST
Energy
Three million gallons of brine, a salty, toxic byproduct of oil and natural gas production—also known as fracking wastewater—spilled from a leaking pipe in western North Dakota. State officials say it's the worst spill of its kind since the fracking boom began in the state.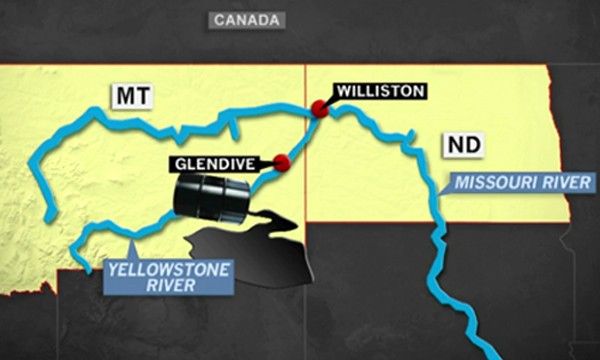 The spill was reported 17 days ago when Operator Summit Midstream Partners found a toxic leak of salty drilling waste from a pipeline in the heart of the Bakken oil boom.
Officials say there's no immediate threat to human health but as Marketplace's Scott Tong reports yesterday, there could be trouble ahead. He interviews Duke geochemist Avner Vengosh who has sampled frack wastewater and has found that "North Dakota's is 10 times saltier than the ocean, that endangers aquatic life and trees, and it has ammonium and radioactive elements."
Tong also interviewed Hannah Wiseman, law professor at Florida State, who says the disposal of fracking wastewater is underregulated.
"A typical well can spit about 1,000 gallons a day," says Tong. "Some of the water is recycled back into fracking, stored in pits or used to de-ice roads. It's also injected deep underground, which has been known to cause earthquakes."
Wiseman shares that fracking wastewater issues also exist in Ohio, Oklahoma and Texas.
And, for the latest update on the spill, watch last night's MSNBC's The Rachel Maddow Show:
YOU MIGHT ALSO LIKE
How We Banned Fracking in New York
How Fracking Impacts Everything, Including Professional Sports
EcoWatch Daily Newsletter
Environmental Investigation Agency
Last week, the Peruvian Palm Oil Producers' Association (JUNPALMA) promised to enter into an agreement for sustainable and deforestation-free palm oil production. The promise was secured by the U.S. based National Wildlife Federation (NWF) in collaboration with the local government, growers and the independent conservation organization Sociedad Peruana de Ecodesarrollo.
Pixabay
Leaked documents show that Jair Bolsonaro's government intends to use the Brazilian president's hate speech to isolate minorities living in the Amazon region. The PowerPoint slides, which democraciaAbierta has seen, also reveal plans to implement predatory projects that could have a devastating environmental impact.
XL CATLIN SEAVIEW SURVEY / THE OCEAN AGENCY
Hope may be on the horizon for the world's depleted coral reefs thanks to scientists who successfully reproduced endangered corals in a laboratory setting for the first time, according to Reuters.
Last week we received positive news on the border wall's imminent construction in an Arizona wildlife refuge. The Trump administration delayed construction of the wall through about 60 miles of federal wildlife preserves.
PhotoAlto / Frederic Cirou / Getty Images
Drinking water treated with fluoride during pregnancy may lead to lower IQs in children, a controversial new study has found.
National Institude of Allergy and Infectious Disease
A Greenpeace rally calls for a presidential campaign climate debate on June 12 in Washington, DC. Sarah Silbiger / Getty Images